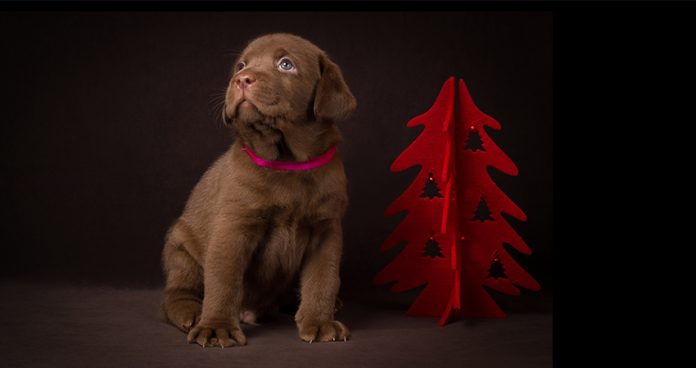 Dog Christmas stockings come in lots of fun shapes and sizes.
Filled or ready for you to overflow with your pup's favorite treats.
Do you love the holiday season? Does decorating your house and buying gifts for your friends and family fill you with joy?
Then why not let your Labrador get in on the action!
We love Christmas stockings for dogs
They come in a great range of types, and you can pick the one that suits your family's style of celebration the best.
From traditional stockings filled with hand picked items, to ready made treat or toy delights.
There is something that every Labrador will love.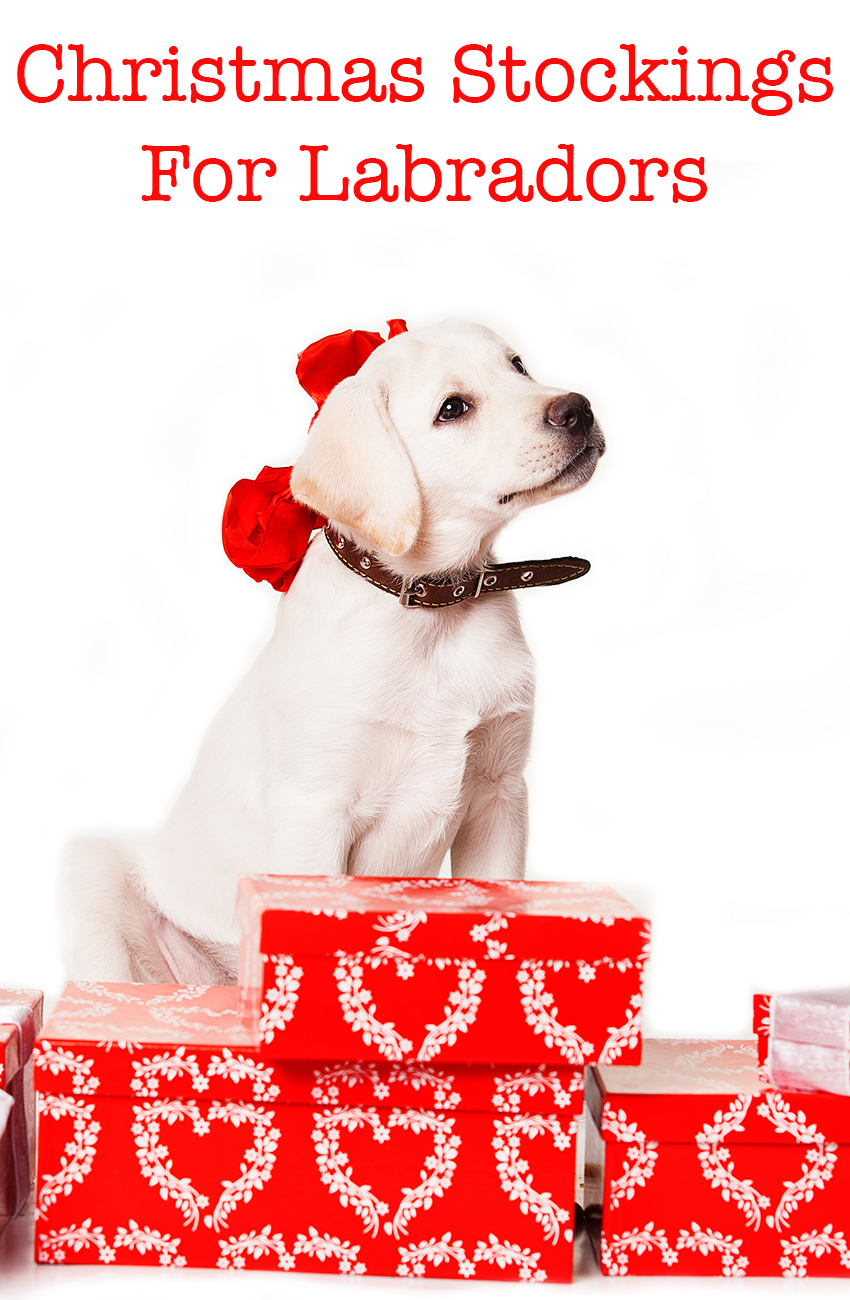 We will start by looking at some lovely dog Christmas stockings.
Then some great stocking fillers and finally some ready-made dog stocking options!
Christmas Stockings For Dogs
Christmas stockings for dogs come in a delightful range.
From tasteful and traditional to bright, fun and cheerful.
Buying a dog stocking by itself means that you can fill it with items that you know your dog will adore.
Here are some of our favorites:
Embroidered Dog Christmas Stocking
This embroidered felt dog stocking is great quality.

It also comes in a large size, with plenty of room for treats and gifts.
Hang it up alongside your own Christmas stockings, and enjoy seeing your dog's happy face and wagging tail when you open it for him.
Check out this Embroidered Dog Stocking on Amazon here.
Dog Christmas Stocking
This super puppy character is a dog stocking with a fun novelty twist.

The cute felt design is sweet and will make an adorable addition to your Christmas mantel piece.
It is a lovely take on the dog stocking, that will put a smile on everyone's faces when they see it.
Find out more about this cute dog stocking on Amazon here.
Black Lab Christmas Stocking
This hand hooked, black Lab Christmas Stocking is soft and very festive.

The picture is detailed and beautifully embellished, with a handy hanging loop too.
A great addition to your holiday display, and a lovely way to keep your dog's gifts safe until Christmas.
Order your Black Lab Christmas Stocking on Amazon here now.
Personalized Dog Stockings
A personalized dog stocking is a lovely way to commemorate your Christmas together.
Red & White Personalized Dog Stocking
This cute red and white personalized dog stocking gives you the option of having your pup's name embroidered onto it.
Red & Green Personalized Dog Stocking
The red and green personalised dog stocking is of a similar design.
With bright colors and of course the option of adding your beloved dog's name onto it too.
Dog Bone Stockings
This Dog Bone Stocking is a fun twist on the traditional Christmas stocking.

It comes decorated with a green or red ribbon, so you can pick the one that you like best.
The bone is open at one end, making it easy for you to pop in your Labrador's Christmas gifts.
Find out more about this Dog Bone Stocking on Amazon here.
Dog Paw Stocking
This adorable paw stocking is bright and festive.

With a lovely soft finish and plenty of room for your Lab's stocking fillers.
This popular design is even personalised too!
Find out more about your Dog Paw Christmas Stocking here. 
Dog Stocking Fillers
Having trouble deciding what to put in your dog's stocking this year?
Here are a few fun ideas of great festive gifts.
Penguin Dog Toy
A lovely addition to your dog's Christmas stocking is this cute Crinkled Penguin Dog Toy.

He has crinkled paper inside his limbs to make an entertaining sound, as well as a squeaker in his tummy.
Great for Labs who love to carry their toys around and snuggle up with them in bed.
Pick up your Christmassy Penguin Dog Toy on Amazon here.
Dog Candy Canes
These fun dog candy canes are made from rawhide.

The sealed pack is the perfect size to slip into your dog's Christmas stocking.
Order your set of doggy Candy Canes from Amazon here.
Hedgehog Dog Toy
What could be cuter than a Christmas hedgehog toy? Your dog playing with one, of course!

This lovely large plush dog toy is festive themed and makes fun noises too.
Sure to be a big hit with any toy loving Labrador.
Find out more about this cute Plush Hedgehog Dog Toy here.
Christmas Dog Collar
A lovely little addition to your dog Christmas stocking is this cute festive collar. 

With a bright holiday design, your Lab is going to look fabulous on your Christmas outings together.
Order yours from Amazon and pop it into your pup's Christmas stocking.
Kong Wubba
The Kong Wubba is a fabulous dog toy, and the perfect size to fit into most dog stockings too.

It's very durable, safe to chew and fun for your dog to carry around or play with.
A great gift for the more keen chewing Labrador.
Find out more about the great Kong Wubba range on Amazon here.
Ready Made Dog Stockings
If you don't fancy putting your own dog stocking together, then why not buy a ready made dog stocking?
These fun gifts make great treats for your Labrador, and help him to feel included in the holiday spirit.
Ready Made Dog Stocking
This ready made dog stocking has a great selection of gifts for your Labrador.

Including toys, treats and even a fun doggy Santa hat!
All packaged up in a great traditional style doggy stocking.
Find out more about what it contains and order yours online here.
Dog Toy Stocking
If you would rather just give your Labrador toys in his stocking, then check out this great Dog Toy Stocking.

In a pre-packed stocking shape it comes with a newspaper, boot, ball and rope toy for him to play with.
Find out more about this great gift on Amazon here.
Christmas Stockings For Labradors
Whatever way you decide to celebrate Christmas this year, why not make sure that your Labrador is a part of it.
Whether it's with a Christmas stocking, wonderful gift or just plenty of attention.
There are lots of ways to make the holiday season with your dog a really special and bonding time.