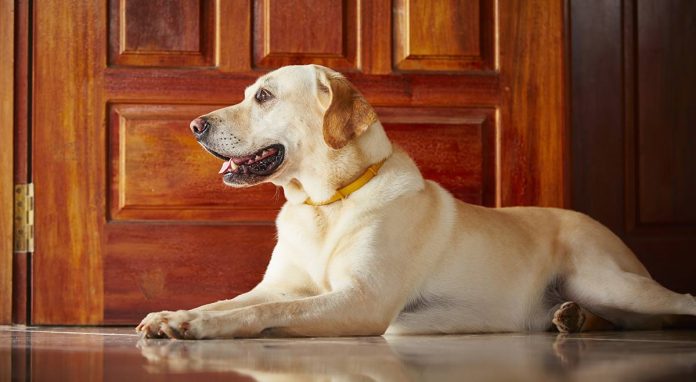 The best dog doors for Labs and other large breed dogs have a few important requirements. Dog flaps need to fit your dog through without creating an opening for opportunistic home invaders for a start! The best dog doors are also sturdy, durable, look good and are easy to keep clean as your mucky pup traipses in and out.
Contents
Different dog doors are designed to fit into different locations. Some are designed to work like a cat flap, inserting into your back door, others will fit in with your sliding glass patio doors. You can even get dog doors to install into the wall of your house. Let's have a look at the different options out there, so that you can pick the design you think will best fit in with your dog and your life.
Dog Door Flaps
Dog door flaps are just like cat flaps, but of a great size and sturdiness to accommodate your Labrador. You can fit them into your existing door, or buy a new door with one already installed. Dog door flaps come in a few different varieties. Your choice will depend upon whether you want your dog to have constant access, how secure your property is and what the weather conditions are like, as well as your budget.
Ideal Pet Products Original Pet Door with Telescoping Frame
The Ideal Pet Products pet door with telescoping frame is a popular and very well reviewed choice of dog door flap.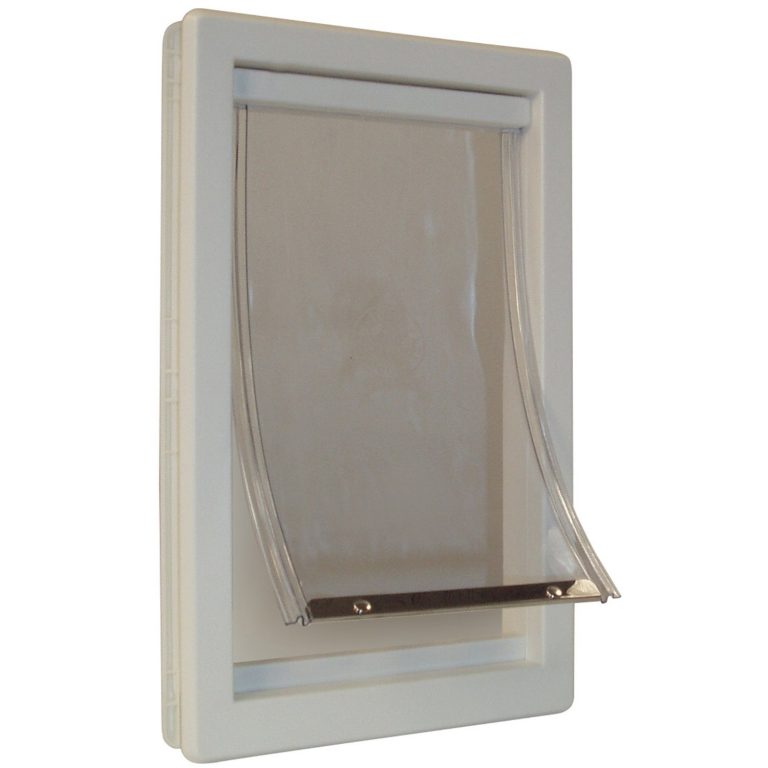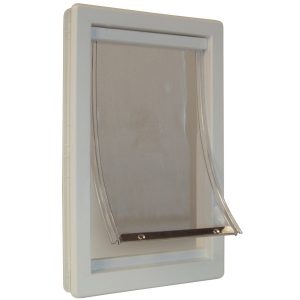 It has a sturdy impact resistant frame, which can be installed yourself into any door ranging from 1.25 to 2 inches thick. The installation can be carried out yourself. And they even have a video demonstration of one being fitted that you can follow along with.
The clear vinyl dog flap is designed to stay the same shape regardless of the weather. And it comes in a range of sizes, catering for dogs up to 90lbs. You also have the option of buying an additional lock-out slide, which will keep your dog inside or outside if you need to.
Heavy Duty Dog Door By Gun Dog House Door Co
This Heavy Duty Dog Door is made of a hand die cast alunimum frame, with heavy duty spring hinges and a plexiglass dog flap.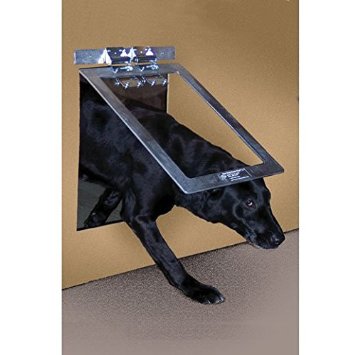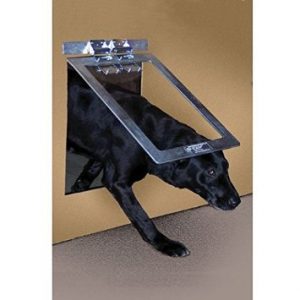 It's large size and opening couple with it's sturdy structure means it is suitable for dogs up to a massive 120 lbs in weight. The frame and flap are weather tight.
They are also practically indestructible, with even the door being chew proof. A must when left with unsupervised access to some mouthy Labradors!
PetSafe Extreme Weather Dog Door
The Extreme Weather Dog Door by PetSafe is designed to withstand the elements.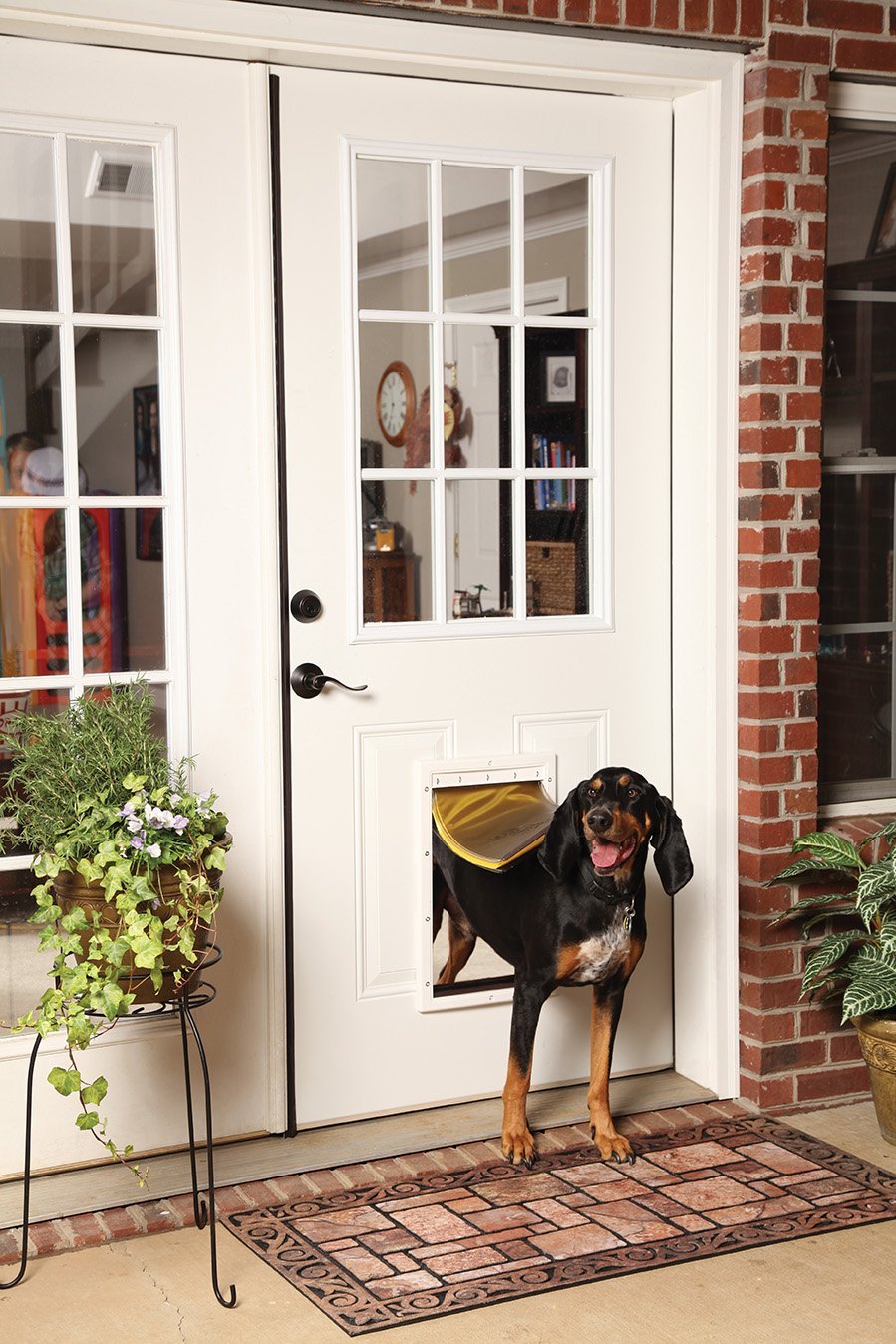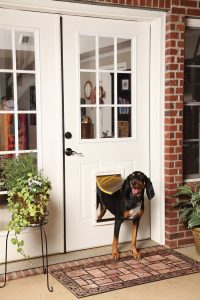 It has a unique 3 flap system with a central insulated layer, perfect for maintaining your house at the temperature you choose.
Whether you live in a very cold or hot climate, this door will keep the air trapped inside your house, allowing your heat or air conditioning to continue to do it's job.
This door comes with a snap on closing panel which can keep the door locked if you don't want it to be used. And an additional weather protecting panel can be brought separately too. The plastic frame is even paintable, so you can match it with the color scheme of your door.
This dog door comes with extensive detailed instructions to help you fit it yourself at home, including a template to use on your current door to make sure you get the cutting area just right. You will want to invest in the large size of door for the average Labrador.
BarksBar Plastic Magnetic Dog Door
The BarksBar Large Plastic Dog Door has a heavy duty flexible vinyl dog flap, that closes securely with a magnet.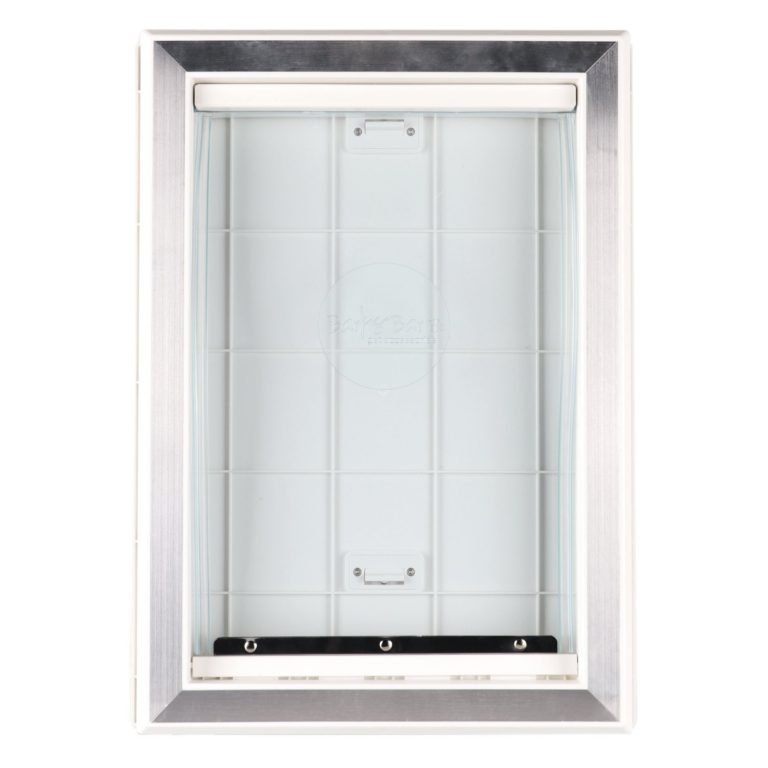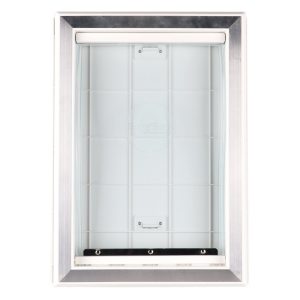 It can be installed in any door between 1.25 to 2 inches wide. And it has a white plastic frame with an aluminum lining.
This magnetic dog door is suitable for dogs up to 100 lbs, so should easily fit any Labrador. It also has a removable self-locking slide panel, to keep your home secure when it's not in use.
Electronic Dog Door
Electronic dog doors work through your dog's collar and a remote control that you keep nearby. The door automatically opens when the dog approaches, meaning that you have a safe secure point for them to access the backyard, which does not open unless it needs to.
High Tech Electronic Dog Door
The High Tech Pet Power pet electronic dog door is a motor driven dog door. It slides vertically upwards when activated by the ultrasonic collar that your Labrador wears.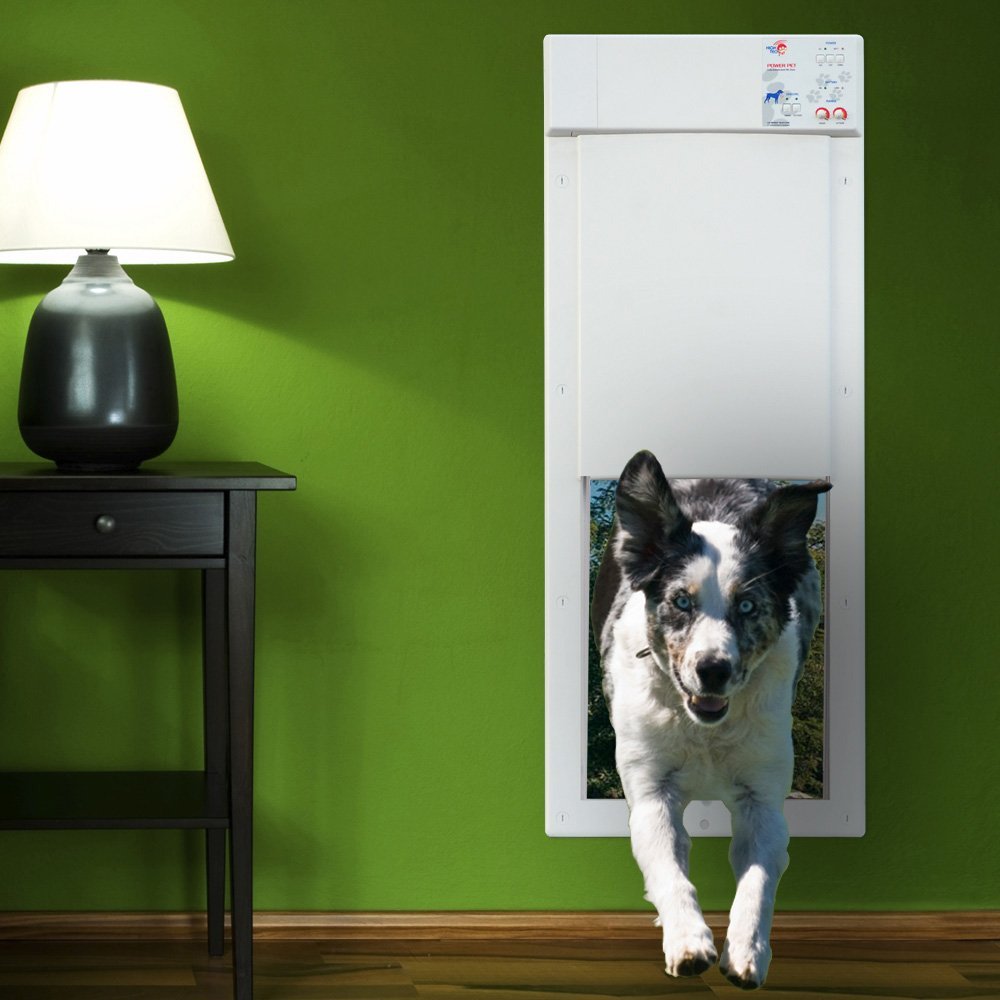 It is able to sense whether your dog is walking directly towards it, so it won't activate when he is just sauntering past or if he relaxes on the floor beside it.
You have four options for your Lab's use of this automatic dog door. Making it possible for him to only enter, exit, do both or neither. When in the closed mode the door is locked and will not open.
This electronic dog door has a panel 12.25 x 16 inches, and should fit any Labrador being suitable for pets up to 100 lbs. This door is weatherproof and airtight, keeping your house free from drafts.
Dog Door For Sliding Glass Door
Sliding glass dog doors are a great way to easily adapt your living space to suit your Labrador. No more getting up and down to let him in and out whilst you are trying to relax. A sliding door dog door can even simply slot into the existing runners of your patio doors. Working as an additional panel to your current set up.
PetSafe Freedom Patio Pet Door
The PetSafe Freedom Patio Pet Door is made up of a durable aluminium frame. It will easily fit into your existing sliding glass door runners.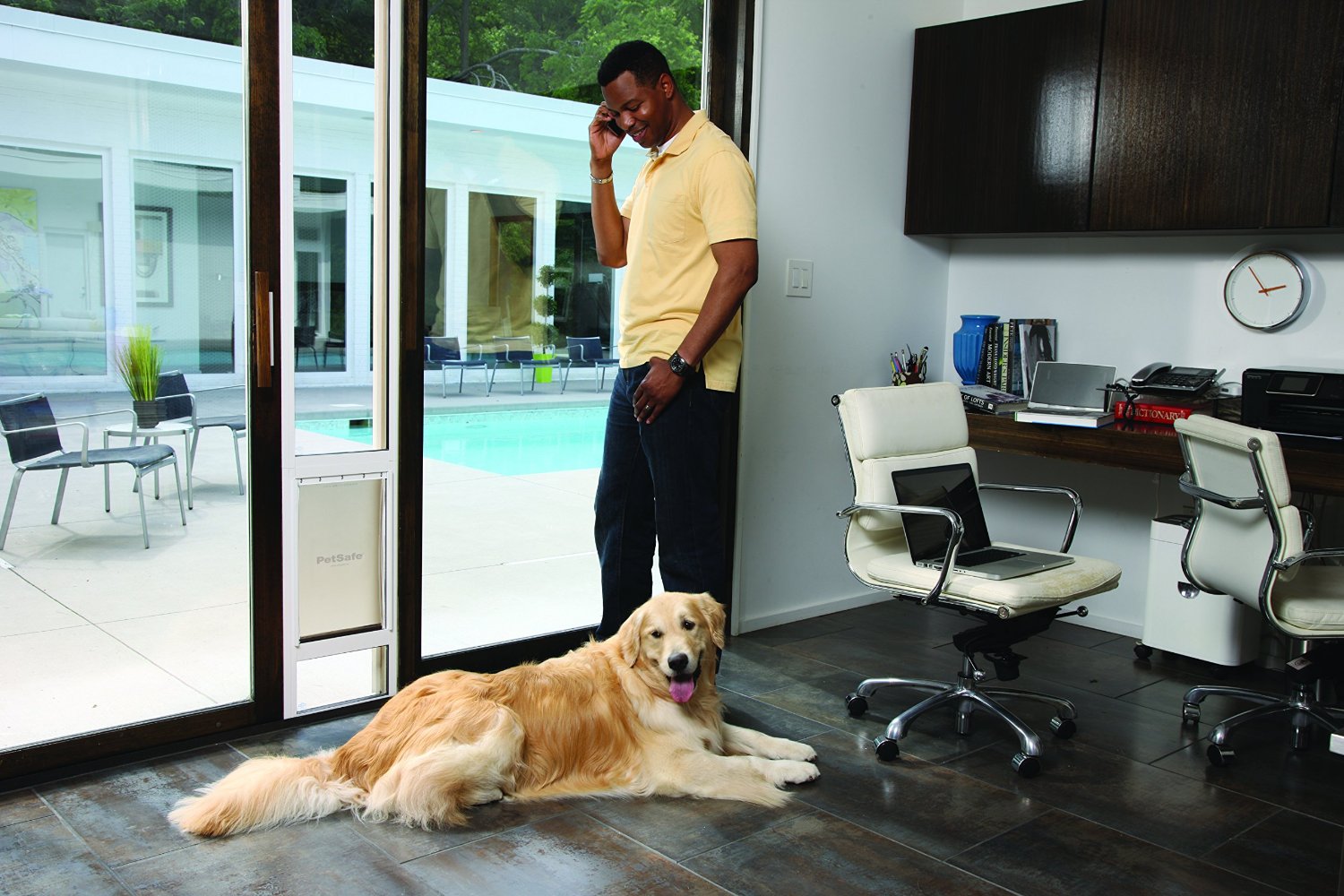 This dog door is available in three colors to match your current sliding doors. It also comes in four pet door sizes, so you can find the right one to fit your Labrador. This will probably be the Large size.
Dog Door For Screen Door
If you have a screen door between your house and back yard, then you might want to consider using a dog door for screen doors instead. These are easy to install and come in a wide range of styles.
Takara Pet Door For Screens
The Takara Pet Door for Screens is easy to install. Simply use a sharp knife to cut the appropriate sized hole and snap the dog door together from either side.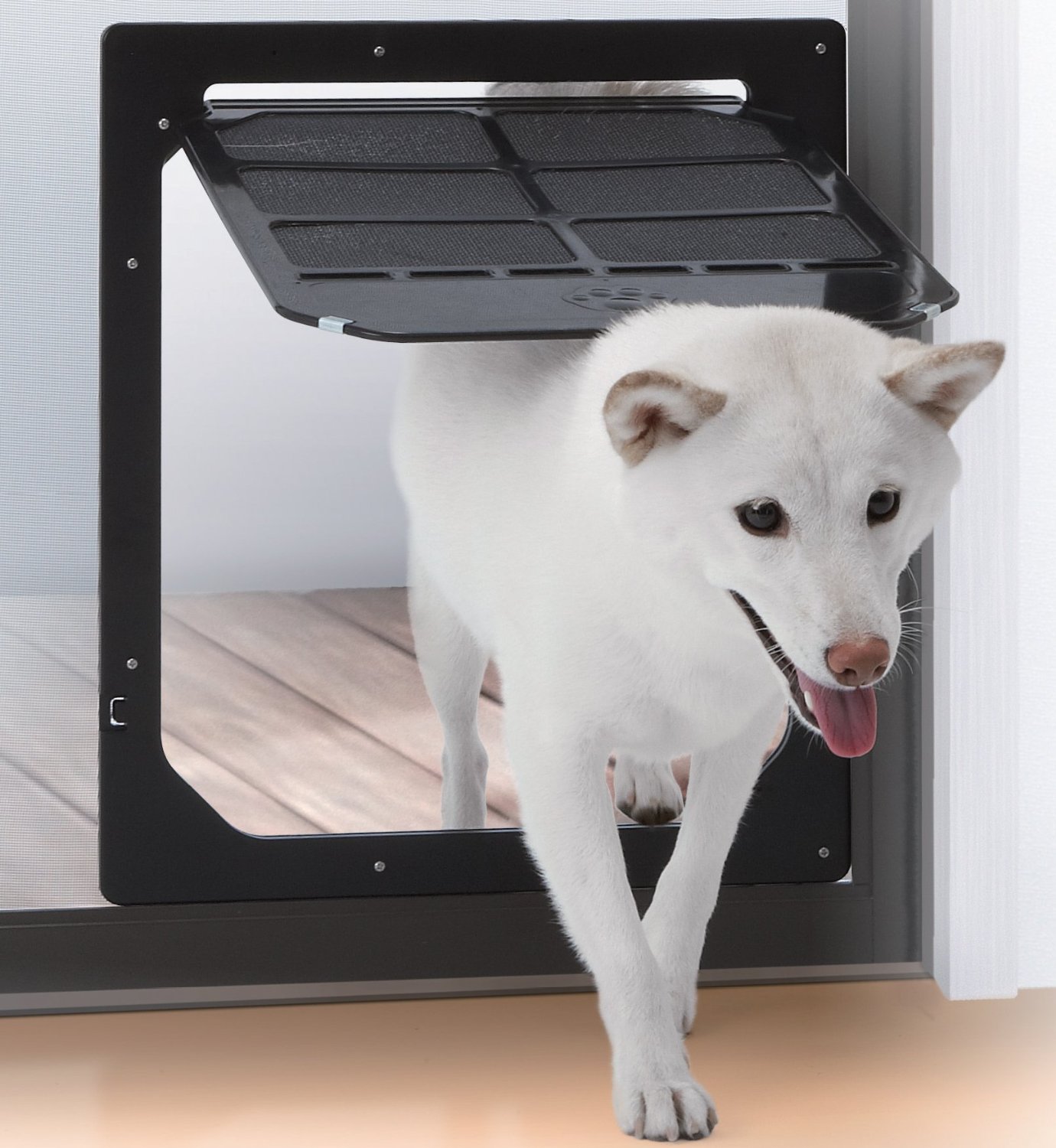 It is a slightly smaller door, measuring over 13 inches high but 12 inches wide, so if your Lab is at the larger end of the spectrum make sure you measure him before investing in this one.
To install this door alone, make sure that you fit it towards the edge of the door frame so that you can reach both sides as you work. It is quick to fit, and simply requires the use of a screw driver and box cutter. The door itself has a hinged flap and magnetic closing mechanism.
Door With Dog Door
If you would prefer not to fit a dog door or dog flap into your existing door, you could choose to purchase a door with dog door already fitted. However, there are a number of downsides to doing this.
Primarily, they are quite hard to get hold of! Your best bet would probably be to choose the front door you want and discuss your additional needs with the manufacturer. This could be a complex and lengthy process, not to mention expensive.
In addition to this, hanging a door correctly is actually quite a tricky task. And far harder than cutting and fitting a dog door into an existing door in most cases. You also want the dog door to be fitted at an appropriate height for your dog. This is not something you can necessarily find 'off the shelf'.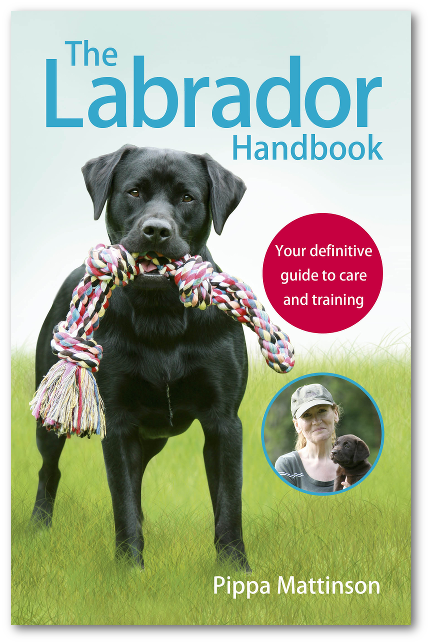 When buying a separate dog door and installing it yourself, you will have considerably more choice.
Dog Door Installation
Dog door installation should be something that you can do yourself. Most dog doors come with detailed instructions, and some even have tutorial videos for fitting too. The job should take less than an hour of their time for a door installation. And a little longer for wall mounting. Just make sure that you get a fixed price for the job before they begin.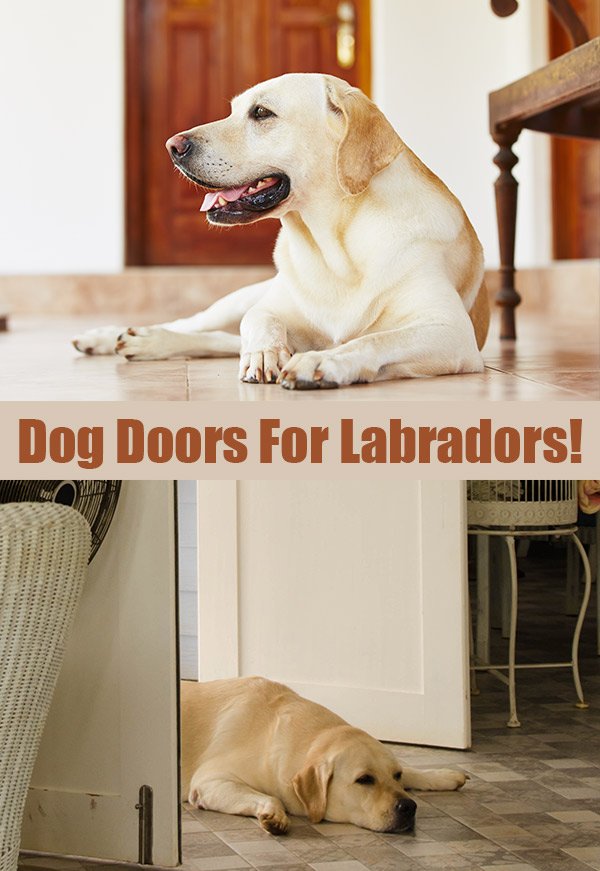 Affiliate link disclosure: Links in this article marked with an * are affiliate links, and we may receive a small commission if you purchase these products. However, we selected them for inclusion independently, and all of the views expressed in this article are our own.
The Labrador Site Founder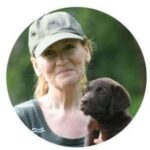 Pippa Mattinson is the best selling author of The Happy Puppy Handbook, the Labrador Handbook, Choosing The Perfect Puppy, and Total Recall.
She is also the founder of the Gundog Trust and the Dogsnet Online Training Program 
Pippa's online training courses were launched in 2019 and you can find the latest course dates on the Dogsnet website