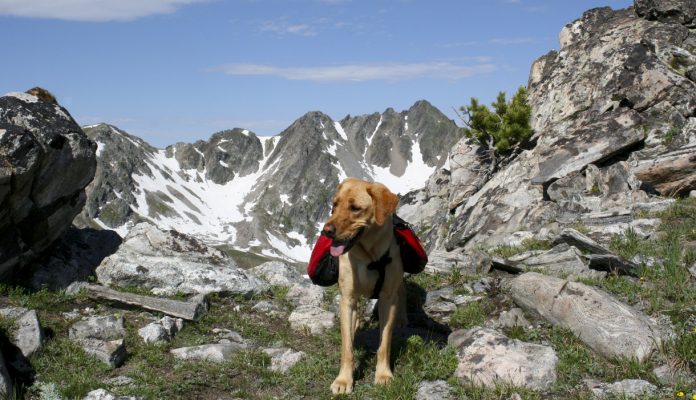 Do you love to hike? Do you also own a Labrador? Active Labrador owners are lucky. Hiking with your Labrador Retriever could be just what you are looking for. They are great hiking companions and love to be outdoors just as much as their owners do.
Are you an experienced hiker who wants to take Fido along on the Appalachian Trail? New to hiking and eager to discover a great new way to spend time with your best friend? Here is the information you need to get the most out of your outdoor adventures:
Finding Dog Friendly Trails
Hard as it is to imagine, not everyone loves dogs. This includes some of your favorite National Parks and hiking trails. Check with park websites before setting out to make sure your furry friend can come. When in doubt, call a park representative.
Conditioning Your Dog For The Trail
Dogs are naturally equipped for the trail. Their bodies thrive on exercise, their paws are designed for all kinds of terrain, and they love being with their people. This does not however mean you should take your out-of-shape pooch for a twelve mile hike. Would you go from the couch to a day long, uphill climb? Your dog does not want to either. Take your dog on shorter walks before you head out on the long trail. Better yet, get in shape with your Lab. Let him join your conditioning routine so he can build up his endurance and toughen up his pads before you leave civilization behind.
Keep a close eye on your Labrador as you exercise. Watch for excessive panting and signs of discomfort like limping or licking at paws and joints. Take a break if you suspect your pet is uncomfortable. If signs of discomfort continue, consult your vet.
Get The Right Gear
Taking a long hike? Camping overnight? Take some of the load off and have your Lab help! Labradors are big, strong dogs. A fit, healthy Lab can carry up to 25% of his body weight. Have your Lab carry his own food, water, and first aid supplies. Your Lab needs a hiking pack, portable food and water dishes, and whatever accessories your hike requires.
Choosing A Pack
How do you choose the right pack? There are several companies that make or carry hiking gear for dogs. Here are a few that receive good reviews:
• Ruff Wear
• REI
• Outward Hound
Select a pack appropriate for the amount of hiking you and your dog plan to do. An expensive pack designed for serious hikers is probably not suitable for dog owners who plan on the occasional day hike.
Make sure you get the right size. The company websites have instructions on how to measure your dog for a correct fit. An easy way to measure your dog's girth is to take a string and wrap it around your dog's chest right behind his elbows. String is more flexible than a standard measuring tape. Mark your dog's girth on the string and lay it out next to a measuring tape or ruler for an accurate measurement.
Take your pack for a short test walk before you take off the tags to make sure it fits. Adjust the straps so that the pack is not uncomfortably tight or too loose for your Labrador. Leave the pack empty those first few walks to see how your dog reacts to wearing a harness. Check carefully for any areas that seem uncomfortable. Once you are satisfied that your dog's hiking pack fits properly, begin adding weight. Treat your dog the way you treat yourself. Gradually add weight to build up his strength.
Other Canine Hiking Accessories
Where are you planning on hiking? Will it be cool or warm? Labradors are sturdy and adjust well to a variety of climates and terrain. Labs do well in cold climates and tolerate heat as long as they are provided with plenty of fresh water. Some dog gear manufacturers carry cooling vests. These vests fit close to the dog's body. Just add water to the vest for a cooling effect. The water cools your pup as he hikes.
Is the trail rocky? Exposed to hot sun? Carrying a pair of dog booties is not a bad idea. A bruised paw or a paw with a laceration benefits from the protection of a boot. Especially hot sections of trail burn paw pads, and very rocky territory wears the skin, resulting in bruises, lacerations, and tender areas. Check your dog's paws frequently on hikes. Look for splinters, sensitive areas, or foreign bodies lodged between his toes. It is a good practice to handle your dog's paws regularly.
Purchase a collapsible water bowl and feed bowl to fit in his pack. These are sturdy and lightweight. Some packs come with bowls, so check with the manufacturer before you purchase an additional set. Are you camping overnight? Self inflatable sleeping pads keep your dog comfortable as he sleeps. Hiking for more than a few hours? Consider a leash that attaches to your waist rather than one you need to hold. This frees your hands up for better balance.
Labrador Hiking Etiquette
Chances are high you will encounter other dogs and people on your outdoor adventures. Does your Labrador play well with others? Does he jump enthusiastically every time he sees a new face? Keep your dog close when passing others on the trail. Not everyone is a dog lover. Not every dog on the trail is friendly. Keep your Lab safe by preventing him from rushing to greet a fellow human or doggy hiker. If another hiker wants to pet your dog, he or she will ask.
Keep an ear out for other people on the trail. Joggers and bikers move quickly. This is why it is important to keep your dog on a leash at all times. Trails usually have maximum 6 foot leash requirements. The trail is not the place for a retractable leash. Keep your pup close by for his safety and yours. After all, do you know what is in the bushes?
Most dogs will poop while on a hike. Carry poop bags with you just in case. It is also a good idea to bring a little spade along. Burying dog poop is a lot more convenient than toting around stinky baggies, and works for you in an emergency.
Labrador First Aid
Anything can happen on the trail. Carry a first aid kit for yourself and your dog. Companies that manufacture hiking gear often carry first aid kits that fit in their dog packs. Make sure you include extra of any medications your dog requires. There are some good recommendations for items you might find useful in our first aid article.
Consult your veterinarian about any specific products he or she recommends for your dog personally as well.
Doggy Diets Differ On The Trail
You get hungrier the more you exercise. So does your dog. Hikes longer than one full day require additional calories for your Lab. Consult your vet about appropriate dietary increases and supplements.
Know Your Labrador's Limits
Hiking with a dog requires additional planning. Avoid trails with excessive climbing unless you are willing to purchase a climbing harness for your pooch. Be prepared to assist your dog over difficult areas. Some dogs are afraid of narrow bridges or walking along sheer cliffs. Others don't have enough respect for danger! You are the best judge of what your dog can and cannot handle. Always play it safe if you are unsure.
Dangers For Dogs
The hiking trail poses many dangers for you and your dog. Uneven footing results in twisted ankles and limping Labs. Poisonous plants, insects, and snakes lie in wait. Bring along a list of wildlife in your area that are harmful to dogs and humans. Dogs are a deterrent for most animals. You may even be safer on a trail with your Lab beside you. Sometimes curious pups stir up animals that prefer to be left alone, like snakes.
Keep an eye on your Labrador. Benadryl is helpful in dealing with allergies or stings. Get help immediately if your dog is bitten by a snake. The best way to prevent a snake bite is to keep your dog on a leash.
Other wildlife pose dangers. Know the area where you are hiking. Bears, coyotes, porcupine, skunks, and any angry animal your dog disturbs can cause injury. An infected bite is a serious problem. Porcupine spines are extremely uncomfortable and difficult to remove. Skunks are less dangerous but ruin your hike. The smell is overpowering and does not easily wash out.
Keep a tight grip on your dog and back away slowly if an animal surprises you on the trail. Do not directly intervene if your dog gets in a fight. Remember that your dog has his rabies vaccination. Chances are high that you do not. Break apart fights from a distance, either with a long stick or water. It is hard not to jump to your dog's rescue. Know that your dog is better equipped to handle the situation than you.
Water Dogs
Labs love to swim and they have higher water requirements than smaller dogs. Treat your dog's water the same way you treat yours. Puddles contain harmful bacteria like Leptospira, which causes Leptospirosis. Make sure your Lab is up to date on vaccines before your trip. Carry extra purification tablets for your dog's water to prevent sickness and diarrhea. Better yet, let your dog carry his own tablets in his brand new dog pack.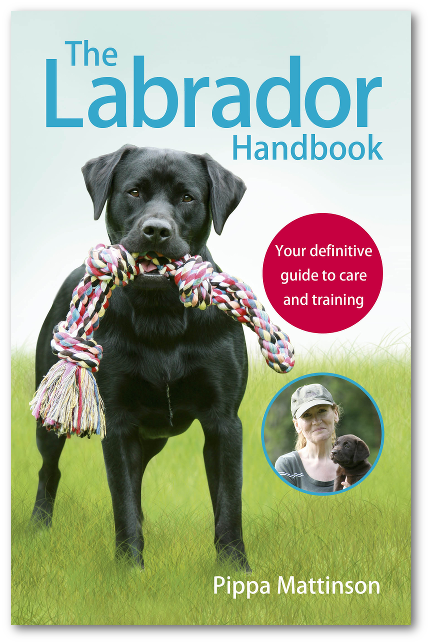 Swimming is a good way for hot Labs to cool down. Check the water for potential dangers before you turn your dog loose. Certain water snakes are poisonous. Murky water conceals logs and debris that eager retrievers leap into without a second thought. After a swim, make sure your Lab is fully dry before putting his pack back on. Carry a camping or travel towel for this purpose. Damp dogs develop skin irritations.
Summary
Hiking with your Labrador is a wonderful way to enjoy the outdoors. Your Lab loves being outside almost as much as he loves being with you. Follow these steps and enjoy a bonding experience you will want to repeat over and over. If you want help finding pet-friendly trails, Bringfido.com has some great trails, not to mention dog friendly hotels and events nearby.
Do you go hiking with your Labrador? Why not share your experiences in the comments box below?
The Labrador Site Founder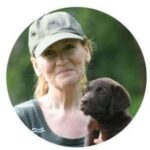 Pippa Mattinson is the best selling author of The Happy Puppy Handbook, the Labrador Handbook, Choosing The Perfect Puppy, and Total Recall.
She is also the founder of the Gundog Trust and the Dogsnet Online Training Program 
Pippa's online training courses were launched in 2019 and you can find the latest course dates on the Dogsnet website