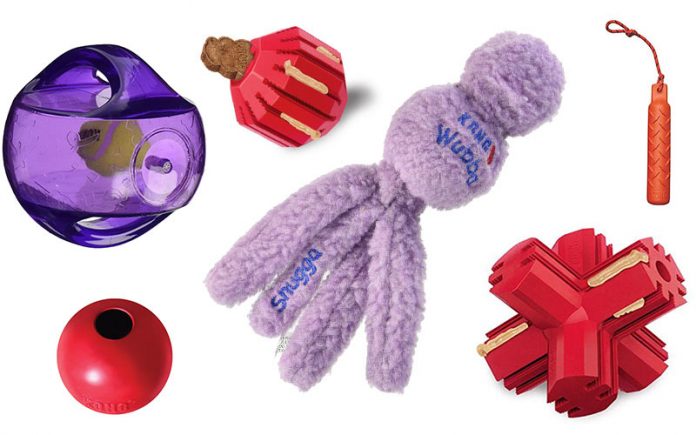 Welcome to our complete guide to Kong Dog Toys. Giving you the best options for your Labrador. With over 30 Kong toys reviewed!
Kong for dogs has long been a respected, trusted name in enrichment toys.
Of course, if you are brand new to sharing your life with a Labrador retriever, the sheer number of Kong dogs toys might seem completely overwhelming!
In this article we are going to look at the best Kong dog toys. And let you know how to choose the right one for your particular dog's needs.
Which Kong Dog Toy Is Best?
Before we begin, The Labrador Site's resident Lab ladies Tess and Rachael want to let you know about their favorite Kong Dog Toys.
Those are our Lab's picks, but what about the other dozens of products! Let's take a look at Kong in general, then 30 great options of Kong dog toys your dog will love too.
Picking Your Kong Toys
The first thing to know is that there are different Kong toys for different ages of Labs.
Kong toys for puppies or senior dogs will be sized differently and are often also made of different materials than kong dog toys for adult Labs.
We will explore a wide variety of fun options for Kong dog toys and Kong puppy toys.
We will also hear from the Kong company about their recommendations for the best kong toys for dogs of different ages and personalities.
By the time you are finished reading, you will have a thorough understanding of what Kong pet toys have to offer your Lab puppy or adult or senior dog. And know just how to choose the right sizes and types of dog Kong toys for each stage of your pet's life.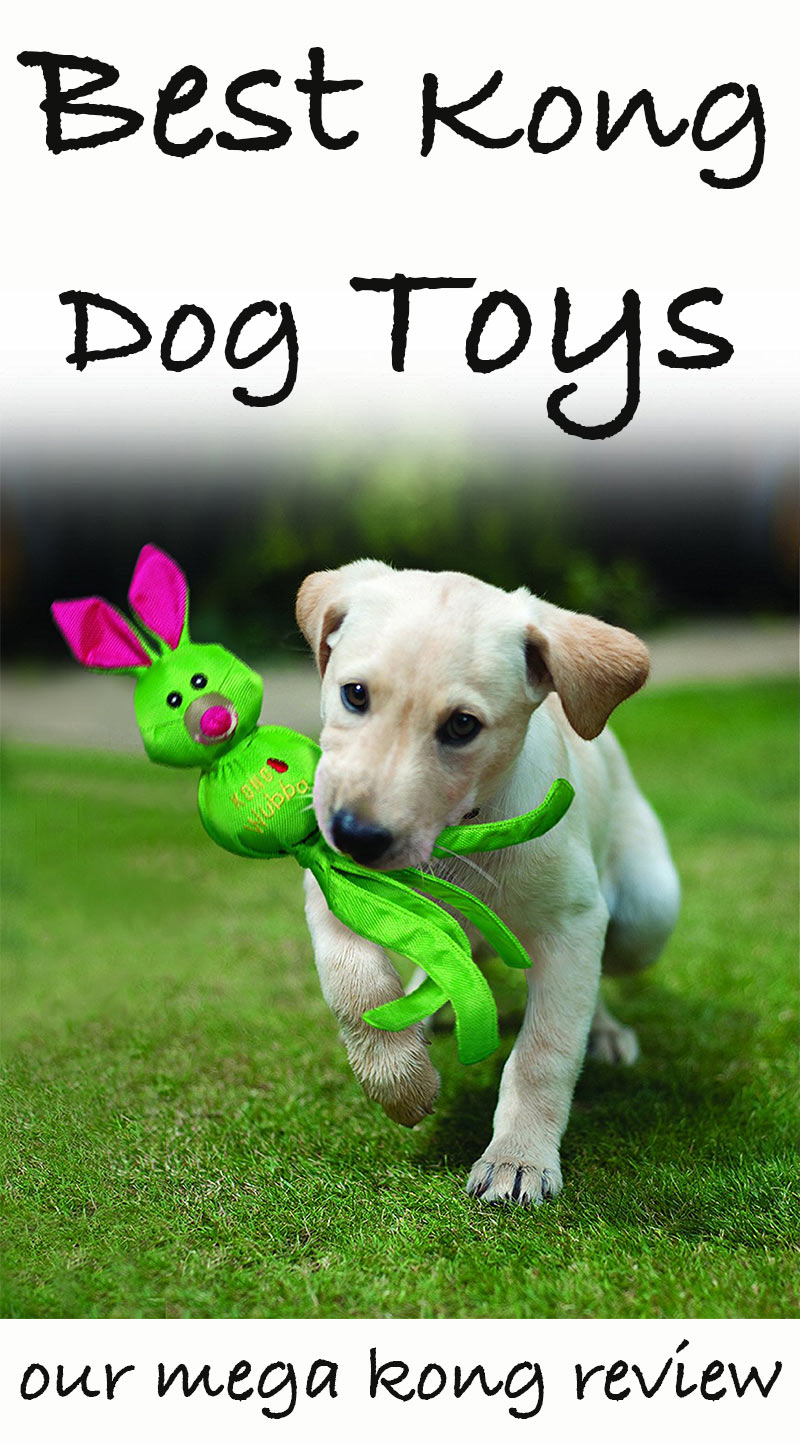 But first, let's just clarify what exactly we are on about when we discuss different types of Kong dog toys!
Types of Kong dog toy
According to the Kong Company, all Kong products are named with your dog's age foremost in mind.
You will see three different types of names:
Puppy
If you see the word "puppy" anywhere in the Kong pet toy name, this is a toy designed specifically for dogs ages 12 months or younger.
As well, certain Kong dog toys are rated for very young puppies (7 to 12 weeks old), some are rated for younger puppies (3 to 9 months old). Others are rated for older puppies (9 to 12 months old).
Senior
If you see the word "senior" in the dog toy kong name, this is a toy designed specifically for lab dogs in their golden years (ages 7 years and up).
Classic or Extreme or simply Kong
If you do not see the word "puppy" or "senior" anywhere in the Kong pet toy name, but you do see a word like "classic" or "extreme," this is a toy designed for adult dogs in the prime of life (ages 1 to 7 years old).
But Kong dog toys aren't just separated by age.
Kong chew styles
In addition to rating each dog Kong toy for the age of your Lab, the Kong company also rates each toy by your dog's chew style.
There are three basic chew styles that Kong uses:
Gentle
If your Lab tends to lick, suck on or mouth her toys, but she rarely ever does any noticeable damage, she is probably a gentle chewer.
Also, if you notice she really seems to gravitate to plush or fabric toys that are softer and she likes to just mouth them or carry them around without damaging them, she is probably a gentle chewer.
Power
Does your Lab tackles every new toy that comes her way like it has a personal challenge attached to it?Do you rarely feel comfortable leaving her alone with soft, delicious items like couch cushions or dog toys with stuffing inside? She is probably a power chewer.
Kong suggests choosing one size larger or "Extreme" branded Kong toys for a power chewer.
Average
The majority of Labs, like most larger breed dogs, tend to fall into the average chewer category. Here, your dog may occasionally dismantle a softer toy (especially one with tasty stuffing inside) and may give tougher toys a good workout, but she will rarely tear one to pieces.
Also, she probably likes a mixture of soft and tougher toys to play with.
Choosing a Kong toy
Many types of Kong dogs toys will come with a detailed label. This can be particularly helpful if you are new to the brand or to dog ownership (or both).
So whether you are shopping for a Kong treat toy, Kong dog ball, Kong squeaker, frozen Kong, Kong chew toy or another type of dog Kong toy, take some time to review the information on the product label to see what you can learn about whether it is a good fit for your Lab.
Many Kong dog toys labels the following types of information about that particular toy:
The size of the toy. You might see small, medium, large, XS, XL, XXL, et al.
The stage of life of the toy. You might see puppy, senior, or no age/stage of life reference, which indicates the toy is for an adult dog.
The use of the toy. You might see that it is for teething, for dental care, for interactive play, for treats, et al.
Kong toys for Labrador retrievers
The Kong company has created a specific sizing chart you can use to select the best toy size for your Lab puppy, dog or senior dog.
Here are the company's own sizing choice recommendations for Labrador retrievers in particular.
The size choice recommendations are as follows depending on the product you choose:
Puppy Kong. Choose medium or large.
Classic Kong. Choose large, X-large or XX-large.
Extreme Kong. Choose large, X-large or XX-large.
Senior Kong. Choose large.
Here, if your dog is a gentle chewer, you will probably do well with the smallest recommended size.
But if your dog is a power chewer, you should choose the largest size recommended.
For an average chewer, you can use your own best judgment when choosing a dog Kong toy size.
Kong offers a 30-day satisfaction guarantee for each of its Kong dog toys.
However, the recommendation is always to supervise your Lab during playtime, at least until you can assess his typical chew style and how well a particular Kong toy holds up to that.
Best Kong dog toys
After reading through this overview of how the Kong company sizes and designs its dog toys, you may be wondering what they have to say on how to choose the best Kong dog toys for your pooch.
Here, the Kong company's guidance is to select Kong for puppies, senior dogs or adult dogs based on your dog's individual needs.
Which best describes your Labrador?
More active. If your Labrador is eager to run and jump and play and more of each is always better, you can find lots of Kong toys for dogs designed for interactive play time.
More sedentary. If your Lab is more inclined to recline than run, he will likely love the Kong toys for dogs that are cuddly and snuggly and comfy to hang out with.
Easily bored. If you find your dog gets bored easily, this is likely because she is very intelligent and she "gets it" right away and wants a new challenge. There are lots of Kong dog toys designed to keep her mind as well as her body engaged.
Motivated by chewing. Kong's line of chew toys is designed to meet your Lab's need to chew in a safe and approved way (i.e., instead of chewing the couch leg, your Lab will want to chew his treat-filled Kong chew toy instead). As well, many Kong chew toy options are also designed to keep your dog's teeth and gums clean and healthy.
Motivated by eating. Kong's line of treat toys will make your dog do some work to get a tasty reward.
Motivated by squeaking. Kong squeaker toys give your lab all the thrill of the hunt without the yucky cleanup for you.
Has weight issues. If your Lab has gotten a bit, well, plump, a Kong treat toy will get him up and moving in exchange for a small and low-calorie food reward.
Canine enrichment experts also recommend choosing more than one kind of new toy and then rotating them frequently. This will help avoid the common issue of your dog "habituating to" a particular toy, or getting so used to it that it no longer holds any excitement for him.
Also, by choosing new toys that will stretch your lab out of her traditional activity patterns and comfort zones, you and she both will have the chance to discover new fun games to play together that you might never have tried otherwise!
Kong treats for toys
Kong has become known for their popular, durable, safe and non-toxic treat toys for dogs.
But many Lab owners still don't know that Kong also offers a whole line of Kong treats that can be used with any Kong treat toy for dogs.
Here are the main categories of Kong's treats for dog toys:
Stuff'N / Easy Treat
If you have ever struggled with trying to stuff nut butter into a Kong while you are also trying to make it out the door on time, you already know why so many Labrador owners love Kong's Stuff'N / Easy Treat dog treats.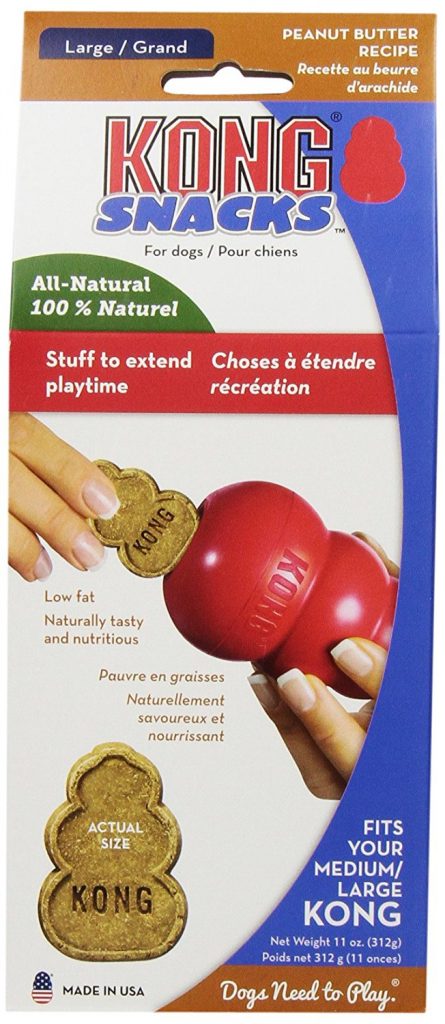 They come in a variety of tasty flavors like pepperoni and peanut butter and you can just aim the nozzle and dispense the treat right into the Kong toy!
You can also get the biscuits treats for use with the biscuit-dispensing Kong treat toys.
Rawhide
Kong's rawhide treats are designed to taste great (they are made from pure beef hide) and keep your dog's teeth and gums clean and healthy while freshening up breath.
They are long-lasting enough to be considered an edible toy! Rawhide Kong snacks come in lots of configurations, including bones, twists, mini-bites and double chews. Some are specifically for puppies or senior dogs.
Ziggies
Kong Ziggies are a special kind of dental chew Kong makes for puppies, adult dogs and senior dogs.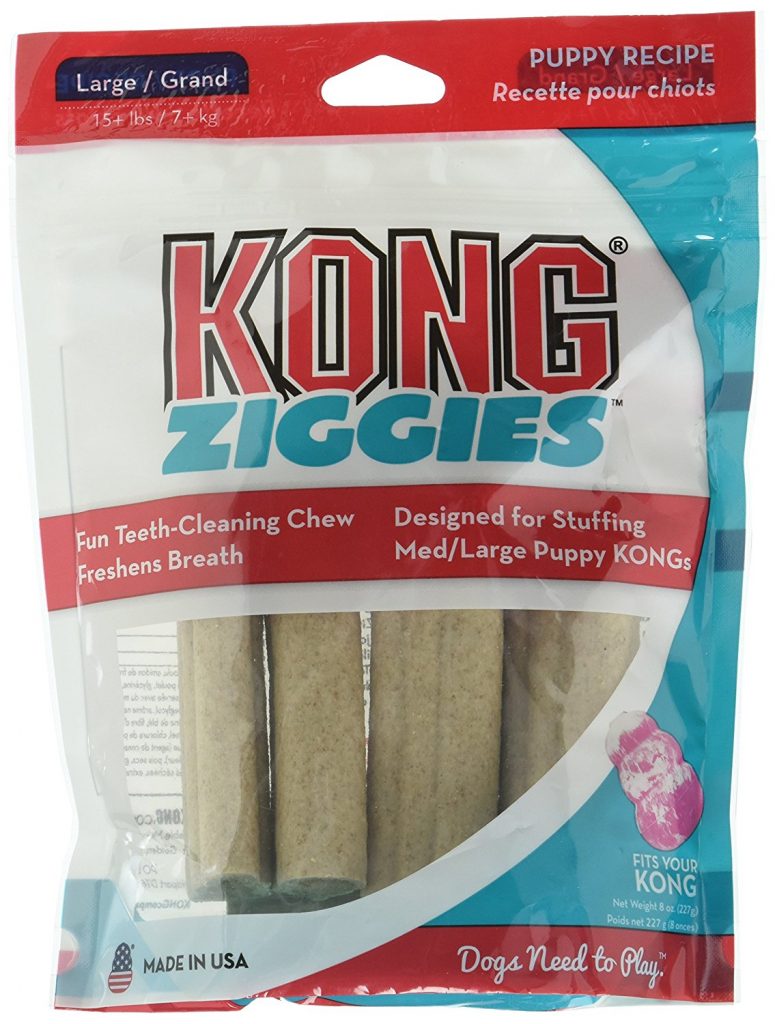 Ziggies can also be used in place of biscuits or soft nut butters as stuff-n treats for treat toys.
Treat toys are particularly important for your lab's daily enrichment needs. If you have a senior Lab, you may be able to get away with the same basic daily routine. And he won't make a huge fuss (or destroy lots of off-limits household furnishings) to assuage his boredom.
Although here as well, the more enrichment you provide, the more your senior dog will resemble an adult in his prime or even a puppy on a mental level.
Bored dogs need distractions
But for puppies and adult labs, enriching daily variety is a MUST. And treat and food dispensing toys are a huge part of providing that daily enrichment.
The reason for this is simple. If you had to estimate how long it takes your Lab to eat his dinner, what would you guess? Five minutes? Three minutes? 30 seconds?
Today's vets estimate that, on average, pet animals spend a whole whopping 15 minutes per day eating all of their daily meals! But in a wild environment, obtaining nourishment would likely consume the major part of an animal's daily energy and activity. So in captivity, once mealtime is done, what else is there for a pet dog to occupy his time in productive and enriching ways?
Enter the treat toy and food-dispensing toy.
When you put your Lab's meal into a treat or food-dispensing toy, it will take him far longer than a few minutes to consume it. With the help of a treat toy, instead of 30 seconds your lab will be looking at 30 minutes. Good, solid work reinforced with good, solid rewards for that work. Presto – enrichment!
Treat toys can also offer interim work, especially when it is nearing "feeding time". When your dog starts to get restless and begins pestering you. By offering a treat toy, your Lab will have an engaging job to do to get the treats out. But he will really be consuming very few calories for his efforts.
Meanwhile, the dinner hour will arrive and you can produce another fun toy from which to dispense his dinner. Presto! At day's end, you have a happy, fulfilled, satiated and exhausted lab!
Kong wubba
The Kong wubba toy is specifically designed for active labs who love to tug and fetch and enjoy interactive play with you.
There are many Kong wubba designs, and each one has a specific purpose in mind.
Fuzzy Wubba
Fuzzy on the outside and squeaky on the inside, these toys are a classic part of the Wubba lineup.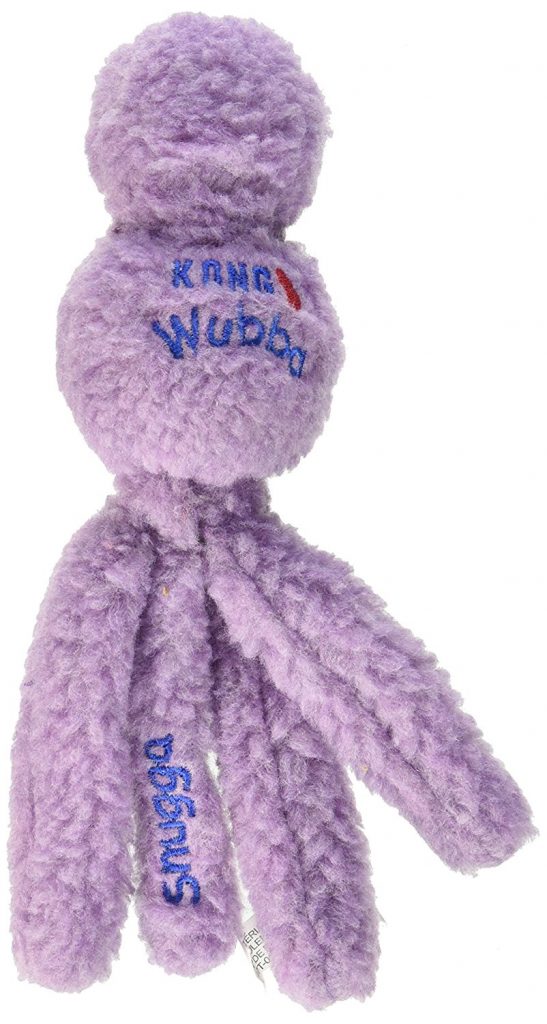 The Kong Snugga Wubba in particular is a great choice for puppies and senior labs.
Wubba friends
Wubba friends toys are fuzzy and cute with lots to hold on to at both ends.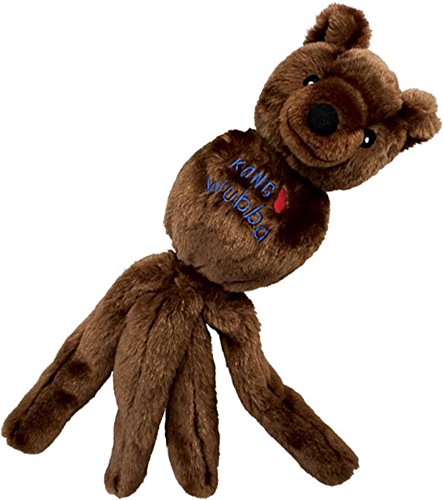 Some Labs love their soft and cuddly Wubba friends toys so much they like to sleep with them!
Wubba ballistic friends
Kong Wubba Ballistic friends are the most durable of all Wubbas.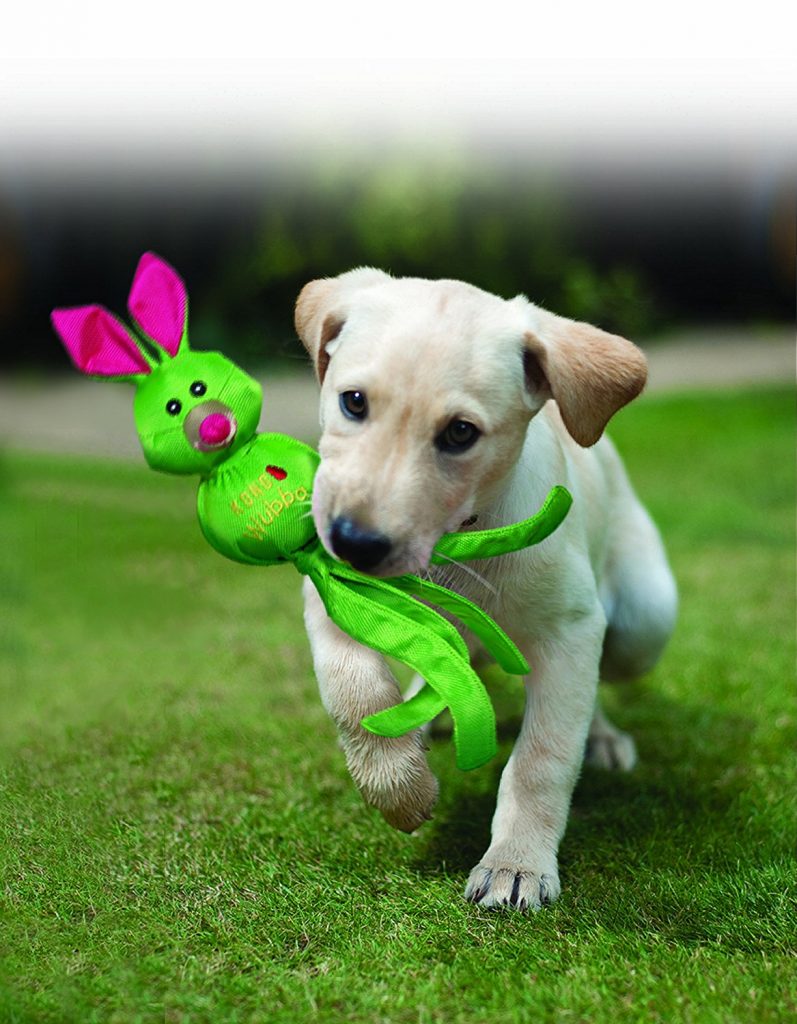 They are reinforced so even power chewers can enjoy them without taking them apart. Best of all, Wubba ballistic friends come in a variety of fun colors.
Wubba floppy ears
The ears on the end of these Wubba floppy ears toys make it so easy for you and your dog to pick the toy up and tub or toss it.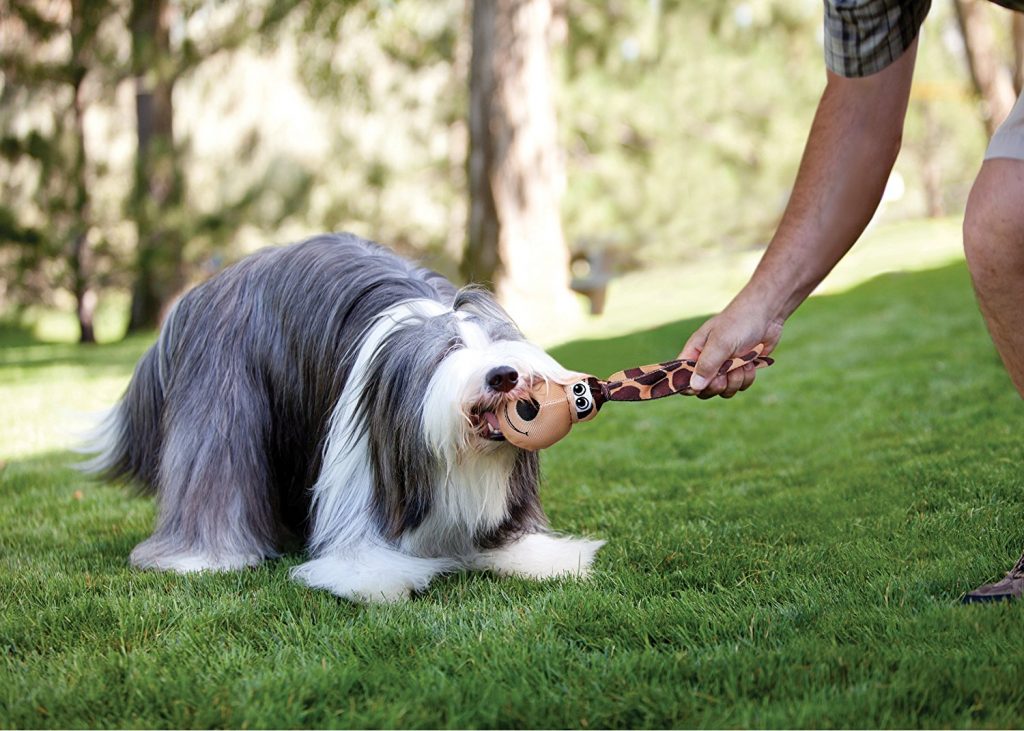 And of course shaking it and chewing it makes the squeaker inside come to life!
Wubba (wet, dry)
The wet Wubba is a great toy for rainy or snowy outdoor play.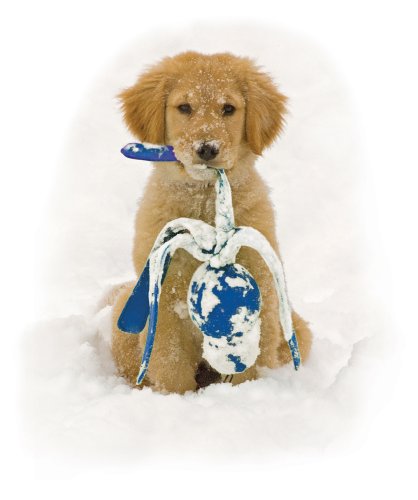 While the dry Wubba is perfect for enjoying the great outdoors when it is sunny and rain or snow-free.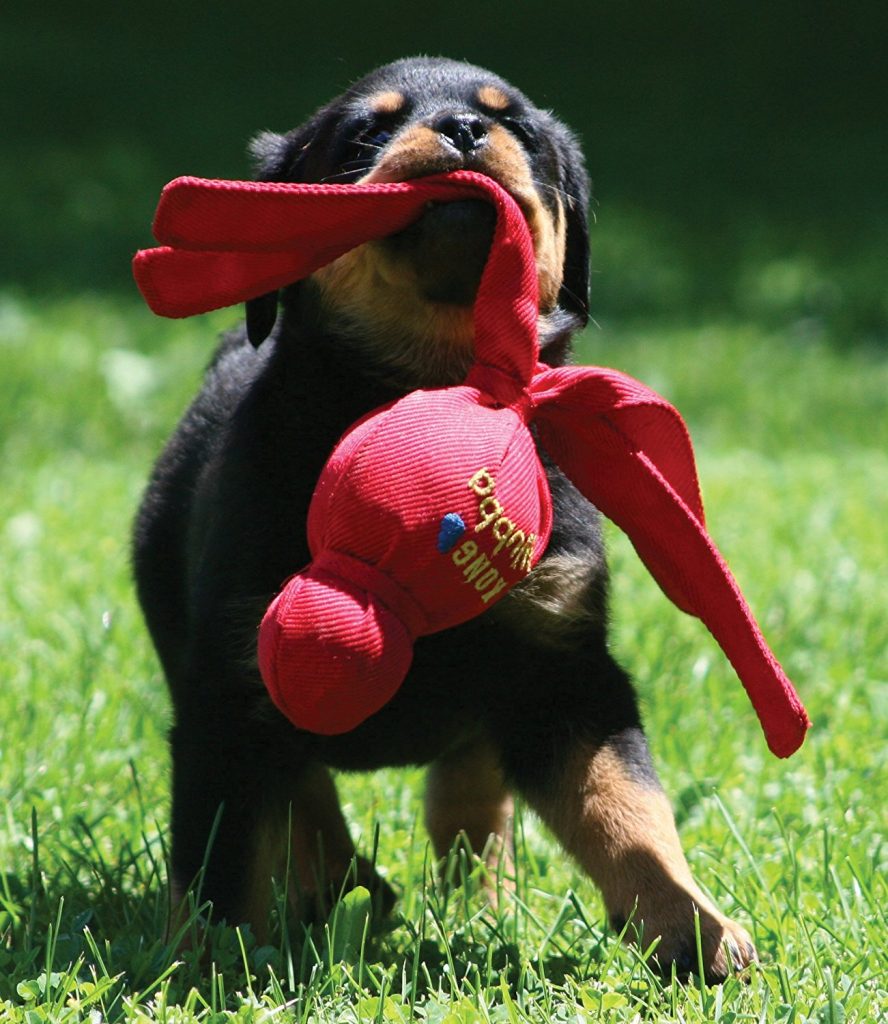 Kong wobbler vs. Kong classic
The Kong wobbler is a more recent update to what might just be the most popular, recognized dog toy in the world, the Kong classic.
The classic and the wobbler both feature the same signature three-part segmented shape. But here is where the departure occurs:
Kong classic dog toy
The kong classic toy is all one piece with a hollow center that can hold treats like nut butter, apple pieces or other delicacies.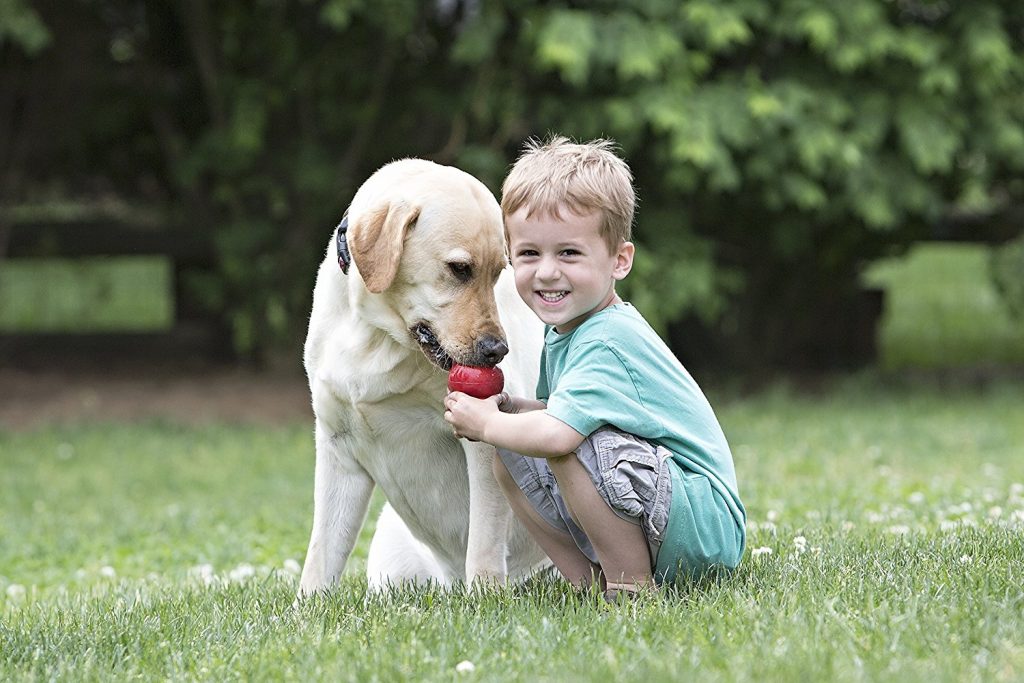 This is chocolate Labrador Rachael's favorite toy in the world.
Your dog has to use his tongue to probe deep inside the center of the toy to get every last lick of treats out. It also bounces, so it can make for a fun spontaneous game of "fetch."
Kong wobbler treat dispensing dog toy
The kong wobbler has a twist-off dispenser to fill the toy up with treats and a center side hole where the treats come out.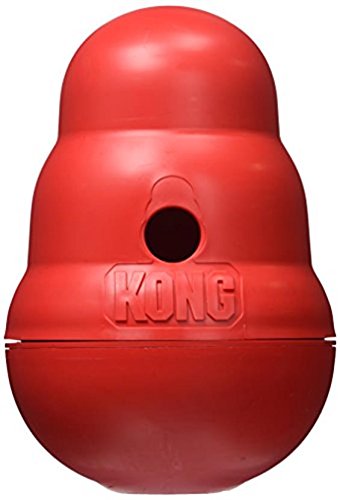 As your dog tries to extract the treats, the toy "wobbles" in a way that is entertaining as well as motivational.
So which of these toys should you choose? You really can't go wrong with either one, and many Labs enjoy switching between both toys, which can make for some extra novelty and enriching fun.
Kong balls
Another one of the most enduringly popular dog toy offerings in the Kong toy line is the Kong ball for dogs.
In fact, despite what the title of this section might imply, there is not just one single Kong ball toy available. There are many versions of this classic toy to suit the age, chew style and activity level of different individual labs.
Here are some of our favorite versions of the kong ball for dogs:
Kong classic ball
The Kong Classic ball toy is part of the original Kong classic lineup.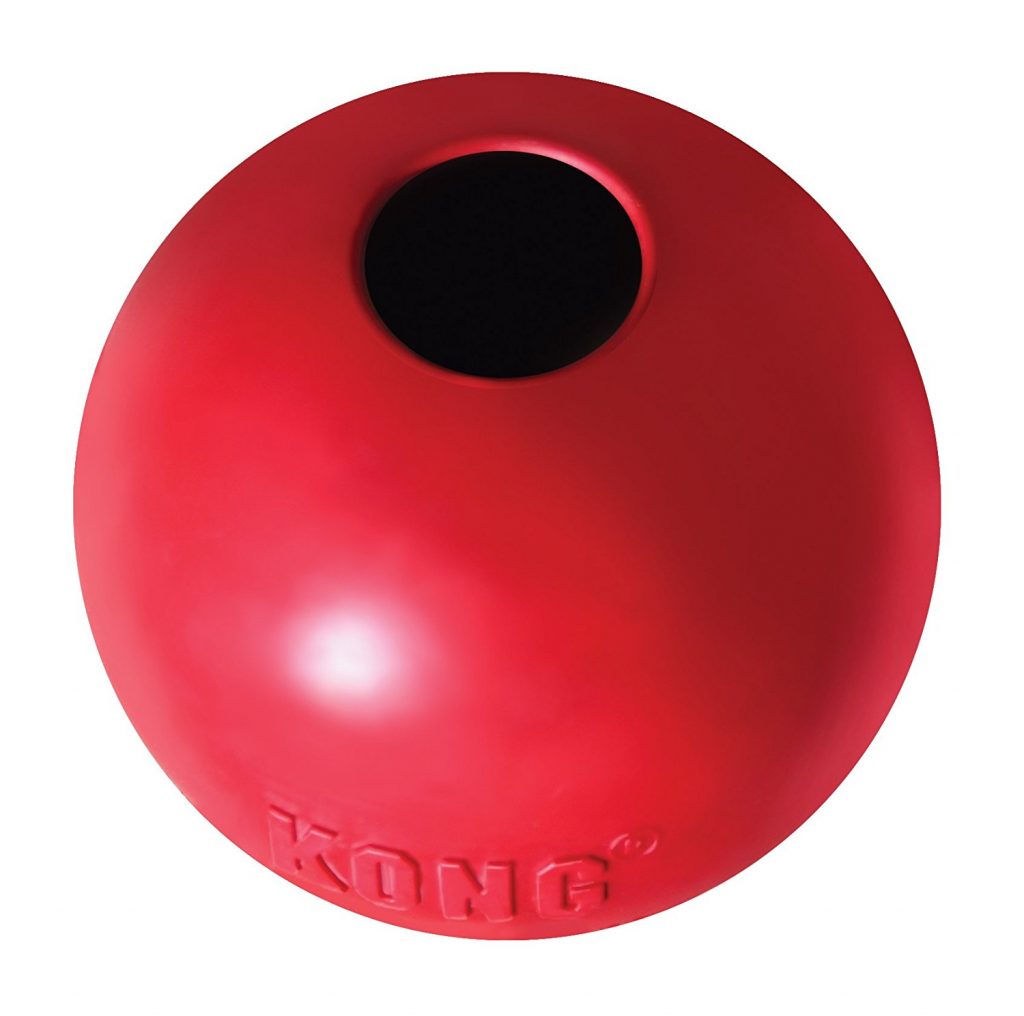 Instead of the three-part segmentation of the Kong Classic and Kong Wobbler toys, this toy features a single round ball with a center hole for treats.
Kong jumbler ball
This unique ball toy holds a central tennis ball that squeaks and tumbles along with the outer ball for double the fun.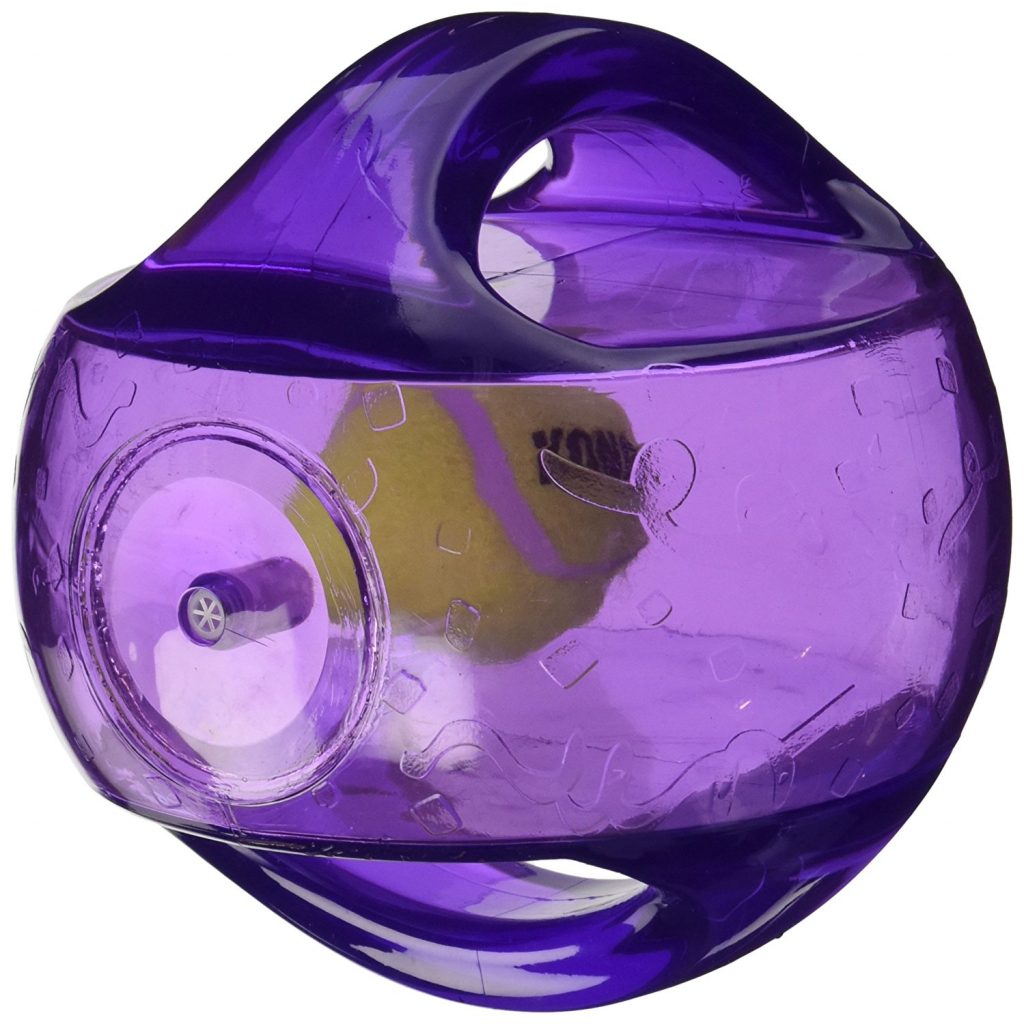 Kong Air Dog squeaker tennis ball
The fun Kong air balls roll and squeak and soar in the air, enticing your lab to enjoy hours of interactive play.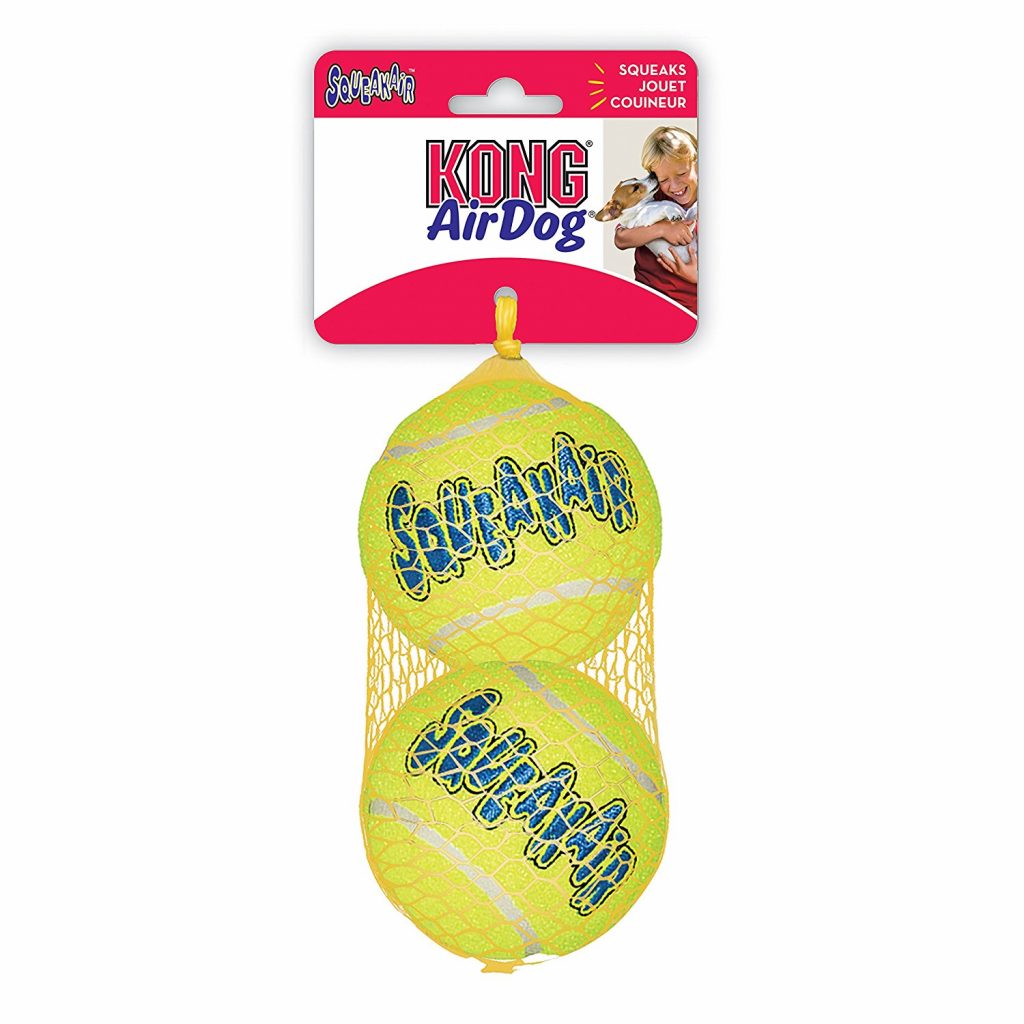 These balls are covered with a soft felt so your dog won't experience any abrasion while chewing.
But wait… there are more!
There is such a great range of Kong dog toy balls.
Kong Air Dog squeaker double ball toy
This dumbbell-shaped dog toy has two tennis balls, one on each end, connected by a center rubber piece.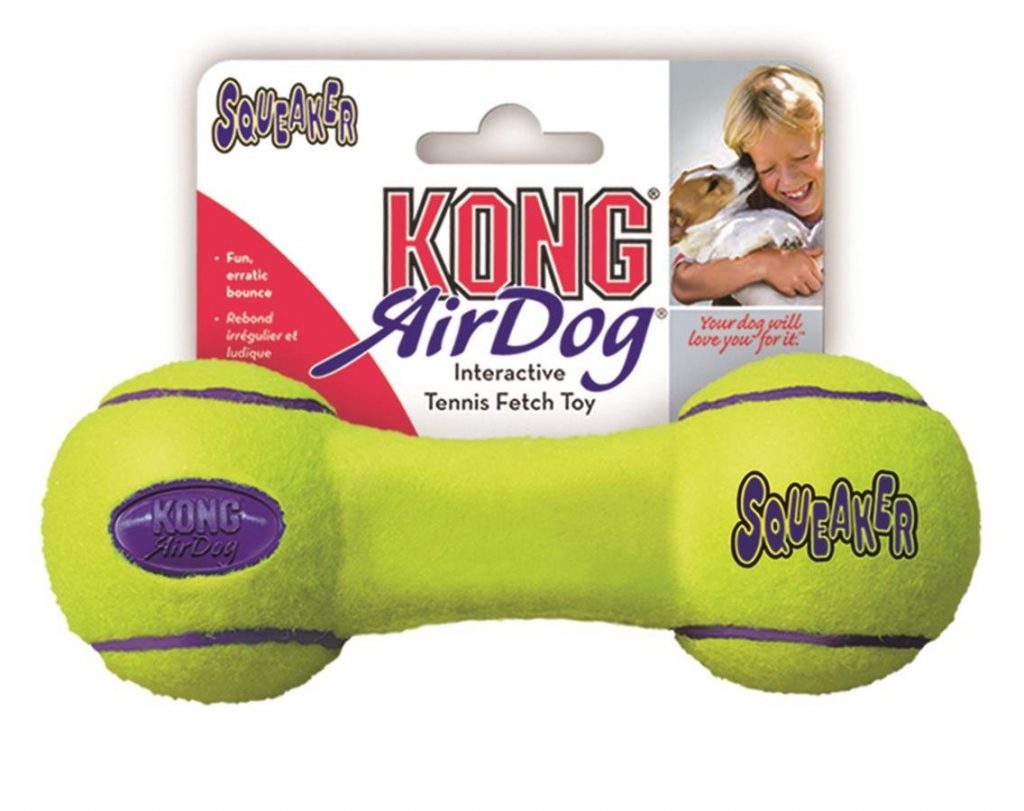 One is a classic tennis ball and the other is a squeaker ball.
Kong biscuit ball
This unique version of the classic Kong ball toy has inserts where you can put in dog biscuits.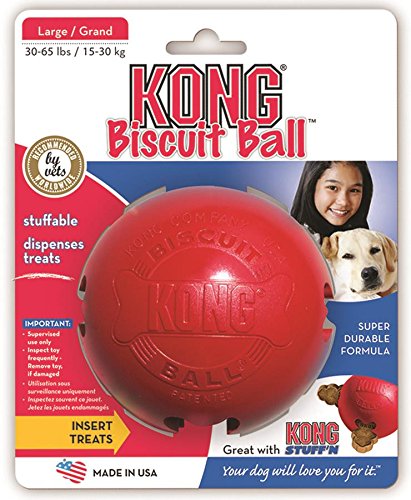 Then your dog has to chase and chew to get the biscuits out.
Kong stuff-a-ball
The Kong Stuff A Ball toy is designed to dispense dog biscuits as well.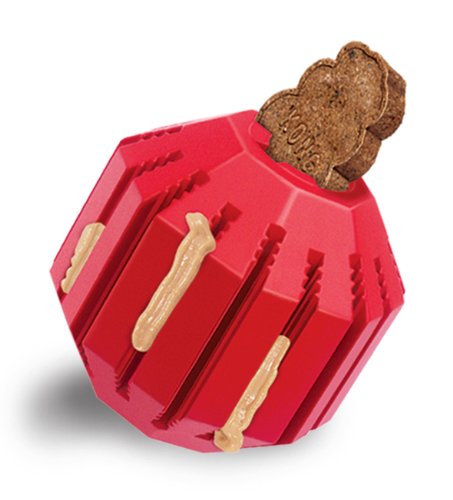 But the inbuilt ridges will also clean your dog's teeth while he is pursuing the biscuits.
Kong squeezz ball
This fun brightly colored ball is squeezable and squeaky, and the interior squeaker is heavily protected so your dog can't chew through to get it.
Some also feature an additional crackle sound when your dog chews the ball.
Most of these Kong dog toys come in a wide variety of sizes, from X-small to XX-large. Some, like the Kong puppy ball, are also rated for different dog ages.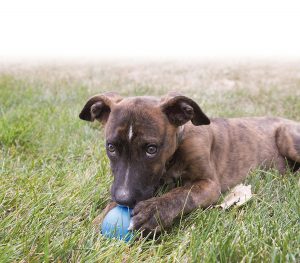 If you are like so many loving pet owners who wants to give your Labrador retriever the world but also has a budget to keep in mind, you might be thinking right about now, "Well, a ball is a ball is a ball – why should I get my lab several balls when one will do?"
Why do Labs love balls?
While there is no need to go over budget to provide your Lab with enrichment, there is also an argument for saving up for several different types of balls to add to your lab's toy rotation. There are two reasons for this:
Balls are a staple favorite toy for dogs.
While your Lab might get habituated to (used to) one particular ball, especially if she has slobbered on it, chewed it up and ripped the outer cover off, she is not likely to ever get bored with ball toys in general. Here, you don't need to get complicated in the type of toy you replace that ball with. But if the ball toy does different things, or you get different balls that offer different types of enrichment, you can keep offering your lab ball toys without any loss of engagement.
The best enrichment is multi-sensory enrichment. Multi-sensory, as the phrase implies, means the toy offers your lab an experience on multiple sense levels. Smell, taste, touch/texture, appearance, sounds – if a toy offers enrichment on at least two of these levels, your dog will likely get bored with it much less quickly.
Kong extreme
As an additional helpful tool, Kong toys are color-coded. Red denotes a classic Kong toy for adult dogs, while pastel pinks and blues often denotes a puppy Kong and purple is often used for senior dog toys.
In contrast, Kong Extreme toys are always colored black. The rubber composite used to make Kong Extreme toys is the most durable the company offers. If your dog is a "power chewer" (see Kong chew toys section here earlier), Kong Extreme will be the most sensible choice.
The most popular Kong Extreme toys are as follows:
Kong Extreme Original
These toys are so durable and sturdy.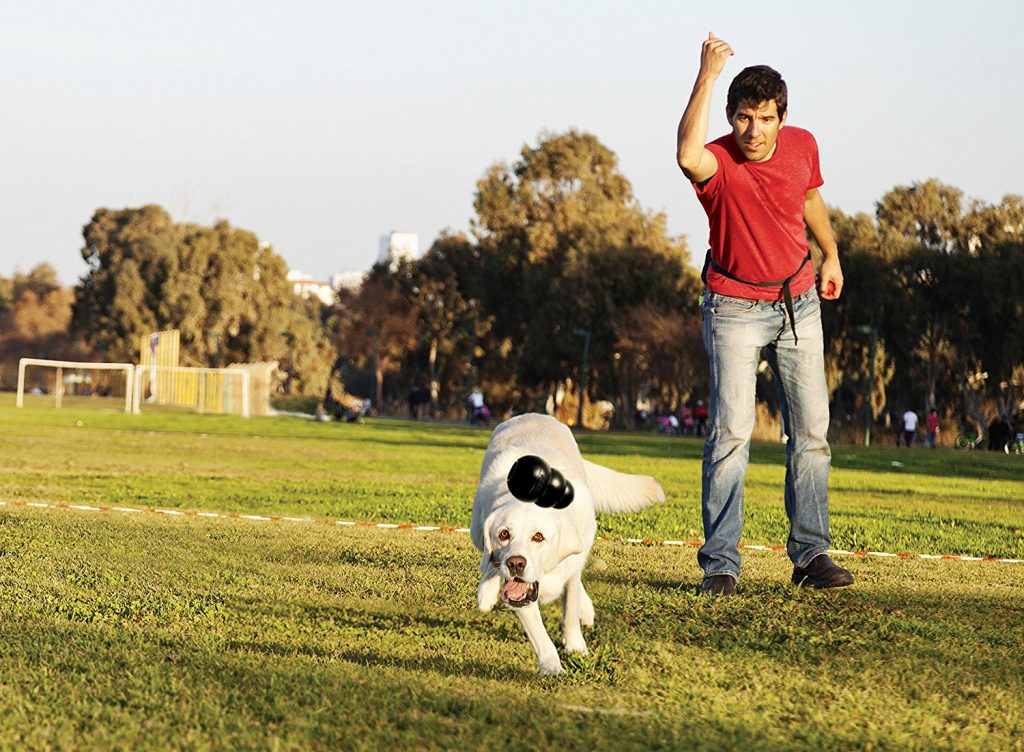 They are even used by K-9 trainers and the military to train working police, military and guard dogs!
Kong Extreme Goodie Bone
This goodie bone looks like the real deal.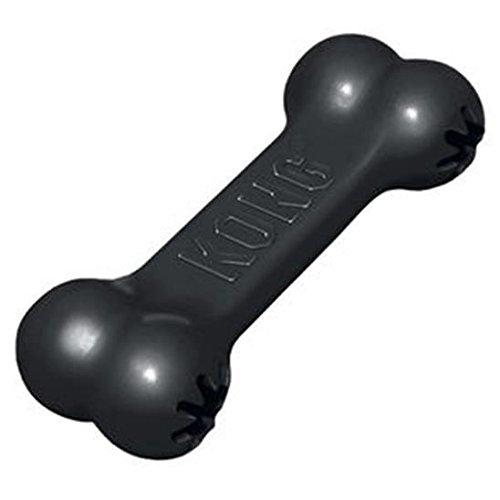 But it is so durable your Lab will be able to chew for hours to get the treats inside without harming the toy itself.
Kong Rubber Ball Extreme
"Small but mighty" describes this incredibly bouncy and durable dog ball to a "T."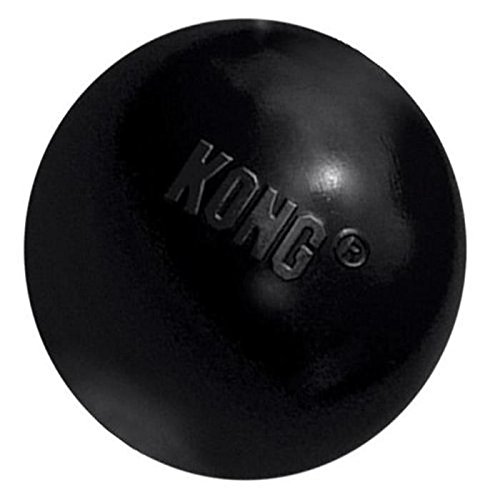 Kong Extreme Flyer
This is a Frisbee – but it will be like no other Frisbee your Lab has ever encountered in terms of its durability.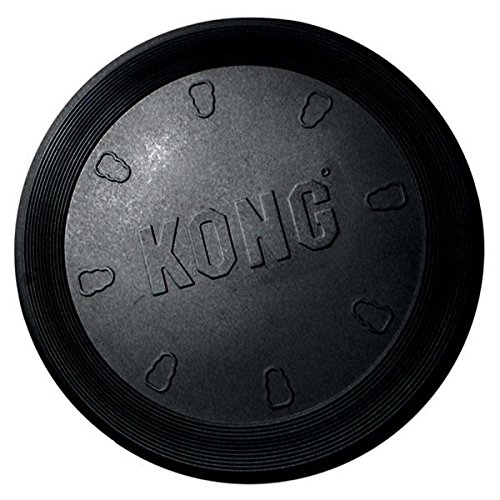 Kong Extreme Tire
This treat tire grips the treats tightly in its durable insides.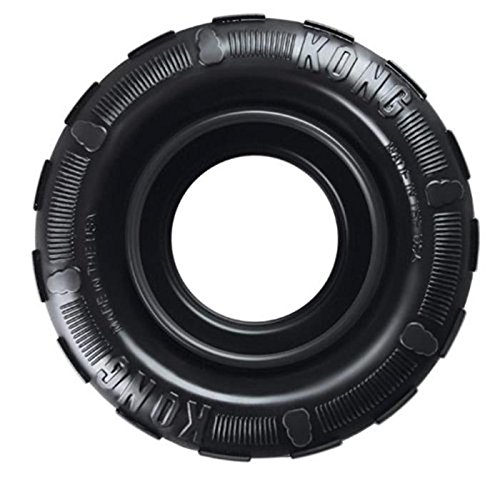 Your Lab will really have to work for a reward.
Kong sticks
Kong offers a variety of stick toys to pique your Lab's interest. In true Kong fashion, you can choose from thin or thick, textured or smooth, treat or non-treat and other options for stick toy play.
Safestix Kong Dog Toy
Kong Safestix are sturdy and strong, yet slim and flexible – they will bend in the direction your Lab tugs without breaking or causing you to lose your grip on the other end.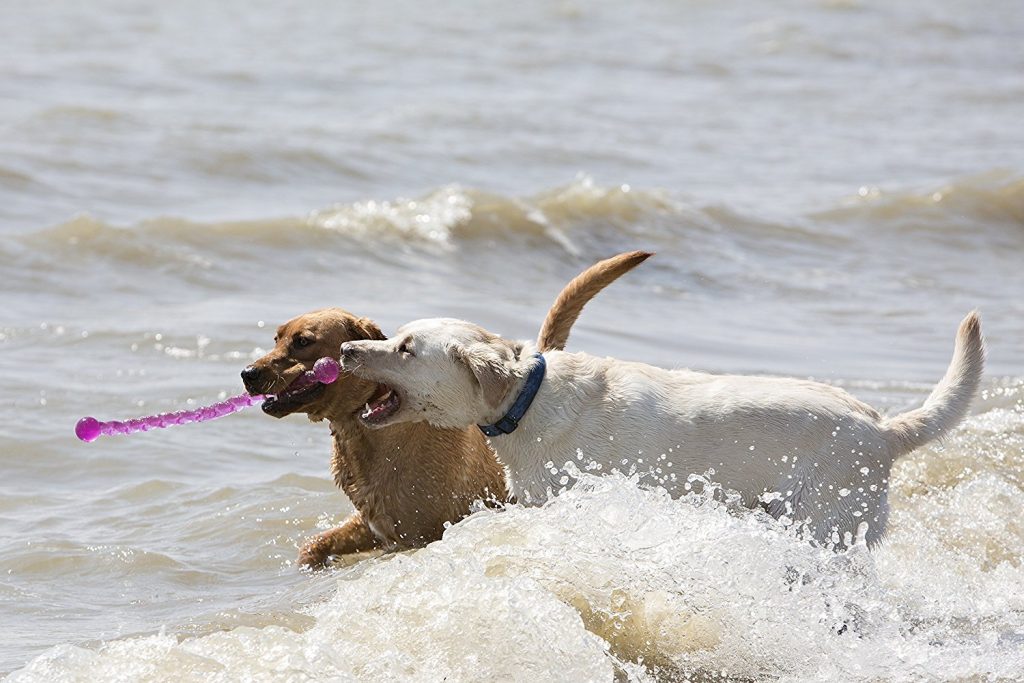 These toys also feature a neat twisted texture to help your dog hang on better during games of tug-of-war. They also float in water for easy retrieval.
Training Toy Dummy
The Kong Training Dummy toy is designed to teach your dog fetch and retrieve with a soft mouth on land or in water (it floats).

It is made to be highly visible with its bright orange-red color. This toy is made of flexible soft foam so it should only be used during supervised play.
Durasoft Kong Dog Toy
The Kong Durasoft stick toy is made of two different textured materials – one on each half of the toy.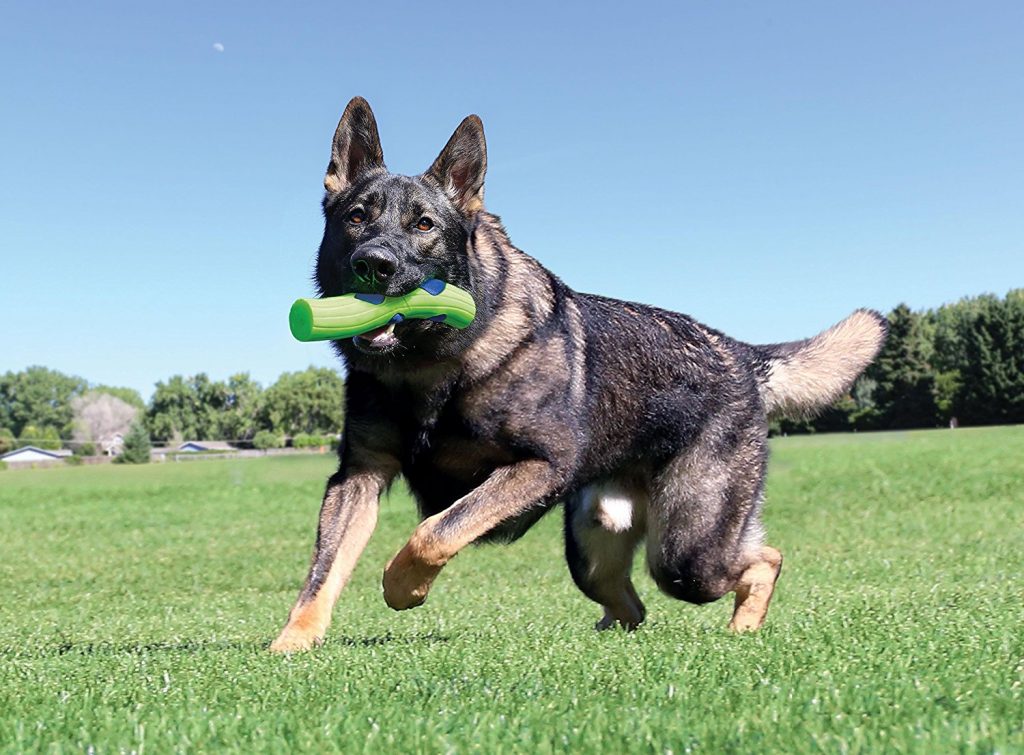 It floats, bounces unevenly and even squeaks so your dog will experience three sensory adventures during playtime.
Air Dog Fetch Stick with Rope
The Air Dog Fetch Stick toy is covered in tennis ball-type fabric for a familiar mouth feel that is gentle but durable.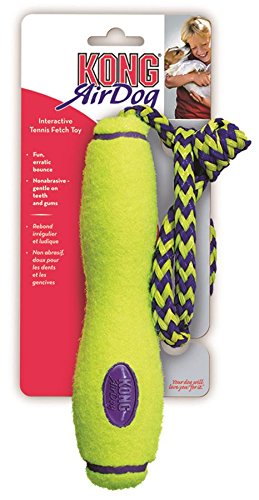 Since it feels just like a tennis ball but functions like a tug-of-war stick, your dog is likely to want to stick around to see what might happen next!
Squeez Stick
The Kong Squeez Stick toy comes in regular and crackle.

The squeaker inside is protected so your dog can't chew through to it. The stick produces an uneven bouncing that keeps your lab guessing. The Crackle Squeez stick toy also produces an intriguing "crackling" sound when chewed, bent or twisted.
Kong dental
Kong has built a reputation for itself on durable, safe and fun dog toys for multiple uses, but good dog dental health is another a big component of the Kong mission. After all, why can't good canine hygiene also be fun?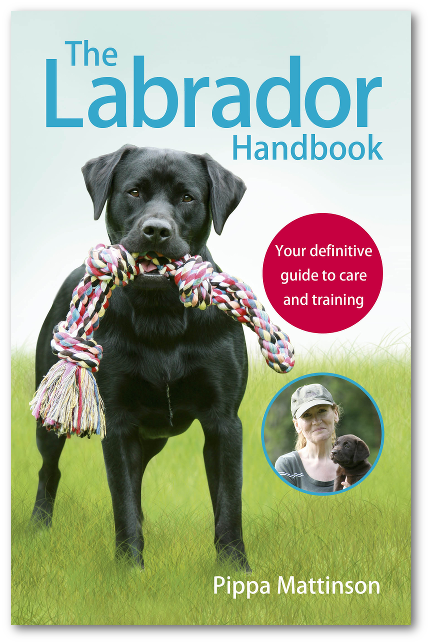 Your lab will discover just how much fun (and tasty) maintaining healthy teeth and gums can be with these Kong dental toy favorites:
Kong dental toy with rope
This dumbbell-shaped dental toy has gentle grooved, textured surfaces.
It will work out plaque and debris while your lab retrieves the treats hidden inside.
Kong Dental Stick dog toy
This dental dog toy is shaped like a classic stick, but with ridges that help to clean your dog's teeth as she mouths and chews it to get the treats inside.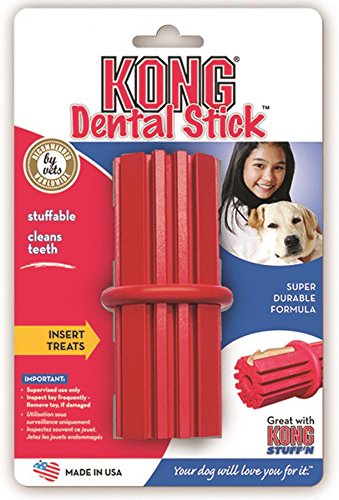 Kong Jump N' Jack Dental dog toy
This jacks-shaped dental toy holds soft treats in its grooves. You can use Kong's breath paste as the treat of choice for a thorough tooth cleaning session.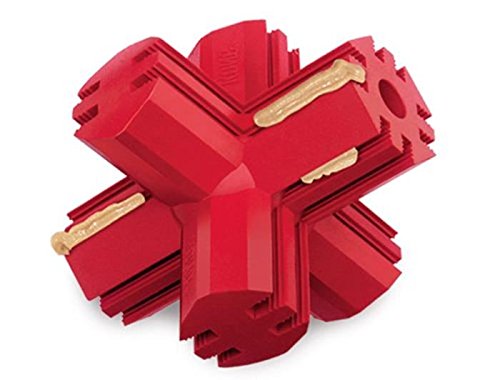 NOTE: These great dental dog toys also come in puppy and senior dog versions to accommodate the more sensitive teeth and gums that younger and older labs may be experiencing.
Choosing the best Kong dog toys
After reading through the amazing variety of dog toys the Kong company has created for your dog's enrichment, you probably have a good idea about which toys you want to try first.
But once your newly chosen Kong dog toys arrive, then what? What if you open up the boxes and present the toys to your Lab and….nothing happens?
Here, the Kong company says, toy presentation really matters. In fact, how you present the new dog toys to your pup can make the difference between whether that toy becomes a favorite or is relegated to the rescue shelter donation box.
Getting your dog to like his new toy
The Kong company offers these tips for successfully introducing a new toy to your Lab:
Be sure the size of the toy is not off-putting in some way. Too small and your lab might not see it for the potential it has to entertain her. Too large and you may have a cowering lab on your hands.
Get excited about the new Kong toy yourself! If you open up the toy and talk in an excited way and start playing with it yourself, chances are good your lab will want to join you and participate.
Use treat incentives to prompt interaction. There may be times when your lab won't be too interested in the toy itself (no matter how cool it is). But smear a bit of nut butter or pop some favorite kibble morsels inside and that situation might just change for the better. You might also find some great ideas to encourage more interactive toy play on Kong's recipes page!
Add a hard freeze. Once your dog has figured out the basics of how a Kong dogs toy works, you can consider freezing it to add some extra challenge and excitement. This works particularly well in summer when your lab can have a cool and refreshing toy to look forward to after working up a sweat.
Best Kong Toys For Labs
We hope you have enjoyed this overview of everything Kong dog toys can offer in terms of providing the most enriching possible life for your Lab puppy, adult dog or senior dog.
The Labrador Site's own chocolate Lab Rachael has a particular preference for the Kong classic. In fact, it's her favorite toy in the world.
If your Lab has a favorite Kong toy too, we would love to hear your story in the comments here!
Resources
Becker, K., DVM, "Do You Have a Dog with Behavioral Issues? This Can Make a Huge Difference," Healthy Pets: Mercola, 2015.
Siwak-Tapp, C., et al, "Region specific neuron loss in the aged canine hippocampus is reduced by enrichment," Neurobiology of Aging, 2006.
Radosta, L., DVM, "Environmental Enrichment for Puppies and Dogs," Pet MD: The Daily Vet, 2012.
Haug, L., DVM, MS, DACVB, "Environmental enrichment for dogs and cats (Proceedings)," DVM360, 2009.
Moeller, M., CPDT-KA, CBCC-KA, "Multisensory Enrichment for Shelter Dogs," The IAABC Journal, 2017.
The Labrador Site Founder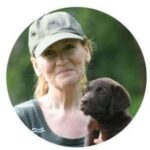 Pippa Mattinson is the best selling author of The Happy Puppy Handbook, the Labrador Handbook, Choosing The Perfect Puppy, and Total Recall.
She is also the founder of the Gundog Trust and the Dogsnet Online Training Program 
Pippa's online training courses were launched in 2019 and you can find the latest course dates on the Dogsnet website