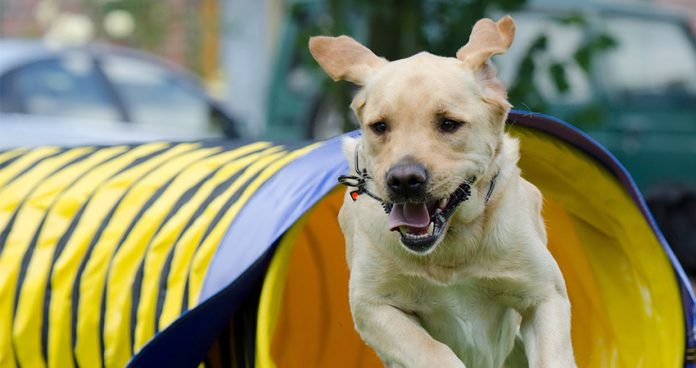 Are you interested in Labrador Agility?
Do you want to have fun or even compete with your very own agility Labrador?
Then I am very proud to introduce you to the gorgeous agility Lab Chase.
Chase has distinguished himself through his exceptional jumping ability.
What Is Labrador Agillity?
You've no doubt seen dogs weaving in and out of brightly coloured poles, racing through tunnels and balancing on see-saws.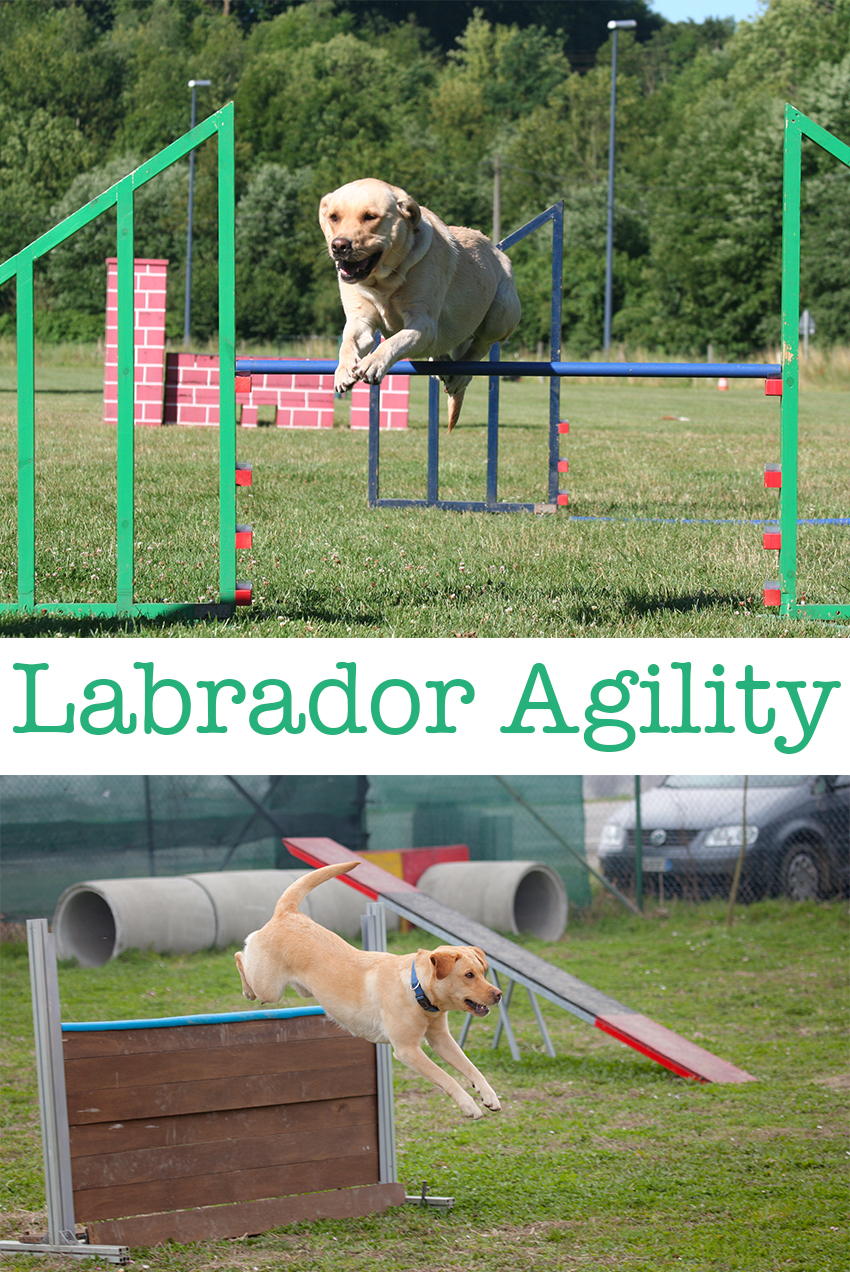 This is dog agility. A sport based around an obstacle course.
A dog and their owner work their way around the various pieces of equipment, with the owner giving instructions and verbal encouragement to their pet as he tackles each one.
So they need to well trained and enthusiastic to take part successfully.
It is a very exciting and often noisy activity. With lots of distractions both in terms of the obstacles themselves and the spectators, including other dogs, who are watching.
The speed, balance, and of course agility, of each dog is tested on a specially designed course.
Labrador Retriever Agility
We tend to think of smallish dogs when we think of agility.  Terriers, Cocker Spaniels and Border Collies.
Yet, as I discovered when I sold Chase as a puppy to a keen agility competitor a few years ago,  Labradors of a certain type can do very well at this sport.
Chase is a dog that I bred with gundog work in mind.  But I had no idea what the future would hold in store for him.
I am delighted to see how successful he has been in his new life.  The picture below is Chase with some of his agility awards.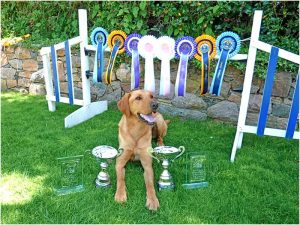 Labrador Agility Is Gaining Popularity
The sport of agility was born in the UK in the late 1970s and has grown rapidly in popularity throughout the world.  An agility event is essentially an obstacle course.
The dog has to negotiate the course as fast and as accurately as possible. Obstacles include ramps, see-saws, long jumps,  high jumps and various types of tunnel.
In 2016 one of the finalists at Crufts in the Agility sector was a lovely Chocolate Lab, who you can see clips of in this video:
The Ideal Agility Labrador
The Labrador which excels at agility is the lighter, more agile working type built like Chase, with a lighter, faster frame than the more substantial show or bench labrador.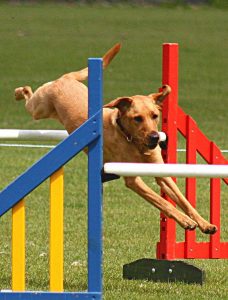 If you are thinking of buying a Labrador puppy and are interested in training for this fun activity,  then you should endeavour to ensure that make sure your puppy is from working lines.
Check out 'Choosing the right dog'  for more information on this.
Dogs compete against other dogs of similar size.
So you won't be up against dogs much smaller or much larger than yours.
However you can see that a range of Labs are perfectly suited to enjoying agility if you are just looking to join in for fun:
'Chase' The Agility Labrador
Chase was coached to success by his owner and handler Sally Miller.   I would like to thank Sally for allowing me to use her photos, and for giving Chase such a wonderful life.
Creating Your Own Agility Labrador
If you are interested in having a go at agility with your Labrador, you can find out more on United States Dog Agility Association or Agility.net.
They give information in finding clubs and joining groups.
However, you don't need to leave your backyard to have a go at Labrador agility.
You can buy the agility equipment online and set up a little course at home.
Not only is this a great way to exercise, train and bond with your dog without leaving the garden, it can give you an idea of whether agility is something you want to commit to seriously.
Do You Have An Agility Labrador?
Does your Labrador love agility? Let us know about your experiences in the comments section below!