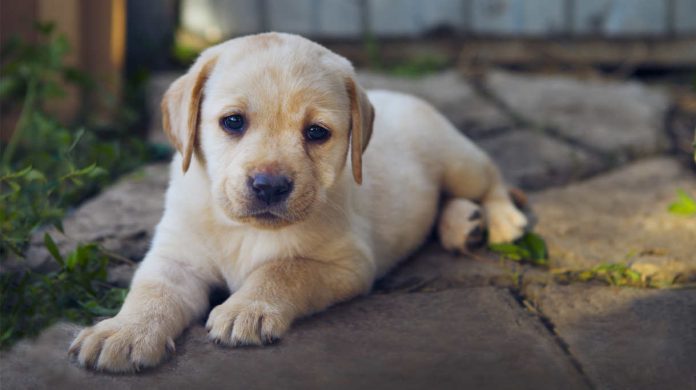 You've done it! You've booked a Labrador puppy! But what happens next?
For many people the very next thing they do, is to head for the shops.
And why not – what could be more fun than shopping for soft toys for Labradors.
Shopping for dog toys
Most new puppy buyers get their puppy's crate and bed ready well in advance.  Complete with blankets and toys.
There is nothing more adorable than the image of a tiny puppy curled up asleep in a nest full of gorgeous cuddly toys, and they are great fun to choose and buy.
So in this article, we're going to have a look at a few of the best soft toys for Labradors. And for older dogs too.
But before you reach for your wallet, we need to talk about 'chewing'.
Will my Labrador destroy soft toys?
Some puppies are lovely to their cuddly toys.  They carry them around, sleep with them, and play gently with them.
But here's the thing.  These puppies often belong to someone else.
Many puppies will attempt to disassemble any toy they are given within minutes.
I have looked wistfully at dogs belonging to friends, all cuddled up with their teddies.
Or carrying around a toy elephant.  Very sweet.
But in over thirty years of owning Labradors, I have never personally had a puppy that did not rip up every single soft toy they were provided with,  up to the age of around 18 months.
So my advice is not to spend too much, until you find out what kind of puppy yours turns out to be.
Should all dog toys be chew proof?
But shouldn't toys for dogs be chew proof?
Perhaps they should, but in reality,  this would exclude all but a very few strong rubber toys.
It would certainly exclude anything cuddly.  Because to date, I don't believe any kind of fabric toy has been invented that a determined Labrador could not disassemble in the space of thirty minutes.
It would probably need to be made of kevlar to survive!
In fact this also applies to many other kinds of toy too.  Including treat dispensers, puzzle toys, and so on.
You sometimes see bad reviews for these products, giving them a low rating and stating that the dog destroyed the toy.
But these toys are not actually designed to withstand the power of a large dog's jaws.  Only specifically designed chew toys are built to that standard.
Should I give my Labrador a soft toy?
The answer is, you can try it and see.
Soft toys aren't compulsory, and I no longer buy them for puppies, but many people want to and that is fine, provided you are careful.
Supervise puppies, and older dogs closely with new toys, to see how they behave.
If your dog begins tearing at the toy and breaking it apart, the only answer I'm afraid, is to remove it, and replace it with a properly designed chew toy, such as a kong.
Here are a few toys to try:
Unstuffed Toys
The first toy we are listing here is unstuffed.
This makes it a better choice for dogs that tend to nibble a corner off their toys and pull out the stuffing
It's called Happy Pet Unstuffed Chipmunk and our bouncy chocolate Labrador Rachel loves hers to bits. She is on her second, but the first lasted well over a year which is pretty good going for a soft dog toy.
Winston the Walrus
Winston the Walrus is available in a larger size.
Suitable for an older Labrador that is not too destructive.
And he comes with a 'squeak'.
Not very many reviews yet,  but they are all good, and include Labrador owners.
Puppy Cuddle Pal
This one might just help settle a small puppy at night.
The Puppy Cuddle Pal can be pre-heated and will help a young Lab to snuggle down at night.
You just pop it in the microwave.
It may be comforting on those first few nights away from Mum
Fun Lips Toy
This one is just a bit of fun
It's the Dog Lips Dog Toy. A nice soft toy for your Labrador, and a bit of a laugh for your family and visitors.
It is a bargain price too.
But be aware that the type may vary, and  a number of reviewers comment that it isn't strong.
So definitely one for gentle dogs.
Sheep Dog Toy
Finally we just love this one.
The Cudleez Noodle Buddy Dog is another lovely toy for the less enthusiastic toy chewer.
It is quite small, but suitable for new puppies under supervision.
And it will look great in your puppy's crate
Safety when giving dogs soft toys
Don't forget, like all soft toys, none of the above is suitable for really determined chewers,  so don't forget to supervise your dog.
If your puppy  or young dog rips up whatever you give him,  stick to the Kong toys for the time being.  You can try again later when he is older.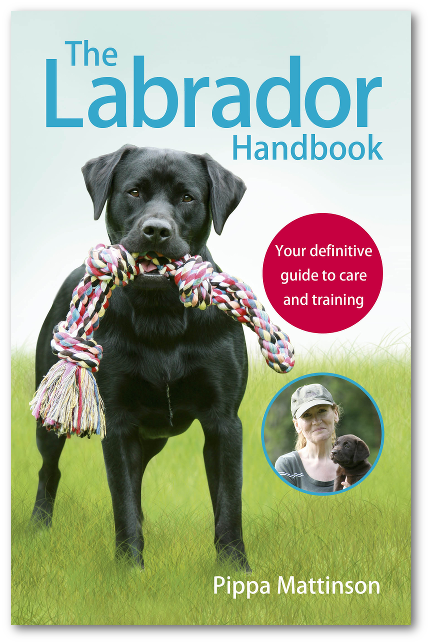 And let us know your Labrador's favourite soft toy, in the comments box below!
More information on puppies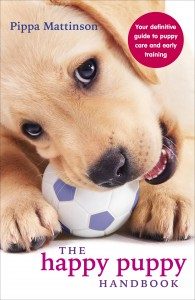 For a complete guide to raising a healthy and happy puppy don't miss The Happy Puppy Handbook.
The Happy Puppy Handbook covers every aspect of life with a small puppy.
The book will help you prepare your home for the new arrival, and get your puppy off to a great start with potty training, socialisation and early obedience.
The Happy Puppy Handbook is available worldwide.
The Labrador Site Founder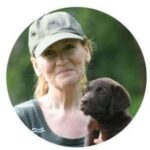 Pippa Mattinson is the best selling author of The Happy Puppy Handbook, the Labrador Handbook, Choosing The Perfect Puppy, and Total Recall.
She is also the founder of the Gundog Trust and the Dogsnet Online Training Program 
Pippa's online training courses were launched in 2019 and you can find the latest course dates on the Dogsnet website