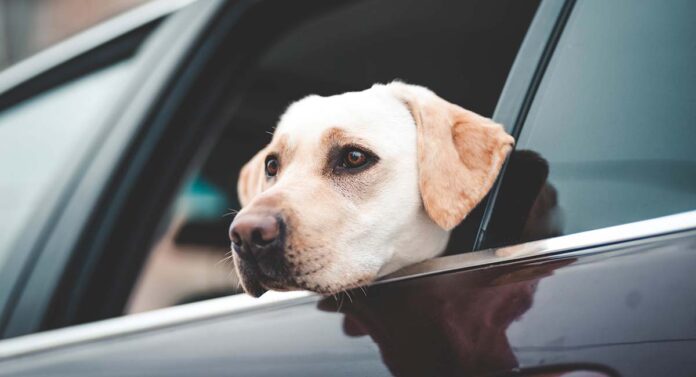 The best dog seat belt and harness will keep your dog safe and comfortable, giving you peace of mind when travelling.
Dog seat belt tethers will fit your dog comfortably, and will act in much the same way that a seat belt does for a human.
Designed to protect pets, dog seat belt clips will keep the dog in place, even in the case of an accident.
The best dog car harnesses will be an appropriate size, made of durable material, and be rated for safety.
All of these products were carefully and independently selected by The Labrador Site team. If you decide to make a purchase from one of the links marked by an asterisk, we may earn a small commission on that sale. This is at no extra cost to you.
What Is A Dog Seat Belt?
A dog seat belt is a safety device that restrains the movement of your pup and keeps him stabilized.
Basically, the best dog seat belt performs the same function for your Lab as it does for yourself and your family.
It provides safety and security, and the belt can either be buckled into the existing buckle in the back seat of your car or it may attach to the buckle that is already there.
Unfortunately, there are no specific safety standards when it comes to harnesses like there are for adult seat belts and child seats.
But some manufacturers have made sure to safety test their products. The best dog car harness will follow these guidelines.
The Five Best Dog Seat Belt Harnesses
There are lots of dog seat belts, dog car seat harnesses, and dog seat belt clips and tethers out there. In this article, we will discuss several of the top rated options.
To get started, here are our top five best dog car harnesses:
Kurgo car safety harness
Lukovee car harness
Kurgo Tru-Fit
SlowTon Adjustable harness
Kurgo Skybox Booster
1. Kurgo Car Safety Harness
This tough and durable harness* has strength-rated hardware, and is designed to be comfortable for long rides.
2. Lukovee Safety Harness
The Lukovee safety dog car harness* is specially designed to be a quick on and off, meaning not too much fumbling around with straps and buckles.
3. Kurgo Tru-Fit Crash Tested Harness
The Kurgo tru-fit crash tested dog harness* has been extensively tested for safety in the event of an accident.
4. SlowTon Adjustable Harness
This popular choice* has adjustable straps to make sure it fits perfectly to your dog, and can be used as a traditional harness as well.
5. Kurgo Skybox Booster Seat With Tether
The Kurgo skybox dog booster seat* is great for puppies and smaller dogs.
The Best Dog Seat Belts Quick Links
The Importance Of Dog Seat Belts
Some researchers say that canines feel as though they are hunting when riding in a vehicle.
Others say that they simply know they are going to end up somewhere interesting when the ride is over.
But maybe your pet just really likes spending time with you!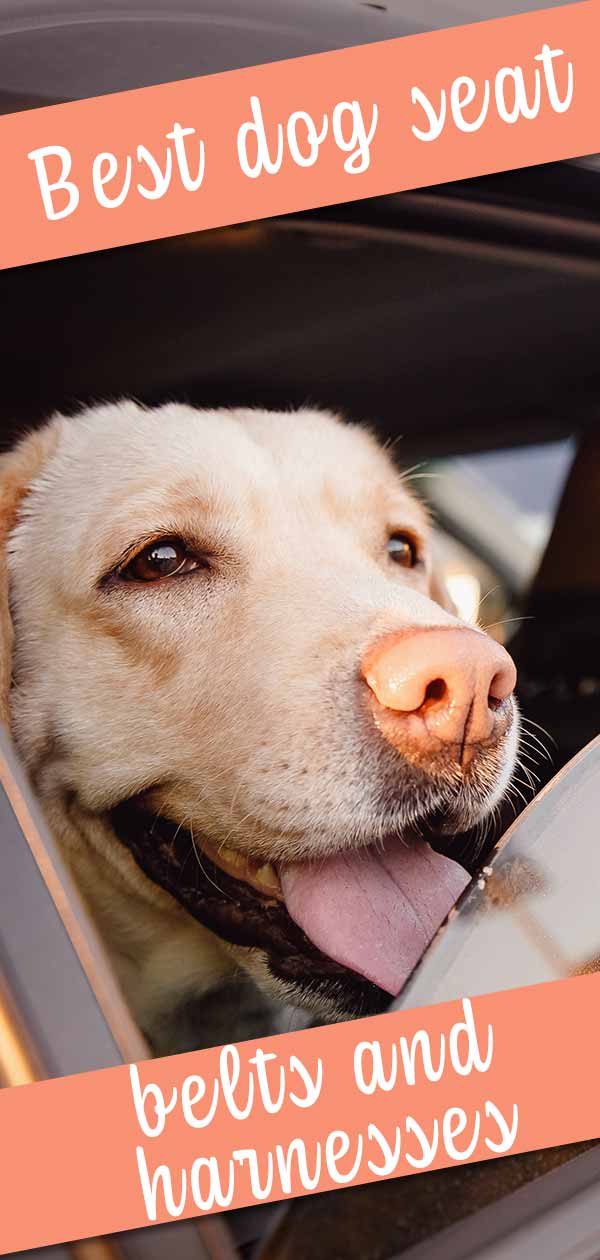 No matter the reason, most dogs love a spin in your sedan. But is it really safe?
Are Dogs Safe in the Car?
Some studies have found that many drivers are distracted when driving by interacting with their dogs!
Petting, restraining, giving treats and playing are all common. Some even allow dogs to climb into the front seat.
Distracted driving accounts for thousands of car accidents each year.
If you want to keep yourself, your pup, and the other drivers on the road as safe as possible, they need to be secured and left during the journey.
To achieve this, you'll want the best dog seat belt and harness available.
But it's not just a matter of safety. It can be a matter of law too.
Dog Seat Belt Laws
It is perfectly legal to drive with your pup. But there are restrictions on the ride method.
Most states have distracted driving laws that specifically state that it is not lawful to drive with your dog on your lap.
If you are caught doing this, then you may need to pay a small fine of about $100.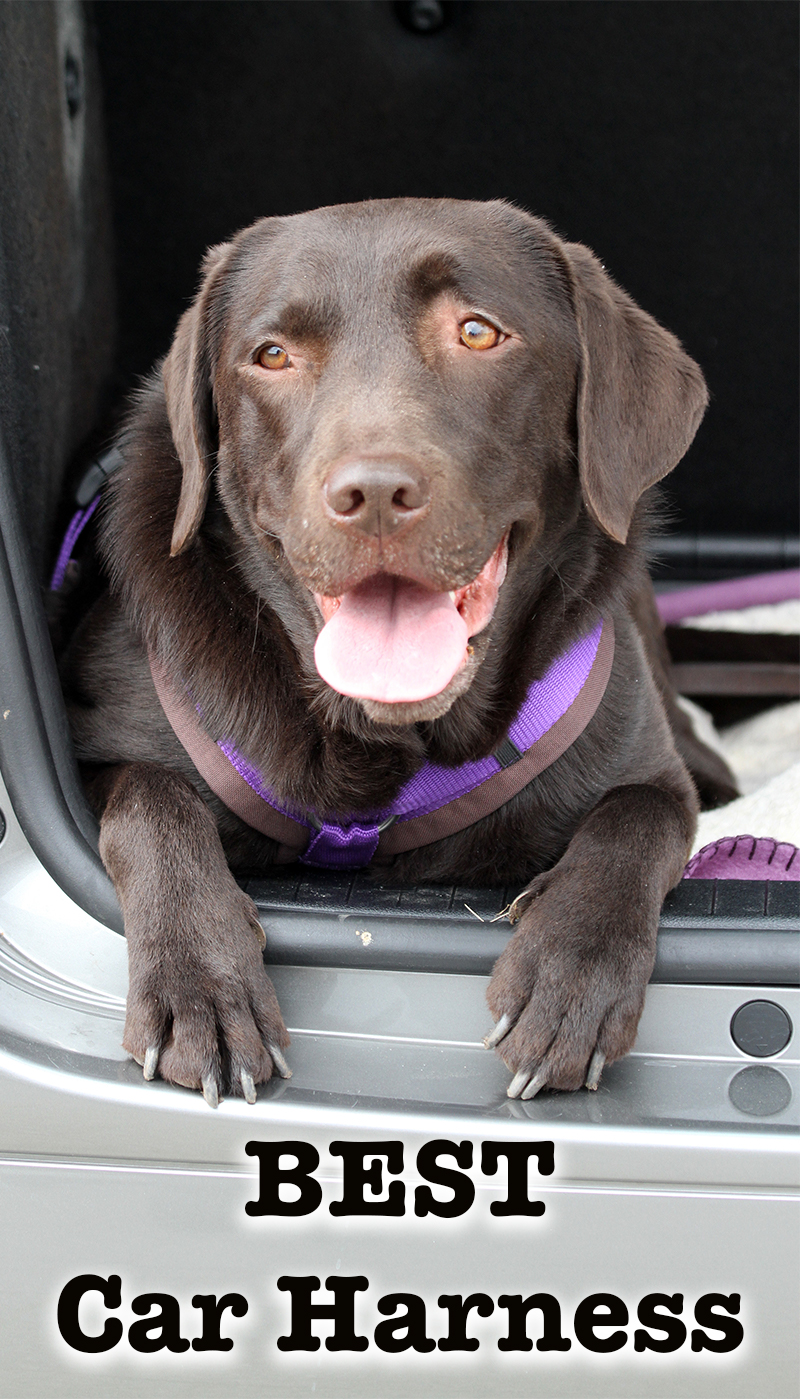 New Jersey is the only state that can leave you facing a pretty hefty fine of up to $1,000 for allowing your pup to ride unstrained in your car.
This means that seat belts, crates, and harnesses are required to travel with your dog in New Jersey.
Pick Up Truck Laws
Also, if you drive with your dog in the bed of your pickup truck, you need to have him secured properly in a crate or by cross-tying.
This is true in the states of New Hampshire, Rhode Island, Oregon, Minnesota, Massachusetts, Connecticut, and California.
Make sure that you are fully up to date with the laws in your own state or country before you travel.
Seat Belt Vs. Dog Seat Belt Harness
The terms "dog seat belt" and "dog seat belt harness" are sometimes used interchangeably.
However, you need to use a keen eye to find the right product for your Lab.
Some manufacturers make extremely simple, and unsafe, products called safety belts or seat belts for dogs.
These devices are essentially little more than leashes that attach to your dog's collar and snap into the buckle.
While this will keep your dog out of the front seat, it will not keep him safe in the event of an accident.
Dog harnesses, on the other hand, are appropriate safety devices. These devices secure around the chest of your dog with either straps or a full fabric vest.
This helps to keep your dog stable during an accident while also ensuring the force of the crash is retained over the whole body.
Important Features Of Dog Seat Belt Harnesses
The best dog seat belt won't just be a "belt", it will be more along the lines of a harness.
Using more material, and ensuring that your dog stays buckled in safely.
It's important to find a dog seat belt tether that fits your dog, to keep her from slipping out of it or from discomfort.
So if you have a Lab or another medium to large dog, you'll need a large dog seat belt.
You also want to look for durable material, and products that have been tested for safety. Let's take a look at some of the best options.
Best Large Dog Seat Belts
If you have a larger dog like a Labrador Retriever, it may seem impractical to buy and secure a seat belt or harness around your pup.
However, this is far from the truth.
You simply need to purchase a harness that is the correct size.
Also, while some smaller dogs can remain in a standing position or lie down comfortably once the restraint is in place, this is not possible due to your Lab's size.
He will instead need to remain in a sitting position with the back legs bent and the front legs extended.
In this position your canine will be seated almost like a human with the chest facing forward.
Of course, the best dog car harnesses are also the ones that are fully tested and offer protection from stress and force generated from the sudden and emergency stopping of the vehicle.
SlowTon Dog Car Harness
This popular choice* has soft padding and adjustable straps to make sure it fits perfectly to your dog.


It's also been designed with a double use in mind, and can be utilized as a traditional dog harness, with a loop at the back for a leash attachment.
Best Small Dog Seat Belts
Are you looking for a small dog seat belt tether? What about a harness for a puppy?
If you want to secure your Lab puppy in your vehicle, then you can opt for a smaller dog car seat harness, or you can buy one specifically made for puppies.
You can also buy a canine booster seat like the ones made for smaller dogs like Chihuahuas and Terriers.
Kurgo Skybox Booster Seat
The Kurgo skybox dog booster seat* for cars is a great option that has large and adjustable straps to allow you to hook the booster directly around the back seat.
The booster features a d-ring hook as well so you can hook a harness into the product for security and safety.
Not only can the booster help to keep your canine safety in the rear of your car, but it gives your adorable puppy a bit of a boost so he can see out the window.
Kurgo Crash Tested Harness
The Kurgo tru-fit crash tested dog harness* has been crash tested at a university testing facility to ensure accuracy.
This product comes in several different sizes, including extra small and small for small dogs and puppies.
The harness is safe for dogs up to 75 pounds according to the testing data, and it can be adjusted in five different areas to ensure safety and security.
The dog harness, that is places securely across the chest, is also padded to keep your dog comfortable during the bumpiest of rides.
A tether is included too, so you can secure it to any traditional seat belt.
Best Easy Use Dog Seat Belts
If your Labrador is a high-energy dog with a wild and devilish streak, then you need some extra security when it comes to your automotive dog harness.
Of course, you also may find it a bit difficult to get the harness on your dog in the first place.
If this is a concern, we recommend these easy-to-use harnesses as a potential solution.
Lukovee Safety Harness
The Lukovee dog car harness* may be your best option. The harness features four adjustable web closures that can be adjusted to your dog's chest.
Once you make the adjustments, you can secure the harness with the mag-lock closures.
When you are ready to snap your canine in place, simply run the seatbelt through the openings on the back of the harness and snap the end of the belt into the buckle.
While the harness is made for use in the car, it does have an attached d-ring that allows a leash to secure in place.
You can then use the product as a walking harness and skip the hassle of changing harnesses.
SlowTon Dog Car Harness
This product* is also designed for ease of use, as well as a multi-function capacity as a traditional harness.


All that it takes are two buckles at the front, making this harness easy to put on and take off.
Best Adjustable Seat Belts
If you take your Labrador on long car rides and adventurous trips, then your pup may not want to sit for hours on end.
While it is safer and more practical for your dog to remain in a sitting position, you can opt for a harness that allows your canine to lie down, sit, or stand.
This is a great idea if you want to spend some time snoozing in your car, but you don't want you pup roaming around the cabin.
Basically, if you want the option of restraint outside of security and safety, then an adjustable level harness is best.
Solvit Deluxe Car Safety Harness
The Solvit deluxe car safety harness* is an awesome option.
The harness allows for three different levels of attachment so your dog can get as comfortable as possible.
When you are ready to start driving again, simply attach the highest adjustment ring to secure your dog properly.
The harness is padded for comfort and made from nylon materials. It slips right on for quick and easy use too.
Kurgo Load Up Car Harness
Kurgo's tough and durable harness* has strength-rated hardware and a universal seat belt attachment.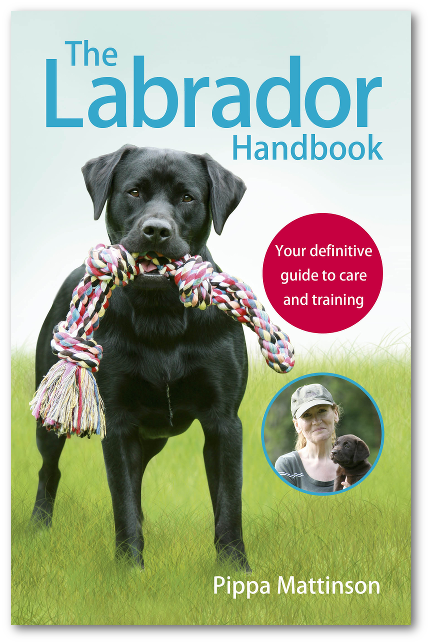 This harness is designed to allow room for your dog to sit, stand, or lay down, for her comfort.
The product comes in sizes from XX-Small to X-Large, so whatever your dog's breed or size, there should be a good fit.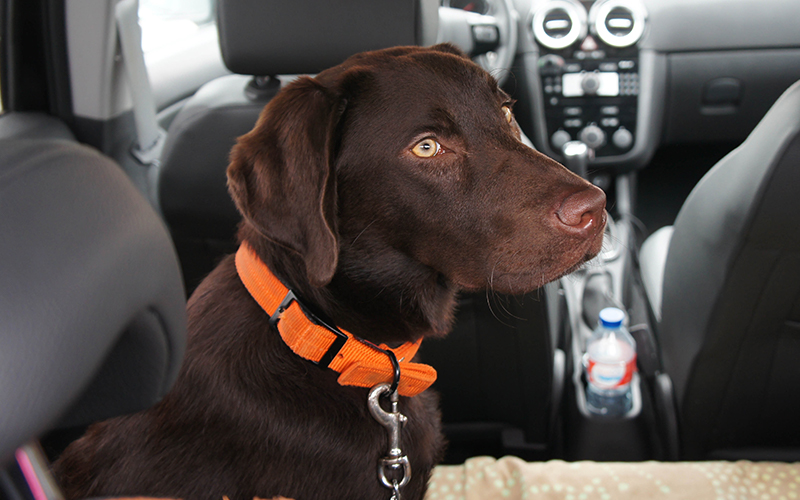 Best Dog Seat Belts And Harnesses
The best dog seat belts and dog harnesses are the way to go when it comes to safety and security.
Whether you have a puppy or a full grown dog, there are tons of options available to you. That's why we started out with our top five!
While some harnesses are tested for safety, others are not. Look closely at features and reviews when you are ready to buy the harness for your canine.
If you are concerned about the product, its effectiveness, or how to secure it for optimal safety, then speak with your veterinarian.
Of course, bring the harness with you so your animal doctor can show you how to use it.
Do you have a harness that you love or does your canine simply love riding safely in the car with his gear on? Let us know in the comments below.
Make sure to also take a look at the best dog nail files for your pup! Or even some dog nail polish!
Affiliate link disclosure: Links in this article marked with an * are affiliate links, and we may receive a small commission if you purchase these products. However, we selected them for inclusion independently, and all of the views expressed in this article are our own.
References and Resources
The Labrador Site Founder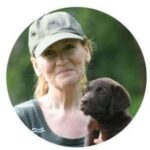 Pippa Mattinson is the best selling author of The Happy Puppy Handbook, the Labrador Handbook, Choosing The Perfect Puppy, and Total Recall.
She is also the founder of the Gundog Trust and the Dogsnet Online Training Program 
Pippa's online training courses were launched in 2019 and you can find the latest course dates on the Dogsnet website