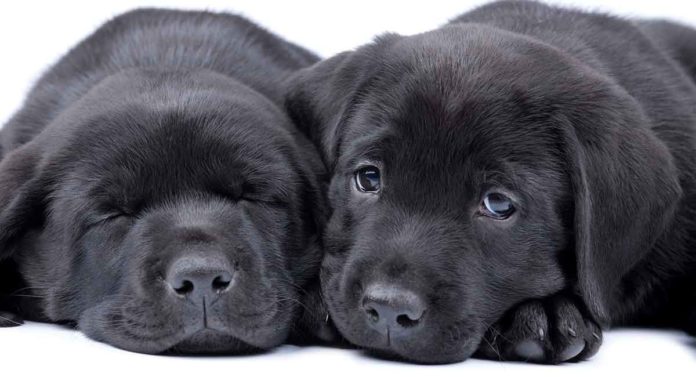 The black Lab is an iconic dog with a big personality. The original Labrador Retriever, black Labs remain the most popular of the Labrador colors.
All black Labs are part of the Labrador Retriever breed, which falls within the Gundog group of dogs. Black Labs grow to between 21.5 and 24.5 inches tall at the shoulder, weighing up to 80 pounds as an adult. They are popular for their even-tempers, and are known for being friendly, affectionate, and active.
A black Lab will live to around 12 years old on average. Black Labs have the same health, exercise and grooming needs as any other Labrador.
More About Labs and Black Labs
Are you looking to find out more about your wonderful black Lab? Do you want to know where black Labs came from? What makes them so special?
This is an in-depth guide to the black Labrador. Black Labs are the most popular black dogs in the world. Find out why and discover whether a black Lab puppy is right for you.
Where Do Black Labs Come From?
You'd think that a dog named 'Labrador' might come from Labrador, wouldn't you? But as you may have heard, black Labs are descended from the St John's dogs of Newfoundland, Canada.
You may have heard that Labrador Retrievers were discovered in Newfoundland, working alongside hardy fishermen and taken to England in the 1800s where they were developed into the breed we know today.
In fact, their story goes back farther than the hardy Newfoundland fisherman's friend. It's now clear that the ancestors of black Labs were brought to Newfoundland by British fishermen in the first place. This probably happened in the 1700s.
You can read more about this fascinating history in our article: Where Do Labradors Come From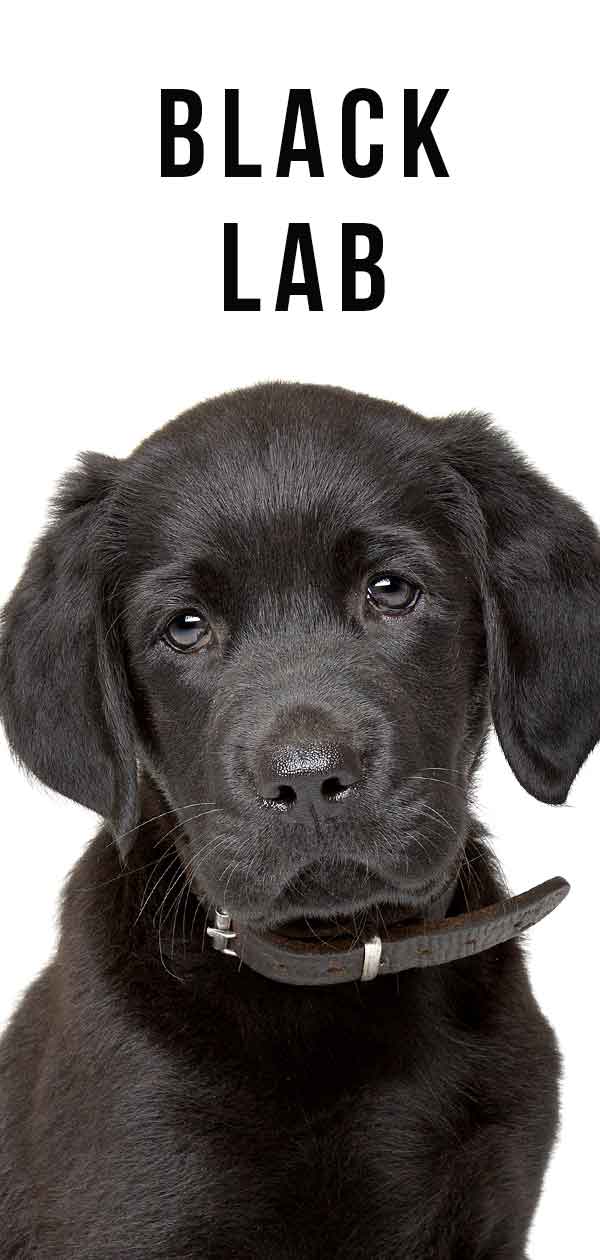 Changes to the Black Lab
The black Labs that worked in the icy northern waters were not quite like the dogs we know today. Some had longer coats and even more upright ears.
Many St John's dogs had white markings on their black coats, from the odd white sock to large patches of white.
Even today, it isn't uncommon to find a tiny white spot tucked away low down on the chest or under the paw of a purebred black Labrador Retriever.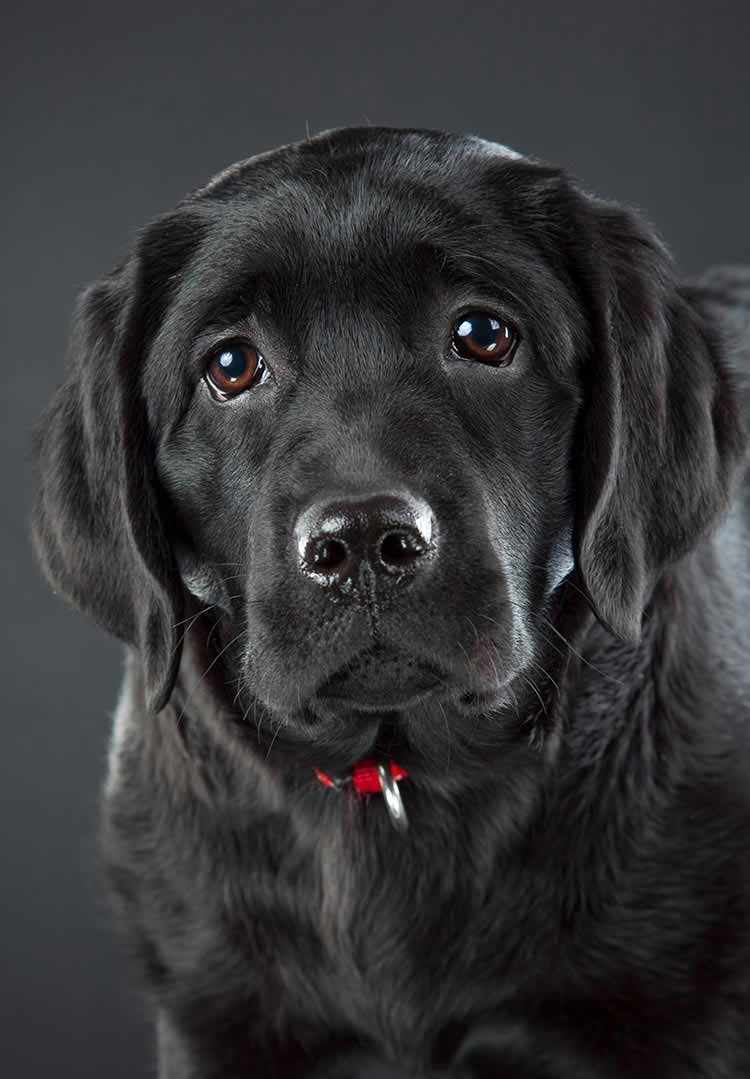 Sadly, when yellow or chocolate Labrador retriever puppies were born, they were unwanted and often disposed of. They certainly were not allowed to breed.
Why Is Black the Most Common Color for Labradors?
Black Labradors are the most commonly found color in this popular breed of dog, but this is not due just to Labrador owners' color preference.
Genetics dictate that far larger quantities of black Labradors are born than yellow or chocolate Labradors.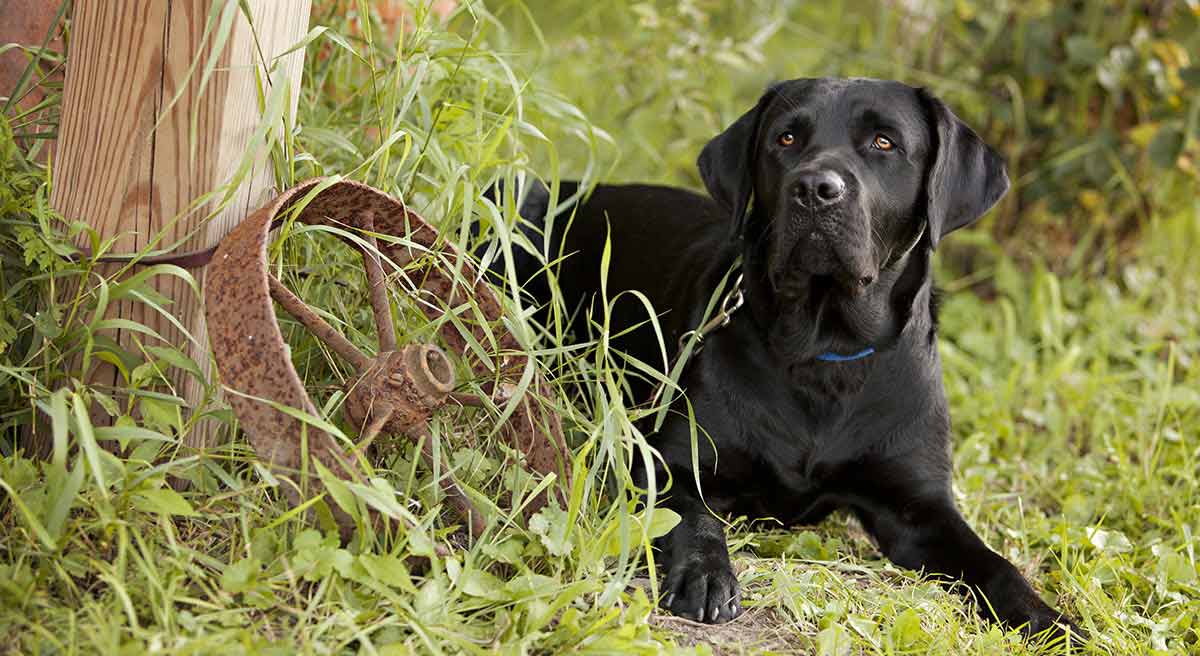 This is because in a Labrador, black is the dominant gene for coat color.  Whereas the genes for brown and yellow coats are recessive and won't be expressed in the presence of a black coat gene.
So How Do Other Coat Colors Happen?
A Labrador Retriever will only have a chocolate coat if he doesn't have a black coat gene. And a yellow coat only occurs when the dog has two yellow coat genes.
Sound complicated? Take a look at our color inheritance article for an easy way to understand coat genetics in Labradors. We even provide handy charts to help you work out the likelihood of Labrador puppies having black coats given different colored parental combinations.
Black Lab Temperament
Just like his yellow and chocolate friends, the average black Lab has an outstanding temperament.
The black Lab personality is typically loving, lovable and brimming with enthusiasm. Black Labs will never tire of your company. They'll go anywhere and do anything as long as you are with them.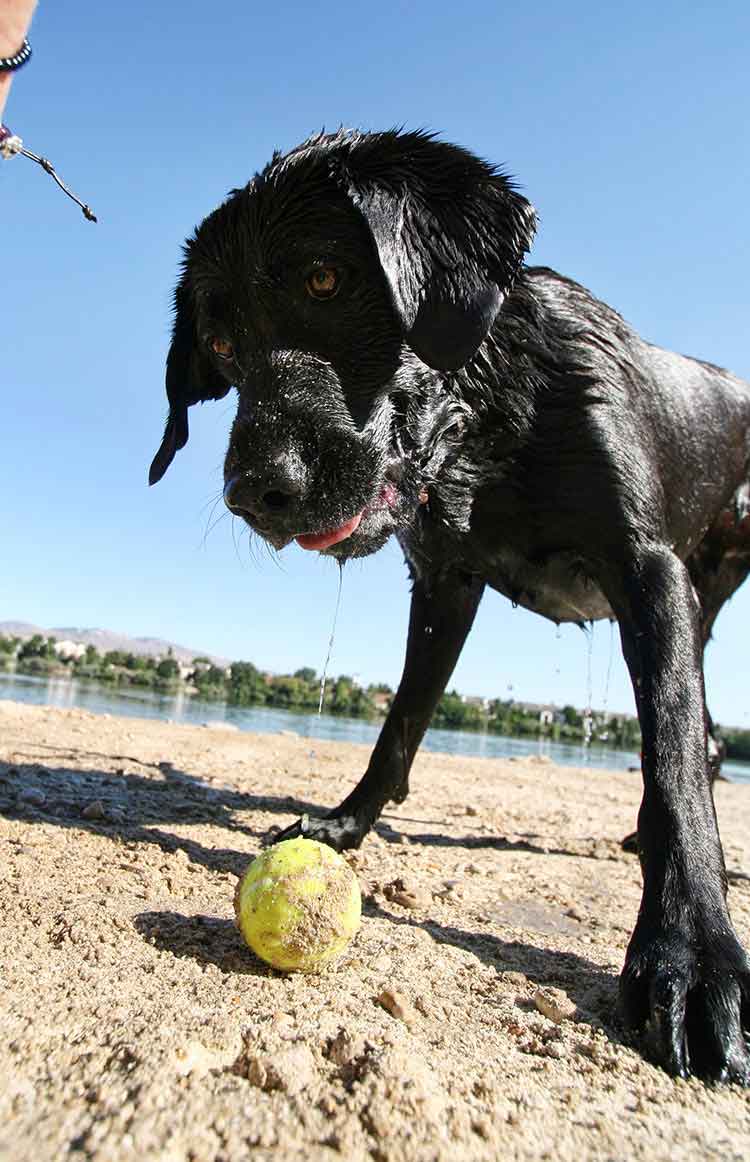 If he has any flaws, it is that his bouncy exuberance as a youngster may cause problems for those who are not too steady on their feet.
Adolescent black Labs need to be well supervised around toddlers just learning to walk or elderly persons who may be unsteady on their feet.
Black Lab Health Issues
Although black Labs have no health issues due specifically to their color, Labrador Retrievers, in general, have some health concerns you should be aware of.
The most common of these is Canine Hip Dysplasia (CHD). Dysplasia is caused by an improperly formed joint. Development of CHD is based on a combination of genetic and environmental factors. The condition can also affect a dog's elbows or shoulders.
Responsible breeders look for and try to avoid passing the genetic component of dysplasia to the next generation of puppies.
Healthy Diets
Feeding your Lab a healthy diet in appropriate portions to maintain a healthy weight is an important factor. Similarly, an appropriate amount of regular exercise is important, but too much exercise can trigger or worsen dysplasia.
Your veterinarian can provide diet and exercise recommendations appropriate for your Lab.
Read more about this condition and what you can do to prevent it here.
American Black Labs Versus English Black Labs
The black Labrador has long been the darling of the hunting and shooting community.
These beautiful dogs in their handsome, shiny 'wash and go' coats can be found busily retrieving ducks, pheasants, rabbits and geese in many parts of the world.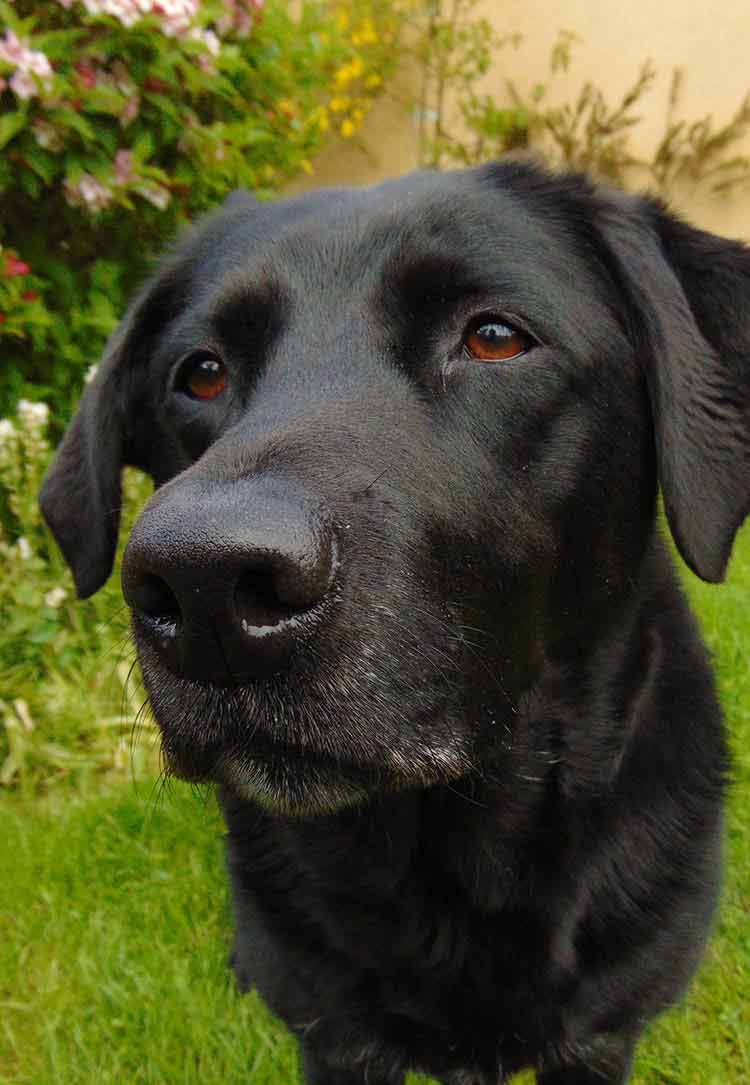 Many of the black Labs you see working as hunting companions were specifically bred for fieldwork. These dogs are often referred to as American Labs and are very popular.
Working vs Show Labs
But not all black Labs are from working lines, plenty of show-bred Labradors are black as well. You may hear them referred to as English black Labs. Despite the labels, the difference between them is one of role and purpose rather than country of origin.
Black Labs from work or show lines will have different statures. Show (English) black Labs have broader heads and wider chests.
The two lines also have different temperaments. Black Labradors bred for show or as pets tend to be slower to mature, with a more playful personality, and are less likely to run off after wildlife!
You can read more about the difference between English and American Labs in our article: English Lab – Your Guide To The English Labrador Retriever
Famous Black Labs
We all know, of course, that black Labs are renowned as skilled and courageous service dogs.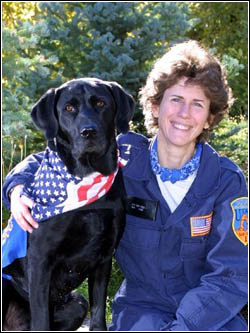 They work as search and rescue dogs, assist our soldiers in the army and help catch drug dealers bringing drugs across the border.
Dogs like Jake, pictured right, with his handler Mary.
Jake burrowed through the terrible smoking debris after the attacks on the World Trade Center in 2011 and came to the rescue once more in the aftermath of Hurricane Katrina.
Famous Owners
Some black Labs are famous for having famous owners!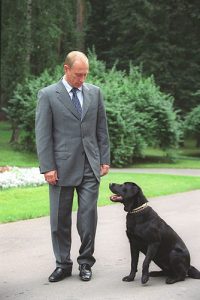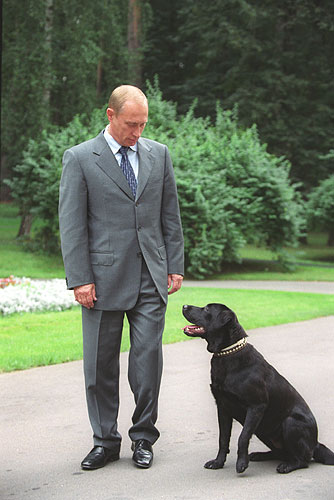 Here is president Putin of Russia with his black Lab Konni.
She was originally trained as a search and rescue dog and her puppies have been presented as gifts to foreign dignitaries.
There is even a children's book about her adventures.
Should I Buy a Black Labrador Puppy?
When you decide to take on a puppy, the most important thing is to choose one that will grow into a happy, healthy and well-tempered adult. But first, you want to be sure that you are in a good position to bring a black Lab puppy into your life and home.
Because black Labradors often come from working lines, you need to consider which type of Lab is best suited to your family before purchasing a black Lab puppy.
Which Type Suits You?
American black Labs may need more exercise and mental stimulation than English black Labs. They will benefit from gun-dog style training involving retrieving exercises.
If you work long hours and won't have much time to spend on long training sessions, a more laid-back Lab, probably from show lines, might suit you better.
Black puppies can be overlooked because the color is deemed too normal, but remember that your puppy's coat is just a color and black Labrador Retrievers are just as wonderful as their yellow and chocolate counterparts.
Finding a Black Labrador Puppy
Black Labs are so popular that you won't have any difficulty finding a puppy. Many perfect and adorable black Lab pups, like this one, are born every year.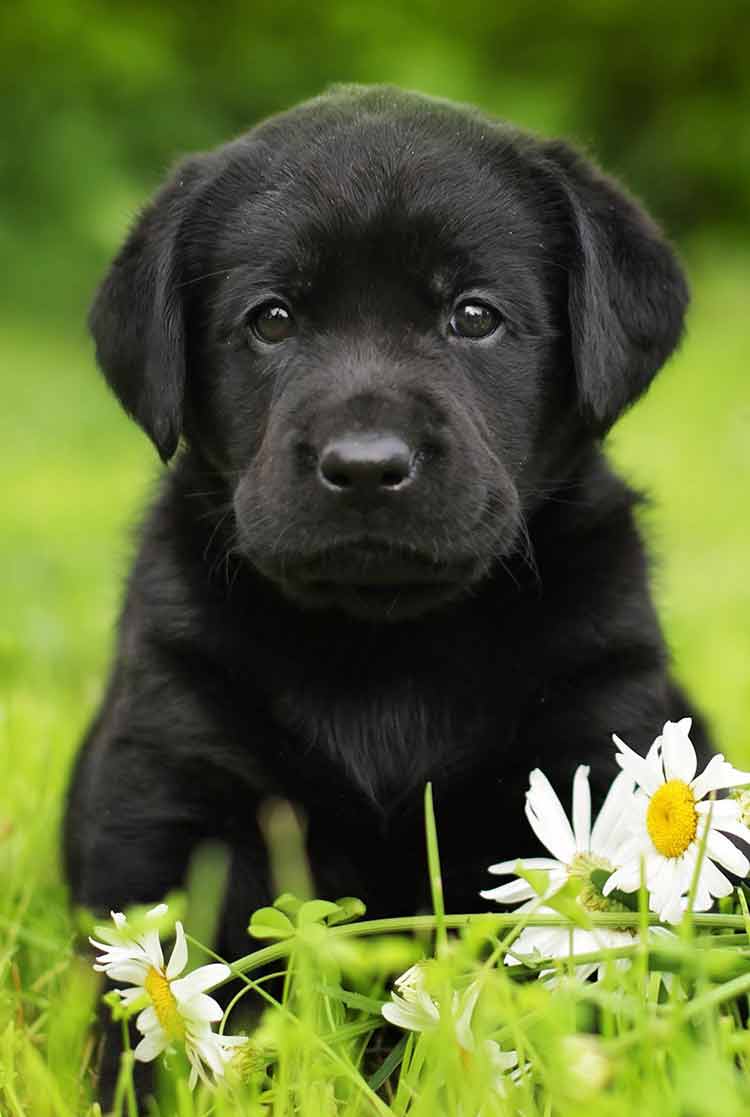 It is possible for a litter bred from a yellow dog and chocolate female to produce at least some black puppies due to the dominant gene for a black coat.
Not all puppies are born healthy or destined to have the classic, perfect Labrador temperament. So, you do need to choose your puppy with care.
If you are looking for a black Labrador puppy you should go about it in the same way you would if you had no color preference.
Choosing a Breeder
Your main priorities should be to find a breeder who is scrupulous in their health testing, and make sure your potential puppy's parents' temperaments are both excellent.
You might find it helpful to check out our article on Labrador breeders before you start searching for a pup.
You might also want to read this article: Choosing the Right Dog. The information in these articles will help you avoid some of the common mistakes people make when looking for their new best friend.
Black Lab Rescue
Alternatively, you may be willing to consider adopting a black Labrador from a rescue or animal shelter.
There are a number of breed rescues that specialize in Labs, and there are always black Labs in them, waiting for homes.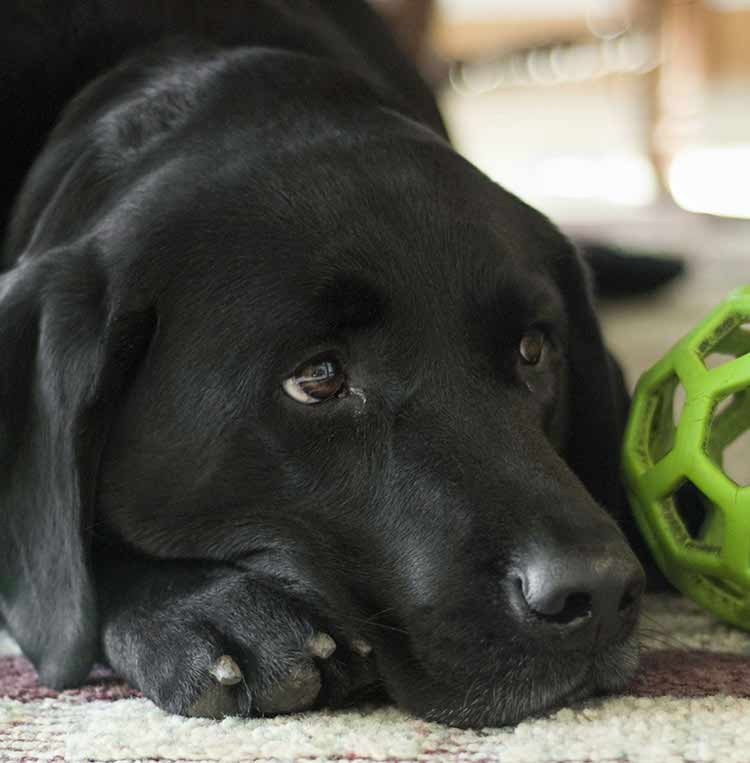 Sometimes people worry that an older dog will have problems, but that isn't necessarily the case.
Some black Labradors find themselves homeless because their owners have fallen on hard times, divorced or died.
Rescuing such a dog can be very rewarding. We hope you will find our article Should you adopt a Labrador helpful. You can view a list of rehoming societies on our rescue page.
Why Are Black Labs More Likely to End Up in Rescue Centers?
There are several theories about why black Labs are more likely to end up in rescue centers, and why black dogs can be overlooked when people come to choose their new friend.
If there are more black dogs in the population overall, more are going to end up in rescue centers than their differently colored counterparts. Once there, they become subject to what is known as 'black dog syndrome.'
This simply refers to the fact that black dogs are common and therefore less likely to catch the attention of potential new owners.
Is There Truth to This?
There is no evidence to suggest that the black Lab personality makes then less adoptable  or problems behaviorally that would make them more likely to be rehomed.
Some rescues specialize in helping black dogs find new homes, assisting them in overcoming this unfair bias against them.
Remember, if you want to rescue a Labrador then your decision as to which dog to bring home should not be based on the dog's color or looks but upon their personality.
Matching an adult dog to an owner is not straightforward and requires thought and planning. A responsible, caring rescue society or shelter will help you with this.
How Do You Train a Black Labrador?
Basic obedience training for your Labrador should not differ because of coat color, and at The Labrador Site, we recommend that you use the most recent information on dog training methods to decide which you would like to use.
You will find it helpful to follow Pippa's Five Stages of Dog Training to give your black Labrador the best chance for success.
Does Their Background Influence Training?
Black Labs are slightly more likely to come from working backgrounds, and if your black Lab is an American Lab, you might want to consider giving him the opportunity to do plenty of retrieving.

His breeding may influence how far you can go with advanced training if you are thinking of moving on later to agility or gundog work.
Other than that, his coat color should not affect how you train him.
Regardless of whether you want to work with your dog, gundog training can help your black Labrador stay happy and healthy as well as becoming a better-mannered member of the family.
Black Lab Exercise
All Labradors need regular exercise and entertainment, and your black Lab is no exception.
Although American Black Labs tend to be more driven to retrieve, English Black Labradors are still lively and fun loving dogs. Both types need a good workout every day to keep them fit and healthy and to help them relax at home.
You can exercise your black Labrador with a traditional walk, by going for a run together or through play. Retrieving games are a great way to give your Lab a lot of exercise without you having to travel quite such a long distance yourself.
Exercise at Home
If you have a fairly large back yard, you can even give him a good workout without having to leave your own property.
Find out more about how to exercise your black Labrador Retriever here.
As dogs with intelligent personalities, black Labs will get a lot of out of working with their minds as well as their bodies.
You can find some great ideas for games you and your Labrador can play together in this article.
And you can find some simple ways to entertain him when the weather is bad here.
Black Lab Grooming
Your black Lab needs no special grooming due to his coat color. In fact, the grooming requirements of your Labrador Retriever are some of the simplest among dog breeds. Their coats are designed to take care of themselves.
Labs have a wonderful coat that requires only occasional washing. Weekly brushing will improve the look and feel of his coat and your Lab will probably love the attention, but it isn't critical.
As with any dog, you'll need to trim his nails and brush his teeth regularly for good health.
Your Elderly Black Lab
Some black Labs can start to look old from quite a young age. White or grey hairs may start forming around their muzzle, giving them a bearded or grizzled look.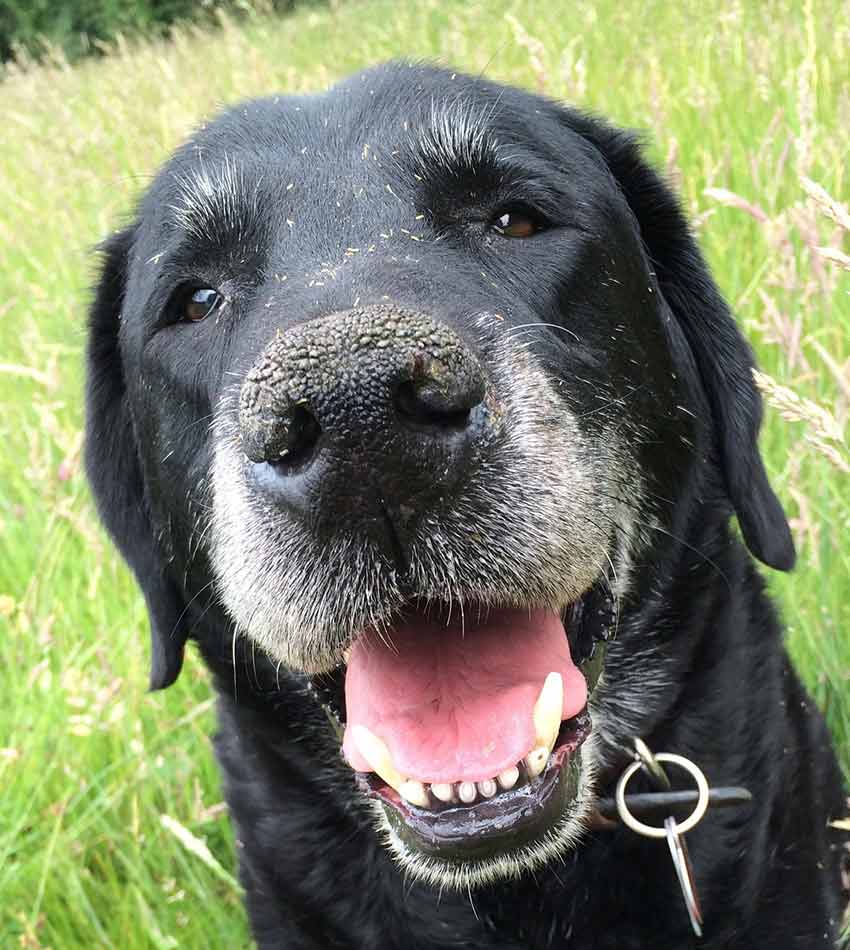 This pale hair is nothing to worry about and happens to most black Labs sooner or later.
As your black Lab reaches old age, you might find that he slows down a bit. His typical energetic black Lab personality may mellow. He will be less bouncy, and more inclined to spend the day in bed than bouncing up and down by your side.
Helping Aging Labs Stay Comfortable
Some medical problems may also appear, such as arthritis and a decline in vision and hearing.
Although many changes like this are simply a result of old age, it's still worth taking him for a quick checkup by the vet if you notice changes in his behavior or suspect that he might be in discomfort.
There are lots of ways you can help your aging black Lab to stay comfortable too. You can find out all about giving him the best support you can in this article on Caring For Your Older Labrador.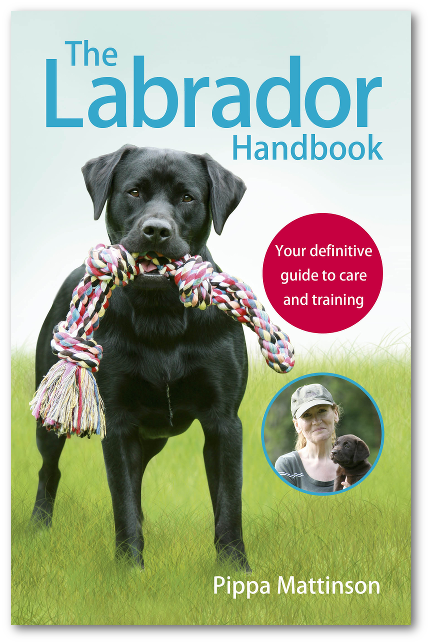 Summary
The black Labrador is one of the most common dogs in both the UK and the USA, but this does not mean he is boring or dull. On the contrary, his joyful enthusiasm for life, and the kindly, intelligent black Lab personality are what has made him one of the most popular dogs on earth.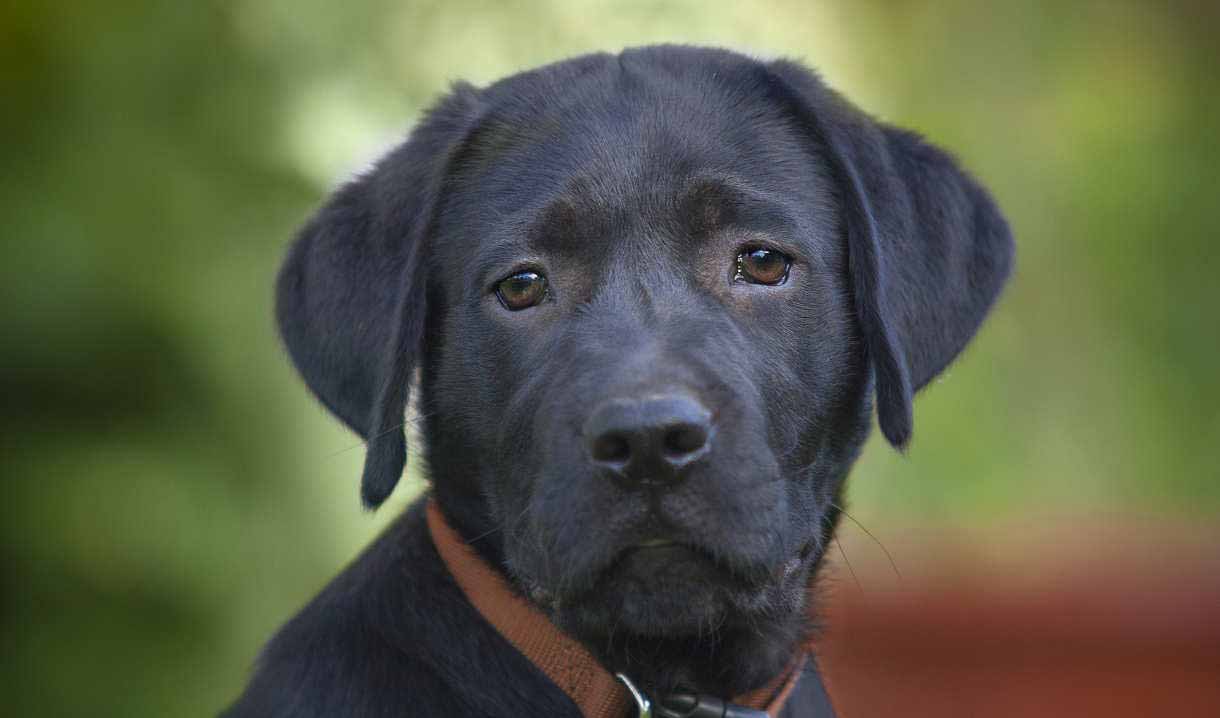 The Labrador owner's devotion to this wonderful breed is a reflection of what a great dog he is.
We love our black Labs and we hope that you do too. If you want to read more about them, check out our guide to the Labrador's lifespan!
This article has been updated for 2019.
Do you have a black Labrador? Why not tell us all about him in the comments section below!
More Information on Puppies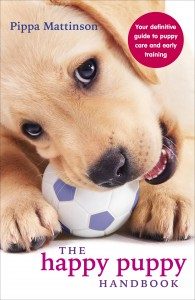 For a complete guide to raising a healthy and happy puppy don't miss The Happy Puppy Handbook.
The Happy Puppy Handbook covers every aspect of life with a small puppy.
The book will help you prepare your home for the new arrival, and get your puppy off to a great start with potty training, socialization and early obedience.
The Happy Puppy Handbook is available worldwide.
References
Kerns, J. A., et al., Exclusion of Melanocortin-1 Receptor (Mc1r) and Agouti as Candidates for Dominant Black in Dogs, Journal of Heredity, 2003.
Newton, J. M., et al., Melanocortin 1 Receptor Variation in the Domestic Dog, Mammalian Genome, 2000.
Buzhardt, Lynn, DVM, Genetics Basics – Coat Color Genetics in Dogs, VCA Hospitals.
American Kennel Club