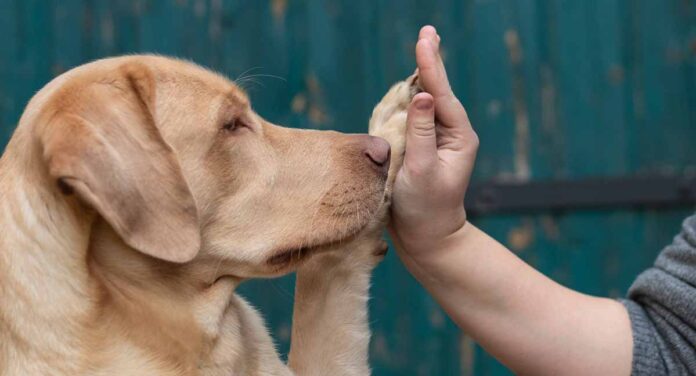 Games aren't just a great way of entertaining bored dogs. They exercise their bodies and brains, and even teaching your kids to play safely with their big, bouncy friend. Today I'll share the best games to play with your dog. These activities will build a more positive structure to the way you interact with each other, and give your pup some new skills too. Through what will feel just like fun and games for the pair of you, you'll actually be laying for the foundation for obedience skills like sit, stay and even stop.
A great deal of modern dog training is done through games, and it is without a doubt the best way for your furry friend to learn.
Contents
The secret to successful play with a large dog is to define the boundaries and rules of the game, and to control where it starts and stops. This is almost impossible with free play or rough housing, where dogs often become over-excited and careless. Structured games enable you to remain in control whilst keeping your dog happy and entertained.
1. Scent Games To Play With Your Dog
Dogs have amazing noses. It is not just bloodhounds that are great at following a trail. Labradors can do it too. Try laying a scent trail for your dog, with a treat at the end, and watch him follow it with his nose. You'll need to begin with very short and simple trails. And you'll need a few simple bits of equipment
What You'll Need
Your dog will need to be on a lead, and it is best if this is attached to a harness. You will lay your trail with a scent marker. A piece of cloth rubbed in some roast meat juices should do the trick. And you will also need some little chunks of roast chicken or beef steak, for the treat at the end of the trail.
Your First Scent Trail
Lay your first trail in a straight line on an open piece of ground. Keep your dog out of sight while you do this.
Step 1
Mark the start of the trail with a cone or a rock, so that you know where to begin tracking Drag your cloth along for 3 feet. Place a little piece of meat or some other yummy treat at the end.
Step 2
Now fetch your dog and take him to your start marker. Watch him sniff around and follow the scent to the treat.
Step 3
Repeat a few times. He'll quickly get the idea of the game. Now you can start to make the game more fun.
Making scent work it more difficult
One way to make the game more challenging, is to make your trails longer. You can also gradually introduce turns or changes in direction so that the trail is wiggly rather than straight. After a few weeks of practicing you will be able to lay quite complicated trails for your dog to play the scent game. The next game can be played indoors
2. Statue Games To Play With Your Dog
In this game, your dog has to sit perfectly still without moving a muscle, whilst you walk all around him in a circle. Take care not to step on his tail as you cross behind him. You teach this game in easy stages, using an event marker to let the dog know when he is on the right track.
Your event marker
The event marker is just a sound that you make each time the dog is successful. It can be a word like 'Good' or 'Yes', or a click you make with your mouth or with a clicker. Don't forget to reward the dog with a treat, each time you use your event marker.
Step 1
To begin with, sit your dog next to you, stand still, and watch him carefully. As soon as he is completely still, mark and reward!
Step 2
The next step is to mark and reward 3 seconds of not moving. Fidgety dogs may need you to mark 2 seconds first, and then move on to 3.
Step 3
When your dog can sit like a statue for 3 seconds, it is time to teach him to keep really still whilst you move your leg. To start with, just lift one foot off the ground and put it back down again. If he keeps still, mark and reward. If he moves or fidgets go back to standing still for 3 seconds, then try and smaller movement of your foot.
Making it more difficult
Once he can do this, you can progress to bigger movements of your leg. Don't forget, he must not move a muscle. If he moves, make the game easier for a moment. When you give him his treat, let him move around, then bring him back to sit next to you for the next attempt.
Over the space of five to ten games of five minutes each, you will be able to progress from lifting your leg, to taking a step to one side, to taking a step backwards. All without the dog moving. Soon you will be able to step forwards, turn and face the dog! You will also be able to step back wards and to one side, so that you step across his tail. Mind you don't tread on it.
It is then just a short step to be able to step all around your dog whilst his sits like a statue. Don't forget, this game requires concentration, and most dogs like to have a good zoom about outside afterwards!
3. Search Games To Play With Your Dog
Dogs who are attached to their toys love this game.
Step 1
Choose a toy your dog really loves. Use the name of the toy a lot whilst your dog is holding and playing with it.
Step 2
Now sit your dog or get someone to hold him and let him see you take the toy through and open doorway and place it on the floor in full view in another room. Go back to your dog and tell him to find his 'rope/ball/teddy' in a happy, upbeat voice. Tell him how clever he is when he gets it.
Step 3
Repeat a few times, then begin to make things more complicated.
Making it more difficult
Try placing the toy where he cannot easily see it until he is in the room. Don't hide it under anything yet. You need to build up his skill gradually. After a few more games, you will be able to make the game more difficult, hiding the toy under a cardboard box or a cushion. You can also teach your dog different names for different toys and see if he can pick up the right one.
4. Teach Your Dog To Freeze!
This is great fun to play with an active dog.
Step 1
Have your dog move around near to you. Keep throwing him tiny treats to hold his attention and dance around to keep him moving. Now suddenly stop and 'freeze'. If he copies you and stops moving, 'mark and reward' then throw a treat behind him and away from you.
Step 2
Start dancing around again. Each time you freeze, wait for him to freeze too and immediately mark and reward.
Step 3
Now you can start to add a cue word. Dance around, say 'freeze' and stop dancing. Mark and reward the dog when he stops.
Making it more difficult
Now start throwing the treats further away and saying freeze when he has picked up the treat and is starting to return. To begin with he may carry on running towards you before he 'freezes'. But as long as you always throw the treat well behind him, he will soon start to freeze further from you.
Freeze is not just a fun game, it can also be a useful cue to give a dog that is heading towards danger or getting too far away.
Keeping it fun
With all these games, it pays to make haste slowly, and to stop whilst the dog is having fun. Most dogs will enjoy playing 'find the toy' three times in a row. Many dogs will get bored if you carry on much longer than this. Stop after five or ten minutes, and he'll be keen to play again next time.
Make Learning Fun
If you are just starting out, or switching to modern force-free methods, training can be challenging at first, so I've also put together some free training tips to help you. Just drop your name into the box below if you'd like to receive them.

The Labrador Site Founder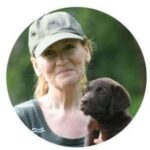 Pippa Mattinson is the best selling author of The Happy Puppy Handbook, the Labrador Handbook, Choosing The Perfect Puppy, and Total Recall.
She is also the founder of the Gundog Trust and the Dogsnet Online Training Program 
Pippa's online training courses were launched in 2019 and you can find the latest course dates on the Dogsnet website