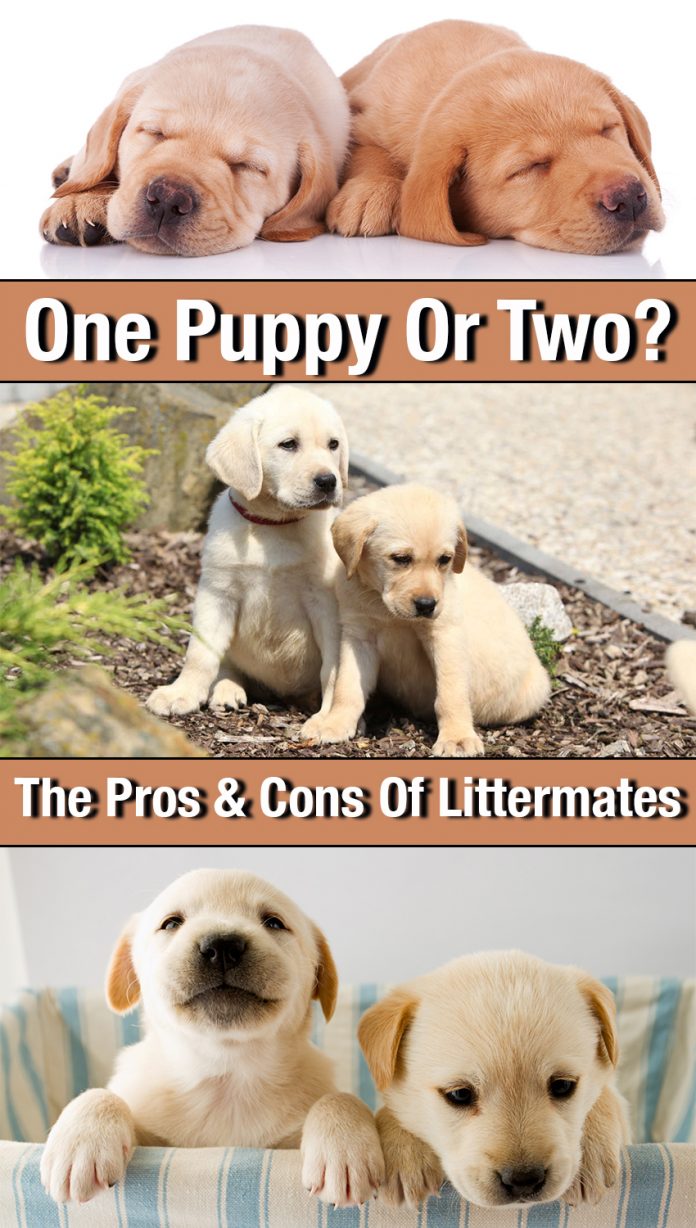 It is not unusual for people go to visit a litter of Labrador puppies to choose their pet, and come home with not one puppy but two! Two puppies usually settle in together very happily. After all, leaving home with your brother or sister is a great deal more fun than leaving home all by yourself!
It may seem that bringing two Labrador puppies home together is great. That the two dogs will be good company for each other whilst you are busy, growing up to be great friends and playmates. But is this really a good idea? In this article we are going to look at the challenges involved in raising two puppies. Helping you to decide whether this is the right decision for your family.
Should I Get Two Puppies From The Same Litter?
It is natural to wonder when looking at lovely gang of Labs, "should I get two puppies from the same litter?". There is clearly a lot of appeal to the idea. You might disagree with your family about which puppy is best and think it will sort the argument out. You might think two are equally adorable. Or even be concerned about him feeling lonely when you need to leave the house. But there are a lot of factors you need to take into account to make the right decision.
Bonding With Your Puppy
Two puppies of the same or a similar age, form a terrific bond. Unfortunately this bond is often at the expense of a bond with the owner. Your littermate pups may be so besotted with each other that they will have little time for you.
Why Does This Matter?
It matters because building a bond between you and your dog is very important if you are to be successful in training the dog. To have a great relationship with your dog, you need to be the centre of his universe. If you have two puppies at once, this is hard to achieve without constantly separating the dogs.
Littermate Syndrome
Littermate syndrome is the name given to certain behaviors shown by a pair of puppies from the same litter. It is not a condition that has been extensively scientifically studied, but more one that has been born from observation in these scenarios. Littermate syndrome describes two dogs who are overly fixated on each other. They show little interest in their human family or other dogs. They will often be very nervous and insular.
If allowed to bond to this degree, dogs can become very distressed at being separated even for short periods of time. This can make living with them very challenging in terms of training, exercising and when dealing with enforced separation for example veterinary visits.
Littermate syndrome is not a definite result of taking on littermates, nor one which has been studied beyond anecdotal evidence. However, it does describe behaviors that can potentially occur when two puppies at allowed to become constantly dependant upon each other.
Raising Two Puppies From Different Litters
You might hope to avoid littermate syndrome by raising two puppies from different litters. Unfortunately, this is not a guaranteed solution to this problem. Two puppies of similar ages can become just as co-dependant as two from the same litter. Nor does it avoid the other more practical pitfalls of buying two puppies at once. Such as the trouble with training sessions.
Training Two Puppies From The Same Litter
All puppies need training. Even family pets need to learn basic commands and house manners. They need to be taught not to nip, not to jump up, to walk nicely on the leash. They will probably also need to learn to sit and stay, not to mention coming when they are called. You cannot train a dog in the early stages whilst his brother is leaping all over him or attracting his attention.
Dogs have to be trained singly, away from other dogs, until the training reaches a point where they can be trained together. This happens much later, often months if not years down the line. Two puppies are an incredible distraction to each other. In order to teach even very simple skills, you will need to have one pup well out of sight and sound.
So instead of ten or fifteen minutes a day spent dog training, you will be committing yourself to twice that, plus any time it takes you to get to and from where you train/exercise the dog, with each of them separately. You will need to ensure that you have time to train both dogs if you want to commit to bringing home a pair of puppies.
Do I Have Time For Two Dogs?
Puppies are a lot of work, and two puppies can be more than twice the work of one. Your pleasure in the early weeks of having a puppy may be greatly reduced by having to divide your time between the two. Think hard about the other commitments in your life and whether you have not just the time, but the energy.
Can you logistically deal with two sets of potty training? Do you have the patience to calmly work with not one but two chewing, biting, crying puppies?
Walking Two Dogs At Once
When considering raising two puppies, you will have to decide what to do about walking them. Walking two dogs at once can be a joyful experience when they have good recall and can walk to heel off-leash. But this will not be something you can reliably do until they are well past the proofing stage of training.
Early walks are all about establishing good behavior and focussing on training. Especially with large breeds like Labs that can be a handful outdoors when they grow up if you don't set the right groundwork. If you take on two puppies at once, they will need to be walked separately. Or at least managed by two different individuals on the walk.
This is fine if you don't mind walking separately, as you are unlikely match the pace of both dogs. They might also find the sight of each other terribly distracting and need to be walked on different routes initially.
My Breeder Recommends That I Take Two Puppies
No reputable and experienced dog breeder will ever sell two littermates to one family, unless the buyer is an experienced dog trainer who is going to house the dogs separately. If the breeder you have chosen is recommending you buy two puppies at once, I am afraid that she is probably doing so for one of two reasons:
Because she needs the money.
Because she is unaware of the problems it will cause you.
Either way, you may want to have another think about whether this is the right breeder for you. They might not have the ethics or experience that a good Labrador breeder requires to help a new puppy parent make the right choices.
Raising Two Puppies Successfully
Raising two puppies successfully will take time, patience, space and money. Unless you have a lot of free time and some experience in dog training, two puppies at a time can be a very challenging experience. Whilst the first few days might be easier, the next six months could have you tearing your hair out. So do think hard before you do it.
For most families, it is far easier to wait until your puppy is over a year old before introducing another dog into the household. That way they will each have your full attention when they are small, and form a good bond with you that is more powerful than the bond they have with each other. You will also probably get a lot more enjoyment out of them in the early days too.
How about you? Have you already brought home two littermates? What do you think are the pros and cons?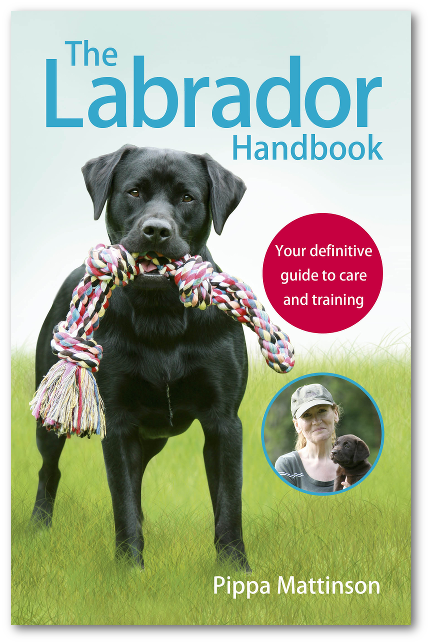 More information on puppies
For a complete guide to raising a healthy and happy puppy don't miss The Happy Puppy Handbook.
Published in April 2014, the Happy Puppy Handbook covers every aspect of life with a small puppy. It will help you prepare your home for the new arrival, and get your puppy off to a great start with potty training, socialization and early obedience. You can buy The Happy Puppy Handbook from Amazon by following this link. If you do, The Labrador Site will receive a small commission which is greatly appreciated and won't affect the cost to you!
The Labrador Site Founder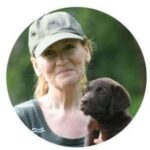 Pippa Mattinson is the best selling author of The Happy Puppy Handbook, the Labrador Handbook, Choosing The Perfect Puppy, and Total Recall.
She is also the founder of the Gundog Trust and the Dogsnet Online Training Program 
Pippa's online training courses were launched in 2019 and you can find the latest course dates on the Dogsnet website