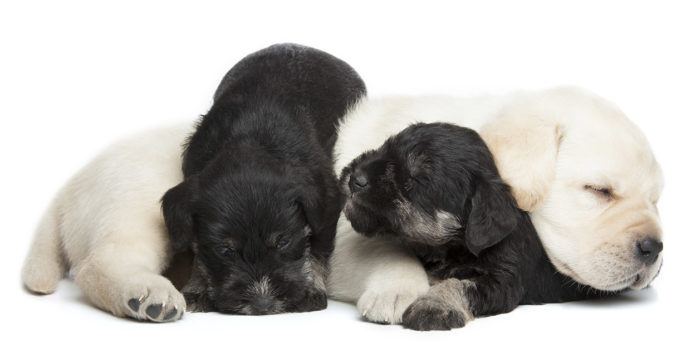 Has your head been turned by a handsome Schnauzer Lab mix pup? Are you wondering if this interesting crossbreed could be the right pet for you? In this article, we'll cover everything you need to know about the Labrador Schnauzer mix, spanning from their appearance to temperament and even health. You'll find out where to look for a Schnauzer Lab mix puppy, and weigh up whether this crossbreed is equal to the sum of its parts.
The Schnauzer Lab Mix
There are a huge number of crossbreed dog mixes vying for our attention these days. From the ubiquitous Labradoodle to the many Cockapoos waiting impatiently at the gates of my daughter's Kindergarten in the morning.
Labrador Retrievers are the most commonly registered pedigree dogs in both the USA and UK. Therefore, it's no surprise they are also a sought-after contributor to many doggy hybrids. The Schnauzer Lab mix doesn't have the same profile as the Labradoodle. But with Schnauzers and Labradors both enjoying a loyal fanbase, it's not a surprising combination.
Origins of the Schnauzer
Dog breeds come and go, but the noble Schnauzer has been around since medieval times. The earliest Schnauzers earned their keep hunting rats and guarding their owners' property. In 1904, the Schnauzer was one of the earliest breeds to be recognized by the American Kennel Club (AKC). As a modern pet, the Standard Schnauzer has also been scaled down in size to producing the Miniature Schnauzer (first registered in 1926). And scaled up in size giving rise to the Giant Schnauzer (registered in 1930).
These days, Miniature, Standard and Giant Schnauzers are the 17th, 85th, and 76th most registered breeds with the AKC, respectively.
And They Need No Introduction… Labrador Retrievers
Labrador Retrievers are the golden (or chocolate, and or black) boys of the dog world.Labs are hugely popular–so much so they have dominated the top spot on the AKC's breed list for years. The history of the lab doesn't go as far back as the Schnauzer's, but their earliest ancestors go as far back as the turn of the 20th century. Since then, they have been popular working dogs, and of course beloved family pets.
History of the Schnauzer Lab mix
Unlike hybrids with carefully documented origins, there was no single eureka moment when the idea of a Schnauzer Lab mix breed was conceived. With two such popular and widely-owned pedigrees, it's likely that litters of Labrador Schnauzer mix puppies have been born by accident or design for decades.
Until not long ago, those litters would have been regarded as mongrels, and given away or sold cheaply to family and friends. But now, living in the era of designer dogs, pedigree hybrids can be big business. So how does the Schnauzer and Lab mix fit in?
Schnauzer Labs and the "Designer Dog" Controversy
The vast majority of pet dogs are mutts. To give you an idea of the extent, one report estimated the total number of pet dogs in the UK in 2009 as 9.4 million, of which just 216,856 were registered as pedigree pooches. But in the 1990's, a special term–designer dogs–was coined to describe first generation offspring of two pedigree dogs and has made them.. well… special.
Passionate upholders of pedigree breed standards have not been impressed by this development, and the debate about the pros and cons of crossbreeds rages on.
Disadvantages of Designer Dogs
The main problem with the first generation mixed breed dogs is the uncertainty. Puppies could either take completely after one parent or very much after the other. Even within a single litter, some puppies might look all-Lab but act all-Schnauzer, and others are the complete opposite. You simply don't know what you're going to get until your puppy is fully grown.
The Advantage of a Mixed Breed
For the dogs themselves, the big advantage of being a crossbreed their health. Pedigree dogs come from small gene pools that ensures their desirable traits in all descendants. But, just as desirable genes can be secured, so can undesirable genes which cause health problems.
Crossbreeding reduces the rate of hereditary illnesses and improves overall genetic fitness in dogs. Most of the objections to crossbreed dogs are (intentionally or unintentionally) ignoring the problems facing purebred dogs.
Making a Labrador Schnauzer Mix – The Size Issue
One more thing to note is that pedigree crosses pose a greater risk to the health of puppies if there is a big difference in size between parent breeds. So for the purposes of this article, we're assuming our pups are either a Giant Schnauzer Lab mix or a Standard Schnauzer Lab mix. These are closest in scale to the Labrador Retriever.
Standard Schnauzers are 17.5 to 19.5 inches tall at their withers (shoulder blades) and can weigh 30 lbs to 50 lbs. Giant Schnauzers are a bit taller, up to 27.5 inches at the withers and weighing 55 lbs to 80 lbs. Labradors fall somewhere between the two. So a Schnauzer Labrador cross is probably going to be a little bigger or smaller than a purebred Labrador, depending on the size of the Schnauzer.
Alas, predicting the full grown size of your Schnauzer Labrador mix puppy isn't as simple as working out the average of the parents. A Schnauzer Labrador mix could outgrow the larger parent or not even reach the size of the smaller parent. Such is the complexity of genetics and environmental factors.
What does a Schnauzer Labrador Mix Look Like?
Are you hoping yourSchnauzer Labrador cross will inherit the Schnauzer's wiry coat in black or salt and pepper? Or the Labrador's sleek coat in black, chocolate, or gold? There's really no way of knowing in advance exactly which physical characteristics the Schnauzer Lab mix will take from each parent. All you can do is wait and see!
Is a Labrador Schnauzer Mix Hypoallergenic?
Many sources, including the AKC, describe Schnauzers as non-shedding and hypoallergenic. However, there is no way to predict whether a Labrador Schnauzer will molt copiously and shed their coat twice a year like the Lab, or shed very little like a Schnauzer—only time will tell. One thing we can say with confidence is that 100% hypoallergenic dog breeds don't really exist.
Schnauzer Lab Mix temperament and Behavior
As you've no doubt gathered, first generation Schnauzer Labrador mix pups are a complete genetic lottery. They can inherit any mix of traits from their parents, and that applies to personality too. Labradors are extroverted and energetic, ready to be friends with everyone, and love to take part in family life. Schnauzers are equally full of energy and fiercely intelligent.
Both Standard and Giant Schnauzers are more likely than Labradors to be wary of strangers–a hark back to their days are guard dogs. Don't assume any crossbreed that includes a Labrador parent will automatically be friendly. Your Labrador Schnauzer mix might find meeting new people nerve-wracking and may need lots of patience socializing to overcome this.
Training and Exercising Your Schnauzer Lab Mix
Schnauzers and Labradors are both regarded as highly trainable breeds. They are quick to learn new commands and eager to please by following them through. Standard Schnauzers sometimes have a reputation for being willful. So finding the right incentives and sticking faithfully to positive reinforcement training techniques will be essential to get good results.
Once fully grown, a Labrador cross Schnauzer will need upwards of two hours of vigorous exercise every day. If you'll find this hard to provide due to work or family commitments, factor in the cost of a dog walker or doggy daycare. Alternatively, wait until you have more time to commit.
Schnauzer Lab Mix Health
As we touched on earlier, all dog breeds are created and sustained from limited gene pools, which increases the risk of hereditary illnesses passing down generations. Crossbreeding can protect puppies since some health conditions require both parents to carry the faulty gene causing it. But some conditions can still be passed on, so it pays to know which health problems each of a puppy's parents might be at risk of.
Schnauzer Lab Mix Dysplasia
Hip dysplasia is the poor development of the hip joints which causes the top of the thigh bone to sit and move incorrectly in the hip socket. Eventually, hip dysplasia leads to painful arthritis. Hip dysplasia is a common problem for both Labradors and Schnauzers, so all breeding dogs should have their hips assessed by a vet before mating. The vet will score the dog's hip health, and your breeder should be happy to share these results with you.
Elbow Dysplasia
As well as their hips, the elbows of Labradors are also prone to structural deformities which can result in lameness. If your Schnauzer Lab mix puppy has a Labrador parent with elbow dysplasia, your puppy could inherit it too. To ensure the health of your puppy, the breeder should have a veterinary assessment of the parent Labrador's elbows, certifying they are in good health.
Obesity and the Schnauzer Lab Mix
As any Labrador parent will tell you, Labs LOVE their food. And your food. And any other food they can lay their chops on! When your dogs act like they're hungry all the time, it's easy to overfeed them. So obesity has become a big problem among Labrador Retrievers. Unfortunately carrying too much weight also places a strain on your dog's joints, heart, and other organs.
Work out the correct, healthy diet for your Labrador Schnauzer mix, and stick to it! If you're worried about getting it right, ask your dog's vet for help.
Giant Schnauzer Lab Mix Health
There are several other conditions to be aware of if you're looking for a Giant Schnauzer Lab mix. Giant Schnauzers have above average susceptibility to all of them.
Gastric Dilatation-Volvulus
Also known as bloat, GDV occurs when the stomach twists back on itself. It is a particular problem for large, deep-chested dogs. If it isn't corrected quickly by a vet, GDV can be fatal so it's important to learn the symptoms and know when to get help.
Hypothyroidism
Hereditary hypothyroidism—an underactive thyroid—is a particular problem for Giant Schnauzers. Pups develop it if they inherit two copies of the faulty gene that causes it—one from each parent. This means Schnauzer Labrador mix pup should be protected by their Labrador genes. However, if you intend on breeding them in future, you will need to find out their carrier status.
Cardiomyopathy potential in the Schnauzer Lab Mix
Cardiomyopathy is a disease which causes progressive weakening of the heart muscles. Cardiomyopathy accounts for approximately 10% of all heart conditions in dogs, and large breeds are especially susceptible. Whilst we've yet to understand exactly what causes cardiomyopathy, it is generally understood to be an inheritable component. At-risk dogs should be screened before they are used for breeding.
To protect your pup, ask the breeder if there is any history of cardiomyopathy in their family tree. If so, determine whether their Schnauzer parent has been screened prior to the mating.
Panosteitis
Panosteitis is a painful inflammation of growing bones, often referred to as growing pains. While it's more common in male dogs and giant breeds like the Giant Schnauzer, it is often reported in Labrador Retrievers as well. As your Schnauzer Lab mix breed grows, watch out for signs of lameness which may shift from limb to limb, accompanied by a loss of appetite and lack of energy. Because Panosteitis will resolve itself when your dog stops growing, treatment is typically focussed on pain management until then.
How to Pick a Schnauzer Lab Mix Puppy
All those conditions must seem like a lot to take in! And it's true, there are a lot of health issues to consider. For some of them, like cardiomyopathy, being a Schnauzer cross Labrador might offer them valuable protection, which is great.
By asking a lot of questions about the health of a puppy's parents, you can greatly increase your prospects of raising a healthy dog. Asking your breeder about all of these conditions may feel uncomfortable, but rest assured a responsible breeder will be happy to answer them. And even happier that you're taking the responsibility of a puppy so seriously!
Finding Schnauzer Lab mix puppies
Finally, once your heart is set on a Labrador and Schnauzer mix dog, and your head agrees too, where can you find one? Unlike pedigree breeds, and some more popular canine cross breeds, there aren't presently any owners clubs or breeder registries. So finding a Labrador Schnauzer Mix puppies may take a little more time and persistence.
Is a Schnauzer Lab Mix the Right Dog for You?
Schnauzers and Labrador Retrievers are both long-established and highly esteemed breeds, and many people recommend them. Although, any first generation crossbreed between established pedigrees carries a lot of uncertainty. However, since Schnauzers and Labs were both bred to work, and they are quite closely matched in terms of physique, intelligence, and energy levels, So, mixing them is not a total shot in the dark.
In fact, outcrossing a Giant Schnauzer with a Lab might protect them from some of the health problems of the Giant Schnauzer breed. Without thrusting them into complete existential crisis. A Schnauzer and Lab mix pup might be the right fit for your home if you've got an outdoorsy lifestyle so they can burn off energy every day. Plenty of time and energy for training is required. But a Labrador and Schnauzer mix is not the right choice if you're hoping the Schnauzer component will make a Labrador hypoallergenic!
Hopefully, this article has helped you make an informed choice about bringing home a Schnauzer Labrador mixed breed. Good luck as you continue on your journey to doggy ownership!
Do you own a Schnauzer Labrador? Did you deliberately look for this crossbreed, or did you find each other by accident? What are they like as a pet? Tell us all about them in the comments section below!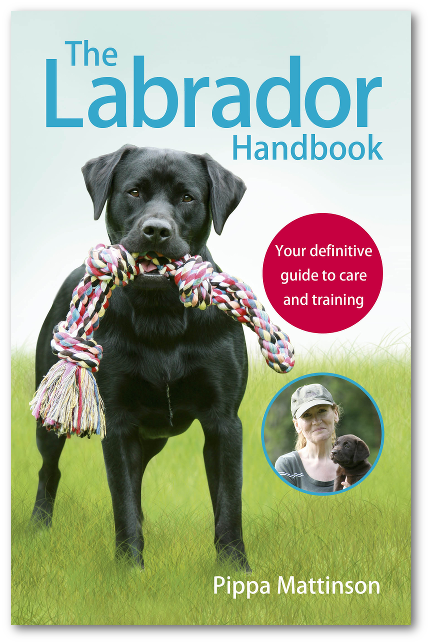 Readers Also Liked
References and Additional Reading
American Kennel Club
Beuchat, C. 'The Myth of Hybrid Vigor in Dogs… is a Myth', The Institute of Canine Biology (2014)
Farrell, L. (et al), 'The Challenges of Pedigree Dog Health: Approaches to Combating Inherited Disease', Canine Medicine and Genetics (2015)
The Labrador Site Founder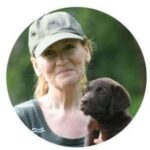 Pippa Mattinson is the best selling author of The Happy Puppy Handbook, the Labrador Handbook, Choosing The Perfect Puppy, and Total Recall.
She is also the founder of the Gundog Trust and the Dogsnet Online Training Program 
Pippa's online training courses were launched in 2019 and you can find the latest course dates on the Dogsnet website