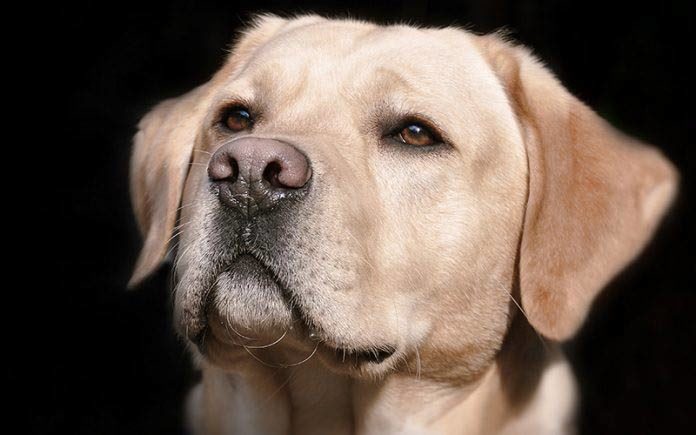 We share hundreds of great male dog names in lists below. Together with tips and ideas for choosing boy dog names that are totally awesome but still work for a puppy!
Bringing home a new male puppy is so exciting, but it can also be overwhelming. A baby boy dog is a total joy, but there is so much responsibility that comes with it. And one of the first tasks is choosing the perfect male dog name for him. Fortunately, our name list can help with that!
You'll find the most popular boy dog names below, but you'll also find beautiful, unique male dog names, cool ideas, names based on nature, places, people, and much much more.
It can be surprisingly hard to find the right top dog name for your gorgeous boy puppy. Because choosing a name for your puppy matters. Names are so much more than a way to get your boy dog to come back when you call them. Even the most common dog names establish identities, and help your beautiful dogs to fit into their special place in the family.
Top Male Dog Names 2022
Let's get started finding some good pet names for your puppy! Have you got your pen and paper ready? Let's choose the perfect male puppy name for your new friend. These are the boy animal names that are trending right now and include some great American boy names too!
Max
Bear
Charlie
Toby
Lucky
Cooper
Teddy
Loki
Rocky
Finn
Wagner
Bruno
Chester
Buddy
Duke
Zeus
Dexter
Jasper
Ziggy
Milo
Ollie
Bailey
Jack
Oscar
Gizmo
Thor
Ozzy
Harley
Winston
Ace
Murphy
Blu
Blue
Arlo
Brody
Leo
Henry
Tank
Griffin
Buster
Comet
Bruiser
Bruce
Cash
Baxter
Cosmo
Diesel
Banjo
Gunner
Jax
What's My Dog's Name?
One of the biggest problems in many homes where a new puppy's arrival is eagerly expected, is getting everyone to agree on what is the best male dog name!
TOP TIP: Use a brainstorming technique where everyone takes a turn to put a name on a piece of paper in a random position. With lists, we tend to focus on the beginning and the end and the names in the middle get lost. When you brainstorm on a big sheet of paper, names that you might have overlooked, jump out at you!
Maybe you already know exactly what kind of names you like? Or perhaps you chop and change your mind on a daily basis? Whichever camp you fall into, you're bound to find some boy dog names to inspire you in these lists. Let's look at some dog names for boys that are eternally popular.
Popular Male Dog Names
Do you like to capture the zeitgeist, or do you prefer male puppy names which have stood the test of time? These dog names for boys have consistently occupied the top male pet names lists for years:
Boy Names for Dogs
Great dog names can come from fairly standard human male names. As you can see there's a real trend towards giving our dogs human names. It's a logical progression from thinking of pets as part of the family. A way of saying that in our hearts, our dogs have the same status as people. And they can make for quite unusual dog names as well. So here are some more names for boy dogs that are human names too:
Thomas
Caleb
Lucas
Jackson
Wyatt
Gabriel
Carter
Asher
Dylan
Cliff
Ron
Monty
Uncommon Boy Names for Male Dogs
Boy pet names are also a fun chance to use human names that are a bit more unusual. These human names aren't too common, but they'd all be good boy dog names:
Turner
Cedric
Seamus
Gilbert
Harris
Lyle
Reuben
Heath
Alistair
Douglas
We had some great human male dog names in our Dog Name Survey, too. Here were some of our favorites:
Keanu
Benedict
Jonah
Clive
Victor
Unique Male Dog Names
Coming up with a one of a kind name for your dog can be a real challenge. You never know when an obscure name is about to surge in popularity, or if someone else on your street is about to have the same flash of inspiration. But it's still fun to find something a bit special, like these unusual male dog names:
Zyron
Hurricane
Odin
Corvus
Inchyra
Stirling
Lulworth
Hobbs
Auster
Fisher
Moss
Ash
Place Names for Male Dogs
One way to find cute boy puppy names is to pick a theme you like and see where it leads you. I've come up with this list by thinking of American places and landmarks:
Smoky
Rio
Elias
Sanford
Huron
Tahoe
Kennedy
Rockefeller
Bryce
Cimarron (This could be reckless, since cimarrón is Spanish for "wild" or "untamed"!)
Cartwright
Zoar (Cartwright and Zoar are both small settlements in Newfoundland and Labrador, Canada)
Cute Boy Dog Names
Will your dog be the baby of the family even when he's fully grown? Here are some cute boy dog names for puppies that are going to be adorable forever:
Angel
Beau
Prince
Babe
Jesse
Bodhi
Blue
Zebedee
Neo (Neo means both "new" in Greek and "gift" in Tswana – how perfect?)
Fuzz
Cupid
Cool Dog Names Male Dogs Will Love
Is your dog going to be a legend in his own time? Obviously what's cool is a matter of taste and perception, and I'm not saying that I'm an authority on what definitely is cool. But I might be.
Ace
Maverick
Ryker
Bix
Frank
Cash
Toro
Bogart
Dylan
Jet
Orion
Loki
There were some seriously ice cold names in our Dog Name Survey, as well. Try these on for size:
Astro
Yeti
Nitro
Bohdi
Cowboy
Knight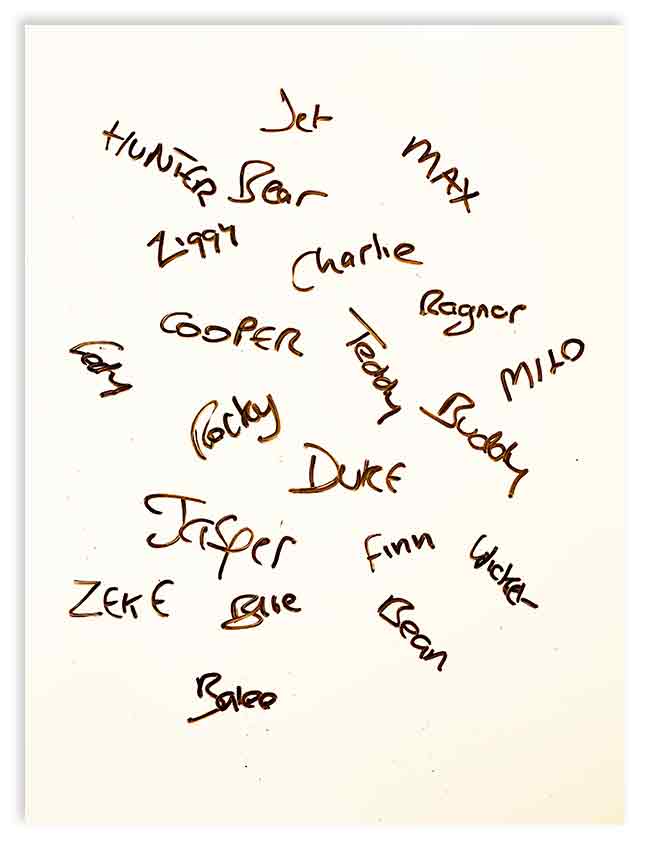 Cute Dog Names for Boys
There seems to be a trend at the moment for naming animals after other animals. For example the A Cat Called Mouse story books, and Rhino the hamster in the Disney film Bolt. Whether you rate it or hate it, here are some more suggestions that might work as names for male dogs:
Wolf
Tiger
Raven
Bear
Lynx
Puma
Fox
Sparrow
Buffalo (or just Buff!)
Gopher
Good Boy Dog Names
Do you have a hunch that your dog will be a loyal, reliable and upstanding member of the canine community? Honor his noble side with one of these good male pet names:
Noah
Lincoln
Theodore
Sam
Joe
Captain
Norman
Benjamin
Seth
George
Pops
Unusual Male Dog Names
An unusual name will help your pup stand out in the park, and be a great ice-breaker when you're doing that all-important socializing:
Beckett
Bayer
Darwin
Huxley
Logan
Falstaff
Womble
Sunny
Tanner
And here are some great male dog names that only came up once in our massive dog names survey.
Farmer
Mojo
Bullseye
Cheeto
Bungee
Biggie
Rocket
Strong Male Dog Names
Dogs have amazing amounts of energy, stamina and muscle. These names either mean strong, or imply strength and make for great masculine dog names:
Mason
Hunter
Chase
Atlas (Atlas is the Greek god depicted carrying the world on his shoulders)
Aaron (Hebrew name meaning "mountain of strength")
Magnar (Norwegian name meaning "strength")
Angus (Irish name meaning "unique strength")
Ryker (Danish name meaning "strength")
Obelix (Greek name meaning "pillar of strength")
Zeke (Hebrew name meaning "God strengthens")
Virtus (the Roman god of bravery and military strength)
Big Dog Names for Male Dogs
Was your pup the biggest in the litter? Or are you renaming a rescue dog who's already head and shoulders above his friends? These names all call great size to mind:
Titus
Groot (as well as a Marvel hero, groot is the Dutch word for "large" although the Dutch pronunciation is tricky! )
Hercules
Jupiter
Montaro (Japanese name meaning "big boy")
Orson (Latin name meaning "bear")
Odin
Berg (berg means "mountain" in several Germanic languages)
Tan
Redwood
Everest
Elbrus (Mount Elbrus is the tallest mountain in Russia and Europe)
That's just a taster of course! We have three hundred and fifty more big dog name ideas just waiting for you!
Small Dog Names Male
Are your puppy's parents petite? Is your puppy more of a mini than a max? Maybe your dog is going to fall at the other end of the scale, and there's nothing wrong with that. They say that the best things come in small parcels. These great boy dog names celebrate being a little more compact:
Pebble
Bean
Peagreen (from The Borrowers)
Frodo (from The Lord of the Rings)
Atom
Kerwin (Gaelic name meaning 'little black one')
Beetle
Nugget
Acorn
Great Dog Names Male
Some dogs are born great, and others have greatness thrust upon them. Recognize their nobility with one of these strong male dog names: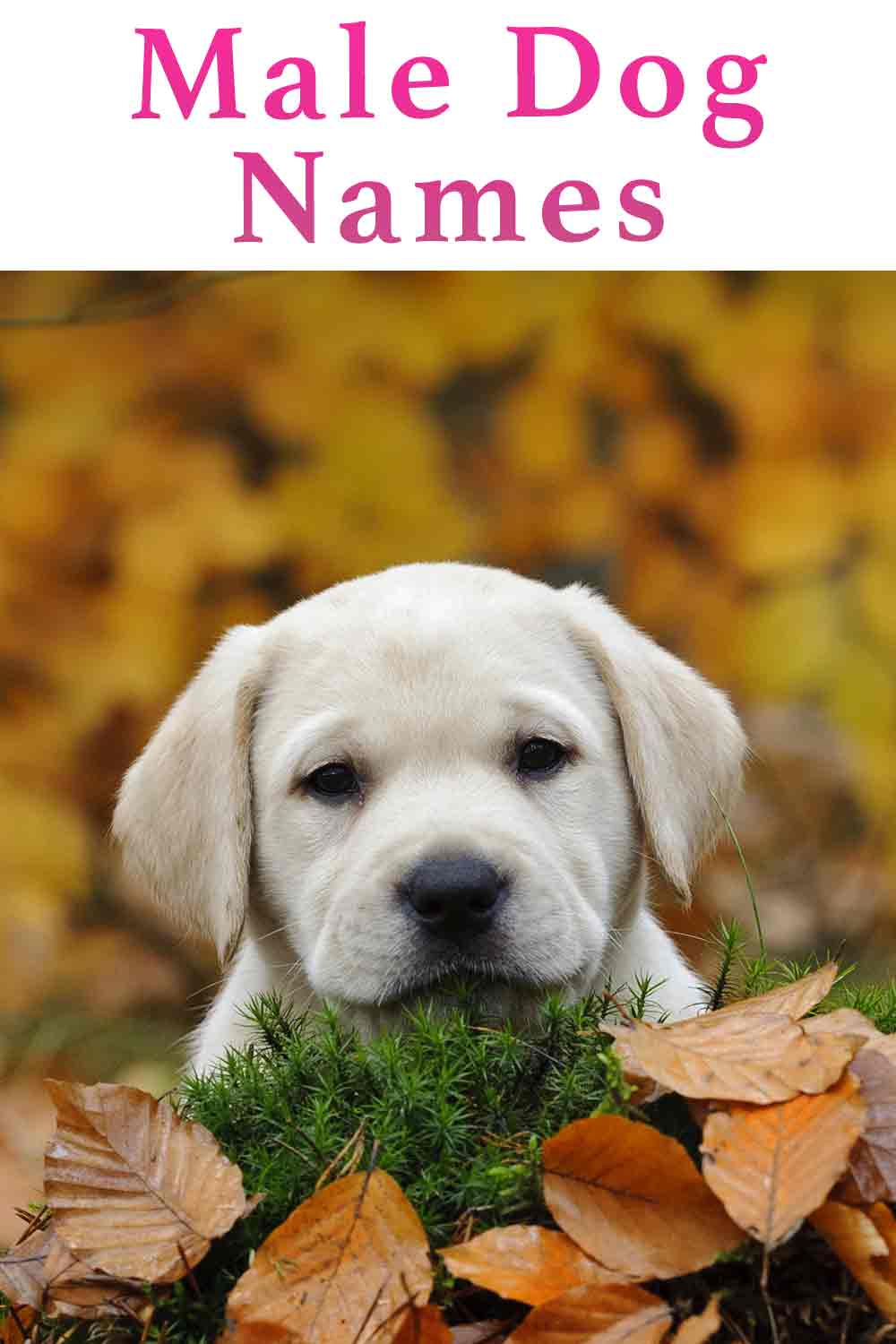 William (I can hardly paraphrase his words without including Shakespeare's name!)
Armstrong
Endeavor
Sirius
Nelson
Majesty
Augustus
Maximus
Hero
Arkin
Zeus
Dog Names From Nature
Storm
Willow
Tarragon
Rocky
River
Buck
Pebble
Ranger
Bramble
Bracken
Star
Famous Dog Names Male Pups Might Suit
Some of our favorite famous dogs and male dog characters include:
Marley (From Marley and Me, Marley was a yellow Labrador Retriever)
Brian (From Family Guy, Brian Griffin is a white Labrador Retriever)
Vincent (the Labrador Retriever in the TV series Lost)
Pal (Did you know that Lassie was almost invariably played by male dogs, because they were a better scale next to children? Pal was the first)
Ghost
Grey Wind
Shaggydog (Ghost, Grey Wind and Shaggydog are direwolves in Game of Thrones)
Zuma (A chocolate Labrador, and grossly underused member of kids' favorite, PAW Patrol)
Bolt (Of the eponymous Disney film)
Our Dog Name Survey through up some other famous names, too. Although these weren't originally used on dogs….
Chewbacca
Yoda
Wicket
Bagheera
Baloo
Starsky
Alphabetical Boy Dog Names
Can't find what you're looking for? No problem! Have a scan through the alphabet to find the name of your dreams! We've stuck with mostly retro old man names or popular modern human names. And those which are short, easy to say and don't sound like any of the more common commands.
Boy dog names that start with A
Some of the best dog names that start with A are really popular boys names at the moment. But others are a little more out of the left field. We've got a range for you here, so whether you are into popular or rare naming trends, there is something here that'll make you say Aaaaaaaah.
Alfie
Archie
Albie
Arthur
Atlas
Austin
Alyus
Allan
Axel
Anton
Anders
Adam
Male dog names that start with B
These cute boy dog names beginning with B are the best of the bunch!
Bernie
Boris
Brad
Barney
Brandon
Baxter
Benny
Buddy
Bryn
Bobby
Byron
Bentley
Boy dog names that start with C
C names for boys are the leader of the pack for dogs and humans alike right now, with C dog names include some of the biggest ever hits like Charlie. Our selection of male names that start with C are gorgeous ideas for every sort of guy!
Charlie
Chester
Casper
Clyde
Clive
Callum
Chad
Carlo
Colt
Clayton
Caleb
Claude
Male dog names that start with D
There are some fun ideas here, that are from a range of locations, periods of history, fantasy and reality.
Derek
Dave
Danny
Donny
Dexter
Declan
Damian
Dom
Drake
Dylan
Dustin
Dante
Boy dog names that start with E
These male names that start with E are a really nice way of getting something a bit special. They include male names that are well known, but that you might not have thought to use for a dog!
Ezra
Ellias
Elliot
Every
Emmett
Eamon
Euan
Evan
Ethan
Eric
Elonn
Edgar
Male dog names that start with F
The boy puppy names in this category include some of my particular favorites, because of that hard starting eff you get a name that packs a punch but is still as cute as your pup is!
Freddy
Faron
Flint
Finn
Flynn
Forde
Fanon
Forrest
Finnick
Fab
Farley
Frankie
Boy dog names that start with G
Funnily enough this selection include some older generational names that despite being a little outdated on people are really lovely names for boy puppies.
Garrick
Greg
Gil
Griff
Garret
Gabe
Greyson
George
Gordon
Gildroy
Gerald
Guy
Male dog names that start with H
The male puppy names are great choices for healthy young pups!
Harry
Henry
Hank
Hovis
Hamish
Higgins
Howie
Horace
Hugh
Heath
Hudson
Herb
Boy dog names that start with I
The best boy dog names might just be those that are a little less common. Which is one of the great things about this selection!
Izak
Idris
Idriz
Ian
Io
Ivan
Irwin
Isco
Male dog names that start with J
Male J names include some top names right now, like Jake, and some seriously cool ones, like Jed.
Making J dog names a great choice for anyone!
Jack
Jules
Jerry
Jordon
Jed
Junior
Jake
Jeb
Jimmy
Jeff
Jarod
Justin
Boy dog names that start with K
Are K dog names your preferred picks? Let's find out!
Kaleb
Kerry
Kamil
Klay
Kaden
Kevin
Keith
Kane
Kit
Kyle
Karl
Kory
Male dog names that start with L
These cute male dog names start with a lovely soft ell sound, which makes them some of the best for your little softie.
Leroy
Lemmie
Lenon
Lawrence
Larry
Lee
Les
Levi
Lincoln
Leon
Lenny
Lex
Boy dog names that start with M
Male names that start with M swing wildly in and out of fashion, but they have some long term popular choices, like magnificent Matt!
Manny
Mickey
Morris
Milton
Matt
Max
Mateo
Marshal
Marcus
Miles
Mica
Maddox
Male dog names that start with N
N names for boys really vary in their sound and style, and have a lot to offer the owner looking for something a bit less common.
Norris
Norm
Ned
Nicky
Niels
Nate
Norbet
Noah
Newt
Niles
November
Nathan
Boy dog names that start with O
O names for boys are very popular at the moment. From Oscar to Ollie, they are as cute for our pups as they are for our babies! We've chosen two syllable boy names that start with O as the best fit for your new dog.
Ollie
Oscar
Otto
Oakley
Owen
Obie
Orion
Ozwell
Oberon
Ozzy
Orson
Ovi
Male dog names that start with P
Good male dog names fit puppies perfectly when they start with a pretty P!
Petey
Prince
Patrick
Predrag
Pauley
Patton
Paddy
Parker
Paxton
Perry
Pat
Boy dog names that start with Q
Boy names that start with Q are a rare breed, but all of these Q names for boys are good options, despite there being fewer of them!
Quentin
Quirrell
Quince
Quin
Quill
Quantis
Male dog names that start with R
These R dog names are inspired by history and fiction, but they make equally awesome ideas!
Robby
Rich
Reggie
Ralph
Ricky
Randell
Renn
Ryker
Rowan
Riggs
Roger
Romeo
Boy dog names that start with S
Guy names that start with S have a long and lovely tradition, with some cool pet names for guys always hitting the top spot.
Sammy
Sandy
Seth
Simba
Sage
Scotty
Stewie
Stevie
Silus
Sirius
Sherlock
Shaun
Male dog names that start with T
There are so many top options to choose from when it comes to the terrific T!
Teddy
Terry
Tanner
Tracker
Timmy
Toby
Tommy
Talon
Trevor
Tate
Tristin
Theo
Boy dog names that start with U
Good boy dog names are often unusual, and what's less common than cute boy puppy names that begin with U!
Ulrick
Uno
Ulysses
Urwin
Uzziah
Urick
Male dog names that start with V
You'll find some very unusual male dog names here, but they are all nice ones too!
Vin
Vinny
Vincent
Vernon
Vern
Vic
Vaughn
Vito
Boy dog names that start with W
From the old to the new, W has a lot to offer our little boy dogs!
Will
Whisky
Winston
Winchester
Wade
Wes
Wesley
Wilbur
Wilf
Warde
Wendell
Male dog names that start with Z
We've had to delve into mythology here a little, but I'm sure you'll be delighted if you find a Z name that fits your puppy!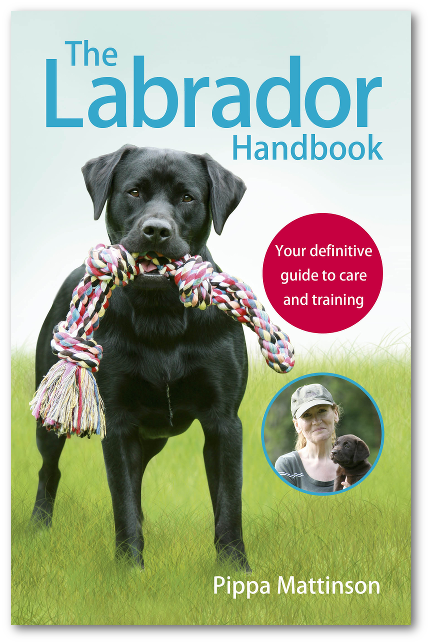 Zeus
Zeke
Zach
Zeno
Zeo
Zachary
Zaden
Choosing The Best Male Dog Names
The best name for your dog is one you fall in love with, and don't mind shouting out in public. Wherever you get your inspiration from, finding the perfect name for your newest family member is a satisfying moment. And remember, if you can't decide between two then why not use them both? Dog middle names are totally a thing!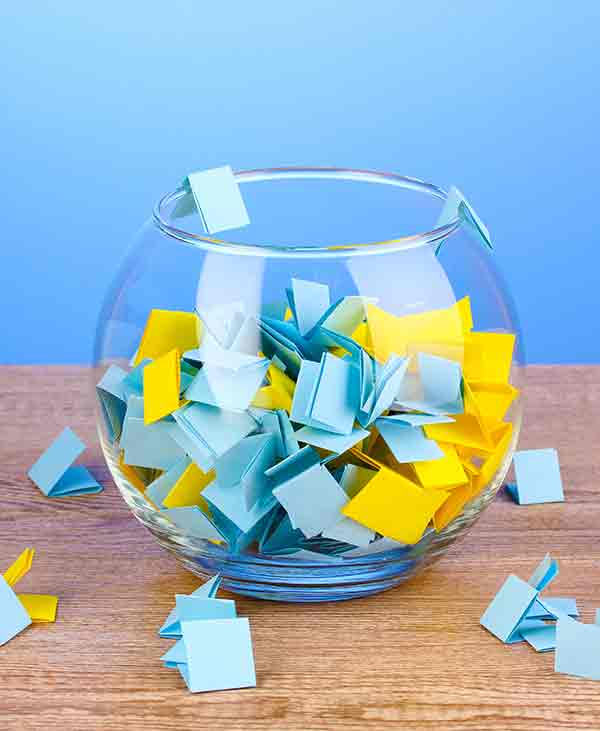 TOP TIP: If you and your family still can't agree on the best dog name for your boy puppy, then it's time to play 'Name In A Jar'! Everyone writes a name on a piece of paper and folds it twice, then drops it in a jar. Each person can put up to three names in the jar. The pieces of paper should be identical! Get someone who isn't invested in the outcome to pick the name out of the jar. You need to agree before you begin that you will all accept the result!
What are your top male dog names?
What is your boy dog called? If you had to name a new dog tomorrow, what would you call him? Share your thoughts with us in the comments section below!
If you want more ideas, take a look at this dog name database!
Is it nearly puppy time?
Bringing home a puppy is SOOO exciting. Don't forget to check out our puppy center for heaps of advice and information on every aspect of puppy care including potty training and socializing! We think you'll love The Happy Puppy Handbook too, it's a complete guide to caring for and raising a happy, healthy little dog.
You can buy The Happy Puppy Handbook from Amazon by following this link. If you do, The Labrador Site will receive a small commission which is greatly appreciated and won't affect the cost to you!

And don't forget, if you'd like to receive Pippa's free training tips, just drop your name into the box below!
You might also like to check out Pippa's Online Puppy Courses over at the Dogsnet Training Center! Have fun with your puppy!
The Labrador Site Founder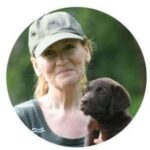 Pippa Mattinson is the best selling author of The Happy Puppy Handbook, the Labrador Handbook, Choosing The Perfect Puppy, and Total Recall.
She is also the founder of the Gundog Trust and the Dogsnet Online Training Program 
Pippa's online training courses were launched in 2019 and you can find the latest course dates on the Dogsnet website