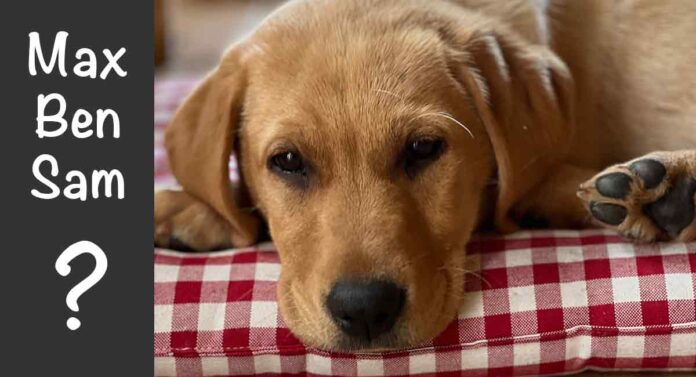 The best boy dog names have that feel good factor. But it can be challenging to come up with original ideas for your new puppy. And to get your family members to agree!
Why not get everyone in your household to write their favorite names down on a piece of paper, and stick it to your refrigerator.
Each day, you can take it in turns to strike out the least popular puppy name. You will quickly narrow your shortlist down to a boy dog name you all adore!
Contents
Male dog names don't have to be traditionally masculine. We'll show you how to find inspiration for awesome and unique male dog names in some unlikely places.
There's something in our themed name lists for everyone. Got your pen and paper ready? Let's choose the perfect male puppy name for your new friend.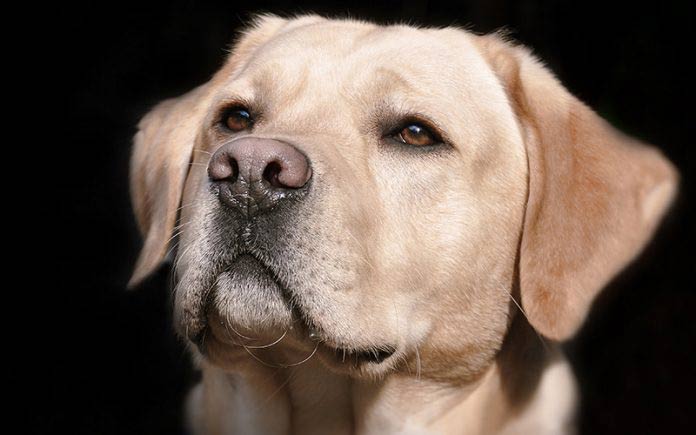 Top Male Dog Names
These are the boy animal names that are trending right now and include some great American boy names too!
Max (greatest)
Bear
Toby (God is good)
Lucky
Cooper (barrel maker)
Teddy
Loki (God of mischief)
Rocky
Finn (fair)
Wagner (wagon driver)
Bruno (brown)
Buddy (friend)
Duke (leader)
Zeus (God of sky)
Jasper (treasurer)
Ziggy
Milo (soldier)
Ollie
Bailey (steward)
Jack (god is gracious)
Oscar (champion warrior)
Gizmo
Thor (god of thunder)
Ozzy
Harley
Winston (joyful stone)
Ace (leader)
Murphy (warrior of the sea)
Blu
Blue
Arlo (fortified hill)
Brody (protector)
Leo (lion)
Henry (house ruler)
Tank
Griffin (mythical beast)
Buster (tough guy)
Comet
Bruiser
Bruce (woods)
Cash
Baxter (baker)
Cosmo
Diesel
Banjo
Gunner
Jax
The right dog name for your gorgeous boy puppy is out there. Names are so much more than a way to get your boy dog to come when you call. Dog names establish identities, and help your dog to find a special place in your family.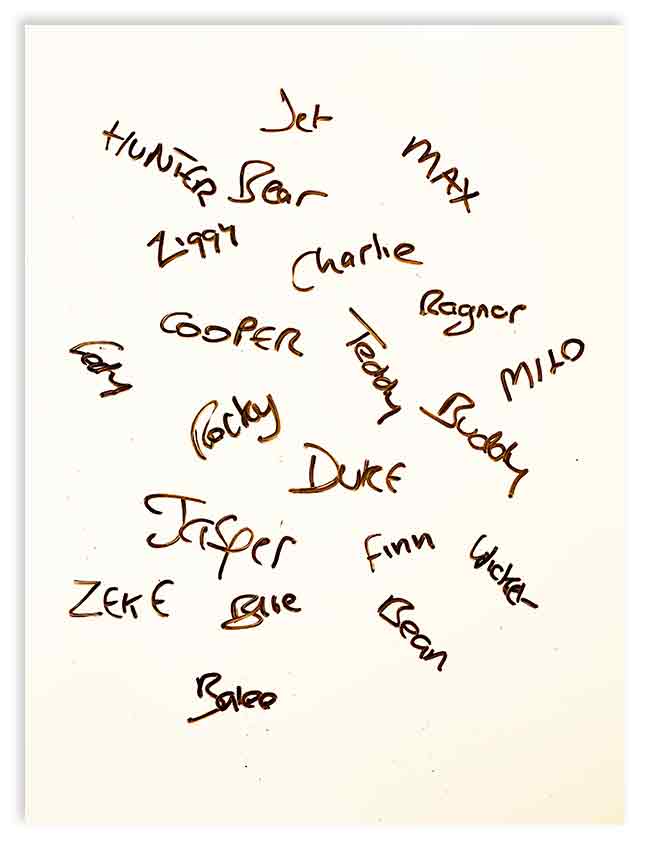 Popular Male Dog Names
Do you like to capture the zeitgeist , or would you prefer your puppy name to have stood the test of time? These dog names for boys have topped male pet names lists for years:
Boy Names for Dogs
Your perfect dog name could come from a classic boys' names . 
There's a trend towards giving our dogs human names.  It's a logical progression from thinking of your pet as part of your family. 
You are saying that in your heart, your dog has the same status as other people. So here are more names for boy dogs that are human names too: 
Thomas (twin)
Caleb (bold, brave)
Lucas (bringer of light)
Jackson (son of Jack)
Wyatt (brave warrior)
Gabriel (God is my strength)
Carter
Asher (happy)
Dylan (son of the sea)
Cliff
Ron (mountain of strength)
Uncommon Boy Names for Male Dogs
Your hobbies and your interests can provide a flash of inspiration, or check this off-the-wall list to find creative boy dog names for your new puppy.
Turner (woodworker)
Cedric (kindly)
Seamus (supplanter)
Gilbert (bright promise)
Harris (son of Harry)
Lyle (the island)
Reuben (behold a son)
Heath
Alistair (defender of the people)
Douglas (black river)
We had some nice human male dog names in our Dog Name Survey, too. Here were some of our favorites:
Keanu (cool breeze)
Benedict (blessed)
Jonah (dove)
Clive (slope)
Victor (winner)
Unique Male Dog Names
These one of a kind dog names won't be found anywhere else on your street!
Place Names for Male Dogs
One way to find cute boy puppy names is to pick a theme you like and see where it leads you. I've come up with this list by thinking of American places and landmarks:
Smoky
Rio
Elias
Sanford
Huron
Tahoe
Kennedy
Rockefeller
Bryce
Cimarron (This could be reckless, since cimarrón is Spanish for "wild" or "untamed"!)
Cartwright
Cute Boy Dog Names
Will your dog be the baby of the family even when he's fully grown? Here are some cute boy dog names for your eternally adorable puppy.
Angel
Beau
Prince
Babe
Jesse
Bodhi
Blue
Zebedee
Neo (Neo means both "new" in Greek and "gift" in Tswana – how perfect?)
Fuzz
Cool Dog Names Male Dogs Will Love
Is your dog going to be a legend in his own time? Obviously what's cool is a matter of taste and perception, and I'm not saying that I'm an authority on what definitely is cool. But I might be.
Ace
Maverick
Ryker
Bix
Frank
Cash
Toro
Bogart
Dylan
Jet
Orion
Loki
There were some seriously ice cold names in our Dog Name Survey, as well. Try these on for size:
Astro
Yeti
Nitro
Bohdi
Cowboy
Knight
Cute Dog Names for Boys
There seems to be a trend at the moment for naming animals after other animals. Have you read the A Cat Called Mouse story books, and Rhino the hamster in the Disney film Bolt? Whether you rate it or hate it, here are some more suggestions that might work for your new male dog:
Wolf
Tiger
Raven
Bear
Lynx
Puma
Fox
Sparrow
Buffalo (or just Buff!)
Gopher
Good Boy Dog Names
Do you have a hunch that your dog will be a loyal, reliable and upstanding member of the canine community? Honor his noble side with one of these good male pet names:
Noah
Lincoln
Theodore
Sam
Joe
Captain
Norman
Benjamin
Seth
George
Pops
Unusual Male Dog Names
An unusual name will help your pup stand out in the park, and be a great ice-breaker when you're doing that all-important socializing:
Beckett
Bayer
Darwin
Huxley
Logan
Falstaff
Womble
Sunny
Tanner
Here are some great male dog names that only came up once in our names survey.
Farmer
Mojo
Bullseye
Cheeto
Bungee
Biggie
Rocket
Big Dog Names for Male Dogs
Was your pup the biggest in the litter? Or are you renaming a rescue dog who's already head and shoulders above his friends? These names all call great size to mind:
Titus
Groot (as well as a Marvel hero, groot is the Dutch word for "large" although the Dutch pronunciation is tricky! )
Hercules
Jupiter
Montaro (Japanese name meaning "big boy")
Orson (Latin name meaning "bear")
Odin
Berg (berg means "mountain" in several Germanic languages)
Tan
Redwood
Everest
Elbrus (Mount Elbrus is the tallest mountain in Russia and Europe)
That's just a taster of course! We have three hundred and fifty more big dog name ideas just waiting for you!
Your Little Puppy
Is your puppy more mini than max?
These boy dog names celebrate the smaller end of the scale. After all, the best things come in little parcels.
Pebble
Bean
Peagreen (from The Borrowers)
Frodo (from The Lord of the Rings)
Atom
Kerwin (Gaelic name meaning 'little black one')
Beetle
Nugget
Acorn
Great Dog Names Male
Some dogs are born great, and others have greatness thrust upon them. Recognize their nobility with one of these strong male dog names: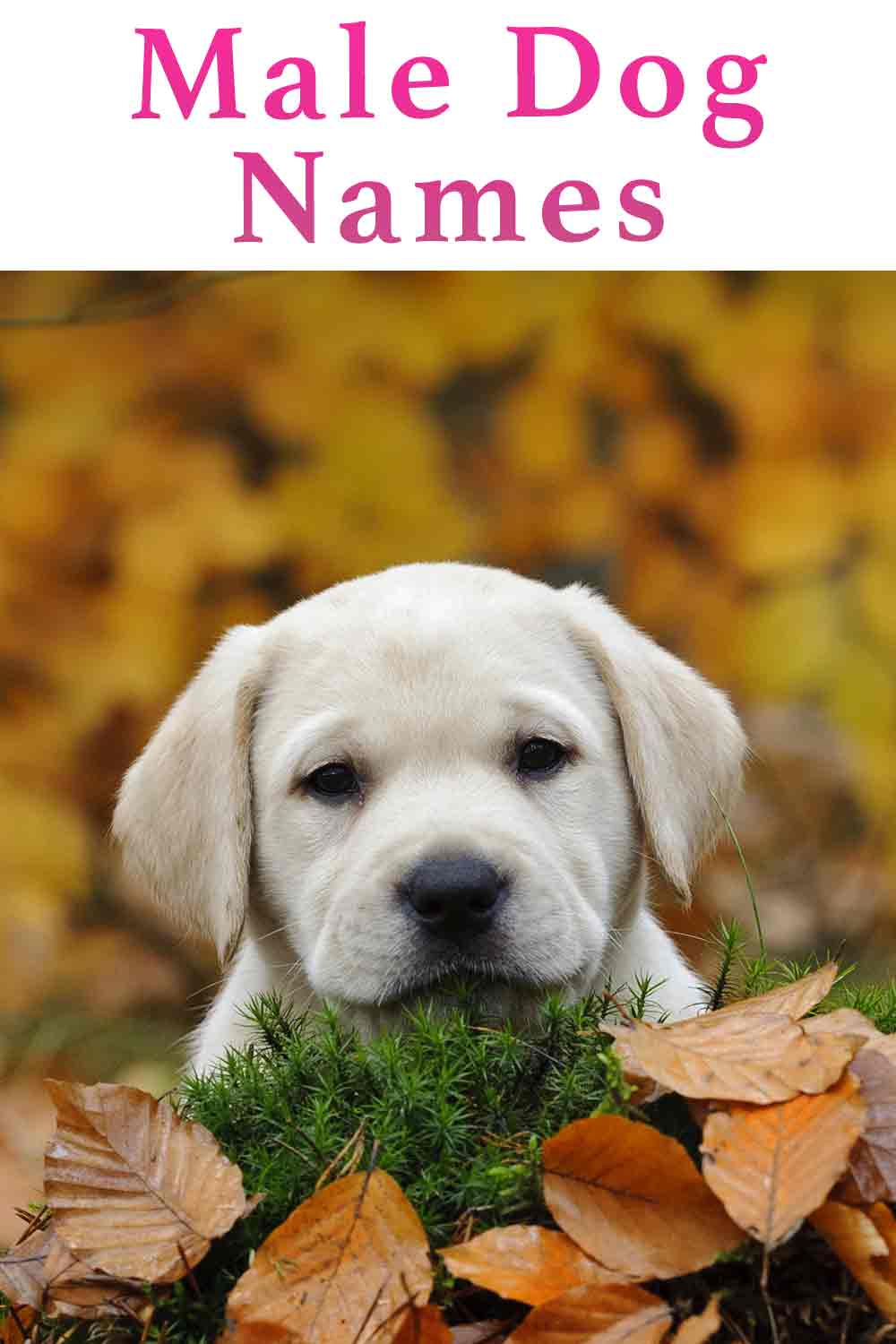 William (I can hardly paraphrase his words without including Shakespeare's name!)
Armstrong
Endeavor
Sirius
Nelson
Majesty
Augustus
Maximus
Hero
Arkin
Zeus
Dog Names From Nature
Storm
Willow
Tarragon
Rocky
River
Buck
Pebble
Ranger
Bramble
Bracken
Star
Naming Your Dog After A Celebrity?
Some of our favorite famous dogs and male dog characters include:
Marley (From Marley and Me, Marley was a yellow Labrador Retriever)
Brian (From Family Guy, Brian Griffin is a white Labrador Retriever)
Vincent (the Labrador Retriever in the TV series Lost)
Pal (Did you know that Lassie was almost invariably played by male dogs, because they were a better scale next to children? Pal was the first)
Ghost
Grey Wind
Shaggydog (Ghost, Grey Wind and Shaggydog are direwolves in Game of Thrones)
Zuma (A chocolate Labrador, and grossly underused member of kids' favorite, PAW Patrol)
Bolt (Of the eponymous Disney film)
Our Dog Name Survey through up some other famous names, too. Although these weren't originally used on dogs….
Chewbacca
Yoda
Wicket
Bagheera
Baloo
Starsky
Alphabetical Boy Dog Names
A quick scan of the alphabet can help you to find the name of your dreams. Retro male names and popular modern names for boys both have their benefits. You want to choose one that is short and easy to say. Remember, good names don't sound like your dog's commands.
A.
Alfie (wise)
Archie (brave)
Albie (noble)
Arthur (bear)
Atlas (enduring)
Austin (majestic)
Alyus (noble)
Allan (handsome)
Axel (father of peace)
Anton (priceless)
Anders (manly)
Adam (earth)
B.
Bernie (strong)
Boris (battle)
Brad (broad)
Barney (defender)
Brandon (prince)
Benny (blessed)
Bryn (hill)
Bobby (bright)
Byron (barn)
Bentley (meadow)
C.
Charlie (free man)
Chester (camp of soldiers)
Casper (treasurer)
Clyde (friedly)
Callum (dove)
Chad (protector)
Carlo (free man)
Colt (young horse)
Clayton (settler on clay soil)
Claude (lame)
D.
Derek(gifted ruler)
Dave (beloved)
Danny (god is my judge)
Donny (mighty)
Dexter (right handed)
Declan (man of prayer)
Damian (subdue)
Dom (lord)
Drake (dragon)
Dustin (Thor's stone)
Dante (enduring)
E.
Ezra (helper)
Ellias (lord is my god)
Elliot (lord is my god)
Every (all)
Emmett (universal)
Eamon (wealthy protector)
Euan (born of the yew)
Evan (god is good)
Ethan (strong)
Eric (ruler)
Elon (oak tree)
Edgar (spear)
F.
Freddy (ruler)
Faron (handsome servant)
Flint (hard stone)
Finn (fair)
Flynn (red haired)
Forde (river crossing)
Fanon (scarf)
Forrest (of the woods)
Finnick (marshland farm)
Farley (fern clearing)
Frankie (free)
G.
Garrick (kingly spear)
Greg (vigilant)
Gil (joyful)
Griff (prince)
Garret (strong spear)
Gabe (hero of god)
Greyson (son of steward)
George (farmer)
Gordon (great hill)
Gildroy (son of a red-head)
Gerald (spear ruler)
Guy (guide)
H.
Harry (home ruler)
Henry (home ruler)
Hank (home ruler)
Hovis (strength of man)
Hamish (supplanter)
Higgins (viking)
Howie (noble watchman)
Horace (timekeeper)
Hugh (soul)
Hudson (son of Hudd)
Herb (army)
I.
Izak (laughter)
Idris (lord)
Idriz (to learn)
Ian (god is gracious)
Io (princess)
Ivan (god is gracious)
Irwin (boar friend)
Isco (pioneer)
J.
Jules (youthful)
Jerry (spear)
Jordon (descend)
Jed (beloved of god)
Junior (younger)
Jake (supplanter)
Jeb (beloved friend)
Jimmy (supplanter)
Jeff (pledge)
Jarod (descent)
Justin (righteous)
K.
Kerry (dark)
Kamil (perfect)
Kaden (battle)
Kevin (handsome)
Keith (woodland)
Kane (warrior)
Kit (pure)
Kyle (narrow)
Karl (free man)
Kory (hollow)
L.
Leroy (king)
Lemmie (belonging to god)
Lenon (lover)
Lawrence (laurel)
Larry (crowned with laurel)
Lee (pasture)
Les (holly garden)
Levi (joined)
Lincoln (lake or pool)
Lenny (brave as lion)
Lex (defender of men)
M.
Manny (god is with us)
Mickey (like god)
Morris (of the marsh)
Milton (town with a mill)
Matt (gift of god)
Mateo (gift of god)
Marshal (steward)
Marcus (warlike)
Miles (soldier)
Mica (who is like god)
Maddox (fortunate)
N.
Norris (northerner)
Norm (northerner)
Ned (wealthy guardian)
Nicky (victory)
Niels (victory)
Nate (gift of god)
Norbet (bright north)
Noah (rest)
Newt (small salamander)
Niles (champion)
November (month)
Nathan (gift from god)
O.
Otto (wealth)
Oakley (oak tree meadow)
Owen (noble)
Obie (servant of god)
Orion (heaven's light)
Ozwell (reserved)
Oberon (royal bear)
Orson (bear cub)
Ovi (sheep)
P.
Petey (rock)
Prince (royalty)
Patrick (nobleman)
Predrag (very beloved)
Pauley (humble)
Patton (fighter's town)
Paddy (nobleman)
Parker (park keeper)
Paxton (peaceful town)
Perry (pear tree)
Pat (nobleman)
Q.
Quentin (fifth)
Quirrell (spear)
Quince (applelike fruit)
Quin (counsel)
Quill (scribe)
R.
Robby (bright fame)
Rich (strong)
Reggie (king)
Ralph (wolf counsel)
Ricky (powerful)
Randell (wolf's sheild)
Renn (reborn)
Ryker (ruler)
Rowan (red-head)
Riggs (from the ridge)
Roger (warrior)
Romeo (Roman)
S.
Sammy (god has heard)
Sandy (protector)
Seth (placed)
Simba (lion)
Sage (wisdom)
Scotty (from Scotland)
Stewie (steward)
Stevie (crown)
Silus (of the forest)
Sirius (burning)
Sherlock (fair)
Shaun (god is gracious)
T.
Teddy (gift from god)
Terry (power of the tribe)
Tanner (leather maker)
Timmy (god's honor)
Tommy (twin)
Trevor (homestead)
Tate (cheerful)
Tristin (sorrowful)
Theo (gift from god)
U.
Ulrick (noble)
Uno (free)
Ulysses (wrathful)
Urwin (sea)
Uzziah (the lord is mighty)
V.
Vin (conquer)
Vinny (conquer)
Vincent (conquer)
Vernon (alder grove)
Vern (alder grove)
Vic (champion)
Vaughn (little)
Vito (life)
W.
Will (resolute protector)
Whisky (water of life)
Winchester (English town)
Wade (ford)
Wes (western meadow)
Wesley (western meadow)
Wilbur (brilliant)
Wilf (desiring peace)
Warde (guard)
Wendell (wanderer)
Z.
Zeke (god stengthens)
Zach (lord remembers)
Zeno (gift of zeus)
Zeo (fervent)
Zachary (lord remembers)
Zaden (divinity)
The Labrador Site Founder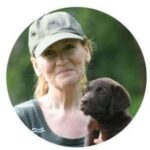 Pippa Mattinson is the best selling author of The Happy Puppy Handbook, the Labrador Handbook, Choosing The Perfect Puppy, and Total Recall.
She is also the founder of the Gundog Trust and the Dogsnet Online Training Program 
Pippa's online training courses were launched in 2019 and you can find the latest course dates on the Dogsnet website