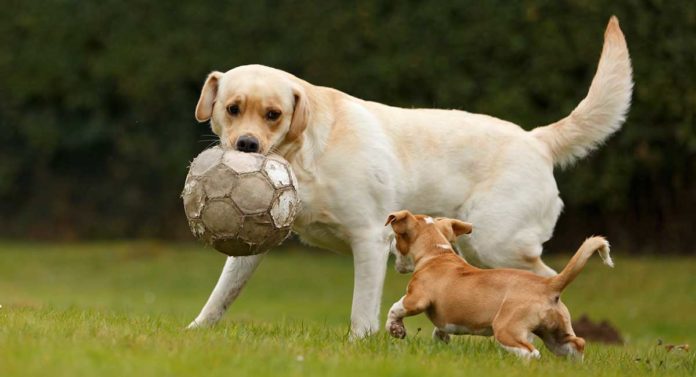 The Labrador temperament tends to be tolerant, outgoing, friendly and affectionate to all. The Labrador Retriever breed is smart and easy to train. This cooperative disposition is as a result of their working history in field sports. Young Labradors and puppies can be boisterous or clumsy, and biting and chewing are to be expected as they develop. But most adult Labs are calm companions if they are well exercised and have plenty of company.
There has been quite a bit of research published on Labrador temperament in the last couple of decades. As a result our knowledge and understanding of temperament in Labradors and other dogs has grown.
Contents
Occasionally, especially in American Labrador temperament there can be nervousness and anxiousness that results in aggression. But choosing your puppy from friendly parents and socializing it well can avoid these minor risks. Most Labradors have minimal guarding instincts and make terrible protection dogs. Accept your lovable, greedy, friendly, bouncy lab for what he is. Socialize him well and be grateful you shouldn't have to worry about him biting the mailman. Let him be a Labrador. There really is nothing nicer.
Measuring Labrador temperament
Improvements in the accuracy and relevance of tests for evaluating temperament in adult or nearly adult dogs are important. This is especially the case in Labradors and other working dogs.
Some studies have been carried out on guide dogs. Their findings are often relevant to Labradors because most guide dogs are either Labradors or Labrador mixes. Studies on guide dogs have come up with useful results. For example, they've shown that temperament assessments carried out on dogs at a year old can be reliable predictors of the dog's ability to respond to training and work. And temperament evaluations are often used by dog rescue organizations in order to provide a good match when re-homing dogs in their care
Differences in temperament between dog breeds
Studies show that there are measurable differences in personality traits between different groups of dogs. One aspect of canine temperament or personality that has the most serious impact on people, is aggression.
In 2016 The Independent, a UK newspaper, ran a story in which they revealed the shock news that the Labrador was the dog 'most likely to bite' in the UK. Unfortunately, this article was confusing readers by taking information from a report about personal injury claims and the dogs causing them. It's more accurate to investigate the proportion of dogs of any breed that actually bit someone.
Popularity Contest
Essentially, the dogs blamed for biting, were dogs that happened to be popular. The fact of course, is that a proportion of all dogs will bite. The more popular a dog breed is, the more dog bites will be reported for that breed. That does not mean that individuals of that breed have an increased chance of biting someone.
Many people are campaigning to stop dog breeds being labelled as 'biters' or 'dangerous'. They are encouraging aggression to be regarded specifically as a 'man made' issue, caused by poor socialization. Like so many issues however, this one is not straightforward. Studies have shown that distinctive differences in dog temperament do exist between different breeds.
A 2008 study showed that Dachshunds, Chihuahuas and Jack Russell Terriers were more likely to show aggression towards both strangers and their owners. Australian Cattle Dogs were more likely to show aggression to strangers. American Cocker Spaniels and Beagles were the most likely to show aggression towards their own owners.
The effects of aggression will depend on the size and biting style of the dog. This is why dog bite studies show that some breeds of dog are more likely to kill or cause serious injury than others. In a 12 year period between 2005 and 2016 for example, 392 Americans were killed by dogs. Despite many dog breeds being numerically greater than Pitbulls, it was Pitbulls which accounted for 65% of those deaths. Pitbulls are a banned breed in some countries, including the UK
Don't have nightmares by the way, the National Safety Council estimates that your risk of being bitten by a dog is still less than 1 in 100,000. And by choosing your dog carefully and socializing him thoroughly as a puppy, you can reduce this risk further.
What is Labrador temperament like?
Labradors are generally well known for their equable and friendly nature. This is not a myth. Despite the Independent's scary article, that 2008 study I mentioned above also showed that Labradors were among the least aggressive dog breeds. This includes aggression toward both humans and other dogs. So you can rest easy on that score.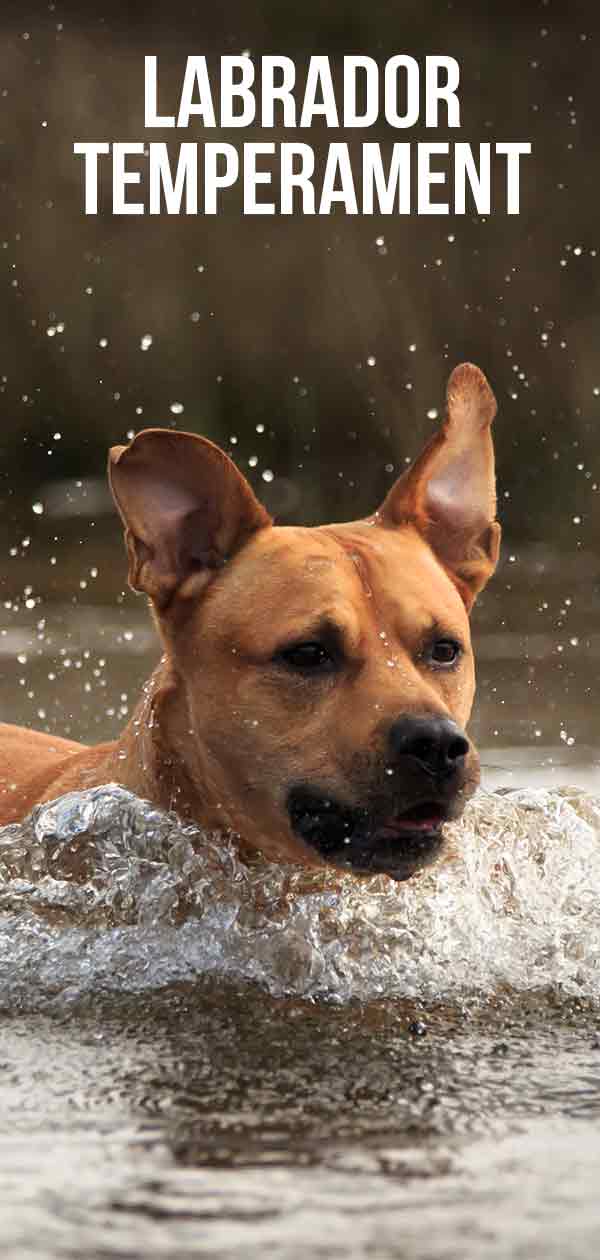 Now here are some of the other frequent assumptions made about Labrador temperament. Let's find out if they are true!

Labrador retriever temperament is outgoing
On the whole this statement is true. Most Labradors are confident, outgoing friendly dogs. Happy to talk to strangers, and to welcome guests into your home. You should be aware that this welcome may be extended equally to burglars!
It's also important to be aware that some Labradors can be fearful or nervous. There are ways to minimize the risk of your Labrador turning out this way. We'll look at that in more detail below when we talk about how Labs get their temperament.
Labrador retriever temperament is kind
Kindness is another of those traits that is difficult to quantify. All we have to go on is anecdotal evidence. Labs tend to be very affectionate. There are many reports of Labradors showing great kindness and empathy when their humans are sad.
The breed is even tempered
It is pretty hard to provoke or annoy most Labs. They are tolerant of all kinds of behavior that they probably don't particularly enjoy. Being hugged and climbed on by small children for example. This doesn't mean that you should allow anyone to annoy or provoke your dog, but it does make him a much safer animal to have around should an accident occur.
Once again, it's important to point out that not all Labradors share this trait. You really need to check carefully on the parents before you buy a puppy. And, because tolerance levels vary from dog to dog, you need to supervise interactions between dogs and children
Labrador retriever temperament is intelligent
Some experts like to look at intelligence separately from temperament. But Labrador intelligence is legendary. Many Labrador owners will consider this part and parcel of their dog's Labrador personality. Intelligence may vary from one dog to another within a breed, and can be difficult to define. The Labrador breed as a whole is generally considered to be highly intelligent. It's hard to separate intelligence from trainability. The ability to learn and willingness to learn are hard to tease apart.
A 2011 study looked at trainability differences between different groups of dogs. The Labrador belongs to the sporting group. The study found that the dogs in this group were more trainable than non-sporting dogs. Something that won't surprise many Labrador owners. The Labrador is this willing and able to learn. Together with the Labrador's co-operative and companionable nature, these traits make for great service dogs in a whole range of disciplines.
The breed is usually gentle
Hmm. This assumption is subject to some provisos. It is certainly true of many mature Labradors. But it isn't something you should rely on. And it isn't a personality trait found in many young Labs. On the contrary, Labradors under a year old can be extremely boisterous and clumsy. They can actually pose a small risk to anyone unsteady on their feet. I'm thinking of toddlers just learning to walk, and elderly people whose balance isn't great.
You may want to opt for an older dog if you're worried about vulnerable people getting hurt.
Different types of Labrador temperament
People often make assumptions about Labrador temperament based on their color. Let's have a look at that next.
Chocolate Labrador temperament
You'll often hear people say that Chocolate Labs are dumb or hard to train. While it isn't true that Chocolate Labs are dumb, they are in some areas more likely to be English Labs than American or working type.
Black Lab temperament
In the same way, Black Labs tend to be favored by the hunting or shooting communities. They may be considered by some to be smarter because of this. The fact is, that Labrador coat color does not directly affect the personality traits of individual dogs. However, the genetic information a dog inherits from his parents most certainly does.
English Lab temperament vs American Lab
A study published in 2015 showed that dogs bred from working lines were more trainable than dogs bred from show lines. This is not particularly surprising bearing in mind that working line (or American type) Labradors have been selectively bred for this characteristic.
Labrador temperament problems
The Labrador breed is not immune from temperament problems. Aggressive or reactive Labradors can and do exist. This can be a bigger problem than aggression in other breeds. This is mainly because people tend to approach strange Labradors in the expectation that a Labrador will be friendly and pleased to meet them.
Owning a grumpy Labrador is not fun. So how do you make sure your Labrador puppy will have a good temperament?
How Labrador temperament is created
Temperament is created in two ways
The influence of the parent's genes
The influence of the puppy's environment.
The foundations of a puppy's temperament are inherited from his parents, but the way he is raised can have quite an impact.
Choosing the right parents
Your first step to success though is dependent on your choice of breeder and on the parents of your puppy. A puppy that has been bred with care will have two parents with excellent temperament.
This gives you the best chance of raising a good natured dog. Do your utmost to see both parents when you are choosing a puppy. And be absolutely determined to walk away if the parents are not friendly and welcoming. I cannot stress how important this is.
Mum should come happily out to greet you, tail wagging furiously. That's the bottom line. If you cannot see Dad, make sure you get a reference from someone that has met him. The temperament of the parents may give you some idea as to the potential temperament of the puppy. However, a part of his final temperament is dependent on correct socialization.
Socialize your puppy
Effective puppy socialization is the other essential ingredient to good temperament. Much dog aggression is linked to 'fear' or feeling threatened. The more thoroughly and effectively you socialize your dog, the more confident and fearless he will be. Fearless dogs are normally friendly dogs. Fearful dogs are more likely to become aggressive.
Your puppy might seem to growl and bark more than you thought he might. Don't worry, this usually isn't a sign of aggression. This may just indicate that your pup is excited. You can read our article on Labrador puppy aggression here.
'Guarding' instincts (which many labs do not have at all) are often based in 'fear' and are likely to be diminished through socialization. Dogs with a guarding instinct will attempt to protect their home/property against what they consider to be a threat.
The better a dog is socialized, the less things he will find threatening. A very well socialized dog will feel threatened by very little and is more likely to invite a burglar in and offer him the key to the safe, than to chase him away.
Don't expect a guard dog
People often expect quite a lot from their dogs. Many people want a dog that is both friendly and good natured, especially around children. But they also want a dog that will guard their home. Or at the very least, bark at intruders. Strange as it may sound, I actually receive a lot of correspondence from people overseas, asking me to tell them how to teach their Labrador to bark! People want to know how they can stop their dog being so friendly!
Asking for a dog to be both great around kids and to keep intruders at bay is actually quite a tall order. That is not to say that a dog can't do both, some can. But not all. And there are serious risks in increasing guarding instincts deliberately. This is especially true when bringing a large dog into a family where there are small children.
Your 'guarding' dog may be nice enough to family members under normal circumstance, but you have the rest of the world to consider. Once you have your own children, other people's children soon come into the equation. And a dog with guarding instincts can be a real worry and a problem when you have frequent child visitors.
The Labrador Site Founder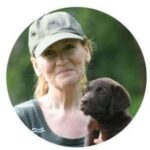 Pippa Mattinson is the best selling author of The Happy Puppy Handbook, the Labrador Handbook, Choosing The Perfect Puppy, and Total Recall.
She is also the founder of the Gundog Trust and the Dogsnet Online Training Program 
Pippa's online training courses were launched in 2019 and you can find the latest course dates on the Dogsnet website