Our guide to the aggressive puppy shows you how to spot signs of puppy aggression, cope with aggressive puppy behavior and raise a friendly puppy.  
We'll look at true aggression in puppies, and at how puppy play can masquerade as puppy aggression.  We'll also look at protecting your children from puppy aggression. 
I frequently talk to new Labrador puppy owners that are very worried.
They are worried because their nine or ten week old puppy is aggressive.
And they are afraid for what the future will bring.
This is not people that are being pathetic about a few little nips
These are people with very young puppies that are launching into frenzied attacks.
Whilst looking angelic in between.
It's about children in tears,  it's about snarling and biting.  It's even about puppies drawing blood. If your puppy is behaving like this, I have some great news for you! Read on.
Growling is not puppy aggression
Growling and snarling in small puppies is loud, and ferocious.  If this is your first puppy, you are likely to be shocked.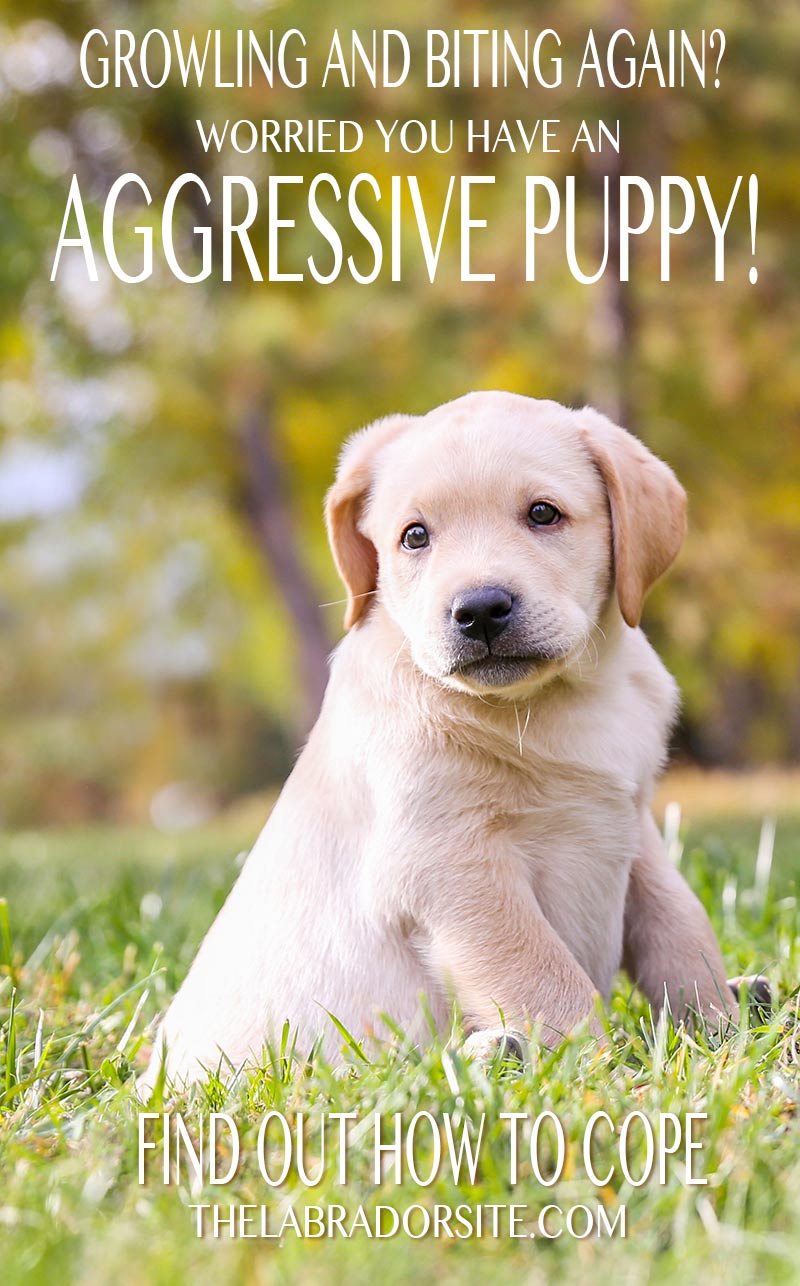 But the good news is, in puppies, growling is not normally a sign of aggression.
We'll look at signs of true puppy aggression in a moment.  But for now, most of the behavior people think is aggression is actually play.
That's right! Your puppy is perfectly normal.
He has not turned into a demon dog – all puppies – and I mean ALL puppies make this horrible, vicious sounding, noise when they play.
"But, but!" you cry "what about the biting?  And the blood!"
Now here's some good news and some bad news.
Biting is not puppy aggression
The good news is that your puppy is also perfectly normal, but the bad news is that he is going to keep on biting for a while.
All small puppies bite.  They bite hard.  And it hurts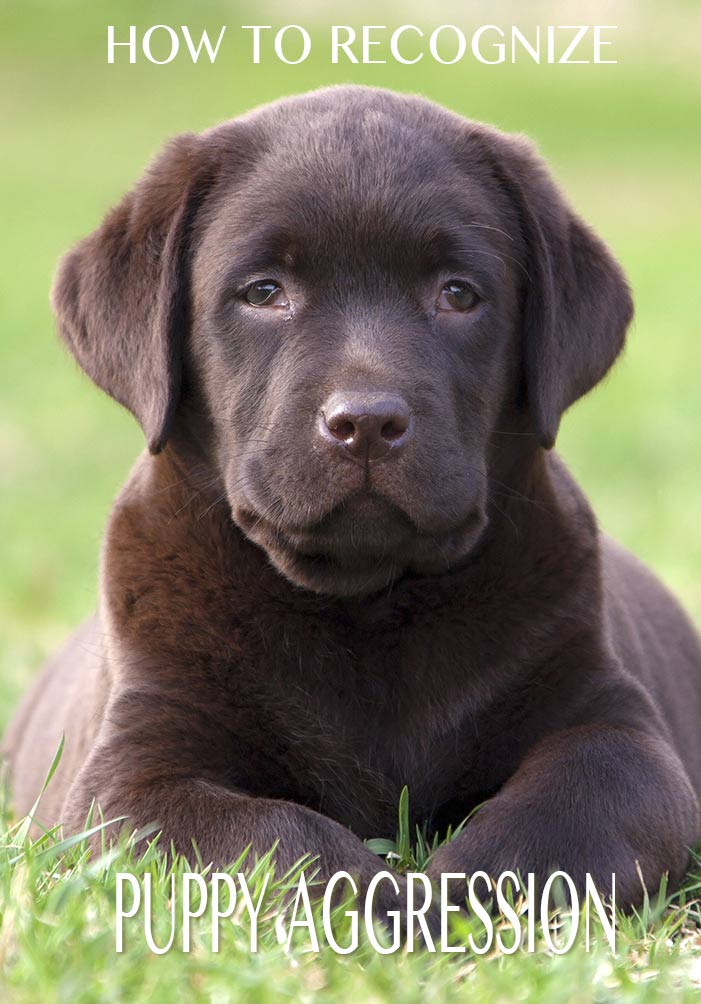 If your tiny eight week old bundle has not started biting –  he will.  Just as soon as he settles in and feels at home.
Many Labrador puppies are a bit subdued for the first few days in their new home.  Once they have their feet under the table, the biting starts in earnest.
Once again, this is normal puppy play.  Every puppy, happy and relaxed enough around you to be playful, will bite!  At least to begin with.
It takes time to teach a puppy not to bite, and I'll show you how to do that.  But for a while,  you will be subjected to regular assaults with a sharp little set of needles.
You are going to have to be tough,  and you will need to protect small children from the puppy's attentions for a while longer.
Puppy aggression towards children
Because puppy play can seem like aggression, small children can become very upset by it.
Not only does the biting hurt, it also feels like their puppy doesn't love them.
Of course this isn't true.
The puppy is as loving as ever – he just doesn't understand how to play gently yet.
And unfortunately, children tend to exacerbate puppy growling and biting by getting the puppy even more excited.
A good set of baby gates in doorways around the house, will help you to separate the puppy from your kids to give them both chance to calm down
How do I stop aggressive puppy biting?
There are several articles on the website about why puppies bite,  and how to stop it.
our main guide to coping with puppy biting
.  Do read right through it, even if you don't read anything else.  It will take you through the whole process of teaching your puppy not to bite, from start to finish.
Here are some more helpful  links:
You'll also need a good selection of puppy teething or chew toys and a safe place to put your puppy when he is over excited.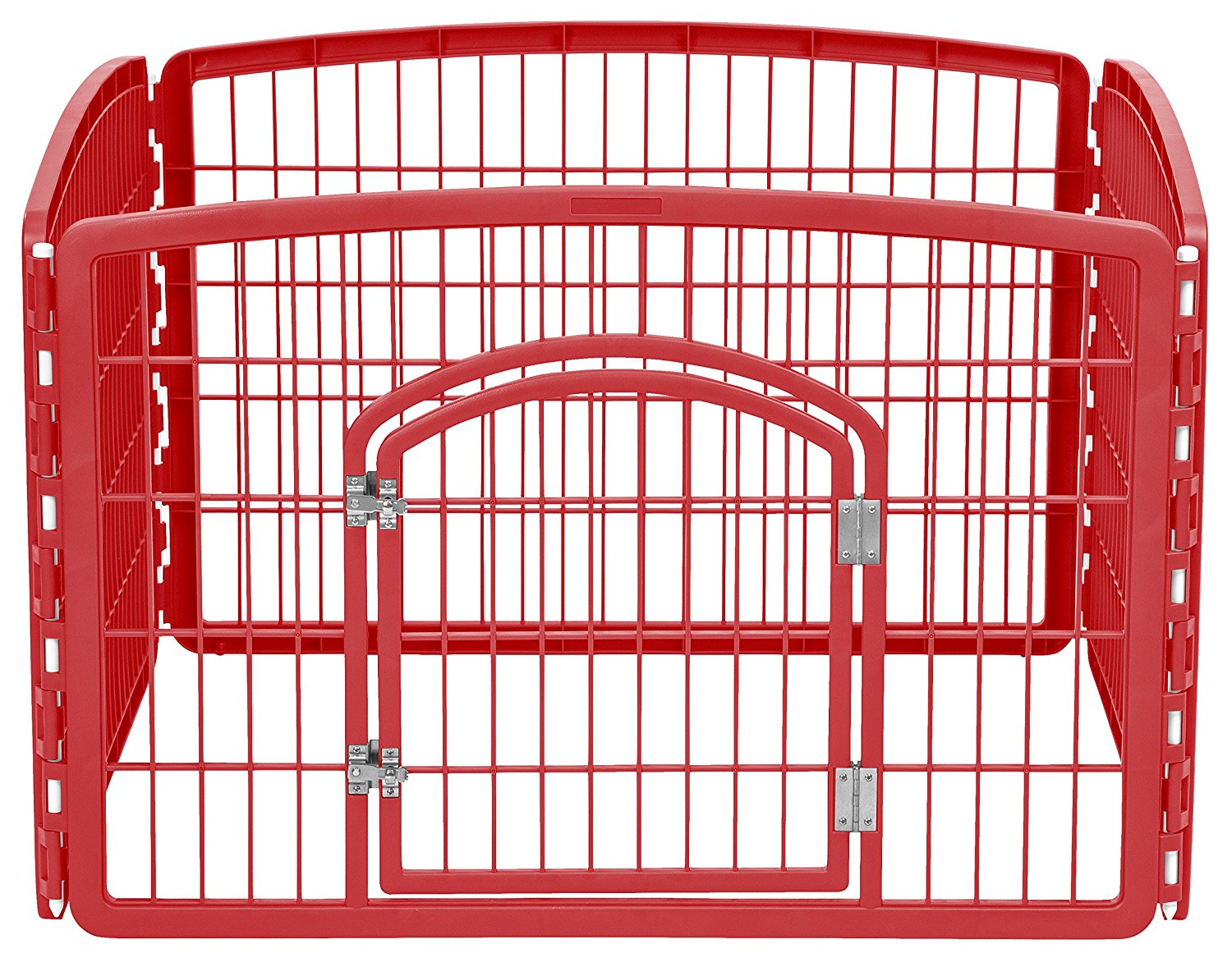 What about older puppies?
Most puppies are through the worst of the biting phase by about four months old.  After about six months of age, some puppies begin to show signs of fear aggression.
This means that they may growl or snap at strangers who approach or try to touch them.
The way to avoid this behavior and raise a friendly puppy is to thoroughly socialize your pup.  You should  follow our socialization steps as soon as your puppy arrives in your home
Nipping and rough behavior in bigger puppies
Some puppies at around six to nine months old have a resurgence of nipping and rough behaviour.
Often ending in tears when children are involved.
This kind of biting is almost always linked to inappropriate play.  Often involving children.  Dogs, especially young dogs, are not great at reading behavioral signals from small children and vice versa.
There is a bit of a language barrier here, and children can get hurt.   The article on playing safely with your Labrador  will help you with this.
True aggression in puppies
It is important that you also know how to recognise and deal with true aggression.
Genuine aggression is very rare in small puppies and is almost always linked to extreme fear.
A puppy that bites from fear will normally attempt to hide and withdraw first.
He will not be attacking your slippers or hanging on to your toddler's jumper,  he will be cowering in a corner.
The frightened puppy will normally growl fairly quietly and try to avoid contact before he bites,  whereas the playing  puppy will initiate contact and growl more and more fiercely once the biting game is underway.
A frightened puppy will also often give off a distinctive musky smell.
Helping a frightened puppy
If you find your puppy cowering under a chair and not wanting to be touched, you can be sure that someone or something has really frightened him.
Don't dive in and grab him.  Remove the source of fear (toddlers, and other dogs are common culprits) and take your time over reassuring him.  Fetch some nice food,  and tempt him out.
Check him over to make sure he isn't hurt, limping, bleeding etc.  He may need plenty of cuddles for a while, but try not to worry.
Most puppies are very resilient and soon bounce back from an unpleasant experience.  All you can do now is try to figure out what happened and make sure it can't happen again.
Aggression in older puppies
Most commonly, biting and rough behaviour in older puppies is due to the causes discussed above.
True aggression in older puppies is normally caused by fear and anxiety due to insufficient socialisation.
To avoid this kind of aggression it is vital to socialise puppies carefully, so that they are not afraid of anything.
Sometimes, aggression in older puppies is due to resources guarding.   This is clearly not to do with play.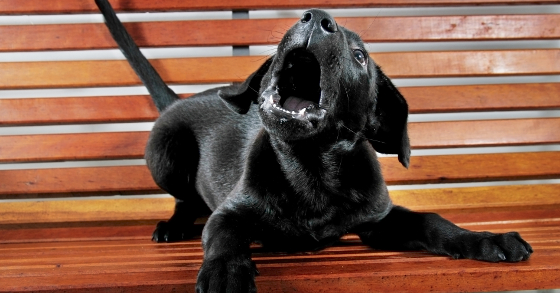 The puppy may growl when people approach his food bowl, or his bed for example.
How to train an aggressive puppy
Some years ago, people believed that resource guarding could be trained out of puppies with dominance and pack leadership strategies.
We now know that these techniques only suppress the problem and make the dog feel more threatened.  They can be extremely dangerous and lead to bites and ultimately the destruction of the dog. That link above explains why.
Modern training techniques use positive reinforcement and counter conditioning to change the way that dogs feel about having people near their food and other resources.
Food aggression in puppies
Here's where to go if your puppy has started growling over food: How to Stop Your Puppy Or Dog Growling When Eating
With most resource guarding problems, especially in older puppies and adult dogs, it is best to get professional help from a behaviorist.  Your vet should be able to recommend one.
Aggressive puppy – summary
Growling and biting are not usually signs of aggression in puppies. Noisy, aggressive-looking, play is a developmental phase that all puppies go through.
With your help, it will soon be over.
Serious aggression in small puppies is rare and usually only occurs in puppies that are terrified, and that have been prevented from hiding.
So rest assured, no matter how fierce your little puppy sounds when he hangs on to your shoes or attacks your fingers, it is not a sign of true aggression.
It is normal puppy play.
More information on puppies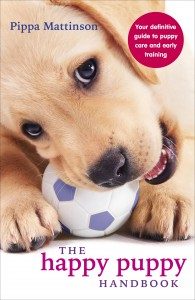 Don't forget,  if you need help and support with your new puppy,  drop into the forum where you can chat with experienced Labrador owners, and with others going through the same problems.
You can also check out our Labrador Puppies section for more help and advice on managing a Labrador in the biting stage!
For a complete guide to raising a healthy and happy puppy don't miss The Happy Puppy Handbook.
The Happy Puppy Handbook covers every aspect of life with a small puppy.
The book will help you prepare your home for the new arrival, and get your puppy off to a great start with potty training, socialisation and early obedience.
The Happy Puppy Handbook is available worldwide.