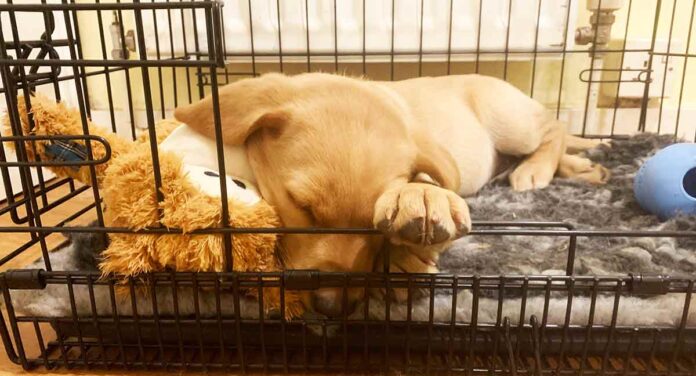 The benefits of crating your dog include protecting your possessions from those sharp puppy teeth, simplifying your potty training progress, and keeping your puppy safe when you are not watching over them.
There are downsides to dog crates though and it's important that these are addressed. I can remember when crates first appeared on the scene thinking "putting a dog in a cage, what a horrible idea". I'm going to explain why I changed my mind, and how you can make sure that you and your puppy both benefit from crate time.
Contents
If you decide to use a crate for your puppy or older dog, do check out our detailed guide to crate training. This will give you all the information you need to make crate training a success.
What Is A Dog Crate?
A dog crate is simply a wire cage sturdy enough to contain a dog for a limited period of time. Wire crates are collapsible and fold flat so that you can store them or transport them.
Most crates come with a plastic tray that slides out for cleaning, you'll need to buy your own crate bed or line the bottom with an old blanket.
You can also get solid plastic crates that are designed for transporting dogs, these tend to be more expensive and heavier.
The Benefits Of Crating A Dog
The main benefits of a dog crate are:
Helping the puppy to toilet in appropriate places and at appropriate times
Preventing the puppy from damaging your possessions when you cannot supervise him
Keeping the puppy safe when you cannot supervise him
Teaching your dog to relax in a crate
Helping with toilet training
All puppies will instinctively avoid messing in their beds. So when you confine your puppy to a small crate, they will (within reason) wait to be released before toileting. This makes house training a whole lot easier, provided you don't exceed the limits of your small puppy's bladder capacity.

When you take your puppy outside after they have been shut in the crate for a while, they will almost certainly then oblige you when you take them to their toilet area.
It's a good idea to prevent your puppy from accessing the floor for the last ten to fifteen minutes before their next bathroom break is due. The crate is a great place to put your puppy for this ten minutes or so, if you are too busy to carry them or cuddle them on your lap.
Protecting your possessions
Labrador puppies chew things. Your things. Favourite chew toys are chair legs and baseboads, shoes, and children's toys. Not to mention their own beds, and anything they find lying on the floor.
Giving your puppy their own chew toys may help, but it will not prevent most puppies from chewing entirely. Some dogs chew more than others. Most Labs will chew quite a lot until they are over a year old. A few dogs, may be keen chewers for several more months.
I find many Labradors are prone to causing occasional damage through chewing up right up until about their second birthday. This is about the time you can usually safely purchase a nice fancy bed and they won't destroy it. Until then, anything you provide is likely to be shredded. So don't be tempted to spend a small mortgage on a designer dog duvet!
For those times when you cannot watch the puppy, the crate will protect your furniture and favourite shoes from his very sharp teeth and strong little jaws.
Keeping your puppy safe
Chewing does not just damage your stuff, it puts your puppy at risk. Electric cables are very attractive to puppies, and they sometimes swallow chunks of whatever they are chewing. The crate can prevent your puppy choking, being poisoned, or being electrocuted while you are out shopping or getting your kids ready for school.
In busy households, at busy times of the day, small puppies are at risk of being stepped on or tripped over, the crate is a place of safety at these times and gives the puppy a place to relax when all around them is chaotic.
Small children don't understand that puppies get exhausted or over-excited and the crate is a great place for your puppy to recharge his batteries safely without being pulled around and prodded by your kids. Baby gates can also be very useful for this purpose!
Why Dogs Need To Learn To Relax In A Crate
Many dogs will have to be crated at some point in their lives. Crate rest is an inevitable part of recovery after some types of surgery. Crates are required for airline flights, and they provide safe spaces in vehicles on long journeys. Any dog admitted to the animal hospital will be in some kind of crate or cage for the duration of their stay.
A dog that is accustomed to a crate and is able to relax when confined is far less likely to be stressed when they have to be crated in an emergency, for transport, or because they are sick.
What Can Go Wrong With Crating A Dog? (And How To Make Sure It Doesn't)
While a crate can be a great tool, it can also be a source of cruelty. Problems can arise with crate use if the crate is too small, too big, or if a dog is shut in there for too long (remember that your puppy's bladder control is poor for the first few months). Problems can also arise if crating is introduced inappropriately and the puppy or dog is, or becomes, afraid of the crate.
Crate size
It's important that your dog crate is not too small. Make sure that your dog can stand, and sit up without banging their head on the top of the crate. They should also be able to turn around, and stretch out on their side in their crate.
When you are potty training your puppy the crate should not be too large. In a very big crate your puppy will relax at one end and pee at the other.  You can buy dividers for some crates so that you can make the available space bigger for your puppy as he grows.  This saves you buying another crate later on.
Crate times
As a rule of thumb I don't leave puppies under three months old in a crate for more than an hour, and that would only be after introducing the puppy very gradually and carefully to being shut in the crate. You'll find more information on how long you can leave a puppy in a crate, in my crate training guide.
If you have recently brought home a rescue dog, remember that they may never have experienced a crate or may associate crates with unhappy experiences. So always introduce a crate slowly and gradually to adult dogs too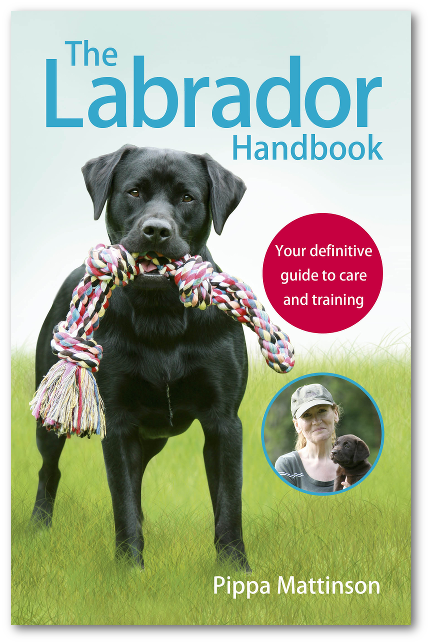 Car crates
Most puppy owners will benefit from a car crate too.   A young dog can do an enormous amount of damage to the interior of a vehicle in a surprisingly small window of time.
A car crate will protect your puppy from being thrown around the vehicle in the event of an accident and protects the inside of your car from your puppy's teeth whilst you are driving or unloading.
How about you? Do you think crates are a good thing? Did you use one for your puppy? Share your thoughts in the comments box below.
The Labrador Site Founder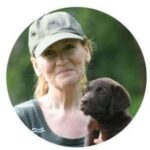 Pippa Mattinson is the best selling author of The Happy Puppy Handbook, the Labrador Handbook, Choosing The Perfect Puppy, and Total Recall.
She is also the founder of the Gundog Trust and the Dogsnet Online Training Program 
Pippa's online training courses were launched in 2019 and you can find the latest course dates on the Dogsnet website