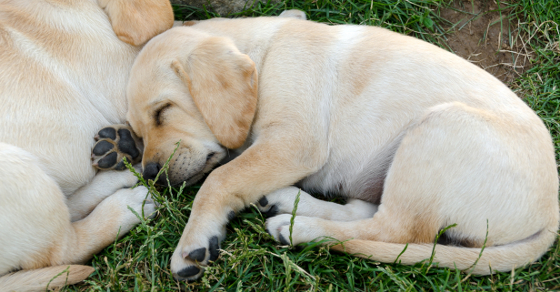 I can remember when crates first appeared on the scene thinking "putting a dog in a cage, what a horrible idea". I know a lot of people initially feel like this. But our minds are soon changed when we discover the benefits of crate training for puppies.
The benefits of a dog crate
The main benefits of a dog crate are:
Helping the puppy to toilet in appropriate places and at appropriate times
Preventing the puppy from damaging your possessions when you cannot supervise him
Keeping the puppy safe when you cannot supervise him
Helping with toilet training
Because all puppies will avoid messing in their beds, a Labrador puppy confined to a small crate will within reason, wait to be released before toileting. This makes house training a whole lot easier.

It means that you can take the puppy outside immediately he is released from his crate And if he has been shut it the crate for a while, he will almost certainly then oblige you when you take him to his toilet area.
Problems can arise if the crate is too big (the puppy will simply sleep at one end and wee at the other Or if he is shut in there for too long (his bladder control is poor for the first few months). Provided you are sensible and do not shut your labrador puppy in his crate for too long, using a crate will help you get him clean and dry more quickly.
You can buy dividers for some crates so that you can make the available space bigger for your puppy as he grows. This saves you buying another crate later on.
Protecting your possessions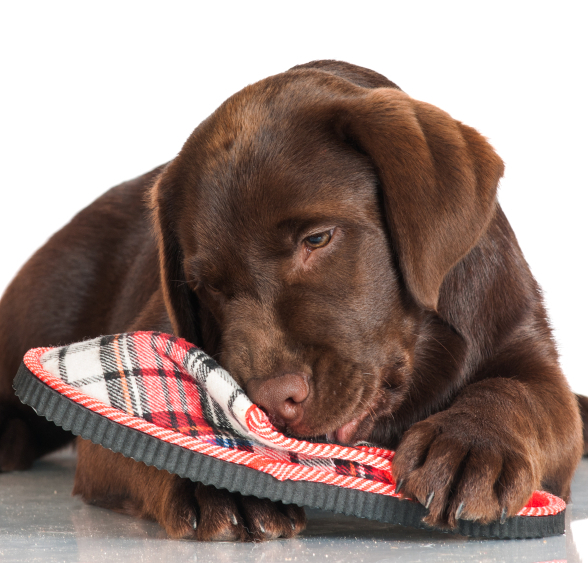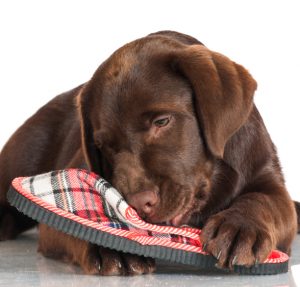 Labrador puppies chew things. Your things. Favourite chew toys are chair legs and struts, shoes, children's toys. Not to mention their own beds, and anything they find lying on the floor. Anything.
Providing the puppy with his own chew toys may help, but it will not prevent most puppies from chewing entirely. Some dogs chew more than others, but most labs will chew quite a lot until they are over a year old.
Some dogs, may be keen chewers for several more months. In fact, I find many Labradors are prone to causing occasional damage through chewing up right up until about their second birthday. This is about the time you can usually safely purchase a nice fancy bed and they won't destroy it. Until then, anything you provide is likely to be shredded. So don't spend a small mortgage on a designer dog duvet.
For those times when you cannot watch the puppy, the crate will protect your furniture and favourite shoes from his very sharp teeth and strong little jaws.
Keeping the puppy safe
Chewing does not just damage your stuff, it puts your puppy at risk. Electric cables are very attractive to puppies, and they sometimes swallow chunks of whatever they are chewing. The crate can prevent your puppy choking, being poisoned, or being electrocuted whilst you are out shopping or getting the kids ready for school.
In busy households, at busy times of the day, small puppies are at risk of being stepped on or tripped over, the crate is a place of safety at these times and gives the puppy a place to relax when all around him is chaotic. Small children don't understand that puppies get exhausted or over-excited and the crate is a great place for him to recharge his batteries safely without being pulled around and prodded by your toddler. Baby gates can also be very useful for this purpose!
The only downside to crates is that occasionally people leave dogs in them for too long. Time spent in a crate needs to be limited, it cannot be used as a substitute for a kennel. Used appropriately, crates are a useful and important invention that benefit most new puppies and their owners alike.
Car crates
Most puppy owners will benefit from a car crate too. A young dog can do an enormous amount of damage to the interior of a car in a surprisingly small window of time.
A car crate will protect your puppy from being thrown around the vehicle in the event of an accident and protects the inside of your car from your puppy's teeth whilst you are driving or unloading.
How about you? Do you think crates are a good thing? Did you use one for your puppy? Share your thoughts in the comments box below.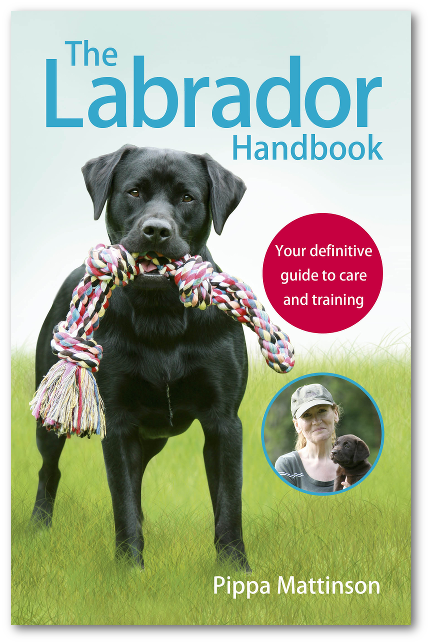 More help and information
If you enjoy Pippa's articles, you will love her new book: It's called The Labrador Handbook – a definitive guide to care and training. And it comes out on the 1st October 2015
This article was updated on 7th July 2014, to include helpful new information and links to other relevant articles. Originally published 6th March 2012.
Readers Also Liked
The Labrador Site Founder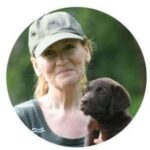 Pippa Mattinson is the best selling author of The Happy Puppy Handbook, the Labrador Handbook, Choosing The Perfect Puppy, and Total Recall.
She is also the founder of the Gundog Trust and the Dogsnet Online Training Program 
Pippa's online training courses were launched in 2019 and you can find the latest course dates on the Dogsnet website