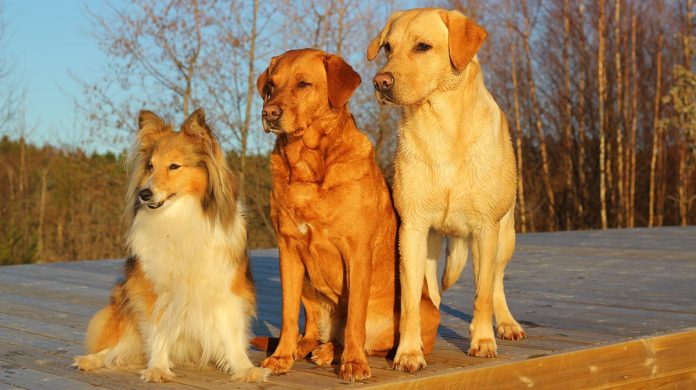 People often ask me about alpha dog training. About how to recognize signs of dog dominance in their Labs. I get concerned emails from owners of three month old puppies that are worried he is beginning to show signs of dominance' And people want to talk to me about whether pinning a puppy down is a good idea. They want to be kind but they are genuinely afraid that their Labrador may grow up to be a threat to them
Dog dominance is the idea that some of our canine companions have a drive to take control of their pack, and that this extends to their human family. That they have an instinctive need to overpower you and exert their authority. And that your family pet could at any moment decide they are in charge because you let them eat before you or win at a game of tug. Fortunately, it is incredibly unlikely that your pet is going to try to rule the roost, or indeed has any urge to do so. Today I'll share all the latest research on alpha dog theory, why you don't need to worry and what it really means when your dog sits on your feet or wants to share your meal.
Contents
You may have seen TV programmes where desperate dog owners are taught to 'take charge' and become the leader of the pack, or alpha over their dog. Where displays of dominance and power over the dog cause it to submit and become calm, and motionless. You may be confident that it is essential to be a 'pack leader' if life with a Labrador is to run smoothly. You may even have learned some strategies to use, that let your dog know 'his place'. Strategies like always eating before your dog, and going through doorways in front of him.
We'll have a look at strategies aimed at reducing dog dominance in a moment, and find out just how useful they really are.
The Alpha Dog Definition
In some groups of social animals, a hierarchy commonly develops in which individuals acquire a 'rank' or position within the group. Each member of the group defers to those with a higher rank and has power over those with a lower rank. The individual at the top – the one with the highest rank – is the alpha – or leader. A number of primate species, which of course are closely related to humans, maintain this kind of social order, and for a very long time, we believed that dogs do too.
Alpha dog training
In accordance with the widespread belief in the principles of pack leadership and the alpha dog role, for many years people used training methods specifically designed to combat the desire of their dog to become world leader. Alpha dog training involved strategies believed to be used by wolves and wild dogs to maintain their position as alpha.
They included encouraging dog owners to force their pets to watch the owner eat before allowing the dog is fed. And sitting in the dog's bed to show him he doesn't get the best sleeping places. They also included rolling dogs on their backs and pinning them to the ground in a subservient position. A technique that became known as the Alpha Roll. People adopted these techniques because they were widely promoted in popular dog training books of their time. And because many professional dog trainers recommended them.
These dog owners were naturally concerned about maintaining proper control over this large animal that they had bought into their home, and who was living alongside their children. Judging from the questions I am regularly asked, there is still widespread concern about dog dominance today. And make no mistake, it is right and proper for you to be concerned about controlling your dog. So, I wonder, who is the alpha in your house? Is it you? Or the dog? And does it actually matter? Let's find out!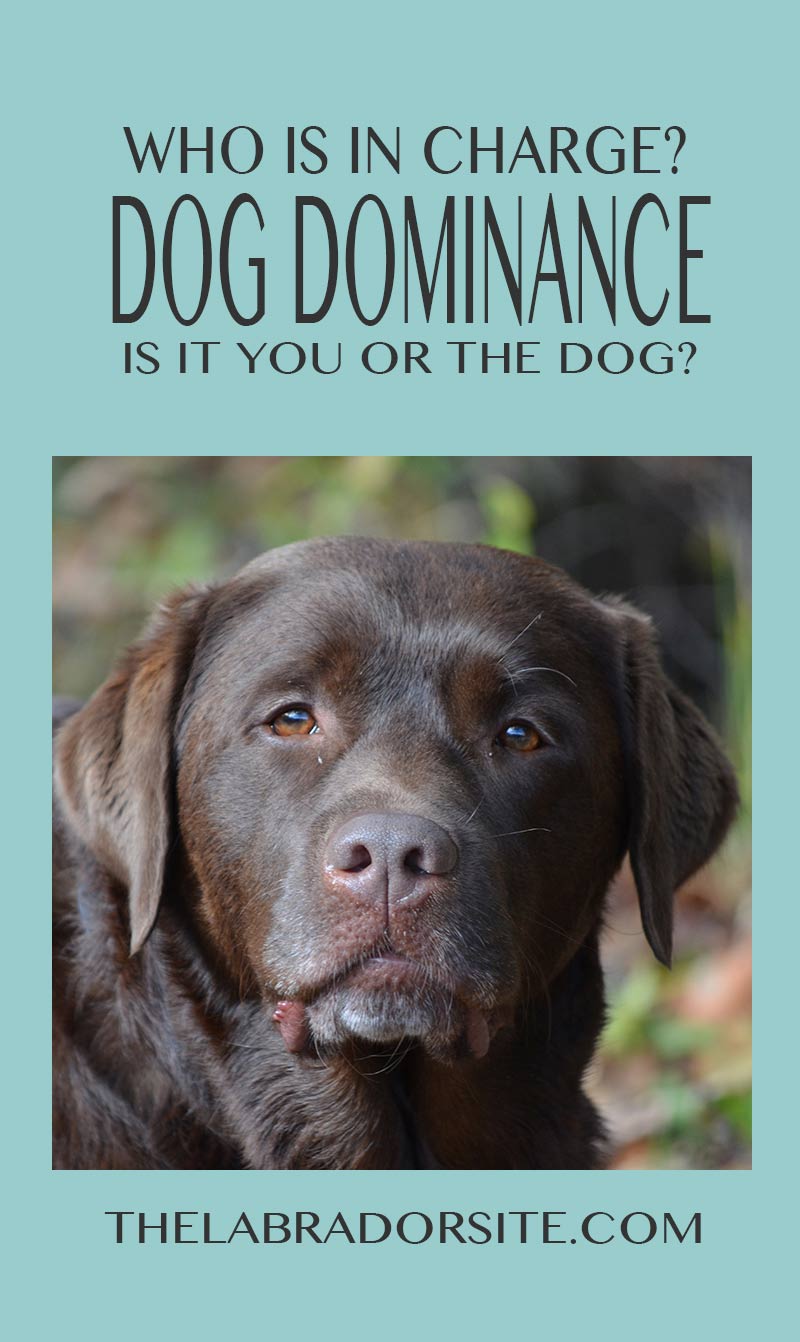 Wolf pack hierarchy
For a long time, it was believed that dogs are naturally pack animals that organize themselves into a strongly defined hierarchy maintained by aggression or force. We came to this conclusion because we believed that dogs were descended from wolves. And because, as we have seen, we thought that wolves organized themselves in this way.
Some wolf studies had demonstrated this aggressive 'struggle for dominance' between wolves. These studies were to shape the world of dog training for several generations. Yet within just a few decades, they had been proven to be utterly wrong in their conclusions This is probably not surprising as the wolves that were studied were mostly captive, rather than wild, and the captive groups included unrelated animals. More recent studies of wild wolves have revealed a very different story.
Wolf pack behavior
Our previous understanding of how wolves behave was seriously flawed. We now know that wolves live in family groups. Often led by the parents. Aggression between members of the family, including displays of 'dominance' is very unusual, and life within the 'pack' is peaceful. There is no constant jostling for leadership. No take or be taken, no kill or be killed.
Wolves are likely to be aggressive towards unrelated wolves as these may be a threat to the limited resources available to the wolf family at any one time. This natural aggression towards strange wolves is what caused the odd results seen in those original studies of captive unrelated wolves. But wolf leaders in the wild do not 'Alpha Roll' other members of their family or 'pack'. The rolling on the back of one wolf to another is offered voluntarily as a sign of submission or peaceful intent. Not forced upon him by another wolf. Many dogs have inherited this appeasement behavior and will roll on their back if they feel at all threatened.
Alpha dog meaning
So if wolves do not fight for 'rank' within the pack, what about dogs? Surely in a group of dogs there will be a hierarchy? Well, no. It appears we were wrong again. A hierarchy implies that the higher ranking individuals have special privileges based on their rank. They get 'first pick' of food, mates and a whole range of other resources. There is simply no evidence that groups of dogs, either domestic or feral, arrange themselves in any kind of hierarchy of this nature.
Modern studies of feral and village dogs living semi wild on the fringes of human society suggest that dogs place even less value on dominance or leadership than wolves do. There are in fact no 'alpha' dogs. Alpha dog meaning highest ranking dog, is simply no longer a valid concept
Dog pack behavior
The behavior we see in dogs that form social groups or gatherings is not pack behavior in the way that we once thought it was. One dog might fight for food, another might fight for a mate, but there is no fixed 'position' to be won or gained through fighting, no working up through the ranks, until the dog reaches the position of ultimate power. That creature of legend, the 'Pack Leader' or 'Alpha' dog is a myth. And one that has done a great deal of harm in the dog training world.
It's all about resources
Dogs will certainly fight to protect resources if they are scarce or highly valued, but most appear to have no interest in leadership or dominance. So, if your dog growls at you when you try and pull him off your bed, he is growling to protect what he would rather like to claim as his bed, not to try and take over your family.
This may seem like quite a subtle difference, as growling is not acceptable, but understanding what causes the growling makes the world of difference to how we can successfully treat problems like resource guarding.
We now know that treating resource guarding by bullying and intimidating the dog is counter productive. In fact, it simply makes the dog feel more threatened and is likely to end up in a bite. You'll find more information on tackling resource guarding in dogs, in our article on dealing with dogs that growl.
The dangers of 'rank reduction'
This recognition of the misleading emphasis we used to place on dominance is an important and significant development in our understanding of canine behavior, but it is one that some sections of the dog training community have been slow to grasp.
There are still dog trainers that believe many or even most dogs will attempt to engage in a dominance struggle with their families. And that the only way to have the control over the dog is to ensure that you dominate him at all times. They use a range of techniques that are collectively known as rank reduction strategies. These are strategies like the ones described above which attempt to impose a hierarchy in dog owning families, to ensure that the dog remains at the bottom of 'the heap'.
These trainers may tell you that you must not let your dog place his paw on you, as this is a sign of dominance in dogs, and that you should eat a small biscuit in front of your dog before giving him his dinner, because 'pack leaders' eat first.
We now know that these techniques are completely pointless. We also know that some rank reduction techniques such as alpha rolls, can be dangerous. This is because they make the dog feel so threatened that he may even fear for his life and be forced to defend himself.
So why do dogs submit when they are pinned down?
Many dogs will submit, become calm and very still when rolled over or intimidated. This behavior is alien to dogs and very threatening. A dog in fear of his life from another dog may try to avert the threat by keeping extremely still. He will do the same when terrified of a human being.
This has nothing whatever to do with dominance. The dog is simply trying to stay alive. In extreme cases he will 'shut down' with fear and may appear semi-conscious. What about all those other behaviors that you've heard are signs of dominance?
Why does my dog lay on me?
If you lay on the floor, some dogs will climb on you or even lay on you. This is not dog dominance. It's just what dogs do. Dogs like body contact and often sleep together in a heap. They see no reason to exclude you from this social event. Some young dogs will also try to hump anyone that sits on the floor. This is often play, or may be a hormonal response to your position. If it happens, stand up, and make a mental note not to fool around with big dogs on the floor! (See how to play safely with a large dog.)
Why do dogs sit on your feet?
And what about dogs that sit on your feet? No sooner have you plonked yourself in a chair than the dog is firmly positioned on top of your foot. No doubt you have read that that is a sign of dominance too. Well it isn't. Dog's sit on your feet for two reasons
Because your feet are warmer than the floor.
Because your feet move when you do – giving your dog a first warning that you are about to leave the room.
If your dog does this, he may be worried you are going to leave without him.
Dog behavior problems and aggression
All this does not mean that no dogs are aggressive. Modern trainers are not in denial about the potential for harm by large aggressive dogs. But our new knowledge has changed the way we handle these problems Aggression comes from fear and resource guarding from fear of losing resources. Some breeds of dog and some individual dogs are more prone to guarding and fear aggression than others.
These are topics for another day, but if you have concerns over your own dogs behavior then seek help from your veterinary surgeon or qualified behaviorist. Do not attempt to dominate or outrank your dog. You'll risk making things much worse.
The changing tide
It is true that dogs are descended from wolves. It was disputed for a while, and dogs were classified as a separate species – Canis familiaris. DNA tests have now put an end to the debate.
Dogs and wolves are in fact a single species – Canis lupus. And dogs have been reclassified to reflect that discovery. They are now Canis lupus familiaris. But while some were right about dogs being essentially wolves, our observations of wolf behavior were deeply flawed. And the dog training methodology based on these observations was flawed too.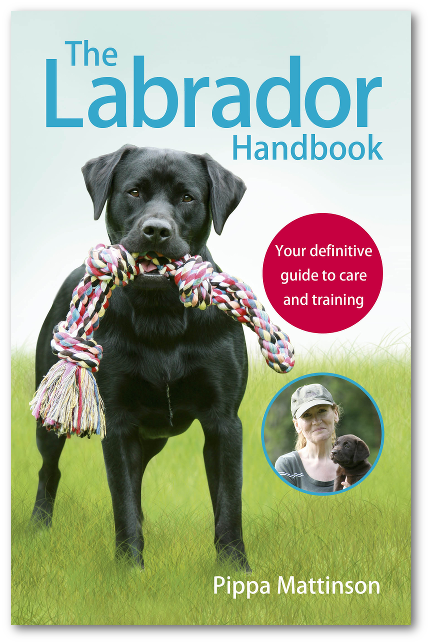 For some years now, the evidence has been building up. It has become increasingly clear that dominance, as far as managing dogs is concerned, is dead. Conclusions about dogs based on these observations underpinned much of our traditional dog training practices. The tide of opinion changed slowly at first but has now gathered speed. Virtually all animal behaviorists, and the entire veterinary profession have now abandoned dominance as having any relevance to the vast majority of interactions between dogs and human beings, or any place in the training of our dogs.
You can read the American Veterinary Society's position statement on dominance theory. This pretty much sums it up. The truth is, most Labradors would probably be as bored by the idea of dominance, as scientists are of hearing about it from die hard traditional dog trainers.
Your dog may covet your armchair, but he does not want to pay the bills, tell you where to sit, or make you wait in turn. He'd rather play ball. And if the article or book you just read tells you to be alpha to your dog, or pack leader, it tells you more about the author and how out of date they are, than it tells you about your dog.
The Labrador Site Founder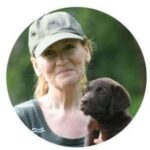 Pippa Mattinson is the best selling author of The Happy Puppy Handbook, the Labrador Handbook, Choosing The Perfect Puppy, and Total Recall.
She is also the founder of the Gundog Trust and the Dogsnet Online Training Program 
Pippa's online training courses were launched in 2019 and you can find the latest course dates on the Dogsnet website