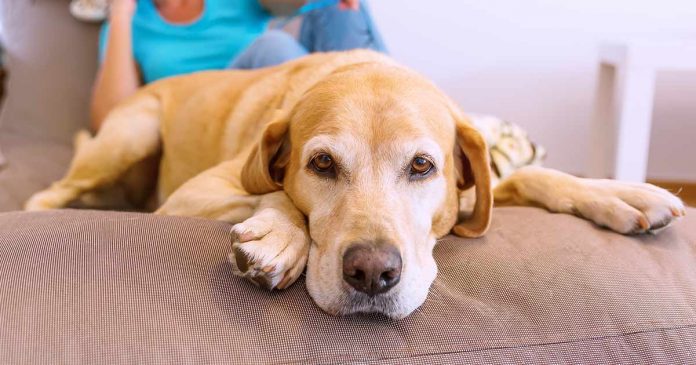 Labradors shed a lot, especially at when the seasons change. But dealing with your Labrador shedding is not as bad as you might think, if you have the right tools and a good routine in place. I quickly brush my Labs once a week with a slicker or pin brush, and then give them a thorough grooming with a deshedding tool a few times a year when they blow their coats. It's a spectacular event, and leaves a huge pile of groomed off fluff that I leave out for the birds to use in their nests!
Contents
All Retrievers shed – at times profusely. If you let the hair build up, either on your dog or in your home, it can be quite overwhelming. Coping with Labrador shedding is much easier if you adopt a daily grooming and vacuuming routine. Getting the right tools to help you can really make a difference.
Why Do Dogs Shed?
Many wild animals, especially those that live in parts of the world with very different seasons, have a twice yearly 'moult'. Usually in spring and again as winter approaches. During the spring moult, the animal sheds its thick winter coat, and grows a sleek new coat for the summer season.
As the temperature falls, the summer coat is shed and replaced by a nice warm winter one. In some animals, the winter coat is even a different color from the summer one, to give the animal camouflage against a very different kind of terrain – think of arctic hares and foxes. So shedding offers animals a chance to replace their coat to reflect the changing seasons
Although dogs don't need to be camouflaged, and most modern dogs live in houses were the temperature is fairly consistent all year around, the 'moult' still occurs to a greater of lesser extent in most breeds of dog. But dogs no longer roam the tundra, and battle the elements. Dogs have been living alongside humans for thousands of year. So why does shedding still persist? It's all to do with evolution.
Do Labs Shed All The Time?
Those of you that have lived with a Labrador or two, will be smiling at this question. But if you are just starting out on your Labrador adventure, you should know that all Labs do shed some hair, most of the time. And it is something you need to be prepared for.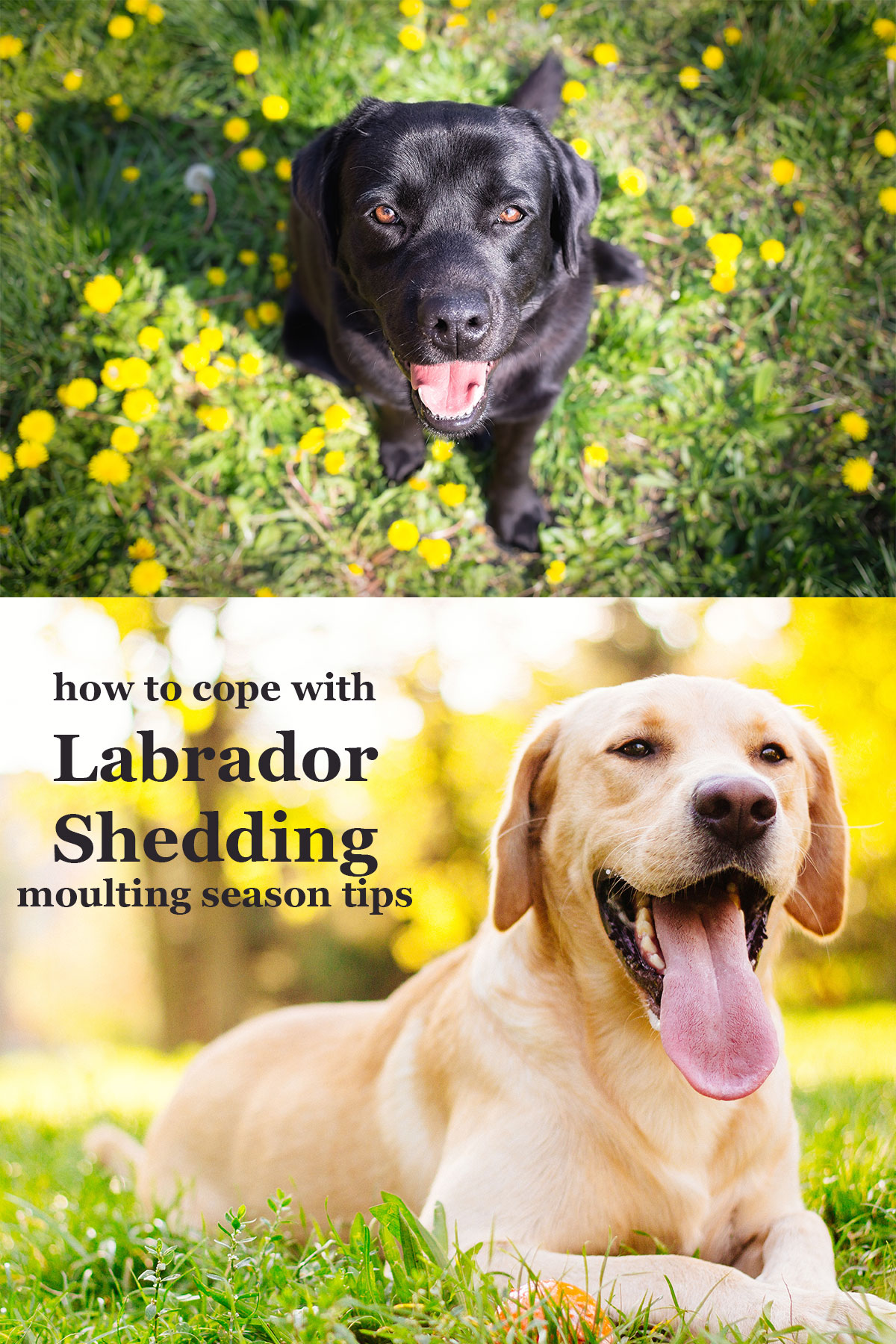 Why does my Labrador shed so much?
When you empty your vacuum cleaner for the tenth time in a day, and wonder if you should dress yourself entirely in yellow to co-ordinate with your yellow Labrador, or fit your house in black carpets to go with your black lab, you may just be asking yourself "why does my Labrador shed so much?" Labrador shedding seems to go on and on.
And while some Labradors are thoughtful enough to shed in a big burst two or even three times a year, many others seem to just shed all year around. This may be connected with the consistent temperature in many modern houses, as dogs that are kennelled often seem to shed in a more seasonal pattern. So why is it, that Labradors shed so much more than some other breeds? The answer lies in your Labradors incredible coat.
A special double coat
Labradors have a neat, short coat, but it is particularly dense compared with many breeds and that is because the Labrador has what we call a 'double coat'. Underneath that glossy waterproof outer layer, is a dense warm undercoat designed to keep your dog snug while swimming in icy water.
This is great for your dog, and partly explains his enthusiasm for swimming at any time of year. He simply doesn't feel the cold. It isn't however, so great for your furniture, your clothes, or your vacuum cleaner. So let's take a look now at ways we can help get on top of this problem
Do yellow Labradors shed more than black Labradors?
People sometimes ask me if a Labrador of one color sheds more than a Labrador of another color. Yellow more than black, black more than chocolate, and so on. The answer is, that to my knowledge, no-one has actually measured the quantity of hair that comes off different dogs, so we don't have a definitive answer for you. It is probable that some Labradors shed more than others. After all, they are all individuals. But whether or not this is linked to color I cannot say.
From a personal point of view, I have had labs of all three colors and noticed no real difference. Sometimes one color shows up more in the home than another. It probably depends on what color your carpets are. But essentially black labradors shed, chocolate labradors shed, and yellow Labradors shed too. You can't avoid it by buying a Labrador of a different color. It is probably worth pointing out at this point, that we need to deal with Labrador shedding in the same way, no matter what color your Labrador is. Let's give you some practical tips.
Home Comforts and Hairy Problems
Our bodies, and the bodies of our dogs, evolve beneficial biological systems over thousands of years. It is only recently we have been protected from the seasons with the luxury of air conditioning and central heating. This is a very short period of time in evolutionary terms
Evolving new biological systems takes a long time. So dogs still continue to shed because it benefitted their recent ancestors. When home comforts have been around for ten thousand years, maybe dogs won't shed any more. But I'm pretty sure you don't want to wait that long to get to grips with your hairy problem! Especially when you consider that Labradors shed even more than many other breeds of dog.
How to Cope with Labrador Shedding
I should first say that at the time of writing, there is no pill or potion that you can give your Lab to stop him shedding. The shedding process is entirely natural and normal, if annoying, and there is probably nothing you can or should do, to interfere with it. What you can do however is reduce the impact of a Labrador shedding on your life and home! The two key strategies are:
Removing hair from your Labrador
People often think of Labs as being dogs that don't need much grooming. And when they are not shedding, this is true. However, whenever your Labrador is losing his coat, daily or twice daily grooming is your friend. It will, I promise you, make a massive difference to the quantity of hair in your house.
We're not talking about ordinary grooming with a bristle brush. We are talking about a serious dead hair removal process. It's going to make your arms ache, but it will be worth it. There are a couple of grooming tools you might like to consider for this purpose. One is the zoom groom
The zoom groom
This funny looking contraption* is a very effective way of removing dead undercoat. Work from head to tail in firm strokes and watch the mounds of hair gather on the floor.
The zoom groom works well for all Labradors, but it can leave a bit of hair behind. For some of my dogs I use a somewhat more controversial tool to prevent my house turning into 'hair city'. And that tool is a Furminator.
The Furminator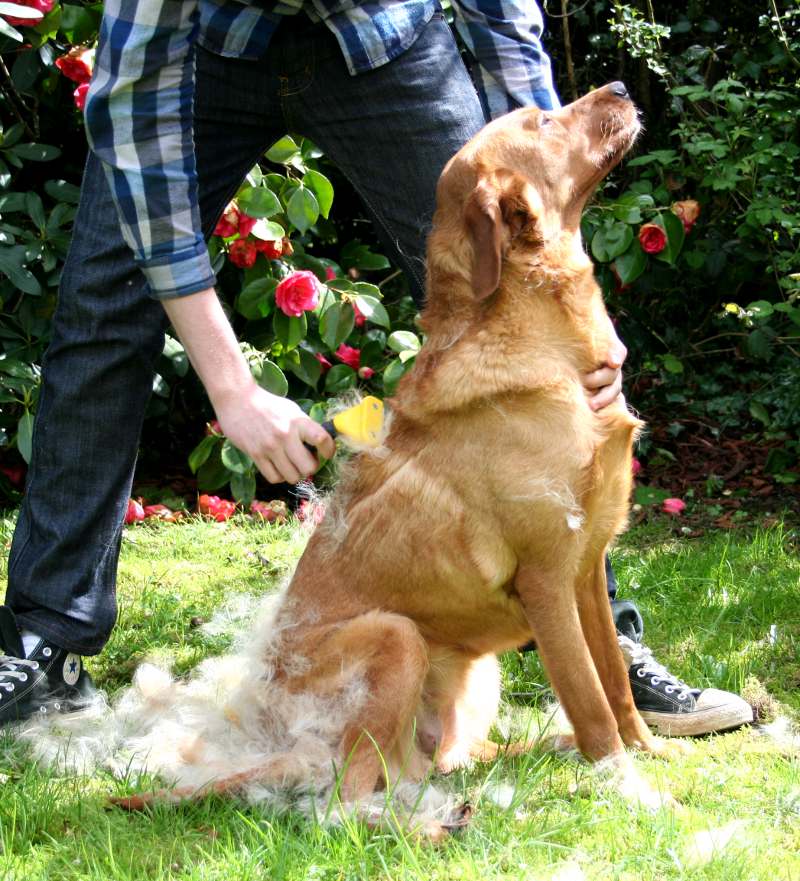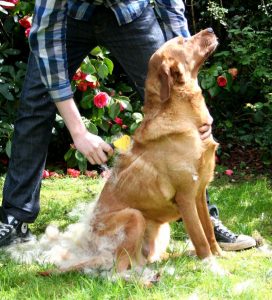 Whether or not this tool suits your dog may depend on his or her individual coat. Labradors really do vary in the way that they moult, and in the thickness of their coats Four year old Tess, pictured here, grows her new coat in, as the old one moults out. Sensible grooming with a Furminator has never revealed bare skin, or done any apparent damage to her coat. All that is stripped out, is soft, dead undercoat. Heaps and heaps and heaps of it. And not only does she feel better for it, so do my carpets.
This is the Furminator* I use, and I love it. Bear in mind that some people don't like this extraordinary grooming device and believe that it damages the coat. And for some dogs, it is not ideal.
Tess's elderly chocolate friend for example, moults a lot of her old coat out before she grows much of a new one. Using any kind of de-shedding equipment on her can leave bald patches and a furminator would probably be too 'aggressive' a tool. I don't think this is necessarily related to coat color, rather to the individual dog, and possibly to age.
Use your furminator carefully
Furminators seem to be a bit like marmite. You either love them or hate them. And I love them. They make a huge difference to my dogs and to my house. Remember to use with caution. This is a powerful tool. Don't just keep raking wildly, do a little at a time, and check to make sure you are not leaving bare patches or making the coat too thin.
Can I shave my Labrador?
Just a quick word about shaving: DON'T. People do occasionally ask me if its OK to shave their Labrador. And it isn't. I appreciate that all that hair can be a problem, but please don't shave your dog. He could end up with sunburn, he will be unable to control his temperature efficiently, and will be very vulnerable to cuts and injury.
Removing dog hair from your home
Once you are done removing hair from your dog, you'll want to remove the hair from your house. We've had quite a few discussions on this website, about the best vacuums for removing dog hair. Like many of you I love my handheld Dyson*, it does a brilliant job of sucking dog hair off carpets and furniture, and I like the 'bagless' technology.
You'll notice that hair drifts around the house, even into the parts that your dog is barred from.
Do robot vacuum cleaners pick up dog hair?
My dogs are not allowed upstairs, but doesn't stop the hair getting up there! So I have a robot vacuum cleaner that just potters around for an hour each morning.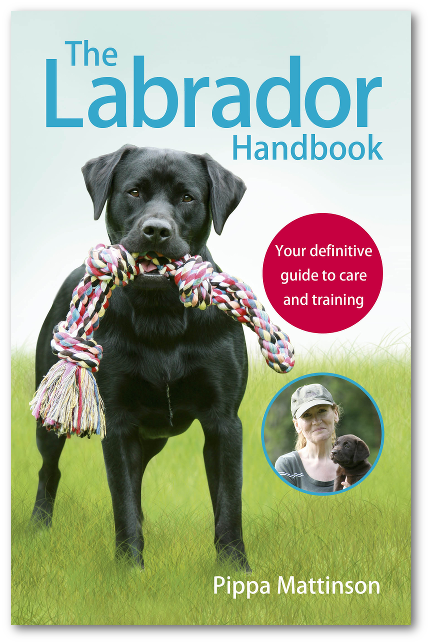 My elderly robot vacuum cleaner eventually died and I replaced it with a newer model. I love my Neato Botvac* so much I now have a second machine so both upstairs and downstairs get a good clean each morning. It has a bigger dustpan than the old one and does a really good job.
If you give the floor a good vacuuming with your standard cleaner before you use your robot for the first time, then set the robot to do its job every day, you'll find there is room to spare in the dustbox. The battery in mine lasts about an hour and a half which is plenty long enough and I charge it up daily.
Affiliate link disclosure: Links in this article marked with an * are affiliate links, and we may receive a small commission if you purchase these products. However, we selected them for inclusion independently, and all of the views expressed in this article are our own.
The Labrador Site Founder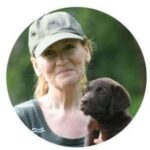 Pippa Mattinson is the best selling author of The Happy Puppy Handbook, the Labrador Handbook, Choosing The Perfect Puppy, and Total Recall.
She is also the founder of the Gundog Trust and the Dogsnet Online Training Program 
Pippa's online training courses were launched in 2019 and you can find the latest course dates on the Dogsnet website