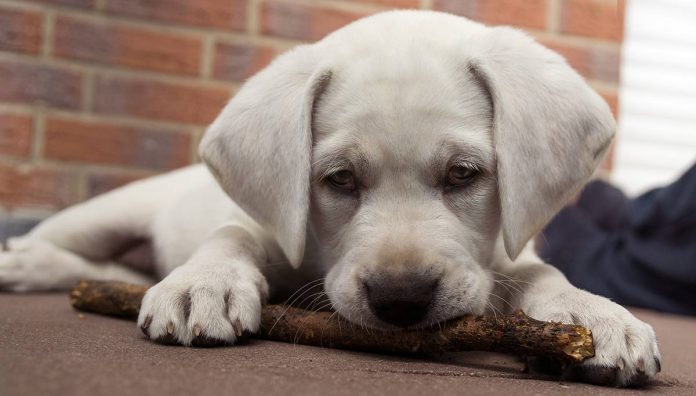 Living with an over excited puppy isn't easy. And every young dog has the potential to get themselves wound up. Snapping, snarling, growling, tugging at clothes and becoming increasing worked up, are all signs that you have a hyped up pup on your hands. They bite at your fingers, bounce up and down, and even race around in rapidly decreasing circles. Whilst some adults find these dizzy puppy moments amusing they aren't good for your new friend, or for your relationship with them. Fortunately with a combination of calm, training and prevention you can keep your puppy's enthusiasm dialled down to more appropriate levels.
Contents
Over-excitement lies at the heart of all kinds of common puppy problems. From frenzied biting at fingers to biting at clothes and generally behaving in a crazy manner, these are all signs of an over excited puppy. We want our puppies to play and have fun, so how do we decide when things have gone a bit too far? How do you know whether or not your puppy is getting over-excited or hyper? And what is the best way to calm him down?
My Puppy Bites When Excited
The first thing we need to know, is how to tell when a puppy is getting too hyper, too excited. Excessive biting is one sign to look out for, but of course all puppies bite at times. So how do you know when things have gone too far? If your regular games with your puppy ever involved any of the following, then it's a sign that your excited puppy is getting too wound up, and needs your help to calm down.
Signs Of Over Excitement In Puppies
Your puppy is biting and snapping at your fingers repeatedly and with increasing force as you try to prise him off your arms and clothes.
Your excited puppy's biting is accompanied by much snarling and he tugs at your clothes until they rip.
The puppy is barking rapidly at you, or snatching at toys as you try to take them off him or get him to obey simple commands.
Games involving your children end in tears with the puppy jumping and snapping at their arms and legs.
Your puppy spins about nipping and growling as you put your hand down to restrain him.
If any of the above occurs in a puppy under six months old, it may be the result of over-excitement. Other clues to over-excitement are that the behavior is accompanied by a furiously wagging tail and interspersed with spells of tearing around the room bumping into things (the zoomies).
Is My Excited Puppy Aggressive?
It is not normal for puppies under six months to become aggressive. Though it is easy to mistake over excited play for aggression. If the behavior started with a game, and if the puppy's tail is wagging and he is tearing around in an uncoordinated way, he is playing. Even if he sounds ferocious! Aggression is usually born out of fear. And frightened puppies do not usually race about bumping into things. They normally attempt to freeze, withdraw, or even hide behind or underneath furniture.
If you are concerned that your puppy is aggressive then do consult your veterinarian, but the vast majority of people who are concerned about puppies biting and growling, own a puppy that is playing. And if the puppy becomes over-excited during play he may well behave in the slightly crazy manner described above.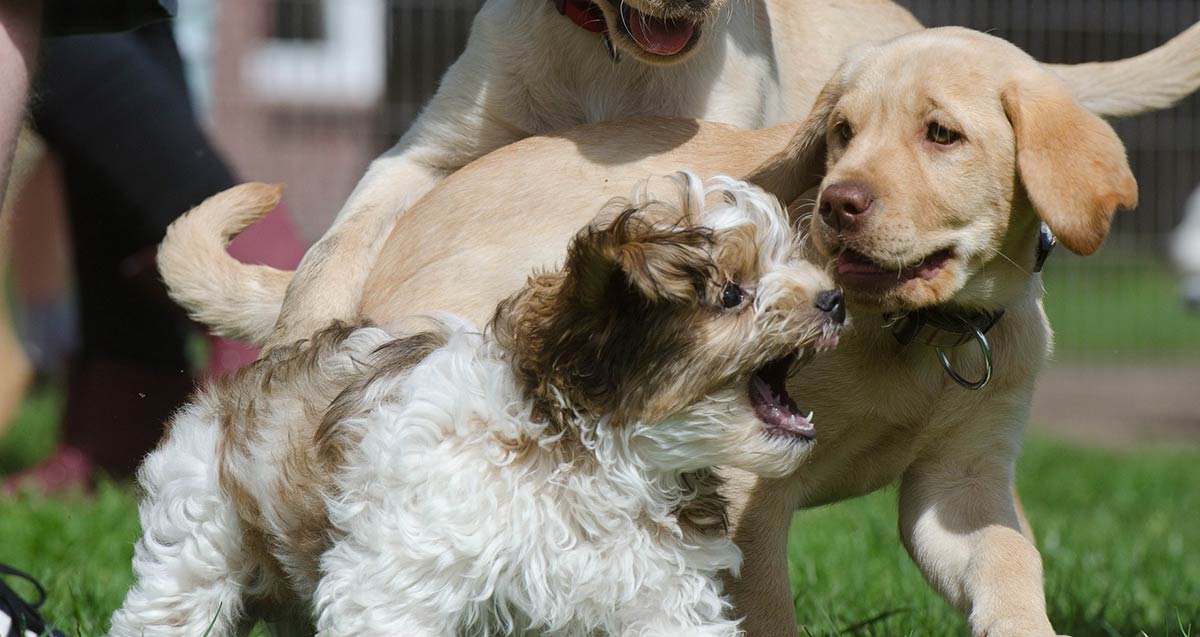 What To Do When Your Puppy Is Over Excited
You need to take decisive action and immediately.
Stop any game you are playing with the puppy.
Put the puppy in a safe place to calm down and withdraw from him if you can.
Decide on a strategy to help avoid over excitement in the future.
How To Calm Your Labrador Puppy
Sometimes you can calm a puppy in your arms. If you are not at home, you may have no choice but to do this. Carry the puppy away from the source of the excitement and hold him firmly and quietly. Often, with a very overwrought and biting puppy it is much better to put him down somewhere safe and move away from him.
Normally a puppy's crate is the best place for your puppy to calm down. Placing a blanket over the crate will help to calm him. Failing that place him in a puppy safe and preferably darkened room. Or outside in a puppy proof pen.
The idea is to reduce mental and physical stimulation of all kinds – so if he can see less, hear less and is being touched less, this gives him chance to recover quite quickly. Don't incarcerate him for long periods of time. A few minutes is normally sufficient to enable a puppy to become calm.
What Causes Puppy Over-Excitement?
Before you make a plan to avoid a recurrence, it is a good idea to think about likely causes of over-excitement. In the vast majority of cases, it is because someone has been playing inappropriately or excessively with the puppy. Sometimes this is an adult, sometimes another dog. But often it is the result of the puppy playing with children.
Children are not very good at judging when a puppy is getting worked up, nor are they great at reading a dog's body language, and they tend to give the puppy the wrong signals. Such as getting down on the ground which in the puppy's mind is an invitation to play rough. Or screaming and shouting which the puppy interprets as play barking and growling.
Children also tend to handle a puppy excessively with constant stroking and petting, so that he never get's chance to relax and calm down.
How To Stop A Puppy From Biting When Excited
It's very important that a puppy learns not to bite as quickly as possible. After all, biting of any kind is not acceptable in grown up dogs, no matter how excited they may be.
To stop your puppy's excited biting you will need to:
End the game as soon as they put their teeth on you flesh
Stand up and turn away
Stay calm
Remove yourself from their reach
Your puppy needs to learn that biting stops the fun. It makes you stop paying them attention, and it doesn't achieve anything good. If you squeal or squeak, hiss or growl at them to tell them off they will often just think that's all part of the fun. After all, noises are a great part of play for a puppy.
Puppies also need to learn something called bite inhibition. This is where they learn how hard to put their teeth onto something. Their mother and siblings will have helped with this lesson, but if they were taken away from their family before 8 weeks old a lot of this work will have been missed out on. Fortunately most dogs have learned much better bite inhibition after a few weeks in their new home and are less inclined to leave a mark!
Separation
It's also a good idea to have somewhere to put the puppy to calm down. Crates and play pens are really helpful for potty training, but they can also be useful to give your dog somewhere to go to chill out. Even though puppies would interact with you all day, it's not actually good for them and can lead to exactly the over excited puppy behavior we are trying to avoid.
Managing A Puppy For Calm Behavior
Puppies benefit from a predictable routine. A time to be lively, a time to relax, a time to eat, sleep and so on. Every interaction with a puppy is potentially exciting. Even stroking and cuddling. Noise and masses of things going on around your puppy are exciting too.
Some puppies get hyped up more easily than others with physical play, and many will need to be restricted to very short periods of this kind of interaction. Lively play should be supervised and interrupted after a few minutes.
At this point the puppy may need an opportunity to relieve himself outdoors, and may then benefit from a period of quiet in his crate. As he gets older remembering to stay calm yourself, provide interesting but relaxed activities and teaching your dog to relax will help you deal with new kinds of excited behavior and respond constructively.
Helping Children To Calm A Puppy
You may need to spend time showing your children how to calm a puppy with gentle stroking and quiet voices. They will soon see what a nice effect this has on the puppy and how much more pleasant he is when he is not overexcited.
In the long run it is far better for children to learn to interact with the puppy through training games, than to roll around on the floor with the puppy. This becomes increasingly important as a Labrador puppy grows because he will be a big dog and must learn not to jump on people. You can start clicker training at any age and this helps to occupy the puppy's busy mind and help teach him useful new behaviors. Children enjoy it too.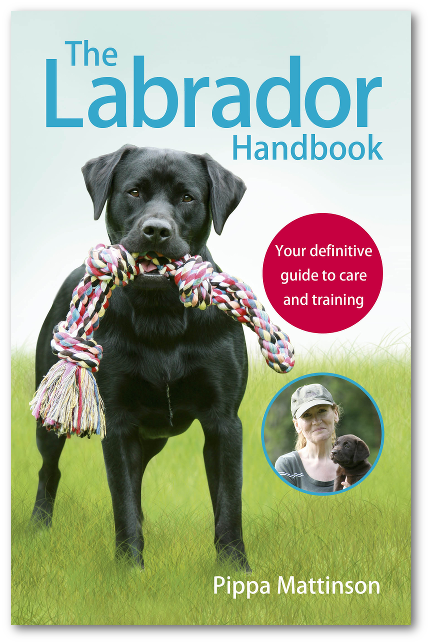 There is an article specifically on biting here, it is a difficult phase, but bear in mind that it does pass quite quickly (even though it doesn't seem like it at the time!) Teaching children to play safely with a dog is very important, especially as your dog grows and matures.
And don't forget, puppies will be puppies. Being an excited puppy is part of growing up. Puppies do bite, race around, and behave in a crazy fashion from time to time. You need to be a calming influence and step in when things get a little too lively. Hang on in there, it gets easier!
The Labrador Site Founder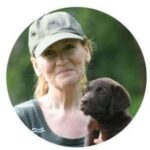 Pippa Mattinson is the best selling author of The Happy Puppy Handbook, the Labrador Handbook, Choosing The Perfect Puppy, and Total Recall.
She is also the founder of the Gundog Trust and the Dogsnet Online Training Program 
Pippa's online training courses were launched in 2019 and you can find the latest course dates on the Dogsnet website