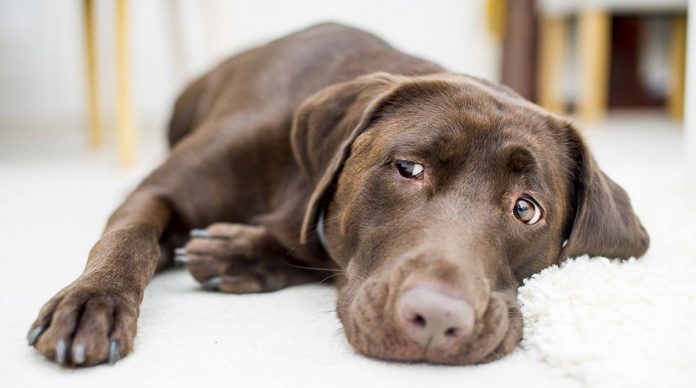 If your Labrador regards much of what he finds on the ground as food, you'll need to know how to stop a dog from eating everything he sees on walks.
We'll look at different ways to manage scavenging including dog muzzles and training techniques.
Dogs often do things that humans find disgusting, and scavenging is one of them.
It's actually quite a natural behavior for a dog, and you can find out more about the origins in Why Do Dogs Eat Dirt.
In this article though, we are going to focus on the solution. Because scavenging isn't just gross, it can also be dangerous for your dog.
Owning a Labrador that has a passion for consuming everything he finds lying on the ground, can be a real pain.
His favourite menu will often include carrion, human waste, and other delectable substances.
It is no fun at all having to try and wrestle a rotting seagull from the jaws of your pet.
And some dogs seem to be able to find one every time you set foot on the beach.
Devouring the contents of discarded nappies is another canine favourite.
Labradors have an astounding sense of smell.
And until seagulls start dying conveniently out to sea, and all parents start taking their rubbish home, we are probably stuck with it.
How to stop your dog eating everything
You have a couple of options for overcoming or at least managing, this 'charming' habit.
Physical prevention
Training
We'll look at training in a moment. First let's examine your options for preventing your dog from eating things off the ground
How to stop a dog from eating everything using a dog muzzle
Physically preventing scavenging usually means either keeping your dog on a short lead, or putting your dog in a muzzle.
Both these have their drawbacks
Unless you are a passionate long distance runner, it is going to be difficult to keep a dog well exercised on a lead.
Which leaves the muzzle.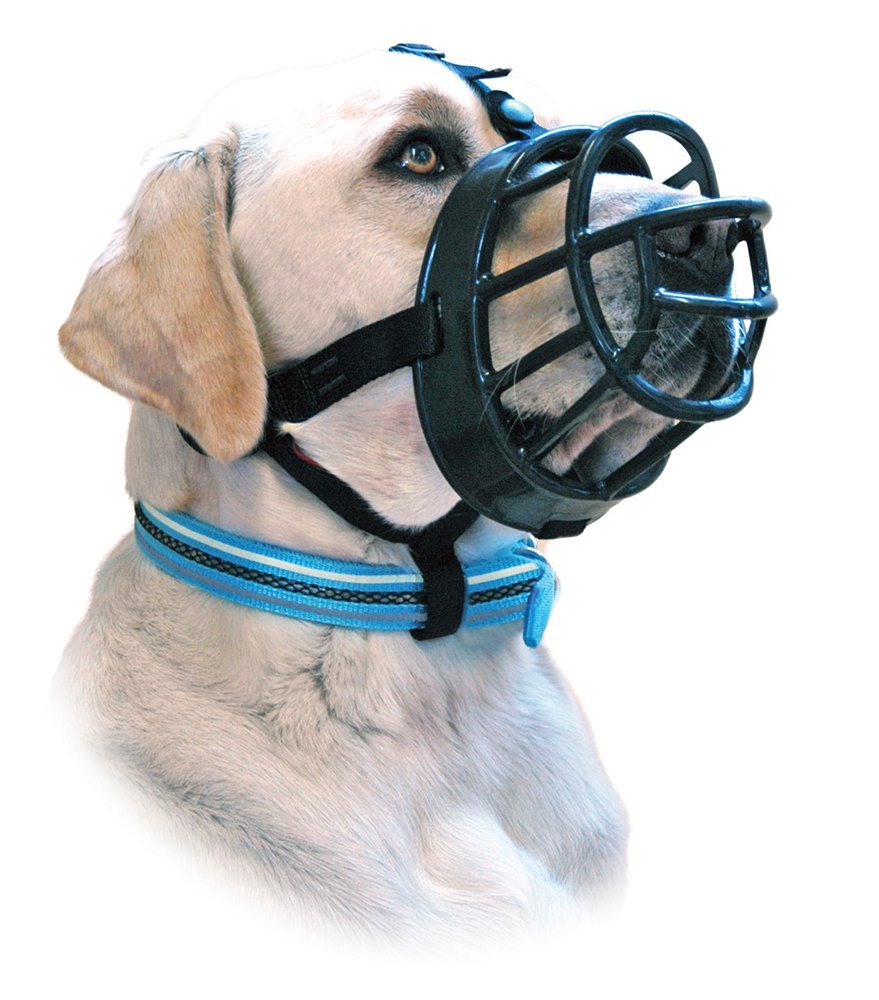 Now no-one likes to see a dog wearing a muzzle. But using a dog muzzle to stop a dog eating everything in sight is not an unreasonable thing to do.
A lot of people are reluctant to try it. Often because they worry what others will think.
Concerns about dog muzzles
Most people worry that a dog muzzle is uncomfortable, and they also worry that people will think that their dog is aggressive.
However, a well fitting muzzle should be comfortable for your dog. And it doesn't in all honesty matter what people think.
A dog I know, that treats every grim pile of trash as a 'buffet', nearly died from scoffing toadstools last year. A basket muzzle might have prevented her ordeal.
What type of dog muzzle stops a dog from eating?
Many muzzles were originally designed to prevent dogs biting.
Some people have a lot of success with using a basket muzzle like the one above, to prevent dogs eating rubbish.
A few funny looks from strangers is a fair price to pay for your dog's safety. And a muzzle might just transform your walks.
Dog muzzles don't work for every dog
Some people do find that a basket muzzle is not the answer for them.
With very sloppy items, the dog just presses his face into the mess until it forces its way through the sides. A basket muzzle tends to be more helpful with solid objects than with gooey messes. (Don't you just love dogs)
Even with solid objects like stones, some dogs will learn to get at them through a muzzle
Fabric dog muzzles
Some people are tempted to try various fabric types of muzzle. These are designed to prevent biting and often work by preventing the dog from opening his mouth.
They are useful tools for dogs that have aggression issues if they need to be treated by a veterinarian or handled by a stranger for some other reason.
Remember that dogs need to open their mouths fully to pant and cool themselves. So if a muzzle prevents a dog from panting or drinking, it is not appropriate for a dog that is being exercised or left alone.
And if your dog can open his mouth wide enough to pant and drink, his ability to scavenge may not be impaired.
The best answer to scavenging is of course training. And we'll look at that now.
Training a Labrador to stop eating everything on the ground
People often ask "How can I train my dog not to eat poop, or stones, or sticks". The best way of training a dog not to scavenge involves teaching your dog to 'come away' on command.
You'll still need to supervise your dog in order to use the command.
It's also about building new and better habits. With practice, many dogs learn to look to their trainer for tasty snacks, instead of foraging on the ground.
Training takes time
Teaching a dog to recall away from something he regards as delicious takes time. You need to teach the dog a new concept.
The concept of moving away from something he wants in order to get it. Or at least in order to get something of equivalent value.
It is natural for a dog to move towards what he wants.
It is completely unnatural for the dog to move towards you when you are calling him if the thing he wants is in the opposite direction. So you need to teach this concept in stages.
Teaching a dog to come away
The training process begins indoors at home.
You can teach your dog to come away from some tempting food that he knows is on a raised surface for example, by taking the dog to the food and giving him a piece after he has obeyed the recall signal.
Make sure you can call him away from 'high value' food like warm roast beef or chicken.
This kind of training takes time and patience, but it a really helpful skill.
Stop a dog from eating everything outdoors
Once you can call your dog away from a plate of lovely roast chicken, take your skill outdoors.
You will need to set up 'fake' training scenarios in which you 'plant' tasty items in an outdoor location and practice your new concept with the dog on a training line.
You can put a stick or some other marker next to your 'plant' so that you can judge when the dog is close enough.
As soon as he smells the food and tries to approach, you will need to recall him.
Use the long line to prevent him getting the food, but don't 'reel' him in.
You want him to learn to make that decision for himself, or he won't be able to do it when he is off lead.
Continue to use the training line until he is recalling really well, away from tasty items that you have left out for training purposes.
How to stop a dog raiding the trash
The dog that raids the trash can at home, or that picks up household items off the floor is a slightly different issue.
Because these are your things rather than just random things found outdoors, many people regard this as stealing.
Keeping your dog amused on walks
Finally, a big part of scavenging is often boredom or lack of mental stimulation.
Labradors are intelligent dogs that enjoy being given tasks to complete. A dog that is busy retrieving a ball, or learning to jump, or to walk to heel, is far less likely to become fascinated with finding the next rock to swallow.
Engage with your dog on your walks and keep him amused. This will reduce a kinds of problem behaviors and help you build a better bond with your four legged friend
How to stop a dog from eating everything – getting help
Sometimes people really struggle with this issue. Don't be afraid to seek advice. Scavenging is a problem that many people need a little more help to overcome.
So don't hesitate to contact a qualified pet behaviorist.
If you are already making progress they will encourage and support you. And if you need to look at alternative ways to overcome the problem, they will be able to advise you.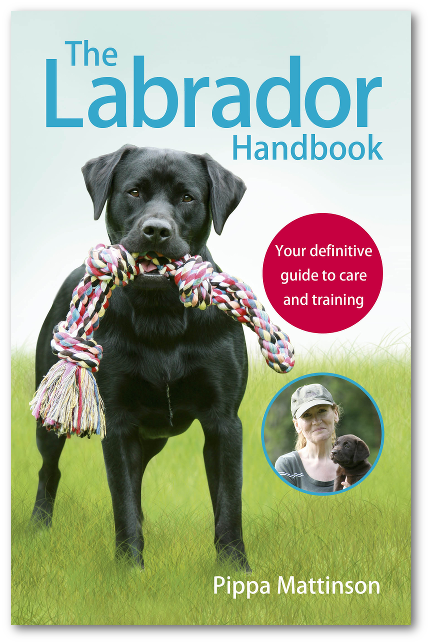 How about you?
Have you found a muzzle helpful for preventing your dog from swallowing horrible items he finds on your walks together? Share your views in the comments box below.
Another particularly nasty habit in Labradors can be eating poop. We take a look at dealing this this issue in our article Eating Poop and what you can do about it.
More information on Labradors
Check out our Labrador Training section for more help and advice on managing a Labrador with grubby habits.
You can find out more about how to keep your Labrador as fit and healthy as possible in the Health section of our website.
If you'd like all of our best Labrador information together in one place, then get your copy of The Labrador Handbook today.
The Labrador Handbook looks at all aspects owning a Labrador, through daily care, to health and training at each stage of their life.
You can buy The Labrador Handbook from Amazon by following this link. If you do, The Labrador Site will receive a small commission which is greatly appreciated and won't affect the cost to you!
The Labrador Site Founder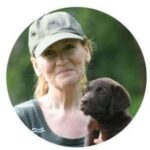 Pippa Mattinson is the best selling author of The Happy Puppy Handbook, the Labrador Handbook, Choosing The Perfect Puppy, and Total Recall.
She is also the founder of the Gundog Trust and the Dogsnet Online Training Program 
Pippa's online training courses were launched in 2019 and you can find the latest course dates on the Dogsnet website