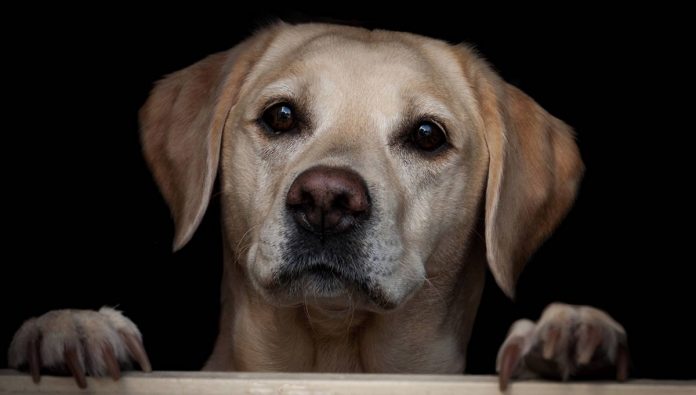 This is a guide to dog rehoming in general and Labrador rescue in particular. We'll look at the pros and cons of rescue dogs vs puppies that are purchased from breeders. And give you a helpful list of Labrador Rescue Shelters.
Finding dogs for adoption isn't always straightforward so we'll also look at how and where to a adopt a dog when you are ready.
And at how to settle in your shelter pup when you've been introduced.
Before we start, let's take a look at dogs for adoption and find out what the current situation is.
Dogs for adoption
Each year in the USA, and elsewhere, hundreds of dogs are abandoned, or given up for adoption by owners that are unable or unwilling to care for them.
The numbers of pets being relinquished is diminishing. Which is great news. The bad news is that there are still many dogs that are desperately in need of rehoming.
The lucky ones end up in one of our many excellent no kill dog rescue shelters
Very often dogs coming into rescue need veterinary treatment. Some need basic training, and some need therapy for behavioral problems, before they can start a new life with a new family.
Some have been starved, some abused, some just generally neglected, and many need time to adjust to their new situation, and to the loss of their families. Even abused dogs may miss their previous owners very much.
These dogs need help and support to make a new start in life
Why are dogs relinquished to animal shelters?
Several studies have looked at the reasons people give up their pets and hand them over to strangers at an animal shelter.
The reasons people give (moving to an house where no pets are allowed is a common one) and the problems that shelter workers observe in these dogs don't always tally.
The mismatch is probably partly down to embarrassment on the part of the person handing over their dog. After all, many people are not willing to admit that they messed up and failed to train their dog.
Or that the behaviors they thought were cute in their puppy are not quite so appealing in a 70lb adult dog. Saying that they can't keep their dog any more is a natural default response
A study commissioned by the National Council on Pet Population Study and Policy found that the majority of dogs given up for adoption had been owned for less than a year and were under three years old.
In other words, many were at that tricky teenage stage where dogs, especially large powerful dogs, can be quite challenging
Perhaps the most important statistic to come out of that study, is that 96% of dogs relinquished to shelters had not had any obedience training. We'll talk a bit more about that in a moment
How you can save a dog
Although the numbers of dogs being relinquished is falling. There are still many very unlucky dogs out there that need a helping hand.
Bear in mind that not all abandoned dogs end up on a no kill shelter.
Some healthy dogs are euthanazed because they were relinquished to a shelter without a no kill policy and because the dog rehoming process took too long.
This means that there are opportunities for you to save a dog from an untimely death if you choose to rescue rather than buy a puppy.
Dog rescuers – rehoming benefits
Quite apart from the wonderful feeling of having done something worthwhile, there are many benefits to adopting an older dog from an animal refuge, rather than buying a puppy from a breeder.
With an adult dog, and most rescue Labs are young adults, you have some idea of the temperament and personality of your dog. Although he or she may grow in confidence under your care, a bouncy friendly dog is likely to stay that way.
Taking on a young adult will enable you to skip the puppy stage. With luck you'll avoid the potty training and night waking too.
Puppies are time consuming and while adorable, they are also quite challenging. With a young adult you'll also be able to dive straight into the fun stuff such as long walks together, or having a go at agility or another dog sport.
There can be downsides to adopting of course. And we do need to consider those
It's important therefore to look at what's involved in adopting a Labrador shelter dog in an objective way, so that you can decide if this is the right dog for you. And the right time for you to adopt
Rescue dogs – potential problems
For some people this choice between buying a puppy and adopting a rescue dog is a no brainer, they would take the rescue dog every time and do whatever it takes to make things work.
There are also many people that believe sincerely believe that as long as dogs are left in shelters, it is irresponsible for anyone to breed or buy puppies. In a poll on the Labrador Site Facebook page, about a third of those responding held this view.
And whilst I do not share their opinion, I have some sympathy with it. However, I receive quite a lot of emails from people that have got into deep difficulties with their rescue dogs. It would not be exaggerating to say that the quality of their lives has been significantly reduced. In some cases for years on end.
Of course, not all rescue dogs are problem dogs. Some dogs are in rescue because their owners' died. Some are there because their family got divorced, had kids, or moved and no longer have the time or interest to take care of them.
Many of these dogs will make good pets for a family like yours.
But some dogs are in rescue for altogether different reasons.
They may have uncertain temperaments, they may soil repeatedly in the house, they may run away when let off the lead, or obsessively chase rabbits, deer, cyclists or cars.
These are difficult problems for even experts to solve.
These dogs may not be ideally suited to you, especially if you have small children, or are inexperienced in dealing with dogs that have challenging behaviors.
There needs to be a good fit between rescued and rescuer, or things can go badly wrong. It is not just the welfare of dogs that is at stake here. It is the welfare of people too.
For that reason you need to ask yourself if you are in the right place in your life, right now, to adopt a rescue Labrador, and if you are, to make sure that you adopt the right Lab for your family. Let's find out where you stand before we move on to 'how to adopt a dog'
Are you ready for a rescue Labrador?
The first step to take is to ask yourself if you are ready to bring a Labrador, any Labrador, into your life.
You'll find the answers in this article: 6 things to consider before getting a Lab. If life with a Lab is for you, the next decision to make is whether to rescue, or buy a puppy.
If you like the idea of competing in AKC or Kennel Club competitions, Hunt Tests, Field Trials, Obedience Trials or want to have a go at showing your dog, you need to make sure your dog has pedigree papers or proof of registration with the relevant Kennel Club.
Most rescue dogs do not come with papers, even if they are purebred so this is something to consider. In addition, training a dog to a high level for competition is generally easier if you start with a puppy.
If you are simply looking for a family pet, finding the right Labrador rescue dog will not only save a dog, but may also give your family a great deal of pleasure. Especially if you can spare some time each day for training.
Young Labs (under 3 years old) can be very boisterous, so if you have toddlers, elderly relatives or anyone else that's a bit unsteady on their feet, a young rescue Lab might not be a good idea.
A calm older dog that loves children, on the other hand, may be perfect.
How to adopt a dog
The key to successful adoption lies in finding a good rescue organization that will be honest about the characteristics of the dogs in their care and diligent in finding a good match between each dog and his next family.
As we have seen, rescue Labradors that are adopted into the wrong homes can cause untold heartbreak, and will often end up being rehomed again and again.
Make a list of the dog rescue homes in your area – you'll find Labrador rescues listed below, and send out an initial email telling them you are interested in adopting a Lab
A good dog rescue shelter will then ask you a LOT of questions.
They may seem personal, even intrusive, questions.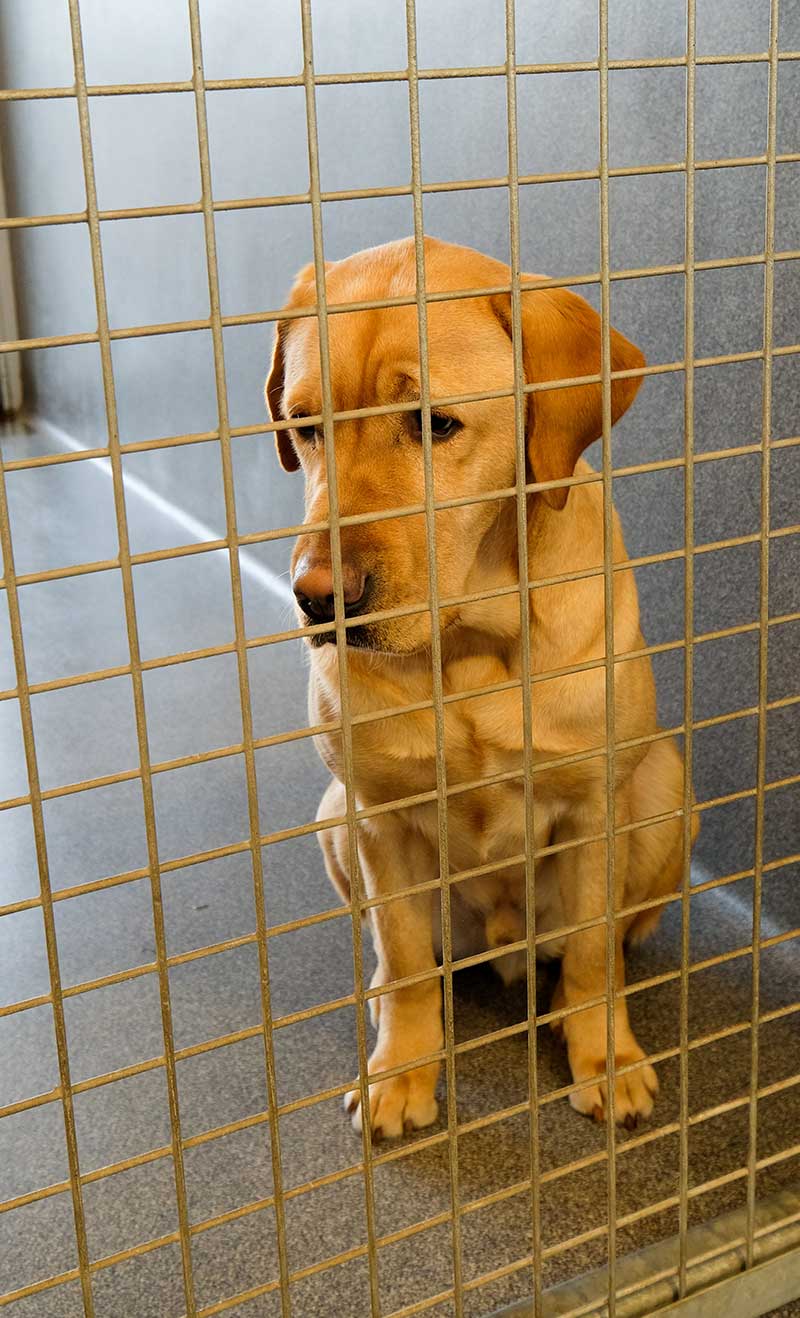 They'll want to know if you go out to work. And if you do, what care arrangements you have put in place for your dog.
Some will not allow you to adopt their dogs if there is not an adult at home for at least part of each working day.
Your shelter will want to know that you have a secure fenced area in your yard or garden, so that your dog can't wander off or get involved in a road traffic accident.
Most dog rescue shelters will want to visit your home to make sure it is suitable for a large bouncy dog and that you have taken on board what is involved.
All this may seem a bit much. But bear in mind that shelter that make these kind of demands are the sort of organizations that will give you the support and back up you need not only during the adoption process but afterwards.
And such a dog rescue home is also the sort of organization that will be honest about your dog, and not send you home with a dog that has a hidden behavioral problem.
That's not to say you shouldn't take on a dog with problems of course, many problems can be resolved with kindness patience and good training. But you have a right to know in advance what you are getting into, and to be sure that you are equipped to deal with it.
What about adopting a puppy?
Sometimes whole litters of Labrador puppies are up for adoption. These usually get 'snapped up' pretty quickly, but some caution is required.
With a rescued puppy you will probably have no idea what kind of genetic health your puppy has inherited. The parents are unlikely to have been health checked and there will probably be no 'paper trail' to verify any claims.
Labradors are prone to a number of inherited diseases that reputable breeders screen their breeding stock for.
If you decide to adopt a rescue puppy, insurance is essential. Diseases like hip dysplasia can cost you a small mortgage in veterinary treatment.
Getting the right Labrador Retriever rescue dog
When you have been to visit a dog that is up for adoption, ask for details of any behavioral problems or training issues that the dog may have.
Unless you are an experienced dog trainer, be cautious about taking on a Labrador with absconding or chasing issues. These can take months, if not years to resolve.
An absconding problem can leave you restricted to lead walking for the foreseeable future, and you will need to commit to an intensive and regular program of training.
Be cautious too about dogs with severe anxiety, reactivity to other dogs, or resource guarding issues. These kinds of problem may need skilled help from a behaviorist and can be time consuming and challenging to resolve completely.
Whatever you do, take your time.
If you are not sure that you can cope with the dog in question, give yourself breathing space and look at some more dogs perhaps in a different home.
It is heartbreaking to leave a dog unchosen, but your family must come first.
If you want to help a dog with problems, you may be better off donating some money to the rescue centre to pay for therapy from a professional behaviorist or trainer.
Labrador rescue work & volunteers
The rescue organizations below do an amazing job of restoring neglected dogs to good health, providing them with veterinary care where necessary, and finding them permanent, loving homes.
Most of these organisations are completely dependent on charitable donations and voluntary workers for their survival.
Rescue societies are well known for finding new forever homes for the dogs in their care. But many people are not aware that modern rescues often rely heavily on a network of dedicated dog foster homes
If you want to help a rescue society or animal shelter, then fostering a homeless dog might be just what you are looking for.
What does foster mean?
A foster parent is a person who takes over the care and day to day responsibility of  foster dogs temporarily and before the dogs are placed in their permanent homes.
Being fostered gives a dog a chance to live in a loving family environment while he is being assessed and while he waits for his permanent home.
At one time abandoned dogs tended to be housed in large kennel blocks which are costly to maintain, and where the level of emotional care that can be given to dog in distress is minimal.
The move towards dog fostering is a win-win situation for many small rescue societies that don't have funds to build and maintain residential kennels, because the dogs benefit too.
What do dog foster parents do?
Dog foster parents play a very important role.
Not only do they care for a dog, and comfort him at this sad point in his life but they also provide valuable feedback to the rescue organisation about his needs and personality
This helps the rescue society choose the most appropriate home for the dog
Depending on their own skills, dog foster parents may also be able to provide some basic training and help the dog with his rehabilitation.
How log does a foster dog stay?
The duration of the stay in a foster home will vary depending upon the organisation they are fostering for, and on the dog himself
Some dogs will take longer to assess or to place than others. Typically it is no more than a few weeks, and it may only be days.
Some fosterers specialise in looking after puppies until they are old enough to go to their forever homes.
Do you get paid to foster dogs?
There is no wage for a dog foster parent, it is a voluntary role. But you won't be out of pocket either

The rescue society ultimately responsible for the dog provides all the supplies that the dog will need and pays for any medical treatment
All you provide is your love and your time
Foster dog care – what's involved?
The care needs of foster dogs vary. Many foster dogs are just average dogs in good health who have fallen on hard times.
They need basic care, a good diet, daily exercise, and often a little basic training
Quite a few foster dogs will be malnourished and need building back up to good health. Some will be infested with parasites or sick. Some will have been abused and may be fearful.
You'll be matched with dogs that meet your own skills. If you have medical experience, you might be asked to care for a sick dog until he is well again. If you have dog training or behavioral experience you may be allocated dogs that have become unruly or been abused
Who Is The Ideal Foster Carer?
Ideally rescue charities want fosterers who are knowledgable about dogs, and use modern positive training methods to educate and rehabilitate the dogs in their care.
But they are also grateful for anyone with basic knowledge and experience of keeping dogs safe and happy.
They are looking for people with secure dog proof premises, who have got the time and space to devote to a strange dog that could be challenging to begin with.
They are likely to be people who are capable of beginning to teach basic house manners to adult dogs, and who are able to be a constant companion for their foster dogs whilst they settle in.
Different types of foster dog
Many rescue organisations specialize in a particular breed of dog. And requirements may vary depending on the characteristics of the breed. For example, rescue charities that rehome a lot of guarding breeds may prefer fosterers to not have any other dogs.
Those who specialise in high prey-drive dogs like sighthounds and terriers will prefer you not to have a cat or any rodents.
Labradors are born and bred gun dogs, so come with bags of retrieving instincts and lots of energy.
They are generally very at home with other dogs, but their interest in cats will vary on a case by case basis depending on their temperament and past exposure to them.
Foster dogs, children, and multiple dog homes
The presence of an existing dogs in a foster home is not necessarily a problem. Some rescue organisations like the Black Retriever X Rescue society will even prefer to foster most Labradors to a home with other dogs as it offers them support and a positive canine influence.
Most rescue societies would rather send dogs to homes without very small children, so that the dogs can be safely assessed for compatibility. Rather than thrown straight into the environment that may make them at risk from unwanted behaviors.
Should you foster a dog?
No one can tell you whether fostering will be right for you and your family.
It is a decision you will need to think through carefully, and discuss at length with the rescue society of your choice.
Some people are put off by knowing that they will get attached to their foster dogs and may be sad when the dog has to go to their new home.
But most fosterers agree that it is worth it for the joy of having had them, and the pleasure in knowing that their life has been improved and enhanced by their time together.
Further information
If you would like to consider becoming a dog fosterer, why not contact your local rescue to find out more.
If you have found this article helpful, or simply want to make a contribution, do pick out one of the charities below and make a small donation. It will be greatly appreciated.
Most rescue organisations are also very grateful for voluntary help, with a range of activities.
From caring for dogs, providing temporary foster homes, to carrying out homechecks for prospective adoptive families.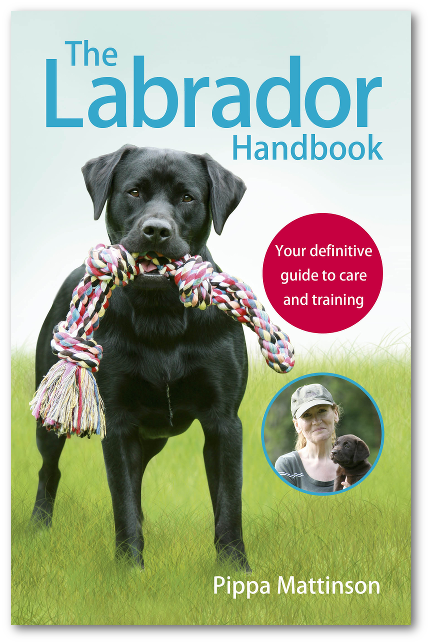 Extra help is often badly needed. Dogs always need feeding and walking, even at weekends or during the holiday season.
If you can offer a little help to your local dog rescue, it will be truly appreciated.
Okay, here is that list for you now. If you know of an organization that is not listed here, don't forget to tell us and we'll add it on
Labrador Rescues in the United Kingdom
Labrador Rescues in the United States
Southern Skies Rescue & Adoption (Alabama)
Labrador Friends of the South (Alabama, Georgia)
Desert Labrador Retriever Rescue (Arizona)
Monterey Bay Labrador Retriever Rescue (California)
Indi Lab Rescue (California)
Fetching Companions Retriever Rescue (California)
Labrador Rescuers (California)
Golden Gate Labrador Retriever Rescue (California)
Labradors and Friends Dog Rescue Group (California)
Mile High Lab Mission (Colorado)
Safe Harbor Lab Rescue (Colorado)
New England Lab Rescue(Connecticut, Maine, Massachusetts, New Hampshire, Rhode Island, Vermont)
For the Love of Labs Rescue (Connecticut)
Labs4Rescue (Connecticut)
North East All Retriever Rescue (Connecticut, Maine, Massachusetts, New Hampshire, Rhode Island, Vermont)
Labrador Retriever Rescue (Delaware, Maryland, New Jersey, Pennsylvania, Vermont, Virginia, Washington)
Metro East Lab Rescue (Illinois)
Love of Labs (Illinois)
Fortunate Pooches and Labrador Rescue (Illinois)
The Lab Connection (Illinois, Wisconsin)
Great Lakes Lab Rescue (Illinois)
LEARN (Illinois, Wisconsin)
Lucky Lab Rescue & Adoption (Illinois, Indiana, Ohio)
CILRA Lab Rescue & Adoption (Illinois, Indiana, Minnesota)
Love of Labs (Indiana, Ohio)
Happy Labs Rescue (Indiana)
Heartland Lab Rescue (Kansas, Oklahoma)
NOLA Lab Rescue (Louisiana)
Labrador Retriever Rescue (Maine, Massachusetts, New Hampshire, Rhode Island, Vermont)
Lab Rescue of the LRCP (Maryland, Massochusetts, Virginia, Washington)
Save a Lab Rescue (Mississippi)
Brookline Labrador Retriever Rescue (New Jersey, Pennsylvania)
Peak Lab Rescue (North Carolina)
Lowcountry Lab Rescue (South Carolina)
Lab Rescue of Greater Richmond (Virginia)
Puget Sound Labrador Retriever Association (Washington)
Labs N More Puppy Rescue (Wisconsin)
Labrador rescue – summary
Making the decision to adopt a dog is a life changing moment and taking an abandoned Labrador or Labrador cross, into your home is an act of great generosity.
One that should reward you with years of enjoyment
There are many Labradors in rescue that have the potential to be fantastic family pets. There are also some with behavioral problems that can be tough to solve. Choosing the right Labrador rescue dog is just as important as choosing the right breeder if you are buying a puppy, so take your time.
It is great that you want to offer an abandoned dog a home. Many people have had a wonderful experience in adopting their dogs and would never have a dog any other way.
The right dog for you will be out there somewhere. He may not be the first or even the tenth dog you visit. But with time and patience you will find him.
When you do, remember to read our comprehensive guide to 'Bringing Home A Rescue Dog'. It will support you through those first few weeks with your new friend
If you are involved with a rescue centre, tell us about your organisation in the comments box below. We would love to hear about your work and your dogs.
If you have a rescued Labrador, or Labrador Cross, tell us your story. In fact, we love all rescue stories, no matter what breed, so whatever your dog, we'd love to hear about them.
Don't forget, if you know of any Labrador rescue organisations we may have missed from the lists above, please let us know in the comments section below! We're also happy to list organizations in other countries too. 
References and further reading
Weiss et al. Goodbye to a friend: An explanation of the rehoming of cats and dogs in the US. Open Journal Of Animal Sciences 2015
Wells D, Hepper P.Prevalence of behaviour problems reported by owners of dogspurchased from an animal rescue shelter. Applied Animal Behaviour Science 2005
Diesel et al. Factors affecting the success of rehoming dogs in the UK during 2005.
Luesher et al.The effects of training and environmental alterations on adoption success of shelter dogs. Applied Animal Behaviour Science 2008
Patronek et al. Risk factors for relinquishment of dogs to an animal shelter. Journal of the American Veterinary Medical Association 1996