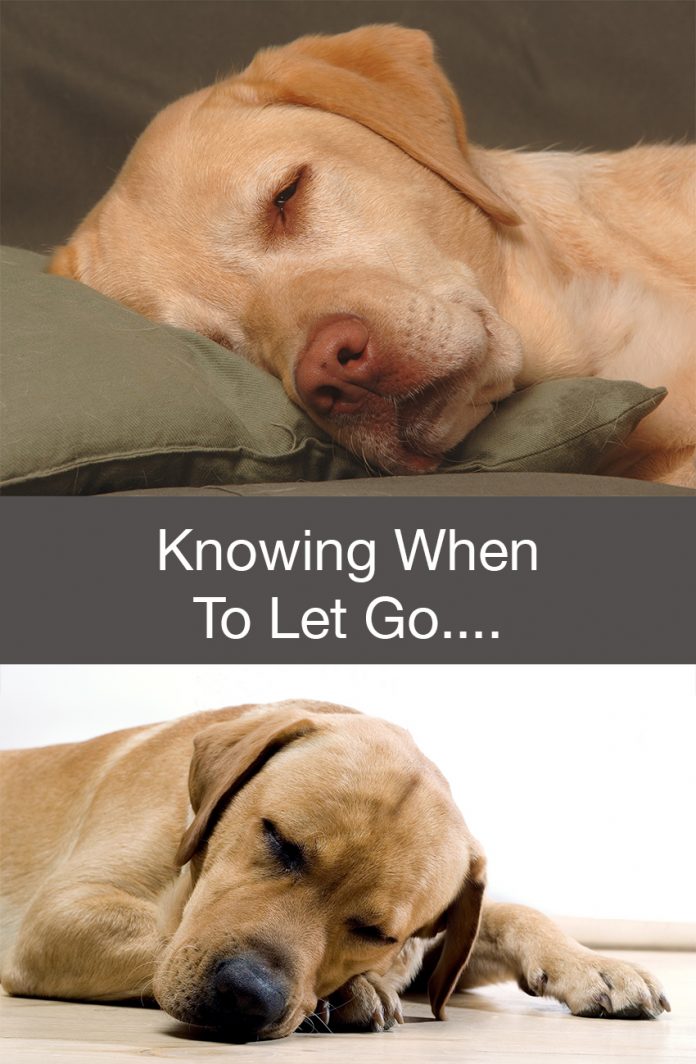 When our dogs become old, we face some heartbreaking decisions.
And it is important that we have help and support in doing so.
Since I first shared my personal views on end of life care and dog euthanasia, many have added their own moving stories to this page.
I hope that they will bring you support and comfort at this difficult time.
Putting A Dog To Sleep
The option for euthanasia is not available to humans in the UK or USA,  but we do have the option of putting a dog to sleep.
When is the right time to use that choice, if at all, is an intensely personal and tough decision.
This is my personal slant on a difficult subject. One that comes up quite regularly in many doggy forums.
I know this won't be popular with some, but I do feel that there is sometimes a tendency now to drag a dog's life out to the bitter end.
Even when quality of life is really all but gone.
It is probably showing my age, but there seems to be a modern reluctance to 'let go' that you didn't see so much thirty years ago, and I am not sure that it does dogs any favours.
In some cases, I think owners feel they will be judged and disapproved of, if they put their dog to sleep 'too early'.
Palliative Care For Dogs
When people are dying, we accept that all we can do is make them comfortable. Palliative care is an important branch of medicine that many of us will depend on in our twilight months.
Palliative care for dogs is a somewhat newer concept.
When I was young, if a dog was diagnosed with terminal cancer, as my Golden Retriever was, the dog was normally put to sleep on the spot, or very shortly afterwards.
Our vet made the diagnosis in his surgery and we took our dog home to have a last couple of days together.
The vet then came out to put him to sleep in his own home.
At this point, pain meds controlled his pain absolutely without making him drowsy, in a week or two that would not have been the case.
He was also in full control of his bodily functions. Still continent, and able bodied. Still enjoying life. Later on he would have become incontinent, and may have had problems with his balance.
A Dog's Quality Of Life
There was no chemotherapy for dogs then, and my parents refused surgery as the side effects would have curtailed his pleasure and joy in life.
No one suggested that we extend his last few weeks with drugs.
Though he might have lived for several more months this way, it was not considered to be an option by my family or our vet.
He never suffered, apart from the mild symptoms that had led us to the vet in the first place. And he spent his last couple of days pottering about the house and garden quite happily.
I have no regrets about the decision we made.
It was the first time, at just 18 years old, that I had been involved in such a decision, and I have made many such decisions in the intervening years.
Yes, he could probably have had a few more days of joyful living. Possibly a few more weeks. And we may have deprived him of that time.
But the risk that he would then begin to suffer was not acceptable to us. And knowing that he never suffered at all, was and still is, a comfort to me.
But he isn't suffering yet
The heartbreak of losing a dog is so very cruel on the owner, but I believe that putting off what is inevitable may cause much suffering on both sides.
I believe that the course many people take nowadays, the course that they may be encouraged to take by their vet and by friends and family, of waiting for the suffering to start before making that final decision, does not benefit our dogs.
Younger Dog Euthanasia
Of course with younger dogs,  especially if the illness is not terminal,  then there are a whole range of other factors to consider.
The dog's quality of life during convalescence has to be balanced against the potential for quality of life in the future.
With elderly dogs, once illness has set in, there is very often only one way to go. And that is downhill.
When A Labrador Loses Control Of His Back Legs
A common end of life problem for very old dogs is a loss of control over their back legs.
This is heart breaking for owners and poses a dilemma, because the dog is often otherwise well in himself, and not necessarily in pain.
Loss of back end awareness is sometimes accompanied by loss of control over bowels, with the inevitable distress that this causes to both of you.
Does Dignity Matter To Dogs?
I was saddened to read recently about a person who had nursed their own elderly dog through weeks of incontinence before death.
She talked about 'peri-care'  and 'diapers' and the difficulties of caring for aging and incontinent dogs.
I was sad for her, and doubly sad for her dog.
For me, that would not be an option.
I feel that 'dignity' in some sense of the word, does matter to dogs.
And that an elderly dog would be very distressed by being unable to keep itself clean.
Knowing that there is no hope of recovery, and believing that a dog has no concept of or fear of death, is enough to keep me from going down that route.
The Wrong Decision For The Right Reasons
Sometimes I think people make the wrong decision for the right reasons.
They hate the mess and stress of caring for a sick old dog, the broken nights, the smell, and the worry. They quite naturally want it to end.
But they are afraid that making the decision to end their dog's life might be based on their own convenience.
So they make the wrong decision. For all the right reasons.
They are trying to put the dog first, and to ignore their own needs. So they keep the dog alive for a few more weeks.
Only in this case, it isn't really a life. It is miserable for the owner, and miserable for the dog too. Ending the dog's life at an earlier stage would quite probably have been the right decision.
Better Too Soon Than Too Late
Many would like to see euthanasia made available for people too.
That is a whole other topic, but perhaps we are too reluctant to make use of this option which is readily available for our dogs and can prevent a great deal of suffering.
I read this sentence recently
"better a week too early than a day too late"
and it kind of sums up how I feel.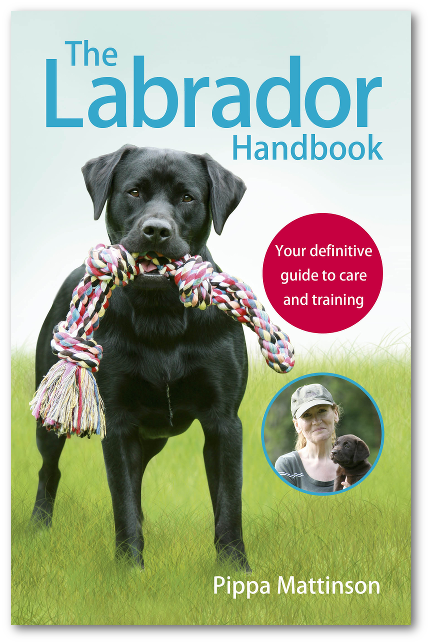 I'm all for quality of life, over quantity.
What do you think? Is there ever a right time to let go? Or should we let just let nature take its course?
More information on Labradors
If you'd like all of our best Labrador information together in one place, then get your copy of The Labrador Handbook today.
The Labrador Handbook looks at all aspects owning a Labrador, through daily care, to health and training at each stage of their life.
The Labrador Handbook is available worldwide.
You can buy The Labrador Handbook from Amazon by following this link. If you do, The Labrador Site will receive a small commission which is greatly appreciated and won't affect the cost to you!
The Labrador Site Founder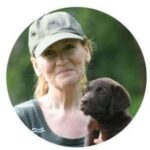 Pippa Mattinson is the best selling author of The Happy Puppy Handbook, the Labrador Handbook, Choosing The Perfect Puppy, and Total Recall.
She is also the founder of the Gundog Trust and the Dogsnet Online Training Program 
Pippa's online training courses were launched in 2019 and you can find the latest course dates on the Dogsnet website