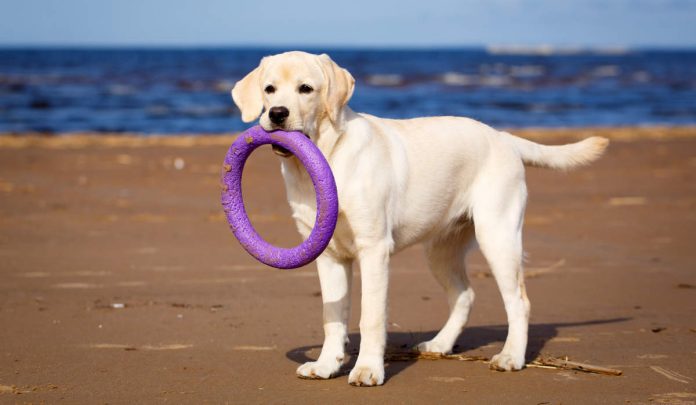 When you teach a dog to fetch you don't just create a fun game for you both to enjoy, but a brilliant way to exercise them without you having to share all the legwork.
The clicker retrieve has revolutionized the way we teach dogs to fetch. You don't need force, just encouragement and positive associations. And although Labradors are born retrievers, not all of them are keen on doing so for fun. There are several potential reasons your dog doesn't want to play fetch, or return with the ball or stick once you've thrown it. Today I'll help you work out where the game is falling short, and share how to teach a Lab to retrieve happily and enthusiastically, returning the ball to your hand ready for another round.
Contents
The Retrieving Instinct
Dogs just love to chase things. And everyone knows that Labradors are retrievers, born and bred. So teaching your Labrador to play fetch ought to be a simple. But the truth is,  a lot of owners can't get their dog to fetch at all.  And if he does play, he simply runs off with the ball. Unfortunately 'retrieving instinct' is not dished out in equal quantities to each Labrador puppy at birth.
Some have more than their fair share, and some have very little. Happily, this doesn't actually matter for the purposes of your game. Because we can teach any dog to fetch, no matter what his instincts, using food rewards.
However, it is nice if we can get your dog retrieving naturally (and a lot less trouble) so let's take a look at that first.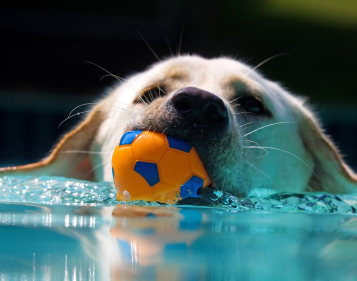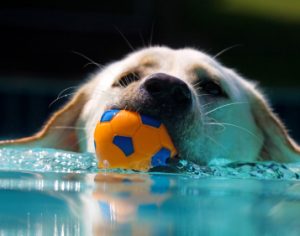 The Natural Retrieve
Many Labrador puppies will chase after a ball and pick it up. Some will bring it back, at least part of the way! If your dog will do this, you have the beginnings of a natural retrieve. Let's see if we can tweak that a bit. Here are some areas where you may need a little help
Your dog will chase the ball a few times and then loses interest
Or your dog will chase and pick up the ball but then runs off with it
Your dog will bring the ball half way back and then skirt around you
Or your dog will bring the ball back but won't let go
Your dog drops the ball before he reaches you.
Getting Bored
If your puppy fetches the ball two or three times then loses interest, you are in danger of squashing his retrieving instinct. The desire to retrieve can be quite fragile at first and easily damaged by too much retrieving.
It's time to back off a bit. Let your puppy have a few days off from fetching, make sure that the kids aren't throwing things for him when you are not looking! And then try again. This time, when you bring out his retrieving ball or toy, make sure that you stop throwing, before the puppy loses his enthusiasm. For small puppies (under four months old) this may mean 1 or 2 throws, just once or twice a week.
It all depends on the puppy, but most puppies will sicken of retrieving if encouraged to play fetch every day, many times a day. This is probably the single most common cause of 'non-retrieving' in pet Labradors. If your older Labrador has had his retrieving instinct suppressed in this way, you may be able to re-awaken it by rationing the retrieve as described above, or you may need to move on to the 'trained retrieve' below.
Running Off with the Ball
This is very common. Especially in dogs that love to play with toys, and that are quite keen on playing fetch. It isn't usually difficult to fix. The objective is to help your dog to understand that he will have a lot more fun, if he plays with you, than if he just runs off and plays by himself.
The first thing to try, especially with puppies, is running away from the dog. Throw the ball and let him chase it, then as soon as soon as he drops his head to pick it up, run away in the opposite direction. Most dogs will want to chase you, and if they really want the ball, they'll grab it first, and then run after you. Lots of fuss and another throw of the ball as soon as the dog brings it back, will teach him that it is worth coming back to you with his prize.
If the dog leaves the ball behind in his hurry to follow you, then next time you need to delay your 'run' until he has it securely in his mouth. Once he is coming back reliably, you can slow down to a walk and eventually stand still. Dogs that resolutely refuse to come anywhere near you once they have possession of their beloved ball, need to be taught a 'trained retrieve' (see below).
Refusing To Come Right In
Some dogs will come back to you with the ball, but then will 'skirt' around you. You can fix this with older dogs by playing your game in a corridor, like your hall, or a passageway between two houses. With a puppy, you can often resolve this simply by sitting in his bed and throwing the ball away from it. You are taking advantage of the fact that he will want to take the ball to bed with him!
What If He Won't Let Go?
Don't be in too much of a hurry to take the ball away from a puppy. Scoop him onto your lap and let him know what a clever boy he is. Make a big fuss of him and when he is starting to get bored with holding the ball, take it gently and throw it again. With older dogs that hang onto the ball very tightly and have no intention of letting go, you need to teach your dog to release the ball on command, in a structured way, using food. We'll look at that in the Trained Retrieve below.
Dropping The Ball
Some dogs have got into the habit of dropping the ball on the ground when they return. If you don't mind, this doesn't really matter, but a full retrieve should ideally end with the dog placing the item into your hand. This is particularly important if you are thinking of having a go at some gundog training with your Labrador.
When your dog returns with the ball, try ignoring him when he drops it. Some dogs will then pick the ball up again, and you can help him to understand that this is what you are looking for by telling him 'good' and giving him another retrieve as a reward. Over time, you can 'move the goalposts' until you refuse to throw again until the dog has made some effort to raise his head towards you with the ball in this mouth.
Then you can become even more picky, and refuse to throw again until he attempts to push the ball towards you. You can see how, with good timing, you can 'shape' a delivery to hand like this. There is also another way to get the dog to place the ball in your hand, and that is as a part of the Trained retrieve. We have mentioned this a few times now, so lets have a look at this process
How To Teach A Dog To Fetch
The trained retrieve is a logical training process that teaches a dog the individual foundation components of the retrieve. It teaches the dog to pick up an item from the floor, and to place that item into your hand in a very structured way.
The trained retrieve uses edible rewards together with an 'event marker' to guide the dog through the process. It is ideal for dogs that have got stuck on one particular aspect of retrieving, such as 'letting go of the ball', and is essential for dogs that have lost the desire to chase or pick up a ball at all.
You can find full instructions for teaching your Labrador to fetch using this process here: The Trained Retrieve
Retrieving Toys
Ideal fetch toys are balls and retrieving dummies. Frisbies are great fun for competent retrievers, but not ideal for learning on. Sticks can be a problem as they can perforate the dog's throat, but the Kong Safestix is a great alternative.
Sometimes, small puppies are not keen to pick up anything apart from a favorite soft toy, and it is ok to use this to get the game started. Other than this, retrieve toys should be stored safely out of the dog's reach and not left for them to play with. This keeps the retrieve item special and makes your dog far more likely to want to play fetch, whenever you are in the mood.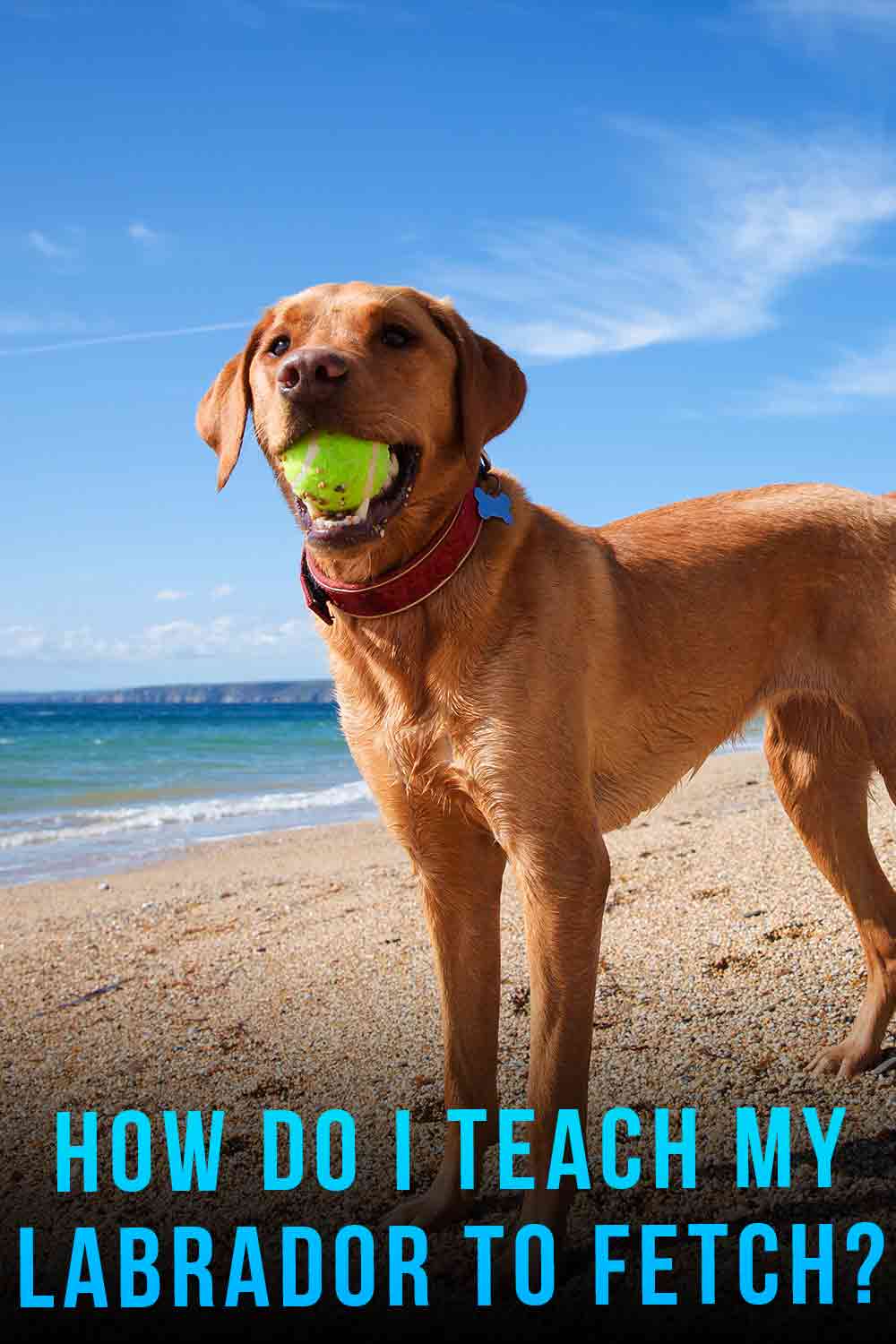 The Labrador Site Founder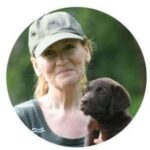 Pippa Mattinson is the best selling author of The Happy Puppy Handbook, the Labrador Handbook, Choosing The Perfect Puppy, and Total Recall.
She is also the founder of the Gundog Trust and the Dogsnet Online Training Program 
Pippa's online training courses were launched in 2019 and you can find the latest course dates on the Dogsnet website