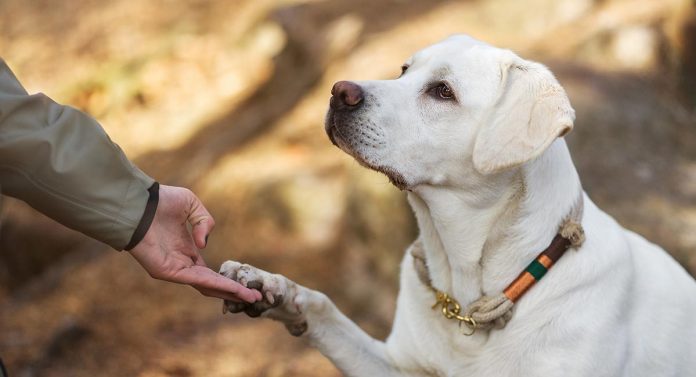 Today's we are going to take an honest look at the pros and cons of residential dog training. Sending your dog away for training is a big decision. You'll find information here to help you decide whether it is the right choice for your dog.
It can be very tempting to send your Labrador away to 'boarding school' and let someone else solve your training problems for you. Especially if you are very short of time and you are finding your Labrador training sessions a big challenge
I was once contacted by a lady who had been struggling for some time with her dog's recall. She was at her wit's end, and decided that the solution was to send the dog away on a 'crash course'. She was most unhappy with the result and her experience is quite common. That doesn't mean it isn't right for you and your dog. But there are quite a few factors to consider. I'll explain as we go.
Sending your dog away for training – a big decision
Dog training can be tough. But for most people sending the dog away to be trained is not a decision they take lightly.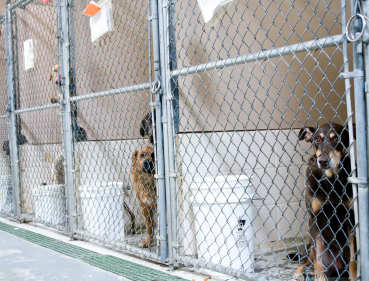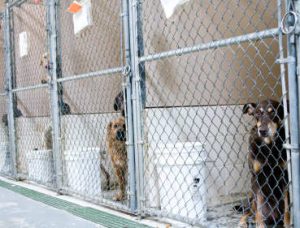 We love our dogs, and being separated from them for several weeks can be very upsetting. And residential training does not come cheap.
So is it an option worth considering for Labrador training? Or something to be avoided at all costs? To help you make this decision, let's look at some of the reasons why pet owners might decide on residential training for their pet. And at some of the pros and cons of sending a dog away to be trained by someone else
Why send a dog away for training?
When a dog is failing to obey simple commands, there is a problem. And with a big dog, it can be a big problem.
These are not always easy problems to deal with and for someone that can afford to pass the problem on for a paid solution – sending a dog away for training has great appeal. But does residential dog training actually work? Are owners satisfied when their dog returns?
Does residential dog training work?
The answer is 'sometimes'. And to 'some extent'. One of the big problems with sending your dog away for training is that dogs are very poor at generalising. A dog can quickly learn that a particular command applies in a particular place, and when given by a particular person. Unfortunately that does not mean that he will understand that the same command will also apply in your home, and outside it, when given by you. So there has to be a period of 'transition' after any residential training course.
The transition after you send your dog away for training
When a dog returns from a training course he needs to relearn the commands and skills he has been taught. There is a 'handover period' where your dog comes to understand that the new skills apply at home too. And this is a point where everything can fall apart. Usually for one of two reasons. Either
The owner fails to reinforce (reward) the new behavior effectively.
Or
The owner is unable or unwilling to carry out the trainer's instructions to punish the dog for mistakes.
Which of these problems occur will depend on the style of training that the dog has been subjected to. And it is the second of these two that is the biggest problem. Both for the dog, and for the owner. Because many residential dog training courses – especially those that claim fast results – rely on punishment to get results. We'll look at that in a moment. Let's look at the time factor now
How long does residential dog training take?
Another major problem when you send a dog away to be trained, is that effective training cannot be rushed, and many dog training courses are simply not long enough. It takes months, not days, to fully train a dog. You are unlikely to see significant results from a training course that is less than three months long.
Not only is this a significant expense for most dog owners, it's also a long time to be without your dog. And most people will miss their dog very much during this time. There is an alternative of course, and that is to go on a residential course where you accompany your dog.
Doggie boot camp
Doggie 'boot' camp courses often involve the dog and his owner going away together. These types of course are usually quite short – just a week or two. But dog training boot camps have the advantage of being able to ensure that the person who will be training the dog in the future – that's you – learns the skills they need to do so effectively.
Most important of all, then ensure that you are able to watch what is being done to your dog and if necessary to step in and remove your dog from the situation. Which brings us to the most important disadvantage of sending a dog away to be trained without you.
Can you trust your dog to this trainer?
Sending a dog away into another person's care for several weeks, is a huge leap of faith. You need to have complete trust in that person. You need to be sure that they will treat your dog as you would want him to be treated. That they will use methods that you would want them to use.
Remember the lady I refer to at the beginning of this article. Well, she was devastated to find at the end of her dog's four week recall course, that he had been 'trained' with an electric collar. Not only had her dog been electrocuted, she was now expected to fork out a not inconsiderable sum of money to purchase an electric collar in order to retain some control over her dog.
Dog training is unregulated
Bear in mind that there is no regulation of dog trainers. You do not need any qualification to set yourself up as a dog trainer. There are qualifications for dog trainers, but you don't need them in order to take charge of another person's dog and train that dog in any way you see fit. Anyone, absolutely anyone, can do this.
And whilst there are many wonderful dog trainers around, there are some poor ones too. There are dog trainers still in the dark ages as far as training methods are concerned. There are dog trainers that have absolutely no understanding of canine behavior or psychology at all. Dog trainers that do a lot of harm.
At least if you are attending classes with your dog, you can walk away if he or she is incompetent. If you must send your dog away, question your prospective trainer closely, find out what his methods are, asks for testimonials or references. Don't take it on trust.
Residential puppy training – time and punishment
Modern dog training is largely reward based these days. There are many reasons for this. Because residential dog training is subject to strict time constraints, the trainer boarding a client's dog is forced to work within those. Often to the detriment of the dog.
A dog trainer in a residential establishment is under pressure to make a satisfactory amount of progress in a limited space of time. The temptation in this situation is to use quick fixes. In the short term, these 'quick fixes' often involve punishing dogs. Sometimes quite severely.
We now know that training that incorporates punishment carries a number of risks, including an increase in aggression. This is a particular disadvantage with the larger stronger dogs that are often the ones being sent away for training. So it's important to ask yourself if this is what you want for your dog.
Bear in mind that for most serious problems quick fixes are a myth. They don't exist except under very controlled conditions. Yes you might see amazing results today, but those results will often deteriorate very quickly, especially if the source of fear that was controlling the dog, is removed.
Residential dog training is very basic
Time constraints mean that residential dog training is very basic. Every cue (word, hand signal or whistle) that a dog learns has to be retaught in a range of different situations. This is due to that generalisation issue we discussed earlier.
Dogs need to learn that the recall applies at home, in the dog park, on the beach, out on a hiking trail etc. This is not automatic, and not many residential courses will take dogs 'out on the road' like this to proof all their skills. Proofing is the hardest and longest part of dog training Yet that part will be left to you. And there is the biggest problem of all, because while your dog was away, you will have learned nothing about proofing at all.
Residential dog training doesn't train YOU
This is a key disadvantage of sending a dog away for training. You don't learn anything. You won't learn how to teach your dog new skills. And you won't learn how to proof your dog's cues against distractions. Okay, let's sum up the pros and cons of residential training.
Sending your dog away for training – pros and cons
Pros of residential dog training
You get a break from your dog at a time when you may be tearing your hair out and possibly thinking about rehoming him.
The fact that your dog has gained some basic skills may give you the motivation you need to build on what he has learned when he returns.
If you can read up and learn about dog training while your dog is away, the break may give you a chance to recharge your batteries and start over with your dog.
Cons of residential dog training
The training that the dog gets is limited – dog training takes months and there are no quick fixes.
The dog may be treated harshly and you won't know.
Punishment based training will break down if you don't continue to punish your dog.
Some dogs may become aggressive after punishment based training.
You will not have learned how to control the dog (a ten minute demo at the end of the course won't cut it).
You won't know how to teach the dog new skills in the future, or correct behavior problems that arise in the future.
On balance, residential dog training may not be such a good idea for you and your dog. Unless you are on the brink of abandoning your dog at a shelter, he is better off, and you are better off, solving your challenges together.
In fact, with the exception of some specialist training requirements, I don't recommend you ever send a pet dog away to be trained. That doesn't mean struggling without help. Fortunately there are thousands of excellent dog training classes in most regions now, where you can get hands on help and advice.
What about specialist training?
There are exceptions where I might occasionally recommend residential training. Some gun dogs for example will benefit by being sent away to 'finish' off their training. The reason for this is simply that advanced gun dog training requires facilities that many of us do not have access to on a regular basis. Access to various types of water for example, and to game birds. But for the most part residential training is not the solution to your problems.
Sending your dog away for training – summary
Sending a dog away for training assumes that the dog is the problem. This is a false assumption. In every case, the reason a dog is out of control is because his owner needs help. Help to understand how dogs learn, and how to manage and train their dog effectively for the rest of his life.
Dogs learn by the consequences of their actions. Just like all other animals Whilst a dog is in residential training, someone else is controlling those consequences. When he comes home you are going to have to take over this job. But how are you going to do that if no-one has shown you how? A twenty minute demonstration when you collect your dog is not sufficient to enable you to understand to control a dog. Especially a dog that has been sent away with a serious and complex problem.
Dog training is not something that starts on a particular date, and ends on another date. It is something that continues throughout a dog's life. Dogs that are being cared for by people who have no emotional attachment to the dog and who are working against the clock, are dogs that are very vulnerable to abuse.
For all these reasons, the best person to train your dog is you. It's normal to find this challenging and to need some help. You are likely to get far more out of help on a regular basis from a reputable local trainer. The time you invest will be worth it in the long run.

Want To Train Your Dog Yourself?
Then why not check out my complete recall training guide, Total Recall. This handy book takes you step by step through the process of teaching your dog to come when he's called.
(paid link)
Designed to help any dog owner who wants to keep their pup safe, happy and well trained. You can buy Total Recall from Amazon by following this link(paid link). If you do, The Labrador Site will receive a small commission which is greatly appreciated and won't affect the cost to you!
How about you?
Did you send your Labrador away to be trained? Were you happy with the results? Don't forget to join our forum to get help and support with your own training journey!
Should You Send Your Lab Away To Be Trained has been extensively revised and updated for 2017
Related Articles
The Labrador Site Founder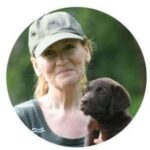 Pippa Mattinson is the best selling author of The Happy Puppy Handbook, the Labrador Handbook, Choosing The Perfect Puppy, and Total Recall.
She is also the founder of the Gundog Trust and the Dogsnet Online Training Program 
Pippa's online training courses were launched in 2019 and you can find the latest course dates on the Dogsnet website