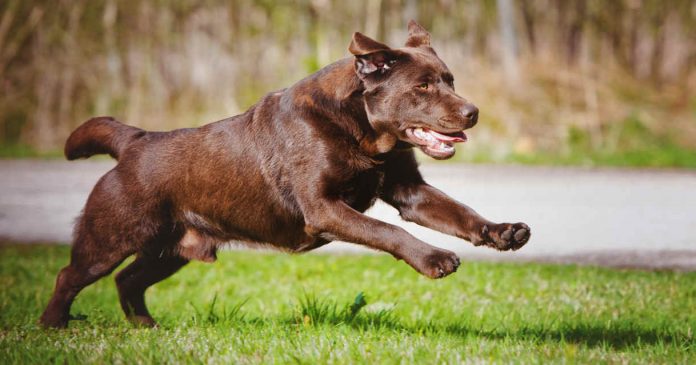 Is your dog going too far away on walks, and not coming back when you call him? In this article, you'll find out how to train your dog to stay closer and 'check in' more often.
'Keep Your Dog Close' was written by our founder, best-selling author Pippa Mattinson. To get Pippa's weekly free training tips just drop your email into the box below'

Many people find their dogs getting further and further away from them on walks as they leave the puppy stage behind. In this article we are going to look at the very effective 'about turn' method of improving your dog's recall. It will also help you keep your dog close when you are out walking together
Walking your Dog
Many people go for regular walks with their dogs. The whole walk is often a circle, but such a large one that the dog owner is effectively walking in a straight line throughout. For some dogs this causes no problem. The dog trots along happily 20 or 30 yards ahead of the owner, stops to say hello briefly to other dogs and quickly catches the owner up again. But for many lively young labradors, the 'linear' walk is an invitation to go hunting further and further ahead. And to begin ignoring the  shouts or whistles of his owner.
Like most Labrador training problems, recall issues tend to get worse over time if not addressed,  so it is important to take action straight away. If your dog, and your recall is breaking down, this following technique will help. It's called the About Turn Walk, because that's exactly what you'll be doing!
Will this help me?
The 'about turn walk' will help you if your dog is straying too far from you on walks. If they are reluctant to come when called, and slow about doing so. It won't have any affect on a dog that genuinely 'runs away' when you let him off the lead – he is not interested in where you are.
Absconders!
True absconding, where the dog heads for the horizon and simply doesn't return,  is rare and the vast majority of dogs do care where their owner is. Though they may be disobedient, most dog do not actually want to lose their human completely. And do actually want to go home with you at the end of the walk. This is your trump card.
How long will it take?
The 'about turn walk' will only work if you apply it consistently for at least a month. You will find it impossible to go for a normal family walk whilst you do this, as it will drive everyone with you quite mad. The technique will only work if you do not take your dog for any other kind of walk for at least a month.
Training steps
STEP 1. PUT SOME TREATS IN YOUR POCKET
Arm yourself with something your dog likes to eat – bits of cheese, bread or chunks of roast meat such as chicken or beef. A good quality kibble can work for greedy / hungry dogs. But the tastier the better to begin with.
STEP 2. STOP CALLING!
How many times have you found yourself calling your dog endlessly, while the dog plays with another dog, or finishes sniffing a leaf. It feels very frustrating! And the good news is, you don't have to do it any more Calling a dog that has no intention of coming until he feels like it simply teaches the dog that your call has no meaning. So please stop calling your dog – all you are training him to do is to ignore you.
STEP 3. RELEASE THE DOG
Take your dog into your usual dog walking area – a wide-open space outdoors where he is safe. Wait until there are no other dogs nearby, remove his lead just as you normally do and take a couple of steps forward – watch the direction the dog goes in.
STEP 4. WALK AWAY FROM THE DOG
Now set off extremely quickly in the opposite direction to that taken by your dog. Do not look back. Trust that your dog will find you. He can smell you up to a mile away. The first time you do this your dog may be gone for some time. When he realises you are not with him, he will come to find you. You will eventually hear him dashing up behind you. Get ready for Step 5!
STEP 5. ABOUT TURN!
Once your dog has concluded you are now walking in a different direction he'll head off in that new direction to explore way out in front of you. Be ready. As your dog rushes past you, make a complete 'about turn' and set off extremely quickly in the opposite direction (facing in the direction from which he just came).
Do not call the dog; do not try to attract his attention. You are not training him to come to you at this point; you are training him to believe that you are unpredictable and that he needs to keep an eye on you.
Repeat several times until the dog is starting to slow down a little, wish you'd make your mind up, and regard your new behavior with suspicion! This might take a while, but it will happen.
STEP 6. RECALL CONDITIONING
Now as the dog approaches you from behind, turn to face him and call him right into you as he approaches. Praise him and give him some of those juicy treats from your pocket, before sending him on his way again. Immediately he sets off, about turn again.
Do not follow your dog at any point. You are leading the way, you chose the direction, and he is learning to follow you. Practice every day for a week. Turn to face the dog and call him every time he approaches you. Make sure he touches your hand each time. Give him a juicy treat every single time for the first week at least.  After that it's okay to miss the treat out occasionally. Just make sure the dog is rewarded more often than not.
STEP 7. RE-INTRODUCING THE RECALL CUE
After a week or so of switching direction like this, you will find your dog beginning to remain closer to you. He will be watching you more carefully. And pay more attention to you. Now you can start  to look for other opportunities to give your recall cue. Up until now you have only called him as he comes running to you, now you will begin call him to you at different times. Pick your times carefully to begin with.
Do not call him when he is following, or interacting with, other dogs or people.
Do not call him when he is deeply interested in investigating a fascinating smell.
Do not call him when he is travelling away from you at speed
Do not call him when he is a long way away
In situations like these you have no real power over the dog. Better not to call him than to risk reminding him that he used to be the kind of dog that ignored you. Bide your time. Wait until the dog is simply trotting about doing nothing in particular, and very close by to re-introduce your recall as a command. Use it sparingly and reward every single recall to begin with.
Improving Engagement
The about turn walk improves the bond between you and your dog and prompts your dog to seek you out and engage with you. It isn't the only way of improving engagement. Training games, retrieving and scent work are all ways to engage with your dog outdoor and will help improve the bond between you and your dog both indoors and out.
In the meantime it's important keep up your 'about turn walks' for at least a month or until your dog remains near to you during your walks, whichever takes longer.
Getting help
For free training tips from Pippa, just drop your email into the box below.

If you'd like to learn more about force free dog training methods Pippa's Foundation Skills course is a great place to start. You might also enjoy her complete guide to teaching a dependable recall cue: Total Recall.

You can buy Total Recall from Amazon by following this link. If you do, The Labrador Site will receive a small commission which is greatly appreciated and won't affect the cost to you!
'Keep Your Dog Close' has been revised and updated for 2020. 
The Labrador Site Founder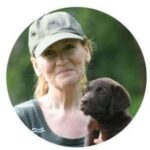 Pippa Mattinson is the best selling author of The Happy Puppy Handbook, the Labrador Handbook, Choosing The Perfect Puppy, and Total Recall.
She is also the founder of the Gundog Trust and the Dogsnet Online Training Program 
Pippa's online training courses were launched in 2019 and you can find the latest course dates on the Dogsnet website