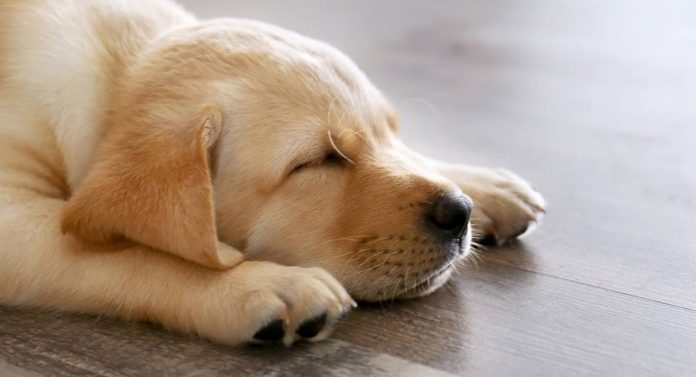 Sometimes I feel like my youngest Labrador sleeps all day. And she's not even a tiny puppy anymore.
Labs sleep a lot, and although all new dog owners expect puppies to nap frequently, they are often surprised by how much adult dogs sleep during the day too. Young puppies can sleep for up to 20 hours a day, but grownup pups aren't that far behind with an average of around 12 hours of shut eye.
Dog sleep patterns are fascinating things. They have what is called polyphasic sleep, where they have periods of wake and sleep that occur during both the day and the night.
Today I'll share what you should expect from your dog's visits to dreamland as they grow and develop. And help you to understand the changes that occur in different stages of their lives, including when they are unwell.
How Long Do Dogs Sleep?
Dogs have a sleep pattern known as polyphasic. This means that they have multiple periods of sleep scattered throughout the day and night. A feature that they share with many other mammals.
Dogs have better night vision than we do. So their ancestors could hunt both by day and by night, if necessary. In fact, hunting at night may have given them some advantages. It is easier to creep up on your victim under the cover of darkness.
Dog Sleep Patterns
Sleeping all night had no advantage for dogs, so dogs did not evolve a natural tendency to sleep for a single long stretch of time like we do. Instead, they acquired the useful ability to get as much sleep as possible, often in short stretches, whenever there is nothing much going on. You may have noticed that your dog wakes up instantly and is ready for action right away. This ability evolved so that they can defend the pack from a threat at a moment's notice.
How Dogs Adapt to Different Patterns of Sleep
Dogs are adaptable creatures. Although your dog's ancestors may have hunted at night, modern dogs have learned to live by our clocks. And living with humans means that most dogs do learn to sleep the night away without disturbing their human family. Though they may wake and move around briefly during this period of time. If your dog is not sleeping through the night and disturbing your sleep, consider whether he is getting enough daytime activity and stimulation.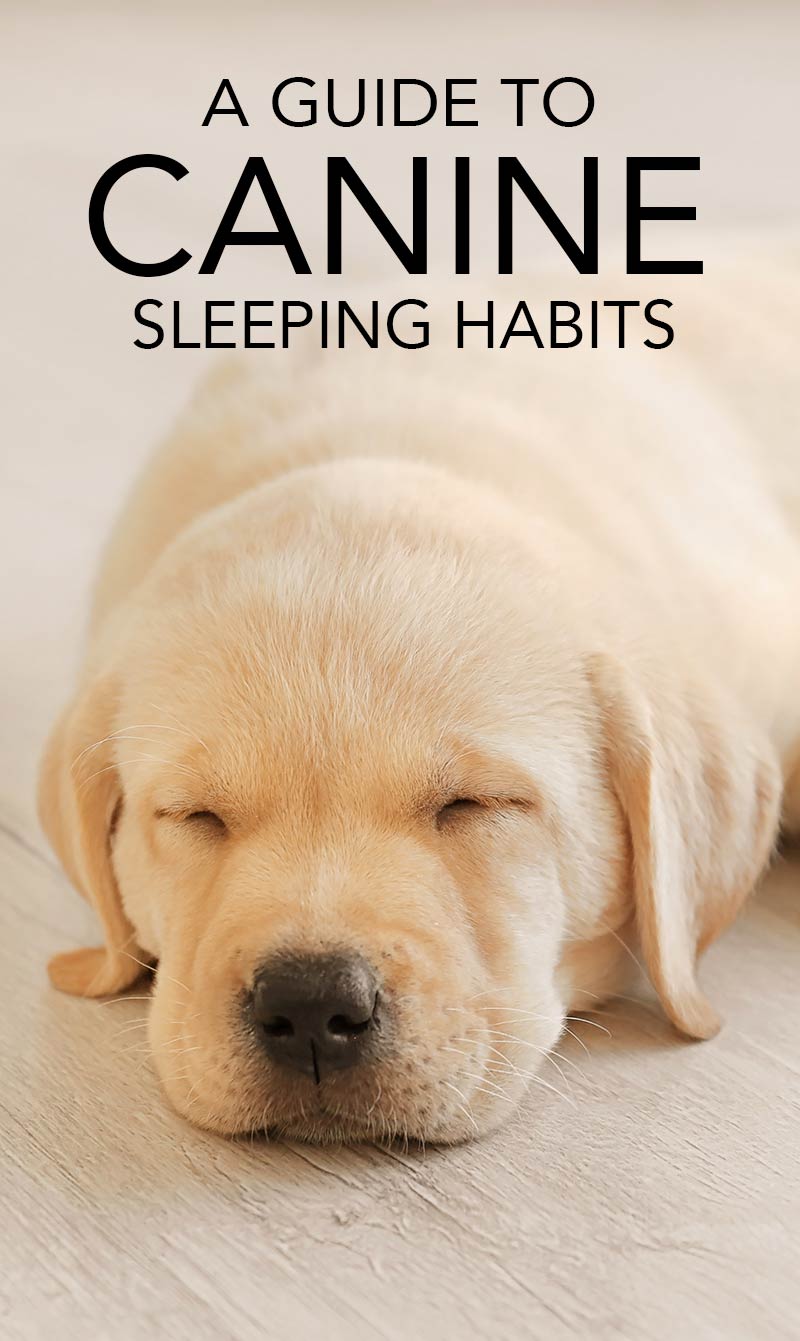 Dogs have retained their ability to sleep whenever life gets dull. Studies of guard dogs have shown that dogs are not disadvantaged by being woken up frequently or working in changing shifts. They simply sleep when they get the chance. But how many hours sleep does a dog need during each 24 hour period?
How Many Hours a Day do Dogs Sleep?
Dogs naturally sleep for longer periods of time each day than people do. But just like humans, sleep needs vary among individual dogs. Sleep needs also vary among different dog breeds. Adult Labradors will sleep for well over half of every 24 hours, and puppies under four months old may sleep as much as 20 hours a day.
The reason for all this sleeping may have to do with a special type of sleep called rapid eye movement, or REM, sleep during which dreaming takes place.
Do Dogs Dream?
Dogs certainly appear to dream in the same way that we do. And their brains behave in a similar way to ours during the sleep cycle. REM sleep is just one phase of the sleep cycle that both dogs and humans experience. A study published in 2008 showed that REM or dreaming sleep decreases as dogs get older. So it looks as though puppies dream more than adult dogs.
Sometimes when fast asleep, your dog will make twitching and running movements with his paws, and some dogs will give little yips and barks. This is a normal part of deep REM or dreaming sleep.
Studies have also shown that if the part of the brain that de-activates movement during sleep is removed from a dog, the sleeping dog will actually carry out the behaviors that he is dreaming about. So while we can't say for certain that dogs dream just like we do, it seems quite likely that they do.
Let Sleeping Dogs Lie!
We know that in humans, REM sleep is important. Being deprived of REM sleep can cause unpleasant effects, and there is no reason to think that dogs are any different. It is important to allow your dog to sleep deeply when he wants to and to not interrupt his sleep when he starts dreaming.
Some veterinary specialists speculate that dogs sleep more than humans because their REM sleep is often interrupted due to their ability to wake easily and quickly and be ready for action. Because of that wakefulness, dogs need more periods of sleep in which to get an adequate amount of REM sleep.
Should I Worry about Changes in Sleep Patterns?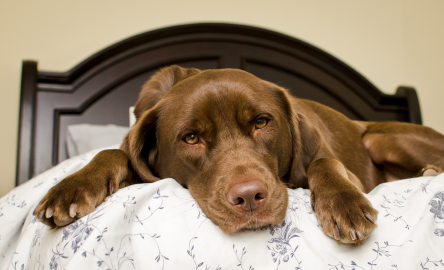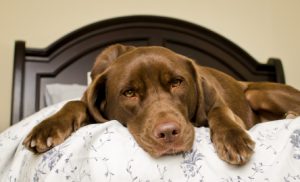 If you are worried that your dog may be ill because he is sleeping so much, ask yourself what has changed. Is he sleeping a lot more than he was just last week? Or has he always slept this much? Is he bright and bouncy when he is awake? Does he have a good appetite? Or does he seem lethargic or uninterested in food?
Excessive sleeping in a dog that is eating well and full of energy when awake is unlikely to have any significance. It's just what dogs do. And some elderly dogs tend to sleep more than they did when they were young. But if your dog's sleeping patterns have changed recently, especially if he seems lacking in energy or his appetite is poor, have your vet check him over.
Make a Special Sleeping Space
Your Labrador, like all dogs, is able to awaken quickly from sleep and be ready for action, whenever an opportunity presents itself. However, constantly interrupting his sleep is not a good idea. While many confident dogs will sleep pretty much anywhere, it is important that every dog has his own sleeping space. A place where he can go and relax when he wants to.
Even if your dog shares your bed at night, he should still have a bed somewhere in the house that he can call his own. It needs to be somewhere free of drafts and comfortable, preferably lined with a cozy mat or blanket.
Elderly Labradors may need thicker padding to support their joints. Orthopedic dog beds can provide extra comfort. It is here, in his special space, that your dog can relax fully and sleep deeply.
How Long Do Dogs Sleep?
Dogs naturally sleep for long periods of time, and sleeping a lot is nothing to worry about in a dog that is active, enjoying his food and living life to the fullest. Just like people, dogs need deep REM sleep, and constantly interrupted sleep can be harmful. So keep your dog's sleep space free from disturbances.
Placing your dog's bed inside a crate is a good idea in families where there is a lot going on during the day. This helps prevent toddlers from climbing on the dog when he is trying to sleep and makes sure older children don't trip over him.
The Labrador Site Founder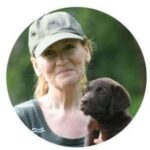 Pippa Mattinson is the best selling author of The Happy Puppy Handbook, the Labrador Handbook, Choosing The Perfect Puppy, and Total Recall.
She is also the founder of the Gundog Trust and the Dogsnet Online Training Program 
Pippa's online training courses were launched in 2019 and you can find the latest course dates on the Dogsnet website