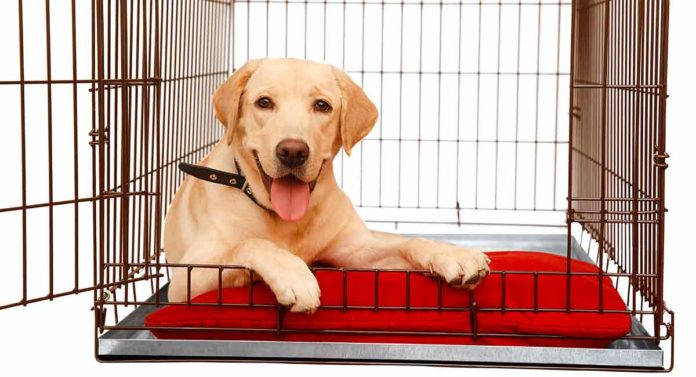 Today we are going to help you to decide what size crate your Lab needs. Labs are big dogs, but crates shouldn't be too large or you risk them using it as a toilet! So what size crate does a Lab need to stay comfortable, but also clean indoors? We'll look at factors including your dog's age, size and the shape of the crate!
When choosing a crate for a fully grown Labrador, you'll need to buy a 36-inch or 42-inch crate. If they are a puppy you'll need a smaller model, or a divider for your large crate. But the best dog crates on the market differ wildly in size even on this spectrum, as well as materials, so picking one suitable for a Labrador can seem daunting. But we've got some great options, and ways you can pick the exact right match for your dog.
What Size Dog Crate for a Lab?
When it comes to choosing the right crate size for a Labrador, there are a few things to take into consideration.
What Size Crate Does a Lab Need?
As a general rule of thumb, the crate needs to fit your dog. If the crate is too small, your dog will be uncomfortable. On the other hand, if the crate is too big, the dog may feel unsafe. And use the free space to pee or poop. The crate should be big enough to allow your Labrador to sit down and stand up comfortably, and to lie down and stretch out on his side.
How to Measure Your Labrador for His Crate
To ensure you get the right crate size for your lab, you'll need to measure him correctly. Use a fabric tape measure and measure your dog while he's standing up. Measure from the tip of his nose to the base of his tail. That will give you the dog's length. From these measurements, you can determine whether your pup will be able to lie down and stretch out fully in his crate.
To find your dog's height, have your dog sit and then measure him. That's important because some dogs are taller while sitting. You need to be sure that your pup has enough room to sit and stand comfortably in his crate. Add two to four extra inches to your final figures to find the ideal crate length and height. The extra couple of inches you add are important because this extra space will be your Labrador's wriggle-room inside his crate.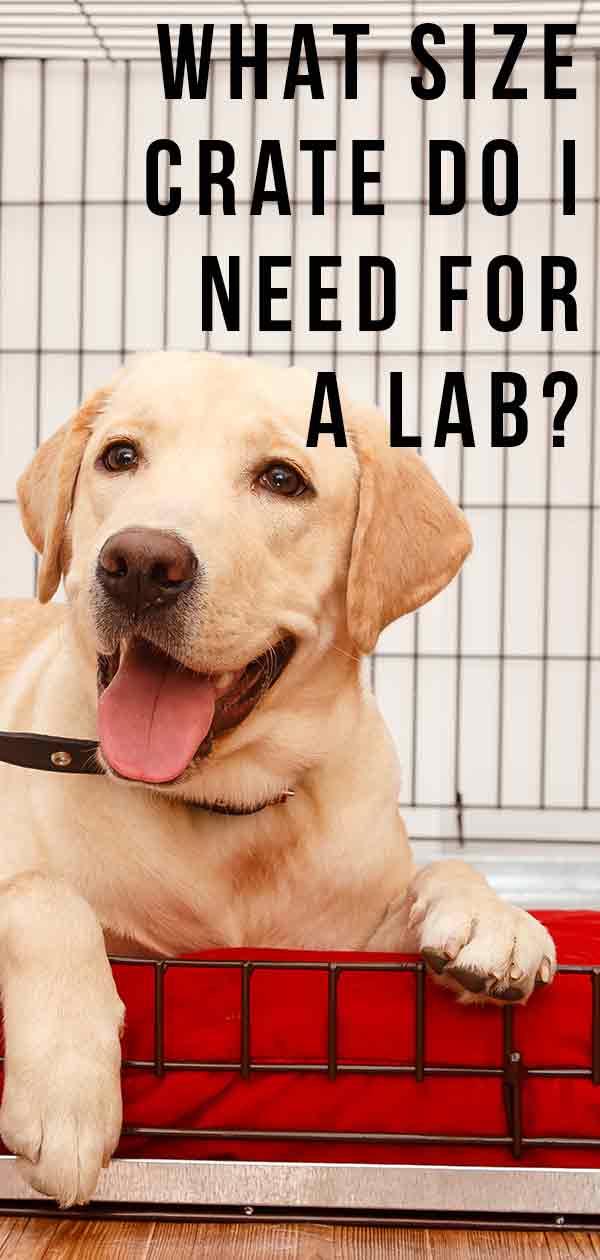 What Size Crate for a Lab Puppy?
If you have a Labrador puppy, you won't want to have to constantly buy larger and larger kennels as he grows. Instead, buy a kennel that will fit an adult-size Labrador. Use dividers* inside the crate to temporarily reduce its size, moving the dividers as your puppy grows until you can remove them altogether.
Don't be tempted to provide your puppy with an adult-sized crate without dividers. He will probably make a bed at one end and use the other end as his toilet.
What Size Dog Crate for a Labrador?
When choosing a crate for a fully grown Labrador, you'll need to buy a 36-inch or 42-inch crate. The advertised size refers to the length of the crate. The width and height will vary slightly, depending on the make. If your adult Labrador is very large, you should choose a 42-inch crate.
Don't be tempted to choose a smaller size to save taking up too much room in your home; your dog's comfort should be your priority. If you're afraid that a large metal crate might spoil your interior décor scheme, you could opt for a dog crate that doubles as an attractive piece of wooden furniture*, such as this one.
What About Doors?
Most modern dog crates are fitted with two doors. That's a great innovation because it allows you a much wider choice of places in which you can site your Lab's crate.
What Are Labrador Dog Crates Made From?
When it comes to choosing a crate for your Labrador, there's a range of styles and materials to choose from. Dog crates are usually made from a wire frame with a removable plastic tray set in the base where you put your pup's bed.
Metal crates tend to be the most popular material. They fold flat for easy transportation and storage. They're strong and long-lasting, and they're very easy to clean. Here are a few traditional dog crates we especially like.
Amazon Basics
The AmazonBasics Single Door & Double Door Folding Metal Dog Crate* comes in a range of sizes right up to 48 inches.

The crate has a double-door entry system with front and side entry. Each door has two slide-bolt latches that provide superior security and safety. The crate is made from sturdy metal, and comes with an optional divider and a removable plastic pan. The crate folds flat for easy storage and transportability. It even includes a handy, plastic carry handle.
MidWest Homes
The MidWest Homes for Pets Dog Crate* comes in sleek, black metal or in pretty powder blue and baby pink for something a little different.
The crate has a single door and comes in 30-inch, 36-inch, 42-inch and 48-inch sizes to accommodate the largest of Labs. The crate comes with a divider included, has a sturdy plastic tray, roller feet to protect wooden floors and also has a carrying handle.
The door of the crate has two heavy-duty slide bolt latches to keep the door securely fastened with your dog safe inside. The tray is designed to be leak-proof, which comes in handy if you have a senior pet with continence issues or a puppy that's still being house-trained. This crate also has a one-year manufacturer's warranty.
You can have a free replacement in the unlikely event that there's a problem with the construction. You can also buy fabric crates that can be useful as "away kennels" for camping and traveling.
Noz2Noz
A fabric crate that's a best-seller on Amazon is the Noz2Noz Soft-Krater Indoor and Outdoor Crate*.
This crate comes in a range of sizes up to 42 inches. It is designed to accommodate dogs up to 70 pounds, making this a perfect dog crate size for a Labrador.
This fabric dog crate is perfect for indoor and outdoor use. It's made using heavy-duty, tight-weave mesh fabric for breathability and strength. The collapsible crate can be set up in seconds. It's designed with rounded corners to protect your home décor from damage. The crate comes in a neutral shade to suit most home décor schemes.
EliteField
The EliteField 3-Door Folding Soft Dog Crate* is one of Amazon's best-sellers and comes in a range of sizes up to 42-inches—the ideal Labrador cage size.
You can also choose from a wide selection of décor-friendly colors to suit your home's interior. The crate's frame is made of strong, stainless steel tubing. The cover is made from high-quality, durable 600D mesh fabric, creating a strong, stylish, lightweight crate.
The crate can be folded flat for easy transport in the free carrying bag. A convenient handle and hand-carry strap are also included. The crate comes with a cozy fleece lining included. There are three mesh doors for convenience and to allow breathability. Two accessory pockets are incorporated into the design. The whole thing, including the bedding material, is fully washable.
The bed comes with a two-year warranty from the brand's New York manufacturer. If you wanted a Labrador crate to blend with your home, stylish wooden crates that look like smart pieces of furniture are also available.
Richell
The Richell Wooden End-Table Crate* is a very stylish wooden dog crate that you can incorporate into your home furnishing scheme, rather than having a wire crate centerstage.
The crate is designed for indoor use only and doubles as an end or side table. There's a door at the front of the crate that offers easy access for your Lab. The crate comes with a plastic tray that slides out for easy cleaning. The crate is suitable for large dogs up to 88 pounds and comes in brown or dark brown.
Petmate
The Petmate Two Door Top Load Dog Kennel* is perfect for transport small Labrador puppies.
The robust, plastic crate comes in four funky pearlescent colors too. I can personally vouch for the superior quality of this kennel, as I have one myself. I use mine to transport my large cat to the vets, but it's more than big enough to comfortably accommodate a new puppy.
There's a top-loading door with a wide top entry area, allowing easy access for the reluctant pup who might not fancy traveling to his vet's appointment. The other door is sited at the front of the crate. It fastens with a secure, simple-to-operate, squeeze-together mechanism that can be operated with just one hand. The kennel has ventilation openings on all sides. The grated front door and top-load steel door allows your pet to see where he's going for stress-free travel.
There's plenty of room to fit a piece of vet-bed or fleece in the bottom of the crate for your pup's comfort. This U.S.-made crate is air travel approved and meets airline cargo specifications. Separate air travel kits are available if required.
What's the Point of a Dog Crate?
Dog crates have several main uses:
A dog crate can provide an open den area that offers your Labrador safety and security.
Crates are perfect for acclimatizing puppies to being left alone and for toilet training.
A dog crate can be used for short-term confinement when you can't be around to supervise a playful pup that might get into mischief when you're not watching.
If your Lab has had surgery, your vet may advise confinement to a crate as a recovery aid.
A dog crate is a safe way of transporting your dog in comfort in your car.
Many puppy owners find crates useful for protecting their home from chew damage if they're not around to keep an eye on their playful pup. Many owners train their pups to accept sleeping overnight in their crates, ensuring a peaceful night for the whole family.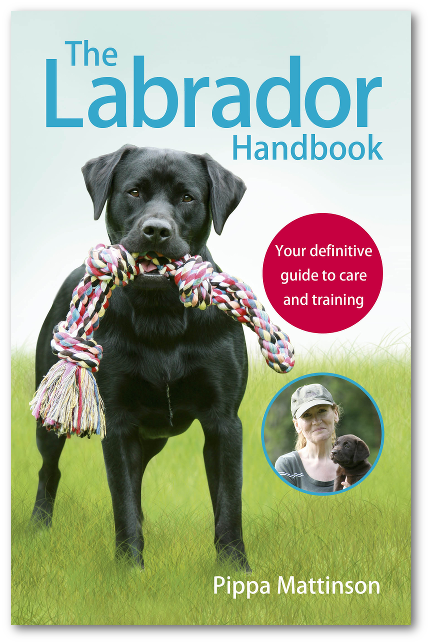 You will need to take the time to train your puppy to understand that his crate is a nice place for him to spend time in. Check out our helpful article on crate-training your Labrador puppy for more helpful tips and advice.
What Size Crate Does a Lab Need?
Dog crates are really useful for short-term confinement of puppies during house training and at busy times when you can't be around to supervise your pup. A dog crate can also provide a safe, secure space for your Labrador when he's left home alone and for when you're transporting him in your car.
We'd love to hear about your Lab's dog crate. How did you make sure that you chose the right Labrador cage size? What type of cage did you buy? Share your story with us in the comment section below. If you want to learn more about Labs, check out our guide to Labrador Lifespan!
Affiliate link disclosure: Links in this article marked with an * are affiliate links, and we may receive a small commission if you purchase these products. However, we selected them for inclusion independently, and all of the views expressed in this article are our own.
The Labrador Site Founder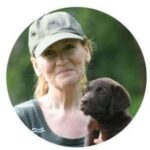 Pippa Mattinson is the best selling author of The Happy Puppy Handbook, the Labrador Handbook, Choosing The Perfect Puppy, and Total Recall.
She is also the founder of the Gundog Trust and the Dogsnet Online Training Program 
Pippa's online training courses were launched in 2019 and you can find the latest course dates on the Dogsnet website