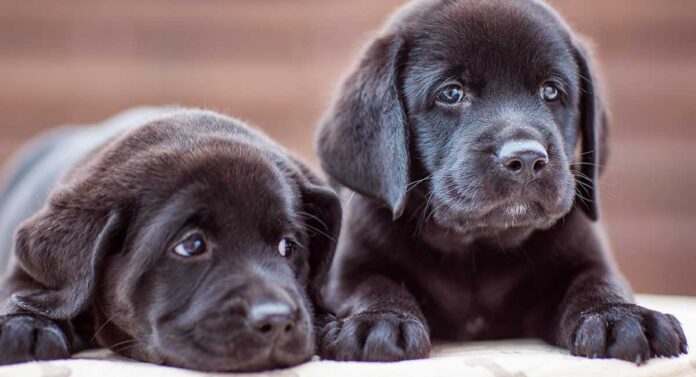 We have named a few beautiful black Labs over the years, and they all followed a theme of being classic and human style. Our Labradors have included a Ted, Jake, Tess, Rachel and Daisy. But coming up with black Lab names doesn't have to just be a case of diving into traditional ideas. You can look at current trends, or even things that are totally unique to you like your hobbies or interests.
Today I'll share my methods for braining storming unique and creative names, and how to narrow down the options to the perfect fit!
The best black dog names come in as many varieties as lovely baby Labradors do themselves. The day you welcome home your new black Lab puppy, or adult black Labrador Retriever mix for that matter, is an amazing one.
Black Labradors are friendly, outgoing and full of fun. And a dog this cool deserves a really great name. Today we are going to share the some great ideas, and help you to choose one that fits your new friend perfectly.
Top Black Lab Names
| | | | |
| --- | --- | --- | --- |
| Shadow | Max | Chalky | Ember |
| Coal | Night | Atrix | Ash |
| Venom | Widow | Vixen | Smokey |
| Guiness | Buzz | Nero | Onyx |
| Pearl | Pepsi | Cola | Panther |
| Morticia | Hecate | Poe | Dracula |
| Cullen | King | Cocoa | Winston |
| Sootie | Storm | Licorice | Bertie |
| Bean | Sting | Diesel | Vamp |
| Smudge | Knight | Danger | Drax |
| Berry | Espresso | Galaxy | Harley |
| Joker | Crash | Howl | Twilight |
| Raven | Thunder | Olive | Jackson |
| Dusk | Velvet | Velour | Bear |
| Bruce | Jack | Avril | Chev |
| Charcoal | Miner | Silas | Cosmos |
| Bonnie | Chess | Boxer | Bowser |
| Butler | Albert | Tux | Chester |
| Pingu | Oreo | Panda | Jeeves |
| Ebony | Slater | Tarmac | Baileys |
| Brandy | Cookie | Brownie | Hershey |
| Cadbury | Java | Jameson | Whisky |
| Mocha | Snickers | Raisin | Beast |
| Duchess | Jedi | Darth | Hendrix |
| Vader | Ninja | Rebel | Leia |
Creating Good Black Labrador Names
Black Labrador dog names aren't just for this breed! Of course, any dog could use them, whether they have dark fur or not. But these ideas are perfect at showing off the friendly, lovable nature of Labradors. Plus, they highlight the beautiful, dark coat on your dog!
The best names for black Labs don't have to be inspired by the way that they look. If you want a totally unique black Lab name then why not think of something that really appeals to you. Perhaps it's a movie you adore, or an activity that you can't wait to share with your new dog. Maybe you're a total gear head, or a lover of the natural world. Take that theme and jot it down on a sheet of paper. Then fill the paper with ideas that mean something to you.
Don't limit yourself to words that sound like names to begin with. Just write down anything and everything you can think of to do with the topic or theme you love. When you're done letting your mind run with it, you can go through and make a new list of all the ideas that sound like names. Then why not stick that list to your fridge, and let everyone in the family take it in turns to cross out their least favorite. Whatever is left is your new black Lab's name!
Choosing a Name for your Black Lab
Of course, another great way to find a name is to just check out other people's ideas. We've got absolutely hundreds of them for you. And if you want a unique twist to the process, why not try double barrelling a couple of them!
Black Lab Boy Names
Here are some great boy dog names for Labs. Take a look at these Labrador dog names with meanings to see how one could link to your dog's coat!
Blake (black)
Colley (dark haired)
Darcel (dark)
Dolan (black haired)
Donovan (dark haired chieftain)
Dougal (dark stranger)
Tynan (dark)
Kieran (black)
Kolby (dark haired)
Morris (dark)
Sullivan (dark eyes)
Caliban (black)
Farrar (blacksmith)
Hadrian (dark haired)
Keir (dark)
Lonan (blackbird)
Nigel (dark)
Perran (little dark one)
Pinchas (dark)
Shyam (dark)
Abanus (dark complexion)
Donner (dark warrior)
Kaval (black toned)
Kol (dark)
Merik (dark tone)
Adelram (dark and noble)
Orpheus (darkness)
Schmidt (blacksmith)
Corbin (raven)
Mo (dark skinned)
Yin (in the shade)
Nero (black)
Bertram (bright as a raven)
Musta (black)
Po (night)
Ombre (shadow)
Kaiser (head full of hair)
Anino (shadow)
Corvo (raven)
Kenneth (handsome one)
Duane (little dark one)
Rabe (raven)
Dell (shade)
Bran (raven)
Akan (eclipse)
Eban (black)
Preto (black)
Notte (night)
Keiran (dark one)
Burnett (dark haired person)
Black Lab Girl Names
We've also got some great girl Labrador names with meanings that can show off their beautiful black coats!
Darcie (dark one)
Keira (little dark haired woman)
Lylah (dark beauty)
Maura (darkness)
Melanie (black)
Morrisa (dark colored girl)
Sauda (dark and beautiful)
Adriana (dark)
Bruna (dark haired)
Colby (dark haired)
Delano (dark)
Duffy (dark faced)
Keri (dark)
Charna (dark)
Li (black)
Merel (blackbird)
Nisha (night)
Rajani (dark one)
Sable (black)
Senka (shadow)
Lilith (of the night)
Amaya (night rain)
Nox (night)
Leila (black)
Brena (raven hair)
Ziba (gorgeous)
Olivia (olive)
Raven (dark bird)
Naeva (born at night)
Lila (woman of the night)
Zelda (fighting in darkness)
Kalama (tree of ebony)
Meilani (dark skinned beauty)
Gerhana (eclipse)
Ciara (little dark girl)
Terr (darkness)
Ebony (dark wood)
Nocte (midnight)
Gabi (night)
Vivi (olive)
Moriti (shadow)
Tempeste (storm)
Duvessa (dark beauty)
Tamsa (darkness)
Aliva (olive)
Nuray (radiant moon)
Juliet (soft haired)
Uliana (soft haired)
Kyra (little dark girls)
Nyx (of the night)
Cute Names
Cute Lab puppies are adorable. And Black Lab dog names don't all need to be dark and brooding! We've got lots of cute, fun options that adorable dogs will love. These ideas make for great black Lab names male or female dogs suit well.
Rascal
Barbie
Pepper
Casper
Merlin
Dakota
Eleven
Malteser
Treacle
Plum
Eclipse
Dusty
Teddy
Ace
Batman
Rose
Coffee
Domino
Inky
Magpie
Nimbus
Opal
Rocket
Ozzie
Rolo
Twiggy
Fig
Tadpole
Betty
Ziggy
Cricket
Pickle
Bolt
Frodo
Goose
Mowgli
Otto
Pluto
Sprouts
Elton
Mochi
Paddington
Beaux
Pouch
Skip
Taco
Wolfie
Courage
Perdy
Tula
Unique Black Lab Names
Labradors are the most popular breed in America, so you can imagine just how many black Labs are out there! A unique name is a great way to help your black Labrador stand out from the crowd.
Vortex
Stallion
Oboe
Yogi
Zodiac
Zorro
Electra
Commander
Fang
Herb
Hawk
Thor
Stark
Ygritte
Hound
Mustard
Radar
Snoopy
Tigger
Rum
Khal
Tango
Spud
Dragon
Lindt
Bronte
Hemingway
Bijou
Vera
Costello
Pavarotti
Beatrix
Gingham
Dawn
Hendrix
Casanova
Tolkien
Galileo
Fleetwood
Chanel
Beckham
Plato
Faulkner
Hermes
Clifford
Dallas
Capaldi
Venus
Tyson
Gatsby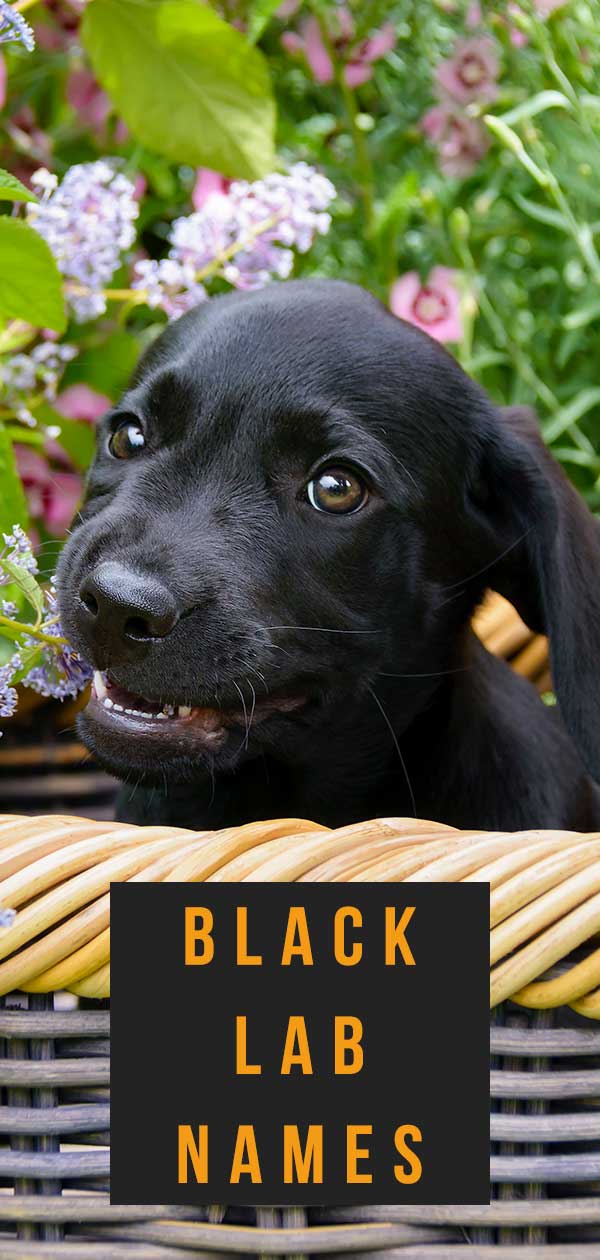 Funny Labradors
Do you want your black Lab to stand out from the crowd? Everyone expects black dogs to have dark-themed names. So, choosing a name that you might associate with a lighter colored dog can be hilarious!
Igloo
Snowflake
Cotton
Elsa
Yeti
Blondie
Tofu
Peppermint
Vanilla
Frosty
Luna
Ivory
Polar
Chilly
Glacier
Everest
Moon
Albino
Custard
Swan
Coconut
Phantom
Sugar
Arctic
Dove
Dumpling
Creamy
Lacey
Cloud
Eggnog
Moon
Mushroom
Dove
Daisy
Pearl
Marshmallow
Cauliflower
Chalky
Dandelion
Lightning
Mozzarella
Sunshine
Frosting
Donut
Champagne
Popcorn
Gnocchi
Dumpling
Meringue
Butters
Tough Black Labrador Puppy Names
Labradors have a reputation for being friendly family dogs. But, if you're looking for a tough name for your black Lab, here are some great ideas! They aren't just for boys either, they can also be fun female Lab names:
Zorro
Sirius
Bellatrix
Batman
Skywalker
Witch
Gunner
Hunter
Fang
Othello
Hyde
Slash
Tank
Talon
Bullet
Manson
Chopper
Loki
Cash
Gnasher
Champ
Captain
Duke
Queen
Shooter
Viking
Bernie
Saxon
Warrior
Hela
Neo
Selina
Maleficent
Remus
Snape
Terminator
Drogo
Gunslinger
Paladin
Gladiator
Major
Vandal
Spider
Needle
Guard
Protector
Demon
Grimm
Frankenstein
Jaws
Witchy Dog Names
How about ranging into the mystical world for a name that sounds tough, or even spooky for your black Labrador. These ideas really stand out, but I bet you can think of even more unique ways to come up with witchy Labrador dog names!
Mog
Hocus
Pocus
Magic
Wand
Solstice
Cauldron
Salem
Sabrina
Hermione
Bathilda
Spell
Enchant
Maleficent
Hex
Cobweb
Haunt
Black and White Labrador Names
Did you know black Labs often have a fleck or two of white on them? Especially in the middle of their chest or on their toes. A black and white Lab puppy sounds even cuter with a name that nods its head to their adorable markings. These ideas also make great names for black Lab mix puppies, like the gorgeous black Pyrador!
Fleck
Speckle
Dash
Puzzles
Muddles
Socks
Mittens
Dot
Diamond
Patches
Pickle
Wiggles
Black and Tan Lab Puppy Names
Black and tan Labrador Retriever puppies really exist, and they aren't always black Retriever mixes either! If you've got a gorgeous black and tan dog, why not consider one of these names:
Hunter
Cooper
Tanner
Ryder
Ace
Axel
Scout
Captain
Boss
Rookie
Crew
Matches
Best Black Lab Names
The best black Lab names are ones that mean something to their owner, as well as sounding good on the dog. Getting inspired by a theme that means something to you is a great way to do that, but you can also go with a tried and test favorite like foodie dog names
Hershey
Licorice
Treacle
Pepper
Bean
Or a place you would love to visit, or have fond memories of!
India
Paris
London
Madrid
Tokyo
Whatever you use to come up with your dog's new name, why not make it something that has meaning to you!
The Labrador Site Founder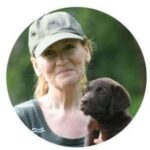 Pippa Mattinson is the best selling author of The Happy Puppy Handbook, the Labrador Handbook, Choosing The Perfect Puppy, and Total Recall.
She is also the founder of the Gundog Trust and the Dogsnet Online Training Program 
Pippa's online training courses were launched in 2019 and you can find the latest course dates on the Dogsnet website