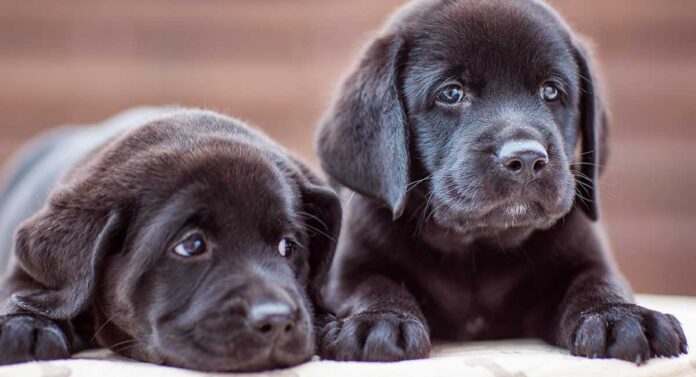 Picking a name for your new puppy isn't easy! Especially if several family members are involved in the decision! That's where we can help. If you want your black labs name to reflect their beautiful coat, we have heaps of inspiration waiting for you in the black lab names lists below.
Perhaps you want a more unusual name or a name with some humor or fun involved.  Whether you want a funny black Lab name, a cute option, or something unique, we have some great ideas for black Labrador names. Keep reading to choose from over 400 awesome ideas!
Top 100 Black Lab Names
| | | | |
| --- | --- | --- | --- |
| Shadow | Max | Chalky | Ember |
| Coal | Night | Atrix | Ash |
| Venom | Widow | Vixen | Smokey |
| Guiness | Buzz | Nero | Onyx |
| Pearl | Pepsi | Cola | Panther |
| Morticia | Hecate | Poe | Dracula |
| Cullen | King | Cocoa | Winston |
| Sootie | Storm | Licorice | Bertie |
| Bean | Sting | Diesel | Vamp |
| Smudge | Knight | Danger | Drax |
| Berry | Espresso | Galaxy | Harley |
| Joker | Crash | Howl | Twilight |
| Raven | Thunder | Olive | Jackson |
| Dusk | Velvet | Velour | Bear |
| Bruce | Jack | Avril | Chev |
| Charcoal | Miner | Silas | Cosmos |
| Bonnie | Chess | Boxer | Bowser |
| Butler | Albert | Tux | Chester |
| Pingu | Oreo | Panda | Jeeves |
| Ebony | Slater | Tarmac | Baileys |
| Brandy | Cookie | Brownie | Hershey |
| Cadbury | Java | Jameson | Whisky |
| Mocha | Snickers | Raisin | Beast |
| Duchess | Jedi | Darth | Hendrix |
| Vader | Ninja | Rebel | Leia |
Why Choose a Black Labrador Name?
Black Labrador dog names aren't just for this breed! Of course, any dog could use them, whether they have dark fur or not. But these ideas are perfect at showing off the friendly, lovable nature of Labradors. Plus, they highlight the beautiful, dark coat on your dog!
Male Black Lab Names
Here are some great black Lab names boy dogs will love. Take a look at the meaning of each name in brackets to see how it links to your dog's coat!
Blake (black)
Colley (dark haired)
Darcel (dark)
Dolan (black haired)
Donovan (dark haired chieftain)
Dougal (dark stranger)
Tynan (dark)
Kieran (black)
Kolby (dark haired)
Morris (dark skinned)
Sullivan (dark eyes)
Caliban (black)
Farrar (blacksmith)
Hadrian (dark haired)
Keir (dark)
Lonan (blackbird)
Nigel (dark)
Perran (little dark one)
Pinchas (dark skinned)
Shyam (dark)
Abanus (dark complexion)
Donner (dark warrior)
Kaval (black toned)
Kol (dark)
Merik (dark tone)
Adelram (dark and noble)
Orpheus (darkness)
Schmidt (blacksmith)
Corbin (raven)
Mo (dark skinned)
Yin (in the shade)
Nero (black)
Bertram (bright as a raven)
Musta (black)
Po (night)
Ombre (shadow)
Kaiser (head full of hair)
Anino (shadow)
Corvo (raven)
Kenneth (handsome one)
Duane (little dark one)
Rabe (raven)
Dell (shade)
Bran (raven)
Akan (eclipse)
Eban (black)
Preto (black)
Notte (night)
Keiran (dark one)
Burnett (dark haired person)
Female Black Lab Names
We've also got some great female Lab names with meanings that can show off their beautiful black coats!
Darcie (dark one)
Keira (little dark haired woman)
Lylah (dark beauty)
Maura (darkness)
Melanie (black)
Morrisa (dark colored girl)
Sauda (dark and beautiful)
Adriana (dark)
Bruna (dark haired)
Colby (dark haired)
Delano (dark)
Duffy (dark faced)
Keri (dark)
Charna (dark)
Li (black)
Merel (blackbird)
Nisha (night)
Rajani (dark one)
Sable (black)
Senka (shadow)
Lilith (of the night)
Amaya (night rain)
Nox (night)
Leila (black)
Brena (raven hair)
Ziba (gorgeous)
Olivia (olive)
Raven (dark bird)
Naeva (born at night)
Lila (woman of the night)
Zelda (fighting in darkness)
Kalama (tree of ebony)
Meilani (dark skinned beauty)
Gerhana (eclipse)
Ciara (little dark girl)
Terr (darkness)
Ebony (dark wood)
Nocte (midnight)
Gabi (night)
Vivi (olive)
Moriti (shadow)
Tempeste (storm)
Duvessa (dark beauty)
Tamsa (darkness)
Aliva (olive)
Nuray (radiant moon)
Juliet (soft haired)
Uliana (soft haired)
Kyra (little dark girls)
Nyx (of the night)
Cute Black Lab Names
Black Lab dog names don't all need to be dark and brooding! We've got lots of cute, fun options that adorable dogs will love.
Rascal
Barbie
Pepper
Casper
Merlin
Dakota
Eleven
Malteser
Treacle
Plum
Eclipse
Dusty
Teddy
Ace
Batman
Rose
Coffee
Domino
Inky
Magpie
Nimbus
Opal
Rocket
Ozzie
Rolo
Twiggy
Fig
Tadpole
Betty
Ziggy
Cricket
Pickle
Bolt
Frodo
Goose
Mowgli
Otto
Pluto
Sprouts
Elton
Mochi
Paddington
Beaux
Pouch
Skip
Taco
Wolfie
Courage
Perdy
Tula
Unique Black Lab Names
Labradors are the most popular breed in America, so you can imagine just how many black Labs are out there!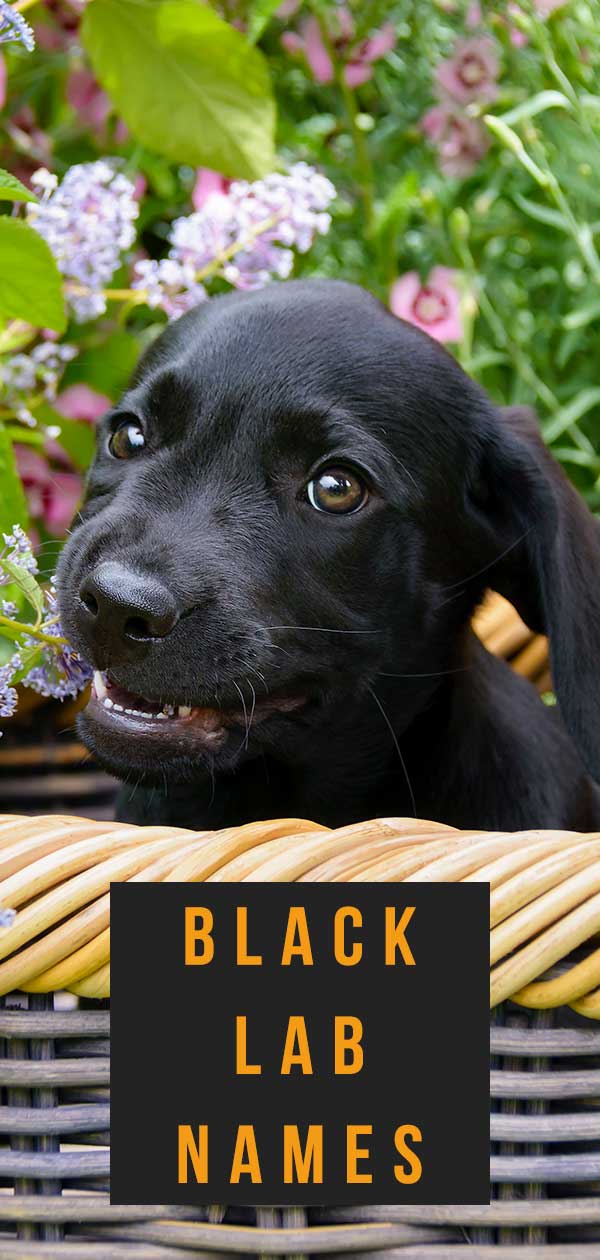 A unique name is a great way to help your black Labrador stand out from the crowd.
Vortex
Stallion
Oboe
Yogi
Zodiac
Zorro
Electra
Commander
Fang
Herb
Hawk
Thor
Stark
Ygritte
Hound
Mustard
Radar
Snoopy
Tigger
Rum
Khal
Tango
Spud
Dragon
Lindt
Bronte
Hemingway
Bijou
Vera
Costello
Pavarotti
Beatrix
Gingham
Dawn
Hendrix
Casanova
Tolkien
Galileo
Fleetwood
Chanel
Beckham
Plato
Faulkner
Hermes
Clifford
Dallas
Capaldi
Venus
Tyson
Gatsby
Funny Black Lab Names
Do you want your black Lab to stand out from the crowd? Everyone expects black dogs to have dark-themed names. So, choosing a name that you might associate with a lighter colored dog can be hilarious!
Igloo
Snowflake
Cotton
Elsa
Yeti
Blondie
Tofu
Peppermint
Vanilla
Frosty
Luna
Ivory
Polar
Chilly
Glacier
Everest
Moon
Albino
Custard
Swan
Coconut
Phantom
Sugar
Arctic
Dove
Dumpling
Creamy
Lacey
Cloud
Eggnog
Moon
Mushroom
Dove
Daisy
Pearl
Marshmallow
Cauliflower
Chalky
Dandelion
Lightning
Mozzarella
Sunshine
Frosting
Donut
Champagne
Popcorn
Gnocchi
Dumpling
Meringue
Butters
Tough Black Lab Names
Labradors have a reputation for being friendly family dogs. But, if you're looking for a tough name for your black Lab, here are some great ideas!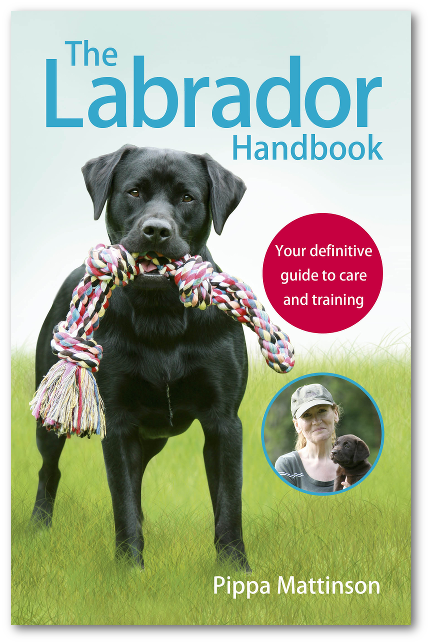 Zorro
Sirius
Bellatrix
Batman
Skywalker
Witch
Gunner
Hunter
Fang
Othello
Hyde
Slash
Tank
Talon
Bullet
Manson
Chopper
Loki
Cash
Gnasher
Champ
Captain
Duke
Queen
Shooter
Viking
Bernie
Saxon
Warrior
Hela
Neo
Selina
Maleficent
Remus
Snape
Terminator
Drogo
Gunslinger
Paladin
Gladiator
Major
Vandal
Spider
Needle
Guard
Protector
Demon
Grimm
Frankenstein
Jaws
What Are Your Favorite Black Lab Names?
Have you found the perfect name for your black Lab? Or perhaps you've thought of a perfect choice that we missed off. Make sure to let us know your favorite ideas in the comments!
The Labrador Site Founder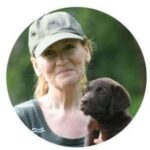 Pippa Mattinson is the best selling author of The Happy Puppy Handbook, the Labrador Handbook, Choosing The Perfect Puppy, and Total Recall.
She is also the founder of the Gundog Trust and the Dogsnet Online Training Program 
Pippa's online training courses were launched in 2019 and you can find the latest course dates on the Dogsnet website