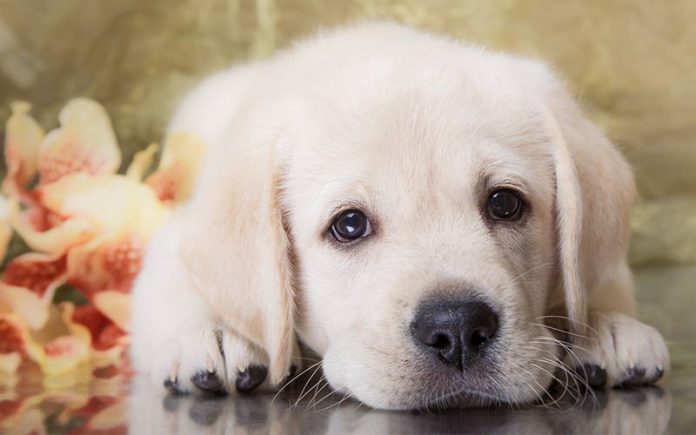 Check out these awesome female dog names! We are going to help you to pick the perfect name for your new puppy, with themed lists packed with ideas. We're also going to show you how to come up with some totally unique girl dog names of your own, and help you pick one everyone in the family will agree on.
Contents
Brainstorm Your Way To Success
By using simply brainstorming techniques, you can put together a shortlist of names that put you back in the driving seat. Ideas that will stand you and your little puppy apart from the crowd, in a really good way!
Grab a sheet of paper, a whiteboard or the inside of a magazine. Anything with space to write, wait for it, by hand! I know, it's not what we want to hear these days but trust me, this works. You are going to make what is essentially a mood board for words. Don't put limits on yourself, don't do it in front of people if you'll feel inhibited. Just pick up a pen, and go. Starting with a theme can help. But don't be afraid to expand from it. I knew I liked floral names, but when I started to run through some ideas this extended in some more original directions.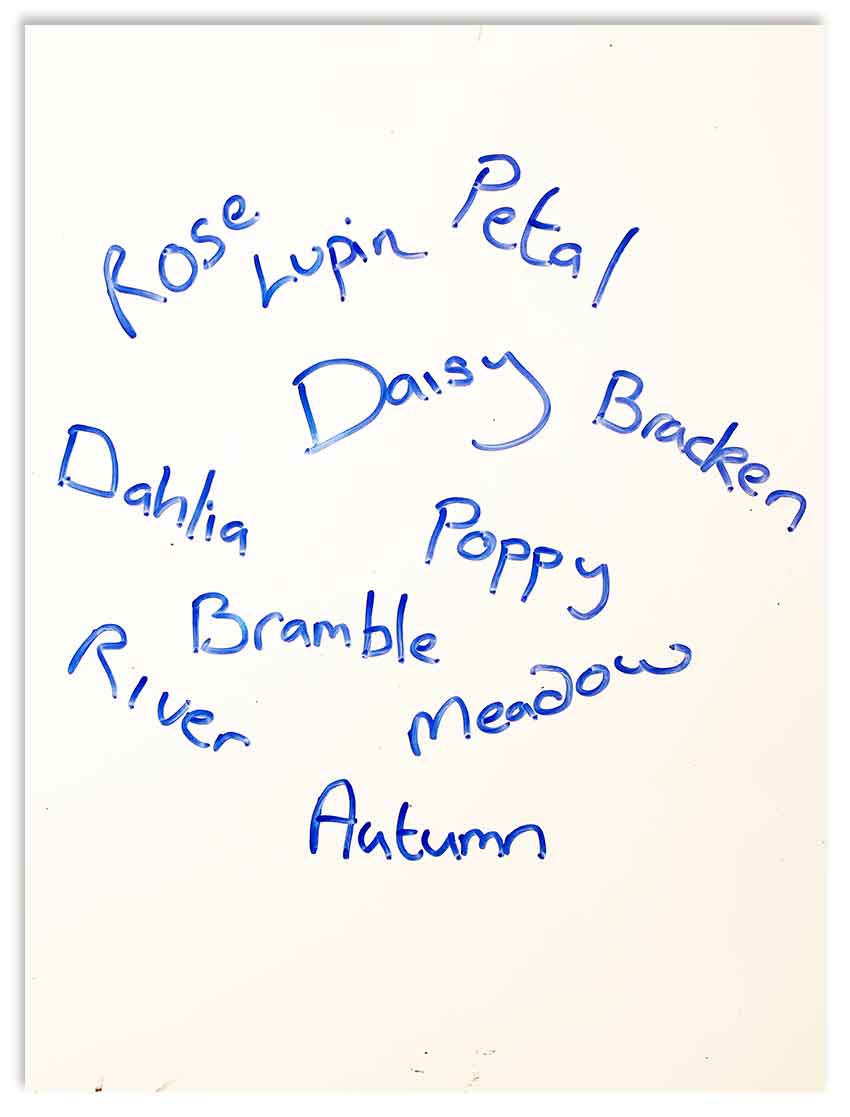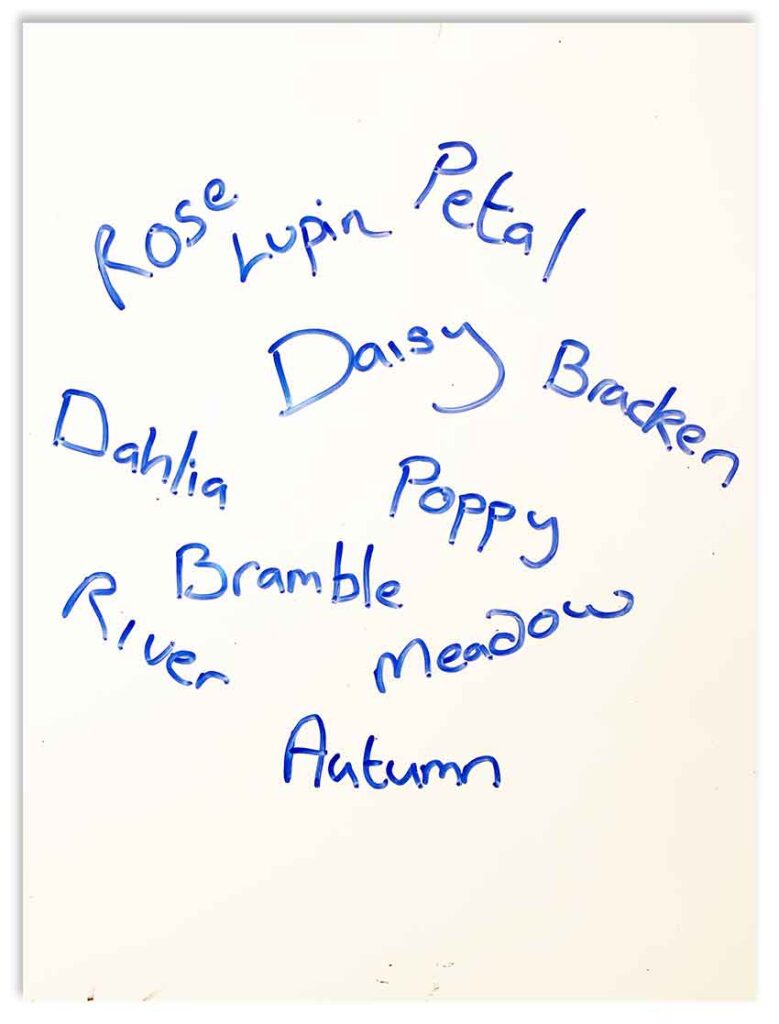 As you scroll down now through our list of names, when you see one you like try to think why it appeals. And start a new mood board of names just around that topic. They don't even need to be names, just related words are a great starting point. Once those creative juices get going, who knows where you'll end up!
Top Female Dog Names
Starting with the most popular girl dog names we will take a look at names that any female puppy would rock. Then move on to some more unique, cute and interesting ideas too. Whatever your taste, we'll have the perfect name for your new dog somewhere in the lists below.
Bella
Ruby
Luna
Molly
Willow
Bailey
Bonnie
Lola
Penny
Sadie
Honey
Lucy
Chloe
Daisy
Giner
Holly
Lily
Pepper
Princess
Riley
Roxie
Sophie
Coco
Dolly
Gypsy
Ivy
Kallie
Maggie
Pippa
Poppy
Rosie
Scout
Juno
Zelda
Brandy
Dixie
Milly
Ellie
Ember
Phoebe
Happy
Sydney
Lexie
Paisley
Maya
Mia
Ella
Nala
Maisie
Gracie
These top 50 names came from the dog names survey carried out by our sister site, The Happy Puppy Site. Why not make a note of the three you like best and pin them on a noticeboard to see which one grows on you? And while you are mulling those over, check out the lovely Daisy, playing her new game – she's using her blanket, to throw her bone across the room!  Don't put that pen away yet though, we have LOTS more names to come!
Best Female Dog Names
The best girl dog names are memorable, fun and easy to say. They don't sound like any commands you are likely to teach your dog, or words you normally use in conversation. So you might want to consider avoiding names such as 'Kit' that sounds like 'sit'. And names that sound very similar to other family members.
Popular Female Dog Names
Although you might instinctively shy away from popular names, it's worth remembering that even the hottest names right now are different to last years. And there is something to be said for going with the flow at times. Some names are just timeless. We bet these classic dog names for girls will stay on the top most popular female dog names lists for years to come:
Abby
Bella
Molly
Tess
Lady
Grace
Sage
Piper
Harley
Heidi
Peggy
Maggie
Tilly
Elsa
Pixie
Layla
Scarlet
Lucky
Duchess
Peppa
Girl Names for Dogs
You have probably noticed, giving dogs human names is very fashionable. And it makes sense. After all, they are family members too. It is a great way to show your friends your dog's important status in your home. Check out these names for girl dogs that are human names too:
Amy
Lola
Betsy
Rachael
Lily
Hope
Joy
Rosie
Clara
Greta
Isla
Sylvie
Zara
Human Names for Female Dogs
Girl pet names are also a great way to use more unique human names. These human names aren't used too often for babies these days, but any could make good girl dog names:
Maisy
Betty
Edie
Flo
Elaine
Carol
Edna
Dinah
Nellie
Sally
Mishka
Sheila
Justice
Siobhan
Mina
Unique Female Dog Names
It can be tricky to think of a name that is one of a kind for your dog. And sometimes what seems like an obscure name can have a real boost in popularity the week after you've picked it. But there is no reason not to try to pick something different. Try one of these unusual female dog names for size:
Sundance
Chai Chai
Lady Bird
Savannah Georgia
Ruby Redd
Kessa
Mavis
Jazzie
Lainie
Zera
Sierra
Lotus
Place Names for Female Dogs
Choosing a theme and seeing where it goes is a fun way to pick cute girl puppy names. Think of a place you had an amazing holiday, or that you've always wanted to go! Or somewhere that just has an exotic sound to it. Names that end in the letter A often have a feminine ring to them. Here are some based on places and landmarks:
Salisbury
India
Catalina
Paris
Vienna
Idaho
Dakota
Tennessee
Sahara
Kennedy
River
Havana
Georgia
Bryce
Alberta
Carolina
Zoar
Cute Girl Dog Names
I don't know about you, but our pups are the babies of the group even when they are grown up. There are so many different ways to pick cute names, why not brainstorm your own by thinking of super sweet themes! These cute girl dog names will stay young and adorable with them.
Pom Pom
Noodles
Poppet
Lolly
Trixie
Starr
Peanut
Tribble
Bluebell
Jewel
Pumpkin
Cute Animal Themed Dog Names
A fun way to find cute names is to look at other species. Find an adorable animal, and try it on for size! What are your favorite animals? Why not jot them down on a sheet of paper and then see if any of them might make a cute name as well as a cute creature!
Kitty
Bunny
Mouse
Hawk
Vole
Tigress
Lynx
Sparrow
Ladybug
Gazelle
Mole
Pippit
Lark
Candy Dog Names
Or how about some sweet, like these tasty dog names! Why not make a list of your favorite candies and see if any of them would make a good name for your female puppy? Remember, you've got to get creative if you want something unique as well as cute!
Candy
Skittles
Taffy
Lolly
Jelly Bean
Pixy
Kisses
Ruth
Mars
Twix
Nougat
Rocky
Cadbury
Twizzler
Tootsie
Riesen
Cool Dog Names Female Dogs Will Love
Is your new puppy already a bit of a legend? Cool is a very personal thing, but there are some words, sayings and ideas that are pretty universally impressive.
Raine
Beanie
Doodle
Echo
Ego
Roxie
Merlot
Phoenix
Ryder
Secret
Trick
Zap
Good Girl Dog Names
Your little pup is bound to be the loyal, loving, affectionate pup you want her to be. So why not give your good girl a names that suits!
Angel
Serenity
Charity
Faith
Mercy
Harmony
Glory
Hope
Joy
Godiva
Lolita
Unusual Female Dog Names
A standout name will set your pup apart from the rest. And provide a great conversation piece when you are out and about socializing them:
Baylee
Shelbie
Opal
Pixel
Candie
Stardust
Happy
RiRi
Strawberry
Madame
Honeysuckle
Cleopatra
Midnight Moon
Queen
Suki
Kiwi
Rare Female Dog Names
If you want to be even more unusual when naming your dog, then it's a great idea to use a double barrelled name. Get even more creative by putting two disjointed names together, but that you love equally. Put two names on the same theme together, or use alliteration, for something that sounds a little more conventional! Here's some inspiration:
Rosie May
Honor Hope
Pixie Pie
Dotty Sweet
Harley Sue
Mink Tuesday
Hope Shine
Another great way to find rare or unique names for girl dogs is to create a brand new name of your own.  You might think every name has been thought of but that's not true, new names come along every year. You might even find the next all star favorite!
For original names you really do need to use our brainstorming technique. Jot down random names on a theme that interests you. A sport or hobby for example. Any word can be used as a name if it sound right and feels right to you. Cover a page with pretty words from your theme. And see which ones appeal to you. Here are some examples taken from working with fabric and wool.
Crochet
Velvet
Lace
Cotton
Chenille
Quilter
Taffeta
Georgette
Bobbin
Chiffon
Organza
Strong Female Dog Names
Even tiny puppies have outstanding strength and stamina. These strong female dogs will suit your pup's energy levels!
Astra
Kahlan
Avril
Rowan
Ursa
Briana
Carla
Bridget
Damia
Matilda
Sheba
Big Dog Names for Girls
Is your little pup a bit of a bruiser? Have you rescued an adult dog who stands above her friends? Here are some lovely ideas for your big beauty!
Fergie
Acadia
Calista
Venus
Bess
Gaia
Natasha
Olympia
Shiva
Althea
Taka
Thea

And there are plenty more than that! There are That's just a taster of course!
Small Dog Names Female
Is your pup the runt of the litter? Does he fit the name Miniature? These cute girl dog names celebrate everything small!
Mouse
Titch
Pinta
Tickle
Peanut
Bean
Nugget
Nano
Raisin
Acorn
Great Dog Names
All dogs are great, but your little girl is a cut above the rest. Give her a name that lets it shine!
Queenie
Duchess
Lady
Nova
Galaxy
Princess
Athena
Hebe
Hera
Iris
Rhea
Famous Female Dog Names
From celebrity pups to famous names, here are some fabulous famous ideas! Do you have a celebrity that you admire? Although famous dog names are fun to find from the canine world, there is no reason not to get inspired by a heroic woman from history, or a recent celeb whose style you adore! If none of these pupsters takes your fancy, why not brainstorm some human celebrities and see whether any of their names is a good fit.
Alice (Alice In Wonderland)
Perdita (From The Hundred and One Dalmatians)
Buttercup (The Princess Bridge)
Lassie (Lassie Come Home)
Scarlett (Gone with the Wind)
Nana (Peter Pan)
Lady (Lady and the Tramp)
Roselle (American Hero Dog of the Year 2011)
Georgette (Oliver and Company)
Female Dog Names By Color
Another great way to name your dog is by taking inspiration from their gorgeous coat. Here is a short selection of dog colors and some names that would suit them.
Yellow girl dog names
Blondie
Canary
Goldie
Apricot
Sunny
Shine
Flare
Pumpkin
Luna
Star
Bright
Daffodil
Dandelion
Brown female dog names
Mocha
Cookie
Biscuit
Latte
Java
Pebbles
Wren
Freckles
Spice
Mink
Waffles
Chai
Cocoa
Black dog names for females
Midnight
Ebony
Velvet
Cinder
Inca
Licorice
Raven
Crow
Nightshade
Ember
Dusty
Sooty
Storm
Flower Names For Dogs
Flower or plant themed names have always been popular for girl dogs. Here are a few of our favorites with some unusual ones included here too!
Rosie
Pansy
Poppy
Violet
Anemone
Petunia
Veronica
Ivy
Marigold
Lily
Verbena
Lilac
Peony
Azalia
Clover
Best Female Dog Names
The best name for your puppy is that which you love the most. And that you don't mind sharing across the dog park! Wherever you find your inspiration, your perfect choice is out there. And finding it will be a magical moment.
Brainstorming collections of names around a theme is a great way to find original dog names that are very personal to you. And to remind yourself of some old classics that could have meaning for your family. Making that final choice, picking the best name can be tough.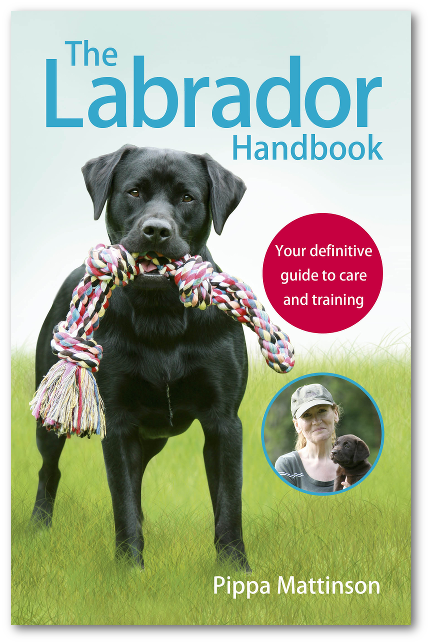 We recommend you put your shortlist up in the heart of your home, where everyone involved can look at it for a few days. If you want to, each day you can give one family member the chance to remove the one name that they like the least. Taking it in turns each day until the winner remains. Whatever you decide to do, have fun choosing!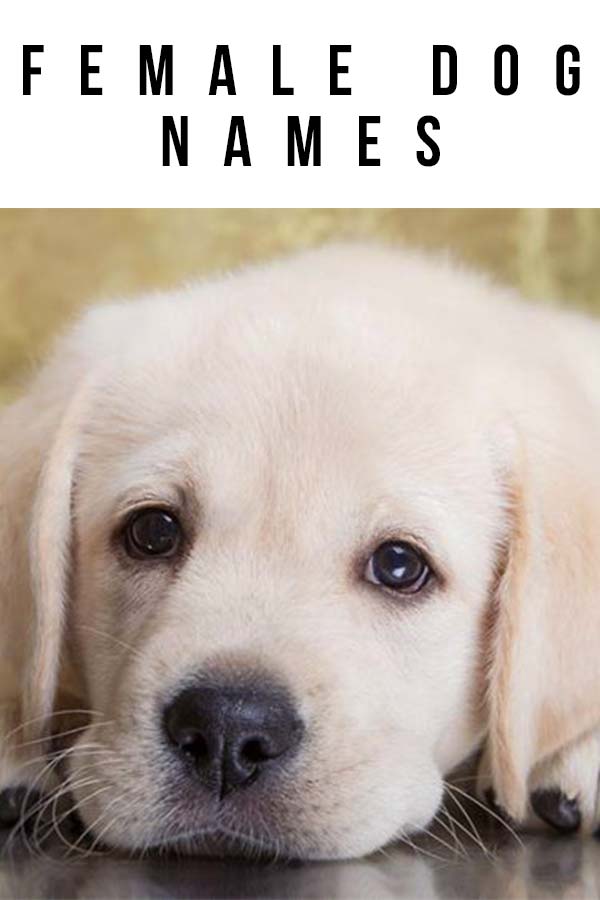 What are your top female dog names?
What name did you pick? If you got a new pup today, what would her name be? Let us know in the comments section below! If you didn't like any of these names, we've got plenty more for you to choose from. Just check out our dog name database!
Is it nearly puppy time?
There is nothing like bringing home a perfect new puppy. Make sure to check out our puppy center for everything you'll need to know to keep them happy and healthy. We think you'll love The Happy Puppy Handbook. Too, it's a complete guide to caring for and raising a happy, healthy little dog.
Related Articles
Further Reading
You can buy The Happy Puppy Handbook from Amazon by following this link. If you do, The Labrador Site will receive a small commission which is greatly appreciated and won't affect the cost to you!

The Labrador Site Founder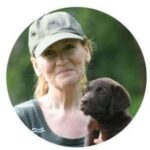 Pippa Mattinson is the best selling author of The Happy Puppy Handbook, the Labrador Handbook, Choosing The Perfect Puppy, and Total Recall.
She is also the founder of the Gundog Trust and the Dogsnet Online Training Program 
Pippa's online training courses were launched in 2019 and you can find the latest course dates on the Dogsnet website