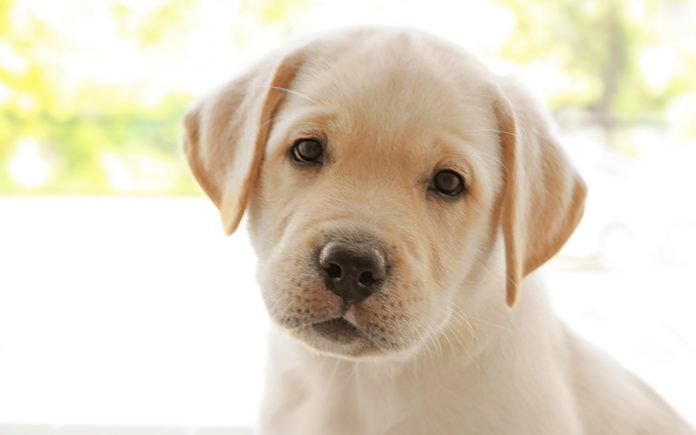 Welcome to our complete guide to female dog names. Giving you the best choices for your new Labrador!
You can find hundreds of lists filled with thousands of girl's names. But picking through them all for the perfect title for your canine can be time-consuming and overwhelming.
That's why we've compiled an awesome list of just the best 86 names for girl dogs. Divided into simple, easy to check categories just for you.
Enjoy!
The Best Female Dog Names
Choosing a name is one of the best parts of getting a new puppy! It can also be one of the most challenging.
Inspiration can strike at any moment, so your creativity is only limited by your imagination. You can honor your favorite movie character or choose a name that makes you giggle.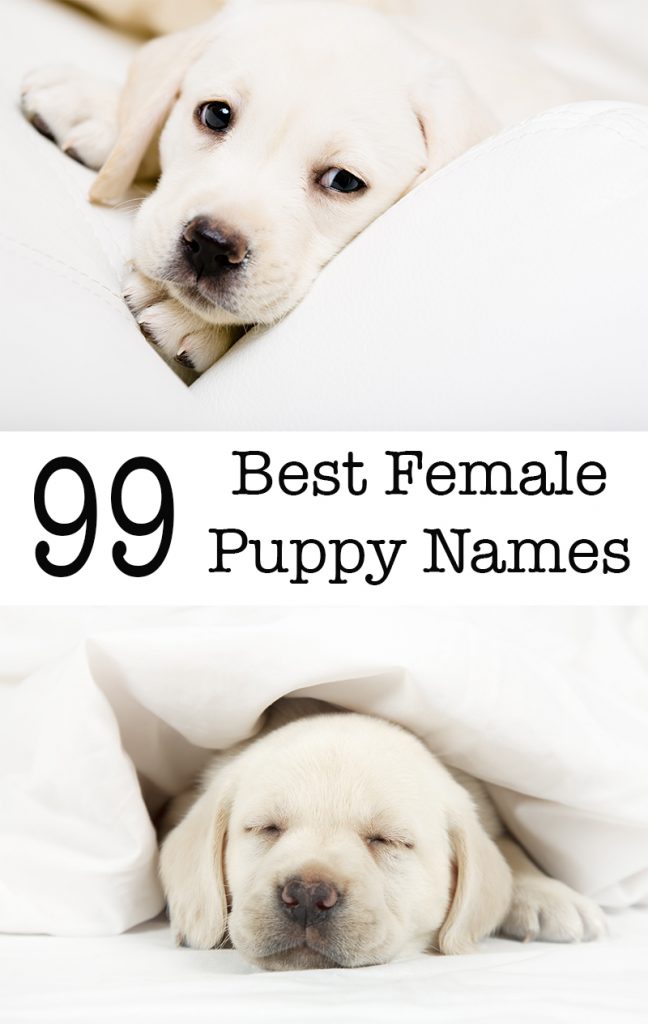 Maybe you decide a name that suits your girl's spunky personality is the way to go.
Regardless, your dog will carry this identity for the rest of her life, so choose something that both of you will love!
Strong Names for Female Dogs
Women are strong and they want their girl dog names to match. From politicians to TV shows, you can find good names for girls dogs everywhere!
Strong Puppy Girl Names from Entertainment
Many of today's TV shows have a cult following, so why not name your pet after a strong character from your favorite series or film?
These famous dog names female heroes have made popular are interesting options that your friends won't forget!
Sansa (Game of Thrones)
Jessie (American Ninja Warrior)
Arya (Game of Thrones)
Mulan (Disney's Mulan)
Merida (Disney's Brave)
Thelma (Thelma & Louise)
Ripley (The Alien Triology)
Cool Female Dog Names From Your Favorite Athletes
Honoring a favorite athlete can give you a list of both strong and cute female dog names.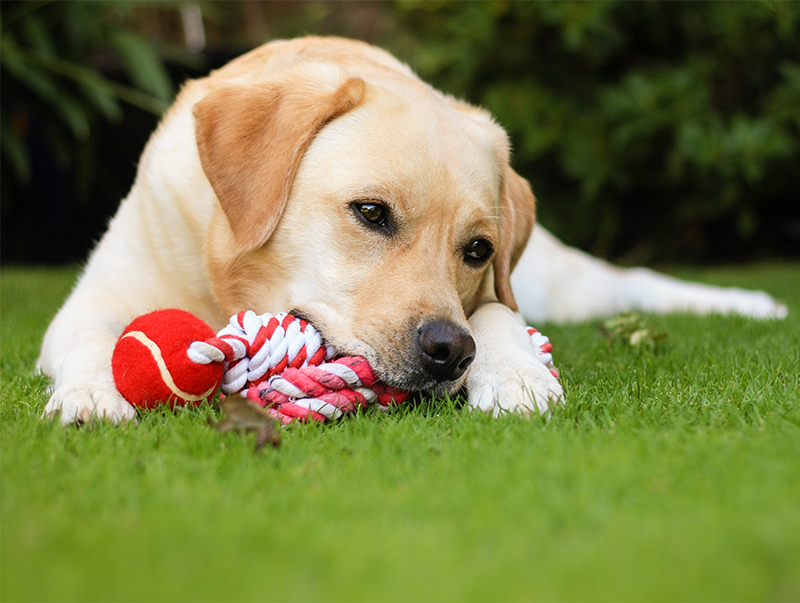 One of my furry friends is named Maddux in honor of the Braves pitcher Greg Maddux and another Murray for tennis star Andy Murray.
If you have multiple pets, keep the names from the same team and have a partial roster!
Carli (Lloyd – US Women's National Soccer)
Simone (Biles – Olympic Gymnast)
Serena (Williams – Tennis Star)
Diana (Taurasi – WNBA Legend)
Katie (Ledecky – Olympic Swimmer)
Allyson (Felix – Olympic Sprinter)
Unique Female Dog Names
Lots of us love the idea of giving our new Labrador puppy a unique name. Here are some slightly off the wall ideas for naming your adorable little girl.
Cute Girl Dog Names Inspired by Brunch
Everyone loves a good brunch on a Saturday afternoon. Why not turn your passion for avocado toast and midday cocktails into a list of unique girl dog names to choose from?
As I'm writing this, I must admit that Mimosa is in line to be my next dog's name.
Mimosa
Frittata
Waffle
Rose
Sangria
Maple
Unusual Female Dog Names From Your Favorite Holiday
For a special dog, you need a name that stands out. Using your favorite holiday as a guide, you can craft some purposefully different dog names.
Valentina (Valentine's Day)
Joy (Christmas)
Firework (4th of July)
Wednesday (Halloween)
Noel (Christmas)
Pumpkin (Halloween)
Celebrity Kids Names for Girl Dogs
Celebrities like Beyonce and Gwyneth Paltrow are embracing unique names for their children.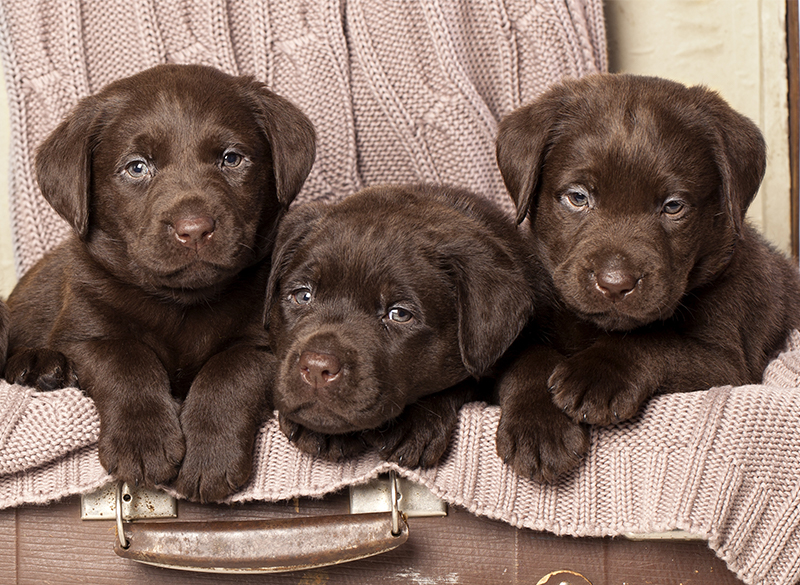 Use this to your advantage by choosing one of these clever names for your pup! If other dog lovers follow suit, these could become very popular female dog names.
Apple (daughter of Gwyneth Paltrow & Chris Martin)
Blue Ivy (daughter of Jay-Z & Beyonce)
North (Kim Kardashian's daughter)
Sparrow (daughter of Joel Madden & Nicole Richie)
Suri (daughter of Tom Cruise & Katie Holme daughter)
Sonnet (daughter of Forest & Keisha Nash Whitaker)
Boy Names for Girl Dogs
I love when parents name their female children a typical boy name and the same goes for dogs!
In my opinion, some of the cutest puppy names for girls can be used on either gender. To switch it up, change the spelling to indicate your pup is full female.
Charley
Carson
Taylor
Reagan
Avery
Cory
Robyn
Good Girl Dog Names for Labradors
Tap into your canine's heritage by choosing a name that reflects her breed and history.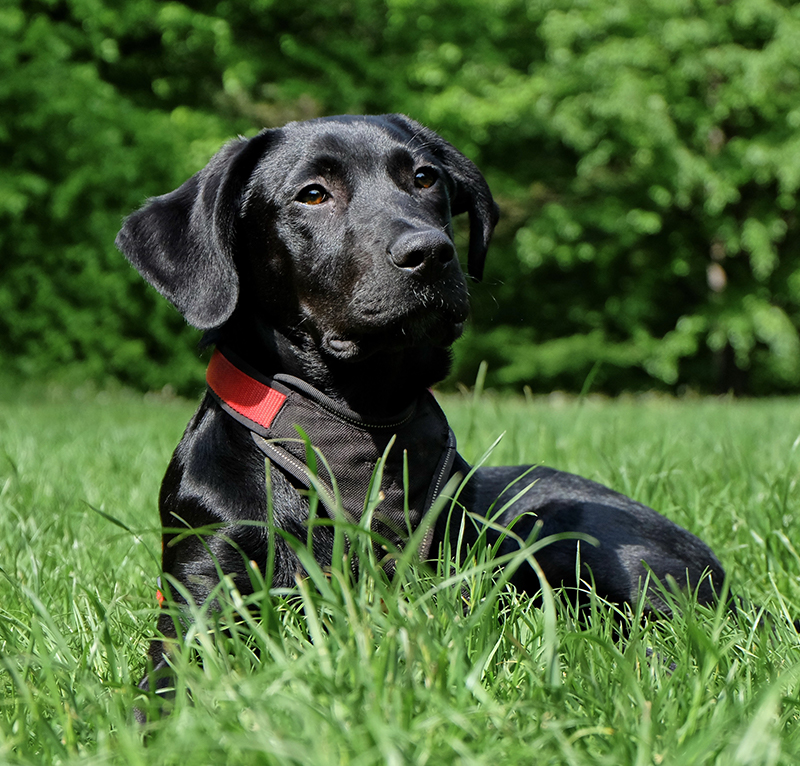 Growing up we had an Alaskan Malamute named Ali, and you can choose a name that reflects your Labrador's background or something about their nature of temperament.
Gunner
Trigger
Gorse
Boots
Purdy
Huntress
You could also choose a name to reflect her gorgeous coat color.
Black Labrador Names
Shadow
Ebony
Raven
Pepsi
Olive
Magic
Chocolate Labrador Names
Cadbury
Cocoa
Hazel
Cookie
Tawny
Yellow Labrador Names
Amber
Saffron
Blondie
Honey
Sunflower
Peaches
If you want a wider choice you can find lots more general Labrador names in this great article
German Female Dog Names
You don't have to name your Labrador based on her Retriever background though.
If your Labrador is mixed with a German breed, or you just love German culture, then why not go with a German Female Dog Name?
The culture lends itself to some outstanding dog names for girls.
If none of these names catch your eye, check out the full list of German names for ideas.
Mila
Liza
Annalise
Gerdie
Margo
Millie
Small Female Dog Names
Are you the proud owner of a smaller statured Lab? Of course you have to give your new friend an adorable name to go on her tag!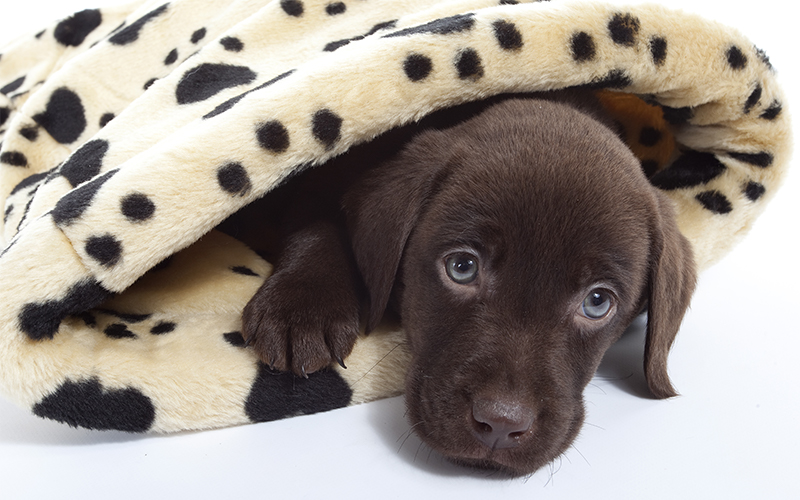 On the flip side, they could be hilarious names for larger dogs too.
Tinkerbell
Teeny
Baby
Jellybean
Itsy / Bitsy
Pebbles
Common Girl Dog Names
Are you a traditionalist looking for a classic name? Then you're in luck because the Social Security Administration keeps statistics on the most popular names of all time.
The following suggestions are a few from the list than spans 1917 – 2017 that make for some of today's top female dog names.
Patricia
Jennifer
Linda
Barbara
Susan
Sarah
Funny Girl Dog Names
Some dog owners don't want to choose a true name at all. Instead, pick something that's fun for the whole family to say. Read on for funny dog names girl your puppy will love that are guaranteed to make you smile.
Great Female Dog Names Inspired by Dessert
Some very cute girl names for dogs are dessert inspired. Check out these sweet girl dog names perfect for an owner with a sweet tooth.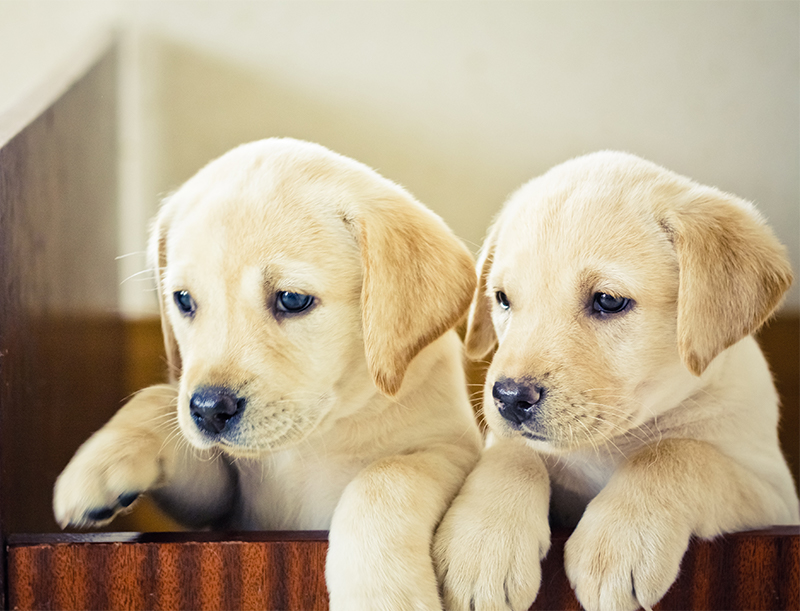 (Note: naming her after chocolate still doesn't mean she can eat it!)
Nutella
Cupcake
Marshmallow
Sweetie
Snickers
Sprinkles
Awesome Female Dog Names from Cartoons
Cartoons are enjoyable for children of all ages, so consider naming your dog after one of the classics for a funny twist.
A few of these seem destined to be charming female puppy names. (Fun fact: I own all of these movies!)
Ada (A Bug's Life)
Corraline (Corraline)
Batgirl (Batman)
Lilo (Lilo & Stitch)
Dory (Finding Nemo)
Ariel (The Little Mermaid)
Moana
Rapunzel (Tangled)
Sassy Female Dog Names
Some pups are full of sass. These divas can be named after famous fashion models to match their personalities.
These beautiful female dog names complement the beauty of the women who carry them in real life.
Miranda (Kerr)
Gisele (Bunchen)
Bianca (Balti)
Alessandra (Ambrosio)
Gigi (Hadid)
Brooklyn (Decker)
Teaching a New Puppy Her Name
Once you've landed on a name, the hard part isn't exactly over.
You have to teach the dog she needs to respond, and as most people know, dogs love tasty treats. Using positive association using your pup's favorite snack can speed-up the process.
Start with your energetic puppy in a smaller space to keep her attention. Begin happily saying her name, rewarding with a treat each time she responds.
Use this method once a day for the first week or so the dog is learning. If you feel the association is growing stronger, try it out in the backyard while she's much farther away.
We tried this technique with our husky who was realized she was Ali by the second day!
Any dog can learn her identity. Simply investing a little time and patience following adoption can aid the process.
Check out this article for more detailed information to help your dog respond to her name.
Best Girl Dog Names
As you can see, your sweet girl's name can literally be anything under the sun…or anything out in the universe for the matter.
The best piece of advice is take your time. You'll be calling your pet's name for many years to come, so you don't want to grow bored or deal with the hassle of changing it later.
Maybe you have a name in mind and you haven't even adopted a new dog yet, which is great! If not, don't stress.
Take a little time to learn your puppy's personality and scour this list for some of the best female dog names around!
New Puppy?
If you are bringing home a new puppy soon, then you will want to get your hands on a copy of The Happy Puppy Handbook.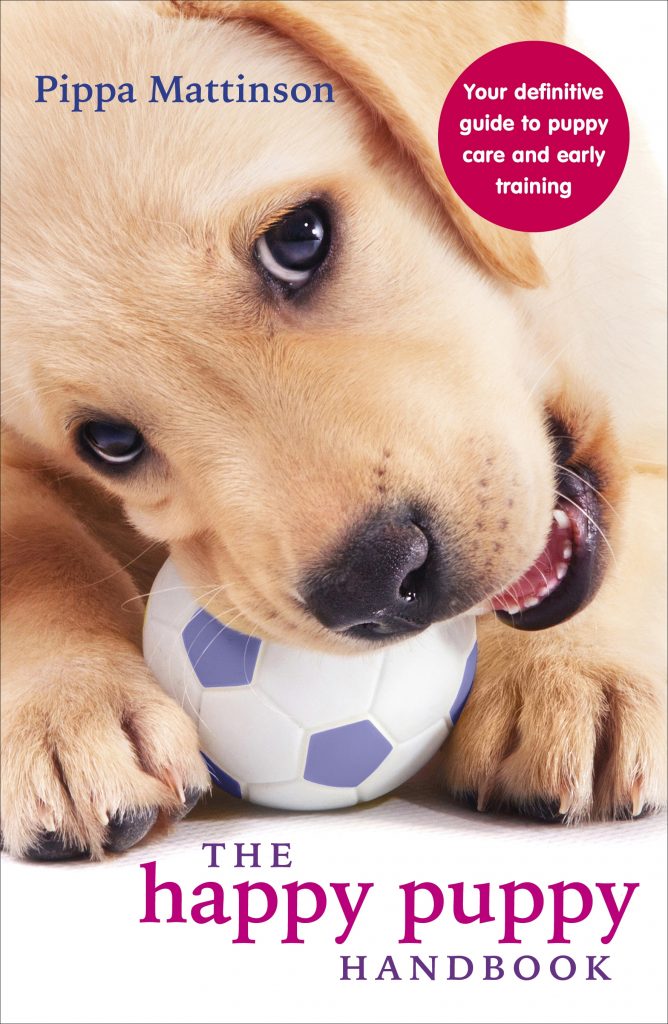 A complete guide to raising a healthy, happy little dog.