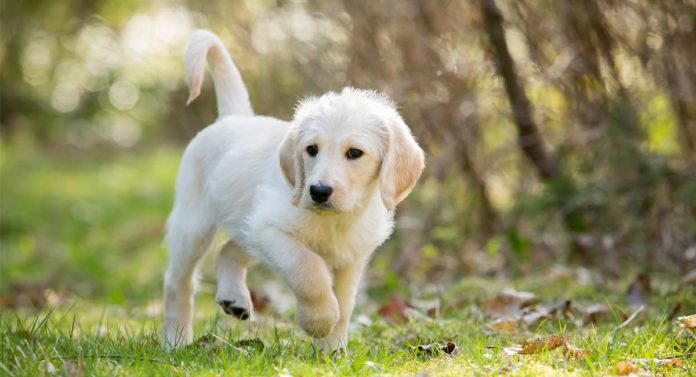 If you're getting ready to bring home your new Labradoodle, check these 250 Labradoodle names!
Naming a new dog can be both an enjoyable and a stressful process.
To make it the former, why not turn naming your Labradoodle into a fun and creative process!
Whether you're considering a cute, funny, or unique name, you'll eventually need to decide on the perfect name for your furry friend.
And one you can commit to.
Naming Your Labradoodle
Even if you don't have any elaborate training planned for your new dog just yet, to avoid confusing your new pup, you'll need to stick to whatever name you end up choosing.
Fortunately, Labradoodles have plenty of characteristics that clearly set them apart from other dogs.
These traits, in turn, can be used as inspiration during the naming process!
Regardless of the path you take for finding the right name, we hope we can help you simplify the process by providing some Labradoodle dog name ideas.
Before diving in, let's take a quick look at some common traits of Labradoodles, as these characteristics are the underpinning to the proposed list of names.
Labradoodle Traits
The Labradoodle is a hybrid breed—a cross between a Labrador and a poodle.
Hybrid dogs may inherit distinct traits from either parent breed in terms of their appearance and personality, but are most often a combination of the two.
This is definitely true of most Labradoodles but there's definitely wiggle room when it comes to traits like the type of coat, color, and overall size.
In addition, Labradoodle puppies may be social and outgoing like their Labrador parent, or calm (yet still energetic) taking cues from their poodle background.
That being said, they do tend to share some key traits that may serve us well in the naming department.
Most notably, Labradoodles have high energy and a playful nature, moreover, they are intelligent with an affectionate demeanor.
Labradoodles need a constant outlet for their boundless energy—one of the blessings (or challenges) of raising a one.
They love to run and play, require daily stimulation, and are known for their intelligence, and ability to learn commands quickly.
Finally, Labradoodle pups typically shower their owners with affection—they love playing with their owners as well as receiving a lot of attention and praise.
Naming Your Labradoodle
These combined traits stand out in most Labradoodles and can be useful in picking a suitable Labradoodle name.
The names we've chosen are a testament—we hope—to Labradoodles, both in their appearance and personality.
The popular mixed breed is not easily pegged as a cutesy toy breed dog, but nor are they a large, tough, or overly serious type.
Female Labradoodle Names
Many of these female labradoodle names are used quite often and may be familiar.
We've made a point of choosing names that are easy to call out—by keeping that syllable count low!
Janie
Lila
Annie
Mia
Maddie
Penny
Zoey
Brooke
Stella
Bella
Alice
Sadie
Bailey
Piper
Kimmy
Molly
Delia
Gracie
Georgia
Leia
Cali
Sage
Phoebe
Nina
Cassidy
Keira
Lexi
Millie
Kylee
Shelby
Gwen
Daphne
Nadia
Tatum
Willa
Hattie
Demi
Holly
Blair
Sasha
For more ideas, check out this list of female Labrador names.
Male Labradoodle Names
Here are some male Labradoodle names that balance easy pronunciation with a nod to the dog's distinctiveness nature.
A.J
Alp
Alvin
Archie
Angus
Arnie
Ash
Barny
Bash
Basil
Baxter
Beck
Bo
Bowie
Brady
Callan
Cam
Chaz
Danny
Eli
Eliot
Ewan
Faris
Fritz
Floyd
Ford
Frankie
Fynn
Gabe
Gene
Graham
Goro
Gulliver
Harvey
Heath
Henri
Howie
Huck
Ike
Izzy
Also, check out our list of male Labrador names for even more inspiration.
Cool Labradoodle Names
Now let's dive into some more creative theme-based names.
First, our cool Labradoodle names take quite a bit of inspiration from their high-energy nature
To find the perfect fit, just envision your a Labradoodle puppy bolting gallantly through a park at top speeds as you read through these names.
Bronco
Archer
Ace
Dash
Chance
Cliff
Colt
Cruz
Swift
Derby
Flint
Flash
Hunter
Sonic
Flip
Gale
Geo
Gunner
Aurora
Liberty
Aero
Hermes
Skye
Jagger
Presley
Felix
Cheyenne
Aspen
Phoenix
Journey
Check out some additional cool dog names for even more ideas.
Unique Labradoodle Names
Some of these unique Labradoodle name ideas not immediately come to mind.
Consider this list as the whos-who of interesting names, many of which are often totally underrated.
Aeryn
Aidric
Lotus
Amory
Alora
Analise
River
Harper
Char
Aria
Riley
Paisley
Oaklee
Magnolia
Skylar
Zuri
Serenity
Logan
Peyton
Ivy
Jade
Faith
Rayne
Clover
Melody
Emerson
Rainy
London
Lennox
Finley
Parker
Sienna
Carter
Sloan
Reina
Crystal
Destiny
Harlow
Samara
Zelda
Cute Labradoodle Names
Labradoodles are well-known for being loving and affectionate.
So this next batch of names is inspired by the theme of kindness and sweetness. These names particularly lend themselves to Labradoodle puppies.
Baby
Buddy
Bean
Coy
Starry
Dandy
Fleur
Joy
Blossom
Flora
Petunia
Lovely
Haven
Belle
Miracle
Honey
Angie
Jewel
Dreamy
Sunny
Darling
Precious
Daisy
Harmony
June
Poppy
Bonny
Candie
Felicity
Royal
Lily
Serena
Clementine
Heaven
Angel
Check out more cute puppy names here. You may also be interested in our list of funny dog names.
Australian Labradoodle Names
When naming pets, one helpful way to brainstorm ideas is by taking cues from their origins.
Here are some Labradoodle names with an Australian twist, since Labradoodles were first bred in—surprise, surprise—Australia.
The first name on the list comes from one of the very first Labradoodles. The names after that are definitely a lot more Australian.
Sultan
Aari (Boy – Mountain of Strength)
Aayla (Girl –Top of the Mountain)
Addi (Boy – Noble, Nobility)
Alle (Boy – Defender, Protector, Helper)
Bastian (Boy – Venerable, Honored)
Bayu (Boy – The Wind)
Jimi (Unisex – Independent, Face Life's Challenges)
Jondy (Girl – Kind, Joyous)
Keily (Girl – Boomerang)
Miao (Boy – Delightful, brilliant)
Moona (Girl – Gives or Provides Light)
Danian (Boy – Famous Warrior)
Norin (Boy – Honorable, Moral)
Rashtin (Boy – Truthful)
Jokull (Boy – Joyful, Jolly)
Tumai (Boy – Trustworthy)
Daryllyn (Girl – Beautiful One)
Daynan (Girl –Kindhearted Being)
Ghy (Boy – Pond, Pool)
Hastie (Boy – Son of Austere Man)
Alisah (Girl – Great Happiness)
Alyne (Girl – Endless)
Centaine (Girl – An admirable individual)
Dainen (Boy – A Kindhearted individual)
Discover more Australian names and their meanings here.
Chocolate Labradoodle Names
Chocolate and black colored coats are quite common with Labradoodle pups, not surprising given their common appearance in both their Labrador and poodle parent breeds.
That being said, there are a host of other color coat possibilities, especially due to the wide variety of poodle coats.
For now, though, we'll stick to the two most typical coat colors—chocolate and black. So let's start with chocolate.
In this list, you may also see some names—as you'd expect—associated with sweet things.
Cookie
Fudge
Sundae
Brownie
Coco
Chip
Dulce
Tasty
Sweetie
Bonbon
Delight
Chestnut
Coffee
Bean
Mocha
Sugar
Chocolate-Chip
Truffle
Mud Pie
Espresso
Also, check out this list of chocolate Lab names.
Black Labradoodle Names
These names make reference to the color black itself. Some of these names have more mystical meanings.
Whereas others allude to the night or nocturnal references derived from various languages and cultures.
Midnight
Luna
Galaxy
Blackout
Celeste
Dusky
Shadow
Charcoal
Noir
Jet
Twilight
Nightfall
Onyx
Ajambo
Koko
Ilta
Orpheus
Nocturne
Shirina
Atieno
Here are some more black dog names you may like.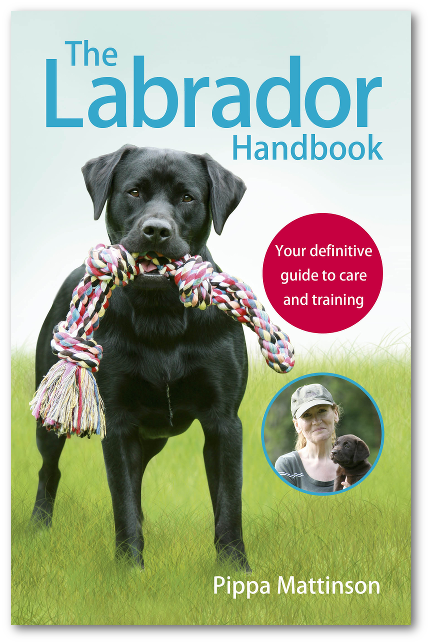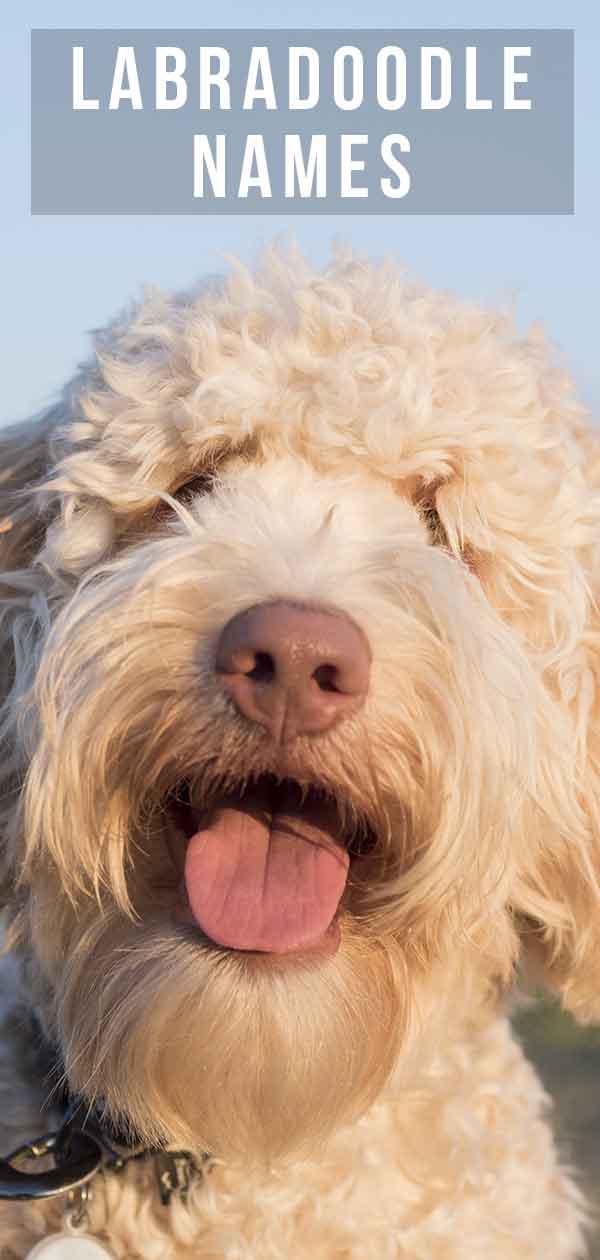 Choosing a Name for Your Labradoodle Puppy
Hopefully, you've come across a name that jumps out to you as "the one" or maybe you've found a general theme to point you in the right direction.
Either way, we certainly hope we've provided you with some helpful ideas (or even maybe even the name you're going to pick).
And wish you and your labradoodle a happy, healthy path ahead! If you need inspiration, take a look at this helpful name collection!
Which names did you like best? Have you chosen a name for your Labradoodle? Even if it's not on the list, we'd love to hear all about it in the comments below.
The Labrador Site Founder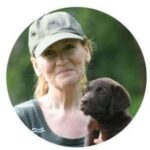 Pippa Mattinson is the best selling author of The Happy Puppy Handbook, the Labrador Handbook, Choosing The Perfect Puppy, and Total Recall.
She is also the founder of the Gundog Trust and the Dogsnet Online Training Program 
Pippa's online training courses were launched in 2019 and you can find the latest course dates on the Dogsnet website