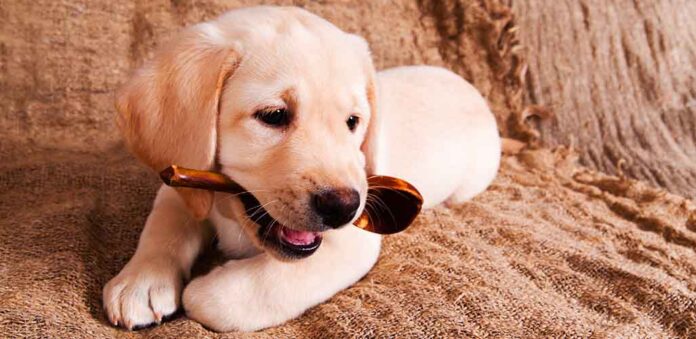 I don't know about you, but my dogs' main recall cue is their name. They are whistle trained too, for when the command inevitably gets ruined by my kids calling them repeatedly, but each dog's name is still the everyday go-to for getting them to come running.
Short, snappy, individually sculpted 1 syllable dog names are the only way to name your puppy.
The best thing about choosing a one syllable dog name, is that you can have a fancy longer version of that name if you like. An extended version for using around the house or telling all your friends. But that rapid-fire nickname that rolls instantly off your tongue, that's the real way forward.
Short Human Names for Dogs
I am a sucker for a classic human name. My dogs are all named just the same way as my kids. But classic 1 syllable dog names don't mean you need to be run-of-the-mill about your choices.
Why not dive back into retro or vintage names, or think up a new short twist on an old reliable name?
Ben
Mave
Jan
Jeff
Reg
Steph
Stan
Alf
Kev
Dan
Fred
Jim
Ann
Pete
Carl
Tim
Mark
Lee
Phil
Jen
Don
Dee
1 Syllable Boy Dog Names
These ideas for male dogs are short and sweet! Here are some that are universally lovable:
Ant
Arch
Beck
Blake
Brett
Cam
Carl
Chance
Chris
Cole
Colt
Dan
Dave
Dean
Dec
Dom
Gabe
Gav
George
Jake
James
Jim
Kai
Luke
Max
Miles
Nick
Pat
Paul
Rhett
Rhys
Seb
Ty
Vin
Will
Zach
Zane
Zeke
1 Syllable Girl Dog Names
Here are our favorite single syllable dog names for girls!
Ange
Ann
Beth
Belle
Blair
Bree
Claire
Elle
Eve
Faye
Flo
Grace
Gwen
Jade
Jane
Jess
Joy
June
Kate
Kim
Lex
Liv
Luce
Lynn
Maeve
Marge
May
Mel
Nell
Ness
Paige
Pearl>
Pip
Quinn
Skye
Tess
Tiff
Musical 1 Syllable Dog Names
Some of my favorite creative ways to name dogs is to get inspired by the wide ranging world of music. From composers or bands to haunting operatic arias, these fleeting dog names might just hit the right note for you.
They make lovely one syllable names for girls or boys.
Bar
Blues
Jazz
Lute
Phrase
Rap
Flute
Bass
Score
Mute
Swing
Chime
Kiss
Key
Capo
Blur
Pulp
Gong
Short and Sweet Dog Names
I love quick candy themed names so much! As edible as they are adorable, they are quite the source of inspiration due to the plethora of funky 1 syllable names.
You can also create original dog names from some of your favorite flavors, or from the names of candy bars from the past!
Twix
Dove
Flake
Chew
Mars
Ruth
Dot
Bear
Crunch
Clark
Fudge
Reese
Star
Gum
Mint
Chomp
Fuse
Lion
Rose
Pet Names Around The World
Travelling around the world can get you some pretty cool inspiration for naming your puppy too. Plenty of cities, towns and provinces are as briskly named as they are brilliant.
Rome
Prague
York
Lille
Minsk
Kent
Rye
Perth
Pau
Blythe
Leeds
Crewe
Sparks
Flint
Keo
Cork
Eek
Bath
Tea
Yoe
Lou
Clay
A Natural Influence
Dog names are always more memorable when they make a connection. And the natural world is something that joins us all together. 1 syllable dog names that are derived from the wild world can pack a serious punch, but they can also give a gentle edge to that single sharp syllable.
Oak
Copse
Rock
Fry
Scrub
Tide
Cache
Dune
Fen
Hive
Crest
Stone
Flock
Coal
Leaf
Shrub
Sea
Moss
Crop
Krill
Fin
1 Syllable Horticultural Names
There are so many plants, fruits and vegetables that you could spend a week trawling through their names to find the perfect one. But narrow them down to just that single syllabic tone, and you've got a pretty awesome collection of potential dog names.
Rue
Fern
Palm
Thyme
Corm
Sage
Gorse
Rose
Beet
Dill
Bean
Chaff
Kale
Chard
The Labrador Site Founder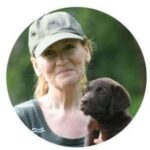 Pippa Mattinson is the best selling author of The Happy Puppy Handbook, the Labrador Handbook, Choosing The Perfect Puppy, and Total Recall.
She is also the founder of the Gundog Trust and the Dogsnet Online Training Program 
Pippa's online training courses were launched in 2019 and you can find the latest course dates on the Dogsnet website