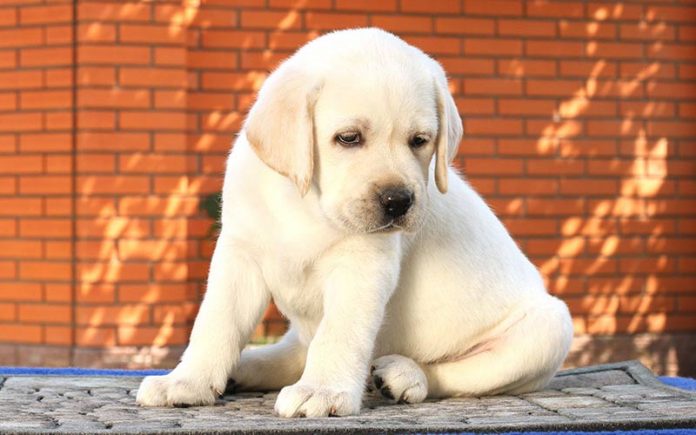 Looking For Good Dog Names? You've Come To The Right Place! In Fact, Welcome To Our List Of The Greatest Puppy Names You'll Find On The Internet.
Okay, it's a big claim. But we're confident you'll agree.
We've taken time to research wonderful names for your precious puppy.
First, we'll take a look at how to choose a name, and then you'll find categorized lists of great puppy names for your consideration.
We hope this list helps you to find the best of the good dog names for your adorable puppy.
What are Good Dog Names?
Good dog names come in as many varieties as there are breeds and mixes of dogs.
A dog's name may be traditional, such as "Fido" or "Rover."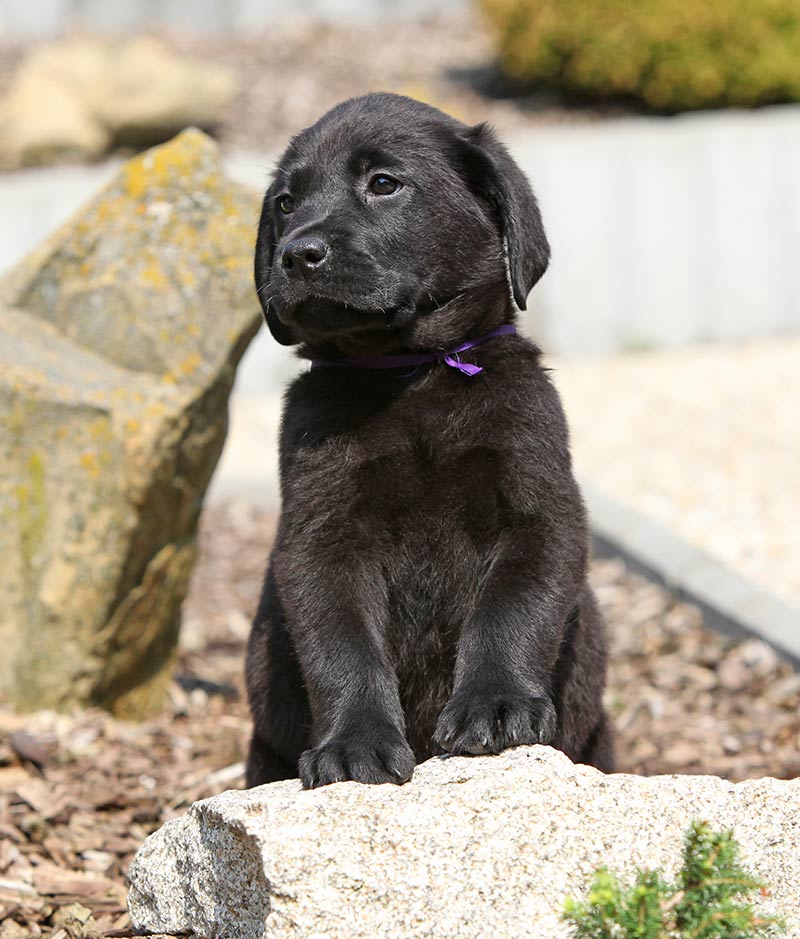 Your puppy's name could also be inspired by a favorite TV series, sports hero or even your favorite piece of literature.
Maybe your puppy has a lively nature, or is more calm and peaceful.
Unique personalities can be the inspiration for your dog's name too.
Does your puppy have physical characteristics, such as spots, "socks" on her feet, etc.? His own look can give you many ideas for cute dog names.
When choosing good dog names, there are a few other things to keep in mind though.
Choosing the Best Dog Names
It's widely agreed that a name that has two syllables is usually best.
Examples include: "Amber," "Goldie," "Lucky."
Make sure your puppy's name doesn't sound like a command you are going to teach them, as this could be confusing.
Good puppy names with sharp consonants are easier for dogs to hear; names starting with "s," "sh," "k,", etc. will catch your dog's attention more quickly.
Human names can make good dog names too.
However, if you're naming your puppy after a living person, it's a good idea to check with them before bestowing their name on your puppy! Some people may not like having a pet named after them.
And if they are around a lot, it could get confusing.
Now we're ready to look at some good dog names. In fact, some great ones!
We'll start off with some good girl puppy names and followed by some good boy puppy names. With our help, you'll find just the right name for your cute fur baby.
Good Girl Dog Names
Do you have a cute little girl dog made of sugar and spice? Or is she feisty and funny?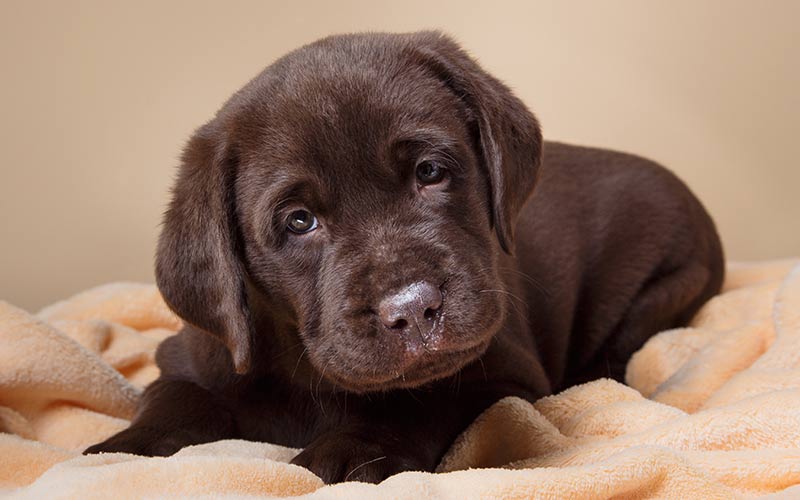 Good girl puppy names can be soft and warm, or bouncy and energetic.
No matter your puppy's personality, you'll find good female puppy names just right for your playful pup.
Here you'll find a list of good female dog names that are popular right now:
Abby
Addie
Allie
Bailey
Bambi
Bella
Bessie
Bunny
Callie
Chloe
Daisy
Dixie
Dolly
Emma
Eva
Gracie
Ginger
Goldie
Honey
Joy
Laika
Lena
Lola
Lucy
Luna
Maggie
Molly
Penny
Sadie
Ruby
Good Boy Dog Names
Do you need a good male dog name? Some names are more common than others, while some good male dog names are unique.
You'll also find some names for snuggly boy dogs, while other dog names are for boy dogs with strong personalities.
Here's a list of popular good boy puppy names:
Ace
Astro
Barry
Bentley
Bear
Bo
Buster
Charlie
Cody
Cooper
Duke
George
Gus
Hank
Hunter
Jack
Jake
Jett
Max
Moose
Otis
Ricky
Rocky
Sarge
Scout
Shamus
Spencer
Tank
Toby
Tucker
Good Small Dog Names
Labradors come in a variety of sizes as well as personalities. Some small dogs are shy and quiet, while other diminutive puppies are confident and fill a room with their presence.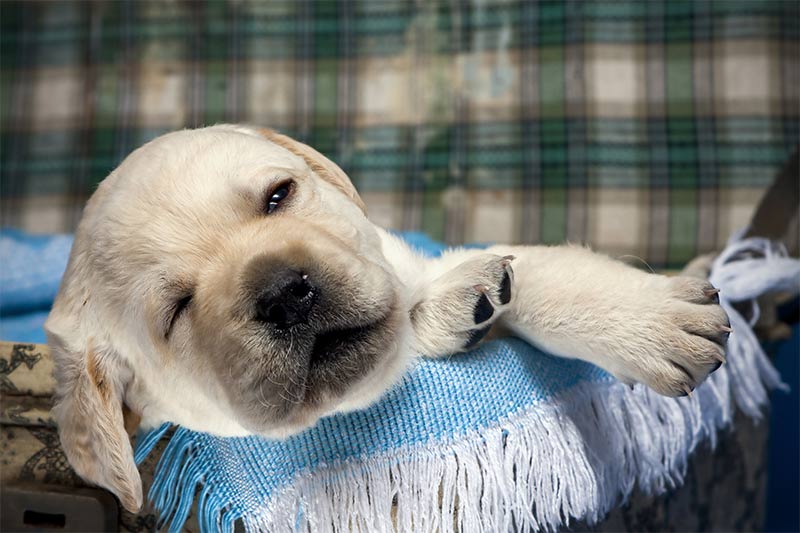 Here's a list of small dog names that may fit your smaller sized dog, categorized by good male dog names, followed by a list of good female dog names.
Good Small Boy Dog Names:
Atom
Bolt
Boris
Bullet
Button
Cooper
Cruise
Flick
Gherkin
Hamlet
Inch
Mite
Pint
Squirt
Webster
Good Girl Small Dog Names
Baylee
Becca
Candy
Carlee
Daffee
Demi
Elf
Fairy
Gidget
Harley
Heidi
Jackie
Lilo
Maxie
Minnie
Is your puppy going to be big? Then perhaps you'll need a name more fitting for a larger dog.
In the next sections, we'll look at boy and girl names for big dogs.
Good Big Dog Names
You can use big dog names for boys or girls; you can also use big dog names for puppies that are large or small. Maybe your pup has a large personality.
Then a big dog name will be just right.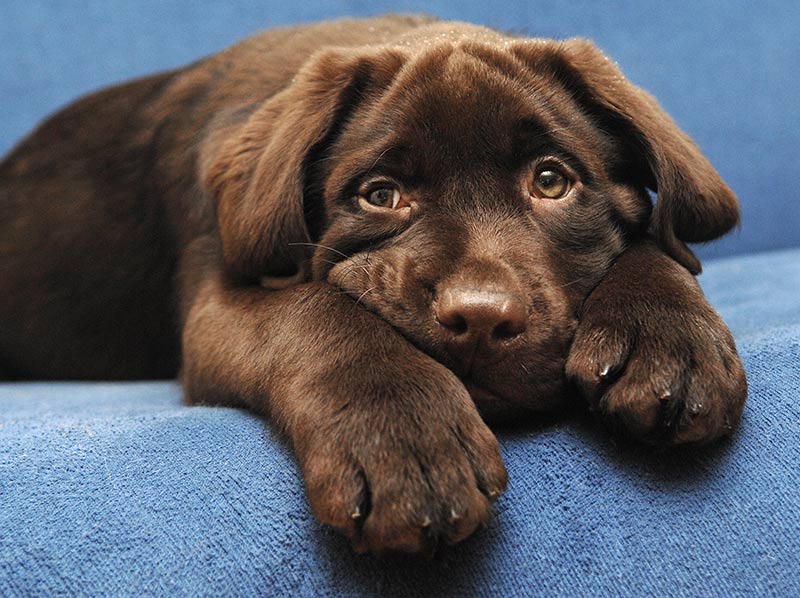 We'll share a list of good big dog names for boys and a second list of big dog names for girls.
Good Big Dog Names for Boys
Atlas
Beowulf
Butch
Clifford
Denali
Eureka
Everest
Grant
Harley
Konan
Mack
Shrek
Taz
Tyson
Wookie
Good Big Dog Names for Girls
Angel
Athena
Barda
Cleo
Elena
Emily
Greta
Leta
Maddie
Maggie
Queen
Rosa
Sofie
Tilli
Xena
Unique Good Puppy Names
Does your puppy have a unique personality? Would you prefer a more uncommon name for your dog?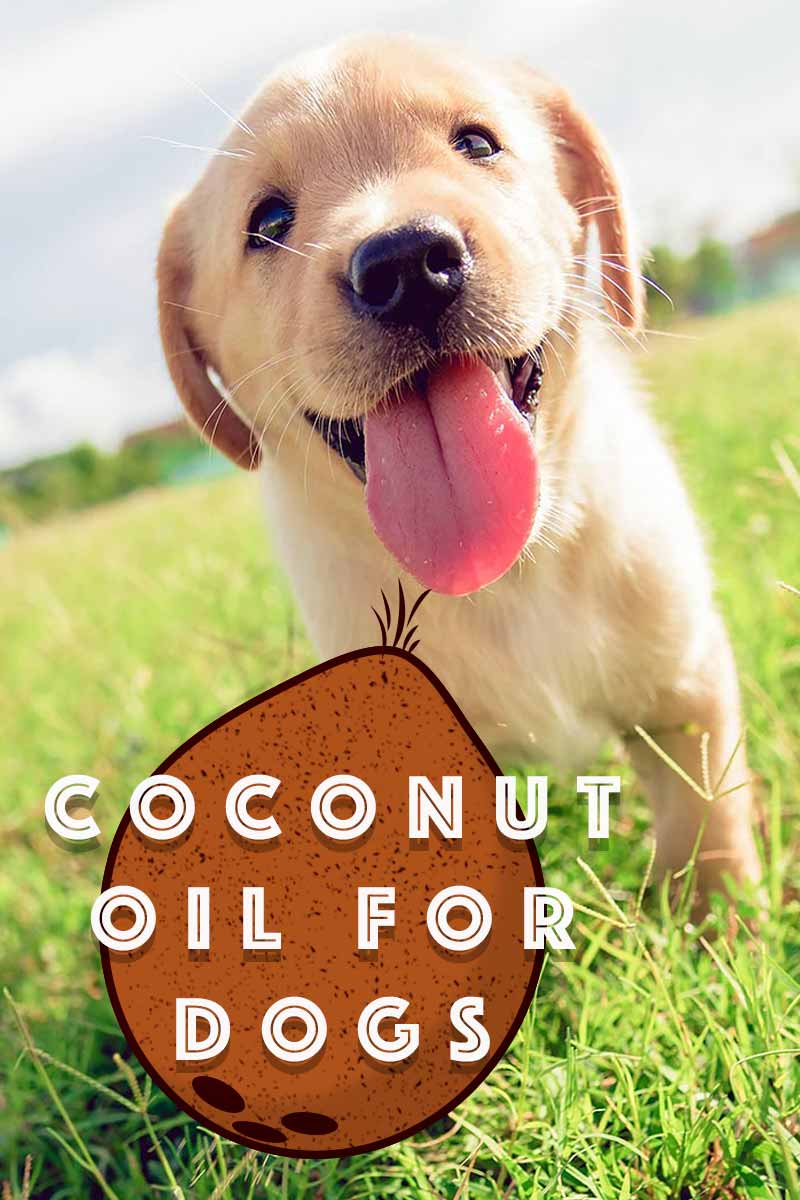 Then here's a list that can help you find the most unique good puppy names.
Aero
Alexa
Basil
Bubbles
Chelsy
Clancy
Dallas
Dezi
Fabio
Frostie
Gabby
Grizzly
Hadley
Herbie
Indy
Ivan
Jada
Jay
Lance
Makita
Marco
Noodles
Orson
Reno
Ronin
Scooter
Thea
Theo
Zara
Zoro
If you've not found just the right name so far, maybe it's time to consider good dog names inspired by your favorite TV series.
Good Dog Names from TV Series
Do you have a favorite TV series? Do you have a favorite TV character? A TV series you enjoy may give you some ideas for good puppy names.
Here are some examples of good dog names from TV series:
Amy (Big Bang Theory)
Claire (Outlander)
Cersei (Game of Thrones)
Barney (How I Met Your Mother)
Brienne (Game of Thrones)
Derek (Grey's Anatomy)
Dougal (Outlander)
Fergus (Outlander)
Floki (Vikings)
Fraser (Outlander)
Frank (Outlander)
Geillis (Outlander)
Grey (Grey's Anatomy)
Helga (Vikings)
Hopper (Stranger Things)
Howard (Big Bang Theory)
Ivar (Vikings)
Jamie (Outlander)
Joey (Friends)
Jon (Game of Thrones)
Lily (How I Met Your Mother)
Martin (Stranger Things)
Mike (Stranger Things)
Monica (Friends)
Penny (Big Bang Theory)
Phoebe (Friends)
Owen (Grey's Anatomy)
Raj (Big Bang Theory)
Rollo (Vikings)
Sheldon (Big Bang Theory)
Maybe you don't like the idea of naming your puppy after a TV character. What about naming your sweet fur baby after a celebrity?
Celeb Names for Boy and Girl Dogs
Celebrities come from all walks of life—you'll find movie stars, sports heroes, so much more! You'll have a wide range of name ideas of your dog or puppy!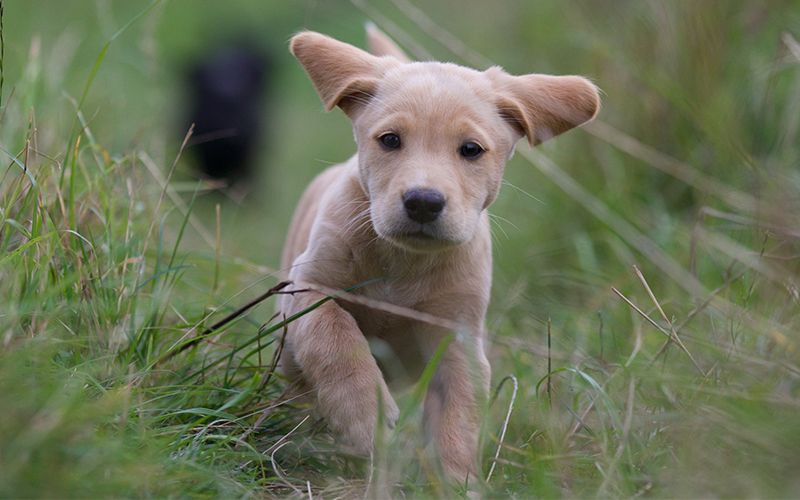 We've searched the Internet high and low for some of the most famous actors and actresses, reality TV personalities, and sports heroes.
Maybe these would make good male dog names, or make good girl dog names for your adorable puppy or dog.
Famous Actor and Actress Names for Dogs
Here's a list of some of the most famous actors and actresses that could make your puppy a celeb on the block:
Fred (Fred Astaire)
Gary (Gary Cooper)
Kate (Kate Winslet)
Katharine (Katharine Hepburn)
Jack (Jack Nicholson)
Laurence (Laurence Olivier)
Mae (Mae West)
Meryl (Meryl Streep)
Tom (Tom Hanks)
Yul (Yul Brynner)
Famous Reality TV Personalities
Reality TV is popular these days! What about naming your pup after a famous reality TV personality?
Here are some ideas for dog and puppy names:
Chrissy (Chrissy Teigen)
Blake (Blake Shelton)
Buddy (Buddy Valastro)
Farrah (Farrah Abraham)
Kylie (Kylie Jenner)
Khloe (Khloe Kardashian)
Nicole (Nicole Scherzinger)
Perez (Perez Hilton)
Rob (Rob Kardashian)
Willie (Willie Robertson)
Famous Sports Hero Names for Puppies
Still looking for the right name for your baby dog? Is your puppy full of energy and likes doggie sports? Or do you have a favorite sports hero?
If so, these famous sports hero names may be just the thing for your cuddly pup:
Billie (Billie Jean King—Tennis)
Danica (Danica Patrick—Race Car Driver)
Floyd (Floyd Mayweather Jr.—Boxing)
Kobe (Kobe Bryant—Basketball)
Maria (Maria Sharapova—Tennis)
Peyton (Peyton Manning—Football)
Ronda (Ronda Rousey—Mixed Martial Arts)
Rory (Rory McIlroy–Golf)
Serena (Serena Williams—Tennis)
Tiger (Tiger Woods—Golf)
Are you more interested in literature than sports? Then the next list of good dog names be right for you and your puppy.
Good Dog Names Inspired by Literature
Literature is a realm rich in good dog names. Whatever type of literature you prefer, consider names for your pup based on your favorite characters.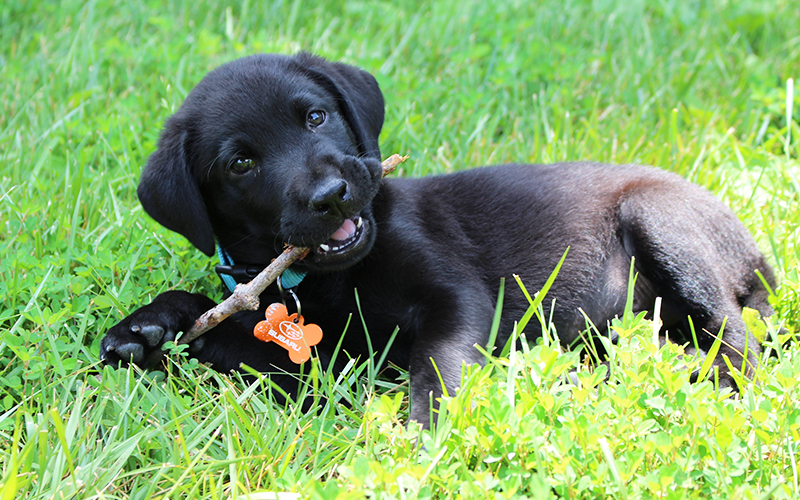 Here are some ideas for the bibliophile pup:
Achilles (The Illiad)
Alice (Alice in Wonderland)
Antonia (Tony for short—My Antonia)
Argo (The Odessey)
Blanche (A Streetcar Named Desire)
Buttercup (Princess Buttercup in The Princess Bride)
Dantes (The Count of Monte Christo)
Darcy (Pride and Prejudice)
Elinor (Sense and Sensibility)
Garp (The World According to Garp)
Gatsby (The Great Gatsby)
Jane (Jane Eyre)
Jip (David Copperfield)
Lad (Lad: A Dog)
Lassie (Lassie Come Home)
Lily (The House of Mirth)
Lolita (Lolita)
Macbeth (Macbeth)
Marlowe (The Big Sleep)
Pipi (Pipi Longstocking)
Scarlett (Gone with the Wind)
Sherlock (A Study in Scarlet)
Nana (Peter Pan)
Oliver (Oliver Twist)
Pongo (The Hundred and One Dalmatians)
Rhett (Gone with the Wind)
Romeo (Romeo & Juliett
Sancho (Don Quixote)
Snowy (The Adventures of TinTin)
Toto (The Wonderful Wizard of Oz)
The sky's the limit when it comes to finding a literary name for your puppy.
Really Good Dog Names
Really good dog names for your puppy come down to what you love the most. Name ideas abound, so find the one that's the best fit for your pup.
Choose a name you'll be happy to associate with your big or little fur baby.
The really good dog names are those you and your puppy respond to with love and happiness—a name you'll both associate with the warmth, joy and love that comes with a lifetime of companionship.