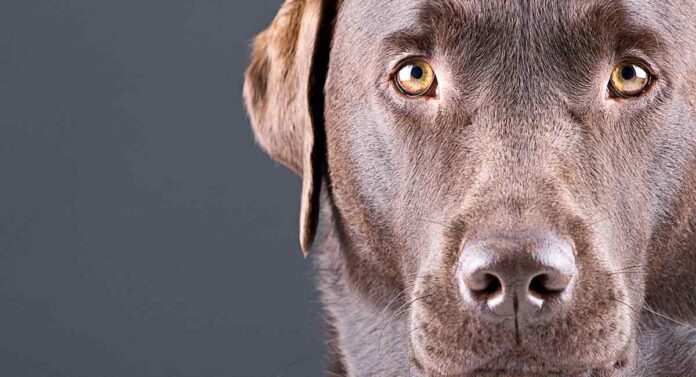 Today we are going to check out some seriously strong dog names. We will narrow them down by theme to help you to create a shortlist of names that give a powerful impression. Our top strong names for dogs include:
Bruce
Axe
Hulk
Crush
Brutus
Baxter
Echo
Justice
Marvel
Liberty
Katniss
Nyx
Ranger
Fury
Rex
Hunter
Hawk
Rage
Marlow
Diesel
Red
Hudson
Elvis
Hendrix
Spite
Bouncer
Cowboy
Trigger
Cowgirl
Mighty
Mr. Fang
Gotcha
Madam Teeth
Nope
Growls-A-Lot
Scary McScarson
Lionel
Blade
Angelo
Romo
Pierson
Vigil
Bruiser
Bullet
Archer
Pharaoh
Rhino
Ghost
Strong Dog Names
If you are about to welcome a new puppy or rescue into your home, congratulations! Becoming a dog parent is an exciting time, and there is so much to prepare for. When it comes to getting ready for a puppy or a rescue, you are in for a lot of surprises and a lot of treats.
Dogs are not only wonderful companions and amazing additions to the family, but they can also be wonderful teachers. And regardless of if your dog is a muscular Pit Bull or an itty-bitty Chihuahua, we bet they are going to have a strong impact on your life.
So, are you looking for strong dog names for your strong dog? Then welcome to the article you have been waiting for! We have exactly 200 strong dog names for that strong (in body or spirit) dog of yours. Let's get started!
Choosing a Strong Name for Your Dog
What is a strong dog name? Well, it could be a name that summons images of muscle and strength. A strong dog name could also be a name that elicits imagery of someone who was important throughout history, or even an incredible force of nature, or simply a fierce emotion.
Don't worry. Whatever you are seeking, we are sure we have it. But before we begin, let's talk a bit about dogs and how they learn.
How do Dogs Learn Names?
Are you hopeful that your dog will learn his or her name as soon as possible? Luckily, many experts have found that most dogs are able to learn their names within a week or two. Studies have also shown that positive reinforcement works best when trying to teach your dog his or her name.
We should also note that some experts believe names with two syllables have shown to stick quicker with some dogs. So, what names work best? Names like Milo, Riley, and Fido seem to stick quicker than names like Delilah, Anabella, and Maximillian.
Of course, this doesn't mean that if Maximillian has been the dog name of your dreams that you should forgo it altogether!
Positive Reinforcement Techniques for your Strong Dog
Remember, for the most part, dogs are intelligent and eager to please us, and studies have proven that when utilizing positive reinforcement techniques like treats and praise as well as consistency and patience, dogs learn quickly.
With that being said, let's go over some of the most popular and best strong dog names of this year.
Best Names for Strong Dogs
Some of the best strong dog names are simply some of the most popular ones of this year.
Strong dog names embody powerful, meaningful, symbolistic feelings and imagery, and the ones on this list embody all of that plus popularity!
Boomer
Hooch
Bullet
Ajax
Bones
Rebel
Axelle
Skull
Compton
Maverick
Ninja
Butch
Roxy
Bear
Cage
Harlow
Jax
T-Bone
Brutus
Female Strong Dog Names
Female power is at its peak, and we love that these strong female dog names are both feminine, pretty, and super powerful!
Are you looking for that all-encompassing female strong dog name to give to your female (or even male) dog? Then you are most likely going to love this list.
Elektra
Arya
Koda
Diva
Indiana
Rowan
Freedom
Duchess
Mystique
Ava
Babs
Raven
Jojo
Jedi
Minx
Athena
Sansa
Annalisa
Jersey
Huntress
Dog Names for Strong Males
If you are on the hunt for a dog name that is both masculine and strong, then you're in luck. We love that this next list of dog names is full of masculinity while also being appropriate for both male and female dogs.
Samson
Baxter
Runner
Tyson
Kingsly
Fearless
Buck
Prince
Sabre
Knox
Tut
Venom
Major
Blazer
Scar
Pistol
Racer
Charger
Captain
Cool Strong Dog Names
Strong dog names have no issue with being cool. Why is it that cool and strong go hand-in-hand?
Oh well. All we know is that these strong and totally cool dog names are going to rock your world. We love that these names are not only full of swag, but also dog approved.
Jace
Braxton
Fletcher
Cobra
Jagger
Ryder
Slade
Fender
Brawn
Hercules
Onyx
Angus
Villan
Jett
Rhodes
Loki
Dutch
Stryker
Colorado
And if you loved this list of cool strong dog names but would like even more to choose from, visit our cool dog names article.
Cute Names for Strong Dogs
When you think of strong dog names, you may not necessarily think of the word cute. Still, they can be strong and cute, right?
We think so. Take a look at this list of cute and strong dog names we have come up with and see what you think!
Scout
Trooper
Moon
Sable
Superman
Kiss
Otis
Burly
Snow
Loco
Tarzan
Punk
Colt
Rager
Gypsy
Blue
Rowdy
Private
Did you just realize how much you love these cute strong dog names? Would you like to look at an even larger list?
Funny Names for Strong Dogs
Sometimes funny can mean a lot of things. Irony, puns, sarcasm, you name it. It's all in the eye of the beholder.
So, whether your dog is a tiny peanut who needs a nice, strong name to give people a giggle or your dog is literally the strongest of the strong and needs a name to let people know he means business, you are going to love this list.
Mr. Muscle
Digs
Wiley Coyote
Sr. Stone
Bite Me
Lady Killah
The Hulk
Killer
Bite Chew
The Rock
Voldemort
Mr. Munch
D.O.G.
Rabid
No Wagz
Notorious
Beware of Dog
Bitz
Jaws
Unique Strong Dog Names
Is your dog completely one-of-a-kind? Or perhaps you just like to stand out in a crowd?
Either way, if you and your dog are looking for a strong dog name that will hold its own at the dog park, then this is the list for you.
Can you find names as unique as these anywhere else? We think not.
Whiskey
Leo
Winning
Loyalty
Heart
Romeo
Ravenna
Cheetah
Clooney
Lava
Gryffindor
Biggie
Colorado
Neverland
Boulder
Stone
Chronic
And on the off chance that we thought wrong, don't worry. We have hundreds of more unique names for you to choose from.
Tough Names for Strong Dogs
We have compiled this list for the strong dog who is also a tough dog. If your dog is totally badass, all around tough, and totally strong, then we think we have a list you'll love.
Of course, if your dog is super miniature and puny, you may still love this list. There is nothing wrong with having a bit of fun.
Rocky
Avalanche
Tornado
Hades
Pyro
Phantom
Warrior
Simba
Arrow
Zeus
Tank
Legend
Roscoe
Scar
Zena
Mufasa
Bomber
Ursula
Phoenix
Not satisfied with this list? That's not all we have!
Fun Facts About Strong Dogs
Did you know that dogs are as clever as the average two-year-old? Amazingly, dogs can learn over 150 words and if they don't know the words you speak, they will work extra hard to understand what you are saying.
This is one of the reasons positive reinforcement has been shown to work best with our four-legged counterparts! Dogs love to please us and work hard to get things right.
When we use treats and praise it helps to show our furry friends that they are on the right track and they are in turn more apt to repeat this behavior to get our approval.
Just a few more reasons dogs are so incredible!
What is your favorite thing about dogs? Tell us in the comments below!
And if you still need more name ideas, take a look at our dog name database! It has everything from big dog names, to cool names!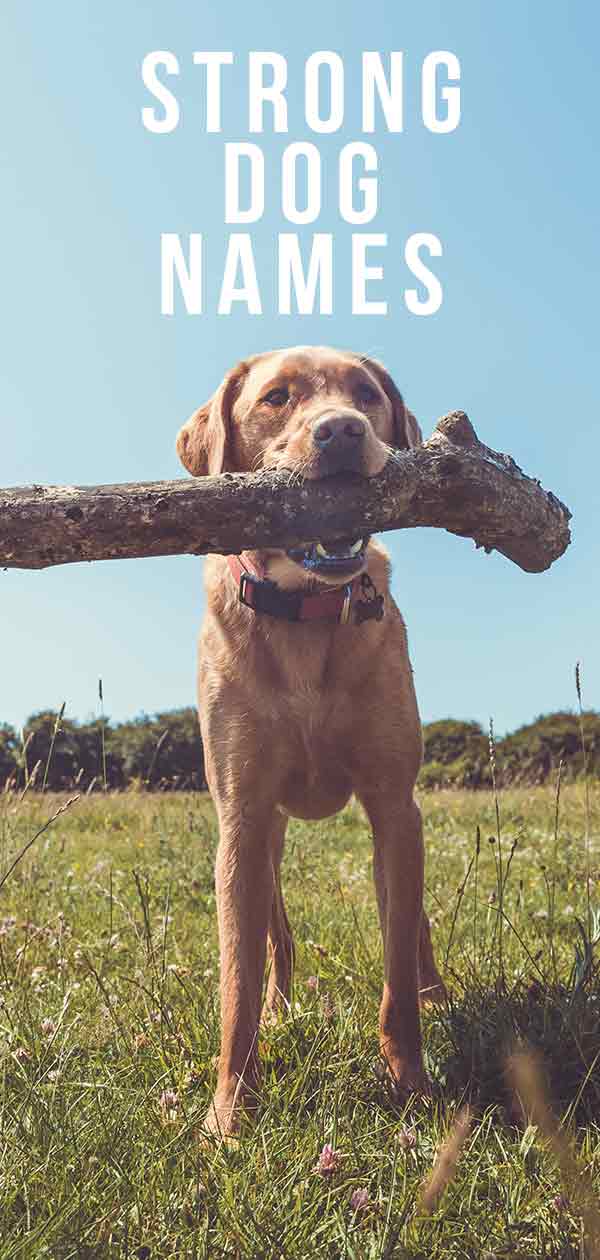 References
Kaminski et al, 'Word Learning in A Domestic Dog: Evidence for 'Fast Mapping', Science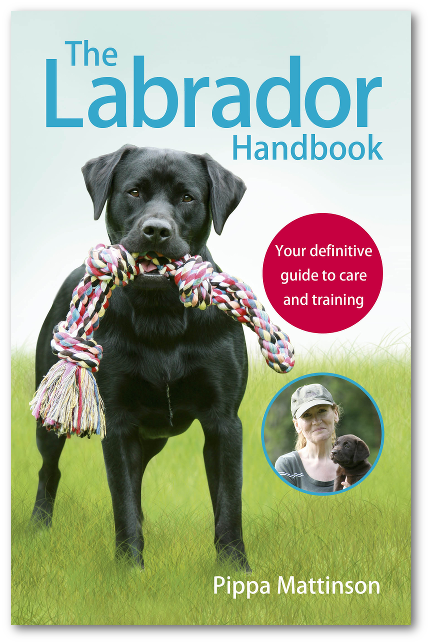 Mary B. Harris, 'Some Factors Influencing Selection and Naming of Pets', Psychological Reports
Kutsumi et al, 'Importance of Puppy Training and Future Behavior of the Dog', Journal of Veterinary Medical Science
Hare & Tomasello, 'Human-Like Social Skills in Dogs?', Trends in Cognitive Sciences
Prato-Previde et al, 'Is the Dog-Human Relationship an Attachment Bond? An Observational Study Using Ainsworth's Strange Situation'.
The Labrador Site Founder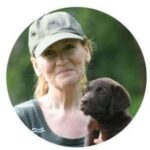 Pippa Mattinson is the best selling author of The Happy Puppy Handbook, the Labrador Handbook, Choosing The Perfect Puppy, and Total Recall.
She is also the founder of the Gundog Trust and the Dogsnet Online Training Program 
Pippa's online training courses were launched in 2019 and you can find the latest course dates on the Dogsnet website