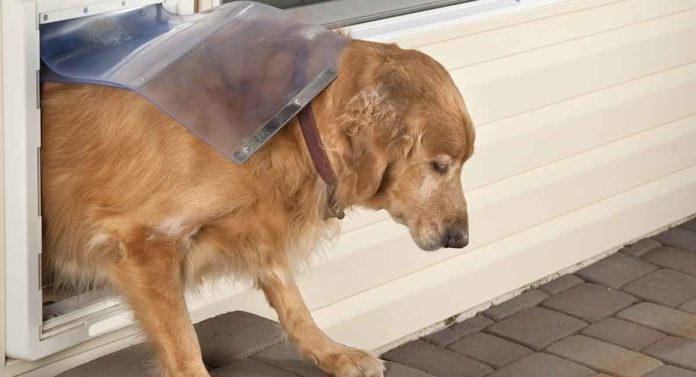 It's no surprise that many pet parents are on the hunt for the best electronic dog door.
As dog owners, we are constantly on the lookout for the best dog-friendly products that will make our lives easier and our pup's lives more fun.
But finding the best electronic dog door that works for your unique home and your unique pooch is no easy task.
We know you have a lot to consider before investing in one of these high-tech, futuristic, and sometimes kind of pricey doggy doors, and we want to help.
What is An Electronic Dog Door?
An electric dog door is sometimes called an electromagnetic dog door or an automatic dog door.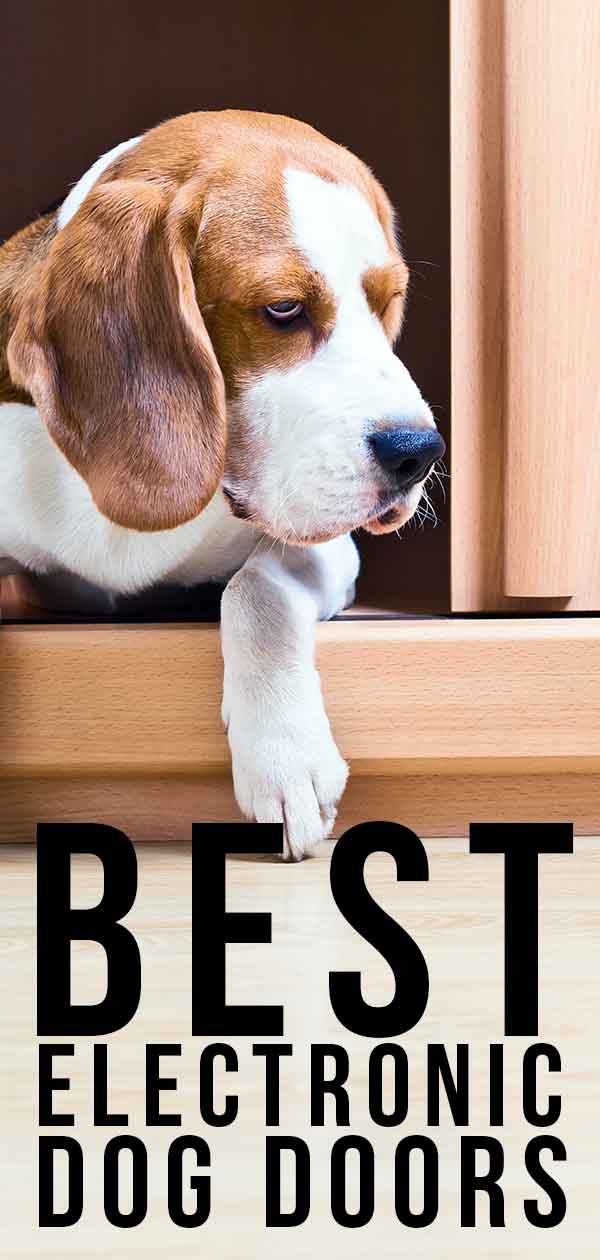 It's a dog door that is installed in your home, either on your door or into your wall.
Like regular flap dog doors, electric dog doors allow your pet independent access to the backyard, making both of your lives a bit easier.
The drawbacks of flap doors
The problem with flap dog doors is that they can sometimes be an invitation to unwanted guests.
Many people have experienced intruding animals when they haven't closed or locked their flap dog doors.
Some dog owners have even reported intruding humans trying to break in!
Furthermore, flap dog doors may not be as energy efficient as electronic dog doors.
They can let the chill of snow or rain inside during the winter months or release precious air conditioning during the summer.
The advantages of electronic dog doors
One of the things we love about the electric dog doors listed below is that many are collar or remote activated, meaning they come with an automatic dog door opener.
So, without your dog's specific collar or an electric dog door opener controlled by you, no human or animal will get in or out of your home unless you want it to.
Electronic dog doors also promise to be more energy efficient than regular flap dog doors.
Advanced technology maintains your home's insulation, keeping it warm in the winter and cool in the summer.
But just how safe are electronic dog doors, and how do you know if an electric dog door is right for you?
Let's see.
Are Electric Dog Doors Safe for My Home and My Dog?
Actually, many dog owners agree that electric dog doors are safer than regular flap dog doors, not to mention more convenient.
An electronic dog door is created to open when your dog is ready to use it, meaning you don't have to be at your pup's beck and call whenever he is ready to venture outside.
And yes, the electronic dog doors on our list are built with safety in mind.
They open smoothly for Fido and then close after him slowly.
Many of them use gravity so as not to threaten your pup's safety as he crosses through the threshold to his backyard domain.
Electronic dog doors with sensors often come with chips you link to your dog's collar.
These signal the electric dog door to open when your dog is within a certain proximity to it.
Others come with a remote control, putting the power in your hands.
Other Options
What if you don't want your dog going in and out whenever he wants, but you also don't want to have to be in charge of a remote?
Don't worry, that option is available too.
In fact, a number of automatic doors offer curfew modes and lock options.
You can rest assured your pooch gets to go outside when it is best for everyone.
Curfew modes also allow you to shut the dog door electronic sensor off of your electronic dog door after a certain time of night.
That means the electronic dog door will cease to work until the next morning.
The best electronic dog doors
With all these options available, it's no wonder so many dog parents are replacing their flap dog doors with electronic dog doors.
But don't take our word for it.
We have compiled a list of electric dog door products we love that are available now on Amazon.
Make sure you read the electronic dog door reviews and check out the details listed in the ads.
Remember, automatic dog door reviews will help to give you even more insight from real customers, making it easier to decide if the electronic dog door in question is right for you.
Electronic Dog Door Options for Small Dog Breeds
Perhaps you own a tiny little puppy.
Dogs of all sizes need a little "outside time." But why would you purchase or install a larger electronic dog door than necessary?
Most electronic dog door options are priced by size, meaning that with your smaller dog comes a smaller price on electronic dog doors.
Here are just a few of our favorites
We think the Cat Mate Electromagnetic Large Cat or Small Dog Door is perfect for any tiny dog desperate for independent access to his backyard kingdom.
It is also suitable for independent cats, so if you are the proud parent of both a cat and a small dog, then you're in luck.
Affordable and with good reviews, this product has a three-year guarantee. Certain measurements can make it suitable for installation on both screen doors and walls.
Then check out the SureFlap Microchip Pet Door for your little Fido.
We like this electronic dog door for a number of reasons.
It comes with a microchip tag you attach to your dog's collar in order to give him the independence he wants while keeping "intruder animals" out.
It also comes with a curfew mode.
What about the PetSafe Electronic SmartDoor?
This automatic dog and cat door is activated by both a collar and a smart key.
It also has several safety features similar to a curfew mode that allows you to choose when your electronic dog door sensor is active. It's also available in a few sizes.
But what if your dog is a little larger?
Don't worry. We have options for the bigger pups too.
Electronic Dog Door Options for Medium to Large Dog Breeds
So, you have a medium to large dog in your home?
No problem.
We have compiled a list of what we feel are the best electronic dog door options for bigger pups.
Keep in mind that the electronic dog door large choices listed below are for dogs up to 100 pounds.
If you have a dog exceeding that, then you may want to scroll down for the best electronic dog door options suited for your extra-large dog.
For medium to large breeds, we love the High Tech Pet Power Pet Electronic Pet Door.
It is super advanced, with technology that senses when Fido is headed straight for it, not simply strolling casually by.
It is also collar activated, making things even easier for you and Fido. But the technology doesn't stop there.
Other features offer options to choose from if you want your pet to be able to come in or out at your discretion.
With in-only or out-only options, you can keep Fido outside while you clean up or have company over. Or you can keep him from going back outside again when it is time to eat or sleep.
Offered in both medium and large sizes, this door is also weatherproof.
It promises both an airtight seal and a deadbolt lock to keep you and your family protected from the elements and extra safe from intruders.
Another electronic dog door perfect for medium to large size dogs is the PetSafe Electronic SmartDoor.
It is activated by smart keys which you attach to your dog's collar.
Again, this is one of the best electronic dog door options for small to large dogs up to 100 pounds.
It comes with up to five waterproof smart keys, so if you have more than one dog, you're all set!
Electric Dog Doors for Extra Large Dogs
So, you've got a dog who is basically a horse?
Need an extra large electronic dog door option? No problem.
Below are a couple of our best electronic dog door options for you and your goliath fur baby.
Let's start with Solo Pet Doors' Automatic Electronic Dog and Cat Door.
This is a great electronic dog door option for those larger than life canines and it comes in 10 different sizes.
So, whether you have a Chihuahua or Mastiff, you'll be covered.
You may also be interested in the Plexidor Large Wall Mounted PDE Electronic Pet Door in white.
While the price is a little high on this product, we still think you should give it a gander.
With a five-year limited warranty, it's good for pets up to 125 pounds and is both pet and child safe.
It will not close if something is in the way, and it will not interfere with your home security system.
Furthermore, it is energy-efficient, not to mention stylish!
Best Electronic Dog Door for Sliding Glass Door
Maybe you don't want to cut holes in your walls or doors.
Or perhaps you are renting an apartment or home. Do you have a sliding door?
Then you're in luck.
These electronic dog door options below are perfect for the dog owner who doesn't want to dig into the drywall in order to give a doggy door to their furry friend.
For an electronic dog door with collar options, the High Tech Pet – Medium Power Pet Sliding Glass Door for Dogs is a great choice for doggy lovers looking for electronic dog doors.
It's best for smaller to medium sized dogs up to 30 pounds.
For the larger dog, check out the Extra Tall Power Pet Patio Panel, which is good for dogs up to 100 pounds.
Best Electronic Dog Doors for Walls
If you're not worried about adding a more permanent addition to your home for your pup, then this is one of the options for you.
The PetSafe Wall Entry Kit SmartDoor comes in small and large sizes and promises easy installation.
How Do I Train My Dog to Use an Electronic Dog Door?
Training your dog to use an electronic dog door is like training him to do anything else.
Use praise, patience, and the positive reward system.
Of course, some dogs are afraid of electronic doors at first, and that is perfectly fine.
Don't be discouraged if your pup seems wary of the automatic door and doesn't seem interested.
Take it slow.
With patience, consistency, and encouragement, your pup will be using his electronic dog door in no time!
Is an Electronic Dog Door Right for Me and My Dog?
Electronic and automatic dog doors are more expensive than the average flap dog door.
They work well for a variety of dog owners with a variety of lifestyles.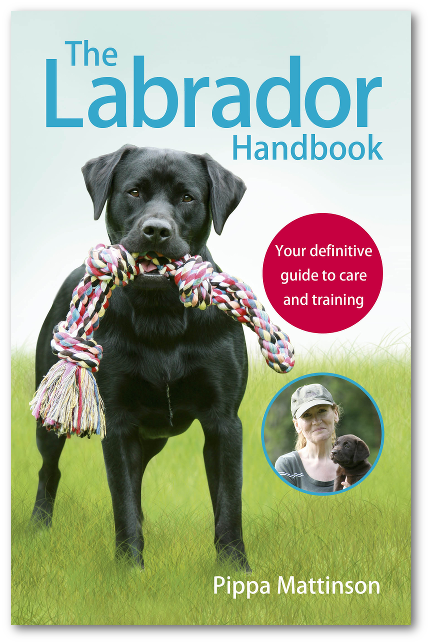 Do you have an unpredictable work schedule? Are you unsure when you will be able to let your dog in or out of the house?
Perhaps you are not always able to get up easily and let your dog in and out even when you are home.
Or maybe it is simply more convenient and practical to have an electronic dog door in your home for your pooch.
Whatever your reason, an electronic dog door could help to alleviate a lot of stress in your life.
We hope this article has been helpful and that you find the best electronic dog door option that works for you and your pup!
Have You Installed an Electronic Dog Door?
Is there anything you know now which you wish you'd known first?
Share your wisdom and experience in the comments box!
References
EF Hiby, et al, Dog Training Methods: Their Use, Effectiveness and Interaction with Behavior and Welfare, Animal Welfare, 2004.
Jessica B. Greenebaum, Training Dogs and Training Humans: Symbolic Interaction and Dog Training, Anthrozoos, 2015.
Steven R. Lindsay, Handbook of Applied Dog Behavior and Training, Volume One, Adaptation and Learning
Tiffani J Howell, et al, Puppy Parties and Beyond: the role of early age socialization practices on adult dog behavior, Veterinary Medicine: Research and Reports, 2015.
Nathan B Sutter and Elaine A Ostrander, Dog Star Rising: The Canine Genetic System, Nature Reviews Genetics, 2004.
The Labrador Site Founder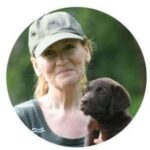 Pippa Mattinson is the best selling author of The Happy Puppy Handbook, the Labrador Handbook, Choosing The Perfect Puppy, and Total Recall.
She is also the founder of the Gundog Trust and the Dogsnet Online Training Program 
Pippa's online training courses were launched in 2019 and you can find the latest course dates on the Dogsnet website