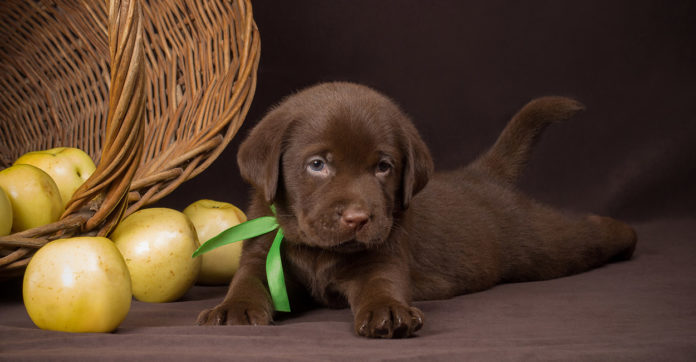 Gathering chocolate Lab names is fun! You need to create a shortlist of great dog names, so that you can select the name that best suits your new Labrador Retriever puppy. I do love a name that is reminiscent of a candy bar, or my favorite chocolately drinks. But you might also like to pick something that is a bit more unique. Today I'll share some awesome themed lists with top ideas for chocolate Lab puppies, along with my family's favorite ways to narrow down the top choices.
Contents
Labrador Retrievers of all shades have captured the hearts and minds of people worldwide, but friendly, lovable Chocolate Labs are simply sensational. Cloaked in rich shades of brunette, it's nearly impossible not to reach out on impulse and touch their splendid fur.
Believe it or not, at one point in time, chocolate brown Labs were considered undesirable due to their color. Black was once the Labrador color of choice, and many fine brown puppies were cast aside in favor of their more popular counterparts. Thankfully, saner minds prevailed, and today we have an abundance of superb Chocolate Labrador Retrievers to choose from.
Getting Creative
Thinking up unique Labrador dog names can be tricky, but there is a surprisingly simple way to come up with unusual ideas quickly. Pick a topic, theme or hobby you love and play word association!
Think of anything that relates to your theme of choice, and write it down. Try brainstorming on paper before making your shortlists. Jotting ideas down all over a large sheet of paper will help you get into creative mode! You can use our lists below to inspire you. Or you can make your own collections.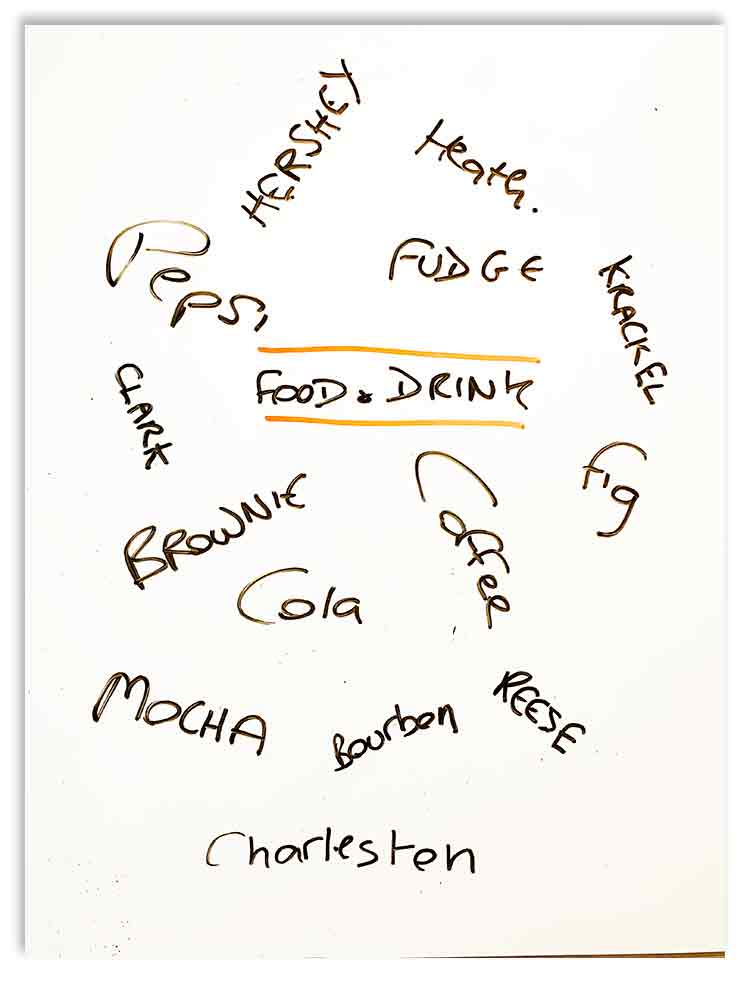 Female Chocolate Lab Names
It's important that the chocolate Labrador name you choose for your pup perfectly reflects her personality. Girl chocolate Lab names can be as wild or as tame as your new female chocolate Lab puppy's temperament, but still use more human styled ideas:
Napa
Nellie
Katrina
Lucy
Nutmeg
Veronica
Aubrey
Nova
Ariel
Coco
Sheila
Teddi
Lilly
Ruby
Xanthe
Luka
Skye
Piper
Kelly
Riley
Daisey
Asia
Ellie
Paloma
Ginger
Lacie
Kyra
Sable
Hope
Claire
Cooper
Ace
Lulu
Cherish
Destiny
Male Chocolate Lab Names
Chocolate Labrador names for a boy pup or adult male may have a different flavor (pun!) than female Chocolate Labrador names. Then again, how about a unisex name like Pat or Lee? Did you know that tough guy John Wayne's original name was Marion?! Whatever your taste, these male Lab names have something for everyone!
Jersey
Newt
Outlaw
Samuel
Hunter
Buzz
Buddy
Dwight
Ox
Bear
Aristotle
Ziggy
Finn
Obie
Mojo
Adonis
Voltaire
Gus
Warrior One
Ajax
Trapper
Buster
Eli
Beemer
Apollo
Strider
Zeke
Columbo
Dollar Bill
Cody
Otis
Ozzie
Duke
Paws
Shamus
Too Cute!
Naming a cute Chocolate Lab with a cute Chocolate Lab name seems like a no-brainer. But there's a delicate balance—between art and a science—that goes into bestowing the oh-so-perfect forever name on your new bestie. Any of these cute chocolate Lab names would be welcomed by your cute baby Labrador:
Neutron
Panda
Nacho
Roseanna
Tucker
Sage
Bling
Murphey
Happy
Muffy
Astra
Gator
Velvet
Wasabe
Zeke
Nugget
Joey
Kona
Raven
Lauretta
Pepper
Arches
Stevie
Fuzzy
Penne
Jamison
Jethro
Chardonnay
RickRack
Baja
Pee Wee
GeorgiaShadow
GiGi
Spumoni
Paco Taco
Unique Chocolate Lab Names
Are you struggling to decide what to name your new baby Labrador? Or are you bringing home an adult rescue Lab and want to find a new name for his new start? We've been taking a look at some fun ways to choose chocolate Lab names. Helping you to pick the best one for your lovely Labrador.
One great way to come up with something original is to use names you like as a springboard. Get a piece of paper and write a few ideas that you like. Don't worry if you don't love them. Just spread around the page and jot down anything and everything you can think of that relates to that name. Work around the theme.
Say you like the name Rosie, fill the sheet with the names of other flowers or things you might find in the natural world. Don't let yourself be restricted by whether or not these words are names in the traditional sense. We are looking for the unusual here! You can get the other members of the family to do the same, then swap sheets and see what you think of each other's brainstorming attempts. It's a great way to make naming your puppy into a communal activity, and one that's much less likely to turn into an argument!
Unusual Ideas
Did you know that Chocolate Labs are sometimes referred to as liver Labradors? It's true! So in honor of this unique appellation, we'd like to present you with some more good Lab names to consider. Many of these would sound even more unusual for female Labrador.
Okra
Comanche
Karma
Rogue
Felicity
Gustav
Lark
Nike
Whip
Spark
Winky
Argus
Princess Leia
Valentine
Bach
Abercrombie
Neptune
Zuni
Gizo
Tubby
Cole
Harley
Jonnie
Liam
Grommit
Onyz
Peppermint
Dierks
Woody
Sassy
Zephyer
Bacon
Doby
Gyro
Wyatt
Oompa-Loompa
Names From Nature
Nature is a great theme around which to brainstorm some awesome chocolate Lab puppy names:
Storm
Pebble
Ranger
Breeze
Willow
River
Rocky
Sporty Dogs
You might also like to try themes based on an activity. These sport themed chocolate Labrador names have a nice ring to them and can celebrate your favorite hobby!
Puck
Hockey
Slam
Dip
Air
Brick
Dunk
Alley-oop
Batter
Beef
Double
Bunt
Foody Labrador Names
Are you a major foodie? Have a secret wish to be a chef, or a real taste for sweet treats? These names for cute Labs are inspired by all things food and cooking, from baking to shop bought candies!
Hershey
Baker
Cinnamon
Croissant
Chef
Whisk
Mars
Bread
Twix
Cool Names For Chocolate Labs
Puppies normally sleep up to 20 hours a day, and as adults, it's normal for them to spend the day and night sleeping for hours at a time. This extended sleep time is normal as long as your dog is active and alert while awake, and his eating and bathroom habits remain normal. We honestly can't think of any names more chill than these for your Chocolate Labrador puppy:
Noah
Badger
Vanilla
Toby
Zion
Hattie
Hilo
Albuquerque
Sassafras
Wallace
Yum-Yum
Wiseguy
Paprika
Juno
Bentley
Spikey
Wolfgang
Callaway
Kenzi
Swifty
Halfway
Domino
Fats
Yeller
Bailey
Goldy
Armstrong
Quinn
Navajo
Biscuit
Boogie Woogie
Oliver
Snickers
Baby Ruth
Nibbles
Scribbles
Names By Coat Color
Good names for chocolate Labs can also be inspired by their gorgeous double coat! Although chocolate Labs come in a surprising range of shades.
Brown Labs
How about a name that simply recognizes your dog's gorgeous coat? Whether you've got a light brown Labrador or a deep dark rich chocolate, these brown dog names are perfect as they have a strong association with the color:
Topaz
Chestnut
Russet
Walnut
Peanut
Rust
Desert
Brass
Sienna
Fawn
Ochre
Almond
Tortilla
Umber
Taupe
Sand
Bisque
Silver Labs
Silver Lab puppies are born because either chocolate parents carried a dilute gene, which mutes the impact of the normal brown dog color. Giving them an amazing silver sheen!
Silvy
Sylvia
Misty
Smokey
Dusty
Shine
Ghost
Spectre
Asher
Shadow
Flash
Pebbles
Grit
Quartz
Tungsten
Granite
Carbon
Lead
Zinc
Iron
Tan Lab Puppies
A tan lab puppy is really just another name for a light chocolate Labrador Retriever. But this shade of brown is quite distinctive and deserves a head nod when you are looking for special Lab puppy names!
Tanner
Copper
Cooper
Barrell
Buck
Clay
Tawny
Ginger
Carmel
Fawn
Sandy
Hazel
Peanut
Taupe
Oaty
Wheato
Pecan
Chocolate Lab Puppies with Blue Eyes
A brown Lab with blue eyes is an unusual site in adulthood, but chocolate Lab puppies often have beautiful blue eyes.
Skye
Navy
Glimmer
Tiffany
Sapphire
Sparky
Crystal
Twinkle
Dawn
Celeste
Aqua
Robin
Jade
Teal
Lake
Winter
Summer
Lagoon
Marine
Cadet
English Chocolate Lab Puppies
A chocolate Lab show dog is often known as an English Labrador. If you have an English Lab puppy you might like to give them a name that reflects their gorgeous breeding. These names are all stunning for chunky chocolate English Labrador puppies.
Princess
Prince
Glam
Trust
Hope
Dazel
Sparkler
Disco
True
Twist
Champ
Hero
Rosette
Trophy
Victor
American Chocolate Labs
The chocolate Lab hunting dog is becoming more popular in recent years. Also known as an American Lab dog, these slim, enthusiastic pupsters are bred for the field.
Hunter
Peg
Gunner
Shooter
Boots
Trucker
Trapper
Falcon
Harrier
Hawk
Speedy
Fetch
Grouse
Ryder
Elk
Names From Around The World
Another great way to name your dog is by location, so how about these chocolate Lab names from around the world! Picking your favorite country, state or city can be a way to celebrate your love of travel with the love of your dog:
Rome
Madrid
Georgia
India
Italy
Bronx
Isle
Sidney
Jersey
Atlanta
Southern Names
What about settling for a place you love and a name that harks back there. These southern dog names would sound mighty fine on any chocolate Lab puppy!
Belle
Forrest
Addie
Clyde
Loretta
Delilah
Dixie
Ambrose
Goober
Betsy
Jonny
Dawson
Daphne
Lucille
Etta
Kenny
Famous Labradors
The AKC recognized Labrador Retrievers in 1917, and the UK Kennel Club did the same in 1903. So, we thought that you might like to take a look at some of the AKC's favorite dog names. These monikers come from the numerous canines AKC judges have seen in competitions over the years. Here are some of these famous names:
Jack
Frisbee
Belle
Hope
Ruby
Bowen
Evie
Boomer
Jax
Ace
Blue
Hunter
Brody
Jazz
Grace
Chilli
Catcher
Tango
Josie
Haley
Dawson
Cody
Kiva
Strider
Linx
Cole
Jet
Levi
Dare
Demi
Mia
Token
Peach
Nike
Dixie
Latte
Best Chocolate Lab Names
Chocolate Labs were not in favor in the early part of the last century. But why not? We have no idea, or what ended up changing the general consensus. We do know that it wasn't until the 1960's that the intensely beautiful hue of Chocolate Labs became favorable.
By the way, it was the same people who embraced the once-scorned Lab at this time that made Chocolate the unofficial official name for this color Lab, instead of liver or brown. Today, many dog parents consider the Chocolate Lab the best color. In honor of this sentiment, we offer up what we think would make the most popular Chocolate Labrador puppy names ever:
Ninja
Nietzsche
Ollie
Bon-Bon
Echo
Finn
Kayla
Luke
Cruise
Wizard
Comet
Molly
Denali
Dash
Spirit
MoMo
Luke
Baguette
Bacon
Paisley
Toadfish
Moreno
Dazzle
Zoey
Balboa
Mary
Helen
Penny Loafer
Mocha Latte
Cooper
Marley
Cruise
Patch
Mystic
Aladdin
Pal
Opal
Making Your Shortlist
Once you have gathered your collections of chocolate Labrador Retriever names together, it's time to make a shortlist. You'll need to pick out 6-10 of your favorites. If there are several family members involved try to include at least one or two names from each of them.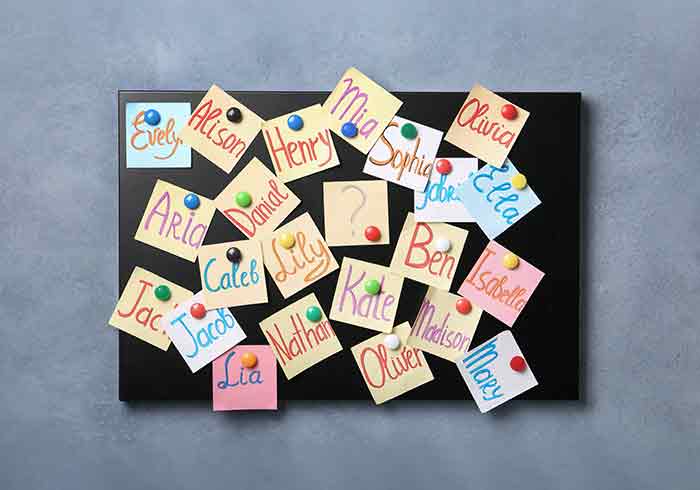 A blackboard or kitchen noticeboard is ideal for this. Very often, just seeing the names up on a board this way helps one of them to really jump out at you!
To make the final choice, you could allow each member of the family to remove one name from the list each day! Until only one name remains. Or you could fold the chocolate Lab names up and put them in a hat, and let someone pick out the winner.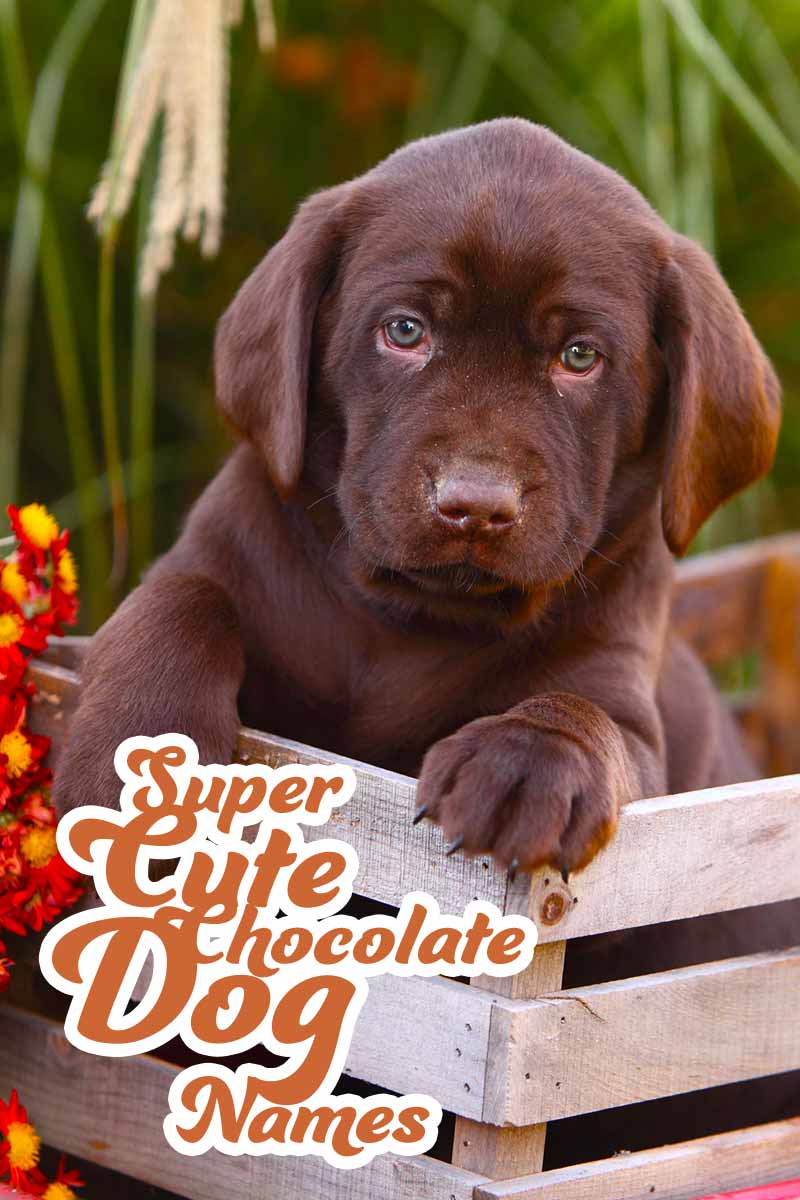 The Labrador Site Founder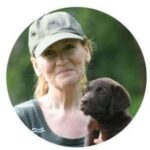 Pippa Mattinson is the best selling author of The Happy Puppy Handbook, the Labrador Handbook, Choosing The Perfect Puppy, and Total Recall.
She is also the founder of the Gundog Trust and the Dogsnet Online Training Program 
Pippa's online training courses were launched in 2019 and you can find the latest course dates on the Dogsnet website