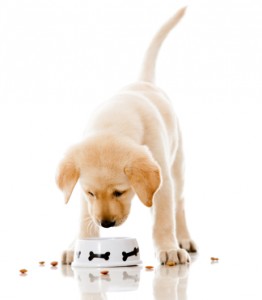 Your Labrador's diet is important.
What you feed him could potentially impact his health, as much as it could your bank balance.
Looking into raw food could be an option, so why not check out our articles.
If you would like to go ahead with a dry food, then we have taken the stress out of picking through the choices.
Dog Food
You will find below a great range of dog foods, suitable for your lovely Labrador Retriever.
Wagg Complete Worker
A beef or chicken, and vegetables, dry mix, with no added sugar. For active working dogs. Promoting health from nose to tail.Find out more on Amazon here.

Burns Original Chicken
For adult and senior dogs. Comes in a 15kg bag. Natural food with a chicken and rice flavour.Find out more on Amazon here.
James Wellbeloved Kibble
Lamb and rice flavoured dried food. Full of natural goodness, with no unhealthy additives. In delicious crunchy nuggets.Find out more on Amazon here.
 
Skinners Field & Trial
Tasty dry mix food. For sensitive working dogs. Aims to maintain energy and a healthy coat as well.Find out more on Amazon here.
Pedigree Pouch Favourites
A great selection of jellied dog food. Including beef, chicken lamb and rabbit, for a varied meaty diet.Find out more on Amazon here.

 
Lily's Kitchen Stew
Something a bit different for your dog's dinner – made with venison, pheasant, salmon and vegetables. Comes in a pack of 6 tins.Find out more on Amazon here.
Dog Treats
If you are clicker training your dog, treats can be very helpful. Just remember to account for them as a part of your Labrador's daily food intake!
Coachies Training Treats
These popular treats are ideal for training. Not only are they pallatable, but they are designed not to break up in your pocket or treat bag.Find out more on Amazon here.

Kong Stuff N Paste
Easy to dispense, liver flavoured paste. Simply squirt inside your dog's kong toy, for him to enjoy licking out.Find out more on Amazon here.

 
Arden Grange Treat Paste
This tasty treat paste comes in 75g tubes, easy to pop in your pocket and carry when out and about training.Find out more on Amazon here.
Greenies Pill Pockets
These dog treats are designed to help you give your dog medication, without the hassle. Simply pop a pill inside the treat, and reward your dog as normal!Find out more on Amazon here.

Wagg Training Treats
These tasty treats are suitable for dogs aged 8 weeks upwards. These 125g bags (pack of 7) are a great size for carrying when you are out and about with your dog.Find out more on Amazon here.

Pig Ears
This classic dog chew is made from pieces of natural pigs ear. Also thought to help keep teeth and gums healthy.Find out more on Amazon here.

Bull Pizzles
A long lasting, natural treat. From beef cattle. Good for teeth and gums, and your Labrador will love the taste too.Find out more on Amazon here.

Please note that the links on this page are affiliate links.  The Labrador Site receives a small commission on affiliate sales.  This does not affect how much you pay,  and we very much appreciate your support. 
If you'd like to receive Pippa's dog training tips and advice by email, just drop your address into the box below