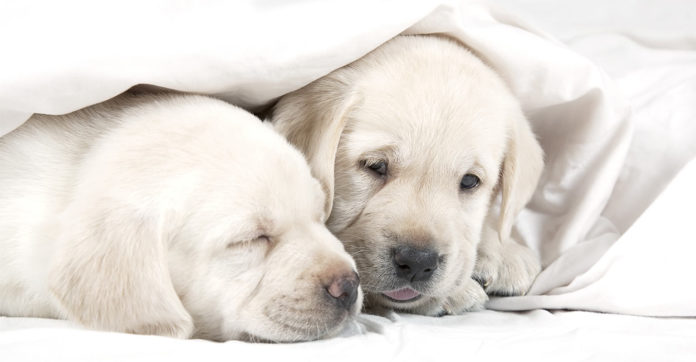 Have you ever heard of a dog sleeping bag?
If you've ever gone camping with your dog, you just may have!
While out in nature, your dog will need to stay hydrated and steer clear of too much sun exposure.
At night when it is time to sleep, your dog will also need a dog sleeping bag to curl up into to stay warm and cozy at night.
In fact, you may find your dog loves his new dog sleeping bag so much that they want to sleep in it when you get back home as well!
In this article, we'll tell you everything you need to know about your dog's temperature.
And how to keep your dog happy and warm when you're out camping together!
All of these products were carefully and independently selected by the Labrador Site team. If you decide to make a purchase from one of the links marked by an asterisk, we may earn a small commission on that sale. This is at no extra cost to you.
Camping With Your Dog
Camping with your dog has become so popular that there is even a National Camping With Dogs day.
And an entire online community called Camping With Dogs to accompany it!
It's is an incredibly useful way to find out about dog-friendly campsites and meet others who camp with their pooches.
More importantly, it serves as a reminder that canine campsite comfort and safety is vital!
So, what should you know about your dog's body temperature?
Dog Body Temperature
There is an urban legend that says you can tell what your dog's body temperature is just by feeling his ears or nose. If only it was that simple!
To actually measure a dog's temperature, you need a thermometer just like if you wanted to take your own temperature.
But you don't want to have to be carrying around a thermometer while you and your dog are out hiking, running, playing, swimming, and enjoying nature together!
Here, it helps to have a basic understanding of the differences between a person's body temperature and dog's body temperature.
So you can use your own experience as a gauge to figure out when your dog may be feeling too hot or too cold.
If you are like most people, you probably have a body temperature in the range of 97.6 to 99.6 degrees Fahrenheit (36.4 to 37.5 degrees Celsius).
Now contrast that with the body temperature of a dog, which typically ranges from 101 to 102.5 degrees Fahrenheit (38.3 to 39.2 degrees Celsius).
So your dog's natural body temperature can be anywhere from 2.9 to 3.4 degrees warmer than your own!
But here is the really interesting part. A 2009 research study showed that small dogs have a noticeably higher normal body temperature than larger dogs!
But what does all this mean?
How to Predict Your Dog's Body Temperature
If you have a small dog, your dog will be more vulnerable to getting too cold than too hot.
Conversely, if you have a large dog, your dog will become overheated more rapidly but will be less vulnerable to colder temperatures.
In simple terms, if you feel hot, your dog probably feels even hotter, and the smaller your, the hotter they will feel.
If you feel cold, this should be an early warning sign that your dog will definitely be shivering soon too, regardless of your dog's size.
Knowing this, you can plan your camping adventures accordingly.
When you snuggle into your warm sleeping bag after a long fun day, your dog will also be sleeping soundly in their dog sleeping bag!
Types of Dog Sleeping Bag
There are lots of different dog sleeping bag types your dog might enjoy!
One of the best ways to figure out what type your pup will enjoy most is by looking their natural sleeping pattern.
For example, does your dog curl up like a baby? Or prefer to stretch out to full body length?
Moreover, does your dog move around a lot while asleep or stay perfectly still?
Your dog's sleeping pattern can give you some clues as to the best dog sleeping bag to match his sleeping style.
The most common dog sleeping bag styles are:
The Cave
As the name suggests, this sleeping bag mimics the kind of burrow a wild wolf might create to sleep, hide or nest in.
The side opening is roomy and once your dog crawls inside, it lays flat on top of his body, also covering his head.
The Cup
This sleeping bag style looks kind of like a coffee cup (minus the handle). Your dog can crawl inside and curl up – so this style will only work if your dog is a curler!
The Flat
If your dog likes to stretch out flat to sleep and tends to roll around a bit, a flat style sleeping bag might be ideal.
This is the style that looks the most like a traditional "people" sleeping bag.
The Pod
The pod looks quite similar to the cup style sleeping bag, but it is more plush inside, almost like a bean bag chair.
This style is also good for dogs that like to curl up for sleep.
The Bed Style
If none of the options listed above seem like a winner, there is also a fifth type to consider—the dog sleeping bag bed.
Unlike a true dog sleeping bag, this is a two-part sleeping bag consisting of a bed and top cover.
Choosing a Dog Sleeping Bag
Once you have narrowed down the best dog sleeping bag type to fit your dog's sleeping pattern and preferences, you can move on to other priorities.
If you plan to sleep on a hard or rocky ground, you will want a super-padded bottom layer.
Alternately, you can buy a dog sleeping bag pad to place underneath for cushioning.
Insulation should be weather and water-resistant—you won't want to lug a waterlogged dog sleeping bag around with you while you hike!
The material and closure style (if any) should be sufficiently durable to withstand abrasion, daily repacking, and your dog's curious mouthing.
The dog sleeping bag you pick should be appropriate for the season— you may want a lighter bag in warmer seasons than you would use in fall or winter.
Alternately, if you live in a fairly temperate climate, you may choose a self-warming sleeping bag. These use the dog's own body heat to keep them warm.
Finally, since you will likely be the one carrying your dog's sleeping bag as well as your own during the day, weight can be an important consideration!
Large Dog Sleeping Bags
Large dog sleeping bag options will give your medium to large-size pooch some comfy choices for travel or camping.
Mac Sports Pet Sleeping Bag* is a lovely and roomy cave-style large dog sleeping bag. It's water resistant on the outside with a soft microfiber interior and a comfy pillow headrest.

The sleeping bag can accommodate dogs of up to 60 pounds and comes with a matching carry bag.
This cave-style Ruffwear Highlands Sleeping Bag for Dogs* works well for small, medium, and medium-large dogs (up to 60 pounds).
It's lightweight and can be packed up small using the included travel bag.
There is also a Highlands pad* (sold separately) to provide additional padding.
Dog owners say the synthetic insulation is suitable for cool to chilly temperatures but not extremely cold weather.
The DogHelios Trail-Barker Multi-Surface Travel Dog Bed Featuring BlackShark Technology* is new dog sleeping bag bed that is highly rated and features a number of extras.

Including the option to connect multiple beds together for a larger sleeping surface.
It comes in blue/grey, orange/grey, light/dark grey, and red/grey. The sleeping bag bed is machine-washable, waterproof, windproof, and compact enough to carry.
Small Dog Sleeping Bags
Small dog sleeping bag options are comfy and warm and come in both flat or curl-up sleeping styles.
The Best Friends by Sheri OrthoComfort Deep Dish Cuddler* sleeping bag will fit dogs up to 25 pounds that like to cuddle or curl up while they sleep.
It has a waterproof bottom and a self-warming Sherpa lining that uses your dog's own body heat to keep him warm.
For cleaning, just pop it in the washer! You can choose from 11 fun colors.
The unique Best Pet Supplies Pet Tent* is a small dog sleeping bag that actually looks like a tiny tent.

The tent is made of soft, durable, and washable corduroy, linen, and faux suede, and comes in six neutral colors.
The interior base is poly-foam for extra cushioning. Dog owners say x-large works well for 12- to 16-pounds dogs.
The highly-rated Ozark Trail Sleeping Bag* is a cross between the "cave" and "flat" styles, with extra padding that will keep your pooch warm and toasty.

It has a small open portion at the top if your dog prefers to poke their head out but will cover your dog's head completely if they like to curl up.
This sleeping bag can accommodate dogs up to 60 pounds. It rolls into the included carry bag for hiking or packing and is machine-washable.
Dog sleeping bag beds
Dog sleeping bag bed products can help your dog bed-loving pooch settle in for the night just as they would back at home.
The Coleman Roll-Up Waterproof Travel Bed for Dogs* is a roll-and-carry dog sleeping bag bed that is highly rated by dog owners.

It spreads out flat and has a durable water-resistant non-skid bottom and durable nylon top.
This is a great option if your dog prefers to have a separate cover to cuddle up in. And to wash, just throw it in the machine.
Another attractive roll-and-carry travel bed is the Kurgo Loft Wander Dog Bed for Travel*, which comes in medium and large to fit dogs up to 80+ pounds.
It lays out flat with a waterproof, non-slip bottom and a polyester insulating interior. The bag has its own carry handle and straps to keep it closed. It is machine-washable.
The Lightspeed Outdoors Self Inflating Travel Dog Bed with FREE Fleece Top Cover* is a unique dog sleeping bag bed that comes with a "self-inflate" feature.
Just twist the nozzle to adjust the amount of padding needed for your dog.
The bottom is water-resistant and non-slip and it comes with a free fleece cover. The roll-and-carry design features buckle straps. Plus, just throw it in the wash to clean it.
Dog Sleeping Bags for Camping
Going camping with your dog is simple enough if you are driving right up to the campsite.
But for backcountry camping, suddenly you are packing for two and toting it all yourself!
In this case, you definitely want your dog sleeping bag to be as lightweight and portable as possible. These bags might just fit the bill!
A dog bed that fits both small and large dogs is the Canine Hardware Pet Travel Bed* by ChuckIt, with roomy dimensions of 30 inches by 39 inches.
When taken out of the bag, it looks quite large but folds up very small to fit inside the included nylon carrier bag.
The bag is polyester microfiber for the top and inner layers and durable nylon for the base.
The Boulderlite Noblecamper 2-in-1 Dog Bed and Sleeping Bag* is a cup-style dog sleeping bag comes in three sizes: small, medium, and large.
It can convert into a cave-style sleeping bag when you unzip the top layer and your dog can just crawl inside.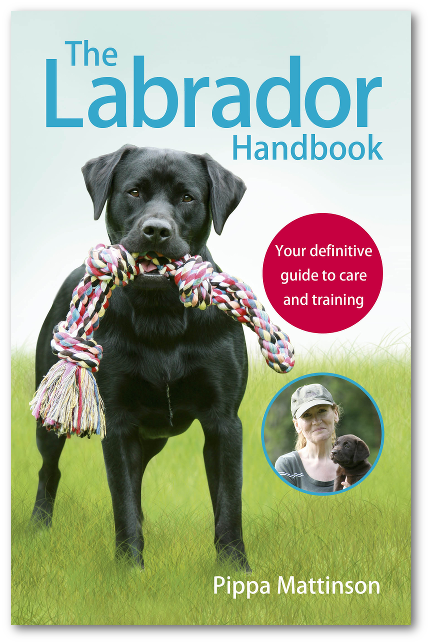 The bottom has a nylon water-resistant liner and the poly-fill insulation keeps your dog warm on the bottom and the sides.
It comes with three ground stakes and a compressible travel bag with an exterior dog backpack attachment loop.
The Hurrta Outback Dreamer* is an innovative new product that is a circle-shaped dog sleeping bag that comes in small, medium and large. The large will fit dogs up to 80+ pounds.
The outer liner is water resistant and the inner liner is heat-reflecting and uses your dog's body heat to keep him warm. It is machine-washable.
Have You Found the Best Dog Sleeping Bag for Your Dog?
We hope you have found the perfect dog sleeping bag for your dog to use at home or for travel and camping!
Does your pup have a favorite dog sleeping bag? Leave a comment and let us know!
Affiliate link disclosure: Links in this article marked with an * are affiliate links, and we may receive a small commission if you purchase these products. However, we selected them for inclusion independently, and all of the views expressed in this article are our own.
References and Further Reading
Piccione G et al. 2009 Body size and the daily rhythm of body temperature in dogs. The Journal of Thermal Biology.
The Labrador Site Founder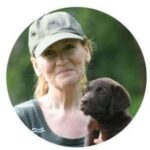 Pippa Mattinson is the best selling author of The Happy Puppy Handbook, the Labrador Handbook, Choosing The Perfect Puppy, and Total Recall.
She is also the founder of the Gundog Trust and the Dogsnet Online Training Program 
Pippa's online training courses were launched in 2019 and you can find the latest course dates on the Dogsnet website