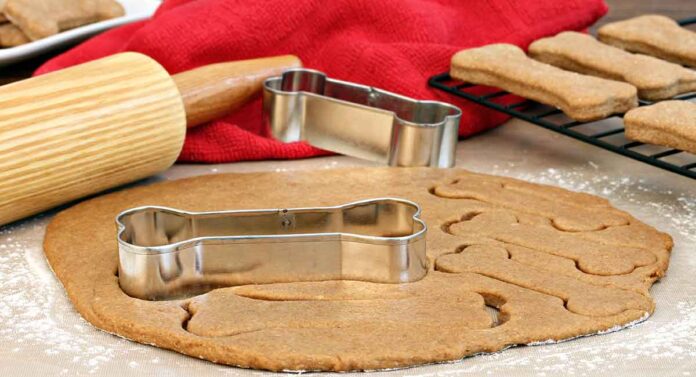 Homemade puppy treats can make a great snack or reward for your puppy. While many treats you can buy in stores are excellent, making DIY treats can be a good way to make sure that your puppy has a healthy and balanced diet. The other bonus is that making your own dog treats is a great way to save money.
Aware that many of you are always on the lookout for great recipes to feed your puppies, we scoured the net, rolled up our sleeves, and started baking. We tested them all on our own dogs, and will give you a selection of the best. If you want to get straight into the baking, here's a list of what we found: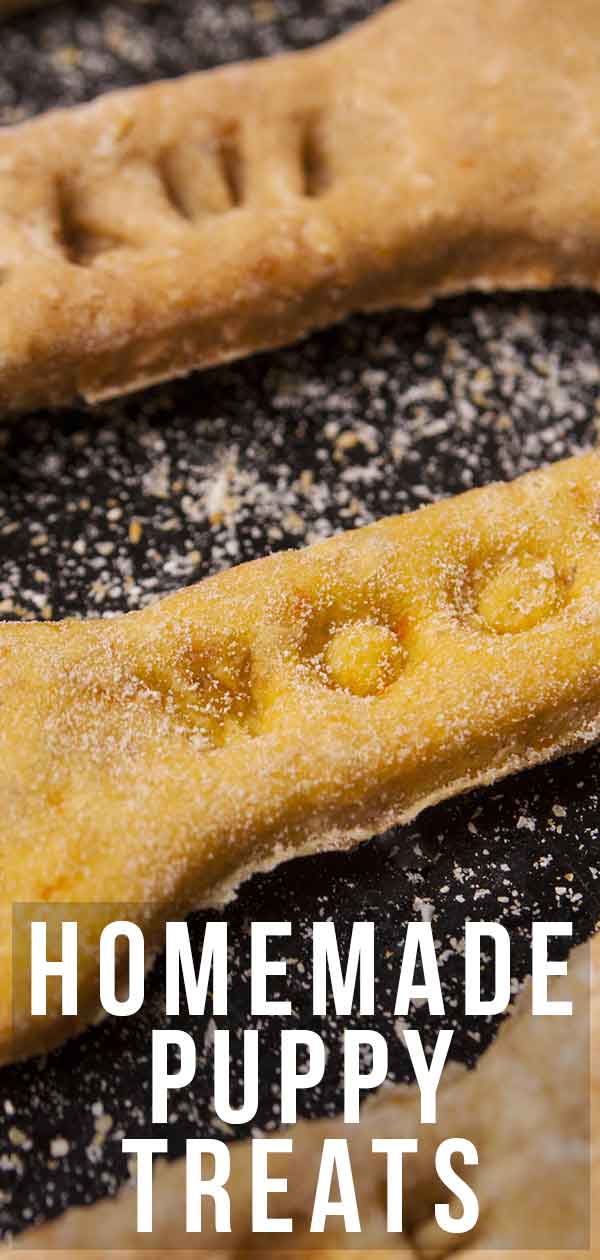 We added new content this year and plan to add much more as we stumble across exciting new puppy treat recipes.
Puppies Love Treats
All dog owners know their pups live for treats. And nothing makes a tail wag faster than a delicious snack! Furthermore, treats are also great for positive reinforcement training or giving a puppy energy between meals.
While conventional, store-bought treats look good, they can sometimes hide undesirable ingredients. To make sure your pup is getting a nutritious, healthy and all-natural snack why not bake them yourself at home? The other added bonus is that you can save some money, too. If, like some of us, you have lots of big dogs, the bill for doggy treats can soon add up!
Read on to discover why you should consider making your own healthy puppy treats, what ingredients you should include. Above all, find out how supplementing your dog's diet can boost his health. We'll also include homemade puppy treats recipes and information on the healthiest puppy treats.
Benefits of Homemade Puppy Treats
The biggest benefit to making your own puppy treats is that you can customise them for your pup's unique needs. For example, do you have a dog with fussy tastebuds? Or, perhaps, a pup who's plagued by food allergies? Making your own recipes allows you to completely control all the ingredients so you can be sure he's not getting anything that doesn't agree with him. Of course, you can also add some of the flavours that she absolutely loves.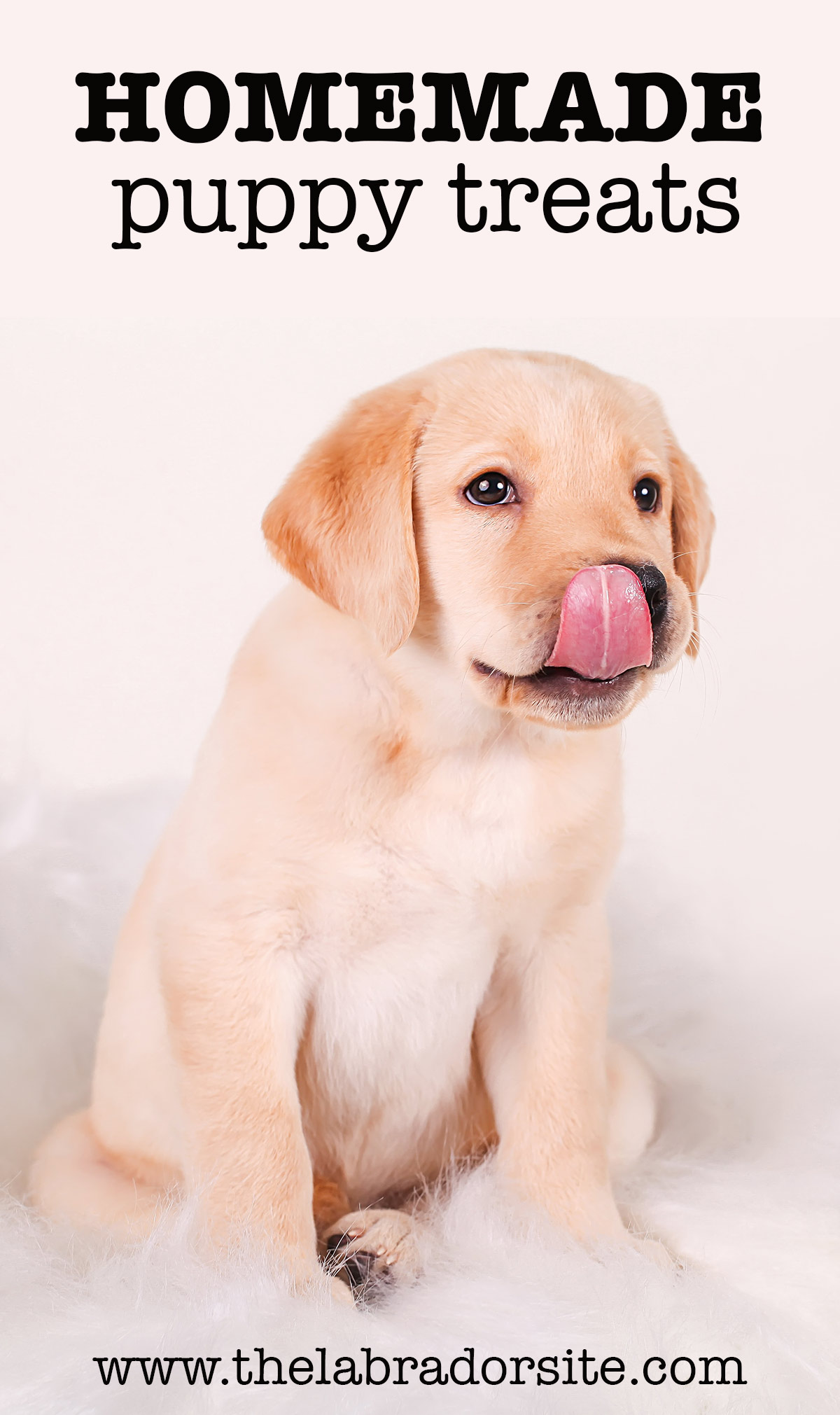 Even better, if your dog is on a special diet for a health condition, or you simply needs to control his weight, you can make something he'll enjoy that won't compromise his health.
Are Homemade Dog Treats Healthy?
So, are puppy treat recipes healthy? Yes! And they can also be cheaper than store-bought treats. If you buy your ingredients in bulk, you can make your dollar stretch further. Simply make a large batch and freeze some for later use. Even better, you don't need to be a whizz in the kitchen. There are plenty of easy homemade puppy treats recipes available. What's more, even beginner bakers can whip up a batch that'll get their pup drooling.
It's time to stop talking and give you what you are all here for. A list of tasty, nutritious recipes that you can try out on your puppies. However, be warned – large adult dogs love these just as much!
Homemade Puppy Treat Recipes
The Scrumptious Pumpkin has a delicious-sounding recipe for peanut butter and honey treats. Peanut butter and honey are two things guaranteed to drive most puppies wild. If they have a sweet tooth, this is doggy heaven, although don't overdo it. We have to watch those calories!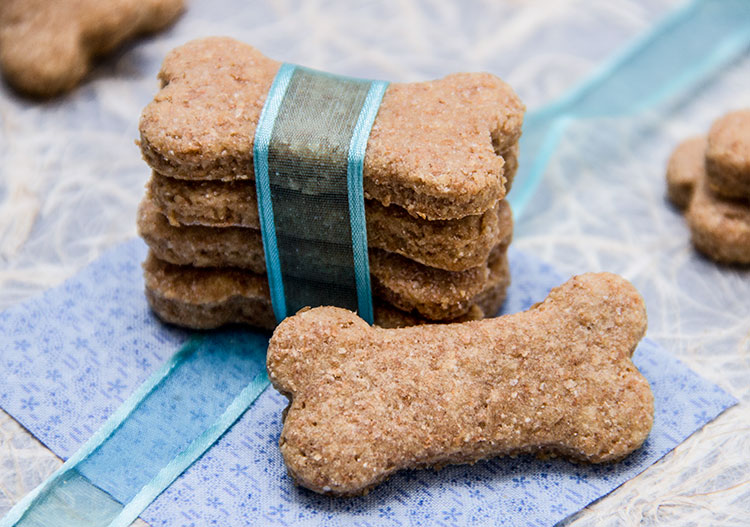 Made for Calvin the Beagle, these treats contain only six ingredients and take about 10 minutes to make. My pup was very happy to road-test peanut butter, banana and parsley treats from Margaritas in the Rain. They are easy to assemble and, judging by how quickly they disappeared, passed the taste test with flying colors. Our puppies love bananas, which are safe to give in moderation.
We are great believers in healthy herbs, and these biscuits are a great way to give them to the puppies without them even noticing. We were so impressed that we looked for a few more recipes where we could add a few herbs.
Healthy Herbs for Puppies
Treats are a great way to sneak herbs like parsley into your pup's diet. Accordingly, I often sprinkle some on my dog's food as it's a natural breath freshener. Even better, it's also high in vitamins A and C. For a savoury option, try these all natural puppy treats from The Kitchn, which contain bacon fat.
There's no sugar or other sweeteners, making them the perfect choice for pups who are watching their weight. Plus, they have delicious bacon fat that had all our dogs hovering around the kitchen while these were baking!
Add some peanut butter and maple syrup and you've got a very happy mutt.
Healthy Homemade Puppy Treats
Food allergies and food sensitivities can make life very difficult for both dogs and their owners. They can show up in a number of ways, including skin problems, digestive upsets, and chronic infections. It can be difficult to pinpoint exactly what foods are causing the problem, but eggs, corn, wheat, soy, and milk are common offenders. Since these are often found in store-bought treats, a great way to prevent a breakout is to make your own hypoallergenic treats.
Best Recipes for Healthy Homemade Puppy Treats
Lola the Pitty has a great mint and buckwheat homemade puppy treats recipe that is wheat and dairy-free.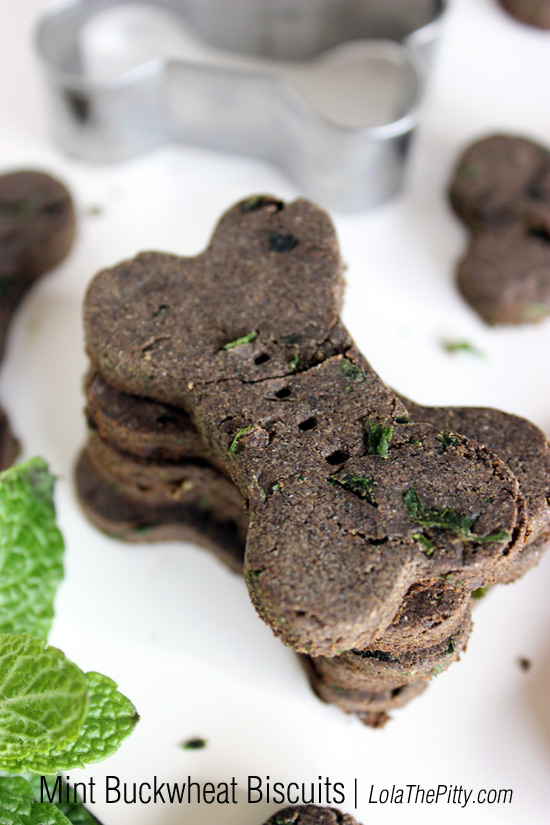 Buckwheat is a nutritious fibre that will help your dog's digestion, and this recipe also contains mint and parsley – both breath-freshening herbs.
Bittersweet Blog is home to Strummer, the chihuahua. Strummer's owner made him these 'Green Goodies' biscuits when he was unwell.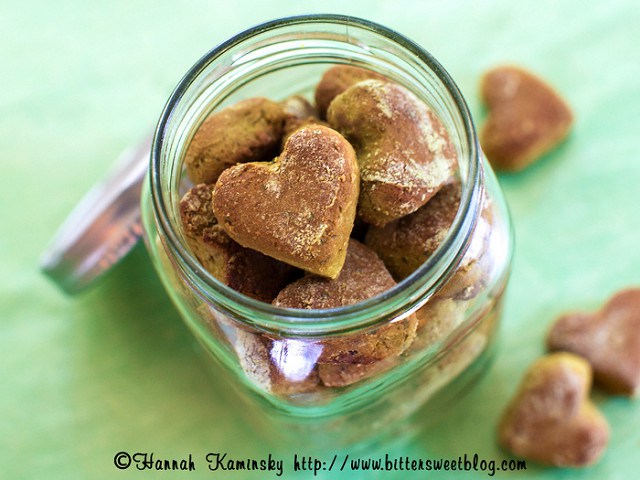 These biscuits are packed with superfoods like spinach and flaxseeds, so they contain plenty of fibre, antioxidants, and a whole lot of love. Some owners worry about their puppy's packing on the pounds. Hence, if you want to keep your dog in trim shape, consider treats with low-calorie sweeteners such as apple and carrot.
Homemade Healthy Puppy Treats
My Baking Addiction has a recipe for apple carrot homemade puppy treats that contains just four ingredients.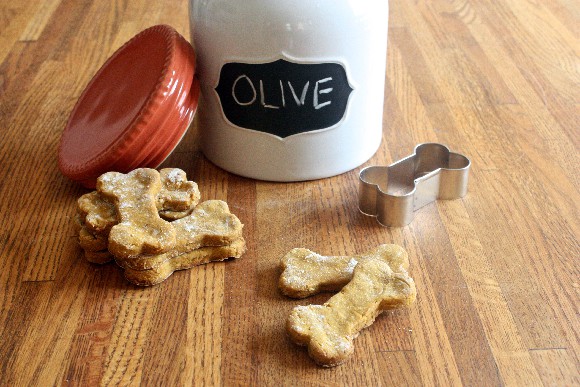 These small, round cookies take just minutes to assemble and are made from ingredients you probably already have to hand. If you are a novice baker, they are a great place to start because it is difficult to go wrong.
Another very simple recipe comes from Kol the Puggle with his no-bake pumpkin balls. Coconut flour, pumpkin and peanut butter are combined to make a snack that the human members of the household can enjoy as well. Keep them away from the kids or there won't be any left for the puppy, believe us!
DIY Puppy Treats
Now that you've got the hang of baking simple cookies and treats, it's time for a challenge. Here are some ideas for making DIY puppy treats. If you want to go one step further, try your DIY skills on crafting frosted cookies, doggie donuts, or sweet sandwiches. To give your treats an extra edge, consider buying dog cookie cutters. These come in a range of shapes from bones and pawprints, to dogs and kennels.
Puppy Biscuits Recipe
HGTV's bone-shaped homemade puppy treats come complete with rainbow frosting. These look great and dogs will absolutely wolf them down.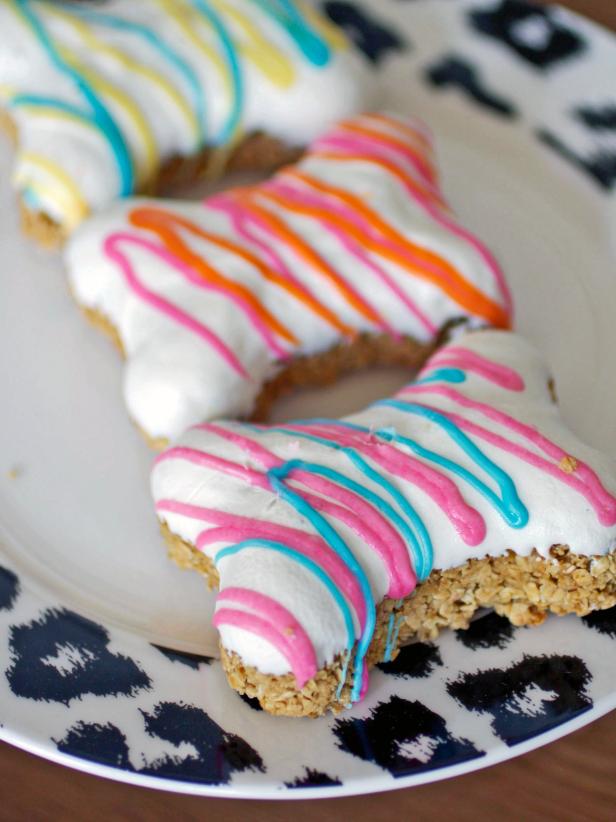 Colorful and cute, these would be a great idea for a special occasion like your dog's birthday or adoption anniversary.
The Novice Chef makes dainty and delicious peanut butter snack sandwiches.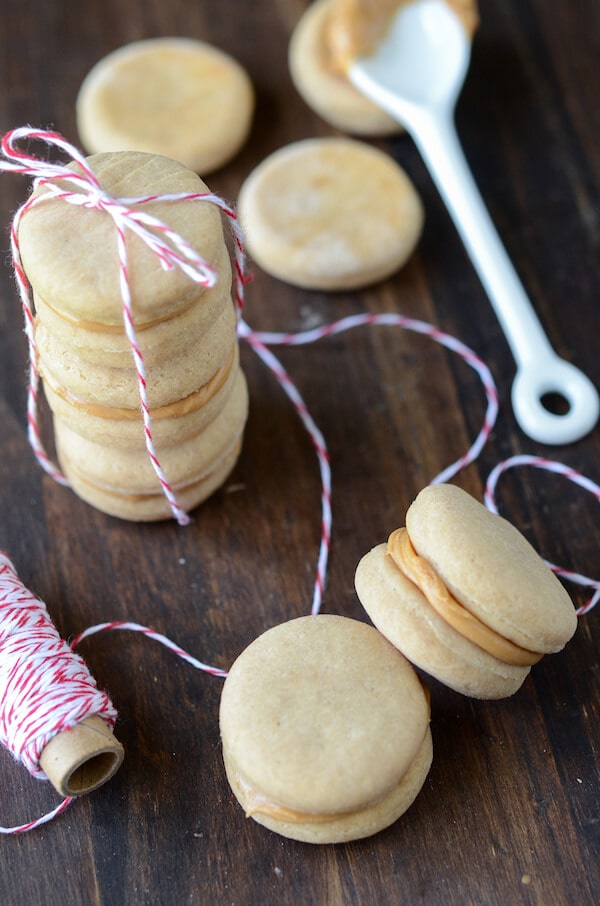 However, these are high-calorie treats so be sure to serve them in moderation.
If you're really looking to get creative in the canine kitchen, why not try these doggie donuts from Margaritas in the Rain. These cute flourless donuts have pink frosting and veggie sprinkles. If they taste as good as they look, your pup will be very happy.
Homemade Soft Puppy Treats
If you are on a budget, it is great to reuse leftovers to give your dogs a healthy and delicious treat. Even better, you are not wasting anything.
If you have a bit of leftover chicken, you can use it to make these juicy chicken treats from Two Healthy Kitchens. First of all, be careful to pick out all of the chicken bones and don't give your puppy too much fat. Secondly, you should also be careful to make sure your leftover chicken does not include any spices or flavorings that could cause an upset tummy.
Natural Puppy Treats
We've shown you lots of great recipes, but did you know that some puppies love the most natural puppy treats of all?  Fruit and vegetables can make great and easy snacks that are healthy and nutritious, although you should watch the calories and bear in mind that some fruits, such as cherries, are not safe. Modern Dog Magazine has some tips for giving puppies carrots, apples, cauliflower, and even dried apricots.
You can take a look at some of our "Can Dogs Eat…?" articles, too! Here are some of the treats that you may be able to give your dog. Can Dogs Eat:
And many more. We have some useful guides on what foods are safe for dogs to eat and which foods are not safe.
Homemade Puppy Biscuits
We like to update articles to keep our content fresh and to keep you updated with all the latest ideas. Here is a great new homemade puppy biscuit recipe we found. It's simple to make and easy to customise, so you can give your puppy something new every time.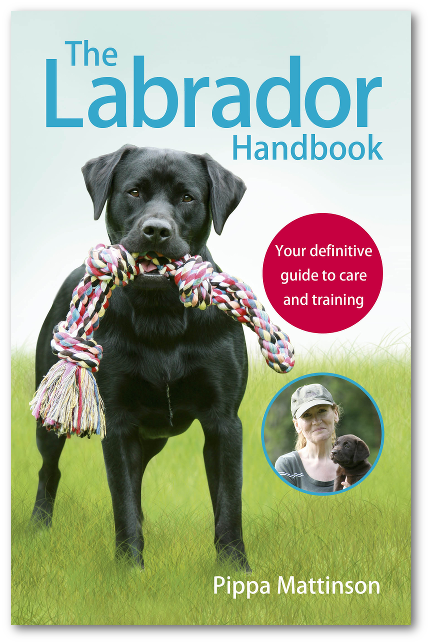 Cesar Millan's Basic Dog Biscuits are simple and let you add whatever your puppy likes. Because the beef or chicken bouillon can be salty, feed puppy these biscuits in moderation and make sure there is plenty of drinking water to hand.
Homemade Puppy Treats
What to Avoid
Puppies are growing bundles of energy, so they need lots of food. However, be careful not to over-do the portion size. When feeding them treats, it's easy to lose track of how many calories your dog is getting. Large breed puppies will obviously require more food than small breed puppies. If you think your puppy is gaining too much weight, or not enough, talk to your vet about modifying their diet. And never feed them foods on the 'banned' list. These include chocolate, grapes, macadamia nuts, and raisins.
The Benefits of Healthy Puppy Treats
Not only are homemade treats healthier and cheaper, they're also a great way to show your dog how much you love them. And it can be a fun activity for the younger members of the family to get involved in too. With these healthy, creative and tasty recipes, everyone in the family benefits – whether they've four legs or two!
We are always on the lookout for new recipes, so let us know in the comments if you have any great recipes for homemade puppy treats. If you want to read more puppy articles, check out our guide to when puppies are allowed outside!
Related Articles
The Labrador Site Founder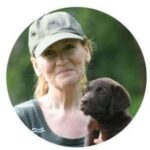 Pippa Mattinson is the best selling author of The Happy Puppy Handbook, the Labrador Handbook, Choosing The Perfect Puppy, and Total Recall.
She is also the founder of the Gundog Trust and the Dogsnet Online Training Program 
Pippa's online training courses were launched in 2019 and you can find the latest course dates on the Dogsnet website