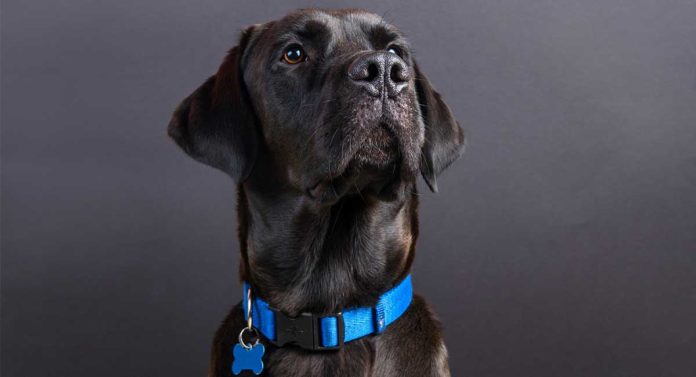 Whether you're getting ready for a new puppy or sprucing up your dog's collar, pet ID tags are an important way to keep your pet safe.
Personalized pet ID tags make sure that your dog can be identified if they ever get lost, and you can be easily contacted.
In the UK, and some areas of the US, it is a legal requirement for your dog to wear an ID tag in public spaces (check the local rules where you live!).
Having engraved pet ID tags with your contact information is the absolute easiest way to keep your dog safe.
You can even include information like health concerns or whether your dog is microchipped.
Products included in this article were carefully and independently selected by the Labrador Site team. If you decide to make a purchase from one of the links marked by an asterisk, we may earn a small commission on that sale. This is at no extra cost to you.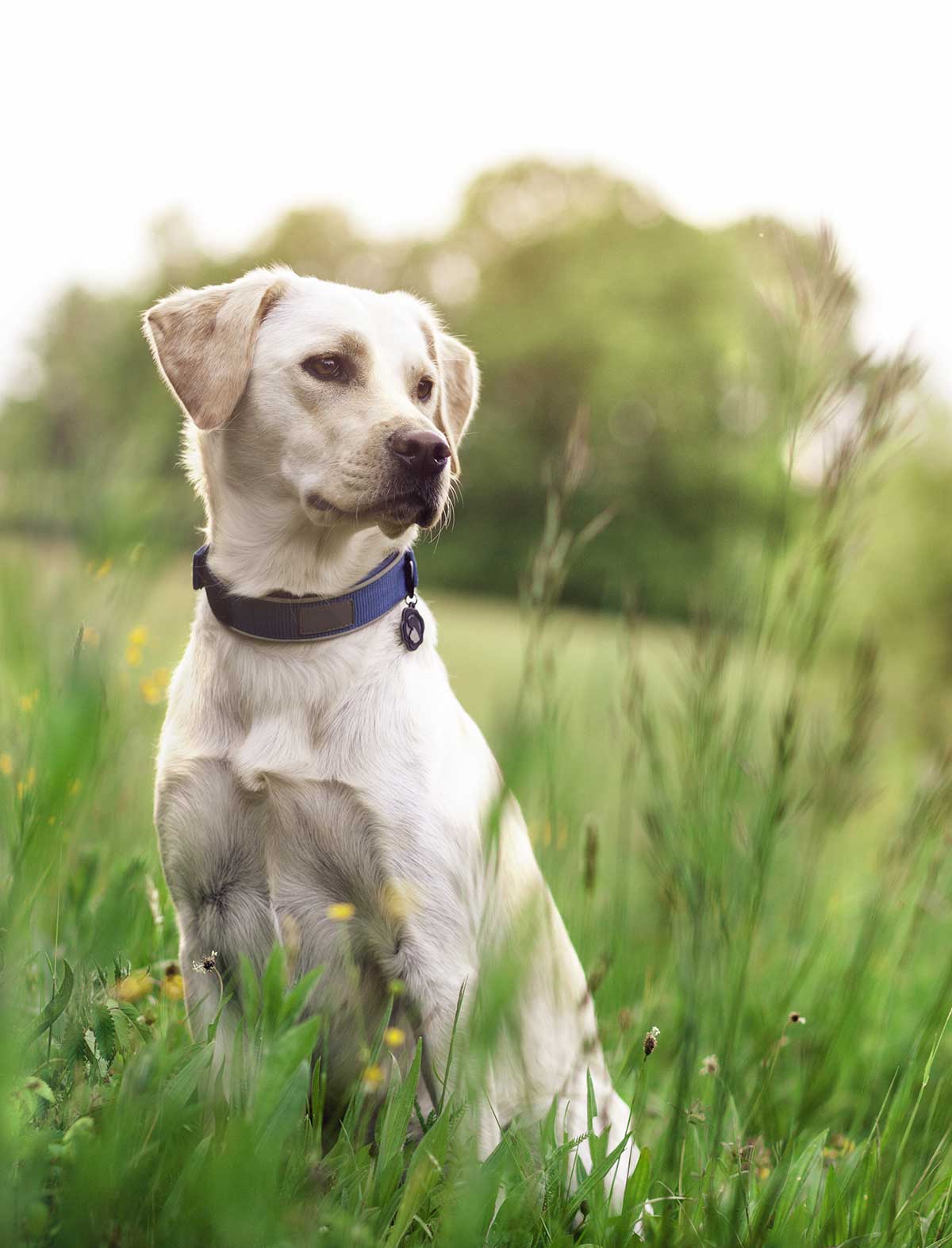 So how do you know which are the best pet ID tags for your dog?
Unique Pet ID Tags
These unique pet ID tags transcend the plain and simple, with a little something extra.
GoTags Glow In The Dark Tags
If you want your pup to stand out in the crowd, why not have them glow in the dark?
GoTags' stainless steel tags* come with a protective cover that glows in the dark.
It's also a silencer, meaning it keeps the ID tag from rattling against other tags on the ring.
This has the added benefit of protecting the engraving.
This tag has laser engraving on both sides, and you can get a combined eight lines of information on the tag.
There are also four shapes to choose from.
Customers say that the tags are good quality and that the glow-in-the-dark rubber cover is a nice touch.
This tag has an overall rating of 4.7 stars!
Cafe La Pooch Colorful Tags
Cafe La Pooch Engraved Stainless Steel Tag.* How can you show off your dog's personality to people who don't know them?
These adorable tags have enamel pictures on the front to help show off your pup's best qualities.
With hearts, flowers, peace signs, crowns, lightning, and more, there are lots of options to give your dog a splash of personality.
These medium-sized tags are popular among customers.
Over 90% of customers gave their purchase 5 stars! They describe the tags as sturdy, solid, durable, and very good looking.
Reopet Tags
Do you like to brag about your puppy's breed?
Or do you find yourself constantly answering the "what breed?" question?
Then these cool pet ID tags* are for you!
These solid copper pet ID tags have an engraved photo and breed name on the front, so the tag can proudly display your dog's identity.
There are over twenty breeds to choose from, and the sellers recommend contacting them if you don't see the breed you're looking for.
Customers say that the tag is a little heavy, but well engraved and sturdy.
Swarovski Crystal Dog Tags
Do you have a diva of a dog who would prefer designer pet ID tags?
Treat them to a tag with Swarovski crystals*!
These tags are permanently engraved and come with a lifetime warranty.
You can engrave up to four lines of information on the front and back of the tag.
These pet ID tags come in a heart shape or bone shape, and there are six different colors to choose from.
You can even choose from a selection of fonts!
Customers say the tag is cute and the engraving is good quality.
One reviewer said they have ordered seventeen of these pet ID tags for multiple pets with multiple collars, and they're happy enough with all of them to give a 5 star review.
Warner Brass Tag
Maybe your dog doesn't like dangling tags.
Or maybe you have a nice leather collar for them and want something a little fancier looking.
That's where this brass tag* comes in!
This machine engraved brass tag attaches directly through your pet's collar using rivets.
It even comes with instructions, in case you're confused about how to properly attach the tag.
Customers say this tag is well made, looks great on the collar, and stands up well to above-normal wear and tear.
Engraved Pet ID Tags
Shopping for a tag that is small but cute?
These engraved tags* are approximately 1 inch in diameter, and they have several neat designs to choose from.
If you want something adorable, you can get a star, heart, or cute animals.
If you want your dog to look a little tougher, there's a skull and crossbones option, or you can go for a standard dog bone.
These stainless steel tags have space for four lines of text.
You can fit your dog's name, your address, and your phone number all on one tag!
That way your dog can get back to you easily if they ever end up going on an adventure.
Customers say that these tags are simple, well-made, and the engraving is clear and legible.
If your pet doesn't like the weight of stainless steel pet ID tags, consider these aluminum tags* as an alternative!
These tags come in two sizes, seven different shapes, and several color options.
There's room for up to four lines of text on the tags.
The company suggests several ideas for things to engrave, like medical needs, whether the dog is friendly, or if your pup has a microchip.
You can share important information while still having room for a name and your phone number.
Customers say it's an affordable and quality tag for your pup, and the seller offers great customer service if anything goes wrong.
Plastic Pet ID Tags
These funky plastic tags* come in three sizes and six different shapes.
There are also seven colors for you to choose from.
These plastic tags allow up to five rows of text to make sure that all important information can fit.
The manufacturer says these tags last up to ten times as long as aluminum tags, which is great if you have a dog who tends to be a little rough.
Buyers say that the engraving is clear and easily read, the product stands up to weather, and the color and shapes are very nice.
Humorous Dog ID Tags
Maybe you want a more whimsical way to point out your dog's personality, health issues, or that your dog is lost.
If It Barks Engraved Pet ID Tags* have cornered that market.
These sweet tags have adorable cartoon pictures on front with a dog depicting what the tag says.
You can get tags like, "I will lick you," "I'm deaf," "I'm chipped," and "Call my Mommy," plus over a dozen more choices.
These tags are made in the US with high quality tumbled steel.
You can get up to four lines of text with permanent laser engraving to fit all your necessary information.
It also comes in two different sizes to fit your dog comfortably, big or small.
Customers call the tag cute, informative, and durable.
Overall it's an excellent and fun choice for your dog.
Slide On Pet ID Tags
If you're looking for the best pet ID tags that your pet won't lose, a slide on tag* is the way to go!
This tag is specially made for adjustable, nylon webbing collars and is guaranteed to not fall off.
(Though it's important to note that it is not made for some collar types, such as leather.)
This manufacturer uses a deep engraving method that is said to last longer than laser engraving, and they can fit up to five lines of text on a tag.
These tags are also silent, since they don't dangle and tap against other tags.
Buyers say the tag fits very well (as long as you measure your pet's collar before ordering), the metal is high quality, and the engraving is deep and easily legible.
Alternatively, these noiseless, slide on collars use rubber sides* to make it comfortable for your pet to wear and easy for you to put on and remove.
The actual tag is stainless steel and fits up to four lines of text.
The tags come in four sizes, from small to extra large.
The rubber holder comes in six different colors.
Customers compliment the look and fit of the tag.
If you're looking for a simple and cute tag that won't clatter against your dog's bowl when they eat, this tag is perfect*.

This aluminum pet ID tag easily slides on collars with no plastic snaps.
The tags come in three different sizes, eight different colors, and can fit up to four lines of engraving.
Reviews say that this tag is durable and well-priced.
They fit well with the manufacturer provided measurements, and there's no jingle or risk of loss.
Minimalist Pet ID Tags
Sometimes you don't want a flashy tag for your pet.
Sometimes you just want something simple and to the point.
This basic pet ID tag* is just the subtle piece you've been looking for.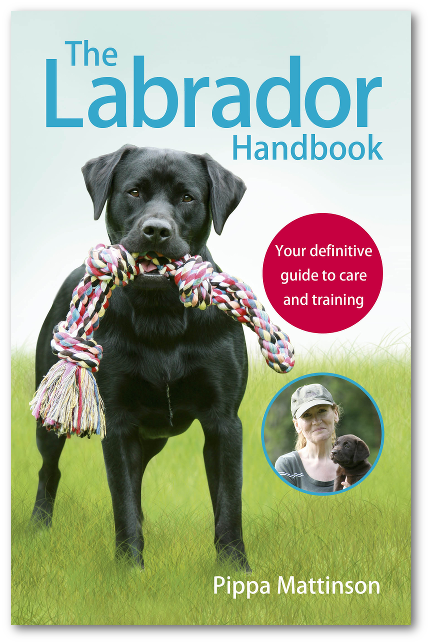 This plastic tag comes in three sizes and a dozen different colors.
It even comes with a lifetime guarantee!
It attaches to your dog's collar using velcro and fits up to five lines of text.
With a 4.5 star rating, customers have lots of good things to say about this minimalist tag.
They say the sizing is good, it doesn't cause wear on the tags, and can handle lots of adventuring without falling off!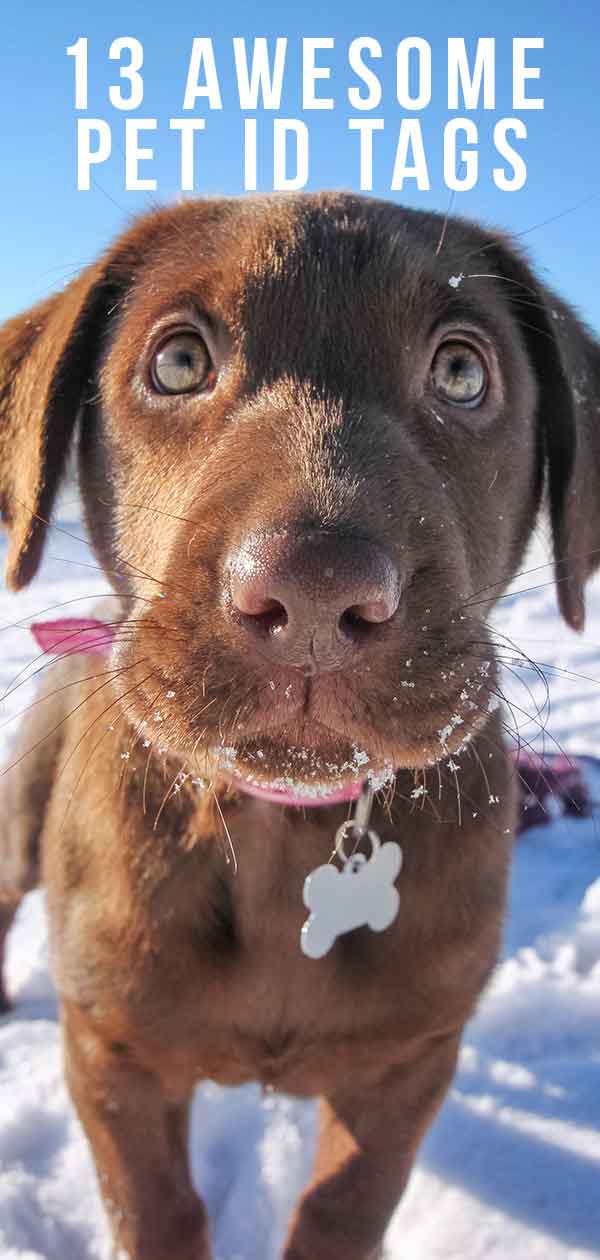 Best Pet ID Tags
Dog tags play an important part in making sure your pup can find their way home safe and sound if they ever get lost.
But it's also a chance to display both their personality and yours!
Whether you're looking for something stylish or simple, there is a pet ID tag out there for every dog!
To find out which tags other Lab owners prefer, come visit us over in the Forum.
Affiliate link disclosure: Links in this article marked with an * are affiliate links, and we may receive a small commission if you purchase these products. However, we selected them for inclusion independently, and all of the views expressed in this article are our own.
The Labrador Site Founder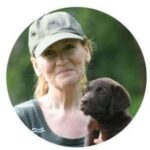 Pippa Mattinson is the best selling author of The Happy Puppy Handbook, the Labrador Handbook, Choosing The Perfect Puppy, and Total Recall.
She is also the founder of the Gundog Trust and the Dogsnet Online Training Program 
Pippa's online training courses were launched in 2019 and you can find the latest course dates on the Dogsnet website