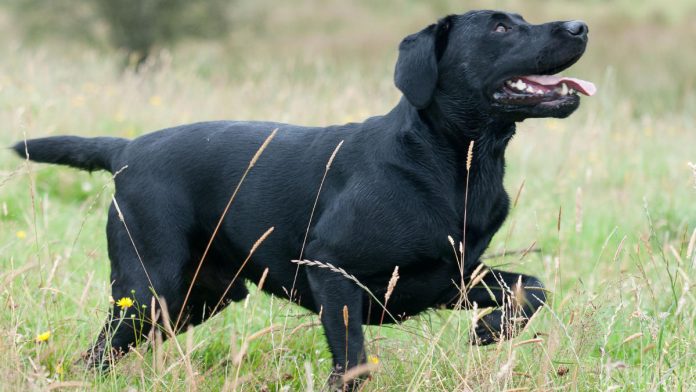 The happy Labrador is an expressive creature. When you share your life with a dog, you soon notice that they use their body language to convey their feelings. Happy Labs have an open mouth, direct gaze and lolling tongue. They will hold their head high and when they get playful things become even more interesting with wagging butts and low bows. The better that we can read our dogs' body language, the more chance we will have of correctly establishing what makes them happy.
Contents
1. Happy Labradors Have An Open Mouth
A happy dog will often have their mouth slightly open, like the dog pictured above. This position looks very natural for a Labrador, and will probably be the expression your dog pulls most of the time.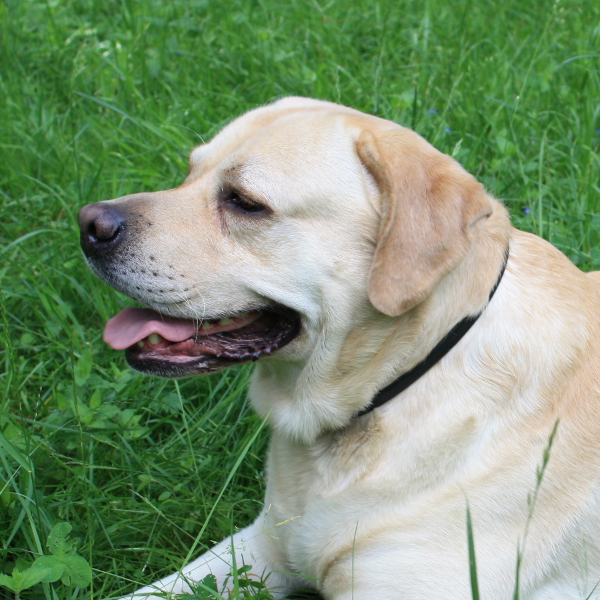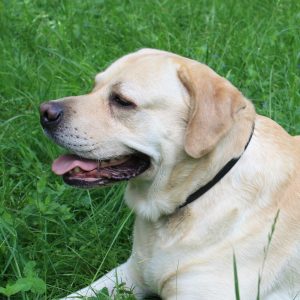 Submissive or scared dogs usually keep their mouths firmly shut, or pull their lips back away from their teeth. These signs are helpful to us as owners, as they are early warning signs that something is really bothering our dog.
A comfortable Labrador will have a relaxed open mouth, but they will also often have their tongue hanging out the side of it too.
2. Tongue Out and Floppy
Because your happy Lab has an open mouth, you will often see his tongue lolling out gently. If your dog is in a good mood, this will again look very relaxed and natural.
Make sure he isn't licking at his lips when there is no food around, as this may be a sign he is feeling fearful. Lip licking with no incentive, especially when joined with what is known as a submissive grin, is a sign that your dog is unsettled for some reason.
If he is happy, his tongue will be out to allow him to pant, but it will stay mostly loosely in one dangly position!
3. Looking Directly at You?
Most of us have heard that dogs don't naturally enjoy eye contact with each other. However, in the engineered environment of our homes they quickly learn that eye contact with their owner is a pleasurable thing. As when they look at us they often get rewarded with attention, a nice pat or stroke, or even a treat.
Your happy dog will therefore look you straight in the eye, in a relaxed manner. If your dog is looking at your eyes, but from a crooked position, for example with their head pointed firmly in another direction, then this suggests they might be feeling threatened. Look for other signs that will give away more clues in the eyes
4. Happy Labs Have Relaxed Eyes
Your happy dog's eyes will seem relaxed. This means that they will look normal, without excessive amounts of the white of the eye showing.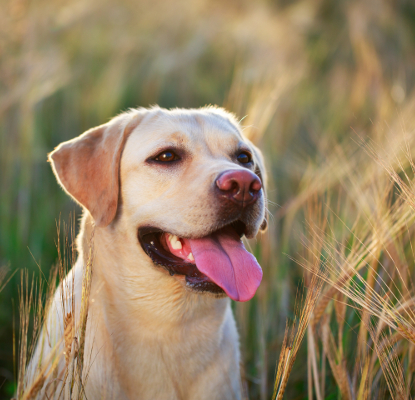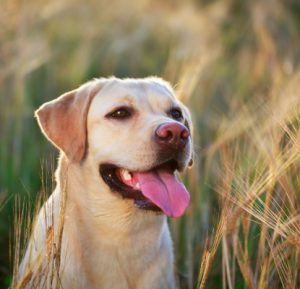 A Labrador who is looking at your from a sideways angle, with the whites of the eyes showing is not happy as we have just seen. The same goes for a dog who has an intense gaze that has revealed these white parts. Your happy Labrador's eyes will be relaxed, with no exposed white or curious head positioning.
It's lovely to see how the Labrador photographed above is looking expectantly and confidently at her owner. Her ears are also in a nice natural position and her head is held high.
5. Ears Positioned Naturally
Most Labradors have ears that point up and then flop over. Although through breeding they have varying degrees of flopping, they are still able to be very expressive. You will recognise your Lab's happy ear position as resting naturally.
If they become raised higher this is because he is alert and listening intently, and if they flatten or move out sideways then he is probably feeling scared or submissive. A happy Labrador will have ears sitting naturally in a relaxed position.
6. Happy Dogs Hold Their Head High
Dogs convey a lot of expression to us through their head position, and that's because we empathise in this regard with our own head movements. When we feel submissive or scared, we make ourselves look small by tucking our heads in. Labradors do the same. A bowed head signifies a worried dog. If your dog's head is unhunched and sitting proud and upright as he looks around, chances are he is feeling nicely confident and happy.
7. Play Bowing In Dogs
Body language that we all recognise from our own dogs as well as various animal documenaries, is the play bow. A playful happy dog will lower their front end by bending their forepaws. It is a gesture that they want to engage and play with you, and are definitely happy about it.
8. Happy Dogs Have A Bouncing Run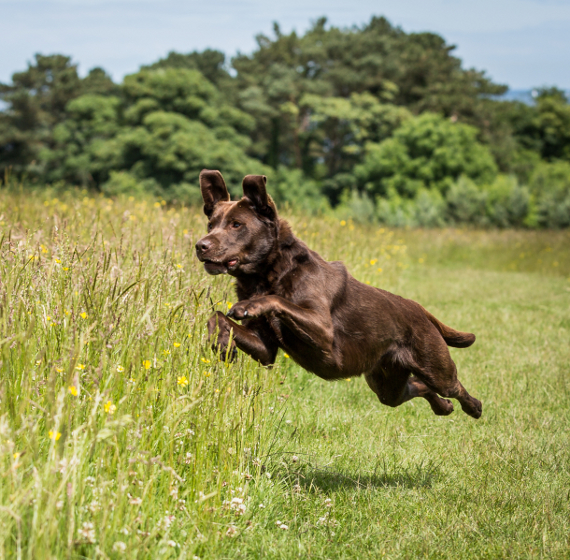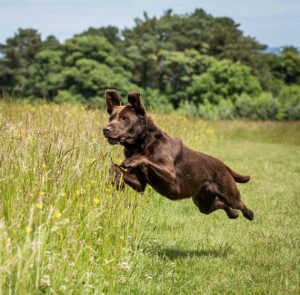 If you own a lively Labrador you will probably have seen him, and other dogs, running around a lot.
When a dog runs they have a level stride that takes them to their destination. If you compare this to the playful run of a cheerful dog, you will see that theirs has much more movement in the vertical plane. When your dog is pleased to see a friend in the park, or skipping around you as you walk, their up and down motion is a lovely giveaway to their pleasure.
9. Naturally Wagging Tail
Contrary to a lot of people's beliefs, a wagging tail is not always a sign of happiness. It can be a warning that a dog is feeling threatened if he olds his tail high and stiff, and moves slowly from one side to the other. Or nervous, if he holds his tail very low and just wages the tip.
A happy dog's tail will move in a much more rapid, natural way. The tail will look relaxed and the motion will be smooth and fluid. But the absense of a wagging tail does not mean that your dog is not happy. That's why our last spot is reserved for the undervalued but important, relaxed tail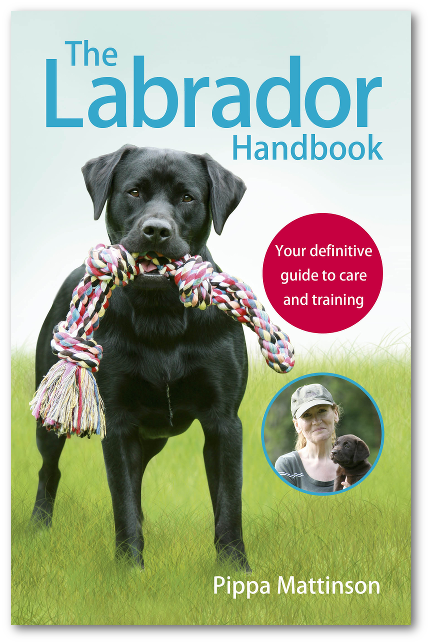 10. Relaxed Tail
Your happy Labrador might have a tail like a broom, sweeping back and forth all day long. But if he doesn't, it doesn't mean he is unhappy. Scared dogs have tails tucked between their legs, and dogs who feel threatend will hold their tails high and stiff. Happy dogs' tails don't need to move to be happy. They will simply sit in their natural position, hanging around their hocks. Loose movement will be seen as they walk, and their back end will have an easy sway.
Happy Labrador Body Language
Your dog's body language can be a wonderful window into his world, that allows you to identify when he is happy and how to keep him that way. If there are other ways that you easily identify when your dog is happy, why not let us know in the comments box below!
The Labrador Site Founder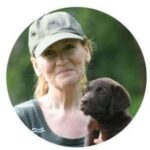 Pippa Mattinson is the best selling author of The Happy Puppy Handbook, the Labrador Handbook, Choosing The Perfect Puppy, and Total Recall.
She is also the founder of the Gundog Trust and the Dogsnet Online Training Program 
Pippa's online training courses were launched in 2019 and you can find the latest course dates on the Dogsnet website