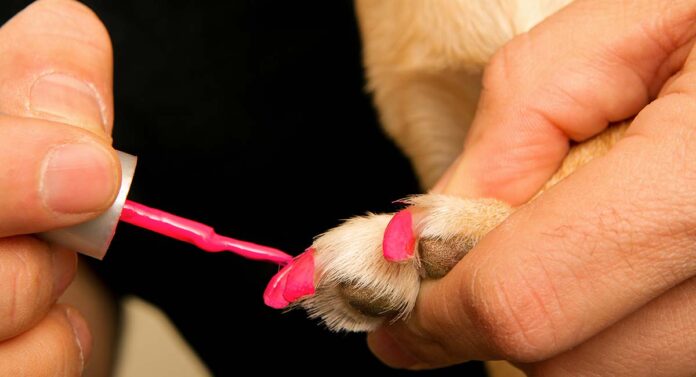 Finding the best dog nail polish sounds like a fun way for you and your pup to have twin pedicures…er, paw-dicures. After all, if a spa day is fun, won't it be twice as fun if your dog can share it with you?
How we groom our dogs is an extension of how we express ourselves. And there is no doubt that nail polish can add a special touch that turns heads. Both human and canine!
But can dogs wear nail polish? What type of nail polish for dogs should you use? Is there a particular way you should apply it? What about when it comes time to remove the polish? Is there any dog-friendly nail polish remover you can use?
We will look at all of these questions and the answers in this article!
Products included in this article were carefully and independently selected by the Labrador Site team. If you decide to make a purchase from one of the links marked by an asterisk, we may earn a small commission on that sale. This is at no extra cost to you.
Can Dogs Wear Nail Polish?
Anyone who has ever left a child alone with the family dog and a bottle of nail polish knows it is possible to paint a dog's nails.
But can dogs wear nail polish – really? For that matter, should dogs wear nail polish?
Here, as with all topics about canine health and safety, opinions continue to be mixed.
Even some vets offer dog nail painting as part of their specialized in-house canine grooming and spa services. But you will notice that these veterinarians use only dog nail polish. This is nail polish that is specifically created to be worn by dogs.
The same holds true for when (or if) you need to remove the polish. It is only safe to remove nail polish with a dog-safe nail polish remover product. For your dog's safety, you should never use human nail polish remover on a dog.
Nail Polish for Removing Ticks
At this point, you might be wondering about the age-old remedy of using human clear nail polish to remove ticks on a dog's skin. Is this safe?
The answer is "no." It is also not the best way to remove a tick. The myth persists that covering a tick with clear nail polish remover will force the suffocating insect to make its own way out of your dog's skin. But, the truth there are much better, safer ways to get a tick out of your dog's skin.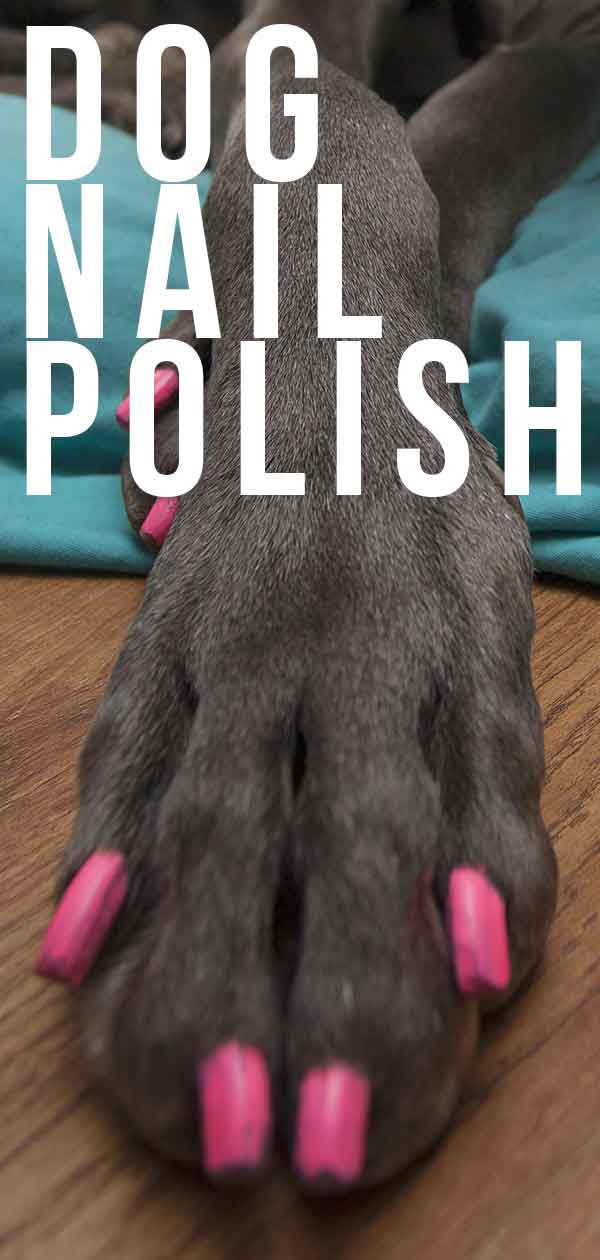 Is Nail Polish Bad for Dogs?
Many dog owners love the idea of nail polish for dogs but aren't sure if this is actually safe. Especially if the dog might lick or chew it off.
So is nail polish bad for dogs? The key to answering this question is to determine whether the nail polish is made for people or for dogs. If you look at the label on your personal polish, you will probably see ingredients like: acetone, toluene, dibutyl phthalate, formaldehyde, and, worst of all, the known human hormone disruptor triphenyl phosphate (TPHP).
In fact, if you have ever noticed your dog shying away from your hands and feet after you've just had a fresh mani/pedi, this is likely because she smells the chemicals in the polish and instinctively moves away from the toxins.
But this doesn't mean nail polish is bad for dogs. Unlike with human nail polish, which is typically acetone-based, dog nail polish is usually water-based and odor-free. The same holds true for dog nail polish remover.
Dog Safe Nail Polish
Are there any human nail polishes that can double as dog safe nail polish? Unfortunately, the answer here is a solid "no."
This includes so-called "baby nail polish," which is often touted as a child-safe alternative to adult nail polish. Here, a more accurate description might read "safer alternative". Although many baby nail polish products are sadly just as toxic as their adult versions!
On that note, most dog owners (as well as most people) have no idea that modern human nail polish is based on a recipe for automotive paint.
So you can think of it this way: if you wouldn't paint your dog's (or your child's) nails with automotive paint, you shouldn't paint them with human nail polish either.
Best Dog Nail Polish
There are lots of different types of nail polish for dogs you can choose from. The most common application methods are either by brush or by pen.
Choosing a pen nail polish applicator can make it quicker and easier to get your dog's nails painted, especially if this is your first time you and your pup are doing this activity together.
The nail polish products for dogs are listed first, followed by nail polish remover for dogs. Then some fun options for colorful artificial nail caps that look just like nail polish but don't require any drying time or the need for nail polish remover.
For dogs that can't tolerate or just don't like nail polish, nail caps can be a great alternative to try. You can order colorful nail caps or get the clear nail caps and use dog nail polish to custom-paint them to match your pup's cute outfits.
Dog Nail Polish
Color Paw Fast Drying Premium Pet Nail Polish
Color Paw nail polish* comes in a wide variety of fun matte and glitter colors.

It comes in a 0.5-ounce bottle with a brush applicator. The recipe is water-resistant and chip-resistant. Dog owners say it works best on dogs with light color nails. With lighter colors you may need to apply several coats for the most vibrant color.
Pet Head Mommy and Me Dog Nail Polish
Pet Head nail polish* comes in plenty of fun colors like red, hot pink and midnight blue sparkle.

This polish formula features a 10-second drying process for each coat. Owners say it shows up best on lighter colored nails and that it lasts about a week. The nail polish comes in a 14.7ml bottle with a brush applicator.
Dog Fashion Spa Fast Dry Nail Polish
Dog Fashion Spa nail polish* comes in clear and a variety of other fun fashion colors.

You get an 8ml bottle with a traditional brush applicator. This dog nail polish is made in the USA.
Warren London Pawdicure Dog Nail Polish Pens
Warren London makes an easy application nail polish pen series* in a variety of fun bright colors.
The average drying time per coat is 40 seconds. The formula is water-based, odor-free and non-toxic to dogs and people. Dog owners say that the bright colors show up well on light and dark colored nails. But some of the colors may look darker than the bottle. One suggestion if your dog has dark colored nails is to apply the white nail polish first and then paint your desired color on top of that.
Puppy Paint Natural As Mud Dog Nail Polish
This dog nail polish* comes in several fun colors and is made to be naturally bitter so your dog won't be tempted to lick it.

The formula is hypoallergenic, non-toxic and odorless. It is designed to hold its color for both dark and light colored nails.
LESOTC Dog Nail Polish Variety Set
If you are not sure what dog nail polish colors might look best based on your dog's natural nail color, this value-priced six-pack* variety set might be the perfect choice.

You get pink, purple, blue, silver, gold and red nail polishes to try. The formula is water-based and non-toxic. Each bottle contains 8ml of nail polish along with a traditional brush applicator. To remove, just wipe your dog's paws down with water.
Peticure Nail Polish for Pets
This kit* features a 0.5-ounce bottle of orange nail polish with a brush applicator plus a 2-ounce dog-safe nail polish remover.

It is packaged as a set in a paw print box with a clear front cover so it makes a great gift. This nail polish is made by Piggy Polish, the popular non-toxic nail polish for girls.
Fancy Finish Nail Polish for Pets
Fancy Finish* is a nail polish that comes in a wide variety of matte and shimmer nail colors made for dogs with light and dark colored nails.

You get a 0.5-ounce bottle of nail polish with a brush applicator.
Dog Nail Polish Remover
This eco-friendly dog nail polish remover* is derived from plants and is fully biodegradable.

You get a 2-ounce bottle of nail polish remover that is fortified with soybean esters for extra nail moisture and hydration.
Artificial Colorful Nail Caps
Purdy Paws Artificial Nail Caps for Dogs
Purdy Paws offers artificial nail caps* in a wide variety of colors. From clear and white to basic black and the full array of brights and glitters.

Sizing ranges from XS to XXL and Jumbo to fit dogs of all sizes. The nail caps will last 4 to 6 weeks with regular use. You get 40 nail caps, two glue adhesive applicators with tips and instructions with each kit. You can also buy replacement adhesive and applicators.
Brostown 100Pcs Soft Pet Dog Nail Caps
This kit contains 100 separate nail caps* in five fun fashion colors. These caps are for dogs only.

The nail caps kit comes with a special glue adhesive and applicator to help hold the caps in place. Choose from five sizes (XS, S, M, L, XL). The caps come with a 100 percent satisfaction guarantee.
Soft Claws Canine Nail Caps 40 Nail Caps with Adhesive
If you prefer to use clear nail caps and custom-paint them* with dog nail polish, these nail caps come in a wide variety of sizes (XS, S, M, L, XL, XXL, XXXL, Jumbo) and are highly rated.

The kit includes 40 canine nail caps and three glue adhesive applicators. The nail caps are designed to last 4 to 6 weeks.
How to Apply Dog Nail Polish
Here are a few safety tips to check off your list before you apply dog nail polish to your pup's nails: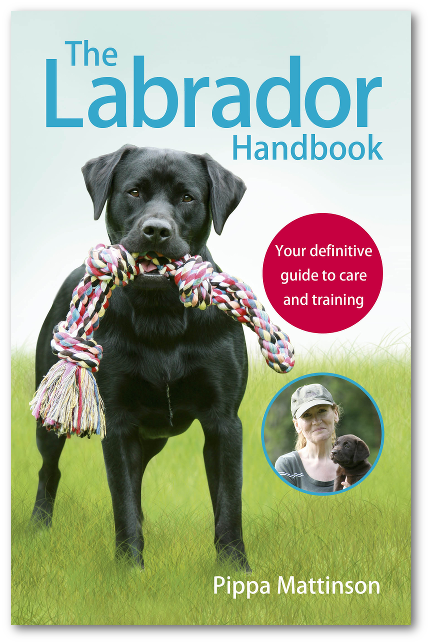 Always ask your vet if you have any doubt about the safety of the nail polish you want to try. Or your dog's ability to tolerate it comfortably.
Be sure your dog's paw pads and nails are healthy and free from abrasion, cracks or open wounds before applying nail polish for dogs.
Read the dog nail polish ingredients carefully – look for natural ingredients like water, aloe vera, vitamin E and green tea extracts.
Apply the nail polish as quickly as you can and have something on hand (like treats) to distract your dog and keep her calm until the polish dries.
Whenever possible, choose a quick-dry option so your dog won't be as likely to have time to lick it off and ingest it.
If your dog does try to lick or eat the dry nail polish, it is best to remove it quickly rather than take any risks that it will irritate her stomach or cause health issues.
For pups that don't enjoy having their paws handled or nails trimmed, you may need to back up a step and do some desensitization work first. This article, written by an expert animal trainer, will walk you through exactly what to do.
Once your dog is able to stay calm and comfortable when you handle her paws and nails, you will both have a lot more fun trying out different colors together.
Other Interesting Guides
If you've loved learning about the safest dog nail polish and how to apply it, you might also enjoy our other product guides!
Just click on the links below for more!
Affiliate link disclosure: Links in this article marked with an * are affiliate links, and we may receive a small commission if you purchase these products. However, we selected them for inclusion independently, and all of the views expressed in this article are our own.
References and Resources
The Labrador Site Founder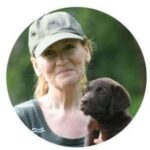 Pippa Mattinson is the best selling author of The Happy Puppy Handbook, the Labrador Handbook, Choosing The Perfect Puppy, and Total Recall.
She is also the founder of the Gundog Trust and the Dogsnet Online Training Program 
Pippa's online training courses were launched in 2019 and you can find the latest course dates on the Dogsnet website