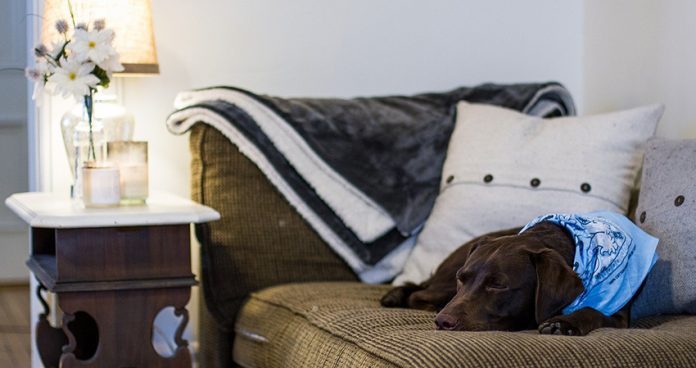 After a lifetime of living with Labradors and assorted other breeds (and crossbreeds) of dog, I have learned a thing or two about cleaning up pet hair.
I hope to share that information with you.
You'll also find here, a couple of personal, in-depth reviews of the Cordless Dyson Vacuum and the Neato Botvac robot vacuum cleaner.
I'll look at the Dyson first.
Skip down to the Neato Botvac
If you want to find out whether a robot cleaner is up to the job in a house full of dogs
Best Vacuum For Pet Hair
Here's the thing. We all want to know what is the best, the very best tool, for the job in hand.
Vacuum cleaners can be expensive purchases too, and we don't want to make a mistake.
But in truth, there is probably no-one out there who has tried all the different vacuum cleaners, and all the latest models of each type of cleaner.
This is what makes choosing the best vacuum for pet hair so difficult.
The fact is, we all tend to try one or two different machines, based on reviews or recommendation from friends, and we make a decision as to which is best based on limited experience of two or three different models.
My own review is no different in that respect.
I have not tested every vacuum cleaner out there, nor is this just a list of reviews copied from Amazon, or a comparison chart compiled from the same. I'm sure that Google will give you pages of those if that is what you are looking for.
So I cannot tell you what you should buy or not buy.
This is a personal perspective on cleaning up pet hair, by someone who actually has to do it, on a daily basis. Together with a description of the tools that she (that's me) has found useful.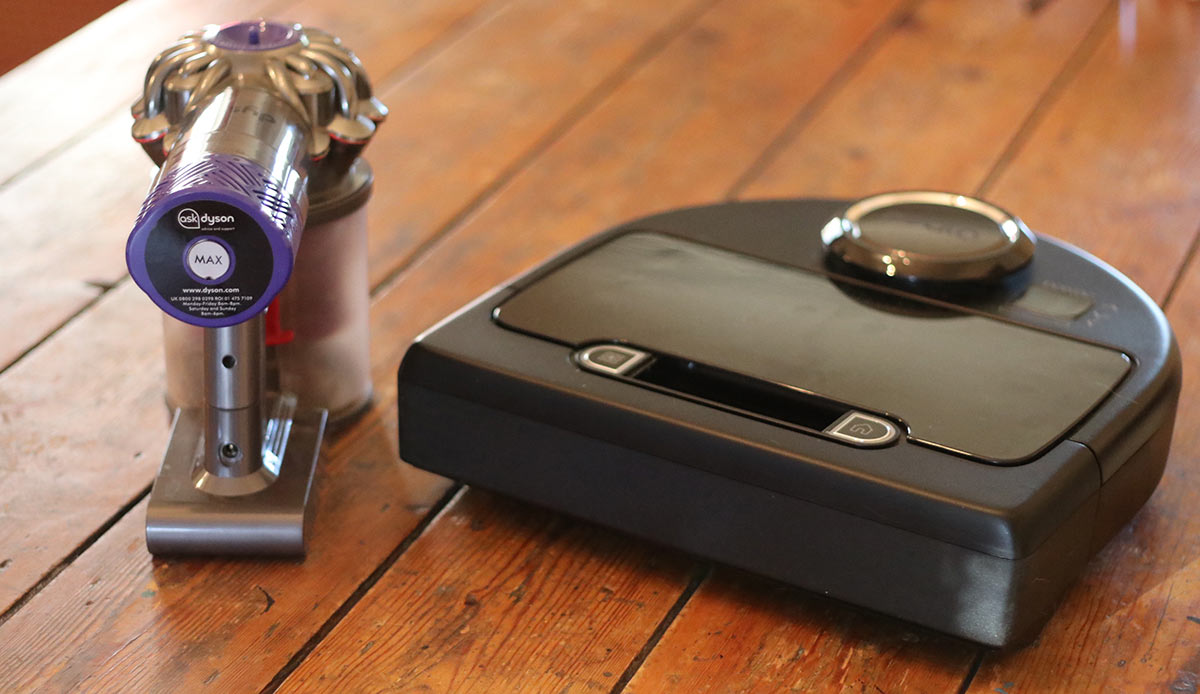 This is essentially my best vacuum for pet hair, but won't necessarily be anyone else's. I hope that makes sense!
I also hope you find it helpful and that you'll add your own views and suggestions in the comments!
Do You Need To Vacuum Pet Hair Daily?
You might well ask why I am bothering to be so fussy and house proud. After all, Labrador hair is part and parcel of owning a Lab. Isn't it?
Well, yes and no.
I'll explain.
I must admit that there are times when I have let things slip and just left the house to accumulate a layer of dust and hair.
When my babies were small for example, and nowadays, when I am finishing up on a book (another kind of baby) then yes, standards do slip.
But these days, I have had to raise my game a little.
Dust Mite Allergy and Hepa Filters
A couple of months ago, I developed a rather unpleasant allergy to house dust mites.
Dust mites just love to live in carpets. And daily cleaning has now become a much more important part of my life.
Dog hair isn't just hair. At least not when it is lying around on your floors.
It is dusty and rapidly attracts more dust. And dust mites like to burrow into dust and breed there. At an alarming rate.
Dust mites are microscopic animals that live in all of our homes. It isn't the dust mites themselves that cause allergies, but the poop they leave behind them.
And that poop makes my eyes and mouth swell up alarmingly. So pet hair and the dust that goes with it, now has to go. I can't afford to let it build up at all.
It also means that any vacuums I buy have to have fine particle filters in them, otherwise they are just redistributing the tiny particles of dust mite poop around my home.
Fortunately the vacuums I had before being diagnosed, and that we discuss below, all have Hepa filters.
Decreasing Pet Hair In The House
In today's article, I'm going to share with you my strategy and tools for keeping pet hair to an absolute minimum. And for keeping time spent cleaning it up to a minimum too.
After all, like me, you have better things to do than chase around your house with a vacuum cleaner and a broom all day.
Minimising hair and cleaning time is something I am achieving fairly successfully, despite sharing my home with assorted Labs and Spaniels, and an adorable ginger kitten.
The solution hasn't come free, I have had to buy some tools, and they are not cheap.
They do however work very well. These are tools that I own and use every day.
Dyson Vacuum Cleaners
Vacuum cleaners are usually fairly heavy and cumbersome. They have to be really. They need a powerful motor, and the weight gives them some stability.
For some years I used a trusty old Dyson canister vacuum cleaner.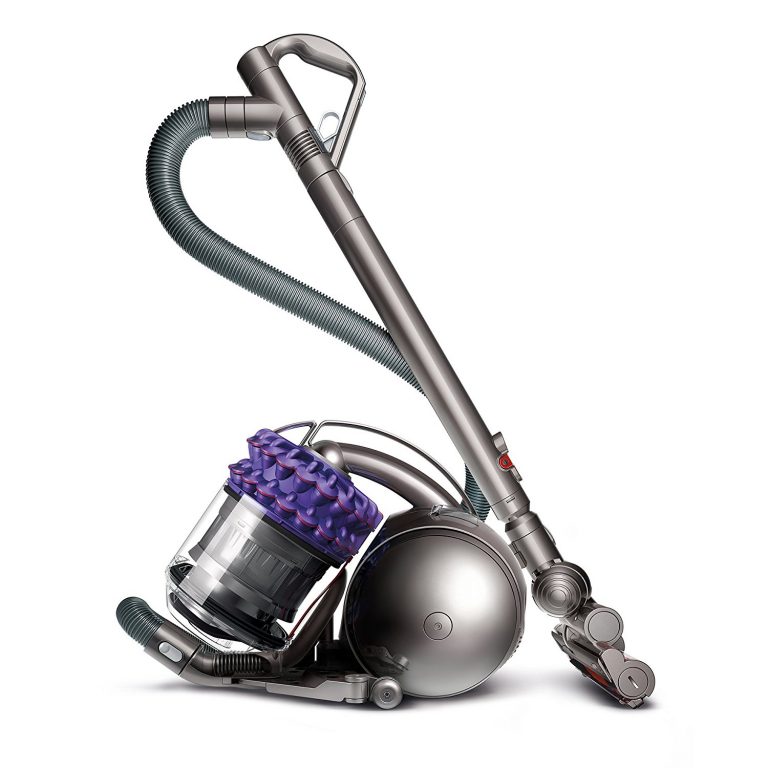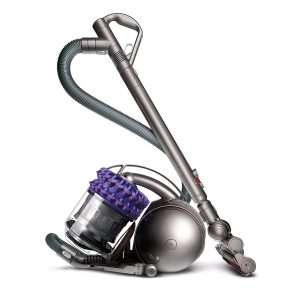 A cousin to the latest smart looking DC76.
I confess that I love Dysons, with a fair amount of passion!
I love that they are bagless, and powerful.
And I love the sciency, gadgety, quality feel about them.
As a Brit, I also like that they were invented by a British engineer, but that's just plain sentimental of me.
So my rather battered old Dyson has served me well for several years, and still works perfectly.
I would probably have replaced it with another at some point. But my husband had a hankering for a cordless machine. In particular, the Dyson V6 Absolute Cordless Vacuum.
Cordless Vacuum Cleaner Review
"We'll be able to do the cars with it and everything.." He pointed out hopefully.
I have him on record as saying "I'd even do the vacuuming myself if we had a cordless one."
Yeah right…
I was not convinced that the cordless Dyson would ever get used, and I could see from the reviews that it isn't free standing unless it's dismantled. Which makes it really awkward to store at ground level.
It comes with a holder that can be screwed into the wall, but I know only too well how in our home, that kind of job ends up in the 'things to do' box at the back of the cupboard.
However, my better half insisted that he would assemble this holder on our laundry-room wall, and install it as soon as the new cleaner arrived.
And I do love playing with new gadgets.
So, despite suspecting that the machine would end up in pieces at the back of the cupboard within a month or two, I placed my order and the new machine arrived the very next day!
My only problem with my old mains powered Dyson is that it is awkward on the stairs.
But I couldn't see how the cordless machine was going to be able to do as good a job. Anything powerful enough to suck strongly, is going to be heavy, right?
Wrong, as it turns out.
And as I discovered when the cordless Dyson arrived.
The Cordless Dyson For Pet Fur
We purchased the Dyson V6 Absolute. And as far as I can tell, this little machine is every bit as powerful as a full size cleaner.
It works just as effectively as the mains powered vacuum on the stairs. A machine that I have truthfully not touched since its new relative joined us on the cleaning team.
The cordless Dyson is not just a fancy gadget to play around with and a useful tool for cleaning the cars.
It is a powerful, convenient, and effective vacuum cleaner that is light and comfortable to use anywhere in the home.
I am completely sold on it.
Using the Dyson V6 cordless vacuum
When I first had my Dyson V6, I did all my vacuuming downstairs with it, every carpet in every room using the wide attachment, and the floorboards using the attachment for the purpose
I would also, from time to time, vacuum the edges of every room where the carpet meets the baseboards and the tops of the baseboards using the crevice tool.
All the tools clip on and off the main handle easily and with a satisfying clunk.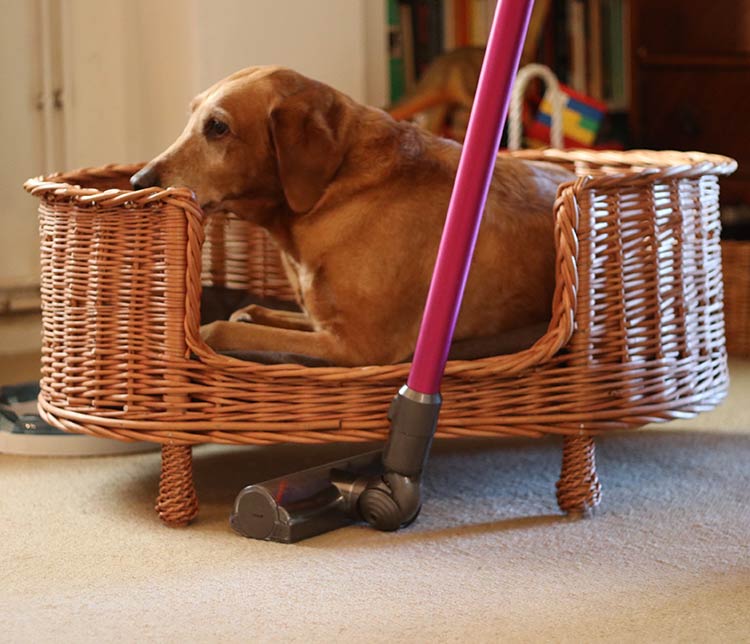 The head attachment swivels on the end of the wand and goes under the furniture easily and the machine is light enough to do cobwebs etc on the ceilings and to vacuum high shelves.
The big surprise to me was how much I liked not being attached to that cord. I hadn't realised how irritating the mains cord was until I was able to vacuum without one.
Vacuuming with this little machine was actually fun!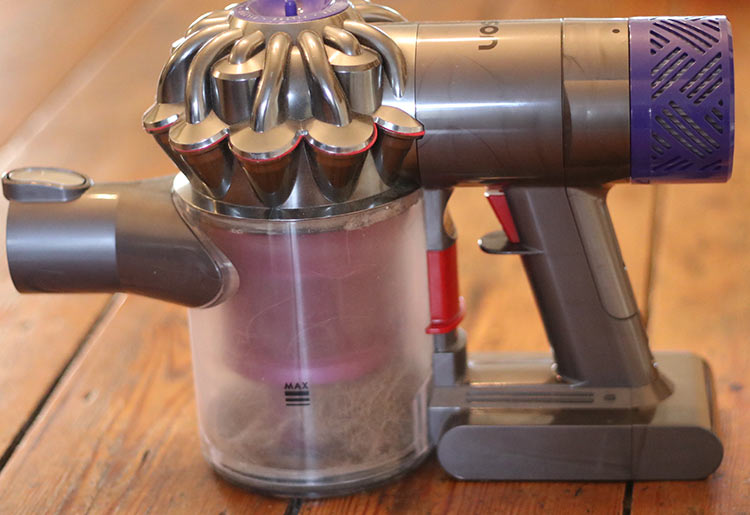 The clear plastic cannister has a reasonable capacity and it's very satisfying to watch the hair and dust gathering inside it.
The brush attachment does lampshades etc. And basically, it just works. Only without dragging a large machine around after you.
Contrary to my expectations it was the old, mains powered, Dyson that got relegated to the back of the cupboard.
Cordless Dyson – the downsides
Yes, of course. It isn't perfect. The first of the 'cons' of this and any cordless vacuum is that it has to be charged up.
And the charge on my model only lasts for about 25 minutes, before it needs to be plugged back in. That's the price you pay I guess, for the smaller, more compact motor.
It's a little and often vacuum.
The Dyson V8 Cordless Vacuum
Dyson states that the charge on the latest model – the Dyson V8 – lasts a full 40 minutes (25 minutes with the motorized floor tool) which really does make it a realistic alternative to a mains powered machine.
If you need to save all your cleaning for a Saturday morning, the V6 is probably not the right choice for you. As I work from home however, this is not a problem for me.
I am still waiting for my 'holder' to be installed on the wall, so at the moment the Dyson takes up space on a table top of counter near to a plug socket for a couple of hours each day.
Occasionally, if I have a cleaning slurge and vacuum intensively, my cordless Dyson gets overheated and cuts out. It cools down quite quickly though, and once it does, it can be charged or used again.
Cordless Dyson Maintenance and Care
Every few weeks, the cordless Dyson needs the Hepa filter in the center taking out and cleaning.
This filter then has to be left to air dry for 24 hours. But I find it sometimes takes longer than that to dry completely so I have purchased a second Hepa filter.
That way I can slot it in and carry on using the machine while filter no 1 is drying.
The machine itself is a breeze to dismantle and clean. You can watch this great little video if you like to see how its done first.
So, my cordless Dyson has been a huge success. I've had it for a while now, and Lucy has also bought one and loves hers too.
But I also need to tell you now, about my robot friend, because without him, my allergy problems would have been much harder to manage
Robot Vacuum Cleaners
For a while now I have had a little circular robot cleaner that vacuums my bedroom and ensuite bathroom.
It was an old model no longer available to buy.
I used to start it up each morning when I went down for breakfast, and it would happily potter about for an hour or so, until it ran out of charge.
Dog Hair In The Bedroom
I've no idea how dog hair manages to get into my bedroom as dogs are not allowed upstairs in my house, never mind near my bed.
I guess it must float up there because despite this 'no dog upstairs' rule, my litle robot vacuum cleaner collected a nice bundle of dog hair each day, and kept my bedroom carpet looking great.
The robot vacuum was quite a cheap model and pretty good value for money.
I didn't use it downstairs as it had a small capacity refuse container and because the brushes needed a lot of cleaning and maintenance to keep it running smoothly, just in the one relatively clean room.
In other words, I didn't think it would survive two minutes among my menagerie downstairs.
Neato Botvac Review
But robot vacuums are improving all the while, and I started reading reviews of some of the newer models.
I was tempted to get one to trundle around my dining room, living room, kitchen and hall.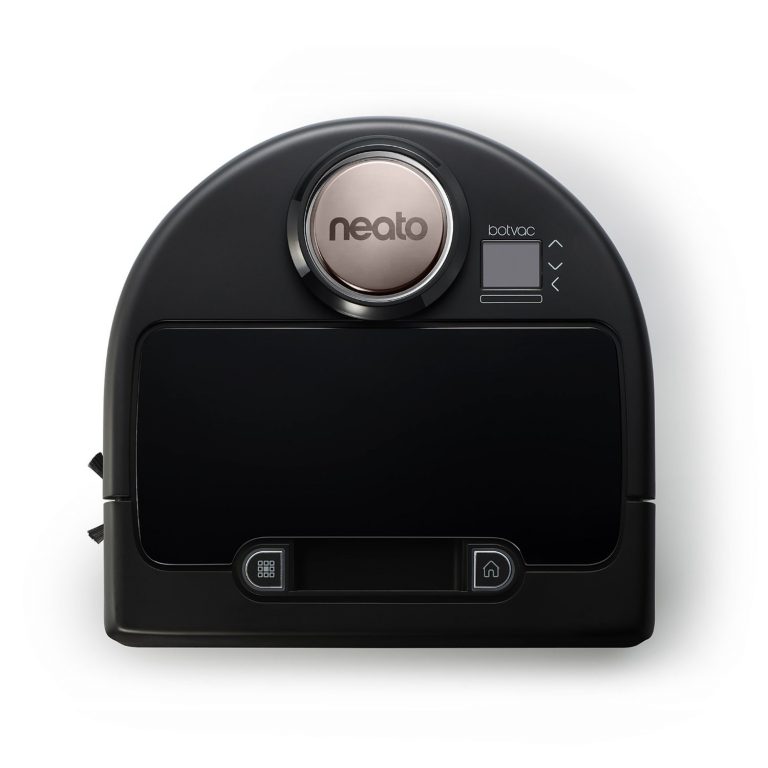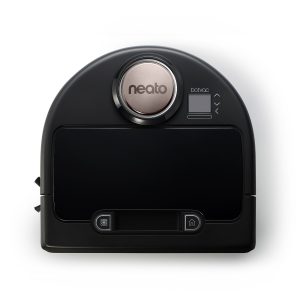 Last summer, I took the plunge and ordered a Neato Botvac robot vacuum cleaner
And wow.
Has there ever been a more hard working, and useful gadget in our house?
I don't think so.
In fact, it is an insult to call it a gadget. This is a powerful, thorough and effective vacuum cleaner.
You can see a clip of it here – it's been set to do a 'spot clean' and this just demonstrates how neatly it manoeuvres around the obstacles it comes across – in this case the leg of my bed!
You can select 'clean house' or 'spot clean' to do a small area.
I usually have it set on 'clean house' and the vacuum makes a map of all the areas you give it access to, carefully travelling all around the edges of the room first, then cleaning the center in large sweeps.
The Neato can be scheduled to run at set times and we set ours to clean some of the rooms downstairs while we are asleep.
It starts at 5:30 am. Our alarm goes off at 5:45 so it doesn't matter if it disturbs us, but we are used to the noise now and often sleep through it.
At other times of the day, I carry the Neato into different parts of the house, and since the demise of my old robot vacuum cleaner it now does upstairs too.
The machine can sense a 'drop' and doesn't fall down the stairs or down the step that lies between my dining room and my living room.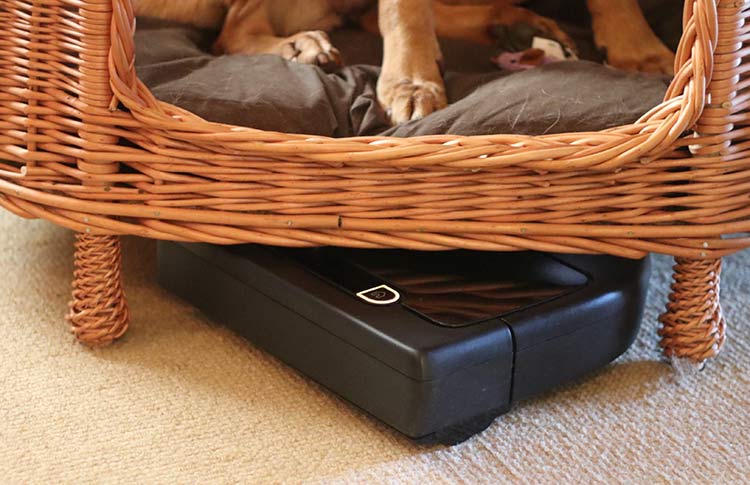 It fits under all our beds and even underneath the dog baskets (more of that later)
The dirt bin is a sensible size and though it filled up pretty fast to begin with, now the carpets are being cleaned daily, it can usually do either all of upstairs, or most of downstairs, before needing to be emptied.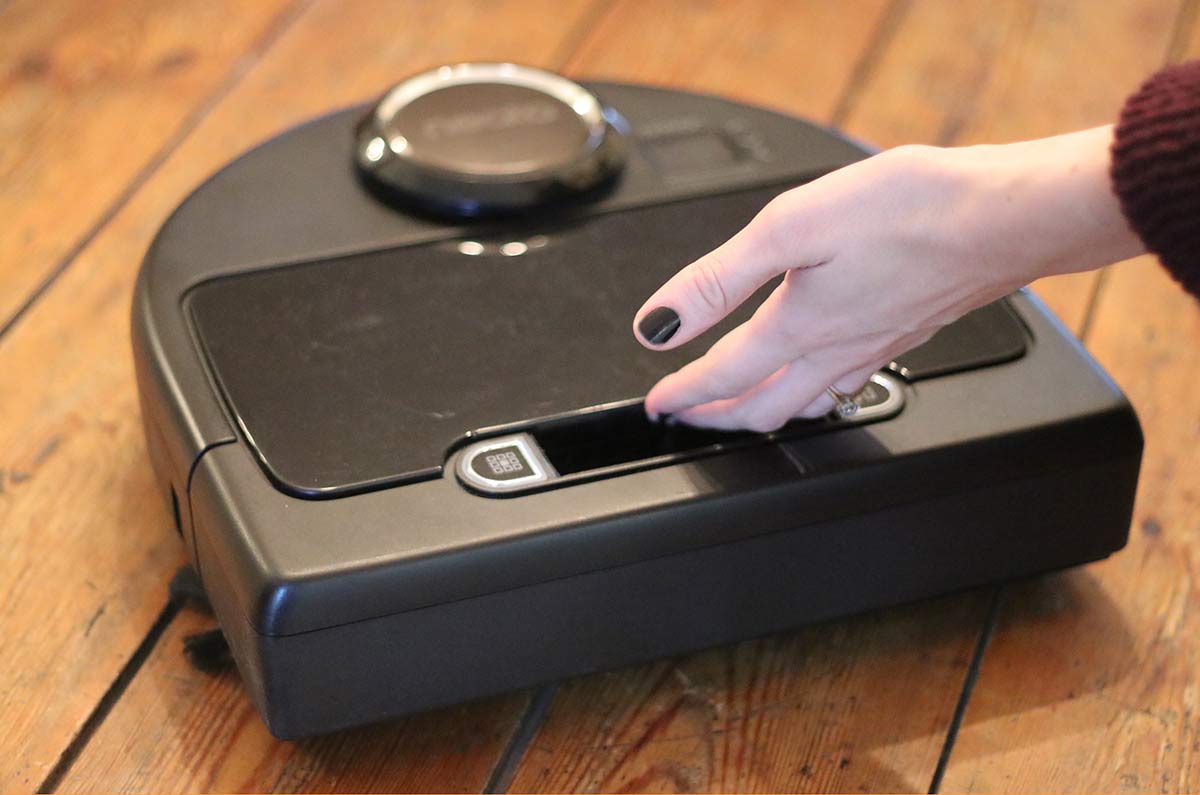 The bin is simple to remove and replace – you just lift it out with one hand and hold it over a waste bin. One side of the bin is the filter.
Remove the filter with the other hand and tip the contents into the bin. Then replace the filter and clip back into the machine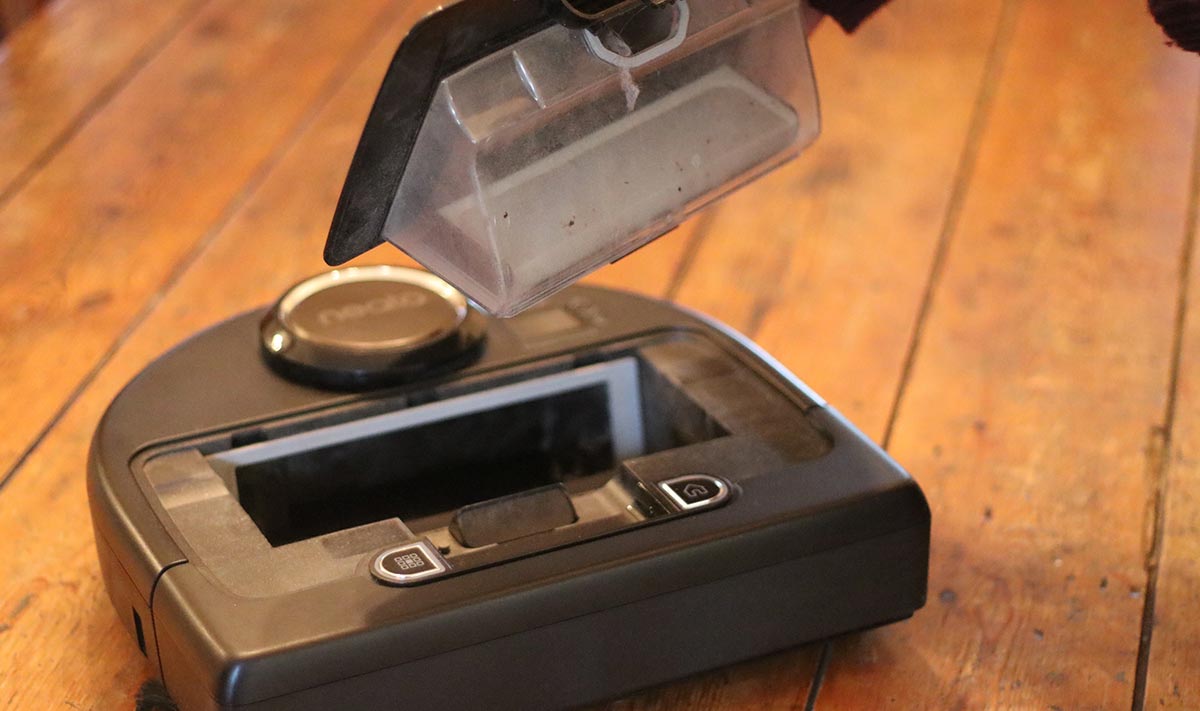 The botvac has a fairly comprehensive message system, and bleeps loudly whenever it needs to be rescued, which is rarely now we have got into a routine of putting toys and shoes away before we go to bed.
We have to be fairly tidy as it quickly gets upset if it swallows pet toys or plastic wrapping.
Recharging the robot vacuum
The Botvac finds its own way back to the charger at the end of the cleaning cycle
Or whenever its battery is running low.
Once it has located the charger the robot backs onto the docking area and gives a characterful little 'butt wiggle' to seat itself properly into position.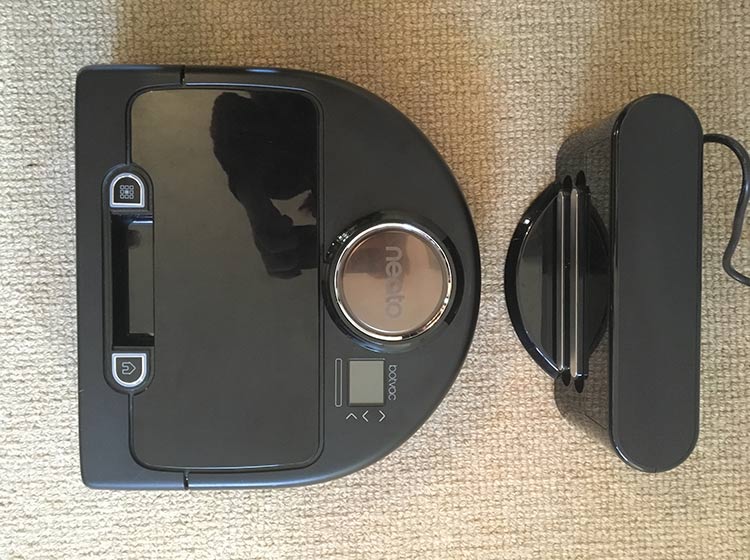 The docking station looks a lot smarter and less intrusive in the home than some other robot vacuum docking stations I have seen.
And unlike some robot vacuums I have read about, our robot has never failed to find its way home unaided.
Neato Botvac – the downsides
After a couple of months our Neato started to demand a new Hepa filter every three or four days. These cost quite a lot!
Fortunately we were able to resolve this problem with the help of the manufacturer.
I was muttering to my other half about the expense of buying new Hepa filters – and he contacted Neato. They were extremely helpful and told us that the machine should not need a new filter more often than once a month.
They gave us a couple of things to try in order to fix the problem and assured us that if those didn't work, they would repair or replace it
The two things were a 'soft' reset and a 'hard reset' – the latter simply involved turning the battery on and off again. The hard reset worked and we have not had a problem with the machine since.
The Neato Botvac is quite noisy which might bother some people. We always have it on Turbo though, which is best for picking up pet hair. It would probably be quieter on the basic setting.
To say we are delighted with our Neato would be an understatement. Since I developed this stupid allergy, it runs for a couple of hours a day, every day.
We are now considering purchasing another one to keep upstairs, and to make sure that there is a back up if this one breaks down.
Neato Botvac Maintenance
The Neato gives a repetitive bleap if it isn't happy, you then have to bend down close to it (or lift it up on to a table) to read the message on the little screen.
It can be scheduled and started wirelessly via an app on your smartphone, but though I did set up the schedule on the app when it first arrived, I haven't used it since.
The Neato is easy to empty and the brushes clip on and off very easily for cleaning. The machine will tell you when it needs you to do this.
The brushes rarely gets tangled up and unlike my older robots, the brushes seem pretty resistant to being clogged up with carpet fibres
Dog Bedding and Pet Hair
Dog bedding all seems to attract hair. And it is very difficult to vacuum this hair off the bedding without the fabric disappearing up into the vacuum.
If you turn the suction down, then it doesn't get all the hair off, if you turn the suction up it sucks the fabric up too.
The cordless Dyson is pretty good at sucking hair off fabric, but there is no perfect answer to this that I have found
Labrador hair winds it's way quite deeply into just about every kind of fabric I have tested and tried out. With a few exceptions.
The kind of hoseable waterproof beds you can buy are a bit better, but they are expensive and not much use if nibbled at the corners.
Even they will trap hair underneath and around the edges if you place them directly on the floor.
Plastic dog baskets protect the cushions a bit, but they are low to the ground and collect dust underneath them, which means they have to be lifted and moved every day so that you can suck it all up.
Plus, let's face it, they don't look great.
I'm a huge fan of Wolfie Beds and my dogs have had one for a couple of years. But while they do look great and the dogs love them, Wolfie beds take a bit of cleaning.
Dog baskets on legs
So, with the arrival of my allergy I have now switched to sturdy wicker dog baskets on legs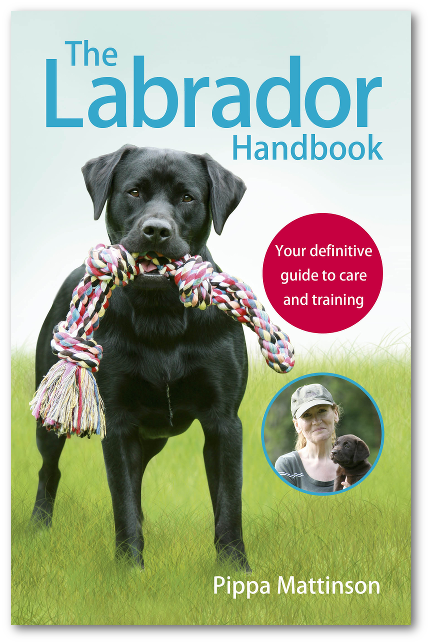 You can see mine in the photo of the Dyson V6 above.
You can get something similar made from rattan, in the USA – you can get dog sofas with legs too.
The base of these wicker beds on legs is usually mdf, with a removable cushion inside which can be replaced when it gets too hairy and grubby.
The baskets are a real time saver for me because my robot vacuum cleaner can clean underneath them. It's well worth checking the clearance underneath if you want yours to do the same.
The cushion inside these wicker pet beds on legs doesn't get too hairy because it isn't in contact with the floor. And can easily be replaced.
The wicker dog beds weren't cheap but I think they were a good investment. Billy the kitten agrees!
Best Vacuum For Dog Hair
Soon after the Neato arriving our old 'upstairs' circular robot vacuum gave up the ghost.
So every day my Neato robot vacuum cleans all the hard and carpeted floors in our home, upstairs and down.
It takes me a couple of minutes to empty the pan (I now wear disposable gloves to do this) into the bin, and we're done.
We have three dogs and a cat living in our home at the moment, and the carpets look completely hair free, even when the dogs are shedding, which is often!
The only part of the floor I have to vacuum by hand is the stairs, and I use my cordless Dyson for this – or persuade someone else to do it!
These two tools, together with raising the dog bedding off the floor using baskets on legs, has virtually eliminated the problem of hairy floors. They are my personal choice for best vacuum for pet hair.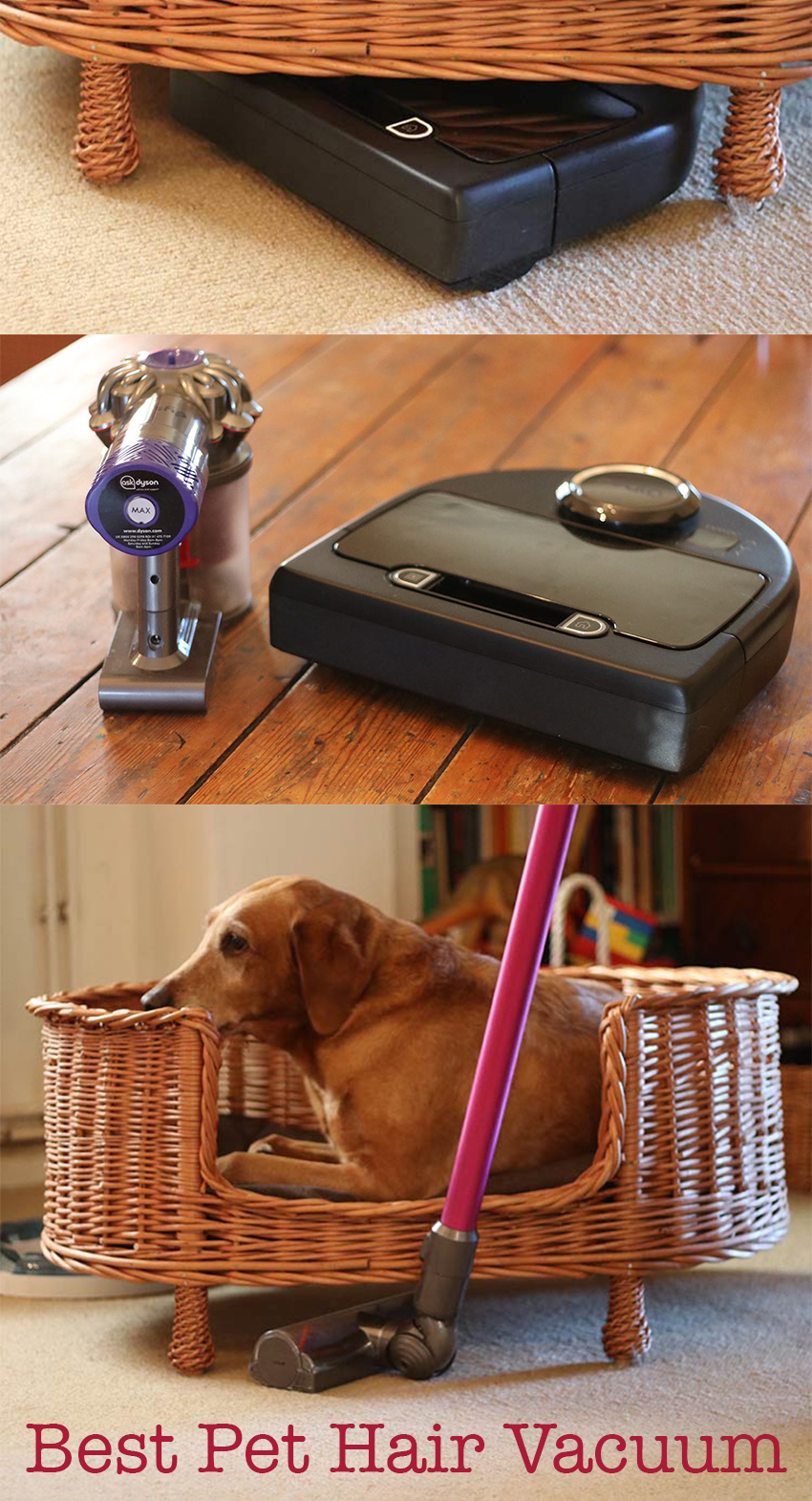 I'm sure there are other machines that do a great job, and other strategies we haven't thought of yet though. So if you have any idea or tips for me, especially from fellow allergy sufferers, that would be great!
Just drop them into the comments box below
The Labrador Site Founder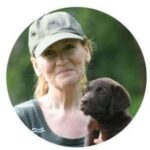 Pippa Mattinson is the best selling author of The Happy Puppy Handbook, the Labrador Handbook, Choosing The Perfect Puppy, and Total Recall.
She is also the founder of the Gundog Trust and the Dogsnet Online Training Program 
Pippa's online training courses were launched in 2019 and you can find the latest course dates on the Dogsnet website