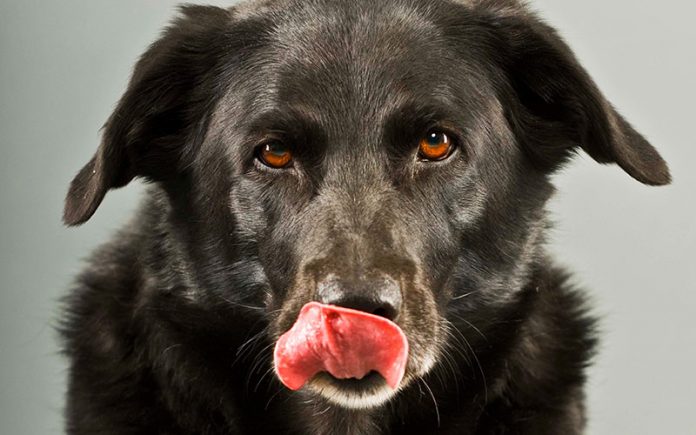 Welcome to our complete guide to the Border Collie Lab mix, adorably known as the Borador!
We'll take a look at temperament, care and exercise requirements, as well as what you can expect in terms of size, health and lifespan.
Labradors and Border Collies are both active, intelligent and loving dogs. So it's hardly a surprise that plenty of people consider a cross between the two.
Also, mixed breed dogs are extremely popular right now.
If you want a mixed breed that incorporates two of the most traditional canines, then a Borador or Border Collie Lab mix may be right for you.
Border Collie Lab mixes are unique and adorable, like many of the other mixed breeds.
But, you may be wondering what the temperament may be of such a dog or if there are any health issues you need to worry about.
So let's take a look!
In this guide we are going to explore all of your questions. Helping you to decide whether this energetic, intelligent mix is the right choice for you.
People Often Ask…
What's In This Guide
If you need some quick facts on this lovely breed, then look no further. Here is our summary of the Border collie Lab mix.
Border Collie Lab Mix: Breed At A Glance
Popularity: High and steady since 90s
Purpose: Exercise companion, family dog
Weight: 35-45 lbs.
Temperament: Energetic, loving, fun
If you're really here for an in-depth review of the Border Collie Lab mix, then we've got you covered. Use the links below to jump to specific information.
Border Collie Lab Mix Breed Review: Contents
So how did this beautiful cross come about? To find out, we'll take a look a the origins of the breed, and uncover why people started to breed Labradors with Border Collies in the first place.
Origin of the Border Collie Lab Mix
So, you may be wondering where this interesting crossbreed came from.
Well, mixed breed dogs are not a new thing.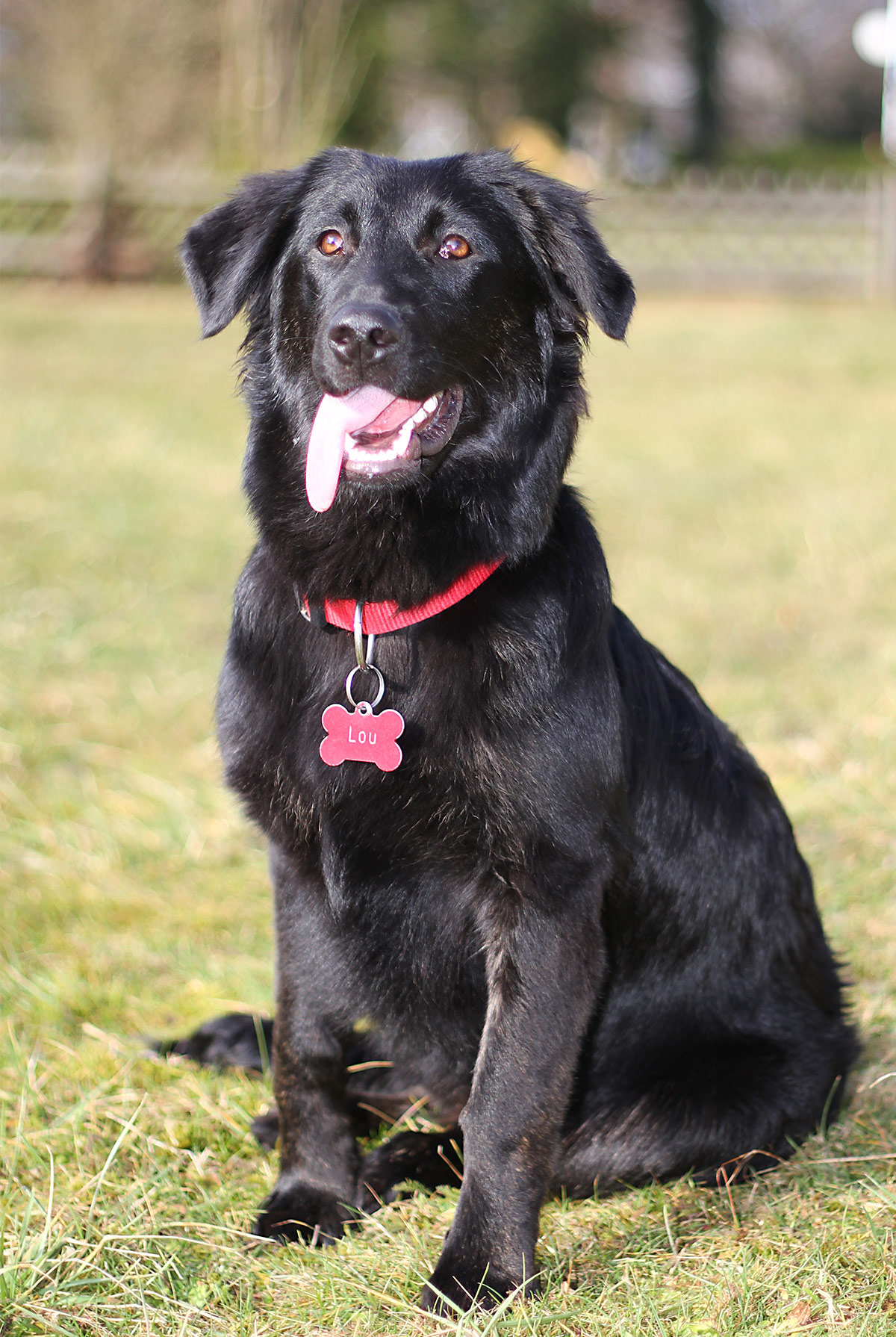 In fact, cross-breeding has been around for centuries.
For example, terriers have been crossbred for many years, and the breeding has resulting in many unique and distinct breeds like the Rat Terrier and the Yorkshire Terrier.
However, it takes many years to create a distinct breed that is recognized and registered.
Instead of traditional breeding, individuals are now creating what are called "designer breeds" where two purebred dogs are used to create a hybrid.
Designer dogs are typically named based on the breeds used for mating. In the case of a Border Collie Lab mix, a Border Collie and a Labrador.
Like many of the other designer breeds, the Borador has come into existence within the last 10 to 20 years in North America.
Labradors are often known for their gently and loving temperament; whereas Border Collies are more commonly associated with sheep herding. Therefore, it is likely that they were first crossbred to combine these attractive traits.
So what exactly can we expect from this mixed breed?
What to Expect from a Border Collie Lab Mix
With any mixed breed dog, we cannot predict which traits the dog will inherit form which breed of parent. All crossbreeds are open to taking after either parent breed.
This goes for the Border Collie and Lab mix, too.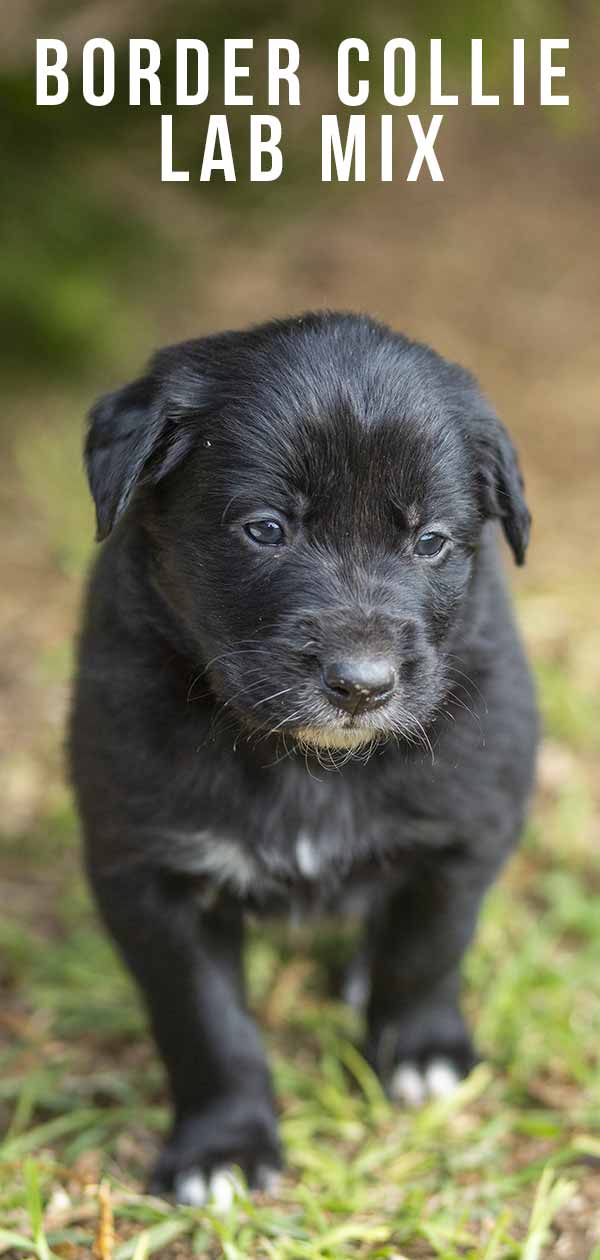 As mentioned above, Labradors are known for their great personalities, so it is possible and even likely that your Border Collie Lab mix will have a gentle and loving nature. However, it is also possible that they will have the energy of a Border Collie.
We'll take a look at their temperament further on.
But first, you might be wondering which parent breed the Borador will most likely resemble in terms of appearance?
Border Collie Lab Mix Appearance
If you know a little bit about designer breeds, then you may be well aware that the pups usually gain their distinctive features from both breeds.
The Border Collie Lab mix is no different, with the distinct and happy face of a Labrador. While the ears are similar to a Lab's, they are just a bit shorter, and this can be said of the body, too.
With a stocky body that is more consistent with the Border Collie breed, you may notice the striking, piercing, and dark eyes that are also common with this type of dog.
Also, while Labradors are often seen with a solid yellow, brown, or black coat, the Border Collie Lab mix takes on the distinct dual or tri-coloring of the Border Collie.
You could also end up with a beautiful black Lab Border Collie mix.
Hair length is also similar to that of the Collie, but just a bit shorter. So it is typically considered a medium length coat.
Border Collie Lab Mix Weight
Since the Border Collie Labrador mix has a body that is more similar in shape and size to a Collie than a Lab, then you can expect the canine's weight to be similar to that of the Collie as well.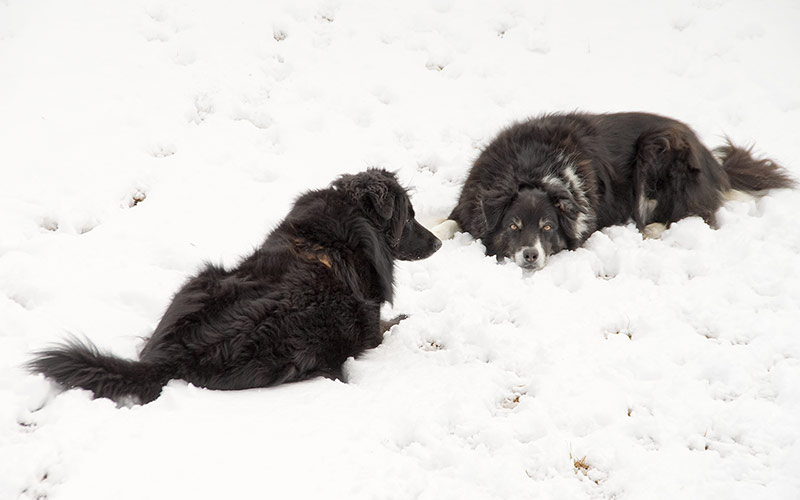 However, since labradors are a bit bigger, you may see that your canine is maybe 5 pounds heavier than a Collie at most.
According to the AKC, Border Collies are likely to weigh between 30 and 45 pounds, so your Borador will probably be closer to the 35 to 45 pound range, or sometimes even 50 pounds for a full sized male.
So now that we know what to expect in terms of appearance, let's look further at what to expect from personality.
Border Collie Lab Mix Temperament
Border Collies and Labs both have some very unique and positive personality traits.
For starters, Collies are extremely intelligent.
According to studies completed by the American Psychological Association, the dogs have the same mental abilities as a two to two-and-a-half-year-old child.
While Labradors may act more like toddlers, and have a good deal of smarts themselves, what really stands out about them is their kindness, happiness, and generally easy-going attitudes.
When you put the intelligent and happy-go-lucky aspects of the dogs together, you get the unique and highly positive temperament of the Border Collie and Lab mix.
The dogs tend to be friendly, attentive, loving, and relatively easy to train, especially since they have the labrador's need to please.
In addition, because Border Collies were originally bred for herding sheep, they love obedience work and are happiest when following orders.
This brings us to training. And one of the most important aspects of training, as with any breed or crossbreed, is socialization.
Border Collie Lab Mix Socialization
Early socialization is hugely important if you want to raise a healthy, happy, outgoing dog.
This process involves exposing your puppy to other dogs and to different people when they are young.
This is done so that your dog will not be fearful or aggressive around new people or dogs.
Ideally, socialization should begin when your puppy is between 3 and 14 weeks of age.
Luckily, both the Border Collie and Labrador are known for their easy, kind temperament, so you should find this process easy and effective.
Training in general should be relatively easy with this cross breed.
Training and Exercising your Border Collie Lab Mix
Both Labradors and Border Collies are dogs with high levels of intelligence.
They are therefore likely to become bored and disruptive if not properly entertained.
Training can go a long way to help with this.
And it's lots of fun, too!
It's therefore wise to seek out a training program that encourages agility and activity as well as good behavior.
Training
There are various programs that can help you with training. Keep in mind that studies show that positive reinforcement or reward based training are best for your dog.
Not only is it highly effective, but it reduces the incidence of problem behaviors and anxiety issues.
Border Collies and Labradors both require a great deal of exercise and activity.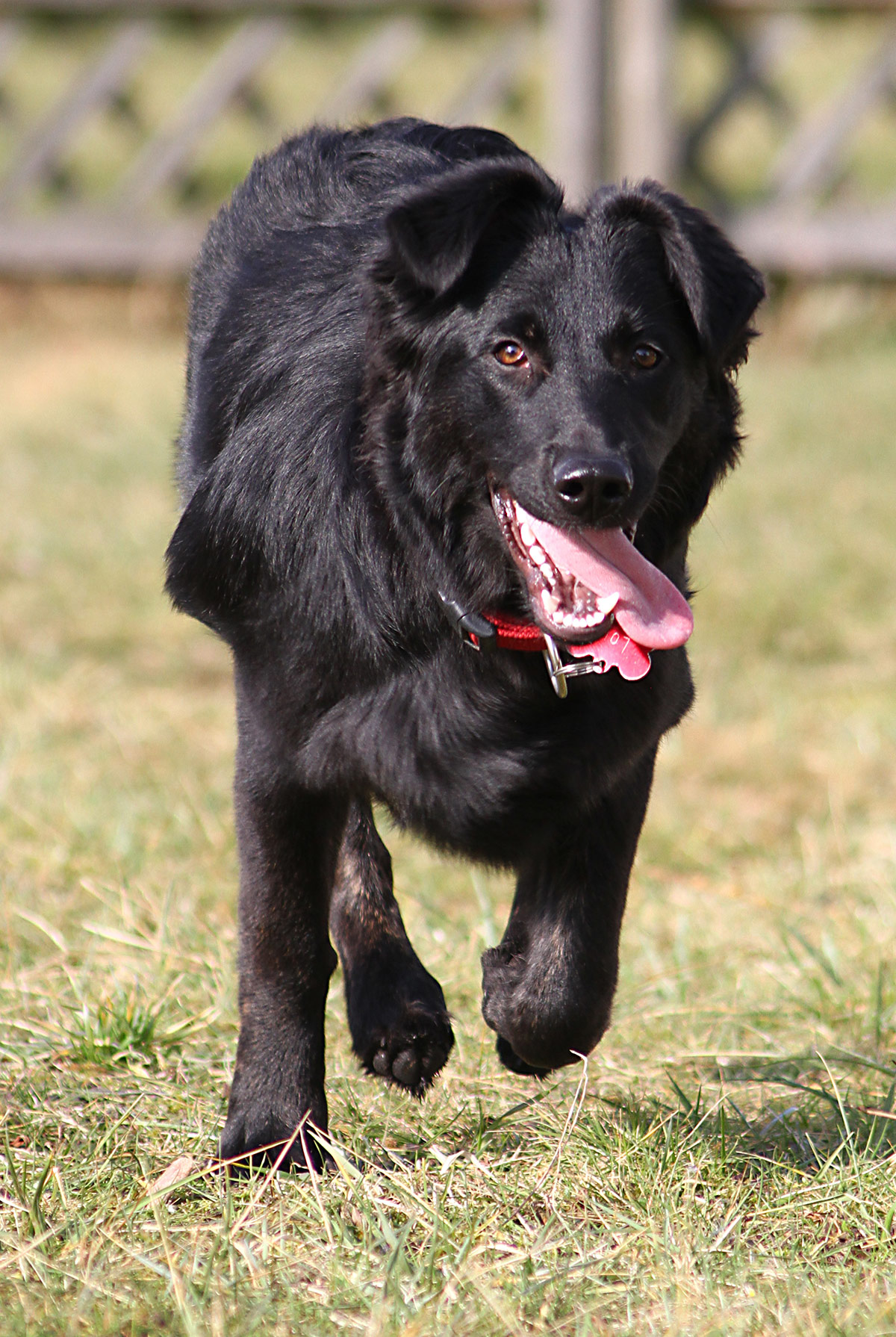 They are extremely active dogs that love to run, play, and exert energy for hours each day.
It should not come as a surprise that the Border Collie Lab mix also needs a fair amount of exercise.
Exercise
While these dogs are extremely active, the Lab part of the mix typically calms down the hyperactive nature of the Border Collie.
This means that your canine companion will probably not run off looking for the closest flock of sheep to herd.
With that said, your dog will need a rigorous exercise regimen. This means that a simple walk each evening is not going to cut it.
An outdoor jog, a trip to the dog park, or free playtime in the backyard that involves running are all good choices.
Exercise requirements do vary by age as well as breed. However, you will likely need to exercise your pup at least one hour a day, and maybe even two hours.
The good news is that this can help you to stay fit as well! According to a study conducted by the Journal of Physical Activity and Health, you are 34% more likely to get the exercise you need by allowing your canine to exert energy.
You'll find lots more information and helpful tips from our training guides.
It's important to mention that most breeds are predisposed to certain illnesses or ailments. Unfortunately, these issues can be passed on to crossbreeds if the dog takes after one parent breed.
This can affect the exercise or ability of your dog, so you should take the breed's health into consideration too.
Border Collie Lab Mix Health and Care
All dogs are at risk of certain illnesses. However, some breeds are more prone to specific problems and it's important to be aware of these concerns when looking for a new puppy.
The Border Collie Lab mix is no exception. To understand the risks with this crossbreed, we'll first look at the parent breeds and the health concerns specific to each breed.
Labrador Health
Joint problems that lead to hip dysplasia, elbow dysplasia, osteochondritis (joint cartilage inflammation), knee dislocation, and general arthritis issues may be linked partially or completely to poor joint formation.
Hip and Elbow Dysplasia
Dysplasia of the hip or elbow joint occurs when a hip or elbow socket does not properly form. This causes painful arthritis, and even lameness.
Labradors are susceptible to this ailment and can pass it on to their offspring.
Other Issues
They are also genetically predisposed to Progressive Retinal Atrophy (PRA), which is a disease causing blindness in dogs.
The third serious health issue that you will need to take into account is cancer.
Thankfully, tumors are less common in Labradors than in other purebred dogs. However, whereas hip dysplasia and PRA can be tested for, cancer can develop later in your Labrador's life, even with well looked after dogs.
Other health concerns facing Labradors are, luckily, easily avoidable.
For instance, obesity is a common affliction for Labs that you can prevent with regular exercise and proper diet.
Take a look at our guide to Labrador nutrition and weight for more information.
Border Collie Health
Border collies are prone to epilepsy. This means that the breed is prone to seizures, and can only be managed by long-term medication.
One of the major risks associated with epilepsy is injury acquired during a seizure. So, if your dog inherits this disease, they will need lots of care and attention, and should not be left alone for long periods of time.
Eye Problems
Similarly to the Labrador, Border Collies can inherit serious eye diseases, namely Collie eye anomaly (CEA) and Primary lens luxation (PLL).
CEA develops quite quickly in Collies, and will be noticeable at around five to eight weeks of age. However, it is only detectable by an ophthalmologist , so it's important to make sure your puppy gets his checkups and that your vet is familiar with these conditions.
PLL occurs when the ligaments in the eye that hold the lens in place become weakened. It can occur from trauma but more commonly is inherited.
Both of these issues can lead to blindness in border Collies.
Deafness
You also need to be concerned about the possibility of congenital deafness, according to the American Border Collie Association.
The issue is caused by vascular malformations and blood flow issues in relation to the cochlea. In other words, the inner ear does not receive the blood flow it needs and your canine is unable to hear properly.
The issue is most commonly associated with canines that have white heads and blue eyes. These dogs have a double merle gene pattern that has been linked to deafness.
Joint problems like elbow dysplasia is sometimes seen in collies as well, but deafness is considered the most likely congenital issue.
Border Collie Lab Mix Health
If you know a bit about breeding, then you may understand that the healthiest dogs are the ones that have the greatest genetic diversity.
The more diversity, the fewer "bad" genes that are passed on that can potentially lead to serious ailments.
While diversity is key, selective breeding is necessary, and it takes several generations to make sure that ailments are "bred out" of the gene pool.
We know that the science behind breeding is pretty confusing, but there is one key thing you need to remember. When it comes to designer breeds, you run the chance of adopting a pup that has the "bad" genes from both the purebred parents. This means you may potentially see some ailments that are common to both the breeds.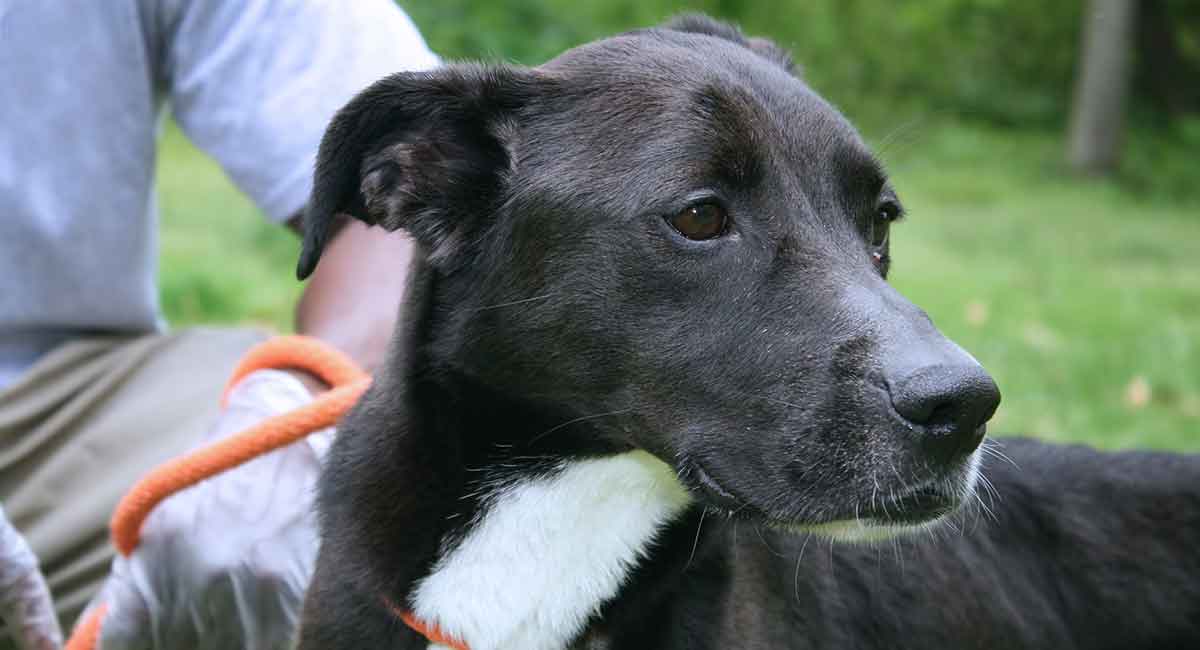 In addition, it is absolutely necessary to make sure that your breeder tests for the health issues outlined above for each breed.
This means that they will need to test the Labrador parent for hip dysplasia, eye problems, and know of any cancer in the dog's lineage.
Similarly, they will have to test the Border Collie parent for the diseases most commonly associated with that breed, and provide evidence that both parents have passed the necessary tests.
Even still, there is no guarantee that your Border Collie Lab mix will not develop any serious illnesses.
Border Collie Lab Mix Life Expectancy
When it comes to the Border Collie cross Labrador, you can expect your dog to live a long and happy life.
In general, you need to look at the life expectancies of the Labrador and the Border Collie.
Luckily, the Border Collie is among one of the longest living purebred dogs! The average lifespan of a Border Collie is 13.5 years old. The average for a Labrador Retriever is 12.5 years old.
Therefore, you can see that the Border Collie and Lab mix is probably going to live somewhere around 13 years.
Although in general mixed breed dogs do tend to live a little longer than their purebred counterparts.
Border Collie Lab Mix Shedding
If you have ever had a long haired dog, then you may be very aware of shedding issues.
Border Collie's are a long haired dog. However, while shedding may be something you need to watch out for, the problem is not nearly as pronounced as it would be if you had a purebred Border Collie.
Basically, you can expect to see fine and medium length hairs around your home, but few larger tufts or tumbleweed types of accumulations.
Border Collie Lab Mix Grooming
Since shedding is not a huge issue when it comes to the Border Collie Lab cross, your grooming regimen does not need to be as serious as your exercise one.
Use a bristle or pin brush for grooming once or twice a week and use a slicker brush to remove any mats that you see.
So, do this breed's exercise and grooming needs fit your lifestyle and family's needs?Let's take a closer look at whether this breed would make a good family pet.
Do Border Collie Lab Mixes Make Good Family Pets?
When you do locate a qualified, experienced, and caring breeder, then you can choose the puppy you like best.
Since both Labradors and Border Collies are energetic canines, you may want to look for Border Collie cross Labrador puppies that are a bit more low-key, with less energy than their brothers or sisters.
Of course, if you are an athlete who jogs daily, or if you have several children at home that are ready and willing to play, then a highly energetic Border Collie Lab puppy may be just what you are looking for.
The Border Collie Labrador is a wonderful dog if you are looking for that unique canine to join you on your weekend family adventures.
Your kids will enjoy the playtime, while you can surely appreciate the loyalty and upbeat demeanor of the Border Collie Lab.
As always, make sure that the dog you choose is healthy.
Veterinary records and a wellness check with your animal doctor is always advised when adding a furry companion to your family.
If you don't think that the Border Collie's traits are what you're looking for in a new friend, consider some similar breeds instead.
Similar Breeds
There are so many beautiful Labrador crosses to choose from. So don't fret if you decide that a Borador is not for you. Here's a list of some of the most popular similar Lab crosses.
Of course, you might have decided that a new puppy is not for you. In which case, rescuing a Borador might be the best option.
Rescuing a Border Collie Lab Mix
You do not have to work with a breeder if you want a Lab Border Collie cross.
Some rescues and animal shelters will have these dogs, so you can simply ask around if you have a trusted shelter nearby.
Also, there are some rescues that specialize in the placement of designer dogs.
Keep in mind that you are more likely to find a Lab and Border Collie mix with a diverse ancestry if you work with a rescue or shelter.
In other words, your canine probably will not have purebred parents. But, this can be extremely beneficial if you want a healthy dog.
After all, genetic diversity is the best way to weed out congenital health issues.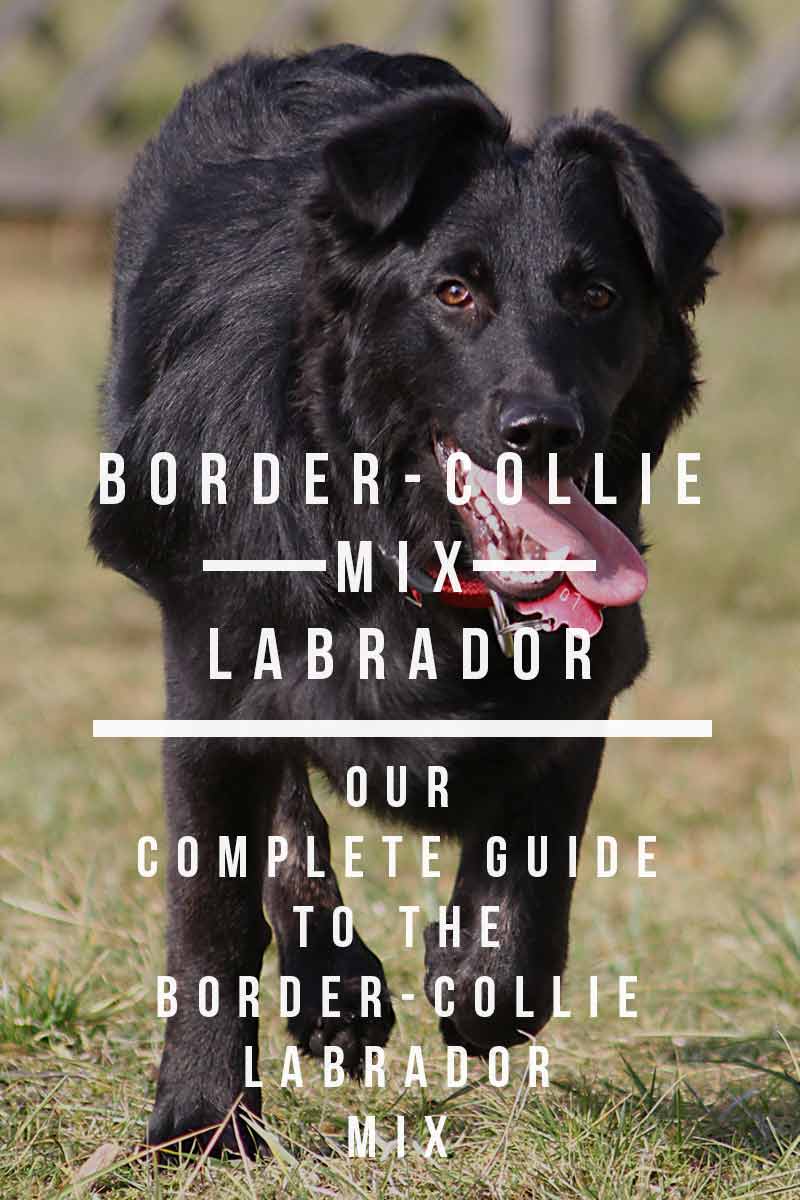 Additionally, being a rescue parent can be a wonderful and rewarding experience. After all, there is no better feeling than welcoming home a beautiful dog who needs a home and a loving family.
There are also other practical upsides to rescuing a Borador.
For instance, most of the hereditary diseases that we covered earlier will be detectable in a fully grown dog. This means that you will know for sure that your Borador rescue doesn't have any serious health concerns before you bring him home.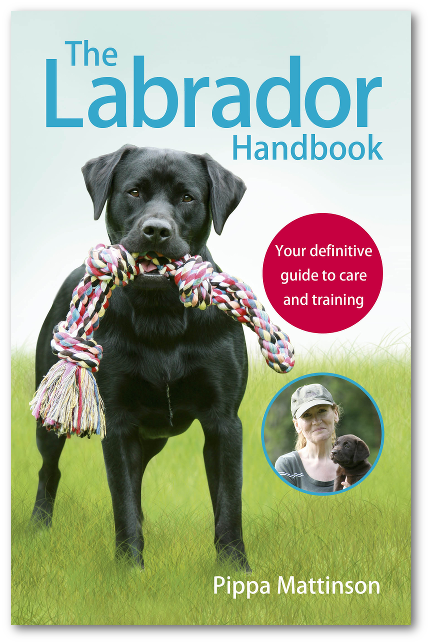 Check out our list of rescues to see if there is a shelter or rehoming organization in your area.
Border Collie Lab Mix Breed Rescues
While there may not be an abundance of rescue centers specifically for the Border Collie Lab cross breed, we recommend contacting the following organizations to find out if they have any Boradors in their care.
USA
UK
Australia
Canada
If you have your heart set on raising a puppy, read on to find out what you need to know about finding a Border collie Lab mix pup.
Finding a Border Collie Lab Mix Puppy
If you are going to pick up a Border Collie Lab mix puppy, make sure you do your research first. Finding a reputable breeder is the first step.
Also, make sure you're prepared! Our pupppy guides will get you up to speed.
Border Collie Lab Mix Breeders
There are many breeders who work with purebred dogs to create mixes. Responsible breeders understand that congenital health problems can be passed down to offspring.
For this reason, a clean bill of health from both parents is essential.
For your peace of mind, look over recent veterinary records to make sure there are no congenital issues in either parent.
Some breeders will even have their canines DNA tested to make sure that health issues are not passed down.
DNA test results are the best way to guarantee that you are getting the healthiest Border Collie cross Lab possible.
Border Collie Lab Mix Products and Accessories
We've done all the hard work so you don't have to! Take a look at our reviews to the best products and accessories for your new Border Collie Lab mix.
Of course, getting all the right equipment together won't matter if this isn't the breed for you.
Is A Border Collie Lab Mix Right For Me?
Let's take a look at the pros and cons of getting a Border Collie Lab mix.
Cons
Major health issues with both parent breeds
Might be too energetic for a laid back family
Needs regular grooming
Pros
Loving and loyal temperament
Good and gentle with children
Makes a great exercise partner
Your Border Collie Lab Mix
Do you have a black Lab Border Collie mix, or are you looking for the perfect happy go lucky dog for your home?
Let us know in the comments below.
References And Resources
American Psychological Association. 2009. Dogs' Intelligence On Par With Two-year-old Human, Canine Researcher Says.
Hiby E, et al. 2004. Dog training methods: Their use, effectiveness and interaction with behaviour and welfare. Animal Welfare.
Reeves MJ, et al. 2011. The impact of dog walking on leisure-time physical activity: results from a population-based survey of Michigan adults. Journal of Physical Activity and Health.
Strain GM, et al. 2009. Prevalence of Deafness in Dogs Heterozygous or Homozygous
for the Merle Allele. Journal of Veterinary Internal Medicine.
O'Neill DG, et al. 2013. Longevity and mortality of owned dogs in England. The Veterinary Journal.
American Kennel Club. 2019. About the Border Collie. AKC.org.
Howell TJ, et al. 2015. Puppy parties and beyond: the role of early age socialization practices on adult dog behavior. Veterinary Medicine.
Vandergraff S. 2017. The Effects of Reward-Based Training on the Behavioral Assessment of the Domestic Dog. Murray State University.
Inovagen. 2016. Border Collie – Inherited Traits and Diseases. AnimaLabs.
Hülsmeyer V. 2010. Epilepsy in Border Collies: clinical manifestation, outcome, and mode of inheritance. Journal of Veterinary Internal Medicine.
The Labrador Site Founder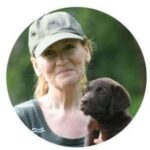 Pippa Mattinson is the best selling author of The Happy Puppy Handbook, the Labrador Handbook, Choosing The Perfect Puppy, and Total Recall.
She is also the founder of the Gundog Trust and the Dogsnet Online Training Program 
Pippa's online training courses were launched in 2019 and you can find the latest course dates on the Dogsnet website