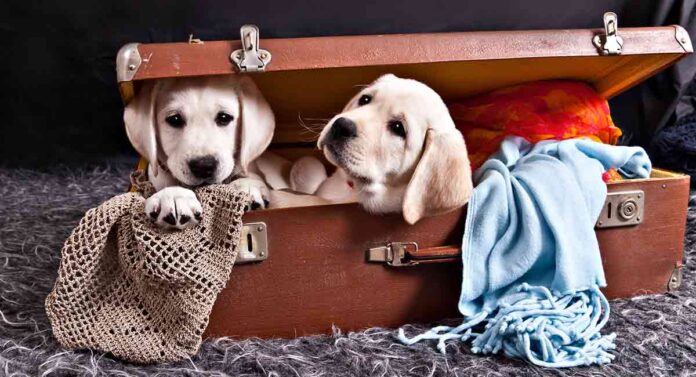 Cute dog quotes have instant power to cheer us up. After all, does anything on this earth make us as happy as our dogs?
And when we can't sum up their charms succinctly enough, other people's words might say just what we mean to.
Of course, don't be alarmed if every cute quote on this list reminds you of your fur baby. These quotes are cute after all, just like your four-legged friend.
Are you ready to totally melt into puddles of cuteness overload? Then grab your pen and pad and snuggle up next to your pup because we're about to get started!
But First – What Do People Use Cute Dog Quotes For?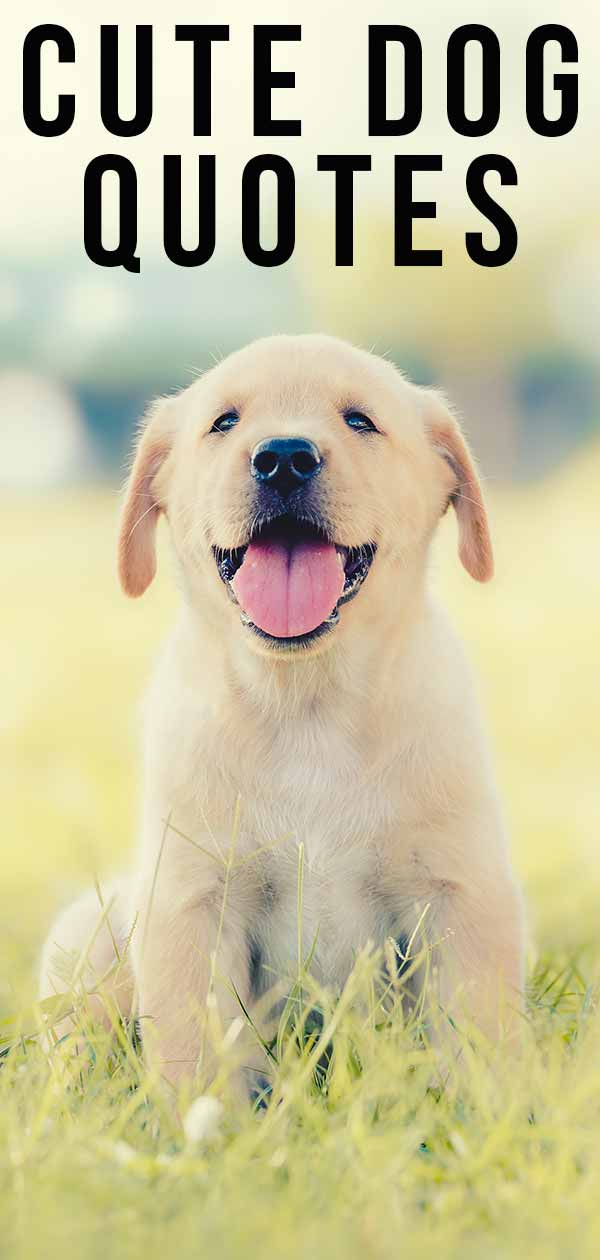 Don't worry. This isn't just a useless list of dog quotes written to waste your time. (But is it ever a waste of time when you get to read about dogs for a few minutes?)
This list of cute dog sayings and cute dog quotes has loads of uses.
Whether you're looking to add a cute dog quote to your school paper. Or you simply need a cute dog quote for your cute dog who has recently reached Instagram fame.
We've got you covered!
Of course, don't feel bad if you're sitting at work right now checking out these cute dog quotes for the heck of it.
In my humble, dog loving opinion, reading about dogs is always a great and productive way to pass the time!
So, without further ado, let's get on with the list of cute dog quotes, starting with some of the most popular!
Popular Cute Dog Quotes
You may have heard some of these quotes before, hence the reason we have listed them here in the list of most popular cute dog quotes.
But in case you've forgotten about some of the most famous cute dog quotes of all time, I'm here to refresh your memory.
Here are some of my favorite and some of the world's most popular and well-known cute dog quotes!
"Every dog must have his day." – Jonathan Swift
"Dogs are man's best friend." – Unknown
"Dogs are not our whole life, but they make our lives whole." – Roger Caras (photographer and writer)
"A dog will teach you unconditional love. If you can have that in your life, things won't be too bad." – Robert Wagner
Looking for a list of shorter cute dog quotes? Take a look below!
Short Cute Dog Quotes
Are you the type of human who likes to get straight to the point? Then this is the list for you.
I adore this list of short cute dog quotes for a number of reasons, but most of all I like the fact that these quotes are short while also pulling at the heartstrings.
See for yourself.
"Love is a four-legged word." – Unknown
"A house is not a home without a dog." – Unknown
"Dogs never lie about love." – Jeffery Masson
Cute Dog Quotes from Famous People
Sometimes it's nice to know that the rich and famous love dogs as much as we regular folk do.
I don't know about you, but when one of my favorite musicians or actors talks about his or her pup, I get all melty inside.
This is one of my favorite sections. Behold this glorious list of cute dog quotes spoken from the lips of the rich and famous!
"Some of my best leading men have been dogs and horses." – Elizabeth Taylor (actress)
"The better I get to know men, the more I find myself loving dogs." – Charles De Gaulle
"Dogs never bite me. Just humans." – Marilyn Monroe
"If you want a friend in Washington, get a dog." – Harry Truman (former US president)
"I think dogs are the most amazing creatures; they give unconditional love. For me, they are the role model for being alive." Gilda Radner
"There is no psychiatrist in the world like a puppy licking your face." – Ben Williams
Cute Dog Quotes from Film
Why do most movies about dogs have to be such tear-jerkers? What's the deal, Hollywood?
While I wait here patiently for the head of Hollywood (I know you're out there) to get back to me regarding their cruel puppeteering of my emotions…
Let's take a look at this adorable list of cute dog quotes from some of our favorite, albeit sometimes devastating, films.
"Dogs are the best. Every time you come home, they act like they haven't seen you in a year." – The Negotiator (1998)
"A dog doesn't care if you're rich or poor, educated or illiterate, clever or dull. Give him your heart and he will give you his." Marley and Me (2008)
"All dogs go to heaven because dogs are naturally good and loyal and kind." All Dogs Go to Heaven (1989)
"Like all dogs, Skip was colorblind. He made friends easily with people of all races and origins. The town was segregated back then, but as we know, dogs are a whole lot smarter than people." – My Dog Skip (2000)
"Dogs have important jobs, like barking when the doorbell rings, but cats have no function in a house whatsoever." – A Dog's purpose (2017)
Cute Dog Quotes from Literature
I might be biased here because I am a writer myself, but some of my all-time favorite quotes about dogs have come from literature.
There is something magical about the way a talented author can describe the incredible essence of a dog.
And while these dog quotes are cute, they are also totally true.
"The dog is a gentleman; I hope to go to his heaven, not man's." – Mark Twain (author, Adventures of Huckleberry Finn)
"Everything I know, I learned from Dogs" – Nora Roberts (author, The Search)
"Dog's lives are too short. Their only fault, really." – Agnes Sligh Turnbull (author, the Wedding Bargain)
"Dogs do speak, but only to those who know how to listen." – Orhan Pamuk (author, My Name is Red)
"To his dog, every man is Napoleon; hence the constant popularity of dogs." – Aldous Huxley (author, Brave New World)
"It is amazing how much love and laughter they bring into our lives and even how much closer we become with each other because of them." – John Gorgan (Author, Marley & Me)
"Happiness is a warm puppy." – Charles Shults (cartoonist, Peanuts)
Cute Dog Sayings
Some of these cute dog slogans and sayings are pretty popular, so you may or may not have heard them before.
Still, I was surprised at the number of cute dog quotes I found for this list that I had never heard before. And I consider myself a dog-quote guru of sorts.
Check them out for yourself.
"What counts is not necessarily the size of the dog in the fight—it's the size of the fight in the dog." – Dwight D. Eisenhower
"My little dog – a heartbeat at my feet." – Edith Wharton
"Dogs are how people would be if the important stuff is all that mattered to us." – Ashly Lorenzana
"Everyone thinks they have the best dog. And none of them are wrong." – W.R. Purche
"Dogs have a way of finding the people who need them, and filling an emptiness we didn't ever know we had." – Thom Jones
Cute Dog Quotes for Instagram
The majority of humans (and even some dogs I know) have Instagram pages.
So, whether you are looking to quote a cute photo of your pup on your Instagram pic or you would like to sound sophisticated…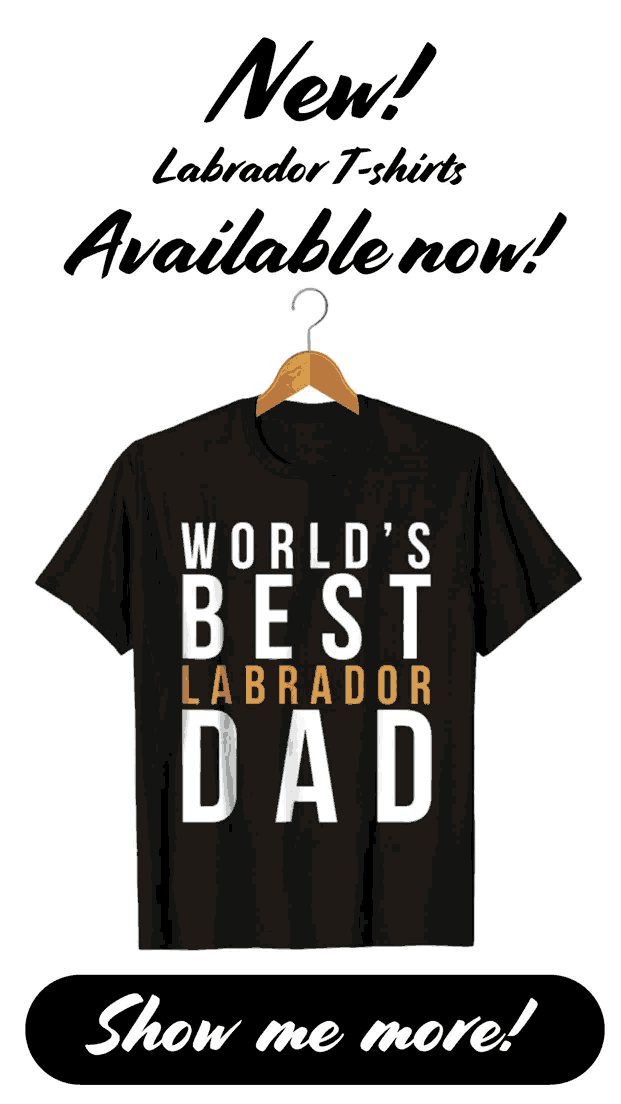 Drop a quote on someone else's Instagram pic, this is the list for you.
"A dog is the only thing that can mend a crack in your broken heart." – Judy Desmond
"When I needed a hand, I found your paw." – Unknown
"A dog is the only thing on earth that loves you more than he loves himself." – Josh Billings (Comedian)
"If there are no dogs in heaven, then when I die I want to go where they went." – Will Rogers, (Comedian)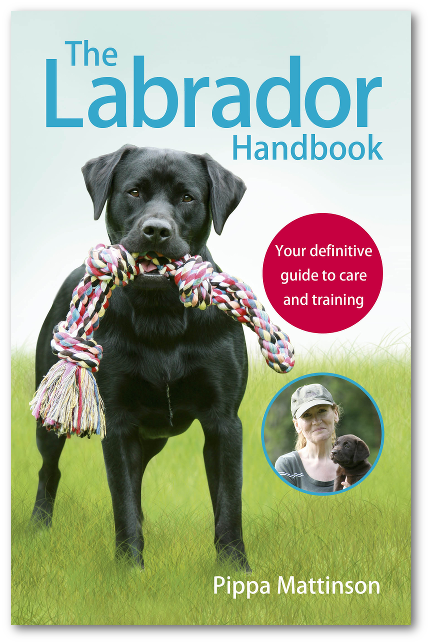 You can usually tell that a man is good if he has a dog who loves him." W. Bruce Cameron (author, A Dog's Journey)
"If you don't own a dog, at least one, there is not necessarily anything wrong with you, but there may be something wrong with your life." – Roger A. Caras (Author, A Dog Is Listening: The Way Some of Our Closest Friends View Us.)
"Dogs come into our lives to teach us about love. They depart to teach us about loss. A new dog never replaces an old dog. It merely expands the heart." – Unknown
Looking for More Cute Themes for Cute Dogs?
We've got tons of articles on all things cute, especially when it comes to dogs.
Are you a new dog parent in need of some cute dog name ideas? Then visit us here!
Did you find any cute dog quotes on this list that had you saying "aww"? What were some of your favorites?
Tell us about your favorite cute dog quotes in the comments!
The Labrador Site Founder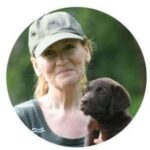 Pippa Mattinson is the best selling author of The Happy Puppy Handbook, the Labrador Handbook, Choosing The Perfect Puppy, and Total Recall.
She is also the founder of the Gundog Trust and the Dogsnet Online Training Program 
Pippa's online training courses were launched in 2019 and you can find the latest course dates on the Dogsnet website