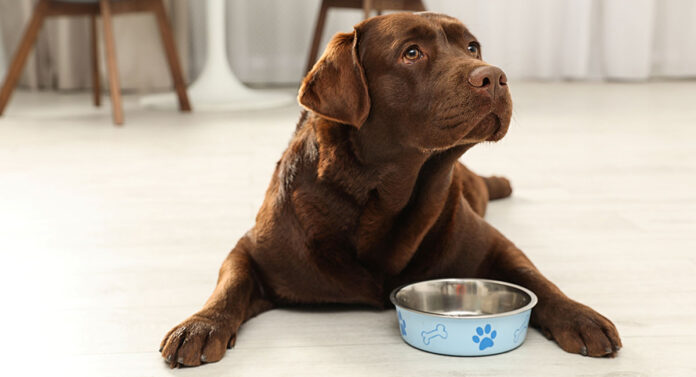 The best dog bowls are an appropriate serving size for your dog's breed or size. Ideally they are machine washable, durable and hard to knock over too. Dog bowls should be hygienic, with no raised patterns or gaps that residue can get stuck in, no matter how pretty those might look design wise.
The best dog bowls also account for your pet's particular needs. Raised dog bowls are great for tall dogs or those with joint problems. Slow feed or puzzle bowls are ideal for fast eaters and clever dogs that need to keep their brains busy. I have found non-spill dog bowls essential for lively pups and messy eaters, and ceramic dog bowls are so heavy they are great for staying in place.
We'll begin with a quick dive into my top choices, and then give you lots more options to suit your dog's requirements, as well as your budget.
Our Favorite Dog Bowls
This is an award-winning dog bowl*(paid link) heralded the best elevated dog bowl out there.
PetFusion Elevated Dog Bowls have a nice modern design. They are made of anodized aluminum, which is lightweight, non-corrosive, and easy to clean. They include a pair of bowls and the feeding stand comes in a tall size. Both bowls and stand come with anti-slip rubber bottoms and feet respectively.
This very simply, yet specially designed slow feed dog bowl*(paid link) is solid and sturdy with a non-slip base. It has various "roads" of changing widths in the bowl that slow your dog's feeding.
It's made of thick, strong plastic and is easy to clean. And it holds more dog food than most other slow feed dog bowls, which is perfect for your dog! It is one of the best slow feed dog bowls out there.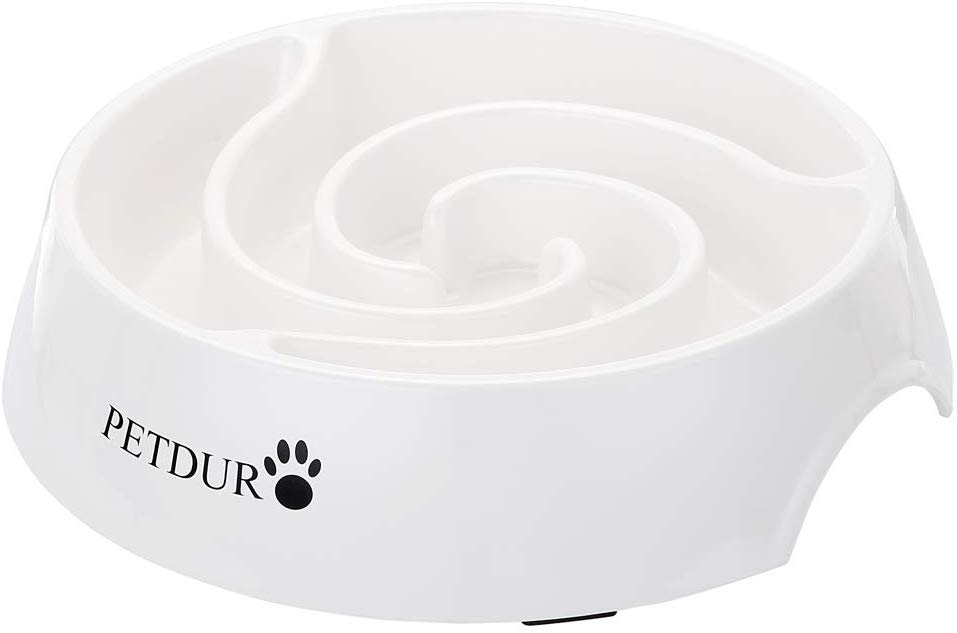 Sometimes the best product is the simplest product. And this classic looking stainless steel bowl by Amazon*(paid link) is highly recommended! It's rust-resistant, no-tip, and nonslip with a rubber base that won't damage your floors.
This dog bowl can hold a lot of kibble or wet chow and is easy to clean. Additionally, its high-quality stainless steel is durable, scratch-resistant, and doesn't hold odors. It's also a healthier alternative to plastic.
The Top Dog Water Bowl?
This no-drip, anti-splash dog water bowl*(paid link) can be filled with over 6 cups of water for a long road trip to keep your dog hydrated.
It's made with non-toxic ABS plastic (BPA and FDA approved). Plus, the floating-disk and 2-disc design slows down your dog from drinking too fast, prevents them from getting wet, and keeps unwanted debris from contaminating the water. This is one of the best dog water bowls out there.
Key Features Of The Best Dog Bowls
Dog bowls are such simple yet important products for our dogs. They hold the essentials of food and water for our dogs, helping us meet a few of their most basic needs.
Generally, you'll want to look for a dog bowl that can hold enough food or water for the size of your dog. With a Labrador, this typically means medium to large dog bowls. However, sometimes a small dog bowl can work in a pinch, especially if it's for a short walk of if you're traveling light. And unfortunately, dog water bowls have been identified as one of the highest contaminated items in a household.
Research shows that plastic and ceramic dog bowls, especially, can house bacteria faster and more readily, but even stainless steel housed it as well. And while more research is needed to find the best material for dog bowls, current research shows that no matter what they are made of, they may harbor harmful bacteria. Therefore, it's essential that you clean dog bowls regularly to prevent any bacteria from forming and being passed on to your dog. So, look for dog bowls that are dishwasher safe or easy to clean.
Your Dog's Needs Will Dictate What Dog Bowl To Get
Otherwise, there is no general answer we can give you as to what features a dog bowl should have. What one dog owner or pup prefers can be completely different for others. You need to look at your own dog's needs and decide from there. For example, finding the right Lab food bowl for a playful teenage dog can be tricky, when all they want to do is skid it around the room in a game of chase. Ultimately, the best solution is to get a bowl which they are unable to move.
You can use a heavy ceramic bowl, but if your strong dog does manage to tip it then there is a possibility it could chip. The other option would be to buy traditional stainless steel or plastic dog bowls with a rubber base, which creates friction and prevents your dog from pushing it around the kitchen floor.
Health Considerations When Looking At Dog Bowls
Another example is that the type of dog bowl you choose and where it is placed can affect the health of your dog or vice versa. Feeding your dog at ground level affects them differently and has other benefits than feeding your dog with a raised feeder.
Raised feeders are generally good for older and arthritic dogs. But having your dog standing with their head and body at an unnatural level may allow more air to be taken in during feeding, which is not good if they have bloat. So, you will have to consider your dog's ailments or limitations, and perhaps even consult a vet to decide which is better for your dog.
Really, these are just a few examples. You'll find that the bowl you need will have specific features that meet your dog's needs. Perhaps it's one that's travel-friendly for an active dog, one that keeps the food or water contained or one that's just plain old fun for you and your dog!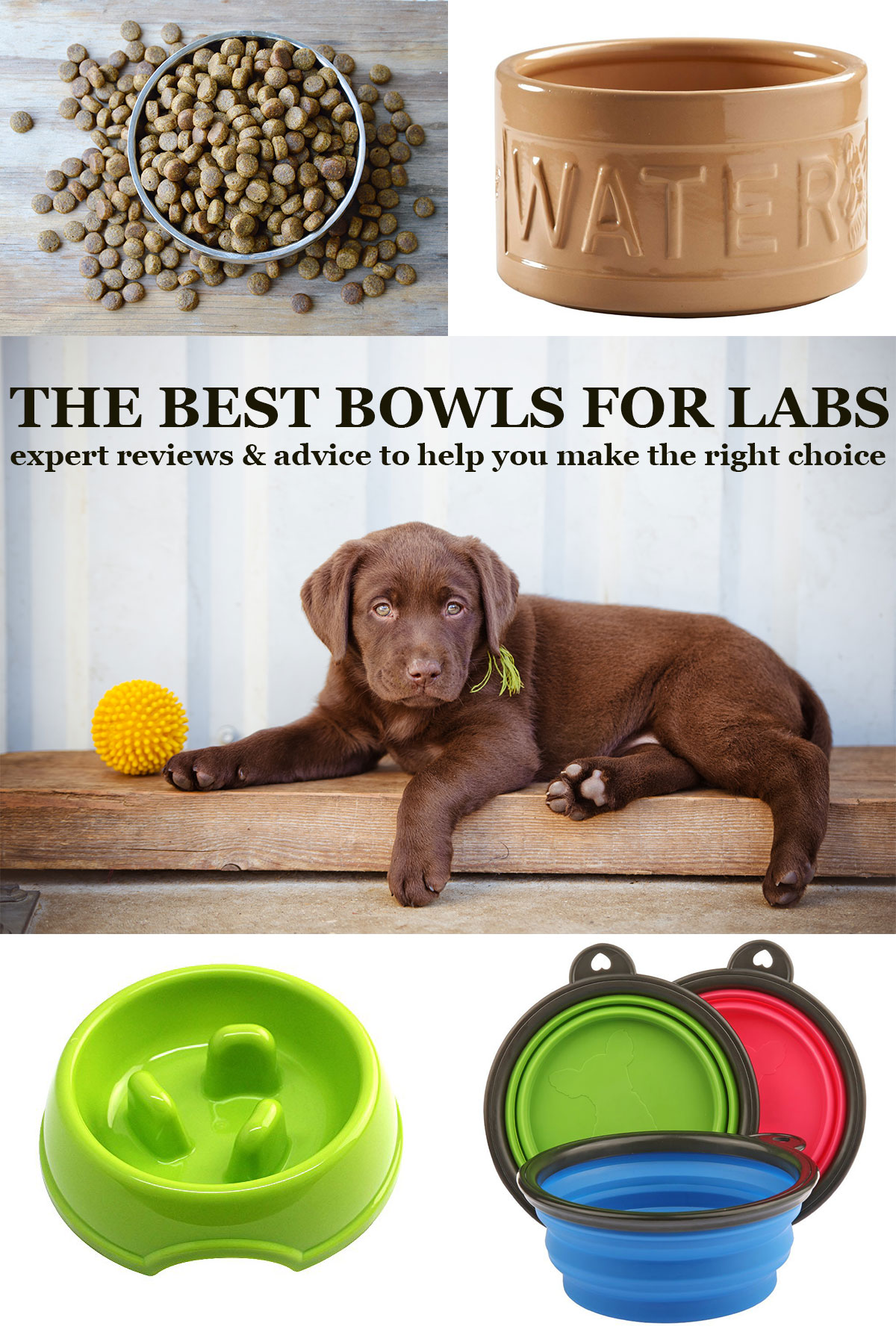 Best Ceramic Dog Bowls
Ceramic dog bowls make great water bowls because they are fairly heavy. Therefore they don't tend to tip or move around when your dog is drinking. They come in a huge variety of designs from themed patterns to a traditional plain finish which would fit into any kitchen style. However, as we have mentioned, keep in mind that recent research has shown that ceramic dog bowls readily house household bacteria. If you do decide to get a ceramic dog bowl you'll have to make sure to wash them regularly.
Bone Dry DII Lattice Square Ceramic Pet Bowl
This beautifully patterned ceramic bowl for food or water*(paid link) has a silicone ring to keep it from sliding around on the floor while your dog is eating or drinking.
They come in a variety of colors (aqua, gray, nautical-blue, and pink), shapes (round, and square) and sizes (small, medium, and large). And they are FDA-approved and dishwasher safe.
Waggo Sketched Wave Dog Bowl
This fun, simply decorated ceramic dog bowl*(paid link) is microwave and dishwasher safe.
It's a newer choice on Amazon. And the large version should hold enough for your dog's food or water requirements with an 8 cup capacity.
Zoozpets Snoopy Dog Bowls
We love this thick plastic Zoozpets Snoopy Dog Bowl*(paid link). The designs are bright and colorful. And there are five unique Snoopy patterns to choose from, including "Charlie Brown Yellow" and "Joe Cool."
It has a non-skid silicone base and comes in four sizes (small, medium, large, and extra-large). And it makes for a perfect food or water bowl for your dog. While plastic tends to keep bacteria longer than other material, this dog bowl is dishwasher safe and easy to clean.
Best Stainless Steel Dog Bowls
Stainless steel dog bowls are very popular. They are cheap dog bowls too, so can work well if you are on a budget. There are a number of benefits to stainless steel dog bowls. They are dishwasher proof, widely available and hard to damage. They are also very lightweight.
Bergan Standard Dog Bowl
A classic dog bowl like the Bergan Standard Dog Bowl*(paid link) is very popular. The large one can hold 17 cups of food!
This bowl is durable, long-lasting, and easy to clean. And comes in a variety of sizes so you can find one which is perfect for your dog's needs.
Platinum Pets Embossed Non-Tip Stainless Steel Dog Bowl
The Platinum Pets Embossed Non-Tip Stainless Steel Dog Bowl*(paid link) really has the look and practicality in one package.
It has a non-skid, anti-tip design with a rubber base. The finish is also dishwasher safe, and fully FDA compliant.
Neater Pet Hammered Decorative Designer Bowls
We are abig fans of the Neater Pet Hammered Decorative Designer Bowls*(paid link). It has a beautiful hammered design.
This eye-catching dog bowl holds 8 cups of food or water up to the brim. And also has a practical non-skid rubber base. It's stainless steel and dishwasher safe.
Unleashed Life Dog Bowls
If you are looking for something to really stand out, then look no further than this series of designer dog bowls by Unleashed Life*(paid link).
Pictures is the Bruno Dish, which symbolizes brute strength, and is made from cast aluminum with a polished nickel finish. They have a fun variety of styles and designs fit for different personalities and decor. Each of these dog dishes has a stainless steel removable, and dishwasher safe lining for your dog to eat out of. However, they are only fit for indoor use.
Best Slow Feed Dog Bowls
Do your dogs gulp down their food at lightning speed? Do their meals take a matter of moments to finish? Or do you often hear them coughing or sputtering in their efforts to get all the food down? If any of those is the case, then you might like to consider a slow-feed dog bowl.
A study at Purdue University discovered that rapid eating was a risk factor for the potentially life-threatening condition called bloat. Bloat is a serious concern for dog owners. And it can rapidly put your dog in danger. Fortunately, you can combat the risk of bloat by helping your dog slow down their rate of eating with a slow feeder.
Northmate Interactive Feeder
Along with being a vessel for their meal, the Northmate Interactive Feeder*(paid link) is both a challenge and a source of entertainment for your dog. The flat platform is covered in raised turrets, which your dog has to navigate in order to lift up his dinner.
It's a simple design that looks like a modern sculpture inspired by a tuft of grass. The downside of this model is that it is rather large and heavy. And although it is dishwasher proof, it will probably be the only item you will fit in the bottom drawer while you're using it.
Outward Hound Fun Slow Feeder
Another great option is the Outward Hound Fun Slow Feeder*(paid link), which is like a combination between a dog bowl and a maze. You put the kibble into the center of the bowl, and your dog has to use their tongue to push it to one of the exits.
This provides fun entertainment for your dog and definitely slows down the speed at which they can eat. And it come in a variety of fun colors and mazes.
PAPIFEED Slow Feed Dog Bowl
The PAPIFEED Slow Feed Dog Bowl*(paid link) is described as a digital scale, slow feeder, 2 in 1 smart pet bowl. It allows you to weigh your dog's food and see how much they have eaten with the click of a button.
The bowl has a slow-feed design, with maze patterns in the center of the bowl, which encourages better paced eating. And it's attractively designed and has a rubber non-slip base. On top of all of that, it is veterinary recommended, easy-to-clean and dishwasher safe. This is another one of the best slow feed dog bowls available.
Best Travel Dog Bowls
If you like taking trips with your dog, then travel dog bowls are essential. There are a few options, with the most popular being the collapsible dog bowls we talked about earlier and dog water bottles. Travel dog bowls with attached water bottles have a simple flip-up mechanism or attachment so that you can empty an amount of the water from the bottle into a bowl.
Portable Dog Water Bottle
A great choice is the Portable Dog Water Bottle by Pet's Natural Friend (PNF)*(paid link), with a foldover cap that acts as a water bowl. The 18-ounce bottle is lightweight and BPA-free.
The bottle also has a leak-proof design. And it has a handy carrying rope making it easy to carry on hikes or other outdoor activities to keep your dog hydrated while you go.
PupFlask Portable Water Bottle
Another great option is the PupFlask Portable Water Bottle by Tuff Pupper*(paid link), with a flip-up silicone top that creates a leaf-shaped bowl, which your dog can drink from. It's stainless steel, lightweight, and comes in 27 and 40-ounce options.
And it's FDA-approved and BPA-free. However, you need to make sure your dog doesn't chew on the silicone cup. It's a great travel option, whether you're going to a nearby park or a longer trip.
Best Collapsible Dog Bowls
The best collapsible dog bowls allow you to hygienically share the same water bottle with your dog. You can fill it up without your water bottle touching the bowl, and can save you from having to carry a pair of bottles. They also fold down into a very small size, so after your dog has finished drinking, they take up less space as you go.
BLEDS Collapsible Dog Bowls
BLEDS' Silicone Collapsible Dog Bowls*(paid link) are ideal for short outings and outdoor adventures with your dog. They are quite portable as they press down into a pocket-size and have a carabiner to attach to your bag, belt or dog leash.
They come in fun bright colors and make convenient bowls for your daily dog walk when the weather is hot or when you go backpacking, camping, or hiking. The only downside of these bowls is that even the large size isn't very big. You'll need to replenish the bowl often to quench your dog's thirst. However, this is one of the best collapsible dog bowls out there.
Awakelion Collapsible Dog Bowl
The Awakelion Collapsible Dog Bowl* (paid link)is waterproof, eco-friendly, and non-toxic. They can hold a high-capacity of food and water (4 cups), and they're great when you are heading to the park, going camping, or staying with friends.
These dog bowls are also easy to wash and leakproof. And they fold up easily to carry in your pocket or bag.
Best Puppy Dog Bowls
When choosing a puppy bowl, you need to take into account the size of your puppy. Adult dog food and water bowls may have sides too high for a pup to comfortably use.
Dog feeding stations can also be great as they keep everything in one contained space for puppies. And possibly reduce the likelihood of them playing with the bowl before or after eating. Lower placed bowls and nonslip bases will also help your puppy get to their food.
Neater Feeder Express
The Neater Feeder Express*(paid link) is a lovely choice of an elevated dog feeding station for puppies. It's ideal for messy young dogs.
It will help them to stop spreading their food around the floor with its high back and sides. And it gives them easy access with a low, front section and prevents them from moving it around with its non-slip rubber feet.
Dolce Diner Dog Bowl by Loving Pets
The Dolce Diner Dog Bowl by Loving Pets* (paid link)is another good choice for a puppy dog feeding station. It comes in a couple of sizes and a range of color options.
It's dishwasher safe, with stainless steel bowls and removable rubber feet to prevent sliding.
Best Elevated Dog Food Bowls
If your dog suffers from joint problems, then bending down to eat or drink can be uncomfortable. And if your veterinarian has diagnosed your dog with hip or elbow dysplasia, or arthritis in their old age, then having an elevated dog bowls to drink and eat from can be a big help.
Although raised dog bowls are very helpful to dogs with joint problems, they are not necessarily advisable for use by fit and healthy dogs. This is because lifting your dog's bowl from the floor has been shown to increase the possibility of a dangerous condition called bloat. When considering a raised feeder for your dog, chat to your vet about the pros and cons before you go ahead.
There are several styles of elevated dog bowls available. For the average Labrador, you'll want raised dog bowls that are designed for larger breeds of dog.
OurPets Healthy Pet Diner Elevated Feeder
The OurPets Healthy Pet Diner Elevated Feeder* (paid link)has a practical rust-resistant design.
It's brown and comes with a pair of easy-to-clean stainless steel bowls. And the feeding stand comes in a 12-inch tall size.
Pet Zone Designer Diner Adjustable Elevated Dog Bowls
Pet Zone Designer Diner Adjustable Elevated Dog Bowls* (paid link)are another possibility. It's adjustable from 2.75 inches to 8 inches to 12 inches. It has a sleek, black design and it can be easily stored by removing and tucking the legs under the feeding platform
The two easy maintenance bowls it comes with are stainless steel, rust-resistant, and dishwasher safe.
Suncast Elevated Feeding Tray
Alternatively, you might like the Suncast Elevated Feeding Tray*(paid link). Again, this does not look aesthetically pleasing, but it does have the added benefit of being folded away when not in use.
It can also be used as a floor-height feeder. So, if your dog is only temporarily in need of some help at dinner time, you can still use the feeder when his joints are back to normal again.
Best Dog Feeding Station And Dog Bowl Stand
A dog feeding station is a set of dog bowls that come complete in a base or stand. It helps to keep all of your dog feeding equipment in one place in the house. And it reduces the chance of your dog knocking their bowls over when eating or drinking.
Neater Feeder Deluxe dog
TheNeater Feeder Deluxe dog feeding station*(paid link) is designed to keep your dog's bowls together and reduce the mess created as they eat. Its back-wall and side-walls mean that spilled food stays contained, and its drainage system keeps water contained if it spills out of the bowls.
The Neater Feeder comes in three sizes, and you'll want the medium or large size for your adult Labrador.
BestVida Sparks Feeding Station
The BestVida Sparks Dog Feeding Station comes in a variety of colors*(paid link). And the stoneware bowls they contain are dishwasher safe too. The dog bowl stand is made of wrought iron with an antique coating finish.
This feeding station will suit most homes and gives plenty of room for the average Lab's food and water in the generous bowl sizes.
Signature Houseware Dual Dog Feeding Stand
If you don't want to buy a complete feeding station, you can simply buy a dog food bowl stand. The Signature Houseware Dual Dog Feeding Stand* (paid link)is well-priced and is designed to fit bowls with a 7.25-inch diameter.
This will keep your bowls neatly in one place, stop them from moving about while the dog is eating, and help you to maintain a tidier feeding area in your kitchen. Unless you currently have bowls of this size however, you might well prefer to simply buy a dog feeding station instead.
Best Water Dog Bowls
The best dog water bowls need to be easily cleaned (and kept clean) and designed to keep water from spilling. It's not a great idea to use a cheap dog food bowl to store water, as it will inevitably get tipped over and drench your floor on a regular basis. If you are going to invest in a good water bowl, then either purchase a specially designed water bowl or a heavy-duty ceramic dog bowl as discussed earlier. Let's look at some of the best dog water bowls out there.
Drinkwell Platinum Pet Fountain
Some dogs prefer to drink moving water. And you can buy a dog water bowl that is designed to be a mini fountain in your kitchen. The Drinkwell Platinum Pet Fountain*(paid link) provides a stream of water from a built-in reservoir.
The dog dish itself is dishwasher safe, and a filter helps to keep the water fresh as it flows.
Microban Pet Waterer
The Microban Pet Waterer*(paid link) is a filtered water releasing system. It provides your dog with a supply of fresh filtered water from a large bottle, draining into a dog dish below it.
The bottle is easy to clean and the bowl base is dishwasher safe.

Affiliate link disclosure: Links in this article marked with an * are affiliate links, and we may receive a small commission if you purchase these products. However, we selected them for inclusion independently, and all of the views expressed in this article are our own.
The Labrador Site Founder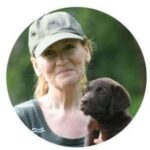 Pippa Mattinson is the best selling author of The Happy Puppy Handbook, the Labrador Handbook, Choosing The Perfect Puppy, and Total Recall.
She is also the founder of the Gundog Trust and the Dogsnet Online Training Program 
Pippa's online training courses were launched in 2019 and you can find the latest course dates on the Dogsnet website