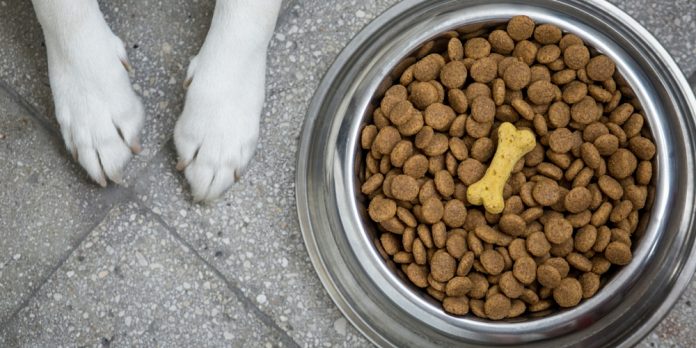 Are you struggling to find the right dog bowls for your Labrador? Do you feel overwhelmed by the number of different choices available, or confused about which style is the best for your dog?
Whether you are looking for elevated dog bowls for an older dog, non spill choices for a lively puppy or a collapsible dog bowl for use on the go, we have some brilliant options for you.
In this article we have broken down your dog bowl choices into categories, and will help you to decide which type will provide the best dog bowls for your Labrador.
What Type Of Bowl Should I Use To Feed My Dog?
There is no general answer to the best dog bowls. What one owner or dog prefers can be completely inappropriate for another family.
It's a matter of looking at your own dog's needs and working backwards.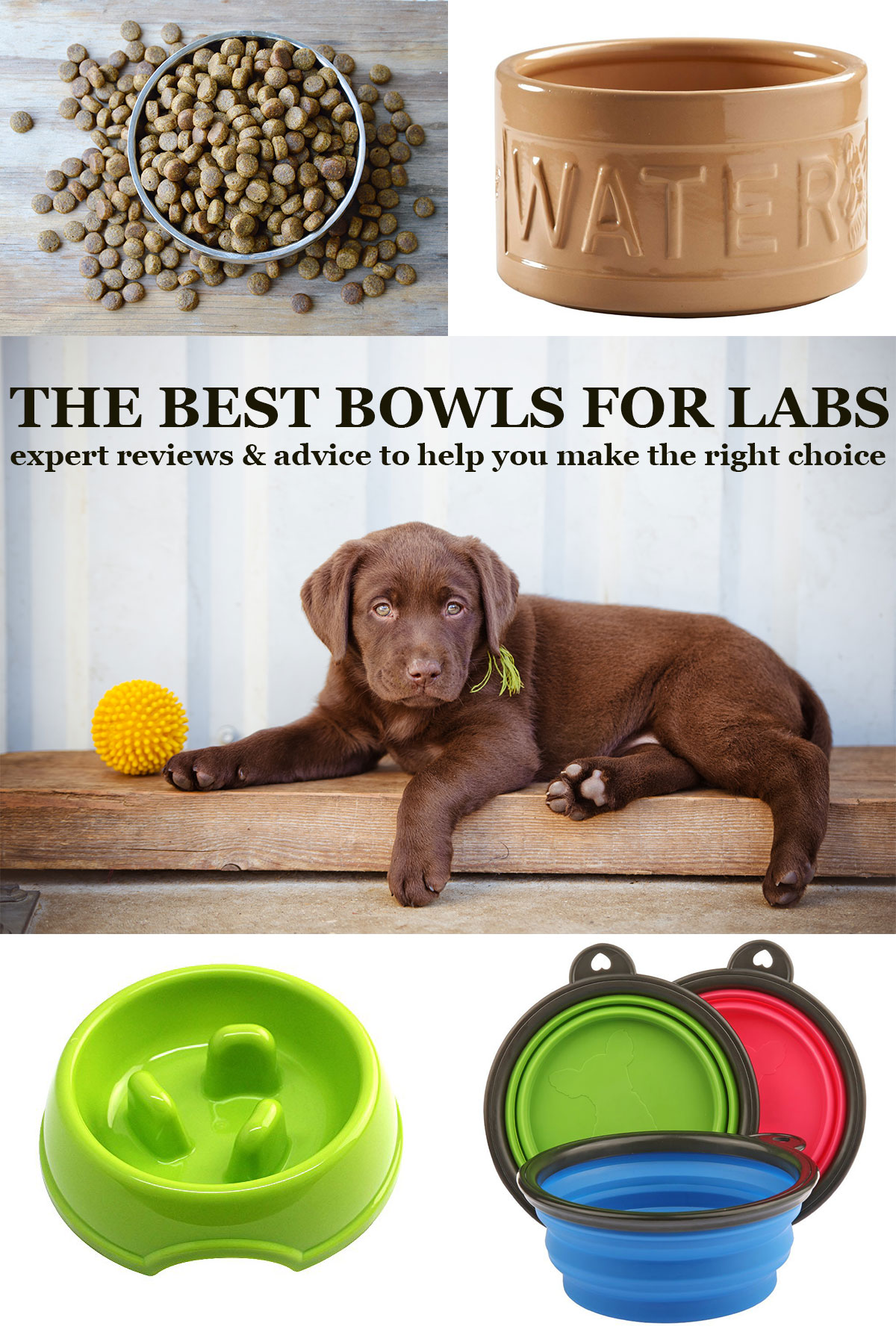 Most families will find that what they need is a bowl of a certain size, easily washable, which keeps the food or water contained, and doesn't cost a small mortgage to buy.
But some Labradors have additional requirements when it comes to feeding, and we need to take these into account when purchasing their dog bowls.
Elevated Dog Bowls / Raised Dog Bowls
If your dog suffers from joint problems, then bending down to eat or drink can be uncomfortable.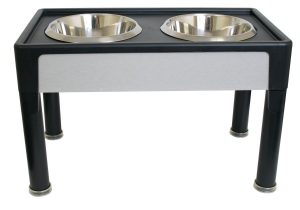 If your veterinarian has diagnosed your dog with hip or elbow dysplasia, or arthritis in their old age, then having a elevated dog bowls to drink and eat from can be a big help.
There are several styles of elevated dog bowls available. For the average Labrador you will want raised dog bowls which are designed for larger breeds of dog.
The Signature Series Elevated Dog Bowl by OurPets has a nice modern design.
It is predominantly black, with reversible stainless steel looking panels.
It includes two bowls and the feeding stand, and comes in a range of sizes up to 14 inches.
So you can find one that is just the right height for your Lab.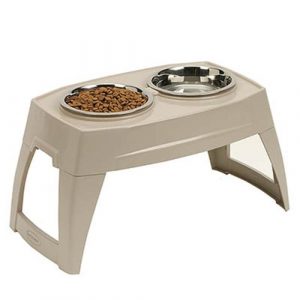 Alternatively you might like the Suncast Elevated Feeding Tray.
This admittedly does not look as aesthetically pleasing as the Signature Series model, but it does have the benefit of being able to be folded away when not in use.
It can also be used as a floor height feeder.
So if you dog is only temporarily in need of some help at dinner time, you can still use the feeder when his joints are back to normal again.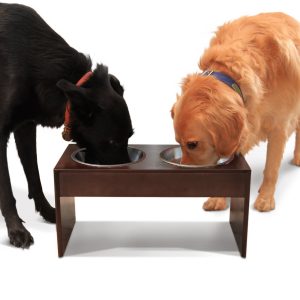 The Pet Fusion Elevated Feeder provides another possibility.
It has a static structure that can't be folded down, but the nice wooden finish may suit some homes more in terms of it's style.
The table itself has two bowls, and the stand has anti-slip feet to keep it in place.
It comes in two heights, 4 and 8 inches. The 8 inch version will be suitable for most adult Labradors.
Can Any Dog Have A Raised Dog Bowl?
Although raised dog bowls are very helpful to dogs with joint problems, they are not necessarily advisable for use by fit and healthy dogs.
This is because lifting your dog's bowl from the floor has been shown to increase the possibility of a dangerous condition called bloat.
When considering a raised feeder for your Labrador, chat to your vet about the pros and cons before you go ahead.
Slow Feed Dog Bowl
Does your Labrador gulp down his food at lightening speed? Does his meal take a matter of moments to finish?
Do you often hear him coughing or spluttering in his efforts to get it all down?
Then you might like to consider a slow feed dog bowl.
A study at Purdue University discovered that rapid eating was a risk factor for the potentially life threatening condition, bloat.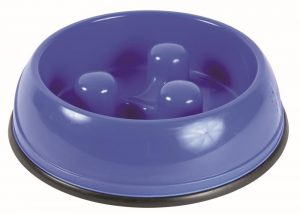 Bloat in Labradors in a serious consideration for dog owners, and one which can rapidly put your dog in danger.
Fortunately, you can combat the risks of bloat by fast eating, by helping your Labrador to slow down their feeding speed with a slow feeder.
The Trixie Slow Feed Bowl looks like a traditional dog bowl from the outside, but has raised lumps in the centre.
This makes it slightly harder for your dog to pick up the pieces within in.
Slowing down his rate of eating.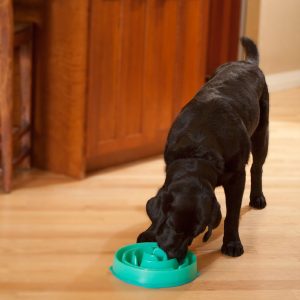 It essentially makes him have to work a little harder for his dinner, and can slow his eating down slightly.
The Outward Hound Fun Slow Feeder is like a combination between a dog bowl and a maze.
You put the kibble into the centre of the bowl, and the dog has to use his tongue to push it to one of the exits.
This provides a fun game and definitely slows down the speed at which they can eat each piece.
Another great option is the Northmate Interactive Feeder.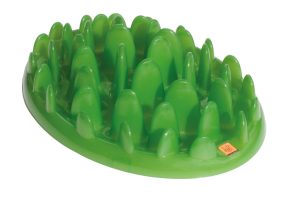 This is even more challenging for your dog, and can provide a source of entertainment as well as a vessel for his meal.
The flat platform is covered in raised turrets, which your Lab has to navigate in order to lift up his dinner.
The downside of this model is that it is rather large and heavy.
And although it is dishwasher proof, it will probably be the only item you will fit in the bottom drawer while you're using it.
What Sort Of Dog Water Bowl Should I Use For My Lab?
A dog water bowl needs to be easy to keep clean, and designed to keep the water from spilling.
It's not a great idea to use a cheap dog food bowl to store water, as it will inevitably get tipped over and drench your floor on a regular basis.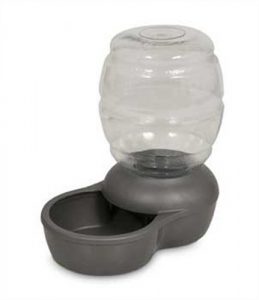 If you are going to invest in the best dog bowls then either purchase a specially designed water bowl or a heavy duty ceramic dog bowl.
Let's look at some options for specific dog water bowls first.
The Microban Pet Waterer is a filtered water releasing system.
It provides your dog with a supply of fresh filtered water from a large bottle, draining into a dog dish below it.
The bottle is easy to clean and the bowl base is dishwasher safe.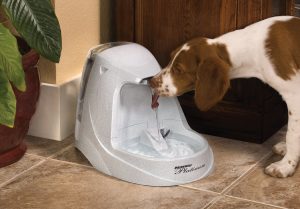 Some dogs prefer to drink moving water, and you can buy a dog water bowl which is designed to be a mini fountain in your kitchen.
The Drinkwell Platinum Pet Fountain  provides a stream of water from a built-in reservoir.
The dog dish itself is dishwasher safe, and a filter helps to keep the water fresh as it flows.
If you don't fancy such an obvious contraption in your kitchen however, then most Labs are quite happy with a dog water bowl on a smaller scale.
The Torus Dog Water Bowl is a great design, which really does the trick.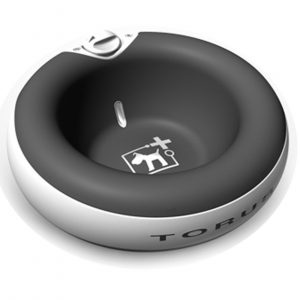 It has a 2 litre capacity, and dispenses a continuous supply of fresh water into the dog dish.
It also looks just like a large water bowl, but with a storage area underneath the visible bowl section for a reservoir of water, ready to be filtered through.
It maintains a low level of water with a constant supply, so it is less likely splash as well.
It is also powered by gravity alone, so doesn't require any power supply.
However, dog dishes and water bowls don't need to have gimmicks, as fun as they are, to do the job.
In our house we are fans of the traditional ceramic dog bowl options for our pets' water.
Ceramic Dog Bowls
Ceramic dog bowls make great water bowls. They are fairly heavy, therefore they don't tend to tip or move around when your dog is drinking.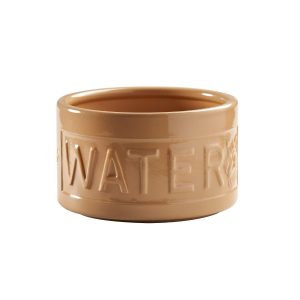 They come in a huge variety of designs from themed patterns to a traditional plain finish which would fit into any kitchen style.
Our Labradors water bowls are thick based and sided ceramic dog bowls.
They keep the water in whilst the dogs are drinking, and come in a variety of sizes so you can find one to suit him from puppyhood too.
We have this high sided, heavy ceramic stoneware water bowl in our house. I recommend only filling it half way, and simply replenishing every time your dog has had a drink.
This keeps the level low enough that it doesn't spill on the floor, but still allows plenty for a Labrador to lap up.
Dog Feeders
There are two types of dog feeders. Those which you control, to dispense treats to reward behaviour in dog training are known as electronic treat dispensers.
You can find out more about these in our expert dog treat dispensers review.
The other variety of dog feeder is one which can give your dog his meal whilst you are out.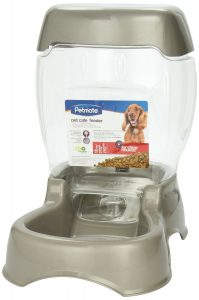 These dog feeders either release food as it is eaten, or have timers attached to them and release a specific quantity of dog food at the appropriate time of day, for your dog to have his meal.
The Pet Cafe by PetMate is a very popular choice.
It has a dishwasher safe base and lid, with easy to clean bottle, and has handles to make it more convenient to lift and carry.
The downside of the free-flowing dog feeders is that they keep offering your dog more food when he has eaten what is in the bowl, which for dogs who don't know when to stop like many Labs isn't ideal.
If you are going out for a few hours over a mealtime, then make sure that you get around this by only putting in the amount of food your Lab should have in one meal.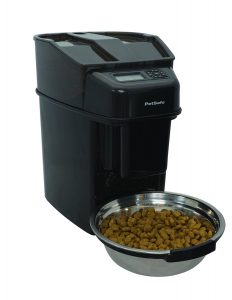 The PetSafe 12 Meal Automatic Feeder is an electronic dog feeder, that can schedule up to 12 individual meals for your dog.
Now of course your dog should never be left alone for long enough to need this many meals, but it does mean that you can space out servings.
This will slow down dogs who have problems with eating their meals too quickly, and help with smaller pups who need to be fed smaller quantities more frequently.
It is battery powered, or you can buy a power adapter to plug it into the mains.
It also has some very glowing reviews on Amazon. The only real downside of this feeder is the hefty price tag.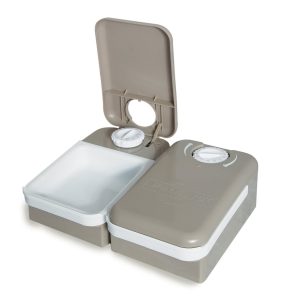 If you are looking for a timed feeder, but are working to more of a budget, then you might like the PetSafe Electronic Pet Feeder.
This dog feeder is essentially a box with two lids.
You can program each lid's timer individually, to release the food inside when you want.
This means you can either feed your Labrador two halves of his meal spaced out by a few minutes or an hour, to prevent him from eating it all too quickly, or to help keep him occupied whilst you are out.
Remember, dog feeders are not a substitute for spending time with your dog. And that after eating most dogs will want to relieve themselves, so don't leave your dog alone and without access to a bathroom area for any significant period of time.
Personalized Dog Bowls
Personalized dog bowls are great fun. Pick the design, colour or wording on your custom dog bowls to make them your own.
The Lucky Pups Personalized Dog Bowls are great fun.
They come in a range of 8 metallic colours, and are personalised with your Labrador's name.
The writing can be made in the font of your choice, from a selection of 15 options.
The bowl also has the added benefit of a non-slip rubber base.
The Allsignsco Personalized Dog Bowls are in a traditional high rimmed style, and made from ceramics.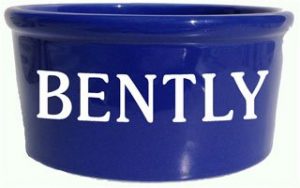 They are printed with your dog's name, and come in a range of colours including blue, red and green.
The 7 inch size will suit most adult Labradors, and the 5 inch will be more suited to Lab puppies.
Cute Dog Bowls
If you have a laid back Labrador, who enjoys his mealtimes without too much fuss, then you are in the lucky position of being able to decide upon his bowl design purely on the basis of what you like the look of.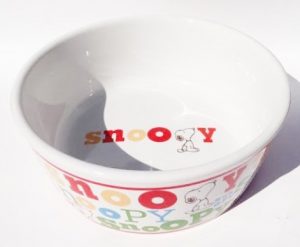 There are a great range of cute dog bowls available, to suit pretty much any taste.
We love this ceramic Snoopy Dog Bowl. It is bright and colourful, but also heavy and sturdy in construction.
The bowl is dishwasher safe, so that you can keep it clean and looking lovely.
Perfect for a dog food bowl or water bowl.
If you are looking for a pair of cute dog bowls, then we love these designs by Melia Pet.
The first bowl has a cute sketch of the dog's head and torso, the second bowl has just it's adorable wagging tail.
They also have the bonus of being easy to clean, and dishwasher safe.

The Super Design Love Pattern is a very cute dog bowl.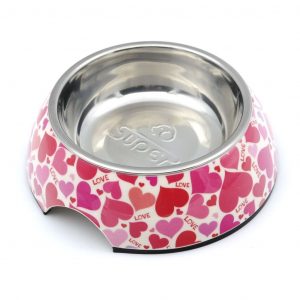 It comes in a large size choice, great for Labs, but with smaller size options which would work well as Labrador puppy bowls too.
The bowl is stainless steel and the patterned outside is melamine, both of which are dishwasher safe.
It also has a rubber bottom to help prevent skidding, and is suitable for food or water.
Designer Dog Bowls
Are you are looking for something to really stand out in your home, and not just provide a nice place for your dog to eat his dinner but a good conversation piece too?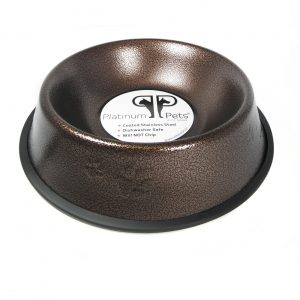 Then these designer dog bowls might be just what you are looking for.
The Platinum Pets Embossed Copper Vein designer dog bowl really has the look and the practicality in one package.
It has a non-skid, anti-tip design with a rubber base, but it's stainless steel structure is powdered coated with copper vein.
The finish is also dishwasher safe, and fully FDA compliant.
We are also big fans of this World Traveller designer dog bowl from Loving Pets.
It is also designed to be practical, with a non-skid rubber base and stainless steel dishwasher safe bowl.
This bowl holds approximately 30 ounces, and comes in a variety of fun designs.
If you are looking for something to really stand out, then look no further than the Savannah Pet Dish.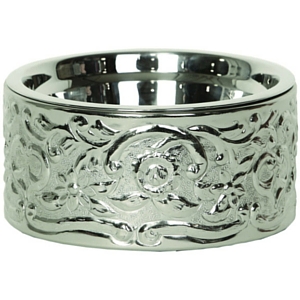 This fancy dog dish comes in three sizes, the largest of which will be appropriate for most adult Labradors.
Each of these dog dishes has a stainless steel removable, and dishwasher safe lining for your dog to eat out of.
Stainless Steel Dog Bowls
Stainless steel dog bowls are very popular. They are cheap dog bowls too, so can work well if you are on a budget.
There are a number of benefits to stainless steel dog bowls. They are dishwasher proof, widely available and hard to damage. They are also very light weight.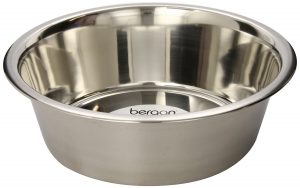 Traditional dog bowls like the Bergan Standard Dog Bowl are very popular, and have a lot of positive reviews on Amazon.
This bowl is easy to clean, and comes in a variety of sizes so you can find one which is perfect for your individual Labrador's needs.
There are however downsides to using some models of stainless steel bowl. Those with wider top rims can be easily tipped, flipped over and moved around the floor by your dog while they are eating.
Labradors tend to be enthusiastic eaters, so this is something that most owners will need to decide whether they mind before they use this type of bowl.
However, this downside can be reduced by purchasing an anti-slip dog bowl.
Non Spill Dog Bowl
Finding the right Lab food bowl for a playful teenage dog can be tricky, when all they want to do is skid it around the room in a game of chase.
The best solution is to get a bowl which they are unable to move. You can use a heavy ceramic bowl, but if your strong Labrador does manage to tip it then there is a possibility it could chip.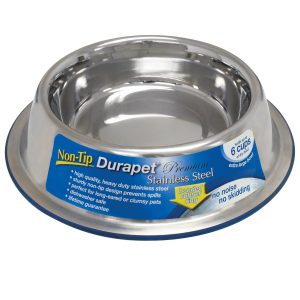 The other option is to buy a traditional stainless steel or plastic dog bowl with a rubber base, with creates friction and prevents your dog from pushing it around the kitchen floor.
The DuraPet Non Spill Dog Bowl is a heavy weight stainless steel bowl, with a bonded rubber bottom that won't crack, tear or break off.
The bowl is scratch resistant and dishwasher safe.
It comes in large sizes suitable for adult Labradors, and is a very popular choice.
Travel Dog Bowls
If you like taking trips with your dog, then travel dog bowls are essential.
There are a few designs, with the most popular being the travel dog water bottle and collapsible dog bowls.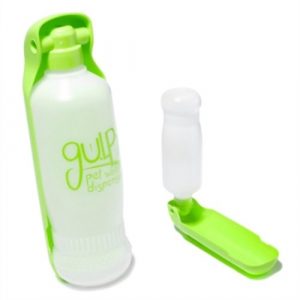 Travel dog bowls with attached water bottles, involve a simple flip up mechanism, so that you can empty an amount of the water from the bottle into the bowl attached to it.
They fold helpfully together, and keep all of your equipment in one place.
The Gulp Pet Water Dispenser is a great choice, with the handy addition of a belt clip.
So you can also bring it on long hikes, to keep your Lab hydrated whilst you go.
It comes in a variety of colours and can also be used with standard water bottles, so you can bring a backup container of water if you are going to be out and about for a longer period of time.
The other option for a travel dog bowl is to buy a collapsible dog bowl, to be filled from your own water bottle.
Collapsible Dog Bowl
Collapsible dog bowls have the benefit that you can hygienically share the same water bottle with your dog, and don't have to carry two bottles as you can fill it without touching the bowl.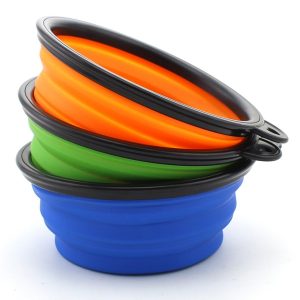 They also fold down into a very small size, so after your dog has finished drinking they take up less space as you go.
The Zicome Silicone Collapsible Dog Bowls are ideal for short outings with your Labrador.
They fold into a pocket size, have a clip hole for attaching to your belt or dog leash.
They come in fun bright colours and make convenient bowls for your daily dog walk when the weather is hot.
The downside of these bowls is that they don't come in a very large size, so are not ideal for longer trips with your Lab when he will need something more significant to quench his thirst.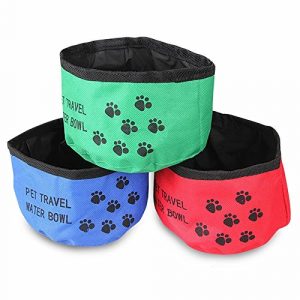 The Lillypet Collapsible Dog Bowls are definitely not as pretty as the silicone versions above, but they do come in a larger size and come in a handy pack of three bowls.
They are great for when you are on the go, camping, or staying with friends.
They are also easy to wash, and made of a waterproof material, which allows them to return to their bowl shape after being folded down.
Dog Feeding Station
A dog feeding station is a set of dog bowls that come complete in a base or stand.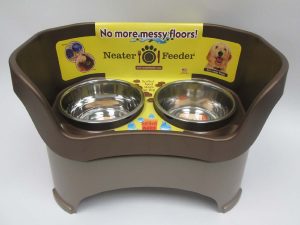 It helps to keep all of your dog feeding equipment in one place in the house, and to reduce the chances of your dog knocking his bowls over when eating or drinking.
The Neater Feeder Deluxe dog feeding station is designed to keep your dog's bowls together, and reduce the mess created as they eat.
The high back and sides mean that spilt food stays on top, and the drainage system keeps water contained if it slops out of the bowl while your Labrador drinks.
The Neater Feeder comes in three sizes, and you will want the medium or large size for your adult Labrador.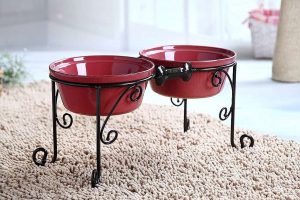 The Sparks Dog Feeding Station comes in a variety of colours, and the stoneware bowls they contain are dishwasher safe too.
The Lab bowl stand is made of wrought iron with an antique cooper coating finish.
This feeding station will suit most homes and gives plenty of room for the average Lab's food and water in the generous bowl sizes.
Dog feeding stations can also be great for puppies, as they keep everything in one contained space.
Puppy Bowls
When choosing a puppy bowl you need to take into account the size of your puppy. Adult Labrador dog food bowls and water bowls may be too high sided for a pup to comfortably use.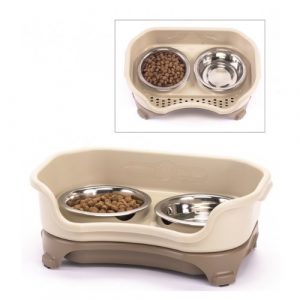 Lower Lab bowls and those with non skid bases will help your puppy to access his food, and hopefully reduce the likelihood of him playing the bowl before or after eating.
The Express Mess Proof Puppy Bowls are a lovely choice of dog feeding station, ideal for messy young Labradors.
It will help them to stop spreading their food around the floor with it's high back and sides, give them access with the lower front section, and prevent them from making a game of the activity with it's non slip rubber feet.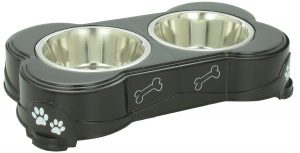 The Dolce Diner Dog Bowl by Loving Pets is another good choice for a Labrador puppy dog feeding station.
It comes in two sizes and a range of colour options.
It is dishwasher safe, with stainless steel bowls and removable rubber feet to prevent sliding.
Dog Bowl Stand
If you don't want to buy a complete feeding station, you can simply buy a dog food bowl stand.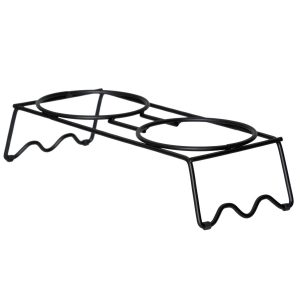 This will keep your bowls neatly in one place, stop them from moving about whilst the dog is eating and help you to maintain a tidier feeding area in your kitchen.
The Signature Houseware Dual Dog Feeding Stand is well priced and is designed to fit bowls with a 7.25 inch diameter.
Unless you currently have bowls of this size however, you might well prefer to simply buy a dog feeding station instead.
Which Dog Bowl Should I Choose For My Labrador?
Picking the best dog bowls for your Labrador will involve looking at the most appropriate type of bowl for your dog and your home.
If your dog suffers from joint problems, then look into slow feed dog bowls. If they eat too quickly, then check out the fab range of slow feed dog bowls currently available.
If you have a bouncy, lively eater, then non spill dog bowls and heavy duty ceramic dog bowls will help to keep them in one place for the duration of the meal.
The best dog bowls for your Labrador are the ones which will keep your dog happy, healthy and your house in one piece at the end of each feeding time.