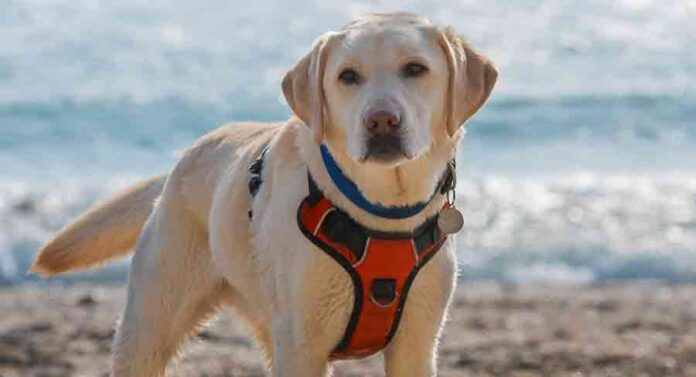 The best escape proof harness will be impossible for your dog to remove. Most dogs are unable to remove a correctly measured, tight fitted, adjustable dog harness with handles and a belly strap. However the best escape proof harness will depend on your dog's breed, shape and size.
Contents
An escape proof dog harness will keep your dog safe and put your mind at ease when you're out on walks. Harnesses are more likely to be escape proof when they fit absolutely perfectly. But, the style and material of a harness can also influence your choice. We've rounded up the best slip proof harnesses for containing escape artist dogs of all shapes and sizes.
The Advantages Of Escape Proof Harnesses
Dog owners look for escape proof, or slip proof, dog harnesses for all kinds of reasons. Sometimes their dog has already slipped out of a standard harness, or perhaps they've just heard sobering stories about it happening to other people's dogs.
Dogs might slip their harness by accident because it doesn't fit very well. Or they might struggle free in order to chase after something fun, or run away from something frightening. Once they've managed it once, some dogs might deliberately try to slip their harness again because being free is simply more rewarding than being restrained.
Why You Need To Avoid This
Avoiding all of these scenarios is important:
to protect dogs from being injured near roads
to prevent dogs being injured, or causing injury, around livestock, horse riders, etc
and to avoid frightened or reactive dogs from running away and getting lost or hurt.
Lots of us rely on a leash and harness to prevent our dogs practising undesirable behaviors while we train them too. So we don't want them undoing all our work by slipping free.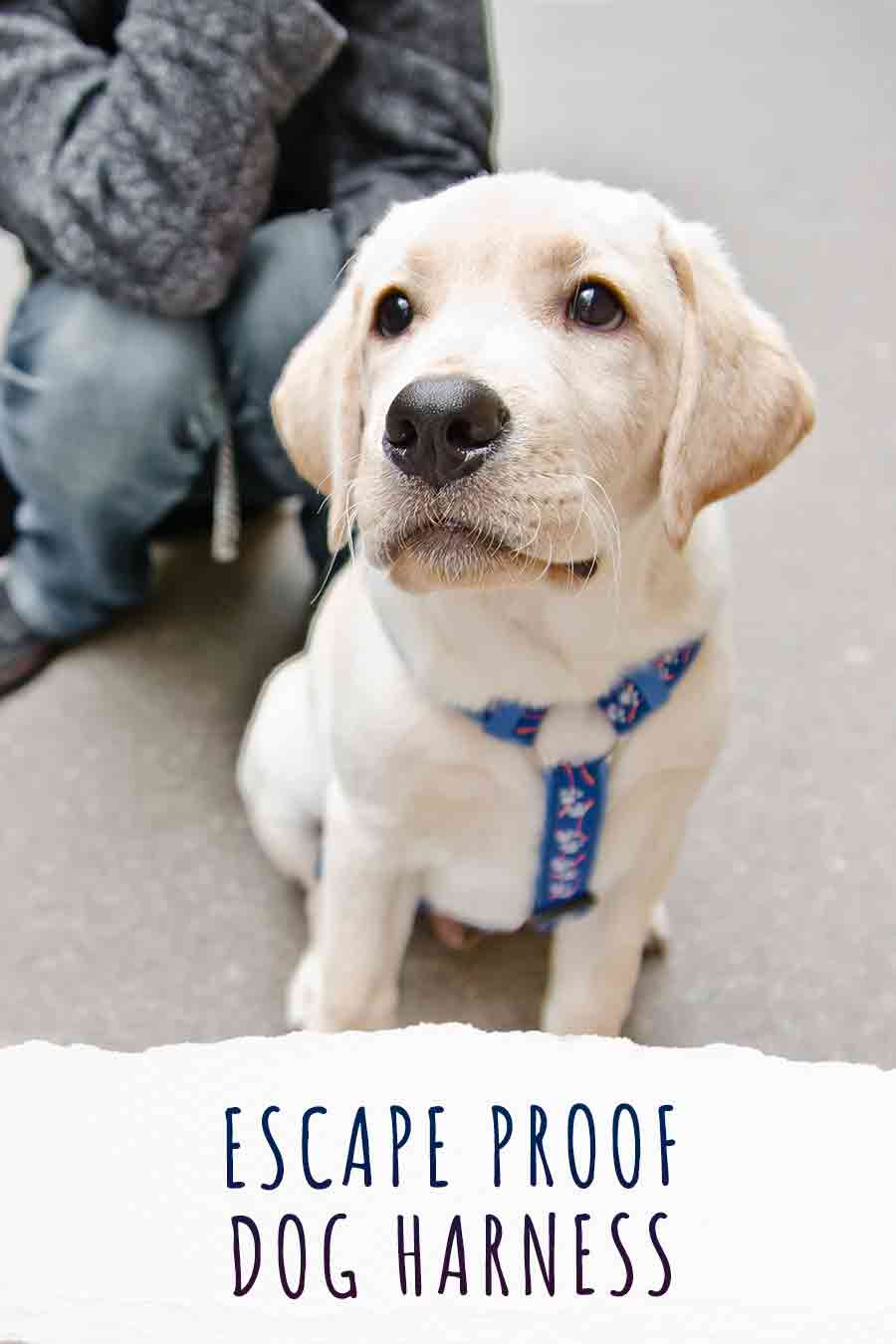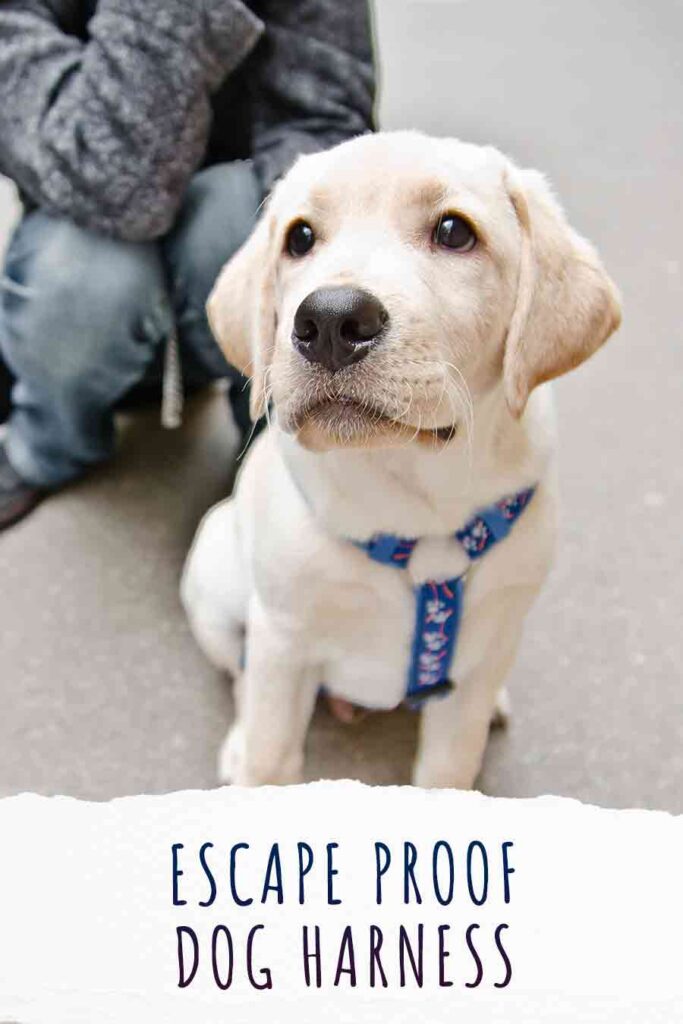 Choosing The Best Escape Proof Dog Harness
Just like there isn't one single, standard, dog shape, there isn't one single harness which is 100% escape proof on every dog.
To find a slip proof dog harness for your hound, you need to compare the dog you've got, to the different options on the market, and work out which is the best fit. Here are some tips for getting it right first time:
1. Measure up
Most manufacturers make their harnesses in more than one size, and some popular harnesses are available in nine different sizes! Don't assume that a harness company's idea of a medium dog is the same as your idea of a medium dog. Or even that a medium harness from one supplier will fit the same range of sizes as a medium harness from another supplier. Always check the size guide for the harness you have in mind, and measure your dog twice before making a purchase.
2. Look for adjustability
The more closely a harness fits your dog's frame, the harder it is for them to wiggle out. If your dog has very exaggerated proportions – for example a very slender neck, deep chest, or long body – look for harnesses which can be adjusted to fit everywhere perfectly, rather than squeezing in one place and sagging out in another.
3. All hail handles!
A handle on the back of a harness is really helpful for preventing your dog slipping out of it. Dogs escape harnesses by reversing backwards out of them. A handle makes it easier for you to achieve very close control over your dog and stop them slipping backwards out of the harness.
4. Belly straps or no belly straps
Dogs succeed in reversing out of harnesses because their head is smaller than the circumference of their chest. A popular way to overcome this is by having an extra strap around the dog's belly. This is very successful because the circumference of their abdomen is usually smaller than the circumference at the widest part of their ribs. So they can't wiggle the belly strap over their torso. However, belly straps aren't the solution for all dogs. They can be
too bulky for toy breeds
ineffective on dogs which are overweight, or whose natural body shape doesn't include a pronounced tuck
and uncomfortable for female dogs who have recently given birth.
When a belly strap won't work, have a look at vest type harnesses instead.
The Best Escape Proof Dog Harnesses
And now without further ado, here a the harnesses we think are the most secure, and inescapable.
Didog Multi Use Escape Proof Dog Harness
This clever harness*(paid link) is specifically marketed to owners of 'escape artist dogs'.
It has lots of features we love including:
Y-shaped straps at the front, to allow full range of movement in the shoulders.
Lots of adjustability.
Extra strong anchor points for the leash.
Reflective trims for safer walks after dark.
This harness is great for medium and large dogs, but unfortunately doesn't go down to small sizes yet.
RabbitGoo Escape Proof Dog Harness
RabbitGoo is a tried and trusted dog harness brand with lots of fans, and this is their escape proof offering*(paid link).
We like:
The size guide which takes into account neck girth, chest girth, belly girth and back length, to help you find the perfect fit.
Sturdy construction with lots of reinforcement so it stands the test of time.
Wide, comfortable straps.
5 separate points of adjustability, to accommodate your dog perfectly.
Again though, it only comes in sizes large and extra large (although between them they cover chest girths from 19.7 inches to 42.4 inches around!)
Peak Pooch Dog Support Harness Vest
This escape proof dog harness by Peak Pooch*(paid link) is already popular with lots of pet parents.
And we're not surprised – here are some of the things which recommend it:
It's lightweight.
It comes in an impressive 9 different color ways, including a special service dog design.
There are five different sizes which accommodate chests from 17 to 46 inches around.
Ripstop nylon fabric means that small tears won't turn quickly into big holes.
This harness is slightly less padded than the previous two. This means you need to get the fit just-so, to stop uncomfortable rubbing against your dog's skin. But on the other hand, they will be less conscious of wearing it, and it will dry quicker on dogs that like to swim!
Chai's Choice Best Double H Trail Runner Harness
This is an ultra-sporty, lightweight version*(paid link) of an escape proof harness with a belly strap.

Here's why we think it's worthy of your consideration:
Slender nylon straps with soft neoprene backing allow full range of movement, and don't insulate your dog.
Five understated colorways.
Five sizes fit dogs with chests from 12 to 39 inches around.
Designed, made and shipped from America.
This is a great choice for smaller dogs, or dogs with a reasonably low risk of trying to slip their harness in a limited number of known circumstances. But we wouldn't recommend it for trying to control a larger dog who is very reactive on the leash, since the narrow straps might dig or chafe, and make your dog even more upset.
FitPup Tactical Dog Harness
This rugged looking harness*(paid link) lacks a belly strap, but it is long in the back, so that depending on your dog's proportions, there's a good chance they won't be able to wriggle out of it anyway.

Here are some more reasons to give it a try:
It looks, undeniably, very cool.
Robust materials should last a very long time.
Easily customisable with patches.
Elastic webbing for carrying their own water.
We probably wouldn't risk it with a committed escape artist, but it's a fun choice for dog owners who just want that extra bit of confidence, compared to a normal harness.
Escape Proof Small Dog Harnesses
If you have a small dog, it can often feel like escape proof harnesses are only ever designed with medium and large dogs in mind. But mini and even toy sized dogs can be nifty harness escapologists too. In fact, some of our smallest dog breeds, including the Chihuahua, Maltese, Yorkies and Toy Poodles are the most likely to display stranger-directed fear, dog-related fear, and non-social fear.
Frightened dogs often react by trying to get away from the thing scaring them, which might mean slipping their harness and running away. And of course, another reason you might need a smaller fitting harness is for a puppy from a larger breed, like a Labrador. So the world needs escape proof small dog harnesses too. Here are three which we think do the job best:
Beirui No Pull Escape Proof Dog Harness
This harness for small to medium dogs*(paid link) is popular with Boston Terrier and Rat Terrier owners, and has been approved escape-proof by Lab parents too.
Here are the best features you need to know about:
It's a smaller version of a harness with a belly trap, to prevent puppies wiggling backwards out of it.
Soft neoprene padding on the inside prevents chafing.
Lockable buckles can't come undone by accident.
Comes in four sizes to fit dogs from 16 to 37 inches around the chest.
We're not sure whether it would restrain a full grown Lab, but we'd happily buy one for a puppy, and the price point means you won't begrudge them growing out of it.
Dog and Cat Universal Harness with Leash
Searching for an escape proof harness suitable for cats and dogs is a great way of finding one in the right size for a small or young dog.
Here's why we think this one from Dociote*(paid link) is a great example:
Jacket-type design is harder for small dogs to slip out of.
Single clip at the shoulders makes it easy to put on and adjust.
Y shape at the front allowed free range of movement in the shoulders.
The smallest size fits chests just 11 inches around the deepest part.
The only downside of this harness is it's adjustability is limited, and there are gaps between the different sizes. So if your dog falls between sizes, it won't work for you.
PupTek Soft Mesh Vest Harness
Here is an alternative small vest type harness*(paid link) with a bit more adjustability.
Here are its selling points you need to know about:
Fastenings at the neck and chest mean that these areas can be fitted independently of each other.
Lightweight mesh fabric keeps the wearer secure, without them overheating.
Double D-ring anchor point for a leash
And a 59 inch leash is included!
The largest size of this escape proof dog harness only fits up to 18 inch chests, but we still think this would be a comfy, secure, and easy-to-put-on harness for a young Labrador puppy.
Have You Made Your Choice?
That concludes our run down of the best escape proof harnesses for dogs. An escape proof dog harness can give you peace of mind whilst training a young dog or older rescue, or whilst walking a reactive dog. When you receive your slip proof harness, take some time to introduce your dog to it gradually, and make sure it's adjusted to fit them perfectly.
Let us know which escape proof dog harness you choose in the comments section below!
You Might Also Be Interested In
Best Dog Seat Belt and Car Harness Reviews: A Guide To Dog Car Safety
Affiliate link disclosure: Links in this article marked with an * are affiliate links, and we may receive a small commission if you purchase these products. However, we selected them for inclusion independently, and all of the views expressed in this article are our own.
The Labrador Site Founder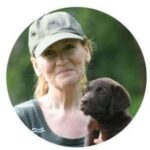 Pippa Mattinson is the best selling author of The Happy Puppy Handbook, the Labrador Handbook, Choosing The Perfect Puppy, and Total Recall.
She is also the founder of the Gundog Trust and the Dogsnet Online Training Program 
Pippa's online training courses were launched in 2019 and you can find the latest course dates on the Dogsnet website