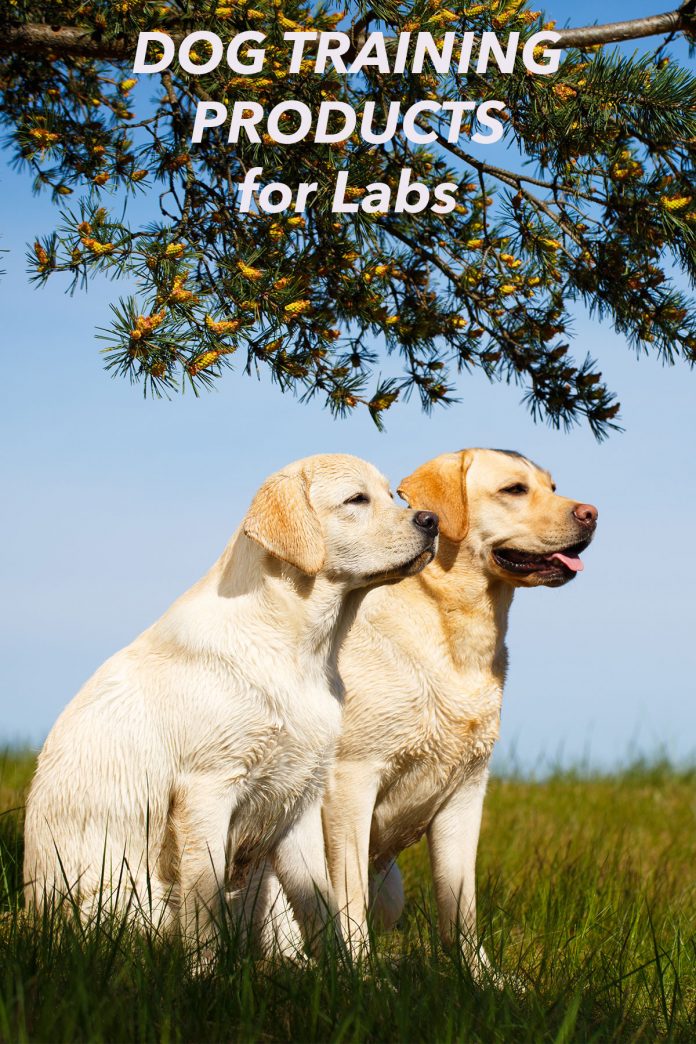 If you own a Labrador, then you will need a good supply of dog training equipment. Whether your pup is just going to be a family pet, or you want to explore the fun world of gun dog training, obedience or agililty, there are some dog training supplies which will be essential to your success.
Best Dog Training Equipment For Pet Labradors
If you have a pet Labrador who will accompany you on walks, then the minimum you will need is to train him to walk nicely to heel and to come when he is called. You will want him to sit down, and lie on the floor where you want him. Having an obedient dog will make your life happier and much easier. A well trained Labrador is welcome in a lot of places, whether it's around at a friend's house or down the local pub.
Dog Whistles
A whistle is very helpful in training your Labrador's recall. It gives a clear, loud and above all consistent signal for your dog to learn. When we verbally call our dog our tone of voice can change quite dramatically, giving a mixed message to our Labs. A whistle always sounds the same, and if you buy the right one you can keep replacing it with exactly the same tone. So your Labrador always knows what you mean.
You can find out all about how to train a dog to the whistle in this article. 
At The Labrador Site we are big fans of the Acme dog whistle range. They come in a variety of colours and a few set pitches.
Acme 210.5 Blue Dog Whistle with cord Lanyard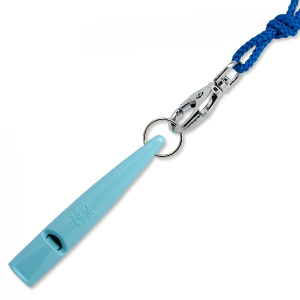 The Acme 210.5 blue dog whistle is a very pretty subtle pale color.
Not too obtrusive when worn, but still distinctive when left around the house, so you are less likely to misplace it. This model comes with a cord lanyard which secures it safely around your neck during use.
The Acme whistles are very well constructed, easy to use and a great addition to anyone's Labrador training supplies.
Acme 211.5 Yellow Dog Whistle with thick Lanyard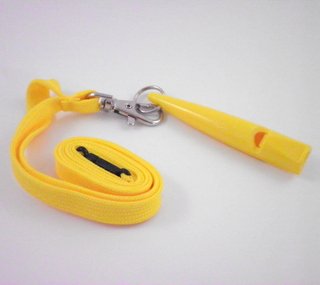 The Acme 211.5 dog whistle is their mid-range pitched whistle, and the one that we tend to use for our Labradors.
This bright colour is really easy to spot, especially with the matching lanyard. It's unlikely to go astray in your bag or at home. The deluxe lanyard is sturdy and well made, and the dog whistle is easy to use.
Acme 212 Dog Whistle
The Acme 212 dog whistle has a higher pitch than the 210.5 and 211.5 whistles.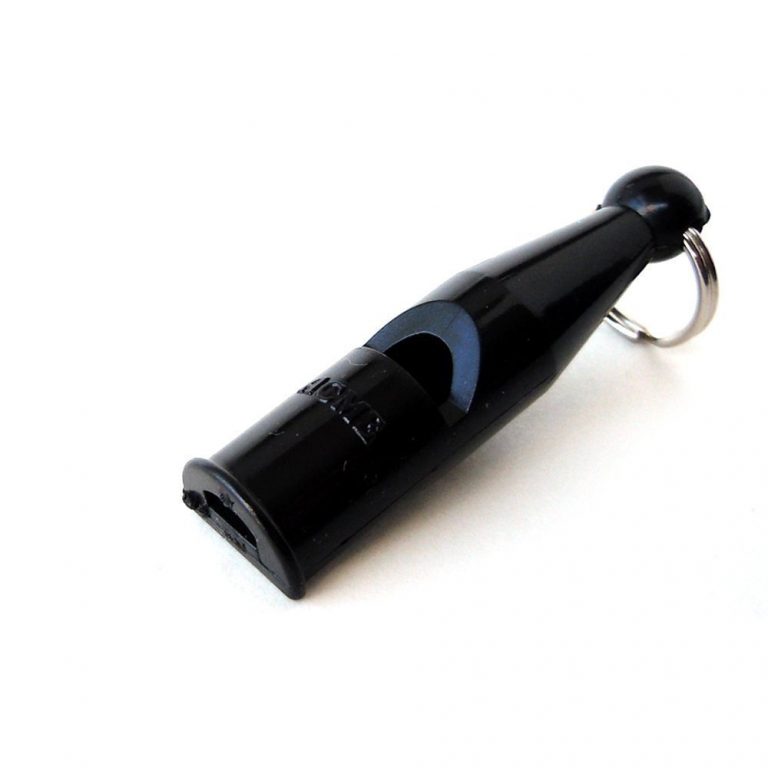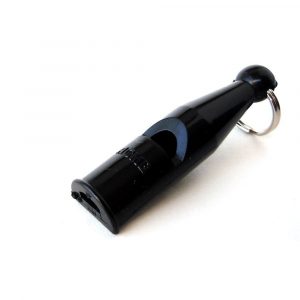 They are less commonly used, so you are probably more likely to have a unique sound to produce for your dog. However, Labs are good at recognising their own whistle in general as everyone blows them differently and your dog will respond to your signal.
They are shorter and chunkier in form. Still well made and giving a clear signal to your Labrador.
Dog Harnesses
Before your pup has learned to walk nicely to heel, you can keep her in a safe and easy to control position using a dog harness.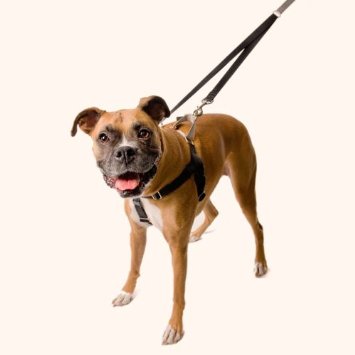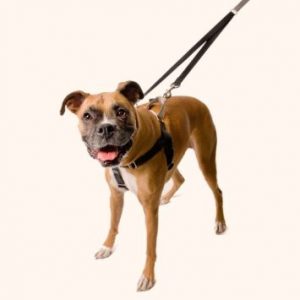 One of our favourite dog harnesses for Labradors and other large, strong breeds is the Freedom No Pull Harness.
It has front and back attachments, which give a good amount of control and flexibility. It keeps the dog's legs free to move, their body comfortable, and comes with a leash which can attach to both points at once. There are a lot of harnesses to choose from, but picking the right one can be tricky. You can read some more expert harness reviews in our top three harnesses article here.
Dog Training Clicker
At The Labrador Site we are big advocates of modern positive reinforcement dog training methods. You can find out all about how these benefit you and your dog along your training journey here.
Most positive reinforcement dog trainers make use of a dog training clicker. It is a little box, with a button which you push that makes a loud clicking sound. This sound acts as an event marker, to let your dog know when he has performed the desired action. Whilst a dog training clicker is a fairly basic thing, there are a few different designs with varying benefits which you can choose from.
Big Button Clicker
The Big Button Clicker is one of our favourites. It is very easy to hold and simple to use.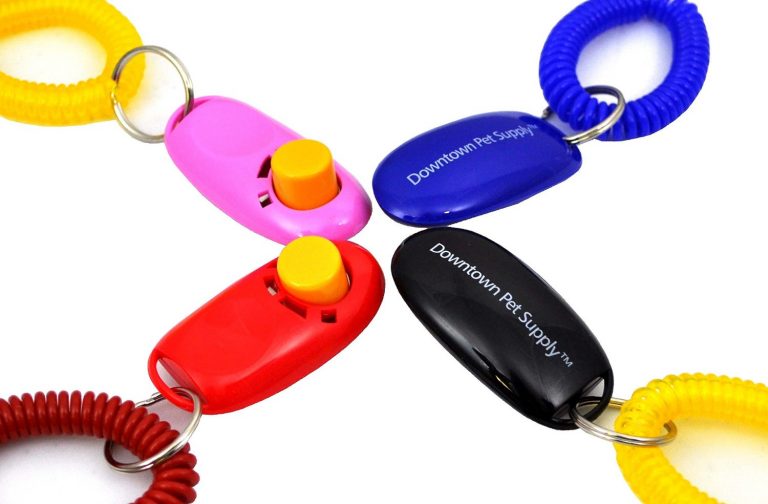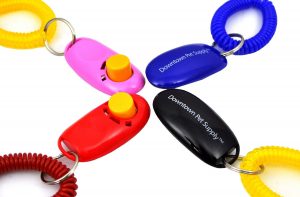 The wristband keeps it close to hand, and the large button allows you to quickly pick up and push for perfect clicker timing. It fits nicely into the palm of your hand, and makes a loud clear click. This is great for most Labradors, but the loud noise of the click can be worrying to very nervous dogs. If your dog is bothered by sounds, then you might be better starting with a clicker that has volume control.
Clix Multi-Clicker
The Clix Multi-Clicker is our top choice for young or shy Labradors.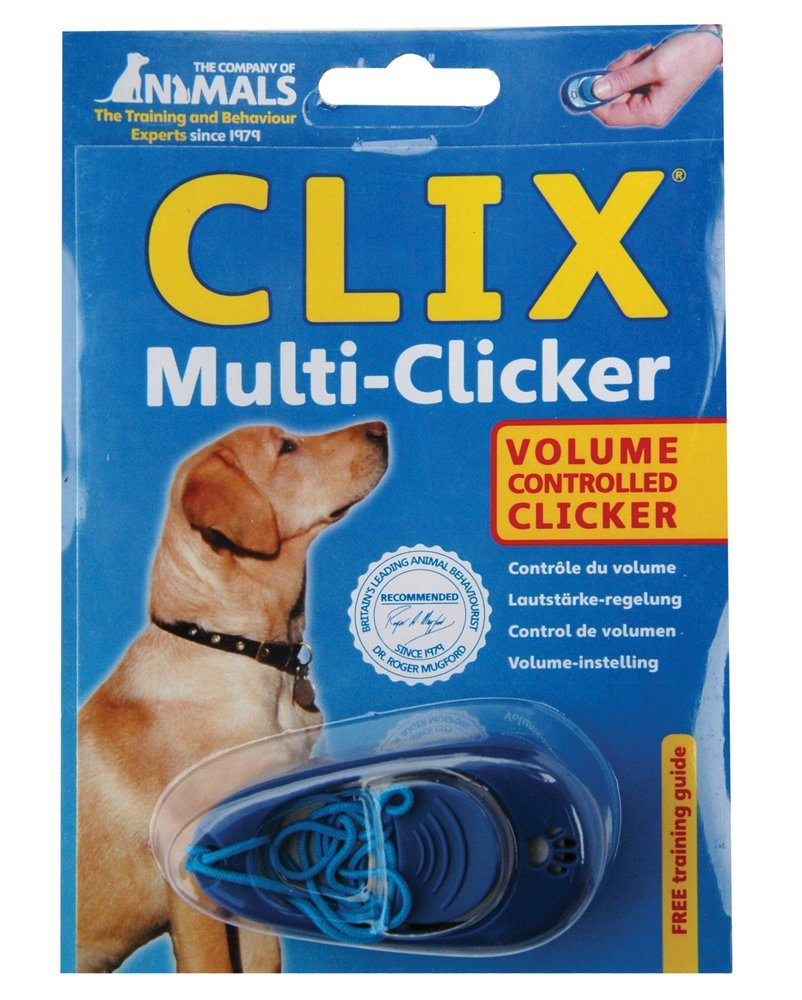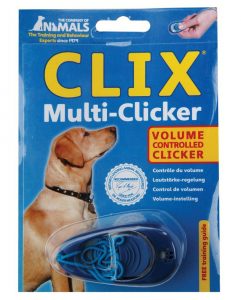 The clicker is easy to hold, simple to use and has a volume and tone control function. This means that if your dog is anxious of noises, you can begin using the lowest sound setting.
The quiet click can be increased in volume when your dog understands the concept and is used to the sound. It also comes with a free training guide, to help you learn to use your new clicker to train your dog.
StarMark Clicker
The StarMark Clicker has an ergonomic design, which fits comfortably in your hand.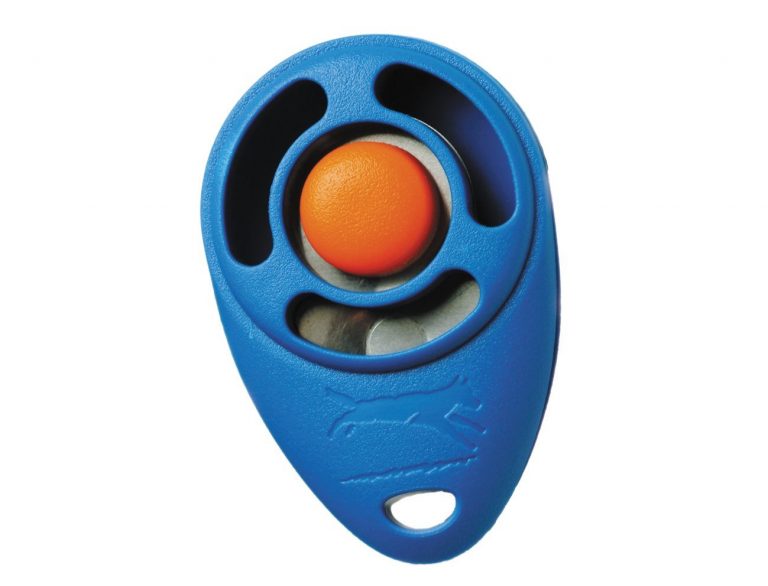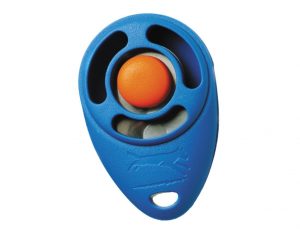 It's made of stainless steel so won't rust, and can be easily attached onto your keychain or lanyard. It also comes with a handy training guide, to get your started with your clicker training. A good middle of the road between the other two designs, and very well priced.
Dog Treat Bags
Treat bags are an essential item of dog training equipment. If you are going to use treats in your training, then having them somewhere that is easily accessible, secure and limits the mess is a big help.
We have tried a lot of treat bags for our dogs over the years, but the one we currently use is by far our favorite.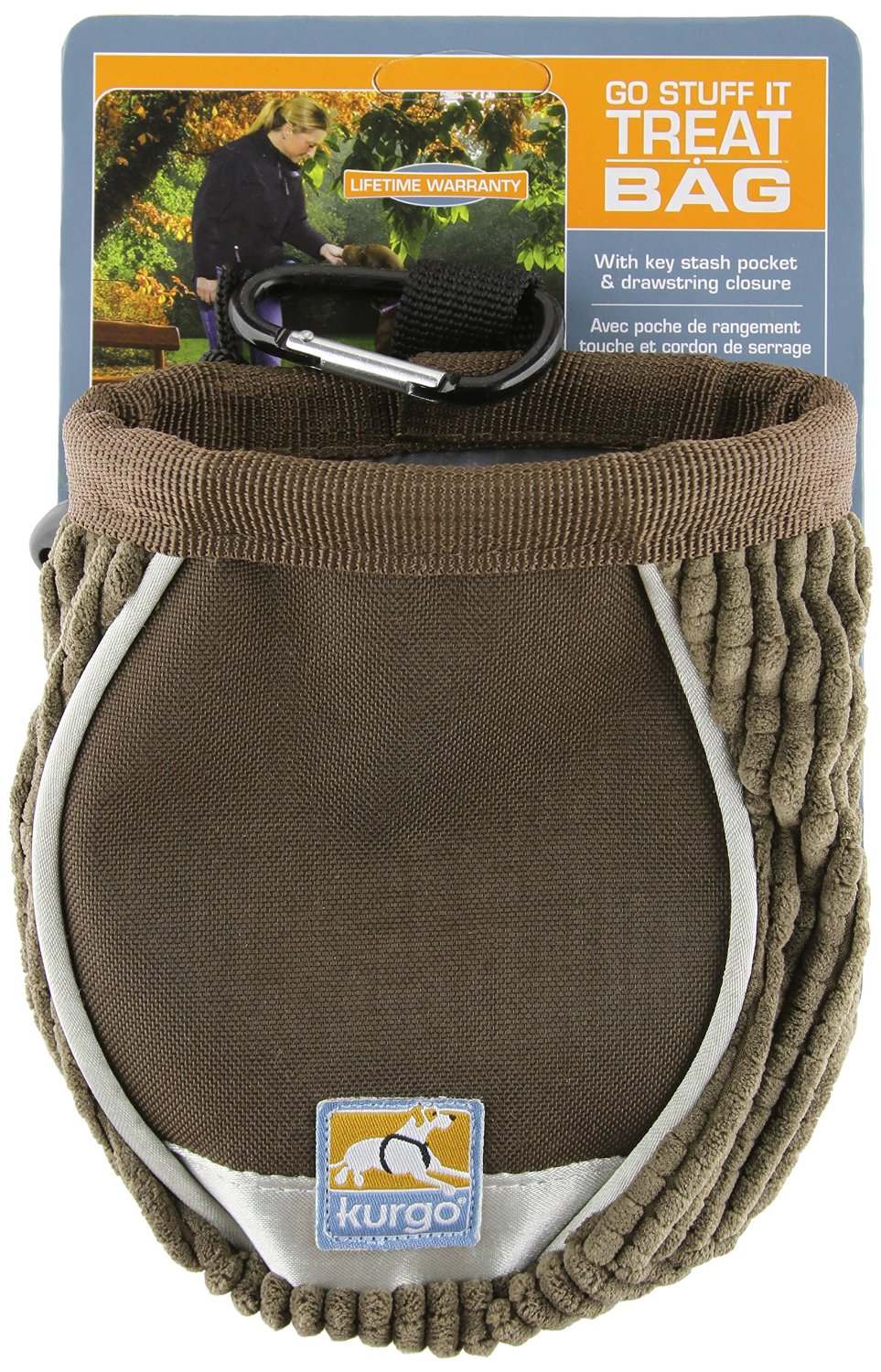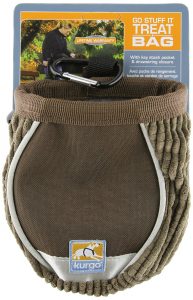 The Go Stuff It Treat Bag by Kurgo is very practical. 
It clips to your belt easily with a belt clip and belt loop for extra security. It also has a carabiner, so that you can attach extra training kit to it as well if you want to. The attachment means that you have both hands free to use your clicker, give hand signals or dispense the treats to your dog in a timely manner.
The opening of the treat bag is wide enough for your hand to fit easily inside, allowing you to give treats to your dog quickly and without fuss. It also closes securely with a draw string, so treats can't fall out, or be taken by your dog when you are distracted!
Dog Collars & Leashes For Labradors
There are a huge range of dog collars and leashes for every day use available, and in this in-depth article we take a look at how to pick the right combination for your Lab.
These are the collars and leashes you will use to walk your dog once he is trained to walk nicely to heel. But there is another set of leashes which you will find very useful when your dog is in training, especially when teaching him to come when he is called.
Dog Training Lead For Labradors
A dog training lead is often referred to as a long line. It is essentially a way of tethering your dog to you, so that even when he is free running you are able to gain control of him at a distance. There are a couple of main choices when it comes to dog training leashes.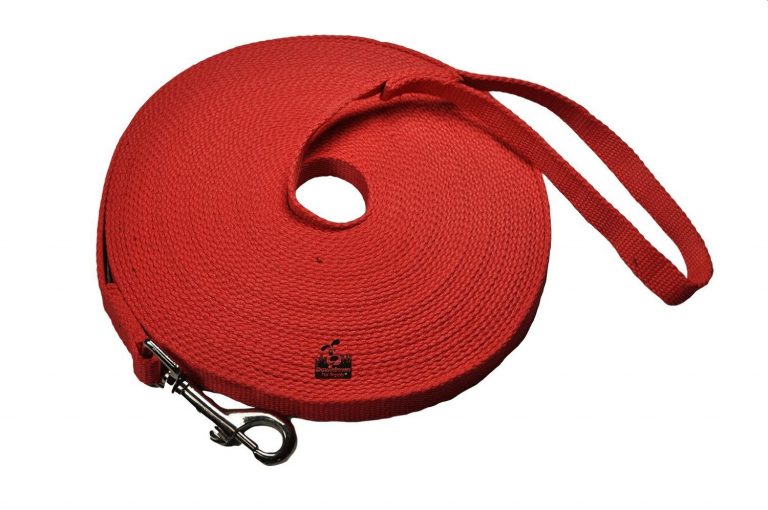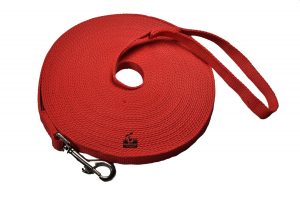 There are several lengths of training lead available, but for use when training your Labrador you will want a minimum of 30 feet.
This training lead comes in a range of sizes and colors. Including red, black, blue, green and orange and up to 50 foot long. It has a swivel style bolt which resists twisting when in use, and is made of a strong canvas material. This is great for use in the summer and dry weather, but the downside is that they can become very heavy and mucky in the rain or on wet ground.
Biothane Training Leads
Biothane training leads are becoming increasingly popular, especially with people who train their dogs in damp conditions!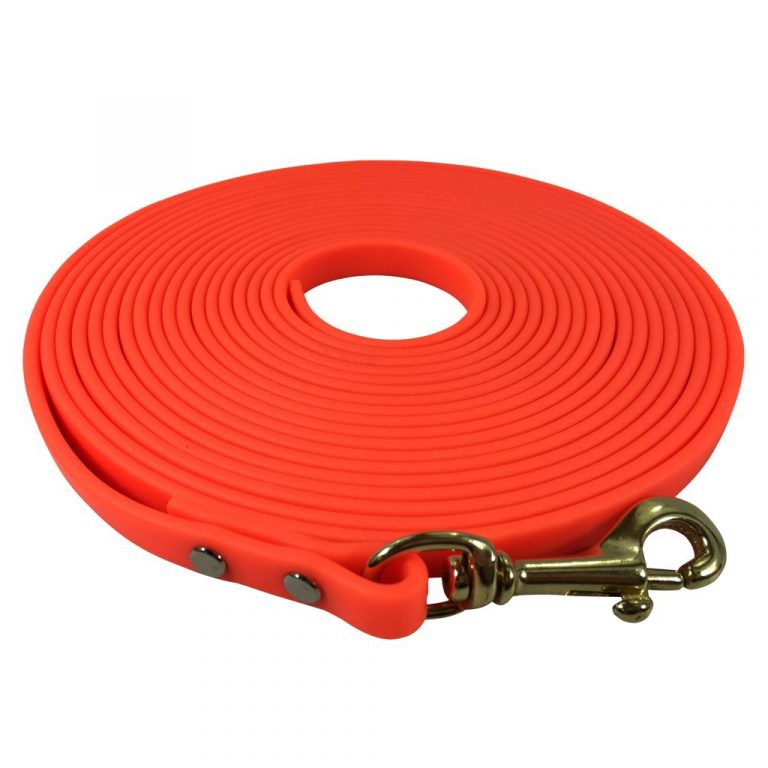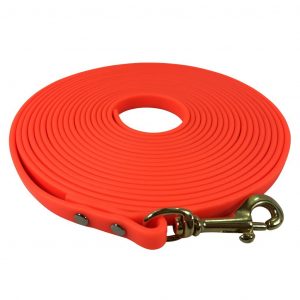 This long line comes in a range of sizes.
For a Labrador I recommend the 33 or 50 feet long versions. It comes in orange, brown or black colors. The all weather training lead is ideal for use in wet weather and very easy to clean when it gets muddy. It won't gain weight or be hard to handle in the rain.
Gun Dog Training Supplies
Gun dog training is great fun. You don't need to have any intention of working your dog in the field to find huge rewards from this fun, challenging and naturally focussed type of training.
Labradors are all retrievers at heart, and will really enjoy learning to work co-operatively with you fetching, running, jumping and swimming in the countryside. It will also massively improve the bond that you share.
Gun dog training requires a lot of the same supplies as basic pet dog obedience training, but there are some additional bird dog training supplies which will make useful gun dog training aids. Retrieving dummies are designed to help you teach your dog to fetch. There are two main types of standard retrieving dummy.
Canvas Retrieving Dummies
This pack of three Nylon Retrieving Dummies comes in orange. Which is easy for you to see and find if your dog doesn't!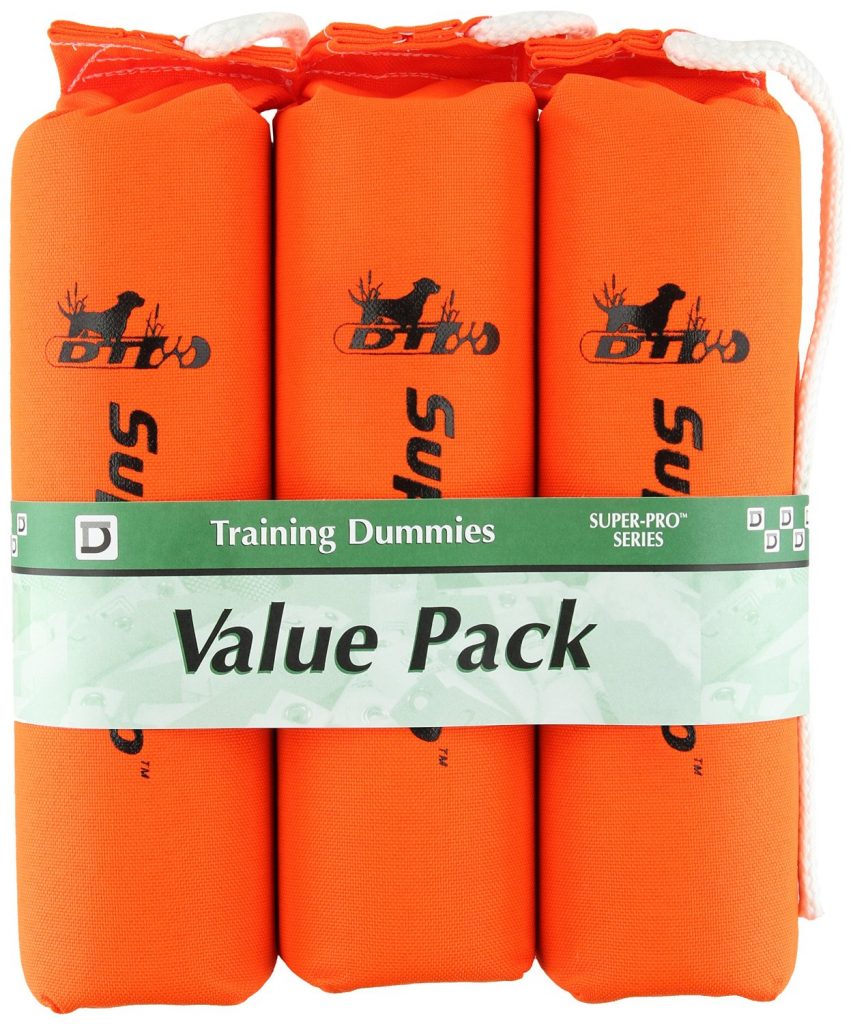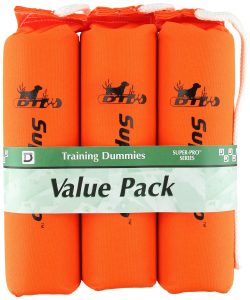 It is very durable, made of 1,000 denier nylon and sew together with high quality nylon thread. The weight of the dummy allows it to be thrown easily and for a long distance. It also comes with strings to enable even more effective throwing.
They are easy for your dog to pick up, carry and deliver.
Plastic Retrieving Dummies
Plastic Retrieving Dummies are very popular in the US.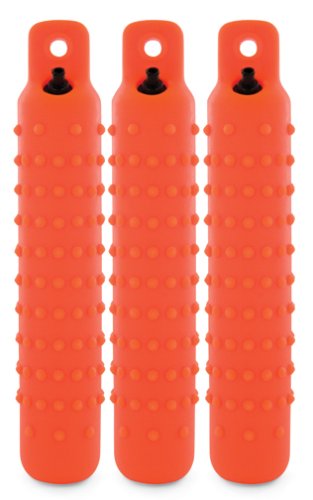 This set includes a pack of three dummies, which are easy to carry fetch.
They are easy to wash clean after use, so you can keep your dog training equipment nice for longer. The dummies have air valves to adjust their weight and buoyancy.
We can highly recommend plastic retrieving dummies, especially for water retrieves.
Puppy Training Aids
You can begin training your Labrador puppy from the first day he arrives home if you use modern positive reinforcement methods. Due to his small stature you will need to have some puppy training aids which are specially made for smaller, lighter dogs.
Puppy Dummies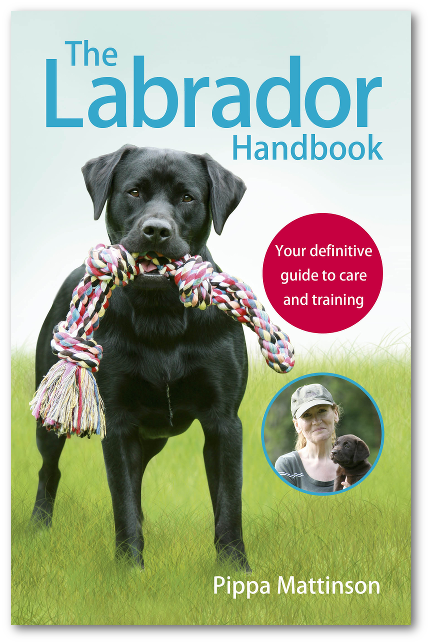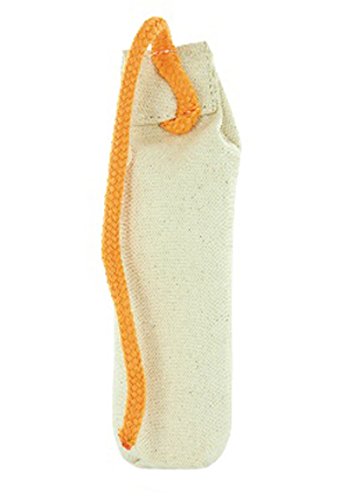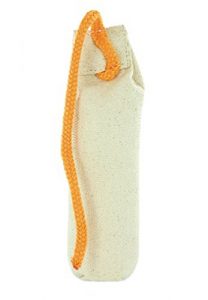 Labrador puppies have smaller mouths and weaker necks. They therefore need appropriately smaller retrieving dummies for gun dog training or just playing fetch.
Canvas puppy dummies are waterproof, strong and easy for puppies to pick up and carry around.
Look for one weighing around half a pound, ideally with a cord so that you can throw it easily.
Dog Training Books
When you train your Labrador, having a good collection of dog training books can be a real lifeline. They provide you with expert help, advice and information from knowledgable individuals. Whether you are a seasoned dog training pro or a total novice, there is always something new you can learn from someone else.
Take a look here to check out our favourite dog training books. 
Training Your Labrador
Why not let us know your favourite dog training equipment in the comments box below?
The Labrador Site Founder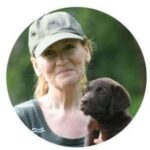 Pippa Mattinson is the best selling author of The Happy Puppy Handbook, the Labrador Handbook, Choosing The Perfect Puppy, and Total Recall.
She is also the founder of the Gundog Trust and the Dogsnet Online Training Program 
Pippa's online training courses were launched in 2019 and you can find the latest course dates on the Dogsnet website