Puppy training stages are a way of breaking down your puppy's learning and obedience development into helpful steps. Today I'll share your week by week schedule of what to teach your puppy. The puppy training schedules are aimed at different ages and stages of training, and to help you achieve your puppy training goals. However, the puppy training stages I use are not set in stone. The age at which a puppy starts one stage might differ even within the same litter. It will depend on their personality, maturity, temperament, breed and even how well socialization is going. When you dive into my age based stages below, don't just look at how old your puppy is. Make sure that they have reached the training milestones set in the previous stage before moving onto the next one.
Contents
It is very tempting to get carried away with puppy training. Your young do is so willing to please and such fun to be around. It is important to go at a happy pace for you both. Positive reinforcement training is the right choice for your puppy because there are no negative consequences to getting something wrong. But you can still both suffer from burnout and frustration if you try to reach the later puppy training stages without totally aceing the earlier developments.
Your Puppy Training Schedule
This may not be exactly the same for each puppy, especially with retrieving which is more Labrador specific. However, it gives you a rough idea. I'll also give you some general ideas of what to expect from a puppy at each stage.
8 – 10 Week Old Puppy Training Stages
Here's what to teach your new dog during the first couple of weeks of puppy training:
Follow me: Encourage the puppy to walk after me and keep close to me outdoors, by walking a few steps one way, and a few steps another. Constantly changing direction. Stopping frequently for cuddles and rewards.
Recall: Lots of puppy recall 'phase one' training. This means I blow the recall whistle whenever the puppy runs towards me, no compulsion, and no whistle unless the recall is already underway.
Socialisation: Lots (almost daily) of outings to different places rural and urban (carried) Visits to family and friends.
Bite inhibition: Discourage hard biting, allow mouthing.
Working with food: Learning how to take food gently without snatching or grabbing at the treat pot.
3 – 4 Month Old Puppy Training Stages
You can follow along with what I teach puppies from 10 to 12 weeks here:
Walk next to me: Introduce clicker heel to get the puppy walking alongside me in the heel position on my left hand side.
Recall: Now I start introducing the whistle as a 'signal' to trigger the recall. I still give the puppy lots of encouragement by running away as soon as I blow the whistle.
Socialisation: More socialisation, at least twice a week to busy public places.
Bite inhibition: Discourage hard biting, allow gentle mouthing.
Retrieving: Encourage chase and pick up (retrieve drive).
Hand touch: I teach all new puppies to touch my hand with their noses. This is a great foundation for other skills.
4 – 5 Month Old Puppy Training Routines
Training is starting to get more serious for your puppy at three to four months old:
Walk on a leash: If she is ready for this, I start to slip a leash over the puppy's head for very short periods as she walks next to me.
Recall: Puppy recall continues, reduce my run to a walk, avoid any distractions. Still frequently blow the recall whenever the pup runs towards me of her own free will.
Socialisation: From ground level (after vaccination). Attend events/take into town. No other leash walking at all
Bite inhibition: No biting, gentle mouthing allowed.
Retrieving: Continue to build drive.
Getting into a bed/basket: I introduce the idea that sitting in her bed while we eat is a great way to get treats.
Positions: I introduce three positions – sit, stand, down.
What to expect from your 3 month old puppy
Most three month old puppies will be sleeping through the night. And will be having less potty training accidents in the house. There are a few potty training problems that arise at this age, and they are all covered in 15 potty training problems solved.
This is peak age for biting, so don't expect too much. Biting is a big shock and a big problem for many new Lab puppy parents so do check out our complete guide to biting, and join the forum for help and support. Many people will have started to teach their puppy to 'sit' at this point and that is fine, my only caution would be not to start asking such young puppies to stay for more than a second or two.
Help encourage your puppy to stay in their bed while you are eating. I have a pot of dog treats on our kitchen table, and whenever we sit down to a meal, the puppy gets a treat each time she steps into her basket. No pressure, no 'stay'. Just a treat for stepping in there.
What to expect from your 4 month old puppy
Your 4 month old puppy will be pretty much potty trained, but accidents still happen if they are left alone too long. Biting is usually starting to subside now, and many four month old puppies will be able to mouth at your hand without hurting you. At this point I start to discourage all mouthing.
I teach every puppy to let me touch her face or approach her with my hand, food, a leash etc while holding eye contact and not grabbing at me, or at what is in my hand. This is the age at which people often start to push forward with training. Your 4 month old puppy is capable of quite a lot.
There is nothing wrong with teaching your puppy different cues and even some tricks. You'll find ideas and instructions in our puppy training guides. I recommend you still avoid long duration activities at this point as they are a common stumbling point with puppies young enough to have a short attention span.
I wouldn't expect a four month old puppy to walk at heel for long distances, or to stay in his basket for an entire meal for example. A ten second sit is ample.
4 – 5 Month Old Puppy Training
Formal puppy training begins in earnest for 4 to 5 month old puppies:
Heel: begin to practice heel work more purposefully. Add mild distractions
Recall: Fade additional cues. Begin to whistle the pup and stand still. Add mild distractions.
Socialisation: One or two short outings into crowded/public places
Bite inhibition: No more mouthing. Clicker train to polish this in more mouthy puppies.
Sit/stay: Simple short duration sits, in low distraction environment
Bed/basket: I expect a puppy to remain in her bed most of the time while we eat by about five months. No commands are needed for this. She chooses and I reward
Puppy Training at 5 – 6 Months and Beyond
General obedience: Gradually advance the 'heel' and 'sit'. Gradual introduction of distractions.
Advanced puppy training begins in earnest
This is where I start a programme of sporting training with my Labs. You can begin raising your standards and expectations, asking for longer and more complex behaviors. Teaching your puppy to walk to heel nicely for longer distance and past all kinds of distractions and temptations.
Or teaching your puppy to sit and stay for longer periods of time, and even while you go out of sight or while other dogs play nearby.
This part of puppy training is called proofing, and you'll find plenty of help in our individual training guides and in our proofing articles.
What to expect from your six month old puppy
Six months is a common time for people to have a lot of questions and to be struggling with a few challenges. This is now a very bouncy, quite powerful and rapidly maturing young dog. And you may need to patch up a few holes in his training or manners.
Don't panic. We have a great article for owners of six month old Lab puppies. Head over there and you'll find you are not alone!
The Labrador Site Founder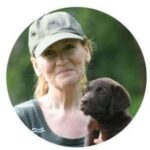 Pippa Mattinson is the best selling author of The Happy Puppy Handbook, the Labrador Handbook, Choosing The Perfect Puppy, and Total Recall.
She is also the founder of the Gundog Trust and the Dogsnet Online Training Program 
Pippa's online training courses were launched in 2019 and you can find the latest course dates on the Dogsnet website