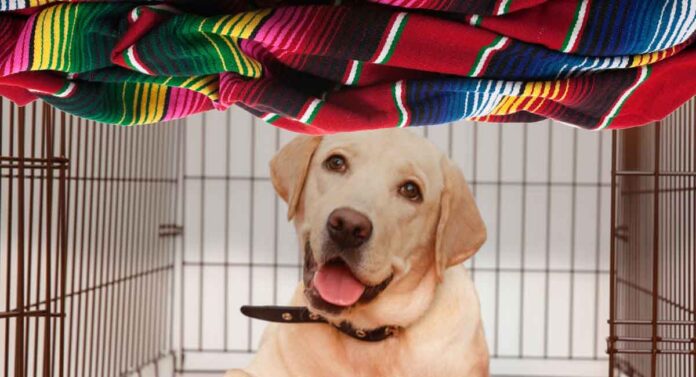 Welcome to our comprehensive review on Dog Crate Covers! We'll look at the reasons why you might want to use a dog crate cover and help you pick the best of the bunch. We'll even give you top tips for making your own DIY dog crate cover!
A good dog crate cover should be sturdy, durable, and easy to clean. It should have adjustable flaps to provide ventilation, light when desired, and darkness and security when necessary. Most importantly, you should look for a design that fits your crate size requirements and meets your specific crate cover needs.
In this article, we will take a comprehensive look at the best crate covers for dogs. We will review dog crates with cover sets, waterproof dog crate covers, soundproof dog crate covers, how to make dog crate covers yourself, and much more!
Products included in this article were carefully and independently selected by the Labrador Site team. If you decide to make a purchase from one of the links marked by an asterisk, we may earn a small commission on that sale. This is at no extra cost to you.
The Five Best Dog Crate Covers
A very popular heavy-duty, insulated dog crate cover.

One of the best-selling crate covers designed to fit large wire dog crate covers.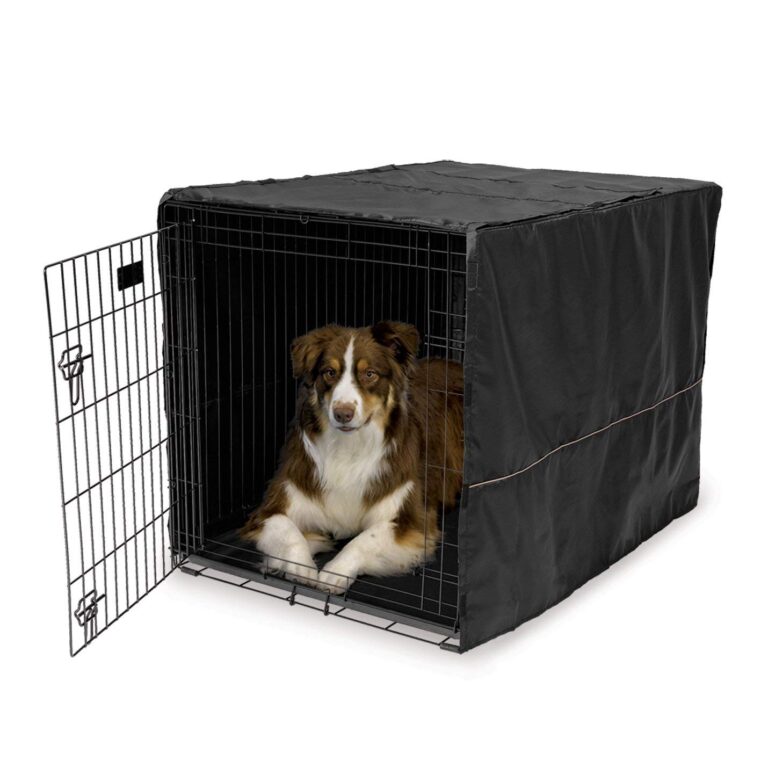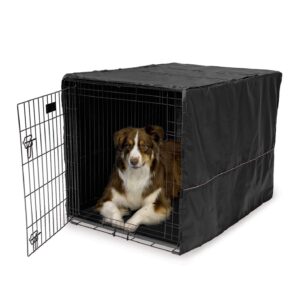 A travel-friendly foldable dog crate that comes with a dog crate cover.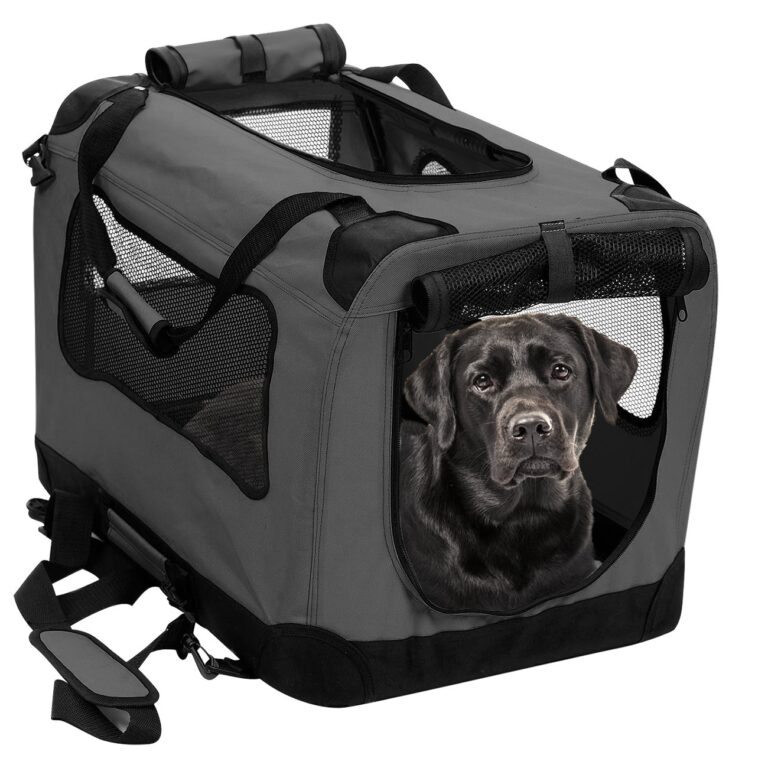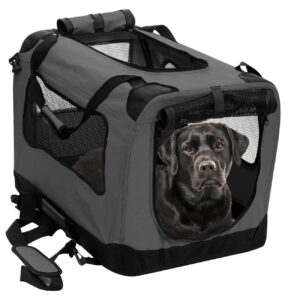 A great waterproof option that has extra doors and mesh for ventilation.

This a highly-rated functional dog crate cover that comes in a variety of sizes.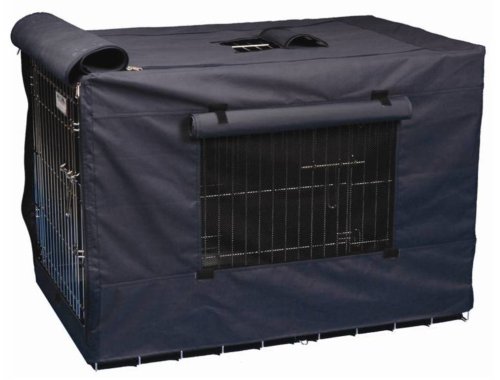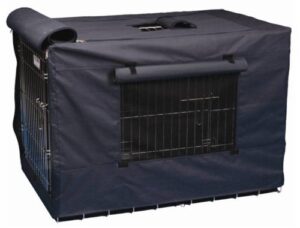 Dog Crate Cover Quick Links
What Is A Dog Crate Cover?
A cover for a dog crate is simply a piece of material that fits over the dog crate structure itself. Whether you plan to use a covered dog crate for training, sleeping, travel safety, comfort during fireworks, or recovery and rehabilitation following a procedure, you want to be sure that the dog crate cover you select is a good fit for your dog crate itself.
Many commercial dog crates conform to standard measurements to make it easy to find third-party small and large dog crate cover options to fit them. If you opt for a designer dog crate, it is quite likely you will be able to find a matching designer dog crate covers that will fit your crate like a glove. However, if you are using a custom-made or hand-made dog crate, your best option may come in the form of a DIY dog crate cover that you make yourself for an exact fit.
The Importance of Dog Crate Covers
There is no doubt that dogs are made to befriend humans. After all, they have been doing so for anywhere from 10,000 to 30,000 years! But despite this long relationship, your friendly Labrador sidekick has plenty of challenges when it comes to living in our world. Many events can still trigger your modern pet dog's ancient ancestral instincts. Here is where dog crate covers can come in handy.
Crates and crate covers can mimic the type of shelters wolves have always constructed for themselves in the wild. These ground shelters, which are low and narrow with just sufficient room for the wolf to enter and exit, serve several purposes.
For example, the wild wolf will sleep, hide, and raise pups in such low shelters. Your Lab may never need to hide from wild predators. And you may not have breeding plans for the future. But your pup's ancient limbic brain still has the strong instinct to find a quiet, cool, dark, low to the ground, safe space. When paired together with a sturdy, reliable and safe dog crate, pet crate covers offer your pooch respite and relief from the hectic, modern world you share.
Do you wonder what the difference is between just using a blanket draped over your Lab's crate and purchasing an actual dog crate cover? This is a great question to ask! Should you cover a dog crate with a blanket or use a special dog crate cover that fits your dog's crate? Let's find out!
Should You Use Blankets as Dog Crate Covers?
Often, veterinary professionals will caution against using a blanket in any capacity with a dog crate. This is especially true for injured dogs, Lab puppies, and rescued Labs. This is because dogs tend to gnaw on anything chewable. Puppies are especially prone to chewing due to the discomfort of teething. And recuperating dogs may also chew to alleviate anxiety or boredom.
If you put a blanket inside your dog's crate, you may end up taking a trip to the animal emergency room after your pup chews and ingests the material. And If you drape that same blanket over your dog's crate, the same thing can easily happen. Your Lab can nip the edge of the blanket and pull it inside to chew on.
An ill-fitting blanket draped over your dog's crate can also be a safety hazard in other ways. For instance, if you are carrying the dog crate and blanket, the trailing edges of the blanket can snag and cause you to trip. Dropping both crate and dog as you fall. The blanket can also have a smothering influence, cutting off much-needed air circulation to the crate. This is particularly true if the blanket is made from heavy material. You should choose a dog crate cover that is designed and fitted for the crate you are using. And you should find a crate appropriate for the purpose you are using it for.
Important Features of Dog Crate Covers
When looking at a dog crate cover there are two important considerations: functionality and safety. Is the crate cover going to meet your intended purpose and will it maintain a safe environment for your dog? You should think about the primary function you intend to use the crate cover for before you start your search for the perfect doggie crate cover.
Is it for insulation to help keep your pup warm in cooler temperatures?
Or is it simply to make the crate cozier and cave-like for your dog?
Do you want it to help filter out noise from storms or fireworks?
Is it just for home use?
Or will your crate be spending time outside, and perhaps need a waterproof cover?
Whatever your dog crate cover purpose is, some features are important to every cover, like durability, breathability, and a good fit.
Most crate covers come in a range of sizes. You should choose the right one for your specific crate. Adjustable flaps that can be opened for ventilation or to allow you to easily check in on your pup are a great feature to have. You may also want to consider easy to clean materials, like Teflon or machine washable fabrics.
So, let's take a look at the range of dog crate cover options out there and help you find the best one for you and your dog!
Wooden Dog Crate Covers
In most cases, it is rare to find a wood crate cover sold separately from a dog crate. The traditional approach is to combine the dog crate itself with the wood crate cover in an all-in-one design. In cases where there is no inner wire crate concealed by a wooden exterior, they typically treat wood with a special finish. Or they use composite wood to ensure the crate/cover won't become odorous or stained.
In some cases, you will find a wire crate interior with a pull-out tray for cleaning that is concealed inside the wooden crate cover frame. These lovely wooden dog crate covers and crate options can serve a dual purpose. They can be both a crate and a table, which comes in especially handy in small rooms or living spaces!
Merry Products Cage With Wooden Dog Crate Cover
The Merry Products Cage with Crate Cover Set* is an all-in-one crate and wire cage set give the traditional wire dog crate a much more polished look. It's almost like fine wood furniture! Additionally, the wood crate cover can serve as an end table or side table to complement the existing furniture in any room, while your Lab rests comfortably inside it.


The crate/cover set comes in three sizes of small, medium, and large. It is also made from powder-coated steel and has a solid wood veneer.
Richell Wooden End Table Crate
The Richell Wooden End Table Crate* comes in three sizes. It can accommodate dogs up to about 88 pounds.

It's comprised of solid wood, making it sturdy and durable, while also stylish and elegant. It features a door that swings all the way open for easy access and has a removable tray.
New Age Pet Crate End Table
The New Age Pet ecoFlex Pet Crate/End Table* is an attractive pet crate and end table combo. It comes in four sizes of small, medium, large, and extra-large and five colors. It is recommended for dogs up to 80 pounds.


The crate/table is made of an eco-friendly composite material that is more durable than wood. And It comes with a 10-year warranty from the manufacturer. The door features a double-latch design for safety.
Insulated Dog Crate Covers
These insulated dog crate covers can help to keep your dog comfortable in any kind of weather. Finding a good, reliable, insulated dog crate cover is particularly important for your dog's health if they spend any amount of time housed outside during the very cold season.
Insulated dog crate covers can also be a protective safety feature if you plan to take winter trips and you want your Lab to accompany you. But be sure to keep an eye on them while they're in there to make sure they don't overheat.
Mud River Insulated Dog Crate Covers
The Mud River Insulated Dog Crate Cover* is a heavy-duty, insulated dog crate cover. It comes in eight sizes, including standard and extended fit sizes. It is made of two-ply heavyweight polyester fabric with Microlite insulation. This special type of insulation can warm up the dog crate by as much as 40 degrees inside.


There are removable side flaps for ventilation and a double carry handle on top. This crate cover also features four tie-down D-rings.
ArcticShield Insulated Kennel Cover
The ArcticShield Insulated Kennel Cover* comes in three sizes of medium, large, and extra-large. And it comes in two colors of camouflage and a forest green color pattern.


You can customize the fit of the cover because it is outfitted with straps. It is also waterproof and has several outside pockets for storing toys and supplies.
Large Dog Crate Covers
The type of large dog crate covers you choose may be dependent on the type of dog crate you are using. Wood, wire, and plastic dog crates can often differ in small but significant ways because of their shape and design. These large dog crate covers are primarily designed to fit wire crate types, but they may fit other types of crates as noted here. You can also compare measurements to ensure the best fit.
MidWest Polyester Crate Cover
The MidWest Polyester Crate Cover for Wire Crates* is one of the best-selling crate covers designed to fit large wire dog crate covers. You have six sizes to choose from (22-inch, 24-inch, 30-inch, 36-inch, 42-inch, and 48-inch).

The crate cover material is durable polyester that is machine-washable and comes with a one year warranty. You can use it with 1-door, 2-door or 3-door wire dog crates.
2PET Foldable Crate Cover
The 2PET Foldable Dog Crate With Washable Fabric Cover* features a washable, zippered, nylon cover with mesh panels for ventilation. If you are looking for a travel-friendly foldable dog crate that comes with a dog crate cover, you can't do better than this popular option.


The combo comes in five sizes of small, medium, large, extra-large, and double-extra-large.
Molly Mutt Crate Cover
The Molly Mutt Crate Cover* comes from a popular and trusted brand for dog products. This Molly Mutt crate cover comes in five sizes of small, medium, large, gigantic, and huge. And it comes in an abundance of colors and patterns.


Each crate cover is pre-shrunk to ensure a perfect fit. Also, the crate covers are machine-washable and offer the option for roll-ups on two sides. This feature gives extra ventilation and visual contact.
Petsfit Single Door Crate Covers
Petsfit's Single Door Crate Covers* have 2 mesh side panels and a top flap for optimal ventilation.


The crate cover comes in three different sizes. It is made from oxford cloth, and it is both wind and waterproof.
Waterproof Dog Crate Covers
Sometimes it just makes sense to use a waterproof dog crate cover with your Lab's crate. These highly-rated, waterproof dog crate covers will get the job done. They are made to fit a variety of dog crate sizes. Each has a ventilation solution to keep the air moving inside your Lab's crate while keeping the damp out. Some of these covers also offer additional features such as blocking the sun's harmful ultraviolet rays, offering heat protection, and reducing buffeting from the wind.
Precision Pet Indoor/Outdoor Dog Crate Covers
The Precision Pet Indoor/Outdoor Crate Cover* is a highly-rated dog crate cover that is also designed for use with large wire dog crates. You can find it in six sizes of extra-small, small, medium, medium/large, large, and jumbo. The crate is for dogs up to 90 pounds and comes in two colors of tan and black.


The material is heavy-duty canvas/nylon that is water-resistant and suitable for both indoor and outdoor use. This fully functional dog crate cover has a zipper closure and a top flap to let you carry the crate by a top handle.
HiCaptain Double Door Dog Crate Covers
The HiCaptain Double Door Dog Crate Cover* is tear, wind, and water-resistant. It has two entrances and one large mesh window for excellent ventilation.


This crate comes in five sizes (24-inches, 30-inches, 36-inches, 42-inches, 48-inches) and has a 3-year warranty.
Soundproof Dog Crate Covers
Thus far, there is no means of completely soundproofing a dog crate or options for soundproof dog crate covers. A handful of new all-in-one kennels and crates are beginning to address the issue of soundproofing a canine dog crate for a variety of reasons, but they aren't yet at a point we feel they truly quality as soundproof.
Options To Soundproof Your Dog's Area
If you already have a dog crate and dog crate cover combo you love, here are a few other options that can help soundproof your dogs personal area during noisy events or for sleep and quiet time:
Run a small fan for "white noise" that can block out other ambient sounds
Use an infant sleep machine that emits calming constant sound
Set up a small radio or CD player and play calming music for your Lab while they rest.
Do It Yourself (DIY) Dog Crate Covers
If you have a custom crate, standard dog crate covers often won't fit. In these cases, you can repurpose a blanket as a DIY dog crate cover! You can learn how to make dog crate covers and give yourself a chance to choose your own safe and sturdy cover material that will fully meet your Lab's needs.
If you are not sure how to make a dog crate cover from scratch, a quick search on the internet will yield a variety of dog crate cover pattern options to work from. Just be sure to adjust the pattern measurements to reflect the specific measurements of your Lab's crate (height, width, and depth).
If you do decide to use a blanket for a DIY project dog crate cover, choose a relatively lightweight blanket. You should think "all-season" use rather than "emergency snowstorm when the power goes out" use. Also, be sure to cut along the already seamed edges of the blanket to minimize extra stitching work for yourself.
And for best results and the most flexibility, you may want to create a front flap and a back flap. A Velcro closure system works great here, both for times when you want all four sides securely hugging your lab's crate and for times when you want to roll them up. You can also raise these flaps up and down for ventilation and visual contact as needed.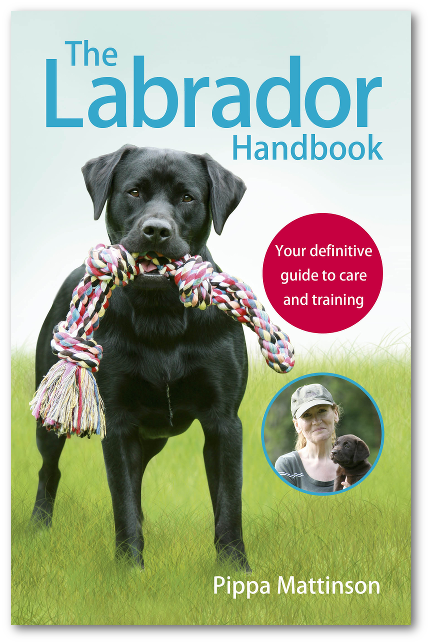 Best Dog Crate Cover
There are so many reasons you may want to invest in a dog crate cover. Perhaps it's to provide your Lab with extra privacy and comfort during crate time? You can successfully use dog crate covers in all kinds of settings to improve your Lab's quality of life.
Some of the main benefits of using dog crate covers occur with car or air travel. And adding a crate cover can improve your dog's comfort and safety and ease their anxiety. Using dog crate covers at home can block out stressful noises like fireworks or thunder to help your dog relax during quiet time. Covers can also lessen noise from barking, especially while you are crate-training a young or rescued dog. Finally, dog crate covers can keep natural of elements of sun, wind, and rain, from impacting your Lab's health during outdoor excursions and rest time.

A crate cover, like a dog crate itself, can serve as an investment into your lab's health, wellbeing and overall quality of life. There is no one "right" dog crate cover to choose. You should find the dog crate cover that is the best fit for your dog's needs and your own. Remember to check out our list of top picks at the top of the article.
If you and your dog fall in love with one of the crate covers listed here, please let us know so other lab owners can benefit as well! And if you have a wonderful crate cover that is not listed here, tell us about your experience in the comments below. Let us know why that dog crate cover is the perfect choice for you and your Lab!
Perhaps you'd also like to take a look at our great guide to indestructible dog beds!
Affiliate link disclosure: Links in this article marked with an * are affiliate links, and we may receive a small commission if you purchase these products. However, we selected them for inclusion independently, and all of the views expressed in this article are our own.
References and Resources
Gallagher, N. (2016). Firework Safety. Veterinary Center of Hudson.
Hudson Veterinary Hospital. (Accessed 2019). How To Make The Dog Crate More Comfortable For Your Puppy.
Ivarsson, B.J. (2016). Dogs in passenger vehicles – crash safety evaluation of travel crates. International Journal of Crashworthiness.
Yong, E. (2016). A New Origin Story for Dogs. The Atlantic.
The Labrador Site Founder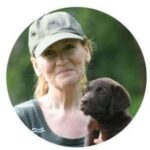 Pippa Mattinson is the best selling author of The Happy Puppy Handbook, the Labrador Handbook, Choosing The Perfect Puppy, and Total Recall.
She is also the founder of the Gundog Trust and the Dogsnet Online Training Program 
Pippa's online training courses were launched in 2019 and you can find the latest course dates on the Dogsnet website