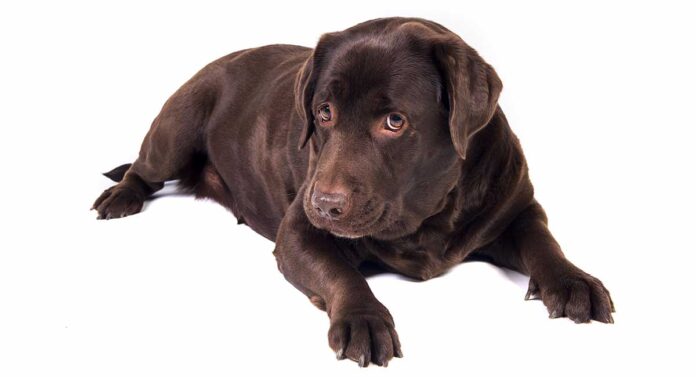 Bloat in dogs occurs when the stomach of the dog becomes dangerously distended and even rotated. It is potentially fatal, however there are things that you can do to help prevent it happening to your Labrador.
Symptoms of bloat include hard stomach, retching, strange behavior, and more. Knowing the symptoms of bloat in dogs will enable you to be best placed to protect your Labrador. And to spot the signs that treatment is needed, before it is too late.
Products included in this article were carefully and independently selected by the Labrador Site team. If you decide to make a purchase from one of the links marked by an asterisk, we may earn a small commission on that sale. This is at no extra cost to you.
What Is Canine Bloat?
Canine bloat is a term used to describe gastric distension in dogs. This refers to a condition where the stomach swells in an abnormal way. When gastric distention is accompanied by the twisting or rotating of the stomach itself. This is known as 'torsion' or 'volvulus', and it's a serious matter.
The medical term for this is Gastric Distention and Volvulus, and you may have heard of it referred to as GDV. GDV is the condition we are particularly concerned with when we talk about bloat in Labs.
Twisted Stomach
When GDV is present the dog's swollen stomach rotates within the body, causing a twisting at either end. Now the dog may no longer be able to vomit. The twisting, plus the pressure of the large stomach on other internal organs, sets in motion a chain of events. Ultimately, this will end in the death of the dog if prompt veterinary treatment is not initiated.
Once blood supply and therefore oxygen has been cut off to your dogs stomach, cells begin to die. There is no coming back from this stage. So, every minute counts when it comes to seeking medical attention.
Having said that, it is also true that if you act quickly enough you have a good chance of saving your dog. If a vet can perform surgery in good time your dog has a hugely increased chance of surviving.
What Causes Bloat in Dogs
Some breeds are more susceptible to bloat than others, and unfortunately Labradors are fairly high up on this list. Any dog can bloat. Larger, deeper chested dogs as well as middle age or older dogs are the most susceptible.
The causes of bloat in Labs and other dogs are not certain. We do know that there is a genetic element. That is to say, bloat in dogs is more likely when a close family member has suffered from it. Dogs that have recovered from bloat should not be bred from. This will reduce the likelihood of passing the tendency to suffer from this horrible condition onto future generations. It will also alleviate the risk of injury to your dog.
It is thought that overfeeding, over hydrating and exercising your dog too close to mealtimes could contribute to your dog suffering from bloat.
How To Prevent Bloat In Dogs
There is a lot of advice out there regarding ways to prevent bloat in dogs. However, some of the sources give conflicting information. It could be caused by an increased amount of air being inhaled in anxious or over exercised dogs, or as a result of a diet which releases too much gas.
The AKC state in their webpage on bloat that it typically develops after a dog has eaten a large meal. Or, he has had a big drink or been exercised vigorously after eating. Both of these pages acknowledge that we are unsure of the causes of bloat, and as such we can't be sure how best to prevent it.
Reducing the Risk of Bloat
However, we do have some studies we can look to which give a clearer picture of some practical ways to prevent bloat which might make a very real difference. A study of dogs that suffered from bloat was carried out at Purdue University from 1998 to 2004, and found that there were two key factors to avoiding bloat.
Prevent Fast Eating In Labradors
Labradors are notoriously fast eaters, and so the risk of bloat from their feeding speed makes sense as a contributing factor. Fortunately, there are things you can do to slow down his eating. For kibble fed dogs there are bowls that you can purchase* to reduce the speed at which your Labrador downs his dinner.
These have raised bumps or mazes that your dog must navigate with his tongue in order to pick up the individual pieces. One study by Buckley and Lees found that these 'go-slow' feeding devices are effective in reducing the speed at which your dog eats his food. However, they are quick to stress that there is no evidence that the dogs want their eating slowed. Therefore it is important to note that 'go-slow' bowls may be well marketed but don't represent a miracle by any means.
Feed On Ground Level
When a dog stands to eat they put their head and body at an unnatural level, which may allow more air to be taken in during the process. Raised feeders are popular for older and arthritic dogs, so you will need to discuss the potential pros and cons of these with your vets before making a decision. However, if your dog has no other medical ailments to consider, then it would be inadvisable to use a raised feeder due to the potential link with bloat.
The Purdue Study
The Purdue Study also found some types of dry dog food posed an increased risk of bloat. You can read a summary of the information here. However, with the best will in the world you cannot be certain of preventing a condition. So we must be sure that you know the signs of bloat in dogs, and what to do next if you spot them.
So the KC and AKC's advice makes sense, based upon what we knew before the Purdue Study was published. However, the Purdue Study didn't itself find any benefits to those practices. Although it is worth bearing in mind that this was just a single study. Smaller meal sizes, drink sizes and an improved exercise routine certainly aren't going to do your dog any harm.
Signs Of Bloat In Dogs
Bloat in Labs can occur at any point in the day. So, you should be vigilant for any signs of bloat in dogs at all times. Some signs of bloat in dogs may not be so easy to recognise. For example, an excess of saliva coming from your dog's mouth may be a sign of bloat. However, we've all come across heavy droolers I'm sure! With that in mind, it's best to keep an eye out for other, harder to detect symptoms.
Unlike many other Labrador stomach problems, bloat does not cause the usual visible external symptoms like vomiting or an upset stomach. In fact, a sign of bloat is the absence of your dog having been sick when he appears to need to be.
Symptoms of Bloat
The following are symptoms of bloat in dogs. Contact your vet immediately if you are worried that your dog is presenting with these:
Swollen stomach (distended to the sides)
Hard stomach
Retching (trying to vomit without success)
Distressed whining
Strange behavior (hiding, shying away from your touch, biting at their stomach)
An inability to get comfortable
If your Labrador has a swollen stomach and appears to want to be sick but can't, then you need to act immediately to save him.
Treating Bloat Quickly
Speed is of the essence when it comes to treating bloat. If your dog is retching or experiencing stomach pains, then don't hesitate to act.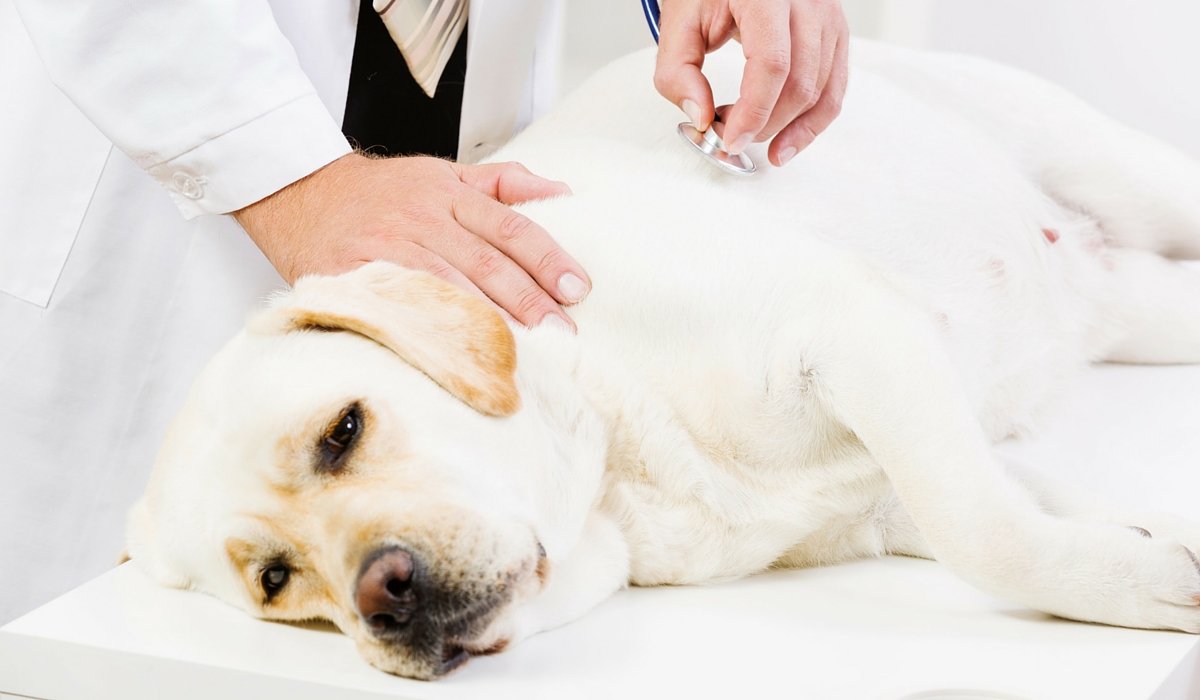 Take him to your veterinary surgery or nearest emergency vet care immediately. Get in the car, and use your car phone or get a friend to make the call whilst you are on your way. Don't wait around, act. Because treatment works best earlier on and the fatality rate of this condition is so high, it really is a case of better safe than sorry.
Any vet would rather see a Labrador who doesn't have bloat dozens of times over, than miss one that does. It is important that you don't ignore the symptoms of bloat in dogs.
How To Diagnose Bloat In Dogs
Although you can spot visible signs of bloat in Labs without testing, your veterinarian will need to carry out a few procedures to be sure that this is the cause of his illness. They will most likely take an x-ray to see whether the stomach is rotated, and then run a lactate test. This will let them know whether cell death, or necrosis, has begun in earnest.
When it is advanced past a certain point there is no return for the dog. A moderate score will suggest some damage which may be repairable. If the veterinarian believes that the dog can be saved, they will immediately begin treatment.
Dog Bloat Treatment
Treat for bloat in Labs involves making sure that they are hydrated with IV fluids, and given something for the pain. If your dog's bloat includes 'volvulus' and is indeed GDV, you vet will have to do more invasive work than providing fluids and painkillers. They may then undergo a surgical operation to empty the stomach of gas and fix the rotation so that the stomach is back in the correct position, and can't twist again. Methods of treating bloat can include first feeding a tube down their oesophagus and into the stomach to relieve the air pressure.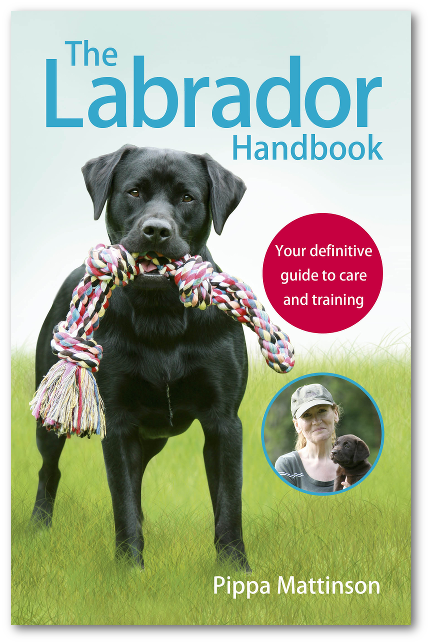 Alternatively the vet may puncture the dog's stomach wall to decompress the air. But these are both also followed by surgery to fix the rotation. I can't stress enough that the quicker this surgery is carried out, the higher the likelihood of your dog surviving will be.
Have you had experience of bloat as a Labrador owner? Why not share your thoughts in the comments box below.
Affiliate link disclosure: Links in this article marked with an * are affiliate links, and we may receive a small commission if you purchase these products. However, we selected them for inclusion independently, and all of the views expressed in this article are our own.
References & Resources
'Dog Bloat or Gastric Torsion (GDV), The Kennel Club
'Bloat in Dogs: A Potentially Life-Threatening Condition', AKC Staff, American Kennel Club, 2015
'Diet -related risk factors for gastric dilatation -volvulus in dogs of high -risk breeds: A nested case-control study' Malathi Raghavan, Perdue University
'Go slow feeding bowls: how effective are they at getting dogs to eat more slowly?' LA Buckley & J Lees, 2016, Crest
'Analysis of risk factors for gastric dilatation and dilatation-volvulus in dogs.'Glickman LT, Glickman NW, Pérez CM, Schellenberg DB and Lantz GC, 1994. Journal of the American Veterinary Medical Association
The Labrador Site Founder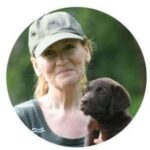 Pippa Mattinson is the best selling author of The Happy Puppy Handbook, the Labrador Handbook, Choosing The Perfect Puppy, and Total Recall.
She is also the founder of the Gundog Trust and the Dogsnet Online Training Program 
Pippa's online training courses were launched in 2019 and you can find the latest course dates on the Dogsnet website