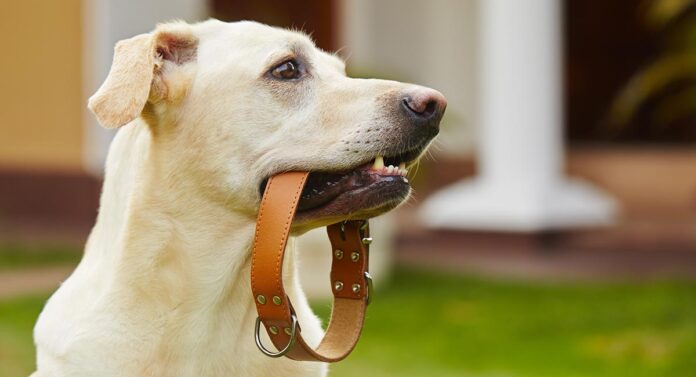 Welcome to our complete guide to the best leather dog collars. There are lots of options when it comes to leather dog collars from classic-looking leather dog collars to personalized ones.
The best ones are comfortable for your dog to wear, strong, durable and long-lasting. And you'll, of course, want one that looks good on your Labrador Retriever!
Choosing The Best Leather Dog Collars
You might be overwhelmed by all of the choices you have if you briefly browse through the nearly infinite styles, colors, materials, textures, and designs of dog collars these days.
As modern technology has continued to speed ahead, new fabrics have been developed. And this has led to even more dog collar options for your precious pup.
But in this article, we advocate for sticking to the basics with the time-honored choice of leather dog collars.
By the time you finish browsing through these amazing large leather dog collars, you probably won't need any more convincing that leather is definitely the way to go!
The Five Best
All-Around Leather Dog Collar
BlackJacks Leather Pitbull & Large Leather Dog Collars
When it comes to choosing a classic-looking, handcrafted leather dog collar, this is a great pick. It's a top-grain leather collar that is K-9 training and law enforcement approved.
You can add personalization for free in large or small font and it also comes in a mahogany brown color. And with a lifetime guarantee, you can't go wrong.
It checks all the boxes for what you want in a dog collar: beautiful, strong, and well-made.
Classic Leather Dog Collar
Soft Touch Collars Luxury Real Leather Padded Dog Collar
This two-tone black (exterior) and cream (interior) leather dog collar hearkens back to the old English days of the royal canines. Its workmanship is also backed by a lifetime guarantee.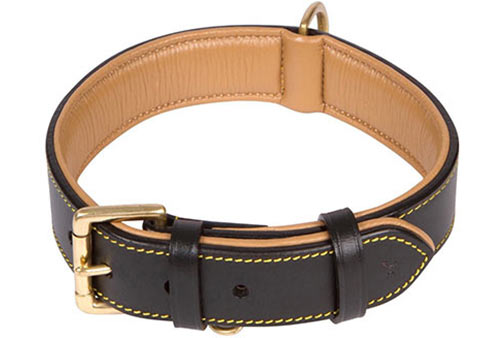 The beautiful stitching reinforces this collar against weather and wear and tear. And the buckle portion is made of solid brass that resists rust and scratching.
And the inside of the collar is softly padded for a comfy fit for your Lab! It looks super sharp and is super strong!
Comfy Leather Dog Collar
Soft Touch Collars – 
Luxury Real Leather Padded Dog Collar
This beautiful leather collar features a warm pink leather exterior and lighter pink padded interior for your lab's total comfort.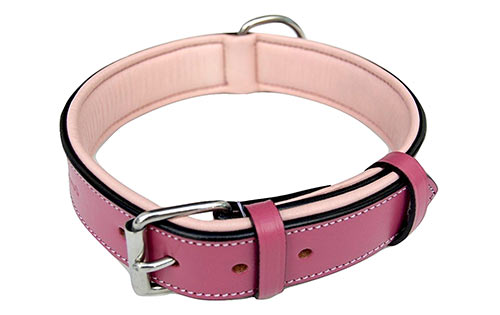 It comes in three sizes (small, medium, large) as well as a special large, slim-line model. The collar itself is hand-stitched for durability and has a silver buckle and O-ring to attach your Lab's leash. The collar also comes in a lovely light grey and light blue color.
Designer Leather Dog Collar
Bling Stuff For Fun Personalized Rhinestone Leather Dog Collar
This super fun and festive personalized designer leather dog collars offer a unique way to add your Lab's name to their collar using rhinestones! And they're also strong, high-quality collars.
They come in four sizes (9.8–12 inches, 11.2–14 inches, 12.8–16.2 inches, 15.3–19.7 inches) and a wide variety of colors (black, blue, brown, hot pink, regular pink, light brown, light green, light orchid, yellow, white, sky blue, orchid, red, purple).
The collar itself is an alligator and PU leather with a silver rhinestone buckle.
If you like pink you may find it hard to resist getting your Lab one of these pretty leather dog collar options!
Personalized Leather Dog Collars
Personalized Engraved Soft Leather Dog Collar
Cute and well-constructed, this lovely soft leather collar is stitched on both sides. And it can be personalized with the text of your choice.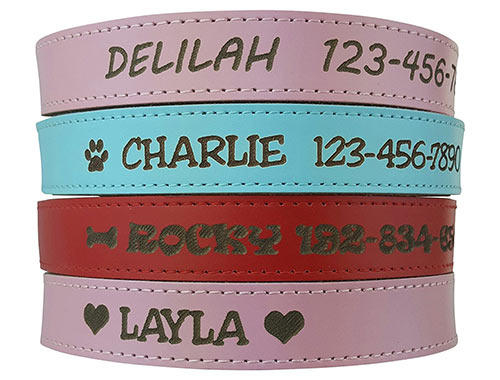 It comes in four sizes (extra-small, small, medium, large). And the collar also comes in red and a pretty sky blue color. Plus, The manufacturer has a 100% guarantee.
Rolled Leather Dog Collar
Coastal Pet Circle T Oak-Tanned Rolled Leather Dog Collar
This beautifully rolled leather dog collar is well-made and has a quality stitch. And it won't mat your dog's hair!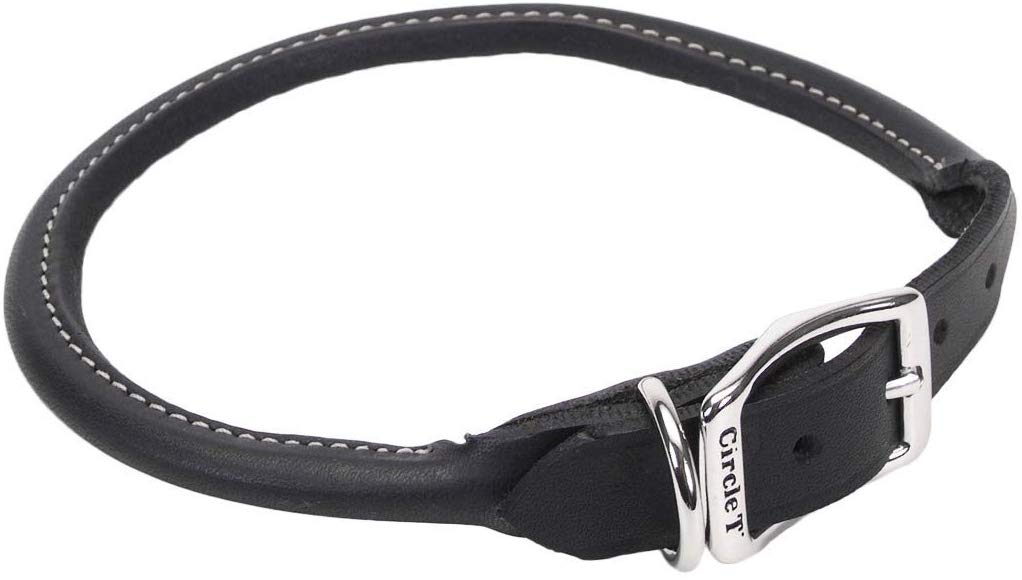 It's made of vegetable-tanned, full-grain leather. And it has a rounded-over, durable, and classic-looking design.
Leather Dog Collar Quick Links

The Benefits And Features Of Leather Dog Collars
Did you know that leather dog collars are still the number one choice to use with search and rescue dogs?
In many cases, these dogs and their handlers may be out for 72 hours or longer in cold temperatures, snow, and other dangerous weather conditions, searching for missing individuals.
Leather is also the material of choice for many of their other essential supplies: handlers' boots and gloves and the dogs' booties and collars.
If search and rescue dogs are provided leather products to do their life-saving and very dangerous work, then that is the type of collar we want for our canine sidekicks as well!
Function Versus Fashion
Of course, these working dogs are wearing purely functional leather collars. If you are envisioning something a bit fancier for your Lab, you will soon discover there is no shortage of beautiful, personalized, and even one-of-a-kind leather collars to match your pooch's unique personality and presence!
And you and your Lab will reap the following benefits of choosing a dog collar made of leather:
Leather is still the strongest and most resilient material on the market
It will become more supple and comfy to wear the longer your Lab wears the collar because it will soak in your dog's skin oils and soften
Leather does not become slippery and difficult to grip if it gets wet or cold.
It's also easier on your hands when gripping the collar for removal or training purposes.
Leather usually has metal buckles, unlike synthetic collars which often have plastic buckles that are less resilient, break or malfunction under heavy use (which is also important if you have your lab's ID tags attached at the buckle area!)
It is generally recommended by professionals for particularly strong and active dogs like our Labrador Retrievers.
Leather still looks great on your Lab even after years of wear and tear!
So now that we know why leather is the best material for dog collars, how should you choose the right size?

Important Features
We've mentioned a few features to look for in collars all ready. But here are the most important ones to look for:
Appearance: Hey, we all want our dogs to look good! And we'll suggest leather dog collars in an assortment of colors, design, and colors.
Comfort: Some collars have rounded edges (rolled), come with additional padding, or without rivets or buckles to be less bothersome to your Lab. And fit is very important, which we'll talk about below
Durability: We've already talked that leather is an ideal material, but there are also hybrid options that use other material to add another dimension to a leather dog collar
Functionality: We'll discuss nametags below, but there are also personalized leather dog collars, which you can have your Lab's name directly stitched on.
Many leather dogs we recommend have a good combination of the above. But before we get to them, let's talk about finding the properly-sized collar for your Lab first.
How To Find The Right Size
Think about the last time you bought a pair of shoes. Maybe you tried on several pairs.
When you tried on shoes that were too small, your feet felt pretty uncomfortable, right? And when you tried on shoes that were too big, you probably didn't feel very safe and secure walking around in them.
Your Lab can have a similar experience if their leather dog collar doesn't fit them well.
If the collar is too tight, it can cause sweating, skin irritation and/or hair tangles. If the collar is too loose, they may slip out of it. Or, worse, they may get it caught on something and not be able to slip out of it.
Measuring Leather Dog Collar Length
It's not too difficult to size the best leather dog collar length correctly for your Lab. Just follow these four simple steps:
Get a measuring tape that is made of cloth or flexible plastic
Wrap the measuring tape around your dog's neck
Close it at the point where you can comfortably fit two fingers underneath the measuring tape
Make a note of the measurement, which is the right size collar for your Lab
Measuring Leather Dog Collar Width
The width of your Lab's dog collar can be a matter of personal choice or preference.
A general rule is that a wider collar is better for a stronger dog.
Typical dog collar widths are the following widths:
¾ inch (1.905 cm)
1-inch (2.5 cm)
1½ inches (3.81 cm)
Large leather dog collars with widths of 2 inches (5.08 cm) and wider are best used for very strong and active adult labs.
Generally, when choosing a collar size, a Labrador retriever is typically considered a "large breed dog." However, here, there is no substitute for measuring your Lab's individual neck width, especially if you have a growing lab puppy.
Leather Dog Collar Sizes For Puppies
Lab puppies generally won't need 2-inch wide collars and may even find them uncomfortable as they grow.
Since your Lab will only be a puppy for a short time, some dog owners prefer to use a nylon or nylon/cloth collar for this brief period and then upgrade to a leather collar for adult permanent use. This can also be a nice budget-friendly choice.
However, in the majority of cases, you will be able to find a selection of sufficiently adjustable leather puppy collars so your lab puppy can grow into her collar as she grows up.
After you have measured the correct length and width of collar size for your dog, all that is left is to choose the leather dog collar that you like best.

A Word On The Importance Of Collar ID Tags
Even young tweens today often carry smartphones just in case of an emergency so they can call for help. Many parents also use apps that link to their kids' smartphones to keep track of their whereabouts.
No such technology yet exists for canines who get separated from their human pack. Of course, microchipping is a big step in the right direction. But that still only works if the person who finds your Lab knows about microchips and has him scanned.
And the fact is, current statistics show that most lost pets are not wearing any form of identification when they go missing.
Statistics also show that, on average, 14% of pet dogs become lost within a five-year time frame at least once. And sometimes more than once.
About 15 percent of recovered dogs were wearing ID tags. That's a very low number given the relative ease and affordability of obtaining and using pet ID tags.
Therefore, adding an ID tag to your dog's leather collar is still the best and safest way to help your lab find his way home if you get separated.
If You Don't Like ID Tags
Microchipping should be considered an added bonus but is not yet an adequate replacement for the traditional ID tag.
If your Lab needs more than one ID tag and you are not keen on the jingling sound of them, you can silence several ways. One example is by putting them in a soft pouch like this one.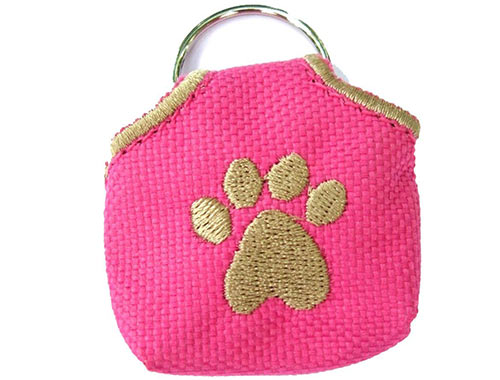 Just don't take them off! There are better ways to silence ID tags without sacrificing your dog's safety.
What Information To Put On Collar ID Tag?
Your cell phone number
Any daily or urgent medical needs
Microchip notice (if your lab has a microchip)
Any legally required information (i.e. some states require proof of rabies vaccines)
What Information To Leave Off Collar ID Tag?
While you can put any information you like on your pet's ID tag, there are some worthwhile reasons to consider leaving the following information off your Lab's tags.
Your pet's name, because pet theft is on the rise, and once a thief knows your lab's name, they may be able to use it to lure your dog over with the intent to steal her)
Your name and address (a cell phone number will suffice unless your pup is an escape artist who just likes to hang out in the neighborhood)
Notice of a reward if found because this can become a motivation to steal your Lab!
Note: Make sure to check with the laws in your region or country for what may be required information on dog tags. This would be the Control of Dogs Order 1992 in the UK.
You can also consult local authorities, dog associations, or even a vet.
So now, without further ado, read on for a selection of high-quality leather dog collars we love. You might even find your Lab's new collar in this list of dog leather collars!
Best Classic Leather Dog Collars
Whether you are choosing a classic leather dog collar for functional or fashionable reasons, these simple styles remain an all-time favorite for dog owners worldwide.
If you choose dark colors like black, brown, or red, they hide blemishes, surface wear and tear, and stains particularly well for an active Lab. Plus, they are classic colors to go with your Lab's coats.
We hope you will love this selection of popular and highly rated classic-style leather dog collar options!
Hamilton Creased Black Leather Dog Collar
If you fancy a more distinguished look for your lab's red leather dog collar, you may fall in love with this burnished burgundy-red leather collar. The stitching is weather-reinforced with professionally finished edging.

The collar sizes range from 12 inches to 26 inches. The collar is offered in these widths (0.375 inches, 0.5 inches, 0.75 inches, and 1-inch). You can also order this collar in black and both collar colors have a matching lead that is sold separately.
Logical Leather Padded Leather Dog Collar
This comfy and colorful dog collar comes in five sizes (extra-small, small, medium, large, extra-large) and has a simple, elegant, classic design.
This collar is easy to clean with just a soft cloth and some water. And the gold, metal clasp is heavy-duty, military, and law enforcement grade.
The red is a very bright—closer to orange than red—and the collar also comes in other colors (pink, tan, brown, black). Finally, the manufacturer offers a lifetime guarantee for durability and satisfaction.
Mighty Paw Leather Dog Collar
This ultra-modern looking, brown leather dog collar has a simple, minimalist appearance.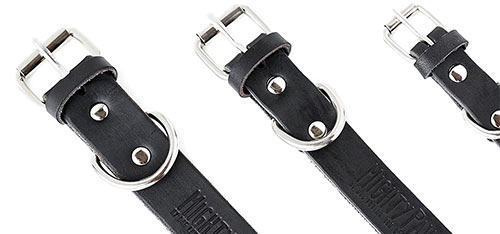 The leather is soft cowhide. And this collar comes in four sizes (small, medium, large, extra-large) and three colors (black, brown, light brown).
Best Comfy Leather Dog Collars
Dogline Rivetless Leather Collar
This rivet-less designed leather dog collar is intended to be super-comfy and soft so your dog's hair won't get caught or tangled.

The collar is sized specifically by width and length. In addition to classic brown, there are several other colors you can choose from (teal, blue, red, purple, pink, orange, green, dark brown, beige).
Viosi Kingston Leather Padded Dog Collar
This classic buckle-closure collar comes in four sizes (small, medium, large, extra-large) and two colors (black, brown).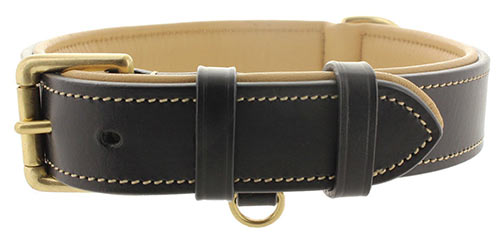 The leather is eco-friendly tanned buffalo hide that is strong, durable and has minimal stretch. The buckle closure is solid brass and the leather is hand-stitched around the buckle and O-ring.
Best Designer Leather Dog Collars
Sometimes you just have to go bling or go home.
Whether you are considering these designer leather dog collars for full-time use or wearing on special occasions, we think you'll love the variety and creativity represented in this curated collection of sparkly favorites!
Beirui Rhinestones Leather Dog Collars
These beautiful designer leather dog collars are made of PU leather (half real leather, half polyurethane) and feature five rows of sparkly crystal diamond and a studded collar.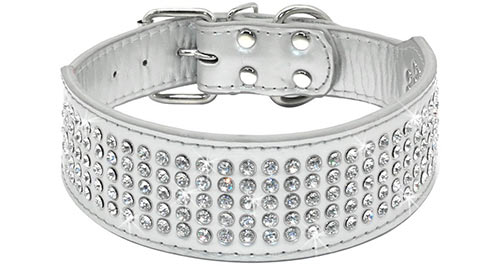 The rhinestones are inlaid with alloy metal for durability. And the collar comes in five sizes (13–16 inches, 15–18 inches, 17–20 inches, 19–22 inches, 21–24 inches) and nine fun colors (black, silver, gold, hot pink, lime green, light pink, purple, red, turquoise).
BingaPet Diamond Bow Tie Crystal Rhinestone Pet Collar
This one-of-a-kind leather dog collar comes in three sizes (small, medium, large) and three colors (pink, red, black).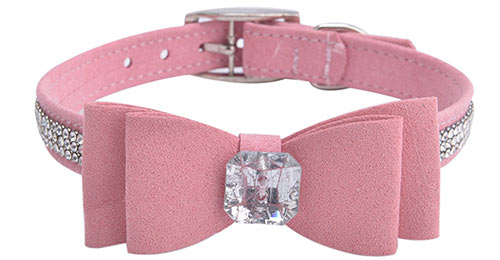 The soft leather exterior and velvet interior are made with your Lab's comfort in mind. In the front of the collar, is a leather velvet bow-tie with a square crystal center. This would be a particularly fun special-occasion or dog-show collar!
Eastop Pet's House Large Leather Dog Collars
These designer dog collars come in four sizes (extra-small, small, medium, large).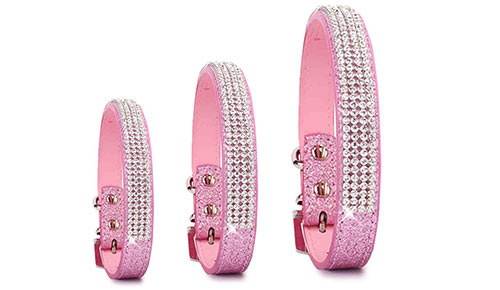 Each features a bright pink overlay with embedded sparkly rhinestones. The PU leather mix is thick for extra durability and resistance against wear and tear.
Best Hybrid Leather Dog Collars
These dog collars utilize other materials to augment their leather materials already outstanding features.
Blueberry Pet Multi-Colored Stripe Dog Collar Collection
This unique striped leather dog collar comes in a refreshing hot-pink and maroon striped edition and a pink-white striped edition. The polyester webbing gives supreme flexibility and comfort for your Labs.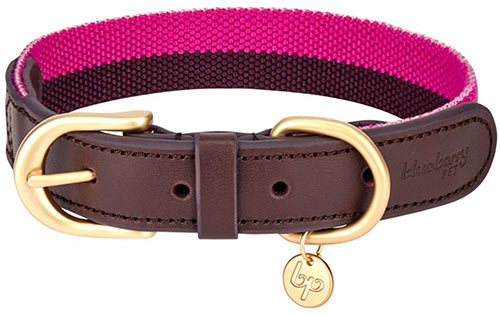 The leather buckle has a gold clasp and little gold loops for pet ID tags. It comes in three sizes (small, medium, large) and the colorful section of the collar also reflects light for safety.
Perri's Padded Leather Dog Collar
This beautiful and regal dog collar features a darker red-stained brown leather exterior with a dark-red padded interior for a lovely two-toned look. The padding is made of exquisite lambskin for extra comfort.

This collar comes in five sizes (extra-small, small, medium, large, extra-large) and features a solid brass buckle. And you can also choose from a variety of colors (hunter green, bright green, pumpkin, purple, snakeskin-yellow or white, white, brown, turquoise, pink, black, blue).
Best Personalized Leather Dog Collars
In this list, you can read about some unique collars that ensure your Lab's information goes wherever they go.
dogIDs Personalized English Bridle Leather Dog Collar
This unique personalized leather dog collar with an engraved ScruffTag nameplate actually incorporates the nameplate into the collar itself. The nameplate actually connects two ends of the collar together.

It's made of durable stainless steel with an engraved etching of your Lab's information. It comes in four sizes (16-inch, 18-inch, 20-inch, 22-inch), each with a 1-inch wide band. You can choose from black, brown or London-tan.
Haigler And Wallace Personalized Leather Dog Collar
This innovative collar tackles the issue of dog identification from two ends. On the collar face, itself is your pet's name. Then on the nameplate, you can include your contact information.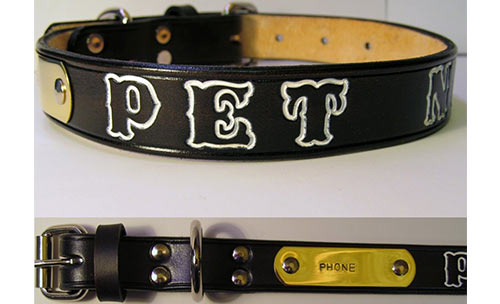 This collar comes in five sizes (16-inch, 18-inch, 20-inch, 22-inch, 24-inch) and seventeen different colors for the lettering. The collar itself comes in black.
GoTags Slide-On Pet ID Tags
Perhaps you already have a great collar for your Lab that you both love, but you still need a personalized nameplate to include your dog's information.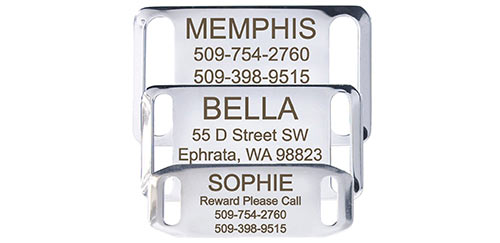 In this case, consider these neat slide-on pet ID tags from GoTags. You can add up to four lines of text on three sizes of these silver ID tags (small, medium, large).
However, be aware these will only work if you have a traditional buckle collar and not a snap-together closure collar.
Best Rolled Leather Dog Collars
Rolled (rounded) collars are well-suited for long-haired dog breeds because their round shape prevents your dog's fur from getting tangled and damaged.
Here are some elegantly designed, comfortable, and colorful options.
BRONZEDOG Rolled Leather Dog Collar
This rolled leather dog collar is perfect for all types of dog breeds (small, medium, and large). It has a durable steel and buckle ring and comes in sizes ranging between 7 and 21 inches.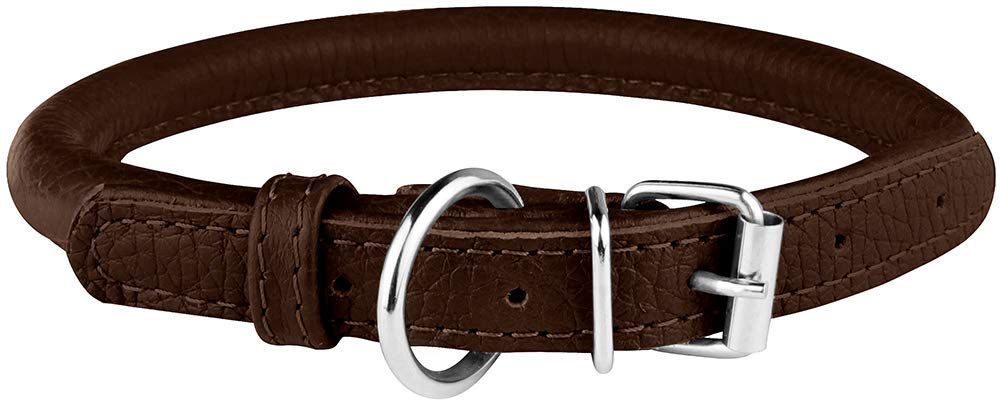 It comes in seven different colors. And it's perfect for everyday use but nice enough for your dog to wear on special occasions.
CollarDirect Rolled Leather Dog Collar
This soft, yet strong, handmade rolled leather dog collar by CollarDirect comes in four different neck sizes (between 6 and 21 inches).

You can choose from fourteen different colors. The leather is very soft and specially treated. They are light, pliable, and strong collars for both adult dogs and puppies.
Best Studded Leather Dog Collars
BingPet Real Split Leather Studded Pet Dog Collar
This studded dog collar comes in five sizes (extra-small, small, medium, large, extra-large) and five colors (black, blue, red, purple, pink).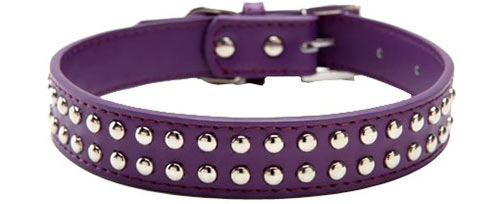 There's a double row of round blunt circle rivets decorating the collar exterior. And there's a silver buckle closure that has five holes for customizing the fit. The collar is also chew-resistant.
Rachel Pet Products 3 Rows Silver Rivets Studded Genuine Leather Dog Collar
If your Lab has a bit of sass, you might love this bling-filled, pink leather dog collar with pink rounded rivets for decoration (they're blunt not sharp).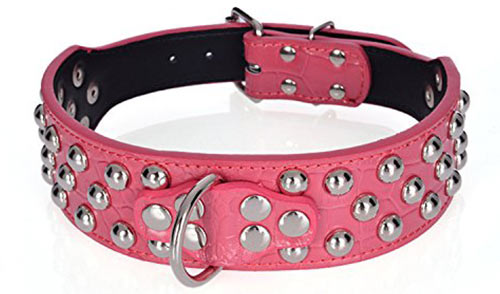 This collar is sold in four sizes based on neck measurement (15–18 inches, 17–20 inches, 19–22 inches, 21–24 inches). Other colors include leopard (black-spotted with pink), red, white, gold, green camouflage, and brown.
The collar also comes with a 60-day warranty.
Zehui Pet Kingdom Leather Studded Large Dog Collar
This bright black, bold collar is studded with soft round silver "bullets" (no spikes for safety). The buckle has five adjustment options and the D-ring for the leash is heavy-duty.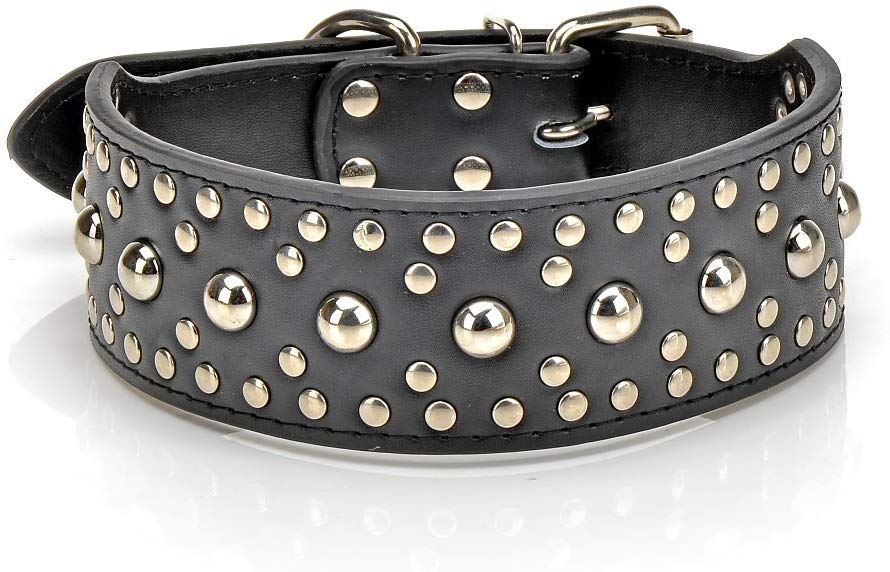 The collar comes in three sizes (small, medium, large). If you are looking for 3-inch leather dog collars, this one will fit the bill.
Best Unique Leather Dog Collars
If it's an interesting leather dog collar you are looking for, these are some of the most unique leather dog collars you'll find.
From antique to modern slimline to slip leash, you'll have a lot to ponder while looking through this list of popular and highly-rated leather dog collars!
Chede Luxury Real Handmade Leather Dog Collar
This a truly luxurious black leather collar. It is handmade from soft and durable leather.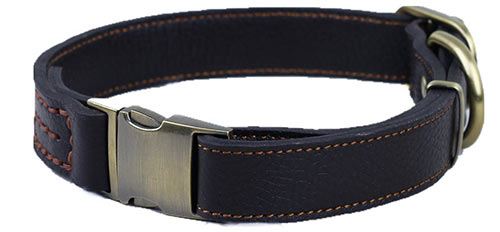 The closure is a unique metal clip-clasp instead of a traditional buckle for a more seamless fit.
The collar comes in three sizes (small, medium, large) and is easy to clean. You can also order this collar in blue, brown and light red (dark pink).
Mendota Products Leather Slip Lead
This unique collar is a leash and collar all in one. The flexible slip lead is useful for training and won't catch on your dog's fur.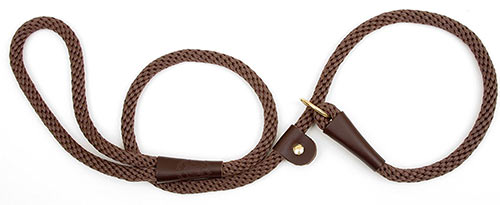 It can easily accommodate a growing lab puppy as well as an adult or senior Lab. The lead part is soft, braided rope with tanned leather splices and brass fixtures.
TinaPet Adjustable Pet Dog Flower Dog Collars
These eye-catching and colorful PU leather flower dog collars are made from small leather flower cutouts of different colors on colored backgrounds. And you can choose from one or three rows of flowers.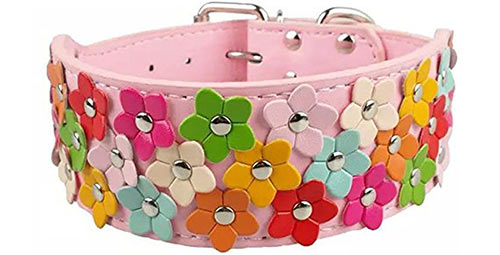 The background colors include black, pink, red, and blue. The collar comes in four sizes (small, medium, large, extra-large).
Weaver Leather Sundance Dog Collar
This stunning brown leather dog collar features a scallop-edge design with beautiful small berry concho charms at the wide portions of the collar.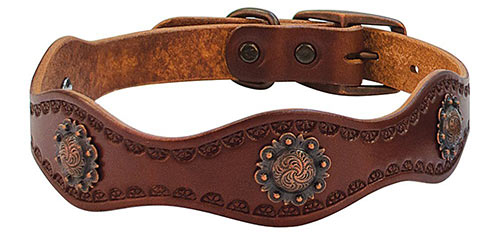 This collar comes in three widths (0.375 inches, 0.625 inches, 1 inch) and eight lengths (11-inch, 13-inch, 15-inch, 17-inch, 19-inch, 21-inch, 23-inch, and 25-inch).
With hand stitching and oil rubbed finish, this collar almost looks antique, like it's from the Wild West.

Summary: Best Leather Dog Collars
We have shared some of our many favorite leather dog collars here in this article for your consideration, including classic looking ones, comfy ones, and unique ones.
We hope you have enjoyed browsing through the wonderful variety of leather dog collars available today! Remember to look at our top five choices at the beginning of the article.
It amazes us how many different colors, shapes, sizes, models and configurations leather dog collars come in. From personalized leather dog collars to fun ones with sparkly bling, you are sure to find a collar that is as unique and wonderful as your Lab.
We would love to hear your feedback about any of these collars. Or if you have chosen a collar you and your lab love that is not in this list, please let us know about it in the comments below!
References And Resources